CES 2022 is just about over, and while it took an unusual hybrid format of in-person and online briefings this year, we still saw a huge amount of exciting technology, both stuff that's ready for market and things to look forward to in the coming years.
The stuff we've liked so far? Well there's some sensible choices like the beefed-up Dell XPS 13 Plus or the stunning-looking Samsung Odyssey Neo G8 monitor. There are also some weirder ones like the Alienware Concept Nyx gaming system and a novel smart bathtub. But there's plenty more besides these and many in between these choices too.
Be sure to check out the Tom's Guide CES 2022 Award winners for all of the products we thought were the most interesting and innovative. And after you're done with that, be sure to read what we thought were the weirdest and wackiest gadgets of CES.
While CES 2022 wasn't expected to be as big as those in pre-pandemic years — which saw as many as 170,000 attendees descending on Las Vegas — due to the Omicron variant, in the weeks leading up to CES, a number of companies switched to a virtual, rather than a physical presence, and the CTA has implemented some additional safety measures for those who are attending. Event organizers have also scrapped the last day of the conference in reaction to Covid concerns.
Here's all the latest news, plus everything you need to know about CES 2022, including how to register, health and safety protocols, show dates, and more.
CES 2022 latest news
CES 2022: LG
Known for its class-leading displays, LG's announced several different new TVs during CES. The LG G2 with OLED evo G is the new top performer, touting improved brightness and heat dissipation for more impressive images with a lower risk of burn-in.
A new 42-inch LG C2 puts the company's OLED expertise to work in its smallest frame yet. It offers all the same premium features you get on LG's other C-series TVs, except it's a more convenient size.
Lower down the tiers we have new A2 and B2 OLED TVs for users with less money available, plus a new range of smaller QNED mini-LED TVs. LG's WebOS has also received updates, with the new version 22 offering benefits for user profiles, a new "Always Ready" ambient mode and fresh options in the Game Optimizer menu.
LG's also put its screen tech to work in the Virtual Ride, an immersive exercise bike that will let you ride through different environments while pedaling away at home.
We saw a fair amount of time in the LG CES 2022 keynote talking about robots. The CLOi family come in three different iterations, designed for deliveries, service and guiding duties. They're apparently durable enough to use outdoors as well as inside.
Alongside these 'bots, we also got a glimpse at the LG Vision Omnipod concept vehicle, a self-driving car with a configurable interior, room for appliances and an AI assistant, and the PuriCare Aero Tower purifying fan, to help you cool and clean the air around your house.
CES 2022: Samsung
Samsung's big announcements have mostly revolved around TVs also. This includes a new anti-glare coating for the revised The Frame TV 2022 and an 89-inch micro-LED TV that points the way for the next generation of screen technology. There's also revisions to its Neo QLED line of TVs if you're interested in something new that's also more affordable, which you can read more about in our Samsung CES 2022 TVs guide.
Even the clicker got some attention from Samsung. Its Eco Remote doesn't use batteries to charge itself up, but instead runs on energy it gets from your Wi-Fi network.
The headliner for Samsung's monitor launches is the Samsung Odyssey Neo G8, a 34-inch curved monitor that combines 4K resolution and 240Hz refresh rate in a display for the first time. It also uses mini-LED backlighting for enhanced contrast over a regular LCD display.
That was joined by the Smart Monitor M8, which combines a 4K display with a smart TV and a webcam, and the High Resolution Monitor S8, a 4K work monitor that's been apparently certified "Glare Free". This will be available in 27-inch and 32-inch flavors.
While not technically a CES announcement, we've also seen the reveal of the Samsung Galaxy S21 FE, the company's latest phone. Sitting below the regular S21 in terms of price, the similar specs offer a tempting entry-level flagship experience. However with the Galaxy S22 likely close to launch, it may be too late for Samsung to really get the public excited about this one.
CES 2022: Sony
The Sony 2022 TV line-up has been announced, offering welcome enhancements to Sony's already excellent image processing. The XR processor has been updated for better image quality, which will be seen on the new A95 QD-OLED line. Meanwhile Sony's also been working on mini-LED management for the new Master Series Z9K and Premium X95K, to avoid the blocky look you can sometimes get from images on these panels.
Sony also talked about how it's introducing Netflix Adaptive Calibrated Mode alongside Google TV and Apple AirPlay to its upcoming TVs. Plus if you want more accessories, there's the Bravia Cam that helps adjust the picture depending on where you're sitting in the room, and a new remote with a smaller, less button-heavy design.
CES 2022: Nvidia
During a virtual presentation, Nvidia had a few treats to share. The biggest one was the RTX 3090 Ti graphics card, the new range-topper for desktop computers. We also saw a new low-end option in the form of the RTX 3050, and laptop versions of the existing RTX 3070 and 3080 Ti.
GeForce Now, Nvidia's game streaming service, will soon have a wider audience thanks to its introduction to Samsung smart TVs in a few months. We also found out about Drive Hyperion and Drive Chauffeur, the company's new sensor and self-driving system for autonomous cars.
CES 2022: AMD
AMD's CES offering focusses on both mobile devices and GPUs. We've got new Ryzen 6000 processors that promise faster and more efficient performance and full support for Windows 11 via Microsoft's Pluton security chip. Joining those were Radeon 6000 mobile GPUs, split into two different lines. The 6000M series are the more muscular ones, aimed at gaming. The 6000S models are meant to instead help power lighter laptops, at the expense of a little performance.
CES 2022: TVs
TCL has shown up the competition with its XL TV, a 96-inch monster. It's also bringing out a new generation of its 85-inch 8K QLED X925 Pro with the third iteration of TCL's mini-LED tech. Existing TVs will see software updates that offer TrueCut Motion for better movie watching, and a continued focus on Google TV software.
Panasonic's LZ2000 TV has enhancements focussing on the audio side of TV watching. The speakers now offer beam-forming tech, similar to a soundbar, to help bring the sound directly to where you are in the room.
A piece of tech that any TV or display owner may be interested in is the introduction of HDMI 2.1. This modest upgrade to the current standard introduces Source-Based Tone Mapping, which will let your screen and your source device (games console, Blu-Ray player etc.) calibrate the display's colors automatically depending on what's being shown. You'll like see new TVs and displays show off this new capability in the near future, but it won't be an enforced HDMI standard. So pay close attention to the specs sheets.
CES 2022: Laptops
The big laptop makers are starting to unveil their new products and innovations, and there's plenty for laptop users to be keeping an eye on if they plan to shop for their next device in the near future.
First off, we've got the Dell XPS 13 Plus, which aims to stuff even more power into Dell's premium laptop, by allowing for higher powered 28W processors. The keyboard's also been enlarged (although the function keys are now capacitive rather than physical switches), and the display can still be specced to have a 4K touch panel.
Meanwhile over at Lenovo, the Lenovo ThinkPad Z13 combines power with some eco-friendly credentials. The former comes from Ryzen Pro CPUs, an FHD webcam and dual mics housed in a protruding Communications Bar, an OLED touchscreen with up to WQXGA resolution. The latter is delivered by recycled aluminum construction, an option for a recycled vegan leather trim and sustainable packaging made of bamboo and sugarcane. And if the 13-inch version is too small for you, then there's the Z16 which offers the same spec selection in a 16-inch body, plus the option for a discrete GPU.
Intel's CES 2022 keynote revolved around its first Alder Lake chips for laptops. However we also heard about how the first Arc GPUs are on their way to PC builders, with the first "Alchemist" cards still slated to go on sale for consumers in the first half of this year.
The new Acer Chromebook Spin 513 refreshes the 2-in-1 Chromebook by switching the processor to a new MediaTek Kompanion 1380, and making the display about 20% larger. Once again this seems like a versatile device suitable for light work projects or personal use. users wanting something bigger may like the sound of Acer's Chromebook 314 and Chromebook 315, which have also seen revisions.
The Razer Blade 17 gaming laptop is getting a refresh, appropriately named the Razer Blade 17 2022. It offers up to an RTX 3080 Ti GPU, 32GB RAM and 4TB storage, in a big body featuring FHD or QHD resolution displays, THX Spatial audio and more ports than you'll likely ever need.
Meanwhile over at Acer's gaming division, the Predator Helios 300 (2022) is a new iteration of its flagship gaming laptop. It boasts a 12th-gen Intel CPU, a 165Hz QHD panel, and either RTX 3070 or RTX 3080 graphics
If you're a laptop user, chances are you'll be using it over WiFi most of the time. If you need a new router, perhaps you'll be interested in the Netgear Nighthawk RAXE300. This mid-range router still looks like a stealth fighter jet, and works with the latest WiFi 6E standard for the fastest possible download speeds.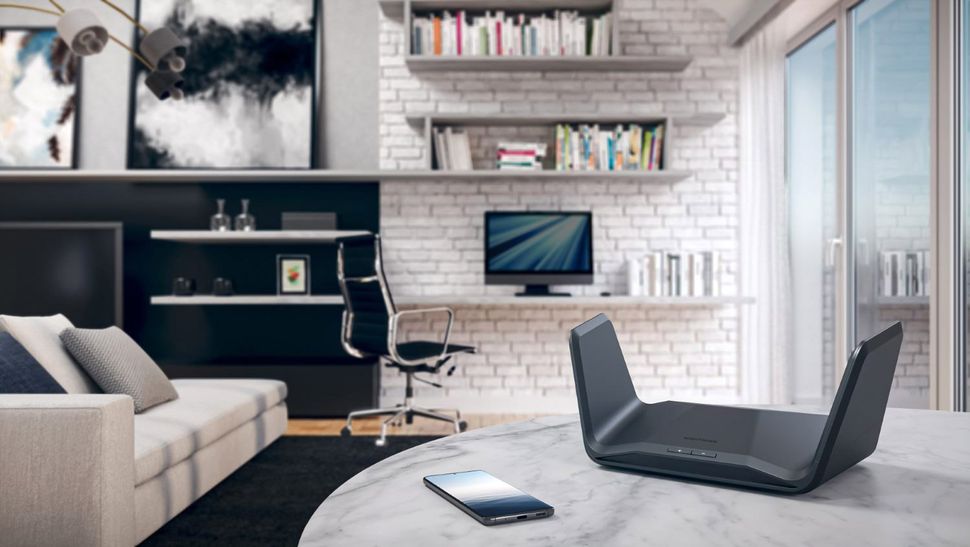 Another WiFi 6E-ready router was shown off by TP-Link. The Archer AXE200 Omni has an extra trick up its sleeve though in the form of motorized antennas that can move to improve your signal quality as you and your devices move around.
If you're looking for something more interesting than a regular laptop, then take a look at Alienware's Concept Nyx. It's a more local version of cloud gaming that lets you play games anywhere and on any smart screen in your home via a central media hub-style unit. It's nowhere near retail for now, but it's functional and quite impressive.
CES 2022: Smart home
Gadgets for around your house is another huge area of interest at CES, and already we're seeing some interesting twists on products you may already be familiar with.
At first glance, the Masonite M-Pwr Smart Door doesn't offer anything we haven't seen before in terms of features: it contains a Ring video doorbell and a Yale smartlock. What's new though is that it integrates these all into a single door, which offers both mains and battery power to keep your tech running.
For the inside of your home, there's the Sengled Smart Health Monitoring Light. HAs the name suggests, it's a remote-controlled bulb that can also track your sleep and a few other health parameters by sensing you across a network of bulbs around your house. It's one of the biggest things to happen to smart bulbs in a long time, but it sounds a bit scary to some of us at TG.
The Kohler PerfectFill is a novel smart home product that wants to add some brains to the so-far neglected bathtub. Using your voice or a smartphone app (or regular controls), you can get the PerfectFill to draw you a bath at your preferred temperature on command, and keep it there by controlling the water coming from the faucet and the water leaving through the drain. It'll be a tempting product for bath fans, but it's got a heft pricetag of $2,700.
CES 2022: Wearables
The Jabra Elite 4 Active is a new pair of wireless earbuds that offers a cheaper alternative to Jabra's Elite 7 Active. Despite the lower price, you still get active noise cancelation, IP57 water resistance and 7 hours of battery life, or 28 when factoring in the charging case.
The Ible Airvida E1 are a pair of wireless neckband earbuds, but it's also a portable air purifier. It'll apparently last 8 hours when you're listening to music and have the ionizing purification system enabled, but you can also use the two modes separately, including as a desktop purifier using an included stand.
Meanwhile over in the smartwatch/fitness tracker side of the wearables world, Garmin's attempting to shed its sports-focussed image with the introduction of the stylish Vivomove Sport and Venu 2 Plus, both of which we've just reviewed. The Vivomove is a cheaper fitness tracker but it still contains advanced features like blood oxygen tracking. The Venu 2 Plus is a modest upgrade on the Venu 2, adding better support for voice assistants and notifications.
CES 2022: EVs
A rapidly growing part of the show, electric vehicle announcements at CES gives us a glimpse into the future of automobiles. A glimpse that gets ever more important as more countries set aggressive targets for getting traditionally-fuelled cars off of the road.
Range anxiety is one of the biggest problems facing EVs right now. If the Mercedes Visions EQXX Concept ever makes it to reality, then its 620-mile range would crush the competition. Plus with this being a Mercedes, the concept also offers premium design and features inside and out to make sure you feel right at home.
After astonishing the tech world by showing off a car at CES 2020, Sony's Vision-S electric car has returned with a new SUV body and some other upgrades. The first production of the company's new Sony Mobility division, the Vision-S 2 apparently features 40 sensors all around the vehicle for safety monitoring, 5G connectivity and a fully equipped entertainment system.
CES 2022: Smartphones
Normally, we don't see much in the way of new phones at CES. This year however, phone makers seem to have made a pact to try and grab our attention away from the expect announcements.
As mentioned above under Samsung's section, the Galaxy S21 FE just launched, giving users a revised version of the Galaxy S21 but for slightly less.
While not physically at CES, OnePlus is delighting smartphone fans from afar with teasers for its upcoming OnePlus 10 Pro handset, launching in China next week and arriving in Europe and the U.S. at a later date. Among its top-quality specs, its 120Hz LTPO 2.0 adaptive refresh rate, its second-gen Hasselblad-tuned cameras and 80W wired fast charging are particularly impressive ones.
CES 2022 dates and schedule
CES 2022 will be held from January 5-7 in Las Vegas, NV. Media days will be January 3 and 4. The opening CES 2022 keynote address will be on January 5 at 8:30 a.m PST/11:30 a.m. EST.
On January 5th, the CES show floor will be open from 10 a.m. to 6 p.m. PST. On January 6 and January 7, the show floor will be open from 9 a.m. to 6 p.m.
Originally, CES 2022 was to run through January 8, but organizers dropped that day as an additional safety measure in the wake of ongoing coronavirus cases.
ShowStoppers will be in held in person at the Wynn Hotel in Las Vegas on Wednesday, Jan. 5th. As with CES, ShowStoppers will require all in-person attendees, exhibitors and staff to provide proof of COVID-19 vaccination.
Here is a complete schedule of events.
CES 2022 registration
Anyone 18 years or older and affiliated with the consumer technology industry is eligible to register for CES. In order to register, you must show proof of your affiliation. Here's how to register for CES.
CES 2022 exhibitors
Currently, there are roughly 2,100 exhibitors scheduled to appear at CES. However, because of the Omicron variant, a number of high-profile exhibitors have switched from a physical to a virtual presence.
As of January 3, the companies who have all announced that they will no longer have a physical presence at CES, citing health and safety concerns include: Amazon, AMD, AT&T, Facebook, GM, Google, iHeartRadio, Intel, Lenovo, Microsoft, MSI, OnePlus, Pinterest, Ring, T-Mobile, Twitter, and Waymo.
Hisense said it will still have a physical presence, but has made its keynote virtual, according to the Verge.
In addition, major tech media publications including Tom's Guide, Tom's Hardware, The Verge, CNet, Engadget, Gizmodo, and TechRadar, have all announced that they would not send reporters to the event.
Here is a complete CES 2022 exhibitor directory so far.
CES 2022 keynotes and press conferences
Mary Barra, the Chair CEO of GM, is set to deliver the opening keynote address at CES 2022. Other keynote speakers include:
Pete Buttigieg, U.S. U.S. Secretary of Transportation
Robert Ford, CEO and president of Abbott, a health technology company
Stacy Brown-Philpot, Former CEO, Board Director, Advisor of TaskRabbit
Jenny Abramson, Founder & Managing Partner of Rethink Impact
Carmichael Roberts, Investment Committee Co-lead, Breakthrough Energy Ventures Founder and Managing Partner, Material Impact
Jong-Hee (JH) Han, Vice Chairman & CEO, Samsung Electronics
Tariq Hassan, Chief Marketing and Digital Customer Experience Officer, McDonalds
Cara Sylvester, Chief Marketing and Digital Officer, Target


Mike Sievert, CEO and president of T-Mobile, was originally scheduled to deliver a keynote address, but will also not be attending the show due to concerns about the Omicron variant.
Here is a complete list of all CES 2022 keynote speakers, which will be updated as we get closer to the show.
Swipe to scroll horizontally
Press Conferences Jan. 4 (all times PST)

| | | |
| --- | --- | --- |
| Company | Time | Location |
| Bosch | 8 - 8:45 am | Mandalay Bay Level 2, Mandalay Bay H |
| LG | 8 - 8:45 am | Mandalay Bay Level 3, South Seas AB |
| Nvidia | 8 am | Virtual |
| Hisense | 9 - 9:45 am | Mandalay Bay Level 2, Mandalay Bay KL |
| Magna International | 9 - 9:45 am | Mandalay Bay Level 2, Surf A |
| Panasonic | 10 - 10:45 am | Mandalay Bay Level 3, Jasmine Ballroom |
| Intel | 10 - 10:45 am | Mandalay Bay Level 2, Mandalay Bay EF |
| Qualcomm | 11 - 11:45 am | Mandalay Bay Level 2, Mandalay Bay IJ |
| ZF Group | 11. -11:45 am | Mandalay Bay Level 2, Lagoon HI |
| John Deere | 12 - 12:45 pm | Mandalay Bay Level 2, Mandalay Bay BC |
| Valeo | 12 - 12:45 pm | Mandalay Bay Level 2, Oceanside F |
| Canon | 1 - 1:45 pm | Mandalay Bay Level 2, Mandalay Bay D |
| OMRON Healthcare | 1 - 1:45 pm | Virtual |
| Continental AG | 2 - 2:45 pm | Mandalay Bay Level 2, Surf DEF |
| Procter & Gamble | 2 - 2:45 pm | Mandalay Bay Level 2, Lagoon JKL |
| Hyundai | 3 - 3:45 pm | Mandalay Bay Level 2, Oceanside D |
| Doosan Bobcat | 3 - 3:45 pm | Mandalay Bay Level 2, Mandalay Bay A |
| VinFast | 4 - 4:45 pm | Mandalay Bay Level 2, Mandalay Bay G |
| DailyPay | 4 - 4:45 pm | Mandalay Bay Level 2, Reef DE |
| Sony | 5 - 5:45 pm | LVCC LVCC, LVCC #18601 |
Swipe to scroll horizontally
Keynotes Jan. 5 (all times PST)

| | | |
| --- | --- | --- |
| Company | Time | Location |
| General Motors | 9 - 10 am | Venetian Level 5, Palazzo Ballroom |
| T-Mobile | 2 - 3 pm | Venetian Level 5, Palazzo Ballroom |
CES 2022 vaccination and safety protocols
In order to attend CES 2022 in person, you must show proof of Covid-19 vaccination when you pick up your badge. If you do not show proof, a badge will not be issued.
Because of the Omicron variant, all attendees are encouraged to take a COVID test prior to departing for Las Vegas. In addition, CES will distribute one complimentary Abbott BinaxNOW COVID-19 Self Test kit to each attendee upon retrieving their badge.
U.S.-based residents will need to use the CLEAR app to show proof of vaccination. Here's how to show your Covid vaccination status on your phone. Non-U.S. residents will be required to use a third-party app to show proof of vaccination; full instructions can be found here. CES will accept all vaccines approved by the FDA or WHO.
As per state and local guidelines, masks are currently required in all public, indoor spaces in Las Vegas. This includes exhibit booths, indoor exhibit facilities, conference and keynote rooms, and CES shuttle buses.
In terms of safety protocols, CES will increase the width of the aisles; chairs will be set to allow for social distancing; and hand sanitization stations will be placed throughout CES venues.
CES will also offer testing for those experiencing COVID-19 symptoms while at a CES venue, and will provide free RT-PCR tests for attendees who are traveling back to their international destination and who require a test to travel.
CES 2022: Trends and what we expect
Automotive
The automotive segment of CES 2022 is expected to be larger than ever. As Jean Foster noted in an interview with Tom's Guide, all of the automakers will be in the new West Hall of CES. As with last year's show, Mary Barra, GM's CEO and Chair, will be delivering the opening keynote, and GM plans to unveil the Chevy Silverado E, which has a range of up to 400 miles.
Aside from GM, other carmakers already registered to attend the show include Hyundai, Toyota, Daimler, FCA (Fiat Chrysler), and Stellantis. However, other notable car companies, such as Ford, have yet to register.
TVs
CES is always a big show for TVs, and we don't envision that changing for this year. In 2019, LG announced its show-stopping rollable TV, then followed that up in 2021 with a rollable phone. (Sadly, the rollable phone is a victim of LG's decision to exit the phone business.)
Samsung is also good for new TV technology, having debuted its new microLED TVs at least year's show. But don't sleep on lesser-known brands: TCL surprised us with an 8K Roku TV in 2021, and we expect a lot more super-high res sets to follow this year — even though there's nothing to play on them.
Speaking of screens, expect some odd form factors, like LG's DualUp monitor. or the Virtual Ride immersive fitness bike.
Phones
In recent years, most of the major phone companies — namely Samsung — have saved their big phone launches for events other than CES. Instead, most phone announcements will come a month after CES at Mobile World Congress in Barcelona, currently slated to begin on Feb. 28, 2022.
However, following the trend from last year, we won't be surprised if more companies show off new folding phone concepts at CES, no matter how vapor-warish they might be. Remember the FlexPai?
Furthermore, a leaker has claimed that the OnePlus 10 Pro could be revealed early January at CES.
Food Tech
Impossible Foods has used the past few CESes to introduce its newest plant-based meat alternatives. In 2019, it was the Impossible Foods 2.0 burger, and in 2020, it was its ersatz pork product. The company has recently launched Impossible chicken nuggets, so we'll be interested to see if it introduces any new meta-meat at CES. But Impossible Foods won't the the only company in this space; CES announced that Food Tech would have its own category this year.
Smart Home
Spurred on in part by the pandemic, hands-free devices were one of the big themes among smart home devices at CES 2021, and we expect that trend to continue this year. Touchless refrigerators, faucets, toilets, and video doorbells will be among the devices we should see plenty more of in 2022.
Digital Health
Like smart home, we expect to see lots of Covid-related health tech at CES 2022. There were a handful of high-tech masks at CES 2021; plan to see a lot more of these, as well as other disinfecting tech, air purifiers, and other ways of mitigating the spread of infectious diseases. Notably, Robert Ford, the CEO and president of Abbott, will also be delivering a keynote at CES — the first for a health tech company.
Space Technology
This might be more of a curiosity this year, but for the first time, CES will have a dedicated area for space technology. As Jean Foster noted in her interview with Tom's Guide, Sierra Nevada will be showing off its space plane, which is contracted to start flying cargo missions with NASA in 2022.