Intel CES 2022 live blog: Alder Lake, Arc GPUs and more
All the news from Intel's CES 2022 keynote, as it happened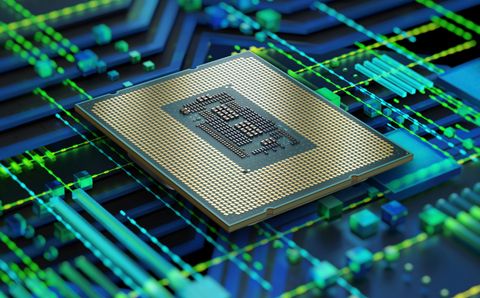 (Image: © Intel)
Intel unveiled some new products today (January 4) during its keynote address at CES 2022, and computing enthusiasts have a lot to get excited about.
Notably, Intel unveiled its first Alder Lake laptop chips. These CPUs are a big deal because they're built on a hybrid architecture. That means they have a set of high-powered performance cores and a group of weaker, high-efficiency cores on each chip, governed by an embedded microcontroller called the Intel Thread Director which aims to intelligently manage workflows across all cores for optimal performance.
Apple's own hybrid M1 Pro and M1 Max chips helped the 2021 MacBook Pro outperform the lion's share of Intel-powered Windows laptops we tested last year. That's a big challenge, one Intel needs to answer if it wants to remain competitive.
A handful of Intel Alder Lake desktop CPUs were released late in 2021, but today was the debut of Alder Lake laptop chips. Intel also shared some updates on the new Arc line of discrete graphics cards it announced last year, confirming that the first Arc GPUs are now shipping to PC makers and announcing that a number of PC games (including Kojima Productions' Death Stranding Director's Cut) will support Arc features like ray tracing and XeSS upscaling. The first batch of Arc GPUs (codenamed Alchemist) is slated to launch in the first half of 2022, and this confirms they're on track to hit that mark.
Read on for the highlights of our Intel CES 2022 keynote live blog, and make sure to keep tabs on our CES 2022 live blog to catch all the latest big news during the show!
Refresh
CES 2022 is in full swing, and while we still have two hours to go until Intel takes the stage we're already hearing some exciting announcements from other tech companies at the show. Stay tuned right here for the latest Intel news as we hear it, and make sure to keep tabs on our CES 2022 live blog for all the biggest announcements from the show!
We're just over an hour away from the start of Intel's CES 2022 keynote, and while we wait we're hearing some exciting news from other tech companies taking part in the event.
Notably, we've just learned that the rumored Nvidia RTX 3090 Ti graphics card is real -- and we'll hear more info about it later this year. Check out our Nvidia CES 2022 live blog for all the details, reported live!
We're less than ten minutes away from the start of Intel's CES 2022 keynote! Hopes are riding high that we'll learn more about the company's new Arc graphics cards, the first high-end GPUs the company has released in over a decade. We'll likely also hear about new Alder Lake CPUs, for both laptop and desktop PCs. Stay tuned!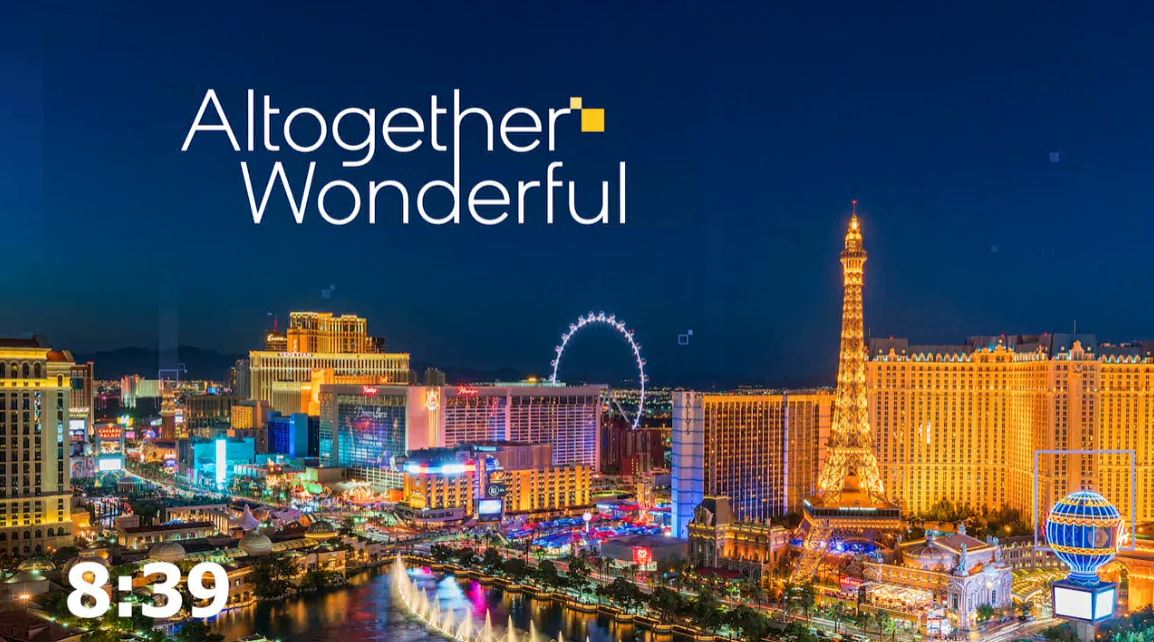 .....and we're off! Intel's kicking off its keynote with a sizzle reel teasing its Arc GPUs, with a thumpin' soundtrack.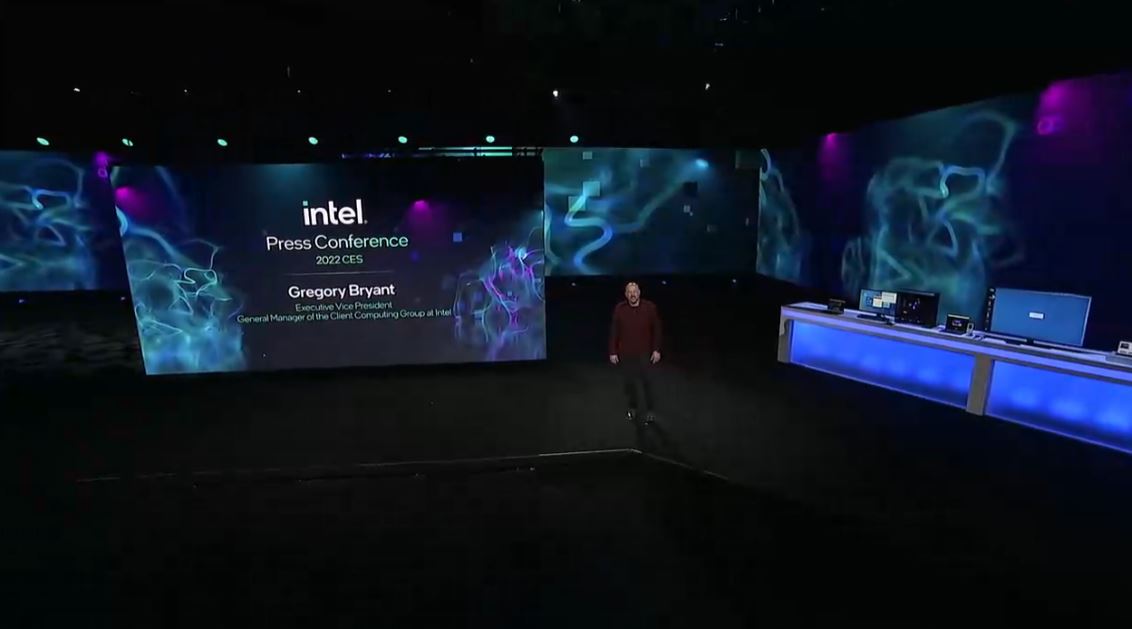 Intel EVP Greg Bryant is taking the stage now to deliver the opening remarks, though the "stage" is at a remote location somewhere since Intel decided not to make an appearance at CES this year.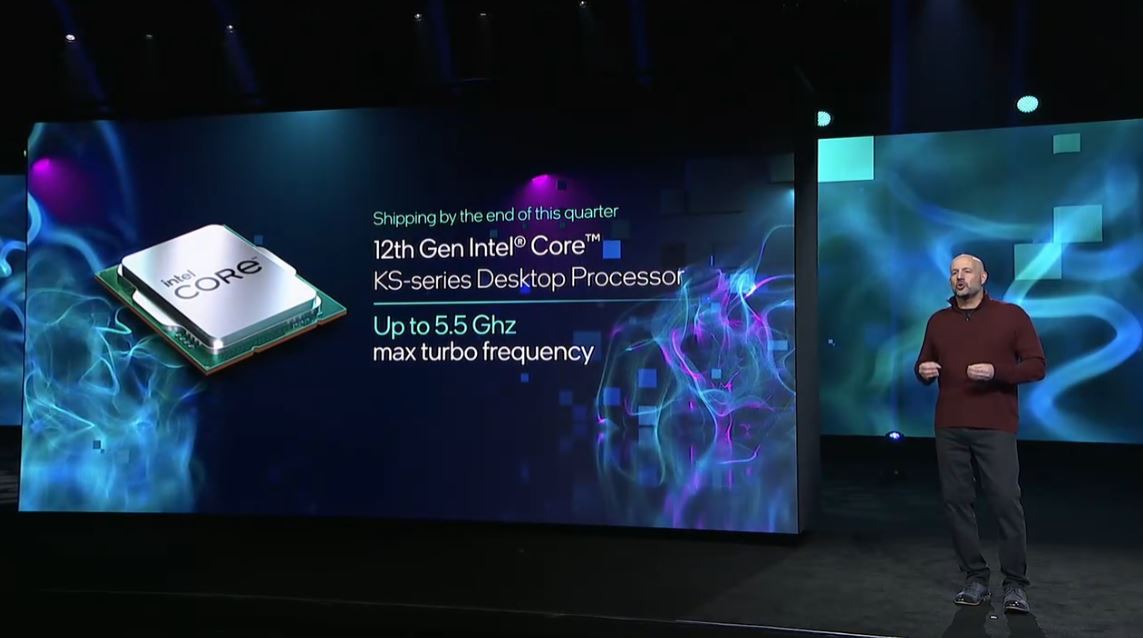 Bryant is starting with the announcement that Intel will be shipping a new KS-series of Alder Lake desktop CPUs by the end of the first quarter of 2022. These CPUs can reportedly achieve max turbo frequencies of up to 5.5GHz, so they should be capable of delivering some pretty great performance in high-end PC games.
Now Bryant is hyping up the first round of Alder Lake laptop CPUs, which are being unveiled at CES this week ahead of their debut in laptops from the likes of Acer, Dell, Lenovo and Razer starting next month.
These laptop CPUs are notable because they're the first batch Intel has shipped with a hybrid architecture which integrates performance and efficiency cores in one chip. Apple had great success last year using this type of hybrid architecture for its M1, M1 Pro and M1 Max chips, so it's exciting to see what Intel can achieve with the same setup.
In fact, Intel claims the Core i9-12900HK -- the most powerful Alder Lake laptop chip announced today -- is actually more performant than Apple's beefy M1 Max. We've got more details on the first round of Alder Lake laptop CPUs in our story on how Intel unveiled Alder Lake laptop chips — with power to rival Apple M1 Max -- check it out!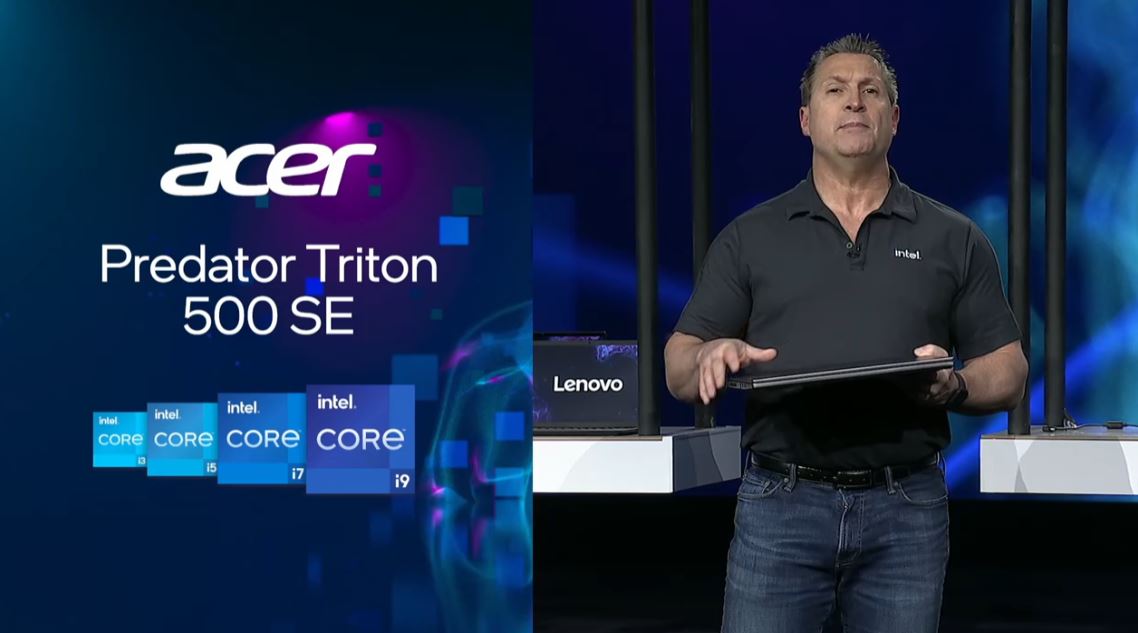 The new Acer Predator Triton 500 SE is being shown off as one of the first laptops that will ship with Alder Lake CPUs -- and it looks like a beefy gaming machine.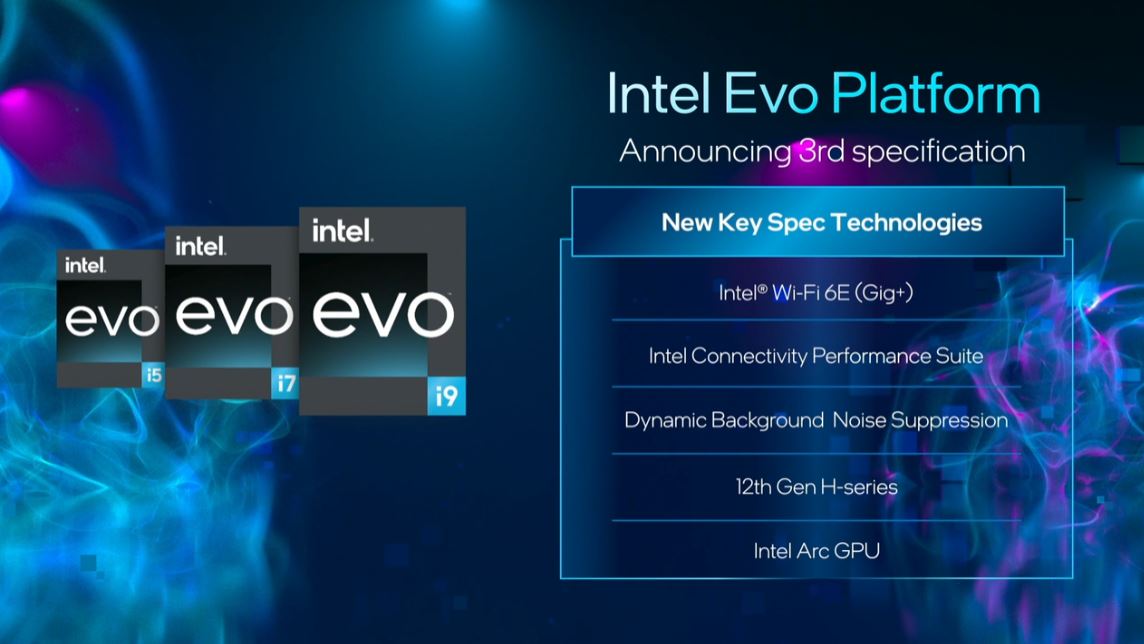 Now Bryant is detailing the new 3rd generation Evo platform spec Intel is announcing this week. Intel's Evo Platform specs are basically guidelines Intel gives to laptop makers to show them what's possible with Intel chips, and laptops that meet all Evo Platform specs can be branded with an Evo logo to let customers know what they're capable of.
Some of the highlights of the new Evo Platform specs include support for Intel's new Wi-Fi 6e (Gig+) technology and integration of an Intel Arc GPU, which can deliver boosted performance when paired with compatible Alder Lake CPUs.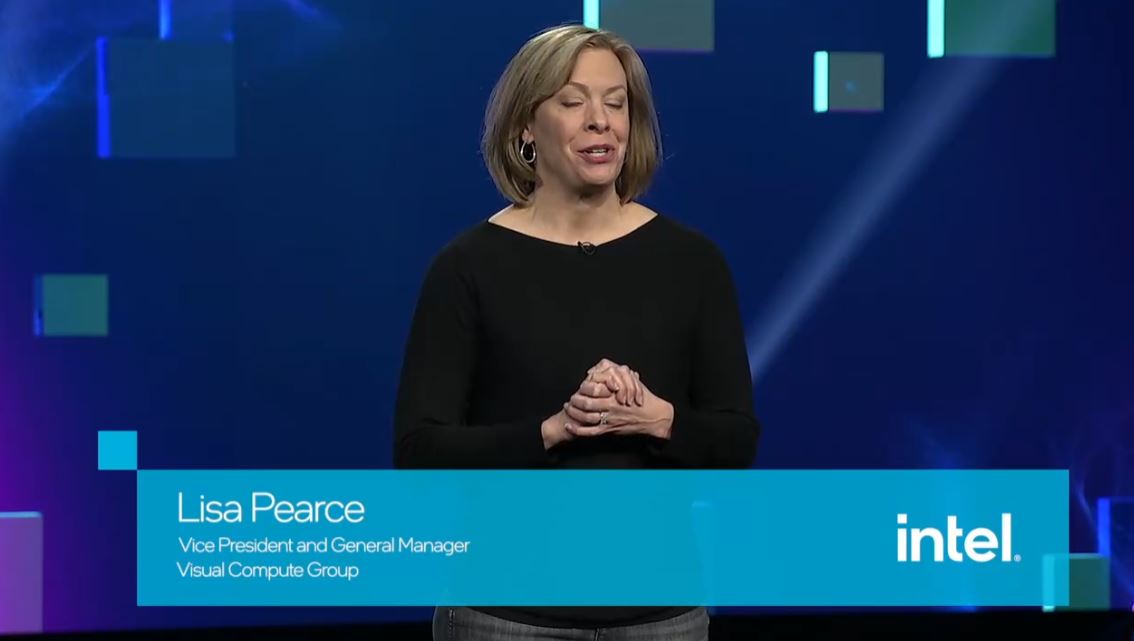 Intel VP and GM Lisa Pearce just took the stage to announce that Intel has begun shipping its Arc GPUs to OEMs. We've got the full story on what matters about the fact that Intel's Arc GPUs are now shipping to PC makers, including the news that Death Stranding Director's Cut will feature exclusive integration of Arc GPU features.
We're less than 30 minutes into this keynote, but Bryant just told us we're about to hear the final announcement -- wonder what it could be?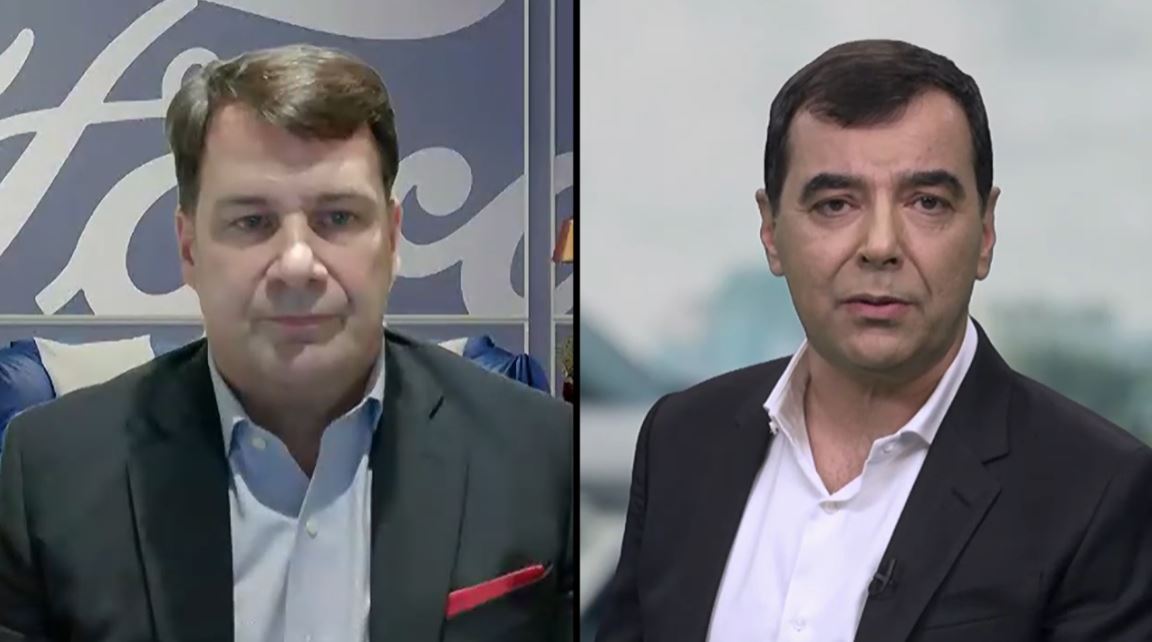 Okay, so...Bryant threw to Mobileye CEO Prof. Amnon Shashua, who's currently having some polite chat with Ford CEO Jim Farley about how Intel helps power Mobileye navigation systems in Ford vehicles.
Maybe Intel has some news to share about self-driving car tech?
(It's worth noting that Mobileye is an Israeli company owned by Intel since 2017, which is why we're currently sitting through a Mobileye promo segment!)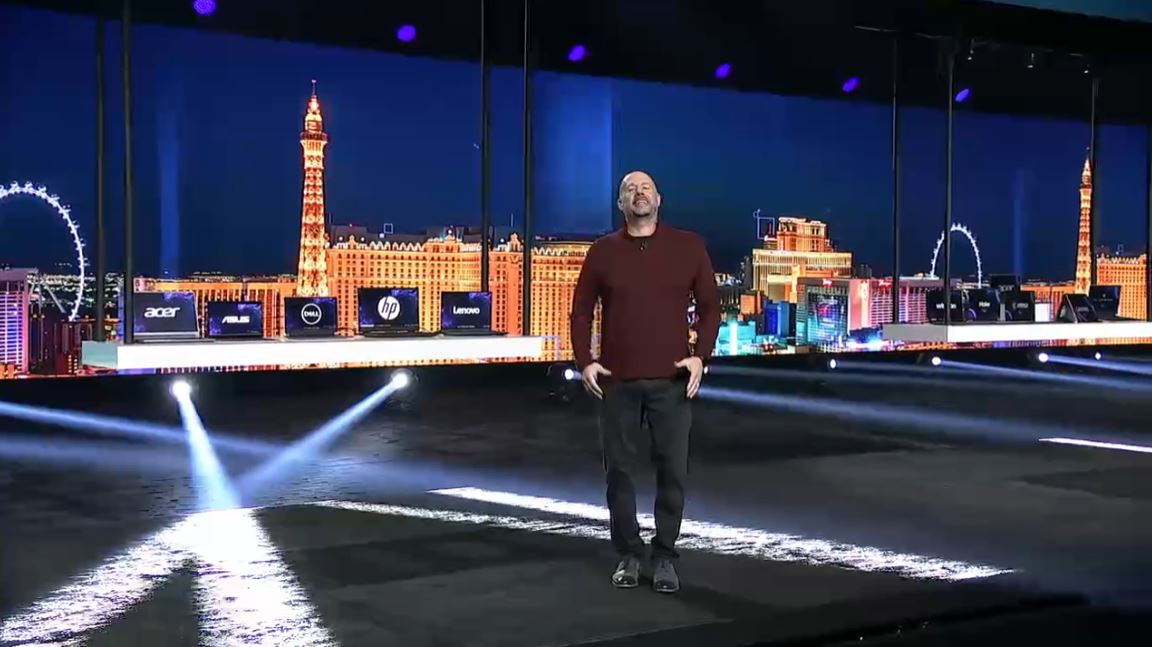 ...and that was the closing segment, as Bryant's now back onstage wishing us all a very happy 2022. Intel will have another press event later this month (January 10-13) but it will likely be focused on its enterprise-grade offerings.
Now that Intel's CES 2022 keynote is over, let's quickly look back at the big highlights:
- Intel unveils Alder Lake laptop chips — with power to rival Apple M1 Max
- Look out, Nvidia and AMD — Intel's Arc GPUs now shipping to PC makers
- New Alder Lake U- and P-series CPUs announced; these are less powerful than the H-series laptop chips debuting next month, and they'll start showing up in Windows 11 foldables, detachables and 2-in-1s later in 2022.
- 22 more Alder Lake desktop CPUs were announced, completing the 12th Gen Intel desktop chip lineup after the first wave of Intel Alder Lake desktop CPUs launched late in 2021.
- Intel has released an update to its 2nd Gen Evo Platform spec to go alongside the debut of Alder Lake laptop CPUs. Over 100 3rd Gen Evo Platform laptops are expected to ship in the first half of 2022 (including some with foldable displays a la the Samsung Galaxy Z Fold 3) with support for Intel technologies like Wi-Fi 6e (Gig+), AI-driven background noise cancellation, and more.

Get the Tom's Guide newsletter!
Instant access to breaking news, the hottest reviews, great deals and helpful tips.
Thank you for signing up to Tom's Guide. You will receive a verification email shortly.
There was a problem. Please refresh the page and try again.