Do you sleep hot and no longer get the comfort you need from your mattress? If so, a cooling topper is a budget-friendly way to reboot your older bed. There are a few on sale right now thanks to early Black Friday mattress deals, including one of our favorites from Nolah Sleep. As of today you can get 35% off the Nolah Mattress Topper, with a queen reduced to $292 (was $449), saving you $157.
The Nolah Mattress Topper is made using AirFoam, which helps regulate temperature during sleep so that you don't overheat. The topper is also covered in breathable organic cotton to wick away sweat. If you want a more natural topper with extra cooling power, you can also save up to $450 on the Nolah Talalay Latex Topper in this early access Black Friday sale.
Buying the best mattress for your body is a sure-fire way to sleep more comfortably at night, but it isn't always possible to budget for a new bed. Investing in a good mattress topper is the next best thing, and with 35% off, the Nolah topper is well worth considering.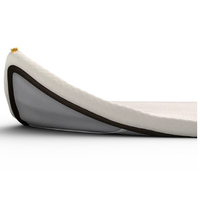 The Nolah Mattress Topper by Nolah
Was: from $299
Now: from $194 at Nolah
Saving: Up to $175
Summary: With its trademarked cooling foam, the Nolah mattress topper offers more pressure relief and durability than standard memory foam bed toppers. Designed to relieve your pressure points and soothe joints, this topper is a perfect addition to your mattress if you suffer with back pain. Its pressure relief lies in the extra layer of cushioning, which contours to the sleeper's shape. They also give you two firmness option: Plush or Luxury Firm, with no difference in price.
It's also perfect for those who overheat at night as this 2" topper is constructed from cooling materials: heat-dissipating CertiPUR-US® certified foam that's made without the heat-trapping chemicals found in memory foam and a moisture-wicking cover made from breathable organic cotton to keep you dry. .
The topper is compatible with mattresses 10" to 15" thick, and comes in a compact box designed for a quick unboxing and easy set-up.
Benefits: Free shipping | 10-year warranty
Price history: Nolah Sleep regularly has 35% off site wide sales, so you don't have to be too strategic about when you buy. Most of the time, Nolah throws in free gifts, such as two free pillows, but these are usually reserved for orders on mattresses only.
What are cooling mattress toppers?
If you suffer from overheating or night sweats at bedtime, one of the best ways to stay cool and dry is by looking for beds with cooling technology. While best cooling mattresses will keep you feeling refreshed, they do tend to be quite expensive. If you want a bed with temperature regulation, but don't have the budget for a fully fledged cooling mattress, the next best thing is a cooling topper.
Toppers are much cheaper than cooling mattresses and are a great way to offset the heat-trapping chemicals of a memory foam mattress. Many toppers also have breathable, moisture-wicking covers to keep you dry, and are constructed from foam infused with cooling materials such as graphite, copper, and charcoal.