Searching for the best mattress on Amazon can be tedious. This retail giant has hundreds of mattresses on offer, so this guide is here to help you sort through the clutter. We'll break down the key features of each of these beds, including any pros and cons to be aware of, based on customer reviews, to help you figure out which is the right choice for you.
In general, mattresses on Amazon fall into two categories:
A. Budget, all-foam models from obscure brands
B. Mid-range models from well-known bed brands
We're mainly focusing on A in this guide. In this category, don't expect the best mattress in the world, but there are some good-value, decent quality options. There are plenty of strong choices that'd work perfectly well for kids, spare rooms, or anyone on a tight budget. Multiple product pages and different depth options make comparing prices tricky, but you can expect to pay around $300 for a 10-inch thick queen size (the minimum thickness we'd recommend for an average-weight adult). Most of these cheap models are very similar, so your choice might just come down to the one you like the look of, or which is cheapest when you need to buy.
In B. there are are plenty of great beds, but we'd recommend you don't buy them from Amazon, but instead head direct to the brand. There, prices are often the same, but you might get freebies bundled in. Navigating customer service in terms of the mattress trial and guarantee should be simpler too (figuring out how to return a mattress to Amazon isn't always straightforward.)
If you just want a good, not-too-expensive mattress, you might also want to check our best cheap mattress guide, as well as our mattress sales and deals roundup. The latter could get you a better quality mattress for a lower price (whereas Amazon's ticket prices are so low that good discounts are rare). All clear? Let's take a look at the best mattresses on Amazon right now.
The best mattresses on Amazon in 2023, as chosen by experts
The best mattress on Amazon is the Nectar. This mattress stands head and shoulders above the rest of the entries in our list, if we're honest – we think it's the best memory foam mattress around. Up top we'll say that although the Nectar is available on Amazon, we'd recommend buying direct from Nectar if possible, especially as pricing is usually the same.
The Nectar Memory Foam Mattress is an excellent all-rounder, with a keen balance of softness and support that'll work for most people. A three-inch thick layer of memory foam at the top of the design delivers plenty of pressure relief. It has a medium-firm sleep feel (a 6.5/10) and we judged it to be one of the very best mattresses for side sleepers who need that bit of extra softness around their shoulders and hips. It'll also work for most stomach and back sleepers too, though.
The design performed well in all our review tests, absorbing motion well (so you won't be disturbed by a partner's movements) and delivering good edge support (so you can use the full sleep surface, and sit comfortably on the edge of the bed).
As a general rule, all-foam mattresses, like this one, tend to sleep warmer than anything with springs. While none of our testers found they overheated on the Nectar – even in hot summer weather – but if you know you sleep hot, you should consider a specialist cooling mattress (the best budget option is the Cocoon Chill). Cheap memory foam is the worst culprit for trapping heat, so we'd predict that the budget Amazon mattresses below will all sleep warmer than this Nectar model.
Price-wise, it sits in the lower-mid price bracket, with regular Nectar mattress sales taking the price of a queen size down to around $700. That's excellent value for what you're getting here, but it's still the most expensive mattress in our best Amazon mattress list – scroll down for more budget options. If you buy direct from Nectar, you'll get a full year's sleep trial and forever warranty, which is the best you'll find anywhere. Amazon says it'll match those, but we suspect any aftercare will be more straightforward if you buy from Nectar direct.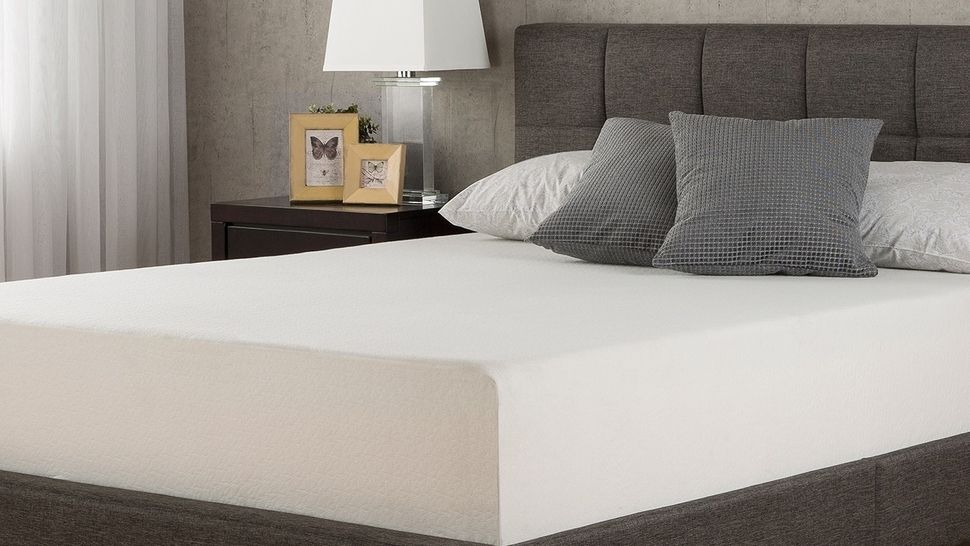 The Zinus Green Tea is an all-foam mattress that's consistently ranked as an Amazon #1 bestseller. We tried out the 10-inch thick queen size model (the minimum thickness we'd recommend for an average weight adult) and found it delivered good comfort and pressure relief for the low price. We'd recommend this as an affordable introduction to memory foam, and a decent choice for kids' or guest bedrooms.
The brand's signature mattress uses green tea-and-charcoal-infused memory foam, designed to absorb moisture and neutralize odors. The foams are CertiPUR-US certified, which means they meet certain health and environmental standards.
It'll come as no surprise that the temperature regulation here isn't the best. Cheap memory foam mattresses almost always cling on to body heat, and none of the budget options in this guide are going to be a great choice for hot sleepers, whatever the marketing materials claim.
Where this mattress does perform well is in pressure relief. This bed has a classic memory foam feel, in that you'll sink into it and it'll contour to your body shape. We judged it to be on the firmer side of medium-firm (around a 7/10), and most of our testing panel found it pretty comfortable in any sleep position. It also isolates motion well, which is good news if you have a restless partner and/or are a light sleeper.
If you're after a budget mattress that includes springs, check out the Linenspa Hybrid. This cheap Amazon mattress uses steel springs alongside layers of foam and memory foam, with the aim of delivering the best of both worlds. (As a rule, anything with springs will cost a bit more, which is why most of Amazon's budget mattresses are all-foam models.) In our tests, we found this model offered decent comfort, support and quality for such a low price, but like most of the models in this roundup, it's best suited to lighter-weight people, children, or occasional use.
Generally, hybrid mattresses will sleep cooler than an all-foam mattress, because the springs create space within the design for air to circulate. However, our testers found that the Linenspa still struggled a bit with temperature regulation. (To avoid this, you'll probably need to spend a bit more, and opt for a mid-range mattress.)
The spring layer also adds some bounciness to the sleep feel. This will appeal to some customers – a more responsive sleep surface is easier to change position on, and not everyone loves the quicksand feel of pure memory foam – but be aware that this mattress won't absorb motion as well as the all-foam models in this ranking will.
We also had some complaints around how sturdy the edges felt, and how long this mattress took to expand to full height. The former will is particularly relevant if you like to sit on the edge of your mattress while getting dressed, for example, or want to be able to use every inch of the sleep surface.
Another well reviewed, affordable Amazon mattress comes from Novilla. The design is made from three layers of foam, including memory foam for body-contouring support and cushioning. One point of difference here is that the cover is made using bamboo, which is known for being naturally temperature-regulating. It's also removable and washable, making this a good option if you suffer from allergies and want something that's easy to clean.
The Novilla is an 'Amazon's Choice' model, and boasts some very positive reviews. It scores an average of 4.8/5 on durability, and also – weirdly – scent. There is plenty of praise for how comfortable and supportive this mattress is, particularly for lighter weight people and children. We'd expect this model to absorb motion well, which is important if you're sharing the bed and/or are a light sleeper. Once again, the brand claims this mattress is cooling, but the reviews, on the whole, disagree. While a few customers do praise the temperature regulation here, most complain that it traps body heat. That's exactly what we'd expect from an all-foam mattress at this price point.
A slight point of concern is over this mattress' warranty. At time of writing, one of the images has a graphic over it that says '10 year warranty', but there's no mention of that in the description on the page, only a paragraph telling you to contact the manufacturer directly for warranty details.
The Classic Brands mattress is one of the Amazon's Choice models, and is available in a range of depths – although they're all on separate pages, so you'll need to browse via the Classic Brands page to find the others. We'd recommend a minimum of 10 inches for most adults. Most of the focus here is on this mattress' cooling powers, so it's slightly awkward to scroll to the comments section and find that the overwhelming consensus is that this mattress sleeps quite warm. (There is an option to choose to upgrade to 'Cool Gel Chill', but there's no indication of what the difference is.)
While it's a little disappointing given the marketing materials, it's exactly what we'd expect from a low-priced, all-foam mattress. We'd imagine that the cooling performance is in line with most of other other beds in this Amazon mattress lineup – cheap, foam beds just aren't built to stay cool.
Don't discount this model immediately though. It'll likely be okay if you a. don't live in a particularly warm area, and b. don't struggle with overheating at night. And despite those underwhelming cooling powers, the Classic Brands mattress comes well reviewed. Impressively, it scores highly for durability (a 4.5 average) – something that often suffers with cheaper mattresses. Reviewers also feel it delivers good value for money (a 4.4 average), and there are plenty of positive reviews about how comfortable this mattress is.
Amazon mattress FAQs
How to choose the best Amazon mattress
When it comes to finding the best mattress on Amazon, you'll want to consider the following criteria...
1. Materials
Are you looking for memory foam? Springs? A combo of both (hybrid)? Regardless, make sure you're searching for a mattress that best suits your needs whether you want more of a firm feel or a soft, plush one. Also consider other sleep issues you hope to remedy – for instance, overheating, back pain, or sharing a bed with a restless partner – and seek a bed that can address those.
2. Your budget
Amazon offers a wide variety of mattresses at different price points. Depending on what your budget looks like, you can shop mattresses from as little as $199 or exceeding $500. Mattress sales are highly competitive in general, but Amazon isn't the best place to find them, because the ticket prices are so low to begin with. If you are hoping to find a discount on a mattress at Amazon, the Prime Day sales are perhaps your best hope, or the Black Friday mattress deals and following Cyber Monday mattress deals in November.
3. Ease of returns
This last point is the most crucial. For most mattresses, it takes nearly 30 days to break it in. Major brands (like Nectar or Saatva) understand the risk that goes into purchasing a bed online, which is why they offer generous months-long trial periods and seamless return policies.
However, when these major mattress brands sell on Amazon, it's not always clear whether perks like year-long trials and free returns apply. We strongly suggest that you check the Warranty and Support section of the mattress listing on Amazon or contact the manufacturer directly to learn what their trial and return policies are if you purchase from Amazon (or any third-party seller).
Does Amazon make its own mattress?
Unsurprisingly, Amazon does manufacture its own mattresses. For instance, there's the Amazon Basics Foam PillowTop mattress, which ranges in price from $143 to $395, depending on the size and profile you choose. Made from three dense layers of memory foam, this basic mattress serves its purpose as a place to sleep at night. It only has about 600 reviews as of November 2022, but they're quite solid so far with a 4.4-out-of-5 star rating.
Meanwhile, there's also Revel, an Amazon private label meant to compete with the likes of Nectar and Tuft & Needle. These memory foam mattresses are more mid-range than budget, though they're still quite affordable. However, stock is severely limited right now. The Revel Custom Cool mattress retails for $429 in king and the Revel Premium Cool mattress goes for $389 in full. (Neither option has queen in stock.)