Dreamfoam Essential mattress review in brief
The Dreamfoam Essential Mattress is a straightforward, all-foam bed-in-a-box mattress from parent company Brooklyn Bedding. It was originally known as the Brooklyn Bedding Chill, and has two main selling points: it's very budget-friendly, and it comes in a huge selection of variations (five different thicknesses and 22 different sizes, at time of writing).
We slept on a queen sized, 10 inch thick Dreamfoam Essential for three weeks, to see how it compares the rest of today's best mattresses, and the best budget mattress brands specifically.
Dreamfoam Essential specs
Type: All-foam
Materials: Memory foam, other foams
Firmness: Medium-firm 7/10
Depth: 10 inches
Trial period: 120 nights
Warranty: 10 years
Price bracket: Lower mid-range
In the case of this model, the taller the mattress, the softer the sleep feel. All are all-foam mattresses, but the proportions of the different types of foam vary depending on which thickness you opt for. The 10-inch model we reviewed is the middle option, and about the minimum thickness we'd recommend for most adults.
Dreamfoam says it has a medium-firm sleep feel and will suit any sleep position. We'd broadly agree, although it's better suited to back and stomach sleepers than side sleepers, as there isn't a huge amount of contouring from the memory foam. The good news is the variety of thickness/firmness options means there'll be an option for most body types and sleep positions.
Like most foam mattresses, motion isolation is good. This mattress will work nicely for couples, since you won't be overly disturbed the movements of a restless sleeper or a partner on a different sleep schedule. We were also fairly impressed with the temperature regulation here – foam mattresses can trap heat, but this mattress remained pretty neutral, and we never felt overly warm during our review period.
Where this mattress fell down a bit was the edge support – it does sag a bit if you sit right on the edge, although it's not bad enough that you'll feel like you might roll off. If you need the support of a firm edge for sitting or pushing off to a standing position, this mattress won't be ideal.
We also noticed a couple of stitches at one edge came out after sleeping on the mattress for a few weeks. This surprised us, because the mattress looks and feels like good quality otherwise. The materials and craftsmanship are on par with, or better than, what we'd expect for the price.
While it's not the most luxurious mattress we've ever slept on, overall we felt it was a great value for a reasonable price point. If you're shopping for a spare room, or for an awkwardly-shaped frame – such as an RV bed – this would be a great choice. In fact, one of our testers actually purchased one for a spare room after testing it out for this review. Want to learn more about the Dreamfoam Essential Mattress? Read on for our in-depth review.
Dreamfoam Essential mattress review: Price
Price varies by thickness, but even the priciest is lower mid-range
Expect to pay 25% off MSRP
Includes free shipping and returns, 120 night trial
You'll rarely pay MSRP for any mattress, and that goes for the Dreamfoam Essential too. You can expect to get 25% off ticket price, and perhaps more over major mattress sales events.
As you'd expect, the thicker versions of this mattress cost more, but none are above the lower mid-range price bracket. The cheapest 6-inch model costs $524 at MSRP but is usually discounted to $393, and falls solidly in the budget price bracket. The most expensive 14-inch model is $949 at full price, but usually $711.75. For most adults we'd recommend a minimum depth of 10 inches (the version we tested). That one sits in the lower mid-range bracket.
Here's a look at the ticket prices for the Dreamfoam Essential, alongside how much you can expect to actually pay:
Twin: from MSRP $274 (usually sold at $206)
Full: from MSRP $449 (usually sold at $337)
Queen: from MSRP $524 (usually sold at $393)
King: from MSRP $699 (usually sold at $524)
Cal King: from MSRP $699 (usually sold at $524)
There's free shipping to your door, free returns, a 120 night trial, and 10-year warranty against manufacturer defects.
All-foam mattresses are often more affordable than anything with springs, and a good option if you're on a tight budget. You can see how this model compares in price to other brands' offerings our our roundup of the best memory foam mattresses.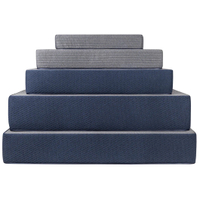 See the Dreamfoam Essential at Brooklyn Bedding
Get a 120-night trial and 10-year warranty on the all-foam Dreamfoam Essential Mattress that comes in a huge variety of sizes and thicknesses. This well-priced mattress is comfortable for all kinds of sleepers. It's perfect for unusually-sized spaces such as RVs and dorm rooms since it can be ordered in specialized dimensions.
Dreamfoam Essential mattress review: Design
Straightforward, all-foam design
Two or three layers (depending on thickness)
Available in a huge variety of sizes, including RV sizes
The Dreamfoam Essential is a straightforward, all-foam mattress. The thinner versions (6, 8, and 10 inches) have just two layers: a dense foam foundation, for stability, and a memory foam upper layer, for contouring and comfort. The two thicker versions (12 and 14 inches) add a layer of 'transition foam' between the memory foam upper and the base layer.
Foams can trap body heat and all-foam mattresses, like these, will almost always sleep warmer than a hybrid model (because the springs create space for air to circulate within the mattress). Brooklyn Bedding aims to offset this issue by adding gel into the memory foam in the Dreamfoam, designed to help prevent overheating.
One other thing to note is that the Dreamfoam Essential comes in a huge range of sizes – 22 at time of writing, including 10 different RV mattress sizes. So it might not be your top choice if you're just looking for the best queen size mattress, but it comes into its own for more unusually shaped spaces – Twin XL, Short Full, Olympic Queen, and others are all on the list, as well as RV and bunk bed options.
Brooklyn Bedding has quite an eclectic range. This mattress sits in a lineup alongside mattresses like the Brooklyn Signature Hybrid and Brooklyn Aurora Luxe, as well as more specialist models like the the Plank (one of the best firm mattresses around). But design-wise it doesn't have much in common with any of those, or any other mattress Brooklyn makes.
Dreamfoam Essential mattress review: Support and comfort
Firmness depends on thickness – 10" version is medium-firm
Not much body contouring; easy to move around on
10" version is comfortable in all positions
The different thickness options have different firmness profiles, so you can adjust your choice based on how firm you want your mattress to be.
Swipe to scroll horizontally
| Thickness | Rating out of 10 | Sleep feel |
| --- | --- | --- |
| 6" | 7-9 | Firm |
| 8" | 6-8 | Medium-firm |
| 10" | 5-7 | Medium-firm |
| 12" | 4-6 | Medium |
| 14" | 3-5 | Soft-medium |
We'll be focusing on the 10-inch model here, which Dreamfoam rates at 5-7 out of 10 (medium-firm), but our testers found it was on the firmer end of that scale. For an objective assessment, we placed a 15lb weight in the center of the mattress to measure how much sinkage there is. The weight sank 2 inches into the mattress, which puts it in the medium-firm bracket.
When lying on the Dreamfoam Essential, you sink in only slightly, with only a little contouring (the thicker versions promise a softer sleep feel – although obviously we can only vouch for the 10-inch version). The foam springs back pretty quickly, and changing position is easy.
The primary tester of the 10-inch medium-firm Dreamfoam Essential Mattress is a side sleeper while the secondary tester is a stomach sleeper. Our primary and secondary sleep testers both have lighter-weight bodies. Both testers found the mattress to be comfortable, but the stomach-sleeper especially so.
The mattress was comfortable in all positions, but more comfortable for sleeping on the back or stomach than the side. The primary tester is a side-sleeper and prefers more cushioning than this mattress provided, but still had no trouble sleeping on it. The secondary tester, a stomach sleeper, thought this was perfect, even better than pricier innerspring mattresses. While we didn't have a heavier person test this mattress, we think it would be supportive enough for a range of weights. The mattress molds to the body shape pretty well, keeping our spines in alignment, while still supporting us so we didn't feel like we were sinking too far into it.
Whether you prefer a softer or firmer mattress comes down to personal preference, but generally side sleepers will want a medium to medium-firm mattress (5 or more out of 10 on the firmness scale.) This recommendation is based on the idea that you want some give around your shoulders so that pressure doesn't build up and cause discomfort while you sleep. A slightly softer mattress will allow this without lacking support for your lower back.
However, front or back sleepers will prefer medium-firm to firm (7 or more out of 10.) The extra firmness helps keep your spine in neutral alignment and prevents your hips from dropping too low.
Another important factor is body weight. Lighter bodies will feel more comfortable on a mattress that falls on the softer end of the scale, while heavier bodies will feel more comfortable at the firmer end of the range.
Dreamfoam Essential mattress review: Performance
Minimal motion transfer
Adequate temperature regulation
Good edge support for sleeping, less for sitting
We tested the mattress for three weeks, paying special attention to motion isolation, temperature regulation, and edge support. Our primary tester is a side-sleeper while the secondary tester is a stomach sleeper.
Motion isolation
We found this mattress to be pretty good as far as motion isolation is concerned. In other words, the movement of one partner doesn't overly transfer to the other side of the mattress. This is a key thing to look for if you share a bed with a restless partner, or are yourself a restless sleeper.
Our primary tester is particularly sensitive to movements in the bed, and found the motion isolation to be pretty good on this mattress. While there wasn't 100 per cent motion isolation, their partner's movements were definitely 'muffled' by the mattress. We expect even better isolation on the thicker, softer versions of this bed.
We tested the mattress' motion isolation by placing a wine glass in the center of the mattress and dropping a 15-pound weight at varying distances from the glass. At four inches away, the wine glass fell over. At 10 inches, the wine glass jiggled but didn't fall over. At 25 inches, the wine glass moved only slightly. Based on this testing, even a fidgety sleeping partner shouldn't overly affect your sleeping experience.
Score: 4 out of 5
Temperature regulation
Our mattress testers tend to sleep hot and so minimal bedding was used in testing: just sheets and a light blanket. The testing took place in northeast Ohio in the spring, where temperatures are pretty moderate, in a home with central A/C and heat and a thermostat set at 68 degrees Fahrenheit. The foam's open cell technology is supposed to promote airflow and breathability.
We didn't notice any excessive warming from the mattress, but we did not notice any cooling properties, either. It feels neutral to the touch. This mattress was not noticeably cooler or warmer than any other mattresses our testers have slept on.
Score: 4 out of 5
Edge support
Edge support is important in terms of maximizing the sleeping area, sitting on the edge of the bed, and getting leverage for pushing off the bed. Our tester performed an edge test with the 15lb kettlebell weight, measuring the amount of sinkage on the edges and bottom of the mattress. In all three cases, we measured 1.5 inches of sinkage. This is actually not a bad score – we look for less sinkage around the edges than in the middle, and the middle of this mattress had 2 inches of sinkage.
However, our testers felt a bit unsupported when sitting right on the edge of the bed. That said, neither of our testers ever felt in danger or rolling or falling off the edge of the bed when sleeping. The size of mattress you choose will come into play here – if you're picking a smaller size, it's more important to have good edge support.
If you need firm edge support for sitting on the edge or pushing off, this might not be your ideal mattress.
Score: 3 out of 5
Dreamfoam Essential mattress review: Delivery & setup
Mattress arrived rolled up and vacuum-packed in a box
Free doorstep delivery, may need two people to move the box into place
No noticeable off-gassing
The Dreamfoam Essential Mattress arrives on your doorstep rolled up, vacuum-sealed in plastic, and packed in a cardboard box. We were given a day and a rough delivery window, but we did not need to be home to accept delivery since it was a porch drop-off. There is no option to upgrade to a more comprehensive delivery option, such a setup or removal of an old mattress.
The box is dense and heavy, of course. So, it may take two people to bring it inside and carry it to the bedroom, particularly if stairs are involved. Once unpacked from the box and plastic, the mattress unfurls and puffs up on its own quite quickly. Although the site and instructions don't offer any guidance as to how long we should leave the mattress to expand, our review model was fully inflated and ready to sleep in a matter of minutes.
Cheaper mattresses can sometimes have worse off-gassing, but that wasn't the case here. Though our primary reviewer has a sensitive nose, we didn't notice any unpleasant off-gassing smell and were able to sleep on it the first night it arrived. Note that off-gassing experiences can vary from person to person and model to model.
Dreamfoam Essential mattress review: Customer reviews
Average of 4.7 / 5 stars over 3,500 reviews (May 2023)
No ability to filter by height/firmness
Praise for fair price, easy setup, quality, and helpful customer service
There are over 3,500 reviews on the company's website (May 2023), the vast majority of which are four or five stars. However, reviews are for all the different thickness options, and although some reviewers state which mattress height they purchased, others do not, and you cannot filter the reviews by thickness. That means it's difficult to draw useful conclusions when considering comments around comfort or pressure relief.
Happy customers cite the mattress' comfort, fair price, easy setup, quality construction, and helpful customer service. Some reviewers specifically mentioned relief from back or hip pain. Many described it a big upgrade from the stock mattress for their RV or camper. Because of all the custom sizes, the Dreamfoam Essential also seems to be a popular pick for a trundle bed, Murphy bed, day bed, loft, trailer, bunk bed, or houseboat.
The unhappy customers by and large report that the mattress is uncomfortable, most of them saying it's too firm. While the site notes that the reviewer is a verified buyer, I noticed that few of the one- and two-star reviewers mention which thickness was purchased.
Should you buy the Dreamfoam Essential mattress?
The Dreamfoam Essential Mattress by Brooklyn Bedding is a comfortable and reasonably-priced all-foam mattress. The standout feature is the fact that you can choose from 22 different mattress dimensions, including many that are sized for specific RV spaces. You can choose from five different thicknesses, which determines how firm the mattress will be. This makes the Dreamfoam Essential a top choice for RVs, campers, houseboats, murphy beds, trundle beds, bunk beds, and other difficult-to-fit spaces.
We'd also recommend this mattress for guest rooms, as it carries a reasonable price tag and sleeps quite comfortably – particularly if you sleep on your back or front, and prefer a responsive sleep surface rather than a slow-moving, sink-in feel. In fact, our primary tester actually bought this exact mattress for their own daughter's guest room (knowing they'd be sleeping on it when visiting) after completion of testing.
The 10-inch model is suitable for anyone, any size or sleep position, though it'll be more comfortable for back and stomach sleepers than for side sleepers. Side sleepers may prefer a thicker, softer model.
You could use it as your primary mattress, if your budget doesn't allow for an innerspring mattress or you simply prefer an all-foam model. However, some of the stitches coming out after only a few weeks' use makes us wonder about the long-term daily usage of this mattress. The 120-night risk-free trial and 10-year warranty against manufacturing defects should offset things like this, but it's something to keep in mind.
Dreamfoam Essential mattress review: Alternatives to consider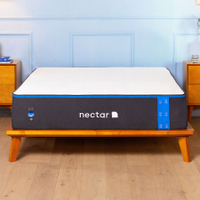 Nectar mattress
For only a slightly higher price than the DreamFoam, you can pick up our top-rated memory foam mattress. The 12" tall Nectar is an ultra-popular, high-quality, medium-firm mattress that comes with a full year's trial period and forever warranty. It doesn't come in the variety of versions available with the DreamFoam – there's just one thickness and the standard range of sizes. Read our Nectar mattress review to learn more.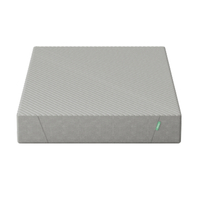 Siena Memory Foam Mattress
If you want something cheaper and firmer, check out the Siena. This is our favorite budget mattress, and it's significantly cheaper than the DreamFoam (based on the 10" version). Being from the same parent brand as the Nectar, the Siena delivers very good quality for that very low price. Again, the range is smaller – there are no RV sizes or different thickness options. Head to our Siena mattress review for more info.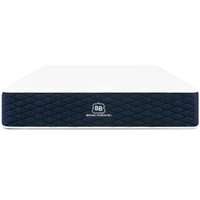 Brooklyn Bedding Signature Hybrid mattress
If you're here because you want an RV mattress or something for another awkwardly-shaped space, and not because you want a budget mattress, be aware that a few of Brooklyn Bedding's mattresses are available in that wider selection of size options. Case in point, the Signature Hybrid. It's much more luxurious than the DreamFoam, with a hybrid design available in three firmness options. The cushioned yet supportive sleep feel suits all positions. Read more in our Brooklyn Bedding Signature Hybrid review.