Best luxury mattress: Menu
1. Best overall
2. Best affordable
3. Best for side sleepers
4. Best cooling
5. Best memory foam
6. Best for back pain
7. Best organic
8. Best luxury mattress FAQs

How we rate mattresses
We rigorously research and test the latest mattresses to provide accurate and unbiased recommendations. We rate each mattress out of 10, and use our review data to inform our rankings. Read our full methodology.
From high-quality materials to state-of-the-art cooling technology, the best luxury mattress will bring an element of glamour into your bedroom while alleviating your sleep issues. And with the quality of your sleep being important to your overall health, investing in the best luxury mattress your budget will allow is always money well spent.
But where to begin? It can be difficult to know which reputable brand to opt for or how much money you should be paying — especially if you're spending more than you normally would. Luckily, our panel of expert mattress testers have spent hundreds of hours testing and researching all the mattresses in this guide, so we've cut through the brand promises and the marketing to help you find the best luxury mattress that suits your needs.
While some of the luxury models listed below are also included in our best mattress guide (which caters to all budgets), this guide consists exclusively of the best luxury mattresses for sale today. While there are more expensive mattresses on the market, the mattresses we've chosen below are all in the upper-mid range price bracket — so they're still a splurge, but a justifiable one. However, there are plenty of savings to be had in the holiday season's mattress sales, meaning you can get a luxury mattress at a bargain price.
Before you add to cart, let's take a look at the best luxury mattresses on the market, as chosen by our panel of expert testers…
Best luxury mattress overall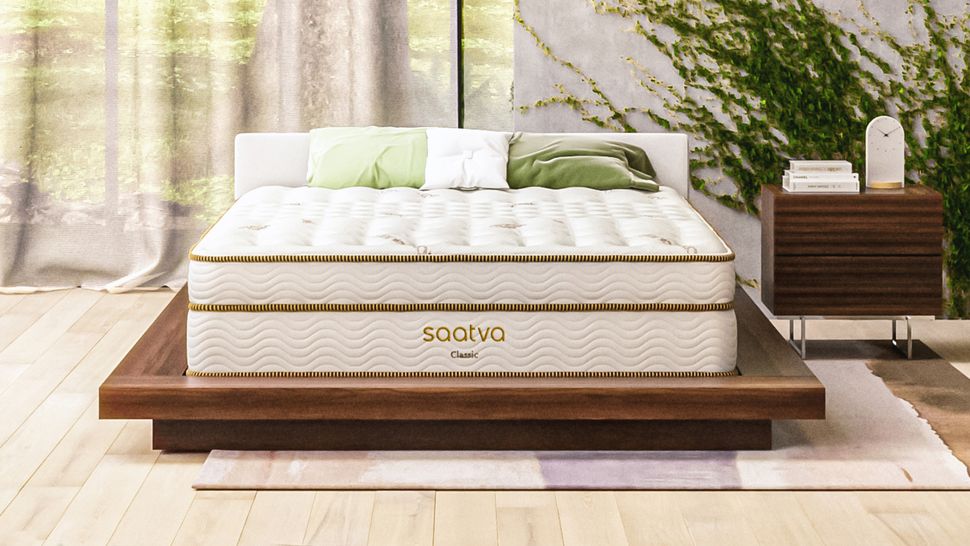 The Saatva Classic is the best luxury mattress on the market. This award-winning innerspring hybrid combines a plush 3-inch pillow-top for cushioning at the top, followed by two layers of coils to deliver sturdy support with a little bounce. There isn't loads of foam here – a thin layer provides extra lumbar support in the middle third of the mattress, and you'll also find it around the perimeter, to bolster edge support. The focus on springs rather than foam means the Classic has a traditional but sumptuous feel, with plenty of space for air to circulate within the mattress, creating a breathable sleep surface.
The most customizable of any mattress in this list, the Classic is not only available in three firmness options but also two different depths. Opt for the thicker version for maximum luxury. (There isn't officially a 'bigger bodies' option, there is the Saatva HD, which has a very similar design.)
We tested the Luxury Firm version (rated a 5-7 out of 10 on firmness), and found it enormously comfortable from the off. It was slightly firmer than we were expecting, but delivered plenty of cushioning as well as ample support. This is a mattress you sleep 'on top of' rather than sinking in too much – if you're looking for a full memory foam 'hug', check out the Tempur-Pedic (#4).
In our tests, the Saatva Classic scored highly on edge support and pressure relief, although you might experience some slight motion transfer if you opt for the softest version. This mattress should stand the test of time, too – after a full year of sleeping on it, our reviewer commented that it still held up in terms of support and pressure point relief.
The Classic is delivered flat, but free white glove delivery is included in the price, so you won't need to worry about wrangling it into place in your bedroom, as the delivery people will take care of that for you. There's a year's trial period so you can test it out in all seasons before fully committing, and a lifetime warranty too. Our only slight niggle is that you'll pay a $99 fee if you do decide to return or exchange.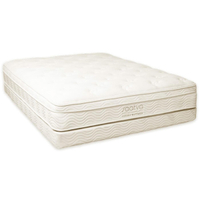 Saatva Classic mattress: from $1,095 $695 at Saatva

There's currently $400 off the Saatva Classic mattress at Saavta on orders over $1000. That brings the price of a queen mattress down to $1,595 ($1,995). It saves you $100 more than last month's discount, but earlier this year you could have bought a queen Classic for just $1,345, which is the best price we've seen on that model since Memorial Day last year. However, we can't guarantee that a price drop that big will happen anytime soon, so the current deal is still excellent value and we highly recommend taking advantage of it.
Best affordable luxury mattress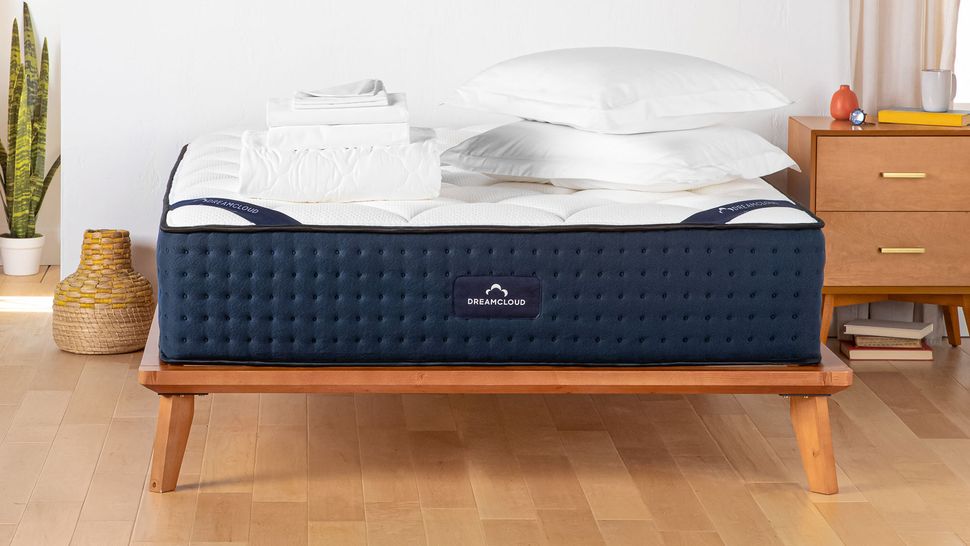 If you're looking for a less decadent, more budget friendly model, check out the DreamCloud. This mattress tops our best affordable mattress list, and while it's not as luxurious or top-quality as others in our ranking, it manages to deliver a pretty high-end feel for its mid-range price.
This five-layer mattress includes a cashmere blend, foam and springs. It's only available in one firmness level, but it's designed to suit any type of sleeper, whether you lie on your front or side. If you currently have back or hip pain when you wake up, this could be the luxury mattress for you, as it should help alleviate this pain. It also shines when it comes to motion isolation, a useful feature if you have a co-sleeper who likes to toss and turn a lot while asleep.
In our review, we judged it to be 8 out of 10 on the firmness scale – meaning anyone who selects this bed should like a medium level of firmness. Our reviewer found it took a few days to get used to, but then it cushioned her hips and shoulders well. The temperature regulation was also a standout feature – keeping our reviewer cool all year round, due to the gel-infused comfort layer and breathable cashmere-blend cover.
Customers who left glowing reviews for the mattress mentioned that the bed left no visible compression points where they slept and noted after four years of sleeping on the bed that they 'woke up feeling refreshed every day'. Regular DreamCloud mattress sale offers mean you shouldn't have to pay MSRP, either.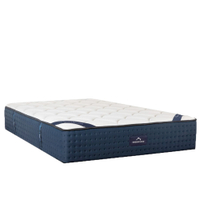 Dream Cloud Luxury Hybrid: from $839 $449 at DreamCloud
DreamCloud's extended Cyber Week sale is still going strong, offering 40% off all mattresses . This sale takes a queen luxury hybrid down to $799, saving you an impressive $533. Although you'll never pay full price for a DreamCloud thanks to their rolling discounts and sales, this isn't the lowest price we've ever seen from this brand, as they hosted a 50% off sitewide sale in the fall – so you may want to keep checking the DreamCloud site just in case the half-off sale returns.
Best luxury mattress for side sleepers
Side sleepers seeking a luxurious bedtime experience should check out the Helix Midnight Luxe. This is the more sumptuous version of the Helix Midnight, which tops our best side sleeper mattress guide. This medium-firmness mattress contours around the sleeper's shoulders and hips in a side-lying position, keeping them comfortably cushioned and preventing pressure from building up. It won't suit back or stomach sleepers, who should opt for something firmer, like the Brooklyn Aurora Luxe (#2) or the WinkBed (#6), both of which are available in 'firm' sleep feels.
Lower levels of memory foam give this mattress a touch of that sink-in, contouring feel, but the sensation is masked by the Euro-top (an addition on the Luxe version compared to the regular Midnight), which is springier and more responsive. This top level amps up the luxury – in both look and feel.
The coils that sit beneath the foam level are zoned to be extra firm around the lumbar, ensuring the sleeper's pelvis is properly supported. One potential down-side to be aware of is that this isn't the easiest mattress to maneuver yourself around on, partly due to the squashy pillow-top and softer surface, and partly because the edges could stand to a little sturdier (despite the fact that there are firmer springs around the perimeter of the mattress). It won't be a problem for most people, and in fact is the kind of feel you might expect when you imagine a 'luxury' mattress, but is worth being aware of if you have any kind of mobility problems.
Of course, if you want the most sumptuous option, you could plump for the Elite version instead. This model includes a cooling GlacioTex cover as standard (this is an optional extra on the other two models) and adds two mini-coil layers between the foams at the top, which bump up the overall height to a lofty 16 inches tall.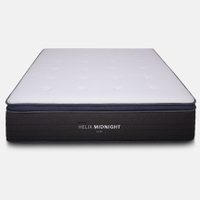 Helix Midnight Luxe: from $1,373.80 $1,099 at Helix
This Helix Midnight Luxe mattress currently has 20% off at Helix, meaning a saving of $474.80 on a queen sized mattress. Although it's a good deal, we saw savings top 25% over Labor Day in September, so it could be worth seeing if those deals are recreated over the holiday season.
Best cooling luxury mattress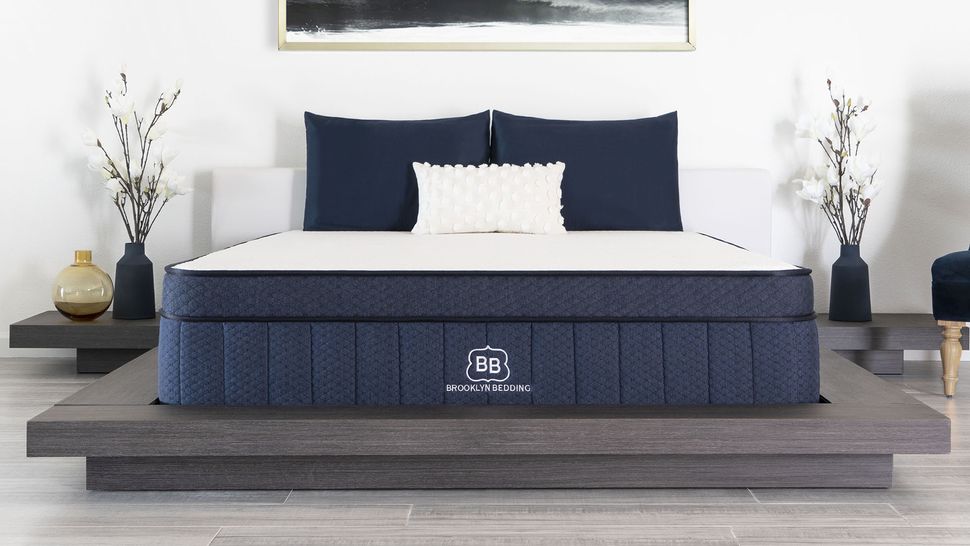 The Brooklyn Aurora Luxe hybrid is another outstanding luxury mattress. Like the Saatva Classic Mattress (#1 on this list), the Aurora comes in three firmness levels: soft (2-4), medium (4-6), or firm (6-8). We slept on the medium model and found it offers a keen balance of plushness and firmness that should suit most back and side sleepers. If you feel like you'll need something softer or more firm, you'll have 120 nights to exchange it or send it back outright for a full refund – not as generous as you'll get with the Saatva (#1) or Avocado Green (#7), but in line with the rest of the options in this list.
The foam-and-coils construction of the Brooklyn Aurora Luxe makes for a supportive, comfortable night's sleep with superb pressure relief. The higher gauge coils on its perimeter translate to above-average edge support so there's no need to worry about sliding off if you're one to sprawl and take up every inch of space on your bed. However, we wouldn't recommend it for couples who share a bed with a restless partner, as motion isolation here is almost non-existent. If that's you, check out the Helix (#3) or WinkBed (#6).
This mattress scored highly on temperature regulation during our testing period. Two of its six layers are dedicated to regulating temperature, with a GlacioTex top cover that's cool to the touch (albeit a touch slippery) plus a layer of phase-changing copper-infused foam designed to draw heat away from your body.
It's also worth flagging that like many of Brooklyn Bedding's mattresses, there's an impressive range of sizes to choose from, including two RV bed sizes (king and bunk). Ideal if you're looking for a luxurious mattress for an awkward space.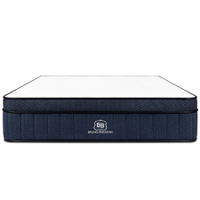 Brooklyn Aurora Luxe Hybrid: from $1,199 $899.30 at Brooklyn Bedding

Brooklyn Bedding currently has 25% off mattresses for Cyber Week with the code CYBER25. This is a decent saving, driving the price of a queen down to $1698.80. While we have seen this brand knock as much as 30% off in the past, it's unlikely that you'll see a bigger discount after Cyber Week.
Best luxury memory foam mattress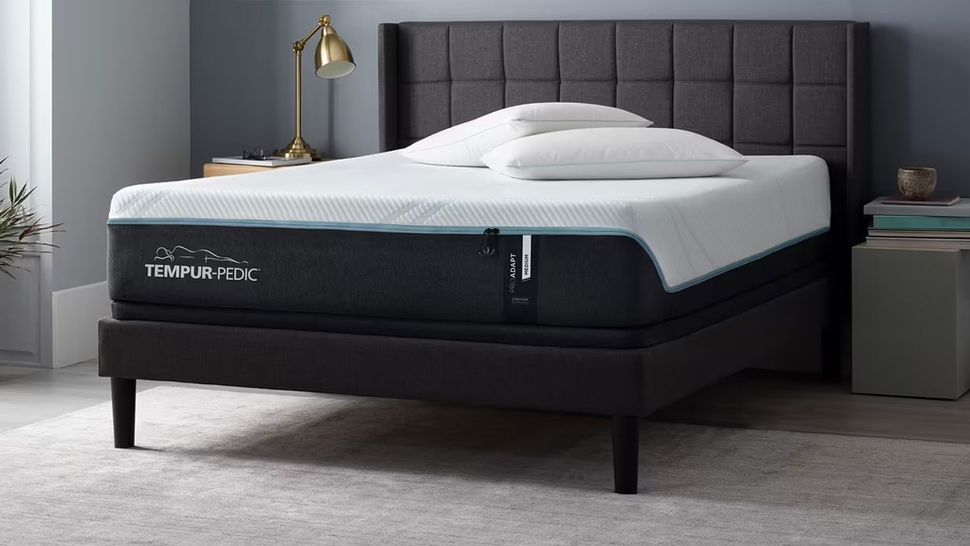 Tempur-Pedic is often hailed as the brand to buy if you're looking for a luxurious mattress. The only purely foam mattress in our selection of luxury mattresses, the Tempur-Adapt is optimized for pressure relief, which it delivers mainly via its distinctive, slow-moving body hugging Tempur Material. The brand insists this isn't memory foam, but it certainly behaves like it (these are generally accepted to be amongst the best memory foam mattresses around).
In our tests, we were impressed with the pressure relief and all-over support offered by this mattress. It also delivers outstanding motion isolation, which is great news if you have a restless partner. Unusually amongst our picks, there's only one firmness option and that's medium firm. We found it best suited to back sleeping – side sleepers might find it too firm.
Tempur-Pedic claims that its Tempur Material foam's open-cell design makes it super breathable, and there are further cooling powers built into the cover. However, during our tests we weren't impressed with this mattress' cooling capabilities, and found it slept warmer than other beds we've tried. If you struggle with overheating at night, you should consider the Tempur-Breeze instead (or head to our best cooling mattress guide for some other options).
At time of writing, this mattress has nearly 6,500 5-star reviews (July 2023), with many saying this bed helped their sore back or knees. However, some customers did explain that the bed takes a couple of weeks to get used to – it definitely hugs the body, which can feel odd if you're used to an innerspring model. Similarly, it won't be the best luxury mattress for you if you like to be able to move around easily – for that consider a bed with springs, like the Saatva Classic (#1), for a more responsive feel.
These are pricey mattresses, and if we're totally honest we think you are paying a slight premium for that brand name. The Tempur feel is fairly unique though, and the people that love it, really love it. If you're sold on that, it could be worth investing. Tempur-Pedic sales do crop up around major holidays, and are worth keeping an eye out for.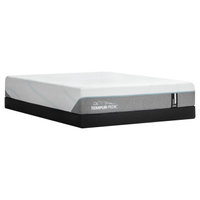 Tempur-Adapt mattress: from $1,699 $1,499 at Tempur-Pedic
If you buy a Tempur-Adapt mattress right now you'll get $300 off and a free bundle of accessories worth $300. Sure, it's not the best Tempur-Pedic mattress sale we've ever seen, especially when the TEMPUR-Cloud constantly has 30% knocked off its price tag. We saw discounts across all mattress ranges in the fall, so holding out to see what savings the holiday season brings may be a good option.
Best luxury mattress for back pain
The WinkBed is used in luxury hotels across America, including The Time Hotel in New York City (find out more in our article on what mattresses do hotels use?). The hybrid design includes a plush pillow-top, individually wrapped pocketed coils and gel-infused foam. There's also a targeted Back Relief system geared specifically towards ensuring proper spinal support. We tested the Luxury Firm version (6.5), and found it delivered cushioned comfort and reliable support for the entire body.
While that firmness option offers a happy medium, there are four different sleep feels to choose from, depending on your sleep style and preference. Side sleepers might prefer the more cushioned feel of the Softer model (ranked at a 4.5/10), while stomach sleepers could opt for the extra support offered by the Firmer model (7.5). While a few of our luxury mattress picks have different firmness options, what's more unusual here is that there's also a dedicated option for bigger bodies, rated at an 8/10 firmness (this is one of our best mattress for heavy people picks).
In our tests, the WinkBed scored highly across the board. It offers excellent motion isolation and edge support, as well as doing a good job of regulating temperature to prevent overheating. In fact, our only real complaints were the $49 exchange fee and the slight off-gassing smell.
The WinkBed is a great option if you can't quite stretch to the Saatva Classic (#1). Both are luxurious hybrids, available in a range of firmness levels, with back support built-in. The Saatva has a longer trial period, but the fee for returns is higher. The main point of difference to consider is that the WinkBed has a thick layer of foam near the top, so you'll get more of a sink-in feel than you will with the Saatva, which is mainly coils.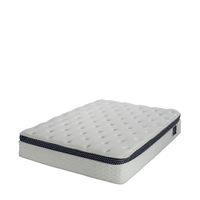 The WinkBed Mattress: from $1,149 $849 at WinkBed
You'll never pay full price on this mattress – a permanent discount knocks $300 off all sizes, dropping a queen size down to $1,499 when you use the code SLEEP300. Although this offer is nothing special, we've never seen it bettered.
Best organic luxury mattress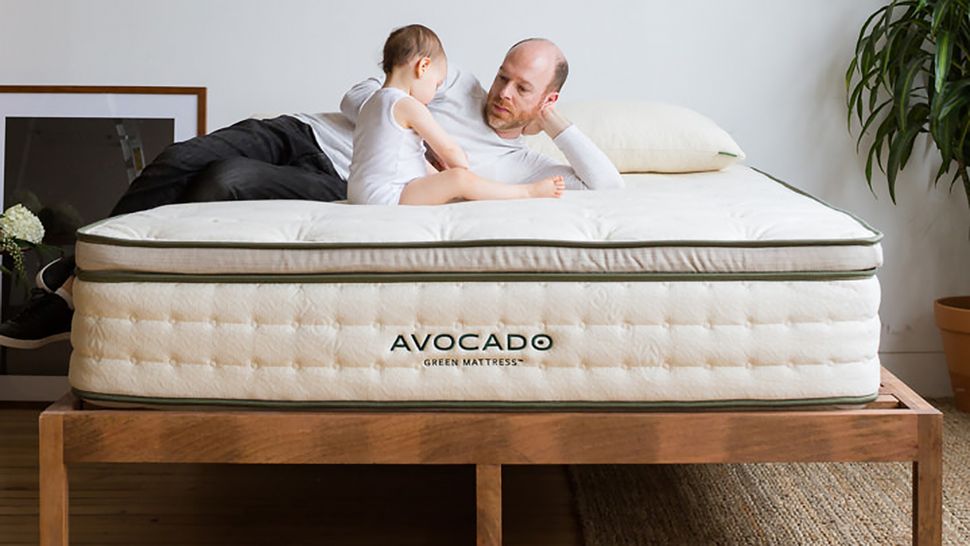 If you're looking for an organic luxury mattress, our top pick is the Avocado Green. This premium mattress is made using high-quality, organic materials, with a particular emphasis on the provenance of each different element. At the top, you'll find a layer of organic wool, which provides cushioning and breathability as well as being a natural fire retardant (there's a vegan version for those avoiding animal products). For body-contouring comfort, you've got latex rather than memory foam. This sits on top of zoned, pocketed coils, which provide custom support and a little bounce. Rather than being glued, the whole thing is held together by ribbons that run through the various layers (known as 'hand tufting').
Our tester found this bed was ultra-supportive. In fact, in might be too supportive for side sleepers, who need a bit more cushioning around their shoulders and hips. However, back sleepers, stomach sleepers and heavier people should get on well with this mattress. You do also have the option of softening things up by adding a pillowtop.
The Avocado Green was another high-scorer in our tests. We were impressed with the temperature regulation here, as well as motion isolation and edge support. The extras are good, too: a full year's sleep trial and $25 year warranty. What we find harder to justify, given that this is already an investment purchase, is the hefty delivery fee – $99 for standard, going up to $249 if you want white glove delivery (Saatva, by contrast, includes white glove delivery for free). If you can get over that, this is one of the very best organic mattresses out there, and especially for those seeking a touch of luxury alongside that eco-friendliness.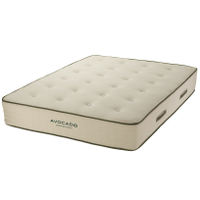 Best luxury mattress FAQs
What is a luxury mattress?
Luxury mattresses are those which boast an elevated build quality, with an expensive look and feel to match the higher price point. Beyond that, the design will vary. Often a luxury mattress will have a complex design, with multiple layers of different materials – innersprings for bounce, body-sculpting memory foam for pressure point relief and motion isolation, and perhaps a pillow top for added plushness. As a result, they'll often be thicker than your average mattress, which adds to the feeling of extravagance again (although you might need to buy some deep sheets!).
A common factor is the use of higher quality materials, so you might find lambswool or cashmere in the cushioned top layers, and any foams should be top-quality, with temperature regulation built in. To justify the higher price point, the brands will often have invested into research, imbuing their luxury beds with technology designed to help with spine alignment, temperature regulation and motion isolation.
How much does a luxury mattress cost?
Expect to pay anything from $1,000 up to around $5,000 for a luxury mattress – especially if you're looking for a standard queen size mattress, small enough to fit in any apartment and big enough for two people to sleep in comfortably.
Remember, you're paying for quality and a luxury mattress is an investment, and will last you longer than a normal mattress – and certainly longer than today's best cheap mattresses. So in the long run, it should be a sound investment.
If you want to buy a luxury mattress, but without the price tag, even luxury mattress brands have semi-regular mattress sales. Make sure to check back here for the best deals – if it fits with when you need to buy, it might be worth waiting for a big event like the Black Friday or the Cyber Monday mattress deals if you want to snag the biggest discounts.
How to choose the best luxury mattress for you?
There's a lot to take into consideration before buying a luxury mattress, especially if you're spending more money than you normally would. Before completing your purchase, think carefully about your current sleeping situation; do you (or anyone you share a bed with) suffer from any aches or pains upon waking? Do you find that you wake frequently during the night because you have overheated? Do you wake up every time your partner rolls over? Does the edge of your mattress dip and collapse if you sleep too near the edge?
Knowing what works (and irks) about your current sleep set-up will help narrow down what you are looking for in a new luxury mattress. Next, look for a mattress with a long free trial period (the Saatva, DreamCloud and Avocado Green all offer a 365 nights trial period) in order to test your mattress over a long period of time, to ensure that it is the right purchase for you.