If you're on the hunt for a DreamCloud mattress deal or sale, you're in the right place. In the US, there's currently 25% off mattresses and $599 of accessories (opens in new tab) thrown in for free. That means a queen size costs $899, which is we'd consider to be right on the cusp between the lower-mid and mid-range price bracket.
DreamCloud has been running this deal since at least last autumn, but it is the lowest price you can expect on these mattresses – so you can buy safe in the knowledge you won't be paying over the odds. It's also excellent value for money, especially if you're in need of those bedding extras.
In the UK? DreamCloud has reduced the price of its Luxury Hybrid mattress by 50% (opens in new tab). Fluctuating RRPs mean you should pay attention to the price rather than the percentage discount here, but we have good news! It's much cheaper than it usually is – normally you'd pay well over £700 for a double, but in the current sale it's £674.50. Read our DreamCloud Luxury Hybrid mattress review to find out why we (and many others) are fans of this affordable beauty.
You could consider going for a 'version 1' of this mattress, although currently the pricing is the same as the current model (opens in new tab). The only difference between the two is that this version doesn't have the new-look cover.
If you've seen our best mattress guide, you'll know that we rate DreamCloud mattresses in general – and they're even more tempting with these amazing discounts. The free bedding is a bonus, too, as buying pillows, sheets and so on can get very costly. Now, let's take a look at the best DreamCloud mattress sales and deals in the US and UK...
US DreamCloud mattress sales and deals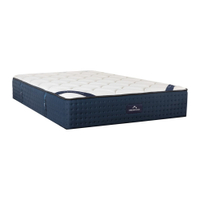 (opens in new tab)
DreamCloud Hybrid Mattress sale: was $799 now from $599 + free bedding bundle at DreamCloud (opens in new tab)
The five-layer DreamCloud Hybrid Mattress is the cheapest model in the US, and combines a breathable cashmere top with gel-infused memory foam for pressure relief, and innerspring coils for bounce. The current sale knocks 25% off everything, and gets you a free bundle of bedding, too. With this offer, a queen is $899.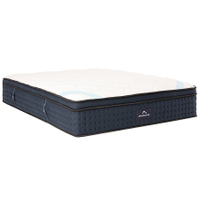 (opens in new tab)
DreamCloud Premier Hybrid Mattress sale: from $749 + free bedding bundle at DreamCloud (opens in new tab)
The six-layer DreamCloud Premier Hybrid sits in the middle of the US range. The differences in design between the three models isn't hugely clear, but this one promises improved support over the cheaper DreamCloud. MSRP fluctuates, which means you should focus on price rather than discount – in the current sale, queen is $1,274, which isn't the cheapest we've seen it (last time we checked, the same model was $1,199). You'll still get a free bedding bundle with your purchase.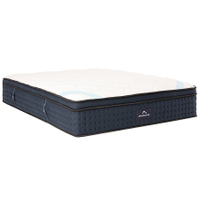 (opens in new tab)
DreamCloud Premier Rest mattress sale: from $1,124 + free bedding bundle at DreamCloud (opens in new tab)
25% off - The eight-layer DreamCloud Premier Rest is the most luxurious and expensive of the US range, and promises maximum support, comfort and plushness. In the current sale, a queen size is $1,649 (not the cheapest price we've seen – just a short while a go it was $1,499). You'll get a free bedding bundle with your purchase.
UK DreamCloud mattress sales and deals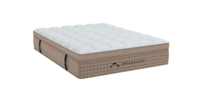 (opens in new tab)
DreamCloud Luxury Hybrid Mattress: was £1,099 now from £549.50 at DreamCloud (opens in new tab)
The UK DreamCloud Luxury Hybrid is a 28cm-tall mattress with 15cm pocket springs for bounce and airflow, as well as a layer of memory foam for custom support. It's designed to suit all sleep styles, and comes with a full year's sleep trial and forever warranty. With the current offer, you can pick up a double for £674.50, which is far cheaper than it usually is (last time we checked, the same model was £728.46).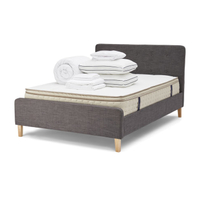 (opens in new tab)
DreamCloud mattress bundle sale UK: was £1,743 now from £871.50 at DreamCloud (opens in new tab)
Save up to £1,019 - If you want a new mattress and bedding, the best DreamCloud mattress sale is on the bundles. These include the Essential Hybrid Mattress Bundle, which gets you the hybrid mattress, a protector duvet and two pillows from £871.50.
Like its sister brand Nectar, DreamCloud also offers one of the longest mattress trials at 365 nights. If you change your mind during the trial, the brand will collect the mattress and refund your money. Remember, you don't need a specific discount code as the savings are automatically added to each model.
To see how the two brands compare, take a look at our in-depth DreamCloud vs Nectar comparison.
DreamCloud mattress price: how much do they cost?
With the latest discounts (no promo code needed), the entry-level DreamCloud mattress in a box is priced from $699 (was from $899). It comes in six different sizes, with the queen size now costing $999 (was $1,199), while the Cal king is priced $1,199 (was $1,399). Whether these prices will change before its official Black Friday mattress deals arrive remains to be seen.
The DreamCloud Premier now costs from $799 with a discount (was $999) and rises up to $1,699 for a Cal king size in the sale (was $1,899). Completing the line-up is the DreamCloud Premier Rest, the most luxurious of the range and designed with a sumptuous cashmere pillow top. The queen size costs $1,799 (was $1,999) in the sale, while a twin starts from $1,299 (was $1,499), costing $300 more than the Premier.
DreamCloud has been running this $200 discount across the site for a while now, as well as offering hundreds of dollars worth of free bedding accessories – although the $599 value is higher than the $499 max we typically see. The dollar-off discount is fairly standard, but the $599 starting price is the lowest we've seen thus far after DreamCloud promo codes.
That means you're likely to find a luxury hybrid mattress for less in the DreamCloud mattress sales, with all three models being offered at a lower prices than comparable competitors such as Saatva, Helix and Casper. However, for a super affordable alternative, take a look at our guide to the best Emma mattress sales and discount codes, which helps you save on the Emma Original US.
In the UK, the one and only DreamCloud has a starting RRP of £1,099, but we regularly see big discounts on this model, with the best being 50% off, reducing the price of a double size to £624.50. For more on this model, read our DreamCloud Luxury Hybrid mattress review.
DreamCloud mattress sale US: today's best prices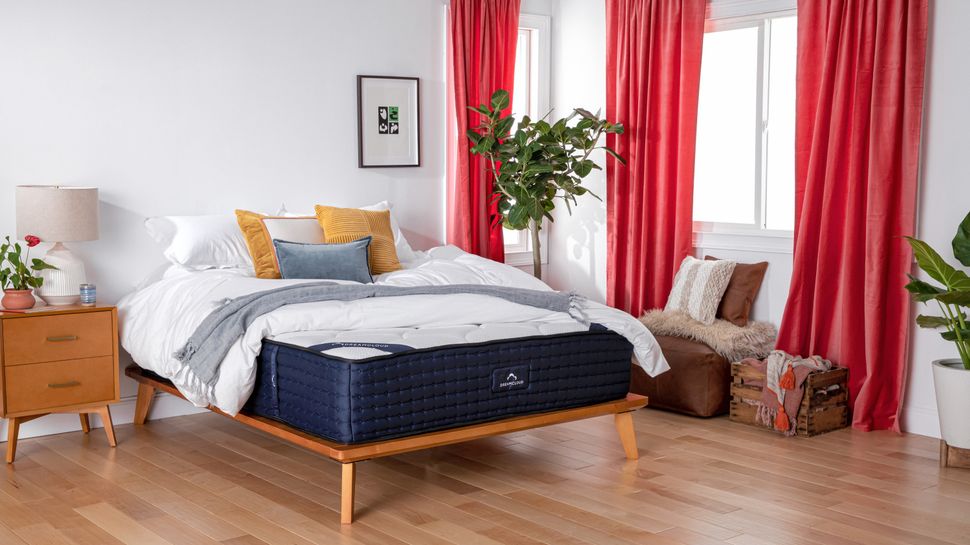 The award winning DreamCloud hybrid mattress combines the contouring of foam with the bounce and support of individually wrapped coils. A hybrid mattress like this is perfect if you're looking for the reduced motion transfer and form hugging structure of memory foam but still want the give of a coil mattress. The DreamCloud offers all of this through five separate layers and a cooling design to avoid any of the over-heating that many associate with a foam mattress.
A cooling quilted foam and cashmere cover sits on top of a layer of pressure relieving gel memory foam. Underneath you'll find an extra layer of supportive foam as well as individually wrapped coils and a base layer to keep everything in line.
All of these layers work together to offer up an incredibly comfortable sleep. The coil layer works with the extra foam support to reduce motion transfer, while also working with the gel memory foam and cover to help with air flow through and disperse heat for a cooler sleep as well.
A twin size starts at just $599 (was $799) for a twin size in the DreamCloud mattress sale, with a queen size coming in at $999 (was $1,199) and the Cal king priced $1,299 (was $1,499). With a total savings of $799 after factoring the $599-worth of freebies, this is on par with past DreamCloud Black Friday sales. Hop on this deal while you can.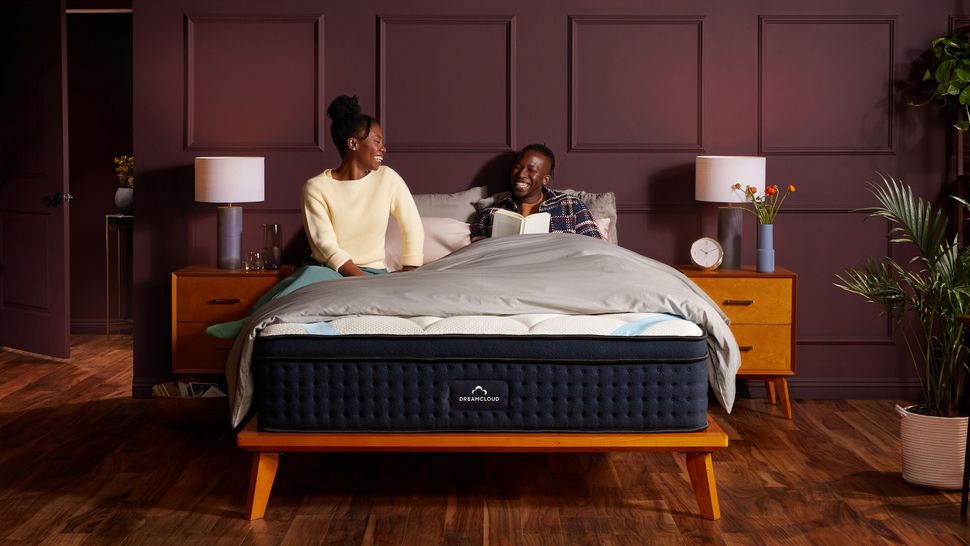 The six-layer DreamCloud Premier mattress is designed to ensure reduced motion transfer, which could help you sleep better if you're regularly disturbed by your partner tossing turning in bed next to you. The materials are more luxurious than the cheaper DreamCloud Mattress too, starting with a Mongolian cashmere-blend cover. Although it's not specifically designed for bigger bodies, reviews suggest this is one of the best mattresses for heavy people, too.
Taking its cues from some of the best memory foam mattresses, this DreamCloud hybrid has a one-inch thick Euro Top Cradle Layer followed by a one-inch thick Euro Top Support Layer, plus a 2.5-inch layer of contouring memory foam to relieve pressure points.
Underneath all that foam lives 8.5 inches of individually wrapped coils or a fine-tuned layer of support that naturally adjusts to your body position during sleep. While this isn't a proper cooling mattress, those coils should help boost airflow too. At the bottom of the mattress a porous foam base keeps the bed steady while further reducing motion transfer.
While the price does rise to reflect these enhancements, you're still getting a great deal here. Starting at $799 with a discount, the DreamCloud Premier still undercuts some of the pricier mattresses on the market while offering some luxury features to boot. We hope to see this one in the brand's Black Friday sale in November.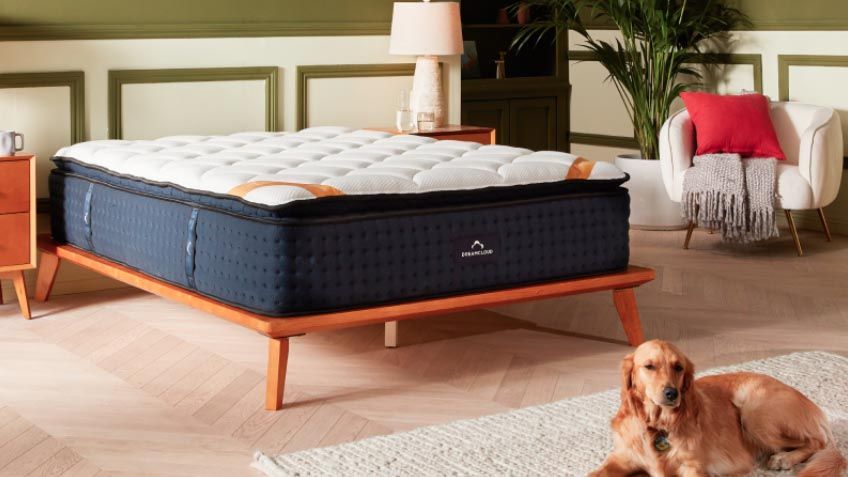 The DreamCloud Premier mattress range continues with the Premier Rest, the most expensive model in the brand's range and the one to pick if you want the best materials DreamCloud has to offer. It's designed as a Luxury Firm offering (rated 6.5 out of 10 on the firmness scale) and is suited to all sleeping positions, so no-one misses out here.
There are seven different layers inside the Premier Rest, including gel memory foam that works in tandem with a spring coil system to disperse body heat and help you sleep cooler. Those individually wrapped coils, plus Low Motion-Transfer Support Foam, should also dampen how much you feel your partner moving in bed next to you.
Anyone with aches and pains will know the benefits of contouring memory foam, which makes you feel as though you're being cradled, all while pressure is relieved on your hips, knees and back.
The DreamCloud Premier Rest works with all bed types, from divans and box springs to adjustable beds, so if you love your existing bed base, there's no reason to replace it. It takes around 24 hours for the Rest to be ready to sleep on. Like its cheaper siblings, this one comes on a 365-night trial and is covered by DreamCloud's lifetime warranty.
Considering the premium quality materials and seven different layers on offer here, the price with a discount is reasonable at $1,299 in twin, especially for a hybrid. For a similar luxury hotel-style mattress with a reasonable price tag, read our Saatva Classic Mattress review. (For the latest savings, read our Saatva sales and deals guide.)
DreamCloud mattress sale UK: today's best prices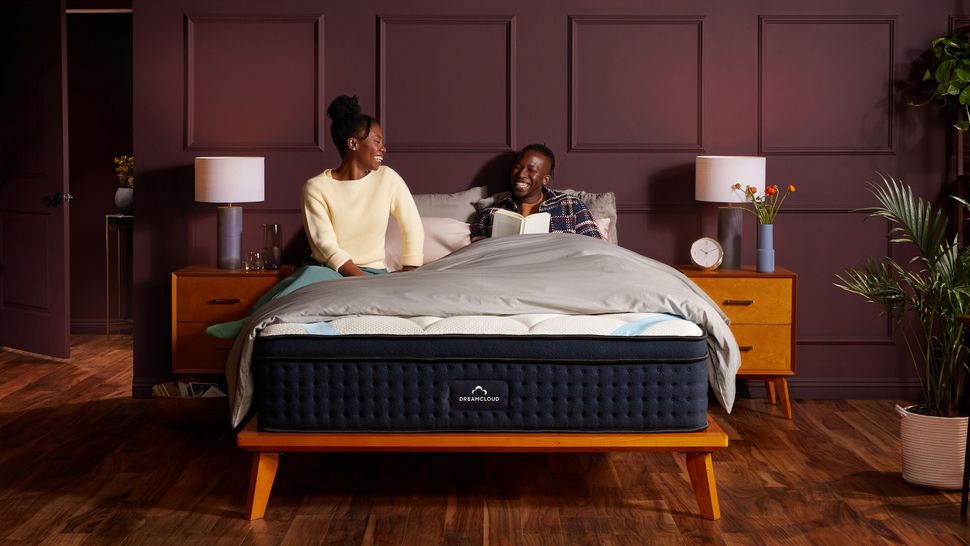 Unlike DreamCloud US, the UK arm of the brand only has one mattress at present, and that's the DreamCloud Luxury Hybrid Mattress. The sale offer is pretty evergreen here also, expect you don't get any free sleep gifts with the UK model. You do however get a bigger cash discount, which currently saves you up to 45% iff any size, no discount code needed.
There are five different layers to the DreamCloud Luxury Hybrid, starting (from the bottom up) with a support foam base to absorb motion. This is important in any mattress that couples share, as motion absorption (also known as motion isolation) means you won't feel each other moving around so much. A layer of 15cm ActiveEdge coils further minimises motion while boosting support and breathability.
To boost in-bed comfort, the Dream Plush breathable memory foam layer provides all the comforting, deep contouring support for your body. The luxury quilted top adds in extra softness as well as keeping the mattress breathable so that heat escapes rather than builds up.
The DreamCloud Luxury Hybrid is a well-made luxury mattress that supports a range of sleeping styles, but in particular back, stomach and combi sleepers. It's reasonably priced anyway for the sleep tech involved and the high build quality, and it's certainly one to consider when there's a 45% off discount to be had.
Which DreamCloud mattress should you buy?
The DreamCloud Premier is, on paper, the better DreamCloud mattress. It offers extra motion protection, plenty of cooling features, and additional edge support for just a little extra cash over the base model. However, the DreamCloud still offers an excellent night's sleep, just with less direct focus on these aspects of your sleep, and for less cash.
You won't go wrong with either DreamCloud mattress sales, as they both offer impressive spec sheets for their prices. You'll get a fantastic night's sleep on both models, but if you are concerned about waking up when your partner shifts or you want extra cooling tech packed in it's easy to make the jump to the Premier model.
Make sure you check our DreamCloud coupons page for the latest promo codes and offers throughout the year.
In the UK, we'd also recommend Simba's range of hybrids, which are good for couples and hot sleepers. To help you save, we've rounded up the latest and best Simba mattress sales and discounts.
DreamCloud promo code: do you need one?
You won't need a DreamCloud promo code to find great discounts on these mattresses, as all discounts and free accessories are automatically applied at checkout for you and are available to browse on the site as well.
That means you won't need to hunt down any specific discount codes to secure your savings. Simply add your chosen DreamCloud mattress to your cart and you'll find all your free gifts ready and waiting for you, plus your saving clearly marked.
DreamCloud Black Friday and Cyber Monday: what happened?
The Black Friday mattress deals (and Cyber Monday mattress deals that follow) are the time of year that bed brands match or better their lowest prices.
For Black Friday 2022, DreamCloud US offered 25% off and a free bedding bundle. This deal ran through from late November until after Cyber Monday, although the name changed quite a few times – it was at points misleadingly labelled a 'Better Than Black Friday' sale. The price of the bedding bundle fluctuated, with a maximum value of $500. That deal dropped the price of its original Hybrid in queen size to $899, which is $100 cheaper than the usual evergreen price.
This breaks the pattern of what DreamCloud usually does for its Black Friday and Cyber Monday mattress deals. For the past few years (from at least 2018 to 2021), the brand has run its evergreen deal ($200 off, with a bedding bundle of between $399 and $599 thrown in) across Black Friday, with no extra perks to mark the biggest sales event of the year.
In previous years, the 25% off plus sleep bundle deal has only appeared during one, short 'Better than Black Friday' Flash Sale, often in early November. Last year, that sale took the price of a queen size DreamCloud hybrid to $899, with a twin dropping to $599.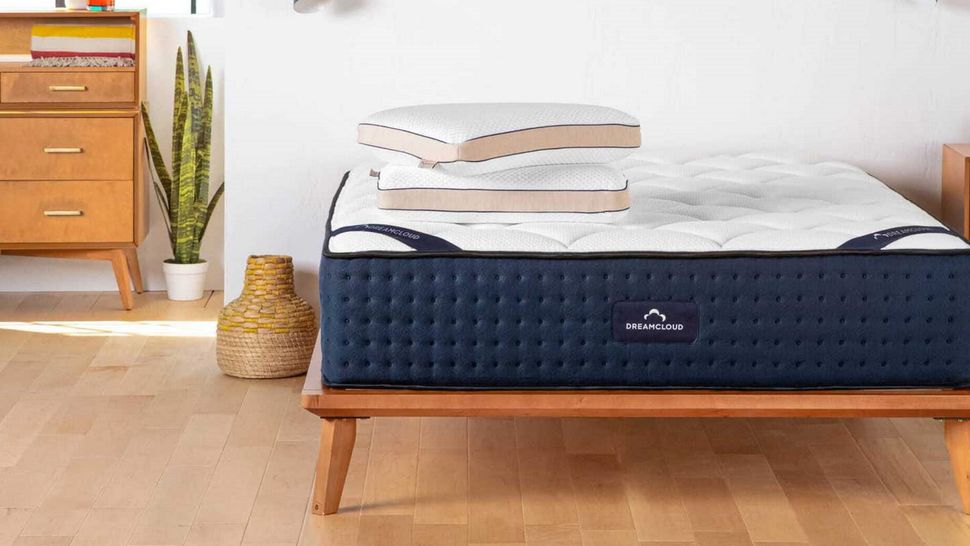 Read more: