Saatva RX mattress review in brief
The Saatva RX is a luxury innerspring hybrid mattress geared toward sleepers with chronic back and joint issues like sciatica, scoliosis, and arthritis. It's also very expensive, with a queen retailing for $3,295 although you can save $400 on it with a Cyber Monday mattress deal. Saatva is the brand behind the best mattress in the world, the Saatva Classic – but does the Saatva RX uphold that sterling reputation?
Our lead reviewer grapples with lower back issues and has mild scoliosis, so she's definitely within the Saatva RX's target audience. For one month, she slept on a twin Saatva RX to find out if it deserves a spot among the best mattresses for back pain – and invited a panel of volunteers with their own localized aches to check it out, too. Our full review is below but if you're short on time here are the highlights...
Saatva RX specs
Type: Hybrid innerspring
Materials: Cotton, high-density foam, micro-coils, coils
Firmness: 'Supportive Plush' (we rate it as a medium-firm to firm)
Depth: 15"
Trial period: 365 nights
Warranty: Lifetime
MSRP: from $1,995 at Saatva
The 15" Saatva RX features an 8" support core of wrapped coils topped with 2" foam modules, a layer of 1" micro-coils sandwiched between two 3/4" slabs of high-density foam, and a 1" strip of gel-infused memory foam across the middle for lumbar support. For our testers, this yielded medium-firm to firm support, with ample pressure relief along our shoulders, hips, knees, and lower back. It also makes for a heavy mattress – fortunately, the RX arrives flat via free White Glove Delivery.
Our lead tester, an average-sized side/front sleeper, noticed a marked improvement in her lower back pain. Another average-sized side sleeper with arthritis said she felt plenty of relief. However, the results varied for our petite tester with chronic pain, who felt pressure buildup in her hips while side sleeping but was much more comfortable resting on her back.
One downside to the Saatva RX is its lack of customization; it only comes in one height and comfort level. If you're on the smaller side or want more control over the feel of your bed, read our Saatva Classic mattress review or Saatva Loom & Leaf Mattress review. Both of these options focus on back support and offer customizable firmness – and in the case of the Saatva Classic, depth as well.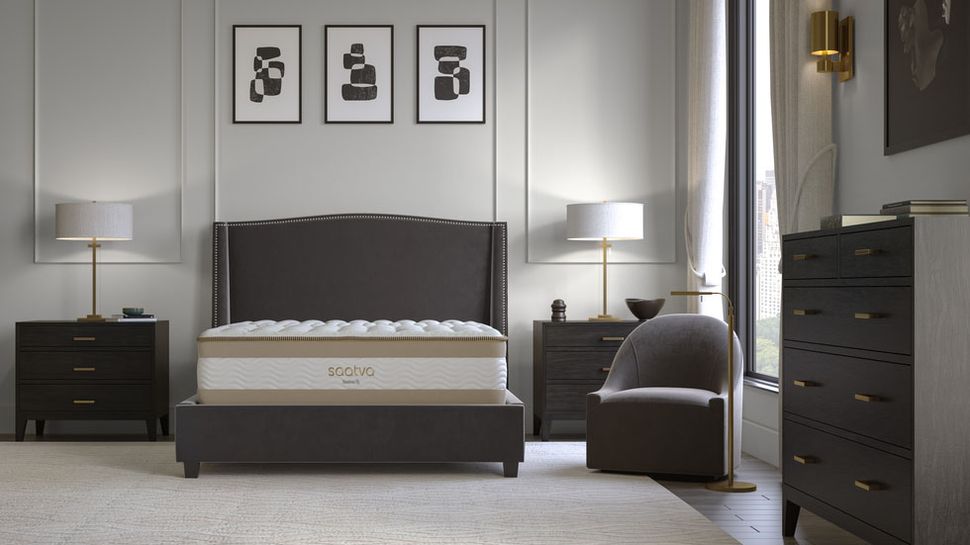 As for other areas of performance, the Saatva RX sleeps exceptionally cool – a testament to its breathable organic cotton cover, cooling foam, and multiple layers of springs. Edge support is solid, with the firmer caliper coils along the perimeter providing a sturdy surface for sleepers to push off when standing up or lying down. Motion isolation is the RX's Achilles Heel so couples who share a bed with a restless partner may want to look elsewhere.
We're expecting a Black Friday mattress deal for the Saatva RX but even then it'll still be a splurge purchase. (It's also unclear if this mattress can be covered by Medicare.) That said, the Saatva RX is a well-built luxury mattress that'll hit the right notes for most sleepers with back and joint issues. If you have the cash to splash, go for it. After all, you'll get a full year to try it out at home (but returns will cost $99).
Saatva RX mattress review: Price & trial
Saatva's second-most expensive mattress after the Solaire
A queen retails for $3,295 but it's never sold at MSRP
Includes White Glove Delivery, 365-night trial, lifetime warranty
The Saatva RX is the brand's most expensive mattress after its adjustable Solaire model. A queen Saatva RX mattress retails for $3,295, but thanks to frequent Saatva mattress sales you won't ever have to pay the full price. Still, it firmly remains in the premium price bracket even after regular discounts.
Here are the official MSRPs for the Saatva RX mattress in 2023:
Twin MSRP: $1,995
Twin XL MSRP: $2,195
Full MSRP: $2,695
Queen MSRP: $3,295
King MSRP: $3,795
California king MSRP: $3,795
Split king MSRP: $4,390
Specialty mattresses like the Saatva RX tend to command a much higher price tag because of their construction and the quality of their materials; the comparatively-priced Casper Wave Hybrid Snow mattress is another example of this. However, Saatva also includes a one-year home trial (with a $99 returns fee), a lifetime warranty, and free white glove delivery with optional removal of your existing mattress. These are the best perks in the sleep industry, even among other luxury mattresses.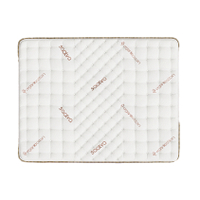 See the Saatva RX: from $1,995 $1,695 at Saatva
The Saatva RX is a luxury mattress specially designed for sleepers with chronic or serious back and joint pain. It's Saatva's most expensive mattress behind the Solaire. Right now, you can score up to $400 off, which is among Satava's better offers, but that only knocks the price of a queen down to $2,945. That said, you get a 365-night trial, a lifetime warranty, and free White Glove Delivery straight to your bedroom, including old mattress removal.
Saatva RX mattress review: Design
A 15" hybrid mattress with seven layers
Two layers of springs, including 1" micro-coils
Features Saatva's patented lumbar crown
The Saatva RX is a 15" hybrid mattress with multiple layers of foam and springs. Above the non-woven base layer is a support core featuring 8" wrapped triple-tempered recycled steel coils. Firmer caliper spring coils line the perimeter for more stability along the edges to make it easier to get in or out of bed.
Individual 2" foam modules sit atop each wrapped 8" coil to enhance the RX's contouring and motion isolation. This proprietary open-cell foam is similar in construction to latex – and it's infused with graphite and phase-change material for enhanced temperature regulation.
All of that is followed by a layer of 1" micro-coils nestled between two slabs of 3/4" high-density foam. These materials work in tandem to provide a balance of relief, support, and adaptability as you shift positions.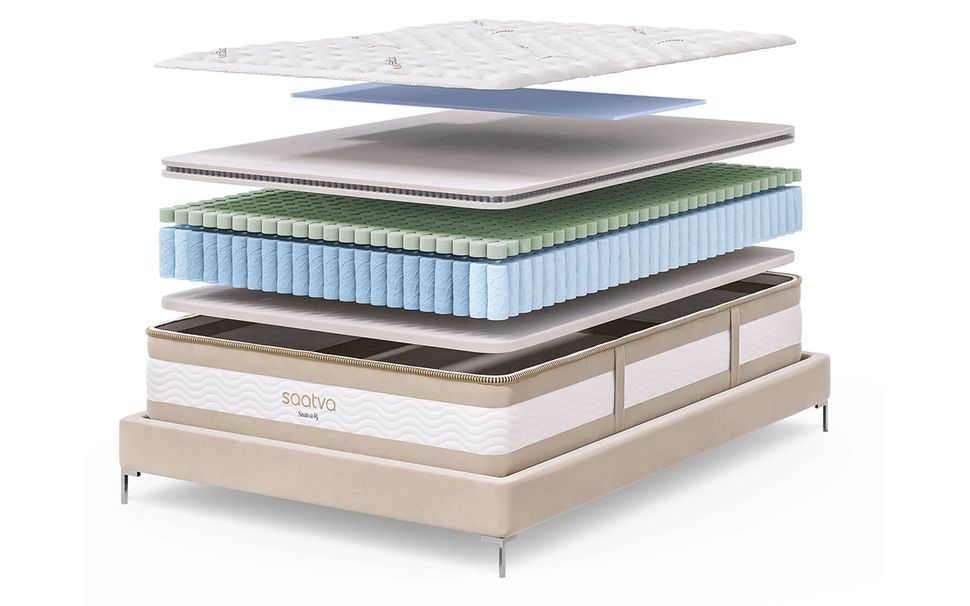 On top is Saatva's patented lumbar crown – a 1" strip of gel-infused memory foam situated in the middle third of the mattress – plus an organic cotton cover that's been treated to prohibit the growth of mildew, bacteria, and mold. The cover isn't removable for washing so you'll want to wrap it in one of the best mattress protectors to shield it from stains and spills.
Saatva handcrafts all of its mattresses in the USA using CertiPUR-US certified foam that's free from toxic chemicals and low in the VOC (volatile organic compound) emissions that contribute to unpleasant off-gassing odors. Instead of fiberglass, Saatva uses a plant-based thistle pulp as a flame barrier.
Saatva RX mattress review: Support & comfort
Comes in one comfort level, which we rate medium-firm to firm
Exceptional support and pressure relief for back sleepers
Some side sleepers with pain may want something softer
Saatva calls its RX mattress 'supportive plush,' meaning it's cushy enough to relieve pressure but not at the expense of proper alignment. Our testers collectively rated it a 7.5 out of 10 on the firmness scale (medium-firm); however, the majority of our participants said it was at least an 8 (firm), proving once again that firmness is subjective.
Most of our side sleepers thought the Saatva RX achieved the perfect balance of comfort and support, with plenty of give along their shoulders, hips, and knees. However, one of our smaller side sleepers who deals with chronic pain from RSD and several herniated discs felt pressure building up in her hips. On the flip side, our lead tester – an average-sized sleeper with lower back pain and mild scoliosis – noticed a marked improvement in her pain. Another average-sized tester with arthritis didn't have any issues, either.
The Saatva RX was a unanimous hit among our back sleepers, who liked the even distribution of their weight in this position. (One back-sleeping tester said it reminded her of a pool float: cushy but without the fear of sinking too low.) Front sleepers approved of the RX, as well, and didn't feel their hips sink. The responsive surface allowed combi sleepers to change positions with ease, too.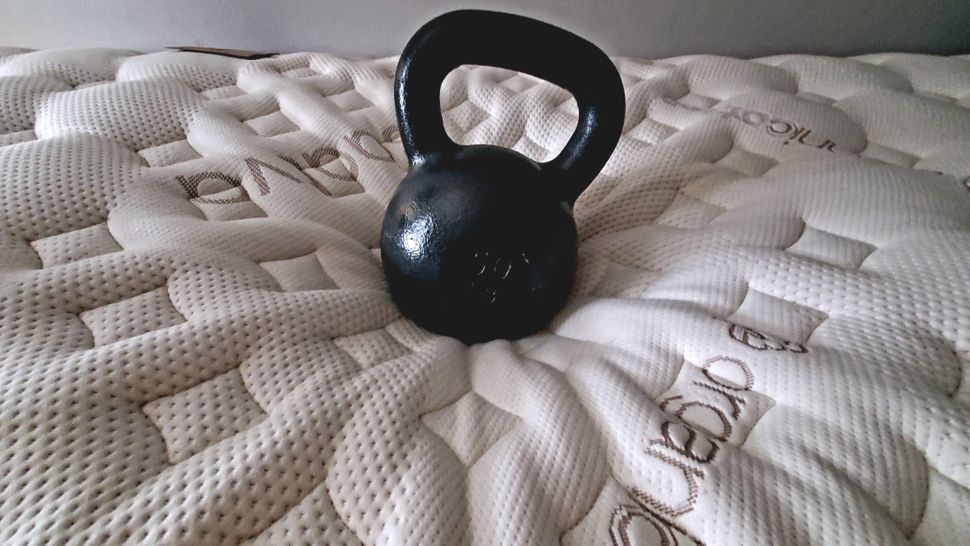 In addition to feedback from our human testers, we also performed an objective test with a 50lb weight. First, we plopped it right in the middle of the mattress to observe the pressure relief of the RX's lumbar crown; it compressed about 3.5". We then moved the weight to the lower third of the bed to measure the pressure relief in that area. We noted around a 2.5" sink there, indicating a gentler hug.
We think the Saatva RX is a solid choice for back sleepers with pain who want a mix of softness and support. (Stomach sleepers should get on well with it, too.) However, it might be hit or miss for smaller side sleepers with specific aches. The RX only comes in one comfort level unlike the Saatva Classic or Loom & Leaf mattresses, which offer varying firmness to appeal to a broader range of sleepers.
Saatva RX mattress review: Performance
Weak motion isolation
Sleeps exceptionally cool
Above-average edge support
Our veteran lead reviewer slept on a twin Saatva RX mattress for one month and invited six other adults with different body types and preferences to nap on it for at least 15 minutes. Along with our personal experiences, we also ran several tests to objectively gauge its motion isolation, edge support, and temperature regulation. Here's how we got on...
Motion isolation
The Saatva RX surprised our lead tester with its ample bounce. This worked well for her as a solo sleeper who flops between her side and stomach at night, but it could be a deal-breaker for couples, especially if either person fidgets a lot or is easily disturbed by movement.
To gauge the Saatva RX's motion isolation on our twin test model, we set an empty wine glass on the surface and then dropped a 10lb weight from 6" high and varying distances away (4", 12", and 25"). We not only observed the glass post-drop but also how quickly the weight came to rest.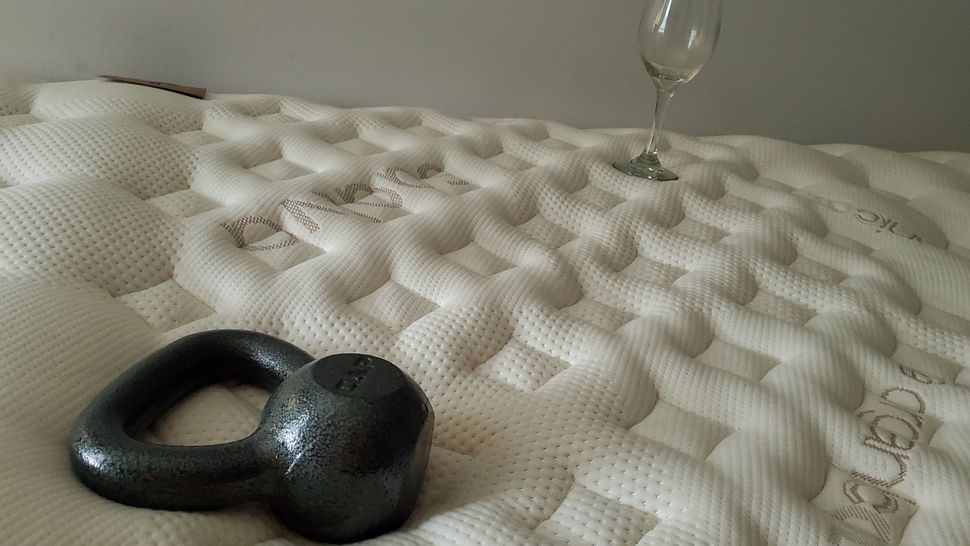 At 4" away, the glass toppled over. (We performed this drop twice for insurance; it fell over both times.) From 12" and 25" away, the glass stayed upright but slightly swayed. In all instances, the weight bounced several times before settling.
Based on these results, the Saatva RX might not be the best fit for couples, particularly if either partner vigorously tosses or is a light sleeper. For optimal motion isolation, you'll fare better with a memory foam mattress – or read our DreamCloud Mattress review to learn about a hybrid that's exceptional at dampening movement.
Score: 3 out of 5
Temperature regulation
Temperature regulation is key if you have back pain and tend to run hot at night. Tossing and turning to find that elusive cool spot can potentially torque your back and make your injury worse. (Waking up to adjust the thermostat in the middle of the night isn't great for your sleep quality, either.)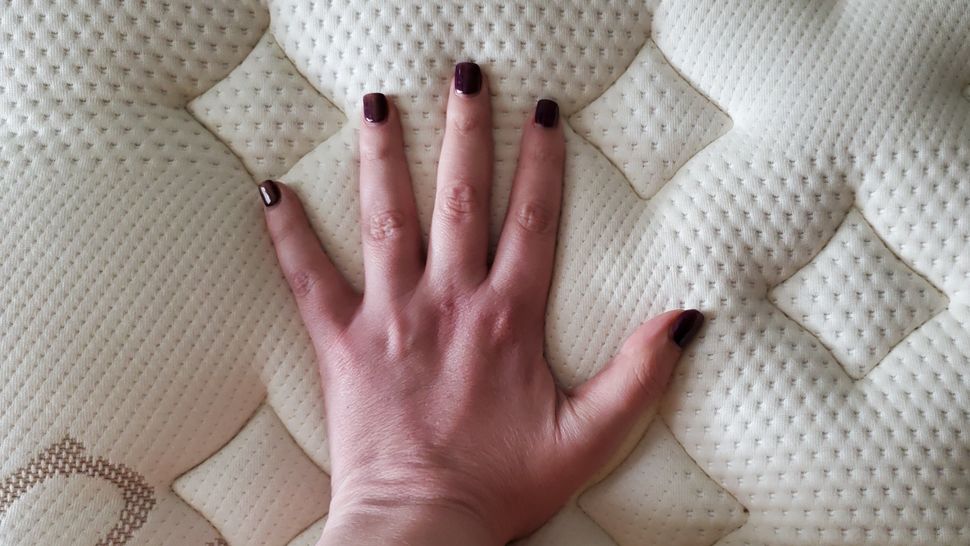 The Saatva RX boasts a breathable organic cotton cover, a cooling gel-infused foam lumbar crown, and 2" foam modules fortified with graphite and phase-change material for maximum temperature control. Its dual coil layers also help boost airflow.
We tested the RX in October, when Mid-Atlantic evenings shift from warm to cool. Our lead tester – who usually sleeps hot but can't get comfy without being bundled up – didn't feel the urge to ditch her sheets or mid-weight comforter, and she never woke up sweaty.
The Saatva RX isn't profoundly cool but it did an excellent job of wicking away heat and moisture, a testament to its design. A specialized cooling mattress might be the way to go if you deal with severe night sweats. Otherwise, the Saatva RX should suit most people seeking cooler, pain-free sleep.
Score: 4.5 out of 5
Edge support
For back pain sufferers, a mattress with sturdy edges is a must as it'll allow them to sit on the sides to safely get in or out of bed. Plus, robust edges help maintain the integrity of a mattress by preventing premature sagging. With the RX, Saatva addresses these issues by placing quantum-edge coils along the perimeter.
Overall, our testers were satisfied with the stability of the Saatva RX's edges – more so along the middle than the corners. Meanwhile, our lead reviewer didn't fear she was going to fall over when she rolled toward the edges during the night. This bodes well for larger sizes of the RX, as twin mattresses typically lack in this area.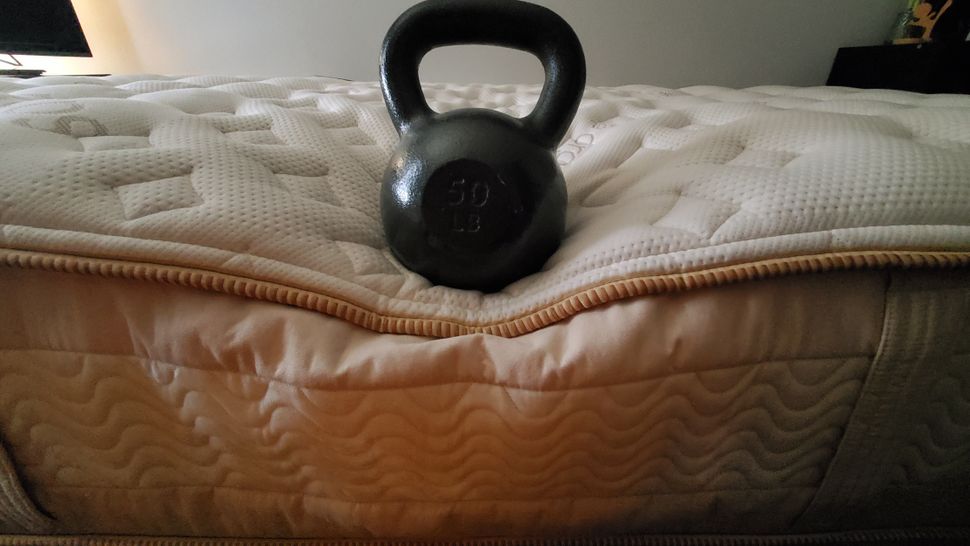 For our objective test, we placed a 50lb weight in the middle perimeter. It compressed about three inches, though the bunching of the material beneath it made gathering an exact measurement a little tricky. Still, the sinkage at the edge is less than what we recorded at the center of the bed for pressure relief, which is a good thing.
These results indicate that sleepers with mobility issues should have no problem using the edges of the Saatva RX when getting up or down. Plus, if you're inclined to sprawl out starfish style or inch toward the edge while you sleep, you won't have much to worry about, either.
Score: 4 out of 5
Saatva RX mattress review: Delivery & setup
Arrives flat via free White Glove Delivery
Optional mattress removal is also included
Ready to sleep on right away, with no off-gassing
The Saatva RX arrives flat as part of the brand's complementary White Glove Delivery. This is a real boon for back pain sufferers as this is a tall, heavy mattress. (Saatva doesn't disclose an exact weight on the RX product page – but trust us, even a twin is massive.)
All we had to do was schedule time for a local delivery service to come by and set everything up (and clear a delivery path, too, of course). Per Saatva's instructions, we had to indicate ahead of time whether we needed our existing mattress taken away. (We did.)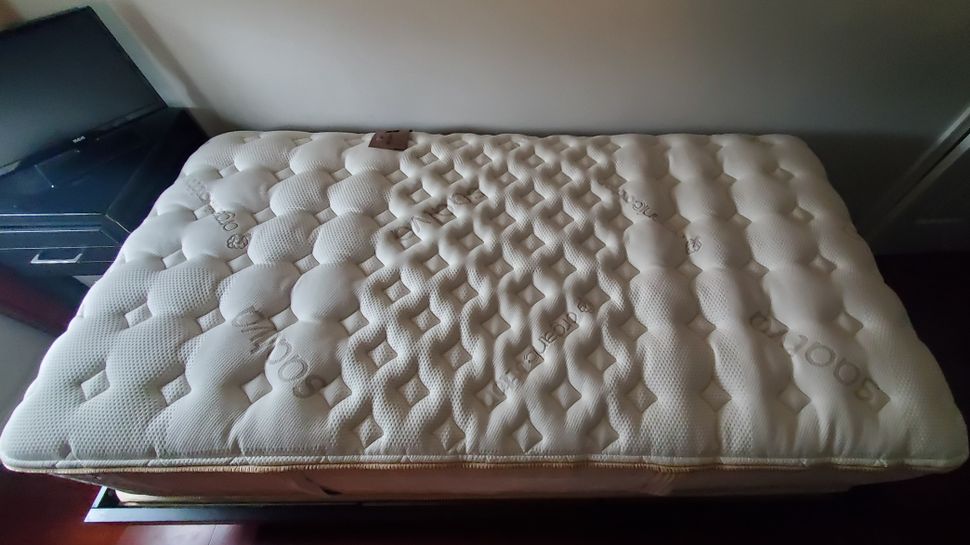 A two-person crew came by and placed a twin Saatva mattress on our platform bed frame, removed its plastic wrap, and hauled away our previous mattress. The whole process took less than five minutes.
A benefit of traditional truck delivery is that you can sleep on your new mattress as soon as it arrives. Unlike beds-in-a-box, you don't have to wait hours (or days) for it to fully expand. Another advantage is no off-gassing since the mattress hasn't been vacuum-sealed and boxed up for a long time. (According to the tag, Saatva manufactured our mattress in September 2023, the same month we received it.)
Saatva RX mattress review: Customer reviews
The Saatva RX only came out in summer 2023, just months before we tested it. Feedback is scarce, but overwhelmingly positive. As of November 2023, the Saatva RX has a 4.8 out of 5-star rating from 25 customer reviews on Saatva's website.
Those who are satisfied with the Saatva RX say it's a high-quality mattress that's already helped ease their aches and pains. A pair of 4-star reviews call out a lack of edge support (a contrast to our experience) and not enough pressure relief. The lone 2-star review was due to a delivery snafu.
We'll be sure to update this section as more customer reviews trickle in.
Should you buy the Saatva RX mattress?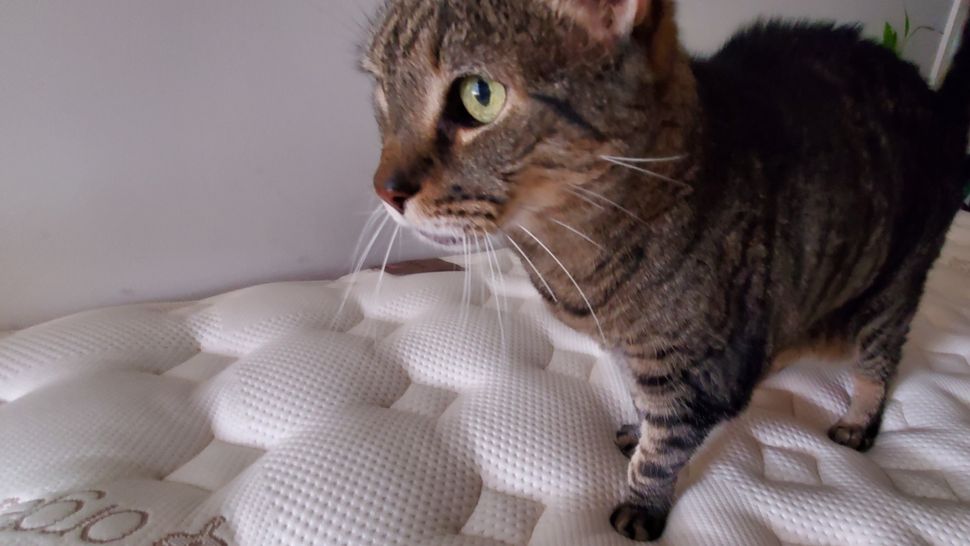 The Saatva RX is a gorgeous, hotel-quality mattress that's cozy and supportive – especially for back sleepers. Most of our testers with chronic or serious pain felt consistent relief. Our lead reviewer, in particular, is no longer waking up with a stiff lower back like she had been with her previous mattress. A breathable sleep surface and sturdy edges for sitting add to the appeal.
Then there's the matter of cost. The Saatva RX is one of the brand's most expensive models, and even regular mattress sales won't do much to bring the price down to a more manageable figure. If money is no object, the large, luxurious Saatva RX will be worth the investment if you're seeking pain relief in the form of a medium-firm to firm mattress.
However, for lightweight side sleepers, the firmer support of the Saatva RX may create more issues than it solves, and a towering 15" height could burden shorter individuals with mobility problems. A lack of customization puts the Saatva RX at a disadvantage versus the Saatva Classic, which also emphasizes back support but comes in variable firmness and height levels at a much lower cost. If you want more control over the feel and look of your mattress, spend a little less by opting for Saatva's flagship bed over its newest luxury model.
Saatva RX mattress review: Alternatives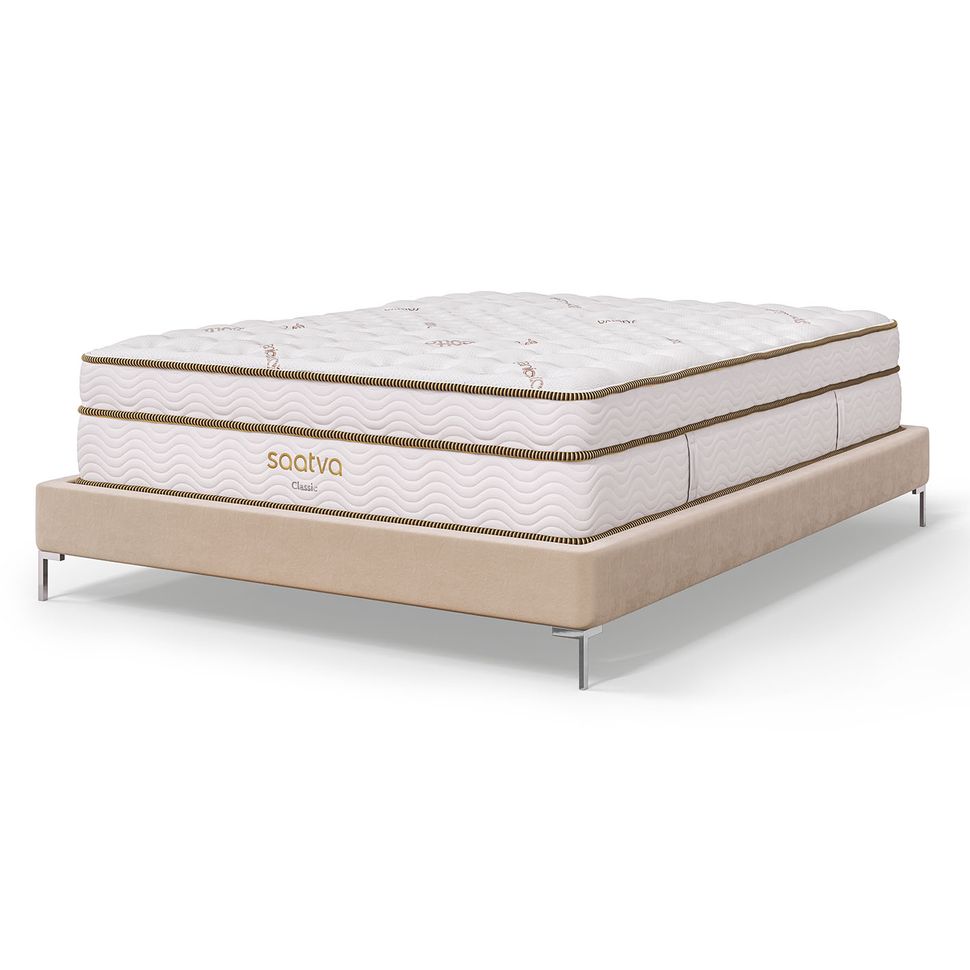 The Saatva RX promises maximum pressure relief and enhanced back support but there's no way to customize it. The flagship Saatva Classic comes in three firmness levels plus two height profiles so you can tailor it to your exact needs. Learn why it tops our overall best mattress list in our Saatva Classic mattress review.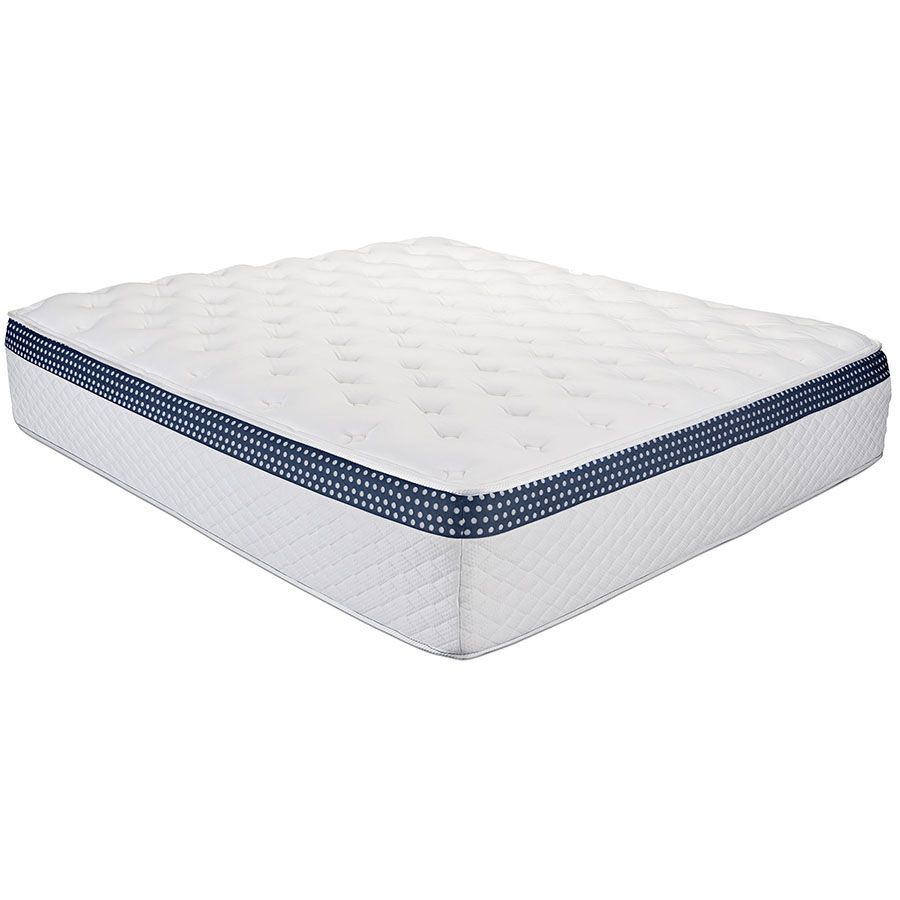 The WinkBed comes in four firmness levels, including a latex-based Plus option to suit sleepers over 250lbs. This hybrid features zoned coils, with firmer springs in the middle for optimal back support. However, it doesn't sleep particularly cool as we note in our WinkBed mattress review so hot sleepers may prefer the RX.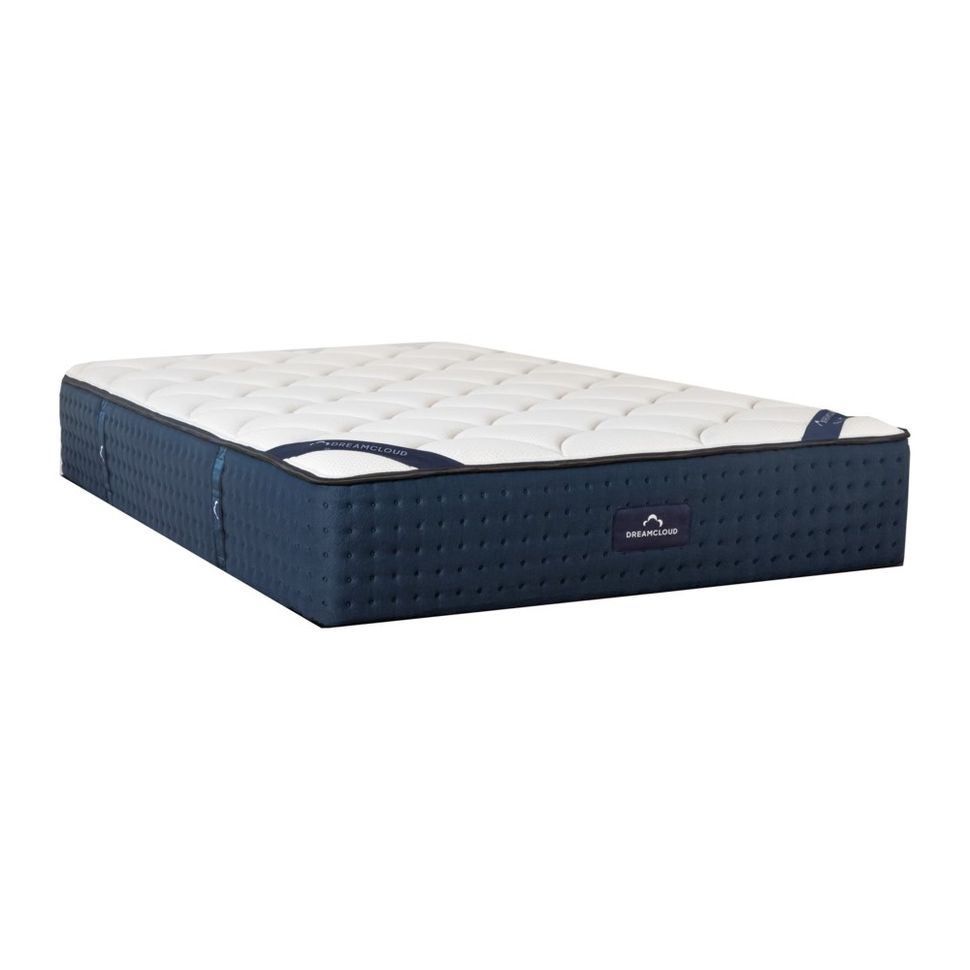 The DreamCloud is similar in feel to the Saatva RX, but at a much lower price point. It trumps the RX when it comes to motion isolation but lacks supportive edges. The build quality may not be as sophisticated but it's still a solidly-made bed at a fantastic value. (It comes with a one-year trial and a lifetime warranty.) Read more in our DreamCloud mattress review.