Using a streaming VPN is the simplest way of accessing tons of content for less. By making the most of your subscriptions by unblocking region-restricted content and tapping into free TV and sports broadcasts from your home country when abroad, the best VPN for streaming is an indispensable tool for the discerning viewer.
With such a huge variety of services claiming to be great VPNs for streaming on the market, choosing the best can be overwhelming. That's why, after comparing dozens of VPNs in terms of security, value for money and unblocking power, I've curated this list of the top 5 streaming VPNs in 2023.
Read on to know which VPNs stand out for their superior streaming ability and compare them to work out which suits you best. However, if you're looking for a quick answer, have a look at our top 3 picks: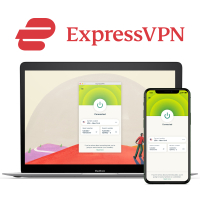 1. ExpressVPN – the best streaming VPN today
ExpressVPN is the #1 ranked streaming VPN available today. It has one of the widest server distributions, with more than 3,200 servers in 94 countries that allow it to unblock just about any content, anywhere.
You get 1 year of unlimited cloud storage and 3 months of extra protection for free if you go for the 12-month subscription. However, if you're still not fully convinced, we suggest putting it to the test with its 30-day money-back guarantee before going all in.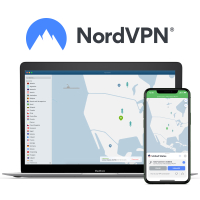 2. NordVPN – the best provider with a security suite
NordVPN is a super fast and reliable product, and is especially good for accessing global Netflix content. Along with this and other major streaming platforms, NordVPN is hugely secure and offers plenty of extra privacy features to keep you safe online.
With reliable speed, minimal buffering, and quick content unblocking, NordVPN is great mid-range pick, especially when you can do so without risking a penny, thanks to its 30-back money guarantee.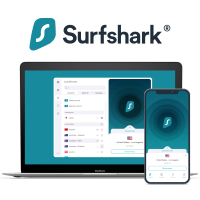 3. Surfshark – bargain VPN that's great for streaming
For those on a budget, Surfshark will be very appealing. It has servers in 100+ countries, which is more than ExpressVPN and NordVPN, and in our testing it was able to unblock just about every streaming service we tried. It's also incredibly fast.
If you sign up to the 2-year plan, you'll pay less than $2.50 a month, and its 30-day money-back guarantee is a great way to test out this streaming VPN without committing.
The best streaming VPNs today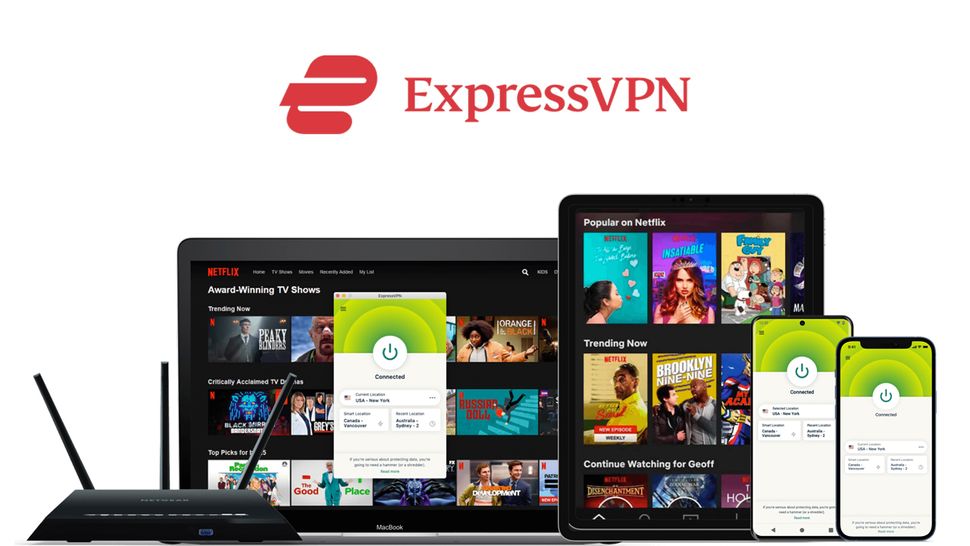 Subscribe if:
✔️ You want a VPN that excels in privacy: ExpressVPN ensures class-leading privacy with a built-in password manager, AES 256-bit encryption, and a kill switch.
✔️ You need a straightforward streaming VPN: with an auto-connect feature, 24/7 customer support, and online tutorials, you'll find it easy to run ExpressVPN even if you aren't tech-savvy.
✔️ You use multiple devices for streaming: the VPN is compatible with almost all operating systems and devices, including Android, iOS, Microsoft, and even smart TVs and gaming consoles.
Avoid if:
❌ You want a Linux App: you can install ExpressVPN on a Linux device, but you won't get a graphical user interface (GUI).
❌ You want your VPN to have multi-hop servers: if you want an additional layer of security that rests in a multi-hop or double VPN, you're better off with NordVPN.
Bottom line: ⭐⭐⭐⭐⭐
ExpressVPN is an ideal choice if you're looking for a fast and reliable VPN with servers all over the world for limitless content unblocking. Its wide coverage, 360-degree security, strong unblocking capabilities, and 24/7 customer support make for a worry-free streaming experience. Try it first-hand with its 30-day money-back guarantee.
In our ExpressVPN review the British Virgin Islands-based provider came out as our #1-ranked VPN. However, one of its standout features is its excellent capability as a streaming VPN, as it offers the triple whammy of speed, security and excellent international coverage.
ExpressVPN is premium-priced, but its streaming-focused "MediaStreamer" tool for devices like Smart TVs and gaming consoles really adds value. Even if you don't have a device that VPNs work on, ExpressVPN can still get you extra content with this tool. It spoofs your location to help you access geo-restricted and overseas content.
You get seamless unblocking of Netflix, iPlayer, Amazon Prime, YouTube, and more – all the more impressive when you know these streaming services are constantly trying to block VPNs. Plus, connection speeds are reliably fast, so even streaming in 4K and HDR shouldn't be an issue.
ExpressVPN boasts 3,200 servers spread across 94 countries in 160 different locations, and although this isn't as high as NordVPN's 5,600+ servers, I've never had buffering issues while streaming – every server is super reliable and delivers good speeds across the board.
ExpressVPN provides the best coverage in US and Europe, but it's pertinent to note that ExpressVPN has more global locations than many of its rivals, with 26 in Asia-Pacific locations alone. Fans of Asian content and K-dramas needn't look any further.
Although seamless streaming is the goal we're trying to achieve, security should always be a priority with any VPN. With a secure DNS (Domain Name System), multiple layers of privacy, and industry-standard AES-256 encryption along with a selection of protocols, the company provides ample assurance that it prioritizes data protection so that you can freely browse through any website and stream the content you love.
It's a plus that ExpressVPN has a rock-solid no-logs policy, meaning whatever you decide to do online is private knowledge. I recommend turning on the kill switch to protect your sensitive data from being left vulnerable to detection in case the VPN connection lapses – and in my testing, it's very stable and allows no leaks.
Overall, ExpressVPN stands out as the #1 streaming VPN for its wide server distribution in 94 countries, seamless unblocking of tons of streaming sites, and its emphasis on user privacy with RAM-only servers and an option to opt out from the collection of usage information.
Swipe to scroll horizontally
ExpressVPN test results

| Feature | Comments | Rating |
| --- | --- | --- |
| Design | Simple, navigable design that's easy on your eyes and straightforward to understand | ⭐⭐⭐⭐⭐ |
| Ease of use | Beginner-friendly, little to no expertise needed | ⭐⭐⭐⭐⭐ |
| Performance | Reliable and very fast, although some others deliver higher peak speeds. | ⭐⭐⭐⭐ |
| Unblocking | Servers in 160 locations and 90 countries ensure limitless content | ⭐⭐⭐⭐⭐ |
| Security and privacy | Top-notch security with 256-bit AES encryption | ⭐⭐⭐⭐⭐ |
| Customer support | Expert assistance is available 24/7 | ⭐⭐⭐⭐⭐ |
| Price | Slightly more expensive than other options | ⭐⭐⭐ |
Subscribe if:
✔️ You want a VPN to stream Netflix: NordVPN is, hands down, the best choice for streaming HD or 4K Netflix content from anywhere in the world.
✔️ You want the perfect quality-cost mix: NordVPN delivers excellent performance in terms of speed, security, and unblocking capabilities for a good price.
✔️ You like to stream local websites: with security as its strongest suite, NordVPN will safeguard your device against phishing and malware threats from local websites.
Avoid if:
❌ You're looking for a simple interface: while NordVPN's map-style interface is backed by several tutorials, if you want the simplest of interfaces, we recommend ExpressVPN.
❌ You want access to content all over the world: NordVPN has 5,600+ servers in 80+ locations across 60 countries. If your location isn't included, have a look at Surfshark, which covers 100+ countries.
❌ You want a VPN that you can share with a lot of people: NordVPN allows 6 simultaneous connections, which is more than ExpressVPN's 5, but if you have an extended family, you might want to consider Surfshark, which allows unlimited simultaneous connections.
Bottom line: ⭐⭐⭐⭐½
NordVPN is a perfectly balanced streaming VPN that ensures both accessibility and security at a reliably high speed. Try it for yourself with its 30-day money-back guarantee.
NordVPN is built for security, and it's a great streaming VPN to use if you're concerned about anyone else watching with you (for a more in-depth analysis, check out our NordVPN review). The fact that it offers more than 5,500 servers in 60 countries is just a bonus which ensures great speeds no matter where you end up.
Streaming service providers keep challenging VPNs with constant updates to prevent geo-unblocking, but NordVPN has consistently cracked the code to almost every streaming site you could wish to get your hands on. To put it simply, you get access to dozens of streaming services, including Netflix, iPlayer, Prime Video, Hulu, and YouTube.
On top of excellent encryption, there's a handy SmartPlay feature. This combines smart DNS with your base VPN connection to allow for you to eke out every last drop of performance from your connection for smoother, faster streaming. Especially useful for streaming in HD, Nord's SmartPlay also sidesteps streaming services' VPN blocking tools, meaning you're near-guaranteed to have access to anything you want to watch.
If you're big on streaming Netflix, NordVPN is our top Netflix VPN recommendation. It effortlessly bypasses geo-restrictions and can get you into tons of global libraries, including the UK, US, Canada, and Japan.
When it comes to speed, NordVPN impresses with peaks of up to 820Mbps in our testing. You can also use your subscription on up to 6 devices at a time. That should be sufficient if you're looking for a streaming VPN for your family.
Along with reliable speeds, NordVPN won't fail you on the security front either, thanks to its special obfuscated servers for enhanced privacy. Obfuscated servers make it look like you aren't using a VPN when in reality, you are. This gets you a green light from tools meant to block VPN traffic.
Nord's kill switch is similar to Express's, in that it's very reliable and doesn't allow any leaks if activated. Additional security options include a dedicated IP address and Onion Over VPN.
Despite having the same set of features and being similar to the desktop site, NordVPN's mobile app interface is a little less intuitive than rivals ExpressVPN and Surfshark. To help with that, NordVPN has plenty of explainer guides and support articles (plus excellent 24/7 live chat support) if you're having issues trying to access your show or TV event of choice.
If all of this fits your expectations, try NordVPN with its 30-day money-back policy. If you don't like it, just cancel within the first 30 days, and you'll get a 100% refund.
Swipe to scroll horizontally
NordVPN test results

| Feature | Comments | Rating |
| --- | --- | --- |
| Design | Fun interface but might seem a little crowded for some users | ⭐⭐⭐⭐ |
| Ease of use | Though simple to use, the map-like design might not work for everyone | ⭐⭐⭐⭐ |
| Performance | One of the fastest with an average speed of 820Mbps | ⭐⭐⭐⭐⭐ |
| Unblocking | Effortlessly unblocks most content streaming platforms | ⭐⭐⭐⭐⭐ |
| Security and privacy | Strong encryption with additional features like Threat Protection for safe streaming | ⭐⭐⭐⭐⭐ |
| Customer support | Reliable 24/7 customer support | ⭐⭐⭐⭐⭐ |
| Price | Provides ample value for the price. | ⭐⭐⭐⭐ |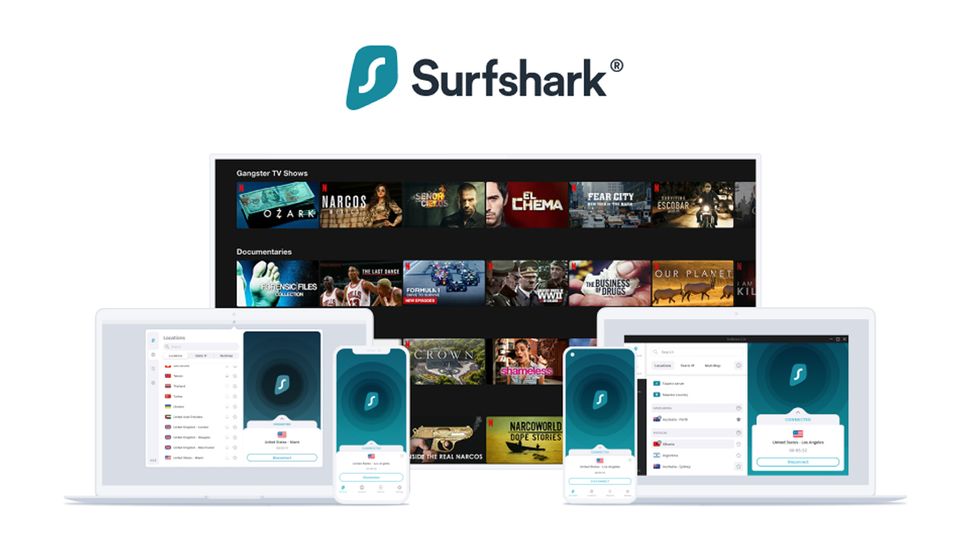 Subscribe if:
✔️ You need unlimited simultaneous connections: one Surfshark subscription is enough to cover the streaming needs of all your friends and family members.
✔️ You're looking for the best budget VPN: for the price, Surfshark is an unbeatable streaming VPN that can unblock just about anything you want.
✔️ You want a fast VPN: Surfshark is one of our fastest VPNs, thanks to its WireGuard tunneling protocol, offering a lag and buffering-free streaming experience.
Avoid if:
❌ Kill switch is non-negotiable for you: When pushed to its limit in my review, Surfshark's kill switch did have an issue. While this is very unlikely to happen in real life, other providers like ExpressVPN and NordVPN are marginally better equipped..
❌ You're using older versions of Windows: Windows versions below 8.1 do not receive Surfshark updates, nor is the 7-day trial available for Windows.
Bottom line: ⭐⭐⭐⭐½
Surfshark provides unlimited simultaneous connections, extraordinary speed, and value for money, along with solid security measures like RAM-only servers. Get started with the best budget VPN risk-free with a 7-day free trial followed by a 30-day money-back guarantee.
In my hands-on Surfshark review, I found that the provider delivers an excellent mix of speed and value. It's an ideal streaming VPN for use with Netflix, Amazon Video, BBC iPlayer, YouTube, Disney+, 10Play, and 9Now, as it comfortably unblocks these services in the US, UK, Canada, Australia, and more.
One thing I really like about Surfshark is that it provides unlimited simultaneous connections. With just one subscription, you, your family, and your friends can stream your favorite content together with as many devices as you please, and Surfshark will never throw anyone out.
Of course, this is meant to be limited to your household, but that rule is rather tricky to enforce when the VPN boasts a strong no-logs policy and collects no data about its users.
To ensure that you get secure access to content from all around the world, it has a GPS spoofing feature that coordinates your current location to that of the chosen VPN server so that even if some apps request physical location before granting access, you're covered.
Surfshark peaks at 950Mbps, making it the fastest VPN I've tested, and this makes streaming a breeze, even in 4K. And not just streaming — if you're someone who likes to watch downloaded content, Surfshark, with one of the best download speeds around, is an ideal pick.
Surfshark's RAM-only servers ensure you're kept extra safe online. In short, this means that the servers that you connect to store absolutely no data about you or your activity. While ExpressVPN, NordVPN, and many other VPNs also only use RAM-only servers, it's definitely a big green tick.
In my testing, I found Surfshark excels as a Fire Stick VPN since it has a custom app for the Amazon Fire TV. It's simple to use, which is perfect for beginners, but there's a fair number of settings to tweak, too. In practice, it's one of the easier VPNs to use on Fire Stick.
However, Surfshark's biggest selling point is its price. It's almost always less than $2.50 a month, and promotions have seen this drop to as little as $2.05 a month. Thanks to this combination of value and performance, I rate it as my #1 cheap VPN.
Note that if you have older versions of Windows like 7, 8, or 8.1, this probably isn't the best choice for you because compatible apps no longer receive updates from the VPN's end. That said, having an updated OS will benefit your streaming in more ways than just Surfshark updates.
You get a 7-day free trial for your Android, iOS, and Mac, and if you're still not 100% sure that this VPN is cut out for you, there's a 30-day money-back guarantee. Combined with that bargain price, Surfshark's an excellent streaming VPN that should be on your list.
Swipe to scroll horizontally
Surfshark test results

| Feature | Comments | Rating |
| --- | --- | --- |
| Design | Minimalistic, clean, and intuitive design | ⭐⭐⭐⭐⭐ |
| Ease of use | Beginner-friendly and easy to understand | ⭐⭐⭐⭐⭐ |
| Performance | Fastest VPN I've ever tested | ⭐⭐⭐⭐⭐ |
| Unblocking | Great at unblocking streaming apps and getting around censorship | ⭐⭐⭐⭐ |
| Security and privacy | Kill switch isn't the best, but everything else is excellent | ⭐⭐⭐⭐ |
| Customer support | Decent 24/7 customer support and tons of help articles | ⭐⭐⭐⭐ |
| Price | Cheap VPN with excellent value for money | ⭐⭐⭐⭐⭐ |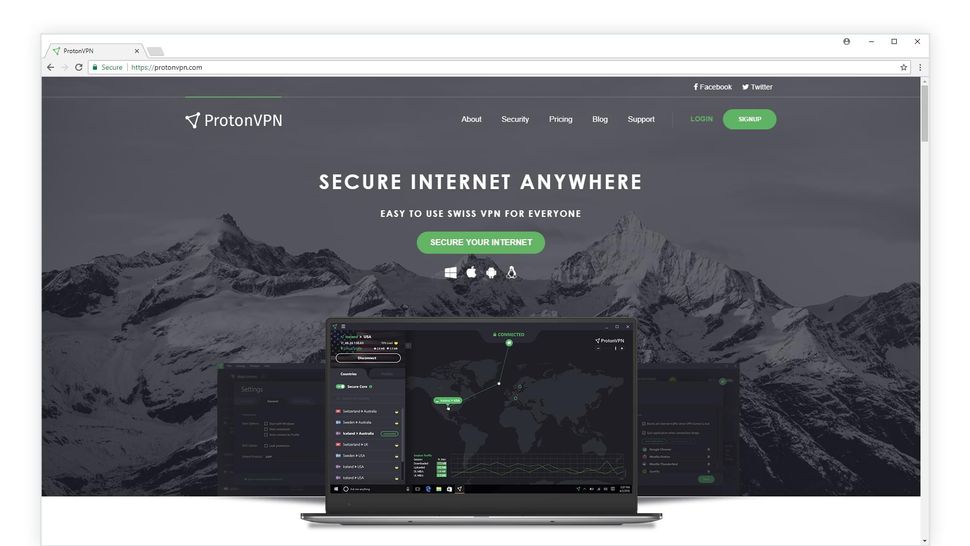 Subscribe if:
✔️ You want a VPN to set and forget: Proton VPN's always-on feature will ensure that you're always connected.
✔️ You want a VPN you can trust: As an open-source platform, anybody is free to check out Proton VPN's code. Also, the platform has been independently audited.
✔️ You have a number of devices to connect: Proton VPN allows you to stream on up to 10 devices simultaneously with the same VPN plan, making it ideal for most families.
Avoid if:
❌ You're looking for a free streaming VPN: while Proton VPN's free version works perfectly for normal use with access to 3 locations, rival PrivadoVPN free is a much better choice for streaming.
❌ You want tons of servers: with around 2,900 servers, Proton VPN falls behind the likes of PIA and NordVPN.
❌ Speed is your primary requirement: despite some nifty tech in VPN accelerator, Proton's connection speeds are middling at best.
Bottom line: ⭐⭐⭐⭐
Proton VPN, with features like the always-on VPN, a unique "Stealth" protocol especially for streaming, and an open-source platform, sets the bar quite high for a trustworthy streaming VPN. However, it can't quite match the very best when it comes to usability.
Proton VPN understands why users would turn to a VPN for streaming and delivers exactly that. In my Proton VPN review, I discovered that not only is the Swiss provider one of the most secure VPNs on the market, but that it's a real streaming powerhouse as well.
It can easily evade Netflix's blocks in a good number of locations, including some hard-to-crack countries like Japan. This is an excellent showing and right up there with the best.
After that, Proton VPN completed a clean sweep of streaming services, including Disney+, BBC iPlayer, and Amazon Prime Video, meaning whatever you want to watch, you'll be able to access it with Proton VPN.
Proton doesn't disappoint when it comes to keeping you safe online, either. Alongside essentials like AES-256 encryption and an effective kill switch, you'll also be able to use Proton's Stealth protocol which allows you to bypass VPN blocks by making the VPN traffic look like regular traffic, thereby allowing access to even the most privacy-unfriendly countries.
As of June 2023, Proton VPN appears to have cranked up its server count to roughly 2,900. This is more in line with big providers like Surfshark and ExpressVPN, and while some like Private Internet Access and NordVPN offer considerably more, I consider anything around the 3,000 mark to be sufficient to deliver seamless connections at all times.
If you're someone who just can't stand buffering, you'll be relieved that Proton VPN uses a unique VPN Accelerator technology, turned on by default, that can amp up your server speed by 400%. No other renowned VPN provider has officially accepted using this next-gen technology, making it all the more special. However, I've not noticed any significant speed drops when not using the VPN Accelerator.
Auto-reconnect is a nifty feature that will re-establish connection in the unlikely case of the current connection failing. Also, note that the always-on VPN feature is permanently activated on Proton VPN's iOS VPN app, but Android VPN users will have to turn it on manually.
With Proton VPN, you can stream anything completely anonymously. The company clearly states that there's no recording or tracking of your activities, and there are even Bitcoin and cash payment options for extra privacy.
At $4.99 per month on the 2-year plan, it's not the cheapest option out there, but if you want to take it for a test run, it's worth checking out its free VPN, too. Be aware, though, that the free service isn't any good for streaming.
Overall, Proton VPN is a great privacy-focused streaming VPN – and you'll even get a 30-day money-back guarantee to make sure it works for you.
Swipe to scroll horizontally
Proton VPN test results

| Feature | Comments | Rating |
| --- | --- | --- |
| Design | Intuitive and dynamic design with the dark mode as a standout | ⭐⭐⭐⭐ |
| Ease of use | Some desktop features may be too technical for regular users to understand | ⭐⭐⭐ |
| Performance | Despite proprietary technologies to increase speed, it's mid-pack | ⭐⭐⭐ |
| Unblocking | Unblocks most sites on the paid subscription | ⭐⭐⭐⭐ |
| Security and privacy | State-of-the-art security with Swiss law protection and an independent audit | ⭐⭐⭐⭐⭐ |
| Customer support | Decent response time with countless guides | ⭐⭐⭐⭐ |
| Price | Not the most budget-friendly, but there's a free plan for new users | ⭐⭐⭐⭐ |

Subscribe if:
✔️ You want access to more servers and regions: PIA gives you access to more than 20,000 servers in 84 countries, with a server in every US state. No other VPN provider comes anywhere close to it.
✔️ You want a proven track record of security: PIA has proven its no-logs policy in court twice, which stands as a testament to its commitment to user privacy.
✔️ You want a budget-friendly VPN: PIA's annual plan is cheaper than most VPNs at just $3.33 a month, and the three-year plan is even better at just $2.03 per month, making it ideal for a long-term commitment.
Avoid if:
❌ Your watchlist is mostly on 10Play: PIA doesn't unblock 10Play geo-restrictions, so if you cannot do without 10Play, you might want to settle with another VPN like ExpressVPN.
❌ You want a super fast VPN: there are better choices in the market in terms of speed, like NordVPN or Surfshark.
❌ You prefer paying through bank transfers: while PIA provides multiple payment options, the good old bank transfer couldn't make the cut.
Bottom line: ⭐⭐⭐⭐
Private Internet Access is one of the best bargain deals that give you a highly configurable and secure VPN for streaming your favorite shows from 84 countries without worrying about geo-restrictions. However, for full coverage of almost every streaming site out there, one of our top 3 will be a better pick.
In my Private Internet Access review, I found that the well-established and popular provider is one of the very best streaming VPNs. From Netflix and BBC iPlayer to Amazon Prime Video and YouTube, it's a force to be reckoned with for its unblocking capabilities
In fact, it's only sitting fifth on this list thanks to the strength of the competition. I found that some sites, like the Australian 10Play, proved too much for PIA, and a couple of less popular Netflix locations were off-limits. However, for the vast majority of sites, it's smooth sailing.
PIA's stand-out feature is that it's very configurable, meaning you can easily adjust settings like server location, encryption level, port forwarding and others to optimize the VPN for a superior streaming experience with reduced latency and enhanced security.
If you're not tech-savvy, here's some good news for you: with PIA, you can easily connect to the VPN from the browser interface with just one touch – there's almost no learning curve. Plus, the location list helps you find the best server for streaming and reports latencies, so no matter what content from whichever part of the world you're looking for, you always have options.
Still, it can be a little annoying to shuffle between regular applications and the browser in between your binge-watching sessions. In that case, you can enable the Bypass List functionality and specify the streaming websites for which you don't want to use the VPN. This isn't unique to PIA, but it's a very well-implemented form of split tunneling.
While it doesn't have the highest speeds, PIA is still decent enough for streaming your favorite shows without interruption. Speed might not be PIA's strongest suit, but security is, and it's just as important an aspect as speed for any streamer that goes beyond the popular global websites for content.
For this, it has an excellent kill switch. Also, the company has an independently audited no-logging policy, which it has proven twice in court. So, rest assured that your personal data won't go beyond you.
More important for many, though, will be the price. As the cheapest provider on this list, it's an absolute steal considering the power under the hood. So, if you're looking for a bargain VPN for streaming, PIA may well be the one for you.
Swipe to scroll horizontally
Private Internet Access test results

| Feature | Comments | Rating |
| --- | --- | --- |
| Design | Loads of customization options, can be a bit overwhelming | ⭐⭐⭐ |
| Ease of use | Great for tech-savvy users, not too beginner-friendly | ⭐⭐⭐ |
| Performance | Decent speeds but falls behind the industry heavyweights like NordVPN and Surfshark | ⭐⭐⭐ |
| Unblocking | 20,000+ servers in 84 countries for smooth and fast content unblocking | ⭐⭐⭐⭐ |
| Security and privacy | Best-in-class encryption with a proven no-log policy | ⭐⭐⭐⭐⭐ |
| Customer support | Adequate resources, plenty of guides, and a contact form to reach the team | ⭐⭐⭐⭐ |
| Price | One of the cheapest VPNs, all the more ideal for the long term. | ⭐⭐⭐⭐⭐ |

What makes a great streaming VPN?
When choosing a streaming VPN, there are three things to prioritize – reliable access to plenty of streaming sites, a decent variety of servers, and excellent speeds. Our top pick ExpressVPN combines all these with a clean, polished interface that makes streaming overseas content super simple, all alongside excellent privacy.
Not all VPNs have that combination, and it's worth mentioning that in mid-2021 Netflix cracked down hard on VPN use. Subsequently we saw almost every provider begin to struggle, although the best have now rallied and are performing well.
Do note that most streaming sites forbid the use of VPNs, and threaten deactivation of your account. However, in our experience we've never heard of this ever happening. If you're comfortable with that, simply keep reading to discover the five best streaming VPNs available today, and take your pick of the bunch.
Update notes: August 4, 2023
No major changes have occurred since my last update of this page, and my latest streaming testing has shown all the providers a very stable and performing as expected.
One bonus is that ExpressVPN has increased its simultaneous connections from 5 to 8, meaning you can cover a few more devices with a single subscription.
Streaming VPN FAQs
What is the best streaming VPN?
We rate ExpressVPN as the best streaming VPN on the market. It delivers excellent speeds, unrivalled content unblocking performance, and has servers in just about every country you could ask for. What's more, you'll get a 30-day money-back guarantee so you can test the service risk-free for a month.
How does a streaming VPN work?
Every VPN works in the same way – it diverts your device's connection away from your internet provider's and instead uses one its own servers. Doing this means your ISP can't see what you're viewing, and an added bonus is that VPN server traffic is much more encrypted than the naked connection from your router.
A streaming VPN can get you access to overseas content by rerouting your connection through one its servers in a foreign country. By doing that, to any website it seems like you're in that country, and subsequently you'll be able to access any and all content that's usually only available if you're physically in that area.
What can I use a streaming VPN for?
There are two basic cases for using a streaming VPN – you're either abroad and want to watch familiar but now geo-blocked content form back home, or you're at home and want to watch geo-blocked content from abroad.
Whatever your reasons, there's a huge amount of content on offer that you can only get with a streaming VPN. Netflix has a vast amount of content that's only available in certain areas, and services like Hulu and BBC iPlayer are only available in one country.
However, there's more to be had if you're a sports fan. If you're away from home and don't want to miss a game that's being shown on domestic TV, you can access that through a streaming VPN. The same goes if you're a paying customer of a sports streaming service – just turn on your streaming VPN, log in to your streaming service and watch.
What are the best TV streaming services?
There are more video services to pick from these days than there were big chain video rental stores in the nineties. We've come a long way. But some practices still seem outdated, like geo-restrictions to keep certain content for particular locations. All the best services have these in place, but many don't seem too concerned about VPNs which get around the issue.
From Netflix and Amazon Prime Video in 4K and HDR to BBC iPlayer, Hulu and YouTube and Disney+ – there are lots of streaming services to pick from and enjoy anywhere using a VPN. Want to find the best one for you? Check out our best video streaming services guide.