You don't want to sacrifice privacy and security when protecting yourself online. That's why when searching for the best VPN I made this a top priority, and why Proton VPN ranks high on that list.
This Swiss-based provider also takes safety seriously, but it also makes sure its services are user-friendly, because what's the point of a good program if you can't figure out how to use it?
On top of a great premium VPN, Proton also has the absolute best free VPN on the market, too. And both programs have an abundance of servers around the world so you're guaranteed a good, fast connection every time you use it.
In my comprehensive Proton VPN review, I'll be taking a look under the provider's skin to see what it can really offer you, what it might lack, and whether it's the right VPN for you.
To jump to a particular section, head to the side navigation bar. For the full review, just keep scrolling.
Proton VPN on paper
Swipe to scroll horizontally
| | | |
| --- | --- | --- |
| Number of servers | 1,900+ | Row 0 - Cell 2 |
| Server countries | 67 | Row 1 - Cell 2 |
| Supported platforms | Windows, Mac, Linux, Android, iOS | Row 2 - Cell 2 |
| Simultaneous connections | 10 | Row 3 - Cell 2 |
| Split tunneling | Yes | Row 4 - Cell 2 |
| Kill switch | Yes | Row 5 - Cell 2 |
| Protocols supported | WireGuard, OpenVPN, IKEv2, IPv6 | Row 6 - Cell 2 |
| Country of registration | Switzerland | Row 7 - Cell 2 |
| Support | Email, knowledgebase, live chat (not 24/7 yet) | Row 8 - Cell 2 |
Proton VPN 1-minute review
Proton VPN has a ton of privacy and security features. For example, its kill switch works fast to sever your connection if there is a network failure to ensure your online information remains shielded.
Another big plus is the number of servers available worldwide. Paying customers have access to over 1,800 servers in 64 countries. You can opt to have Proton VPN automatically connect you to the first available server, or you can manually choose one. For free subscribers, there are still over 100 individual servers to choose from.
If you have more than one device, Proton lets you use its VPN on 10 of those at the same time. And all users, regardless of which plan they choose, get unlimited bandwidth. That means you can use Proton for as long as you want and as often as you'd like and never experience slowdown because a monthly data cap was met.
One of Proton VPN's biggest strengths outside of privacy is its ability to access geo-blocked streaming services. Netflix, Amazon Prime Video, Hulu, BBC iPlayer and more can be unblocked – although this is only available with paid subscriptions.
The biggest change I saw with Proton VPN since the last review is a drop in its speeds. It's still impressive at 450-510Mbps, but that's nearly a 100Mbps slowdown within the last six months. But even at these speeds, Proton is still right about average for VPN speeds.
Pricing is on the higher end when it comes to the full-fat Plus plan – which, let's be honest, is the one to go for – and definitely puts it into the upper echelons of the best of the best. Can it live up to its price tag?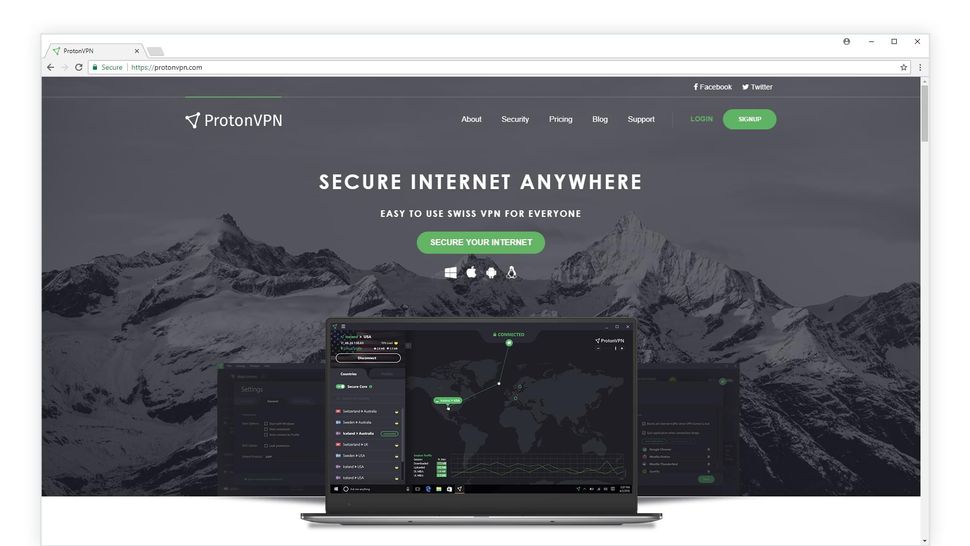 Latest updates
Privacy tests showed no trackers on the Proton VPN website or in its apps
Some of the best tracker-blocking capabilities of all VPN services
Proton Free increased the number of available servers to over 100
Proton Unlimited adds additional Proton services for a minimal cost
Connecting to the VPN can sometimes take over twice the normal time
Peak speeds slowed down by more than 150Mbps
Proton VPN price and payment
Swipe to scroll horizontally
| | | |
| --- | --- | --- |
| Plan length | Overall cost | Monthly cost |
| 1 month | $9.99 | $9.99 |
| 1 year | $71.88 | $5.99 |
| 2 years | $119.76 | $4.99 |
Proton VPN has one of the best free options from any provider. Without paying anything at all, you can get an ad-free service with no data logging and no bandwidth limits. Plus you have over 100 servers to connect to, something unheard of from most free plans.
All paid versions of Proton VPN give you access to every feature. This includes thousands of servers worldwide and unblocking of most major TV streaming services. You can use the service on 10 different devices all at once, too.
Sign up for a single month and you'll pay $9.99, and extend that to a year and it'll drop to $5.99 a month. The biggest savings come on the two-year plan, which works out at $4.99 a month. That's a little cheaper than it used to be, too – and although not as often as other providers, Proton does occasionally offer some extra discounts and deals.
If you want full access to everything in the Proton suite (Proton Mail, Calendar and Drive) prices start from $9.99 a month. That's pretty good value if you'll actually use the added apps – and it's much cheaper than the old 'Visionary' plan – but I expect most will just bag a VPN subscription and be done with it.
Notably, you can remain completely anonymous when signing up for Proton VPN. The platform supports Proton Mail email addresses and accepts payment via Bitcoin. That's a big draw if you're looking to stay as anonymous as possible.
Finally, Proton VPN offers a 30-day money-back guarantee, which is great if you want to try out the paid version without fully commiting.
How private and secure is Proton VPN?
During the latest round of testing, I looked into how well Proton VPN spotted trackers and blocked them. Using NetSuite, a reliable malware and adblocker program, Proton VPN stopped the highest number of trackers.
I checked Proton's own website to see if the company itself uses trackers and was happy to find no trackers used on either the website or within the Android app.
Proton VPN has a home base in Switzerland, which automatically gives the service a boost over most of the competition. The country is known for its very strong privacy laws, is neither in the US nor EU jurisdiction, and additionally, it's not a member of the "14 Eyes" surveillance network.
Proton VPN's no-logging statement is comprehensive, and that's reflected in practice – the only data stored is your very last timestamp, which is immediately overwritten the next time you connect.
One of the most exciting and unique features that Proton VPN offers is what it calls Secure Core. This essentially means that when you connect to one of Proton's Secure Core servers, your connection is first routed through one of Proton VPN's most protected servers.
Ranging from underground servers bunkers in Switzerland and Sweden to an old military base in Iceland, these servers are super secure and virtually immune to surveillance. So, if you're truly concerned about your activity being monitored, it's a great added feature.
Proton VPN also offers a built-in kill switch to protect your IP in case your connection drops. There's no option to have the VPN automatically turn on when you connect to a public Wi-Fi network, but you can set Proton VPN to open a connection automatically when you turn on your computer.
Proton VPN's server network has just over 1,800 servers spread across 64 countries. You have a good spread worldwide, and these servers are available on all platforms.
Privacy obsessives will be pleased to note that Proton VPN offers Tor over VPN, which integrates your connection with the anonymous Tor network. In a single click, all data is routed through the Tor network which gives the user an extra layer of privacy as well as access to Onion sites. Other than NordVPN, I can't name many VPNs that offer this as an integrated feature.
And, finally, in January 2020 Proton VPN went through an independent audit by SEC Consult. The results were impressive, with just 11 issues found over all apps, none of which being high-risk.
While that might sound worrying, these audits are incredibly thorough, and when vulnerabilities are identified, it allows the developers to address them. And, thanks to the fact the apps are all open-source too, anyone interested can verify the fixes made.
All in all, I'm seriously impressed with Proton VPN's privacy and security, from cash payments to the audit, and if you're looking for a VPN to keep you safe online, I'm comfortable saying it's easily one of the most secure VPN services around today.
How fast is Proton VPN?
Swipe to scroll horizontally
| | |
| --- | --- |
| WireGuard | 510Mbps |
| OpenVPN | 210Mbps |
Proton isn't the fastest VPN I tested. In fact, between the last round of testing and the most recent, Proton' overall speeds have dropped by quite a bit. However, it still ranks about average for most decent VPN services, so its effectiveness or overall quality hasn't been affected too much by its speeds.
To begin my speed tests, I first connected to the fastest server from two locations, both with 1Gbps lines - a US residential location and a UK data center. After that, I checked the performance with SpeedTest.net (both via website, and command line app), SpeedOf.me, nPerf, and other benchmarking services.
I connected using both WireGuard and OpenVPN protocols. Each test was repeated five times, and it ran the full set in both morning and evening sessions. This data was analyzed to come up with, and compare median speeds.
When connected using WireGuard, Proton VPN peaked at 510Mbps. This is a lot slower than my last tests that showed Proton with top speeds of 670Mpbs. During the last round of reviews, Proton VPN was only beaten out by Hide.me and Mullvad. This time 16 VPN services came in faster, including Surfshark, TorGuard, and Norton Secure VPN that all peaked at around 950 Mbps.
For the OpenVPN test, Proton dropped even more. It topped out at 210Mbps, down from 440Mbps. Only three other competitors – IPVanish, PureVPN, and Surfshark – came in slower.
Probably the most frustrating finding during my testing, however, was time Proton takes to establish a connection. Typically it takes under 4 seconds for a VPN to connect. It took 10 seconds for my test machines to connect to a Proton server.
How good is Proton VPN for streaming?
Swipe to scroll horizontally
| | |
| --- | --- |
| Netflix | Working (UK, US, CA) |
| Prime | Working |
| YouTube | Working |
| iPlayer | Working |
| Disney Plus | Working |
| 10Play | Unavailable |
| 9Now | Working |
| Hulu | Working |
| ITV Player | Working |
| All4 | Working |
While Proton VPN hits the mark for security and privacy, it also is packed with other fun and helpful features. For example, it is one of the best when it comes to unlocking Netflix, BBC iPlayer, Amazon Prime, and Disney+.
In mid-2021 Netflix changed how it restricts viewers using VPNs, and many providers are still struggling with access. However, there are a few that have found effective ways of overcoming this.
And, it seems, Proton VPN is one of those select few. In my testing, it was able to unblock not only US Netflix, but also UK and Canadian libraries, too. Few other providers can match this, and this performance earned Proton VPN a place on our Netflix VPN guide.
It's good news elsewhere, too. I was able to unblock BBC iPlayer from outside the UK, and access Amazon Prime Video, and Disney+. That's a coveted full house and more evidence that the Swiss provider isn't resting on its laurels and is investing in improving service across the board.
How good are Proton VPN's desktop apps?
Proton VPN has a nicely designed interface with many customizable options, although it could feel overwhelming – especially for newbies that aren't used to all the protocols or how a VPN works. Thankfully the default settings are enough to keep you safe, so you really don't have to touch anything.
It works on both Windows and Mac computers, and also Linux. When you first open it up, you'll see a map with every active server location pinpointed. If you're not a fan of the map, though, you can hide it and just see the server list, which is color-coded to show connection and transfer speeds before you click.
You're also treated to a nice amount of information about the servers themselves. Load is great to see (I wish more VPNs showed this), and you can also tell which servers are optimized for P2P (as not every one is).
Connecting to Proton VPN does take some patience. Where most services take around 4 seconds max to connect, Proton, on average, takes 10 seconds. This isn't really that long to wait, but in a world where technology is more instantaneous, I definitely expect faster.
Proton VPN's 'profiles' features is a nifty usability trick that essentially allows you to save your frequently used settings. For example, perhaps there's a particular server you've noticed works especially well for accessing US Netflix or for P2P, but you also regularly use a randomized Dutch connection for day-to-day browsing. Save them both as profiles, and you'll be able to connect to either in a single click.
In-app you'll also see tons of info, including your IP, time connected, data up and downloaded, plus your average connection speeds.
In the settings, you can set preferences like the kill switch, split tunneling, configure Quick Connect, and DNS protection. I didn't encounter any settings that were sticky or refused to change, a surprisingly common issue with software like this.
A feature that is activated by default is the VPN Accelerator. This uses some technical trickery to help speed up connections that might otherwise be sluggish.
One limitation of Proton VPN is that it doesn't have an auto-connect option on insecure networks. But in reality, you wouldn't want to chance compromising security.
How good are Proton VPN's mobile apps?
The Android VPN app isn't much different than the Windows VPN application. It looks, feels, and works almost identically with options for both portrait and landscape modes. And it has a few perks of its own. For one, the list of servers is in alphabetical order by city rather than by state. And split tunneling is present, which isn't always available.
Proton VPN's iOS VPN looks a little bit different because of limitations with the platform, but the general navigation is the same. Split tunneling isn't available, but this and other features are difficult, if not impossible to develop for Apple's mobile OS.
Overall, Proton VPN's mobile VPN apps are well-designed, powerful, and usable, and the fact the experience is much the same across all platforms means they're intuitive and pleasant to use.
Not a fan of Proton's apps? No worries. You can download all of its OpenVPN config files and use them in an app or device of your choice. That's great flexibility, and it'll even allow you to download the lot as a .zip file.
How good is Proton VPN's support?
You do have decent support options if you need a little bit of help installing or setting preferences within either the desktop or mobile app. You have more and better options if you use one of the paid subscriptions, including live support, though it isn't available 24/7.
After your issue is resolved, Proton gives you the option to convert your live chat session to a ticket in case you need to follow up later. Its support agents are really good at walking you through issues while being friendly and quick to reply.
If you're a little chat-shy, you can opt to use the knowledgebase instead. This area of the Proton website has a lot of articles, but they aren't always helpful. Also, those designed to help are very technical and aren't easy if you're not familiar with VPN services. In fact, even if you are a little tech-savvy these articles could still be difficult to understand.
Should you buy Proton VPN?
Proton VPN is one of the best VPNs I've seen if you prize privacy and security. There aren't many other services that can top it when it comes to security and privacy, and while it did dip a bit in the speed department, it's still on par with most VPNs.
The biggest plus for Proton VPN users is how well it taps into TV streaming services. If you're a frequent traveler, this is a great service that lets you keep up with your favorite shows or watch your favorite teams play through your streaming accounts, even while out of town.
If you're not 100 per cent committed to buying Proton VPN, you do have the option of using its free service first to get a feel of how it works. You won't get every feature with this option, including TV streaming unlocking, but it is good for getting a feel for the service and how secure it is.
Sign up for Proton VPN if:
You want top-notch privacy and security while online
You need to access streaming sites abroad
You want to ensure you're not being tracked in any way
You want to block ads, period
You have a lot of devices you use online
Avoid if:
You need to connect fast
You need to save money
You're not hugely tech-savvy