Big names dominate the VPN industry, and ExpressVPN is one of the very best known. With adverts on podcasts, YouTube videos, and just about everywhere else, it's clear that the British Virgin Islands-based privacy giant has money to burn. So, in my in-depth expert ExpressVPN review, I'll be digging deep into every aspect of the service to see whether it can live up to the hype – and the hefty price tag.
As any of the best VPN providers should do, ExpressVPN promises rock-solid privacy for its users, and its very wide network of servers (over 3,000 in 94 countries) means you can virtually relocate to just about anywhere in the world.
If you're eager to learn about a particular feature, use the navigation menu to jump to a particular section. If you want to know everything there is to know about this VPN, all you need to do is keep scrolling to take in my full hands-on ExpressVPN review.
ExpressVPN on paper
Swipe to scroll horizontally
| | | |
| --- | --- | --- |
| Number of servers | 3,000+ | Row 0 - Cell 2 |
| Server countries | 94 | Row 1 - Cell 2 |
| Supported platforms | Windows, Mac, iOS, Android, Linux, BlackBerry, Kindle Fire, Nook, routers, consoles (MediaStreamer), Amazon Fire TV Stick, Apple TV, Boxee, Chromebook, Windows Phone | Row 2 - Cell 2 |
| Simultaneous connections | 8 | Row 3 - Cell 2 |
| Split tunneling | Yes | Row 4 - Cell 2 |
| Kill switch | Yes | Row 5 - Cell 2 |
| Protocols supported | Lightway, OpenVPN UDP, OpenVPN TCP, L2TP/IPSec, IKEv2 | Row 6 - Cell 2 |
| Country of registration | British Virgin Islands | Row 7 - Cell 2 |
| Support | 24/7 live chat, email, knowledgebase | Row 8 - Cell 2 |
ExpressVPN 1-minute review
Starting at a pretty standard $12.95 on a monthly rolling plan, ExpressVPN isn't exactly a bargain in the short-term. However, sign up for a year through Tom's Guide and you'll bag 3 months free, working out at a reasonable $6.67 a month. You'll also get a year of Backblaze cloud storage for free, and a no-quibble 30-day money-back guarantee should the VPN not live up to your standards.
Privacy is high on ExpressVPN's hit-list, and so it should be. You get 256-AES encryption and a 4096-bit RSA certificate, plus a choice of a number of protocols, including the fast and secure Lightway – developed in-house by ExpressVPN.
Over 3,000 servers are available in 160 locations across 94 countries, all of which are RAM-only (known as TrustedServer), meaning none of your data can be physically be stored. Its no-logging policy and apps have been independently audited, backing up the strong claims made on-site.
ExpressVPN isn't the very fastest provider I've tested, but with a peak of 750Mbps, it's more than fast enough for just about any purpose – and it certainly won't slow you down if you're on regular domestic Wi-Fi. In my experience, the connections are also very reliable and rarely, if ever, drop out.
Of the dozens of providers I've tested in-depth, ExpressVPN is one of only six to unblock every streaming service it faced – including Netflix, BBC iPlayer, Amazon Prime Video, as well as more niche sites such as 10Play, ITV, Channel 4, and 9Now. Every server is also optimized for torrenting, too.
Not only does ExpressVPN offer tons of apps for various devices, but these apps are invariably well-designed and stable. Whether you're using an iPhone, Windows PC or Amazon Fire Stick, it's the same intuitive experience every time.
ExpressVPN has recently upped the number of devices you can use a single subscription on from 5 to 8. This is much more generous, and now outstrips main rival NordVPN in this regard.
If you want to use more than 8 devices at once, the techier user can also get around this by making the most of ExpressVPN's router VPN prowess – or consider purchasing the brand's first hardware product, ExpressVPN Aircove.
With excellent 24/7 support as well as clear, concise written articles, any issues you may have should be cleared up in no time. Overall, no VPN I've tested combines ease-of-use, superb privacy and an excellent customer experience as well as ExpressVPN. While some rivals offer more expert-level features, for the vast majority of users ExpressVPN is quite simply the best choice.
▶ Try my #1 VPN with a 30-day money-back guarantee
Latest updates
The ExpressVPN Keys password manager (free forever, even if you cancel your subscription), is continually being updated, and since my last review credit card storage, a secure password generator, and the ability to import passwords from Chrome has been included.
In July 2023, ExpressVPN underwent a corporate restructure, resulting in a number of redundancies. The company claims this was to improve efficiency, and allow ExpressVPN to react more quickly and efficiently to changes in the privacy landscape.
In July 2023, the number of simultaneous connections was increased from 5 to 8, addressing one of our few complaints about the service.
In March 2023, the Lightway protocol underwent a second independent audit.
Throughout 2022, ExpressVPN underwent a staggering 11 independent audits, covering all of its mobile and desktop apps, its privacy policy, its Aircove router, TrustedServer, and the password manager Keys. This is more than any other VPN in the industry. More on this in the Privacy section of this review.
Major networks updates, including upgrading 1Gbps servers to 10Gbps, and increasing 4-core servers to 20- or 32-core versions.
Network Protection (kill switch) added to iOS app – a feature very often left out due to the nature of iOS.
As always, app updates are released every couple of weeks on average, and the ExpressVPN dev team appears to be one of the busiest in the industry.
ExpressVPN price and payment
Swipe to scroll horizontally
Like just about every VPN provider, if you go for a one-month rolling plan you'll be paying the most – $12.95 to be exact. If I'm honest, this is really only any good for true commitment-phobes, or those signing up to test out the service.
A six-month plan drops the equivalent monthly price to $9.99, and ExpressVPN is one of the few providers to offer a mid-length plan like this. By far the most appealing, though, is the 12-month plan, which works out at $8.32 – or $99.95 for the year.
To sweeten the deal, however, readers of Tom's Guide can save a little more by claiming three months free, which works out at a reasonable $6.67 a month. It's also worth taking a look at our ExpressVPN promo codes for the latest deals and discounts.
If you don't cancel after your 15 months are up, the price will be slightly bumped. Seeing as you won't get another 3 months free, the price will rise to $116.95 for the year, which works out at $9.75 per month.
When you consider some top-quality cheap VPN services start at less than $2.50 a month (albeit on longer-term plans), ExpressVPN does come across rather expensive.
ExpressVPN offers plenty of ways to pay. Alongside traditional methods like PayPal and credit card, you'll also be able to use Bitcoin, and other payment providers including AliPay, Yandex Money, WebMoney and more. Most of all, I'm pleased to see Bitcoin support, as this can help make the whole paper trail more difficult to link back to you.
Thankfully, cancellation is straightforward. All you need to do is contact the support team and request your refund, and they will oblige – there'll be no investigation into how much you've used the service, and as long as it's within the 30 days, you'll get your money back. That displays impressive confidence on ExpressVPN's part.
As mentioned earlier, if price is a defining factor for you there may well be better options. For example, at the time of writing Ivacy is offering an admittedly lengthy 5-year plan for just $1 a month. Fellow Kape-owned Private Internet Access is only $2.19 a month on its longest plan, and close rival Surfshark is usually priced below the $2.50-a-month mark.
So, on the face of it, ExpressVPN looks like a pretty pricey product. However, when you consider what you're getting for the money, it's still not an extortionate rate. It's also worth noting that many providers crank their prices up much more upon renewal, often coming close to what ExpressVPN charges in the first place.
See below for the best prices on ExpressVPN today:
Does ExpressVPN have a free trial?
If you fancy a VPN free trial, downloading the Android or iOS VPN app will get you seven days free, and plans of any length can be tested risk-free by making the most of the 30-day money-back guarantee. However, be aware that this chargeback is only available once, so if you've received an refund before, you won't be able to claim again.
How private is ExpressVPN?
At its core, ExpressVPN employs industry-standard AES-256-CBC encryption alongside HMAC to safeguard against real-time alteration of regular data, and a 4096-bit SHA-512 RSA certificate. In non-technical terms, these are some of the most advanced encryption methods available, and are absolutely uncrackable in real-world circumstances.
What's more, this isn't just lifted from the company's website – when I dug into the OpenVPN config files, every claim was confirmed.
To give you even more protection, Perfect Forward Secrecy is also present, meaning that you're given a new session key each time you connect, and a new one every 60 minutes after that. That means that even if your connection is somehow compromised, all they'll get is a maximum of 60 minutes of data before they're booted.
While the extent of which isn't made public, ExpressVPN also has a number of obfuscated servers which prove useful for using it as a China VPN. These servers cloak the fact that you're using a VPN at all, and can sidestep regional VPN blocks, or even make it usable at places like universities that may restrict VPN use.
Be aware, however, that the ExpressVPN website is blocked in China, so you should download it before you arrive. If you're in the country, ask the support team (support@expressvpn.zendesk.com) for a mirror link, which will allow you to download the app.
ExpressVPN's Android app has been given the ioXt certification. That means the design of the app and service has been investigated on a low level, so users can be sure that the software is behaving in the correct way. Undertaking these tests is a tricky task for even the most hardened techie, so this certification is a big green tick in my book.
Finally, throughout 2022 and 2023, ExpressVPN went through a surge of independent audits. This included the desktop apps, mobile apps, privacy policy, TrustedServer, the Aircove router, and Keys. This is more comprehensive than any other VPN provider, and demonstrates ExpressVPN's trustworthiness.
What's more, ExpressVPN allows anyone to access the audit reports – something that's surprisingly rare in the industry. If you want to read through what the auditors found and what ExpressVPN has done to address any issues, simply head to the blog. A list of all the audits can be found at the bottom of the linked page.
How secure is ExpressVPN?
ExpressVPN runs its own zero-knowledge 256-bit encrypted DNS on every one of its servers. This eliminates the need to use the vulnerable OpenDNS or any other third-party DNS services. These third parties are liable to log your DNS requests and, if unencrypted, offer up a handy way for hackers to intercept and alter your requests.
While I can't investigate this in absolute detail, my testing on websites such as IPLeak and DNS Leak Test proved that ExpressVPN indeed does not leak DNS information – and if you want to use it, ExpressVPN provides its own DNS leak test tool.
A simple and effective kill switch is present, which cuts your internet access in the event that the VPN connection fails, which is very useful for torrenting, or in situations where absolute privacy is paramount. If you didn't have this, you could be browsing or downloading for hours without realizing you were disconnected.
It's enabled by default, and in this round of testing I undertook even more rigorous testing of the feature, including shutting down individual processes and services – but nothing could trip it up.
Every one of ExpressVPN's servers is 100% RAM-only. Compared to traditional hard-disk servers, RAM-only servers are physically unable to save information after power-down (even after a complete wipe, data can sometimes still be retrieved from hard drives).
It's true that today, this is common practice among almost all VPNs worth their salt, but it's still very much worth pointing out. What's more, though, is that RAM-only servers is just a small part of ExpressVPN's TrustedServer tech. For maximum security, not only is data wiped upon reboot, but the whole software stack is reinstalled. For a more comprehensive explanation of TrustedServer, check out ExpressVPN's own dedicated explainer.
Does ExpressVPN keep logs?
ExpressVPN seems confident enough in its reputation to not plaster its homepage with claims of zero logging – which, I've found with other VPNs, isn't always true anyway. You'll have to head to the right page to find out.
On its "What is VPN" page, ExpressVPN claims that: "privacy is a fundamental right. We don't keep connection or activity logs, and we never share your details with anyone."
What's more, to clarify this you'll find a simple, effective no-logging statement that's written in plain English (you'll see that this is something ExpressVPN does very well later on, too).
ExpressVPN does not keep track of the IP address used to connect, your login time, the IP you're assigned, any of your traffic, or any information concerning the pages you visit.
However, there are still some minimal logs kept, namely the date (not time) of when you connect, your server choice, the amount of data transferred, and the version number of your client. Without the time, IP, or browsing data though, it's impossible to use this to link any action taken on the web to any specific ExpressVPN user.
Another positive is that fact ExpressVPN is based in the privacy-friendly British Virgin Islands. The BVI has no laws requiring companies based there to submit data to the UK or US, and it's also not part of either the 5 Eyes or 14 Eyes alliances. This, combined with the fact Express logs no personally identifiable data and is very clear about what it does keep track of, makes for pleasing reading for the privacy-conscious.
However, don't take my word for it – ExpressVPN has been independently audited by PricewaterhouseCoopers, and while I'm not permitted to quote from the report, it is freely available to read for anyone.
How fast is ExpressVPN?
Swipe to scroll horizontally
| | |
| --- | --- |
| Lightway | 750Mbps |
| OpenVPN | 250Mbps |
Connection speeds are absolutely crucial for ensuring hassle-free usage of a VPN, and even the most privacy-focused user will demand rapid loading of websites alongside rock-solid protection.
When I tested ExpressVPN on an uncontested 1Gbps connection, the results were impressive. When using Express's in-house Lightway protocol, I saw speeds of around 750Mbps. That's more than fast enough to cope with the vast majority of domestic connections – meaning in practice your ISP will likely be the limiting factor when it comes to speed, not ExpressVPN.
OpenVPN speeds are also impressive, with the old faithful protocol reliably delivering 250Mbps – again, plenty fast enough for just about anyone. It's worth noting, though, that in my last round of testing it was a little faster.
ExpressVPN isn't quite the fastest VPN on the market though – in fact, when it comes to peak speeds, it's decidedly mid-pack.
With the widespread uptake of WireGuard, many VPNs are delivering far faster speeds than just a couple of years ago. Big-name rivals Surfshark and NordVPN both topped out at over 950Mbps, outstripping ExpressVPN with their WireGuard-based protocols. Smaller players Hide.me, Windscribe and IPVanish also proved faster.
However, PureVPN, Proton VPN, CyberGhost and Hotspot Shield all performed worse than ExpressVPN in my testing – and none of those would be considered slow by anyone's standards.
And, what's more, only a select few providers (Windscribe, Mullvad, Proton VPN) managed to outperform ExpressVPN when it comes to OpenVPN speeds.
Of course, it's worth noting that different servers, different ISPs, different times of the day, and myriad other factors will all have an effect on the speeds you personally will see from any VPN. However, my testing aims to deliver a good baseline so users can make a more informed decision on which provider to choose.
Here, I think ExpressVPN's performance proves that while it's not the very fastest, speed certainly isn't a factor on which to discount this so far very impressive service.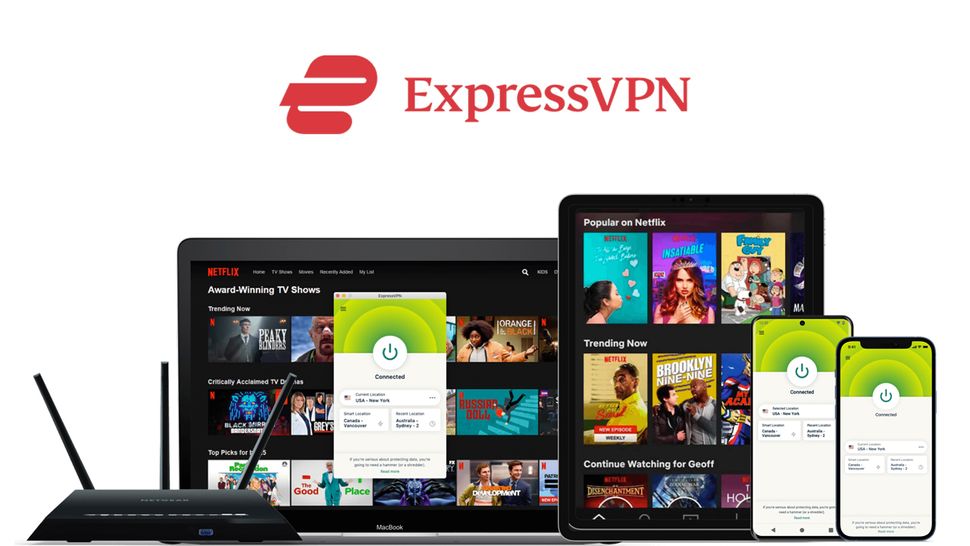 How good is ExpressVPN for streaming?
Swipe to scroll horizontally
| | |
| --- | --- |
| Netflix | Working (UK, US, CA, AU, JP) |
| Prime | Working |
| YouTube | Working |
| iPlayer | Working |
| Disney Plus | Working |
| 10Play | Working |
| 9Now | Working |
| Hulu | Working |
| ITV Player | Working |
| All4 | Working |
One of the best-known VPN uses is unblocking streaming content on Netflix, BBC iPlayer, Amazon Prime, Disney Plus and many more. I test all the VPNs I review with these, as well as smaller services that frequently offer free streams if popular sporting events and entertainment like Australia's 10Play.
ExpressVPN isn't shy – its website overtly states which services you'll be able to unblock (hint: it's pretty much all of them). This can only be good news, as it means the provider is essentially holding itself to these claims, and using them as direct selling points.
When I tested these services, ExpressVPN was one of the only providers to come out of the process with a clean sheet. For almost all services, any selected server in the correct country was able to access the respective streaming site. ExpressVPN is an excellent Amazon Prime VPN, and every time I tested the service, I was able to watch US content. As a BBC iPlayer VPN it's also very effective, with a clean sweep of access over five tests.
A couple of years ago, Netflix made a huge change to the way it detects and blocks IP addresses, and since then success rates have plummeted. However, ExpressVPN is still one of the best Netflix VPN services around.
In my testing, ExpressVPN was able to unblock every location I tried – UK, US, Canada, Japan, Australia. This is an absolutely stellar showing, and only a handful of other providers can claim to be able to perform an absolutely clean sweep in my testing.
I'll explore ExpressVPN's support in more detail below, but I've found them incredibly useful in diagnosing and solving issues with streaming. After completing my random tests, I spoke to a live chat agent to see what they recommended. They provided me with a list of servers which all unblocked what I needed. So, if you are having an issue with access to a certain streaming site, a solution is only a few messages away.
Also, it's worth noting that ExpressVPN has a dedicated Smart DNS function called MediaStreamer, which lets users streaming on non-VPN supporting devices like Smart TVs and game consoles switch location and watch geo-blocked content. Out of the VPNs that offer Smart DNS (and not all do), ExpressVPN's MediaStreamer is probably the easiest to use.
How good is ExpressVPN for torrenting?
While not hugely publicised on the website, every VPN server ExpressVPN offers is optimized for P2P sharing – which is more than most other providers can say. That means there's no faffing around trying to find a torrenting server, because whichever one you choose will be suitable.
If you find other applications affected by ExpressVPN, you'll also be able to activate split tunneling. This allows you to separate the traffic from certain apps – in this case your torrent client – and direct that through the VPN while leaving the rest of your inter use unaffected.
There are also no caps on data transfer, and you'll never have your connection throttled. Plus, the excellent privacy and security features, alongside Bitcoin support and no activity logs make ExpressVPN an excellent option if you're looking for a torrenting VPN.
How easy is it to install ExpressVPN?
For many people, setting up a VPN can be a daunting experience, but ExpressVPN has quite effectively taken the stress out of it.
Unlike most providers, to download ExpressVPN you'll have to sign up and make an account first. However, once you've done that, the process is very simple.
From the homepage, ExpressVPN will detect your system OS and direct you towards the version it thinks you need – and in my experience it's always been correct. If you want to download a different version, you can also select that from the navigation bar at the top of the site.
Incidentally, these pages are far more than just, say, links to the Google Play Store. You can go there if you want, but you can also download the .APK files for the Android VPN version, and even use a QR code to email yourself a setup link.
Once you've downloaded and installed the app on whatever device you're using, you'll be prompted to verify with an activation code. Thanks to this you don't need to enter your login details, which is more welcome than you'd think – and I'd welcome this method for just about any app that needs verification to use, not just VPNs.
If you'd prefer to use a different client, you can do this easily by using Express's OVPN configuration files.
If you're using a Fire TV Stick or another device with a dedicated app store, ExpressVPN has a vast range of official applications which are super simple to install – just follow the steps you would for any other app.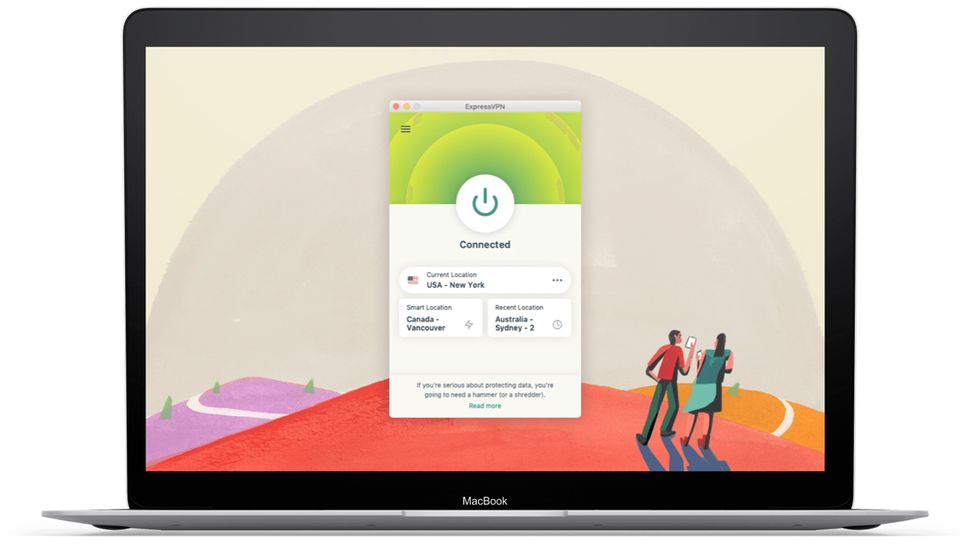 How good are ExpressVPN's desktop apps?
The bread and butter of any VPN service, desktop VPN apps should be simple, clear, and give you access to everything you'll want to do in a couple of clicks. ExpressVPN does not disappoint.
With an initially simple interface, you'll see the automatically chosen Smart Location plus a huge, inviting on/off button. If you just want to get protected and forget about it, all you need to do is click that button.
Clicking the selected location brings up a list and search box for choosing a different server, and the app also allows you to choose favorites and displays your three most recent servers. You'll also be able to connect to your last three locations through a system tray icon on Windows, and the menu bar on Mac, without opening the app.
There's little in the way of information about the health of any particular server – compared to, say, Proton VPN or IPVanish's stats – but a built-in speed test is also easily available and can give you exact data on whatever servers you wish.
Open settings, and you'll have a choice of protocols, including Lightway, OpenVPN UDP, and OpenVPN TCP, as well as IKEv2 on Mac (Windows support for this protocol has been dropped). You can toggle the reliable kill switch from here, alongside IPv6 leak protection and DNS settings.
On Windows you'll also get access to split tunneling, which allows you to select which apps route through the VPN and which don't. The lack of a kill switch in the Mac app is really the only significant omission that separates the two clients
However, the Mac VPN app pokes its nose ahead of the Windows VPN offering with support for the new Threat Manager, which blocks ads, trackers, and malware-infected sites. Overall, both the Windows and Mac apps are simple, slick, and are quite simply some of the best-designed VPN interfaces on the market today.
How good are ExpressVPN's mobile apps?
In terms of interfaces, both the Android and iOS apps are very similar to the desktop versions – and both are available from their respective app stores. Setup is super simple on both systems, and all you need to do is enter your login details and accept a couple of permissions.
In short, they're much simpler to set up and use than much of the competition, and in my experience they've been incredibly reliable, too.
Both versions include some interesting extra utilities beyond VPN protection, including an IP address checker, a WebRTC leak tester, and a password generator.
Creating a favorites list on Android is very slick, but may be easily missed. All you need to do is swipe right on your chosen server – just like queuing a song on Spotify – and it's added. A landscape mode on Android is also welcome, thanks to the prevalence of Android-based tablets.
You'll also get a 'Protection Summary', which outlines your recent usage, current location, IP address and the like. It's an interesting addition for sure, and the IP info is great. However, I – and I'm sure almost all other users – will have very little interest in finding out which day of the week I spend the most time connected to my VPN.
The iOS version has a couple of limitations thanks to the OS. You don't get split tunneling – which the Android version has – but ExpressVPN integrates a kill switch-like feature called 'Network Protection'. This is a real selling point, considering most rivals still lack this functionality.
Threat Manager is now also available on the iOS client. This blocks trackers and malicious websites, and is a welcome addition. However, if this is a deal-breaker, I still wouldn't absolutely rely on it as dedicated tools are likely to provide a more comprehensive suite of functions.
Finally, on iOS ExpressVPN has implemented something called Parallel Connections. It's a little complex to explain, but in layman's terms, when a VPN connects to a server it typically tries to do so in one manner at a time. If one fails, it will try a second method. Parallel Connections tries everything at once, meaning you're never slowed down by the first method failing. And, on my iPhone 14 Pro, I've never waited longer than a second or two since its implementation to get protected. Learn more from ExpressVPN's blog on Parallel Connections.
While they lack some niche expert features such as the ability to set your preferred DNS servers, ExpressVPN's mobile apps are powerful, well designed and, importantly, incredibly easy to use. A select few other providers offer marginally more in-depth apps, but unless you're genuinely going to miss power-user features like DNS customization, ExpressVPN delivers arguably the best mobile VPN apps on the market.
How good is ExpressVPN's browser extension?
ExpressVPN also offers a useful browser extension, available for both Chrome and Firefox. And, unlike some competitors, it's not a simple proxy – this is a full-blown VPN in your browser. While this does mean you'll have to have the standalone client installed as well, it does give you some serious added benefits.
In effect, it means you don't have to switch between windows to change settings (again, more useful that you might think), but there are a few extra bonuses. Firstly, the extension will enforce HTTPS Everywhere, prevent HTML5 geolocation from revealing your true location, and it also blocks WebRTC leaks.
While the extension doesn't offer everything the app does (no favorites, for example), it's a useful addition. In fact, I've found that throughout my extended use of ExpressVPN, I often only use the Chrome extension, and rarely fire up the app proper itself. For quickly accessing blocked Netflix shows or checking overseas pricing, it's a massive timesaver.
However, many users of Chrome VPN extensions (and browser VPNs as a whole) use them because they don't want to install a true VPN client on their PC – and in this case, ExpressVPN's browser add-on won't fit the bill. But, in terms of features, it's one of the very best.
ExpressVPN Aircove router
A first in the industry, in late 2022 ExpressVPN launched a hardware product: ExpressVPN Aircove. Essentially, Aircove is a Wi-Fi 6 router with a custom backend, accessible through the Aircove website.
This allows users to avoid the laborious task of setting up a VPN on a router manually (even though ExpressVPN leads the charge with its router app anyway). It offers interesting features such as device groups, protection for otherwise incompatible Wi-Fi connected devices like a Ring doorbell, family-friendly restrictions, and – most appealingly – a way around the 8-device limit.
Audited by Cure53 and only available at Amazon with an RRP of $189.90, it's very interesting, but likely to have limited appeal. However, it certainly shows a level of innovation not seen anywhere else in the industry. Stay tuned for our full Aircove review soon.
What customer support does ExpressVPN offer?
It has become the norm for VPN providers to offer seriously comprehensive customer support, and due to the the software's rise into the mainstream, many less techy users may be having issues that previously were simply considered par for the course – think server upsets or lost streaming access.
And as has been the case for a number of years now, ExpressVPN offers some of the best support out of any of the VPN I've tested, from written guides to knowledgeable live-chat agents.
Your first port of call should be ExpressVPN's encyclopaedic raft of articles and setup guides, which cover topics as varied as remedying connections that drop out, setting up the VPN on a router, how to cancel your account and how to set up MediaStreamer.
These articles don't go on for thousands of words, but they're not too brief either – you'll get the background info necessary to understand the problem, and then the steps you need to take to resolve it. Each app also has a dedicated setup guide, and I'm quite comfortable saying they're the best-written FAQ articles from any VPN.
If you don't want to search through that, though, you'll want to hop on the 24/7 live chat – and boy, are they good. I asked a whole bunch of admittedly geeky questions, and each time a real person replied within minutes – it was evident I wasn't talking to a bot.
Even if you think you might not need this sort of support, it's incredibly useful when you come up against an issue that you can't work out yourself – or can't be bothered to do the digging around to resolve yourself. Plus, they can also tell you the best servers at any given point to use to access blocked Netflix locations, and that's a really useful tool in itself.
ExpressVPN review: Final verdict
Almost every aspect of ExpressVPN is absolutely top-tier, and there's a reason why it's so highly recommend across the internet. And, although in a few areas it doesn't have absolutely market-leading stats on paper (number of servers, peak connection speeds, ultra-configurable apps), there's not a single area where I think there's room for essential improvement.
It's great for streaming, is super secure, and an absolute pleasure to use. As a package, and for just about every regular user, ExpressVPN is quite simply the best on the market.
Tom's Guide rating: ⭐⭐⭐⭐⭐
Subscribe if:
✔️ You want a VPN you can rely on. With incredibly reliable connections, class-leading privacy features, and a kill switch + auto-connect feature that will reconnect you if you drop out, you can absolutely set and forget.
✔️ You want to stream global content. From Netflix to Amazon Prime Video and BBC iPlayer, ExpressVPN is super reliable.
✔️ You value your privacy. Whether you're in the US, Europe, or even China, ExpressVPN's countless audits and unblemished history of protecting its users should inspire confidence.
Don't subscribe if:
❌ You're looking for a bargain. ExpressVPN certainly isn't the cheapest on the market. Those looking for a better price may want to consider NordVPN or Surfshark – although ExpressVPN did outperform both of these rivals in my testing.
❌ You want a fuller suite of software. Some other providers like NordVPN have expanded to offer other services. While ExpressVPN has nailed its VPN, it doesn't offer much else.
❌ You want a Linux app. While ExpressVPN is available on Linux and works well, it doesn't have a GUI, meaning you'll have to use command line to operate it.
Swipe to scroll horizontally
ExpressVPN test results

| Feature | Comments | Rating |
| --- | --- | --- |
| Design | Simple, navigable design that's easy on your eyes and straightforward to understand | ⭐⭐⭐⭐⭐ |
| Ease of use | Beginner-friendly, little to no expertise needed | ⭐⭐⭐⭐⭐ |
| Performance | Reliable and very fast, although some others deliver higher peak speeds. | ⭐⭐⭐⭐ |
| Unblocking | Servers in 160 locations and 90 countries ensure limitless content | ⭐⭐⭐⭐⭐ |
| Security and privacy | Top-notch security with 256-bit AES encryption | ⭐⭐⭐⭐⭐ |
| Customer support | Expert assistance is available 24/7 | ⭐⭐⭐⭐⭐ |
| Price | Slightly more expensive than other options | ⭐⭐⭐ |
How we test VPNs
Understanding how our team of experts tests VPNs is important. It lets you know that we really have got hands-on with these products, and that we've considered every feature, no matter how small. Some sites just give a rundown of specs found on a provider's website – we endeavor to do quite a bit more than that.
First of all, we do check the provider websites, and note useful information like the number of servers and locations, whether you're allowed to use every server for P2P, which encryption protocols are supported, the variety of operating systems it runs on, and tons more. We also check the pricing at this stage.
This initial scan gives us a baseline understanding of the service, and if there are any bold claims on-site we note them to make sure the customer isn't being misled.
We'll then dig into privacy policies. This is a very important piece of literature for any company, but for VPNs they need to be absolutely watertight. We'll also go through the logging or zero-logging policy to look for gaps, and read any information available on independent audits.
Then it comes to testing the applications themselves. We test how easy it is to download and install, noting if any data collection options are clearly outlined to the user. We then inspect the default configuration to see what you have to 'opt in' for, and what features are available overall. We then play around with any additional features, such as ExpressVPN's server speed test or NordVPN's Double VPN. After we've gone through everything on the surface, the fun bit starts – trying to break things.
We throw all sorts of curveballs at these VPNs, like connecting to oddly configured networks, and killing processes to see if we can get the VPN to stop without activating the kill switch.
After we've had our fun, we check in with the support team to see if they're helpful. Then, we'll check a wide range of streaming sites to see if the VPN is able to access geo-blocked content, and we'll run a series of speed tests over a few days and nights to get an accurate picture of what sort of connection speeds you can expect.