Every one of our best VPN choices have an Android VPN in their arsenal, but some are clearly better than others. If you're mobile-first, choosing a good Android VPN is essential for staying private online – but sifting through the thousands of sub-standard options on the Play Store is no one's idea of a fun time.
That's why we've ever so selflessly taken it upon ourselves to do just that, and here we've pulled together our top five VPNs for Android that will keep you safe on public Wi-Fi, secure your banking details, evade ad tracking and even access more streaming content when you're on the move.
What makes the best Android VPN?
The essential features of any Android VPN are speed, security, number of servers and ease of use – with the latter being the biggest concern for many users. It's the combination of these features, as well as a long-standing reputation for quality, that makes ExpressVPN the our favorite VPN for Android.
Among other features, the best Android VPN will have a kill switch to protect you in the unlikely event that your connection fails, sparing you from the dangers of whatever unsecured network you might be using. You should also look out for split tunnelling, which separates the traffic of different apps. This lets you route some though the VPN while allowing others to use your standard connection.
While you'll find Express at the top of this guide, we've pulled together four more very worthy contenders that provide different experiences for different users. All you need to do is keep scrolling – it's time to pick the right Android VPN for you and reclaim internet privacy.

1. ExpressVPN – the very best Android VPN available
If you want the very best protection possible for your Android device, ExpressVPN should be your first choice. Its apps are both simple and intuitive yet powerful and configurable, and with a huge 3,000+ servers to choose from you're bound to find a searing connection. Plus, you can now get three months free.
3. NordVPN – powerful, secure VPN apps for Android
NordVPN is something of an old faithful, and on just about any platform it's worth considering. Its apps aren't quite as easy to use as ExpressVPN's or Surfshark's but you'll get a ton of features not found elsewhere – all for a very reasonable price.
The best Android VPNs today
ExpressVPN is the best Android VPN (read the full ExpressVPN review here) thanks to rapid connection speeds, fantastic security and near-perfect 24/7 customer support. However, not only is it the most powerful VPN on Android, but it's also one of the easiest to use. With a clean, simple interface and tons of servers in all the locations you could wish for, it's no surprise we rate it as the top Android VPN on the market.
When you're on the go you'll be able to access any Netflix library you want, as well as your iPlayer, Hulu and Amazon Prime accounts. Express doesn't stop there, though.
If you want to delve into the guts of the app to configure it just how you like, there's great power under the hood. Just like the desktop client, you'll be able to switch between a selection of protocols, activate a kill switch to protect you should your connection fail, and even split tunnelling if you want to choose which apps to route through the VPN.
An interesting development as of September 2020 is ExpressVPN's introduction of its own Lightway protocol. Built from scratch, it's incredibly lightweight and promises to deliver excellent speeds. For most apps it's currently in private beta, but Android users can sign up to the public beta and get access to Lightway before anyone else.
Although the five-device limit isn't the largest, it's enough to cover all your mobile devices plus your desktop computer and smart TV to boot. And, if you have problems with any of those, the class-leading online support and live chat will help you out in minutes should you need it.
While there's no trial – few VPNs offer one – there's an industry-standard 30-day money-back guarantee in case you discover it's not quite right for you. However, as the very best Android VPN available today, it's unlikely to come to that.
Get 49% off the best Android VPN app
Tom's Guide readers are offered three months free with ExpressVPN's year-long plan which, alongside the 49% discount, gives 15 months for the price of 12. For the best Android VPN available, this is a steal – but you're still covered by that 30-day money-back guarantee if things don't work out.

When it comes to their Android VPN offerings, it's hard to separate Surfshark and Hotspot Shield – and running theme in our Surfshark review. However, there are a few reasons why you might choose Surfshark.
First up, Surfshark provides a surprising number of additional features, with basics like a kill switch and split tunneling backed up by more advanced options like HackLock and BlindSearch.
Surfshark's streaming performance in second on to ExpressVPN, as well, with tons of Netflix libraries available as well as iPlayer and more. Alongside the commendable speeds (especially when using WireGuard), you won't be waiting for anything to buffer when you're out and about.
Its standout feature, though, is the unlimited connections policy. If you're a Marques Brownlee character with a drawer full of phones, you'll be able to install Surfshark on any and all of them, and still be able to cover any laptops, desktops and routers without any hassle.
At just $2.49 it's great value, but this has recently been matched by Hotspot Shield's exclusive offer for Tom's Guide readers – so, if you don't fancy ExpressVPN, take your pick from these two. They're pretty much level pegging.
Sign up now on the Surfshark website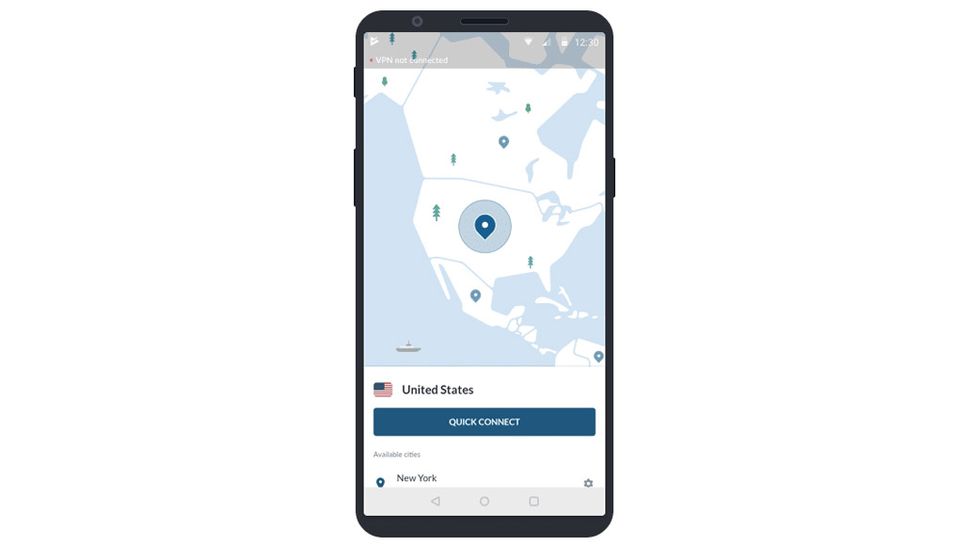 If you've only heard of one VPN before, it's likely to be NordVPN. With over 10 million downloads on the Play Store and excellent reviews, the VPN titan is a tempting proposition, and delivered an excellent performance in our NordVPN review.
It's evident that NordVPN has prioritised the security of its customers. It offers Double VPN and Onion over VPN plus a good selection of protocols should you want to change them, and you'll get Nord's CyberSec malware and phishing protection too. Nord has recently been certified by a second independent audit to be truly zero-logging, so if privacy is a priority that'll be a big tick.
The app is powerful, and there's plenty of configuration available if you venture into the settings. However, one drawback is its slightly awkward design. The VPN on Android mirrors the desktop client's layout, and opens up with a map-based interface. While this works well on a larger monitor or tablet, limited real estate on a phone means it can be hard to find the exact server you're after. There's a server list available, but we'd like to see it straight off the bat.
That one gripe aside, NordVPN is as successful as it is for a reason. Secure and fully featured apps, a great support network and a remarkably good price mean that it's certainly one to keep on your radar.
Sign up now on the NordVPN website

If you want speed and security without having to do a thing, Hotspot Shield could be the best Android VPN for you, and while it's known for its quality free VPN, the paid version takes it to another level.
The Android version uses the same Catapult Hydra protocol as the desktop clients, and in our Hotspot Shield review the provider delivered connection speeds of around 400Mbps on a 1Gbps line. If you've already taken the jump to 5G, your speeds won't be throttled by you VPN here – although providers like NordVPN have jumped to incredible speeds of around 900Mbps.
App-wise, it's super simple to get started. You'll be able to get connected in a single touch, and a list of various global servers are just a tap away. If you're after in-depth configuration, though, you'll be out of luck – Hotspot's mobile VPN offerings are very effective, but don't allow the user to change much at all.
However, that might suit a lot of users, and the incredible speeds more than make up for this lack of advanced functionality. If you want a VPN that can make the most of the incoming 5G speeds, Hotspot Shield could be an excellent bet – and the recent price drop makes it even more appealing.
Sign up now on the Hotspot Shield website
Long-standing IPVanish provides users with a powerful Android VPN that retains a whole load of functionality from its desktop client. The first thing you'll notice is the amount of info you're given – for VPN novices it might be a little much, but for those who like to keep a track of servers, IP addresses and more, it's all good stuff.
A nice touch is how the VPN on Android has kept the scrolling connection speed graph from the desktop client. Again, it might be overkill, but we appreciate a little aesthetic flair. To match this in-depth data, users are given plenty of options, including protocol selection, a kill switch, split tunnelling and 'Scramble', which hides the fact you're using a VPN at all.
IPVanish also offers excellent introductory prices on both one-month and 12-month plans, so it's a super affordable way of bagging a good Android VPN. However, be aware that prices rise after that, and the previously free SugarSync cloud storage is now a paid extra (although it's still way cheaper than buying it alone).
In July 2020, IPVanish announced a change to its connections policy, moving from a limit of 10 to a truly unlimited number of devices available with any one plan. Along with Surfshark, IPVanish is one of the few VPN providers to offer this.
While in practice IPVanish's Android VPN might not be quite as polished as the most premium competition (and speeds are marginally slower, too), if you're looking for a decidedly techy experience plus the ability to cover every one of your devices, then it's certainly one to consider.
Sign up now on the IPVanish website

Android VPN FAQ
Do I need an Android VPN?
Having an Android VPN on your device is a must, especially if you ever connect to public Wi-Fi networks.
These networks are often unprotected, and it's possible for other individuals on the same network to access your device. An Android VPN's encryption protects you and your data from any potential hackers, and for just that we'd say the small monthly fee is worth it.
However, one of the biggest reasons users sign up to use their VPN for streaming. If you're abroad, it's likely you won't be able to access the shows you watch at home without a VPN – even if you've paid the subscription.
This is because online TV services geo-block their libraries for licencing reasons (Netflix and iPlayer, to mention a couple). Using a VPN can make your device appear to be in a country of your choice, and you'll therefore be able to access the same media anyone else in that country can.
Are Android VPNs legal?
VPNs have developed a somewhat tarnished reputation due to their links with hackers, pirates and other online criminals. However, it's 100% legal to have a VPN on any and all of your devices – and the vast majority of users remain entirely above board as well.
While the privacy that VPNs provide might occasionally benefit shady characters, upstanding citizens are entitled to enjoy those freedoms for their own personal, legal uses too.
What else can Android VPNs do?
Whilst you're on your phone, you probably won't be making full use of your Android VPN – just staying safe online and perhaps the odd bit of overseas Netflix – but thankfully every one on this list allows you to use your subscription on multiple devices.
That means you'll be able to install your VPN on your PC or Mac, and often on your smart TV, games console or router as well. There, you can make the most of the power VPNs can offer.
Staying safe by using a torrenting VPN is one of the major benefits, as P2P sharing is an activity that poses a real risk to those who engage in it without protection.
Another reason is to avoid any restrictions on your internet service – especially useful for students, those in rented accommodation or those at work – and means you can surf the web without anyone blocking what you want to look at.
How do you set up an Android VPN?
Installing a VPN on Android is as easy as installing any other app.
Firstly, you'll need to download the app from either the Play Store or directly from the provider's website. From there you can install the app as usual, and once the app has opened you'll be asked to sign in to your account.
Once you've signed in, your device will ask for your permission to set up a VPN connection. This will appear no matter what Android VPN you've signed up for. After you've allowed those permissions, your VPN is set up and ready to go.
All the VPNs on this page have excellent support networks, so if you do run into any problems they'll always be happy to help.
Is an Android VPN safe?
If you choose one of the five Android VPNs on this list (or even any featured on our best VPN guide), you can be sure that they are a reputable, secure provider. Heading to the provider websites through the links on this page will ensure you're in the right place, or you could search for them on the Play Store.
However, a VPN doesn't give you absolute immunity – if you enter details on a bogus site or download malware, your VPN won't be able to protect you. You still have to be savvy online, but if you're smart, a VPN will boost your protection to the next level, and stop your data from leaking when it's not your fault.