Summer is around the corner and before you know it Prime Day 2023 will be rearing its head. Last year, Prime Day was held on Tuesday, July 12 and Wednesday, July 13. We predict that the Prime Day 2023 date will fall on Tuesday, July 11 and Wednesday, July 12. That's still weeks away, so Prime members still have a bit more waiting to do.
Prime Day is Amazon's annual sales event bringing about sitewide discounts on everything from Echo speakers to Ninja kitchen appliances. The first Prime Day was held in July of 2015 as a way to celebrate Prime members on Amazon's then 20th anniversary. Since then, Amazon has celebrated Prime Day every year, usually during the month of July.
It's worth mentioning that last year we saw two major retail events from Amazon. There was Prime Day during the summer and the Prime Early Access sale in October. The latter didn't offer Prime Day deals per se, but was instead a kick-off event to the holiday shopping season.
From discounts on Alexa devices to epic sales on fashion, here's what you can expect from Prime Day 2023. For more ways to save, make sure to check out our list of the best Amazon promo codes and Amazon deals this week.
When is Prime Day 2023?
Amazon hasn't announced the Prime Day 2023 dates. However, last year Prime Day was held on Tuesday, July 12 and Wednesday, July 13. As a result, we predict Prime Day deals for 2023 are likely to begin on Tuesday, July 11 and run through Wednesday, July 12.
What is Amazon Prime Day?
Prime Day is an annual retail holiday celebrated by Amazon, typically during the month of July. During the 48-hour event — which is for Prime members only — Amazon offers sitewide discounts on everything from 4K TVs to kitchen appliances. However, Amazon hardware tends to receive the biggest discounts. In fact, outside of Black Friday/Cyber Monday — Prime Day is when you'll find the lowest price on Amazon tech like Echo speakers, Fire TVs, and Ring security cameras.
Will Prime Day deals be any good this year?
It's hard to tell if the Amazon Prime Day will be good without actually seeing the deals. That said, Amazon is known for offering solid deals during major shopping events.
In addition to deals on Amazon hardware, the retailer is likely to offer deals on major brands like Nespresso, Philips, Samsung, iRobot, LEGO, Melissa & Doug and Hasbro. Amazon usually claims that Prime Day will feature their lowest prices of the year, and it's usually true. (Excluding Black Friday deals, which come later in the year with even lower prices).
Nevertheless, we always recommend consumers proceed with caution as every retailer has its fair share of bogus deals and/or exaggerating its deals. So we recommend that you always price check deals using a site called CamelCamelCamel. The sites lets you track the price history of select items sold out Amazon. You can also read our guide on using CamelCamelCamel to save money on Amazon. Additionally, you can rely on the Tom's Guide team to spotlight the best deals during Amazon's next event.
Best Amazon deals ahead of Prime Day 2023
Tips for finding the best Prime Day deals
Price check everything: Our number one rule when shopping on Prime Day is to price check what you're about to buy. Price checking on Prime Day is quite easy. We're big fans of CamelCamelCamel, a website that price checks millions of items sold on Amazon. The website tracks price lows, so if the item you're looking at was cheaper in March, you'll be able to see the price difference. There's even a Chrome extension called Camelizer, which you can install and click on anytime you want to look at the price history of a product. Keep in mind that there might be some items CamelCamelCamel doesn't track.
Don't limit yourself to Amazon: That leads us to our second point: Prime Day is a faux retail holiday designed to promote Amazon devices and services. However, just like you wouldn't buy your entire wardrobe from one designer, you shouldn't do all of your Prime Day shopping at Amazon. Walmart, Target, and Best Buy are just a handful of competitors offering "Prime Day" sales of their own.
And based on what we saw from these retailers last year, we expect them to once again offer very competitive sales throughout the duration of Prime Day. Bottom line: Amazon doesn't always offer the best prices.
Take advantage of free credits: Amazon really wants you to spend money on Prime Day. However, if there aren't any items you want to buy or if you're just really trying to stick to your budget, there are some pretty amazing Prime Day deals you can get right now. We like these deals because after spending $10, you'll get a $10 Amazon credit in exchange.
Make sure to check out our dedicated Amazon promo codes page.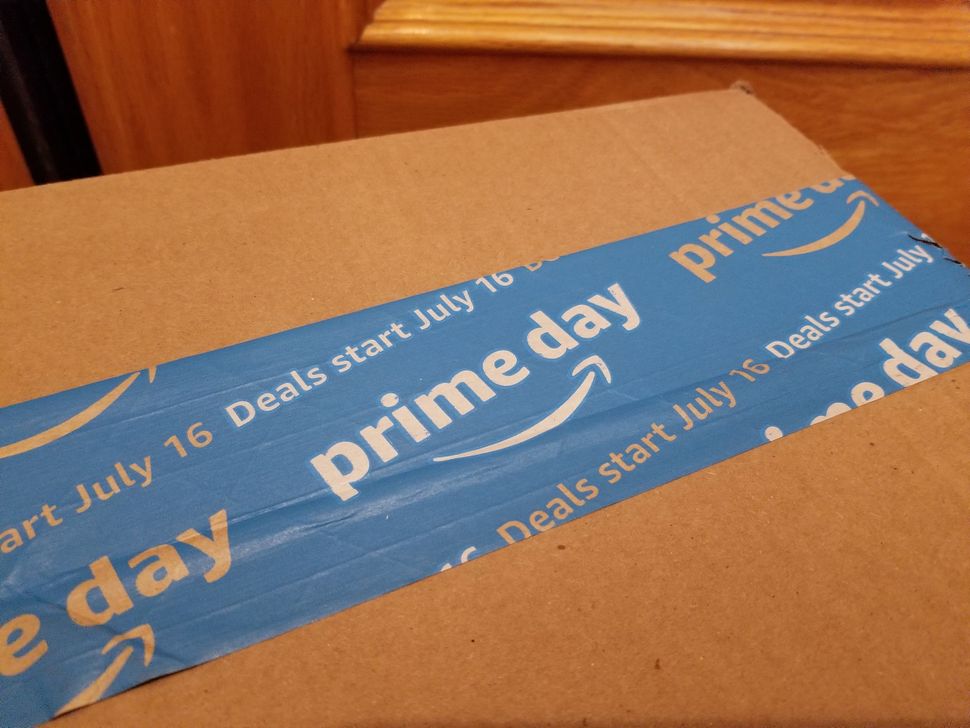 Watch out for shady reviews: In addition to fake deals, shoppers should always keep an eye out for fake reviews. Although Amazon has removed many bogus reviews from its website, there are so many that it's become near-impossible for Amazon to keep up. That's why we're fans of Fakespot. The site's engine can analyze the quality of reviews on any Amazon page and churn out a letter grade indicating whether the product has mostly fake or real reviews. ReviewMeta is a similar site that looks for suspicious terminology or repeated phrases in reviews before offering a failing or passing grade.
Don't be afraid of refurbs: Prime Day deals typically don't highlight deals on refurbished items. However, if you're looking to save the most possible a refurbished item may be the best route to go. Amazon tends to offer solid refurbished Apple Watch deals and the retailer also has an Amazon Warehouse website where it lists deals on pre-owned, used, and open-box items.
Alexa and Prime Day deal alerts
Alexa shopping has been around for quite some time. During Prime Day, Alexa can even tell you of the day's best deals. However, a new feature lets Amazon's digital assistant notify Prime members of upcoming deals on products they wish to track. You'll need to have a newer generation Echo smart speaker or smart display to use this perk. Nevertheless, it could be a cool perk for existing Prime members during Prime Day. Here's how to have Alexa notify you of upcoming deals.
Will Prime Day 2023 include Grubhub deals?
Prime members are able to get a year of Grubhub Plus membership for free. In addition, members can use coupon code "PRIME20" to take 20% off orders of $15 or more during the Prime Early Access Sale. The coupon can only be used once and you must be a Grubhub Plus member to take advantage of this deal.
Prime Day deals — 2022 vs 2023