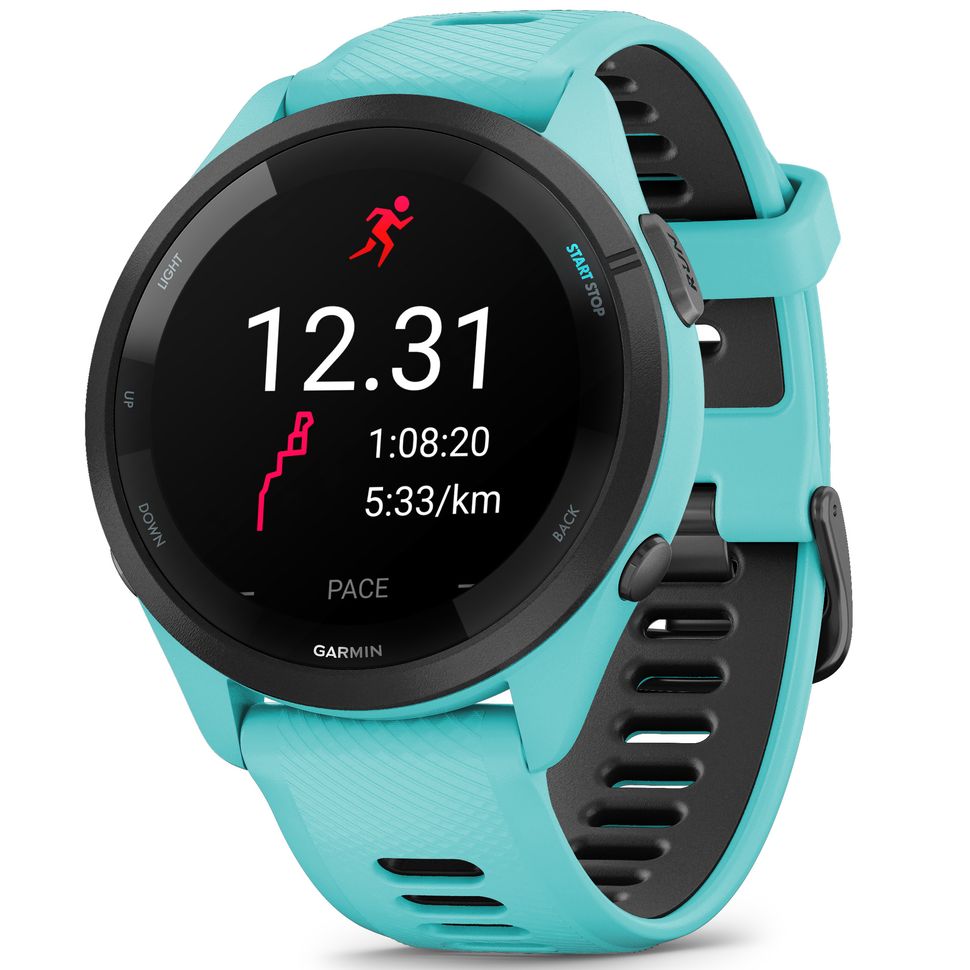 Garmin's newest running watch has a bright and beautiful AMOLED display, excellent battery life, and lots of advanced training metrics. But while it has onboard music and mobile payments, it's otherwise limited as a smartwatch.
For
Two sizes
Bright, beautiful AMOLED screen
Accurate GPS
Advanced training metrics
Against
Not a huge amount of smartwatch features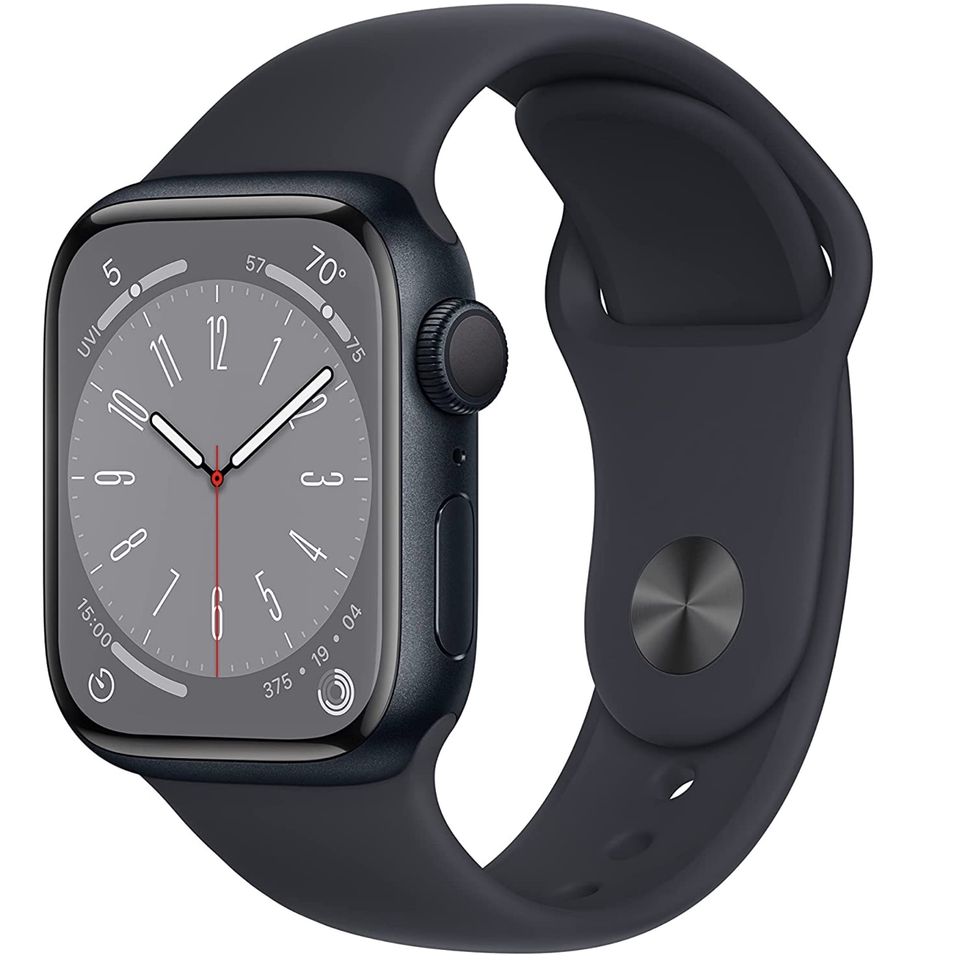 The Apple Watch 8 has a great display and design, and is one of the most capable smartwatches, period. However, it doesn't has as advanced training data as Garmin, and its battery life is far shorter.
For
Skin temperature reader for cycle + sleep tracking
Crash detection
New watchOS 9 workout interface
Longer battery life with low power mode
Against
Wish it borrowed the Apple Watch Ultra's siren
So you're looking for a new smartwatch, and you're trying to decide between the new Garmin Forerunner 265 and the Apple Watch Series 8. Both are excellent watches, with bright, beautiful screens, but which is worth investing in? Below, we put them both face to face to help you work out which is right for you.
Before we get started, it is worth pointing out that if you're an Android user, the choice might be far simpler than you've anticipated. As with all of the best Apple Watches, the Apple Watch Series 8 is only usable with iOS devices. The Garmin Forerunner 265, however, is compatible with both iOS and Android via the Garmin Connect app.
If you'd prefer to read an in-depth review of either watch before buying, you can look at our Garmin Forerunner 265 review and our Apple Watch Series 8 review here.
Garmin Forerunner 265 vs Apple Watch Series 8: Price and availability
The Garmin Forerunner 265 was released on March 2, 2023. The Forerunner 265 costs $449/£429. Like other iterations of this watch, the Forerunner 265 comes in two different display sizes (more on this below). It's about $100 more than the Forerunner 255 was when it hit the market in June 2022 — the 255 costs $349/£299 for the non-music version and $399/£349 for the music version.
The Apple Watch Series 8 was released on September 16, 2022 with a starting price of $399/£419 for the 41-millimeter, GPS-only model. The price is $499/£529 for the GPS + cellular version. The 45-millimeter size, meanwhile, will start at $429/£449, and go up to $529/£549 for cellular support.
Winner: Apple Watch Series 8 — if you opt for the 41mm, GPS-only model, the watch will be cheaper than the Garmin Forerunner 265. As the Apple Watch Series 8 has been available for longer, you're also more likely to find it on sale.
Garmin Forerunner 265 vs Apple Watch Series 8: Design and display
Design-wise, when the screen isn't turned on, the Garmin Forerunner 265 looks very similar to the Forerunner 255 — it has the same, round face, with five buttons to help you navigate around the watch, three on the left, two on the right. The start/stop button has been made slightly bigger on the newer watch, making it easier to press the button with sweaty-fingers mid-run.
With the screen on, however, it's a different story. The Garmin Forerunner 265 has a bright, beautiful AMOLED display, similar to that used on the Garmin Epix 2. The resolution of the Forerunner 265 is 416 x 416 pixels, and 360 x 360 on the 265S. It also has a touchscreen, which is extremely responsive, and makes it easier to navigate around the watch when you're not running. The touchscreen is automatically turned off during activities, although this can be changed in the settings.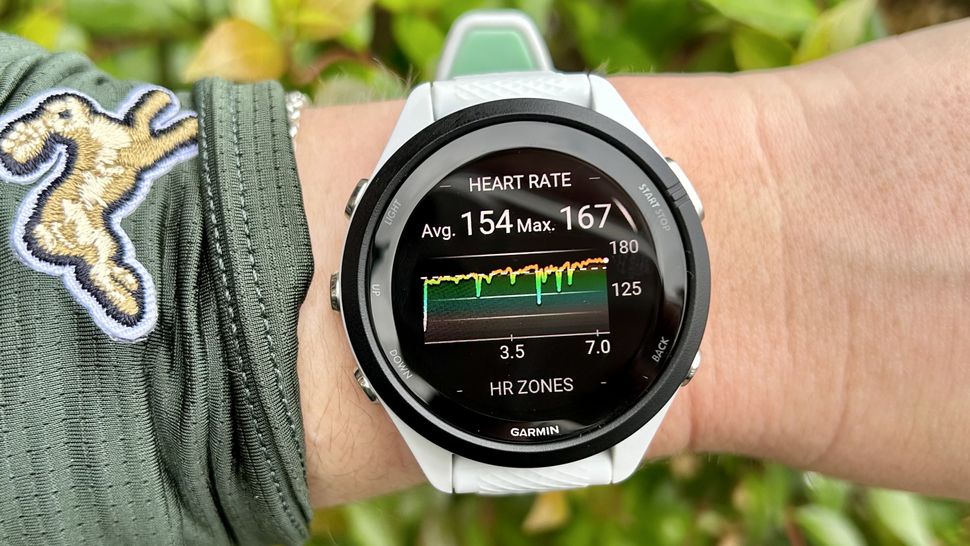 When it comes to the Apple Watch 8, it's almost impossible to tell the Apple Watch 8 vs. Apple Watch 7 apart, with the new smartwatch sporting the curvier chassis and thinner display bezels that debuted last year. This screen, which is 20% larger than the Apple Watch Series 6's, is optimized for features like Always-On Display and a QWERTY keyboard for sending messages. The bright screen has a resolution of 484 x 396 pixels (41mm Apple Watch 8).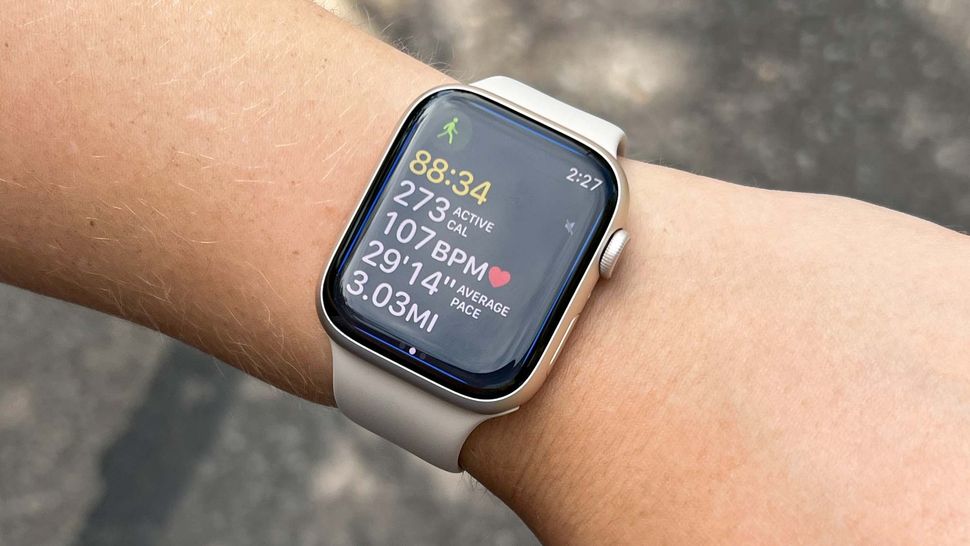 On the side of the Apple Watch Series 8 you'll find the familiar digital crown and side button, which are used in hand with the touchscreen to navigate the device. While it would be neat if it got an action button on the side like the Apple Watch Ultra, the Apple Watch Series 8's design is still plenty intuitive.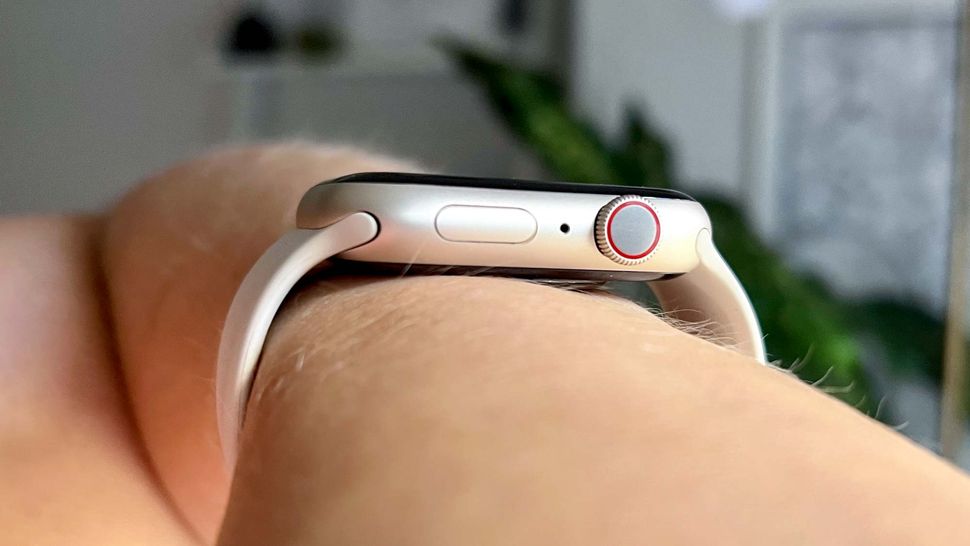 Winner: Garmin Forerunner 265 — This is a really hard one to pick, as quite often, the 'best' design is the one you prefer on your wrist. That said, from a sports perspective, we loved the option to turn the touchscreen off and use physical buttons to start, stop, and pause the run.
Garmin Forerunner 265 vs Apple Watch Series 8: Battery life
Here's where things get interesting — the Garmin's battery life is far more impressive than the Apple Watch Series 8, even though they now both have brighter screens. With normal use, the Apple Watch Series 8 battery life is rated for 18 hours. With low power mode, the watch can last up to 36 hours. Charging wise, the Series 8 can go from 0-100% percent in about an hour, and 8 minutes of charging before bed offering 8 hours of sleep tracking.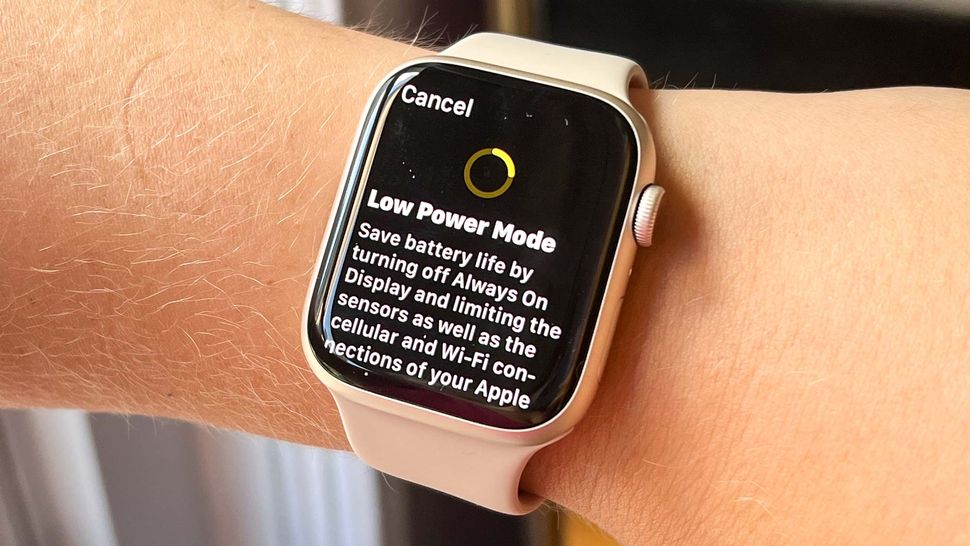 The 265S, on the other hand, has a 15-day battery life in smartwatch mode, and a 24-hour battery life in GPS mode. The 265 has 13 days in smartwatch mode and 20 hours in GPS mode. Normally, it's the larger of the two watches that have the longer battery life, but it seems with the bigger and brighter screen, the larger 265 will need charging ever so slightly sooner. The watch takes around two hours to fully charge, but obviously, you'll need to do so a lot less than the Apple Watch Series 8.
Winner: Garmin Forerunner 265 — There's no doubt about it: If you're not keen on charging your smartwatch as often as your phone, the Garmin is the better choice here.
Garmin Forerunner 265 vs Apple Watch Series 8: Health and fitness features
Both the Garmin Forerunner 265 and the Apple Watch Series 8 are designed to be worn 24/7, giving you a deeper insight into your overall health.
The Apple Watch Series 8 has a skin temperature sensor, which is used for more accurate sleep monitoring and ovulation tracking. There's also a Blood Oxygen app, and an ECG app that can send you high and low heart rate notifications and irregular heart rhythm notifications.
From a fitness perspective, Apple's fitness tracking interface received a major overhaul in watchOS 9 — it's now much easier to see more advanced metrics like heart rate during activities, and set up custom workouts on the watch. There's still a focus on closing your rings, and the watch reminds you to keep moving, and standing throughout the day.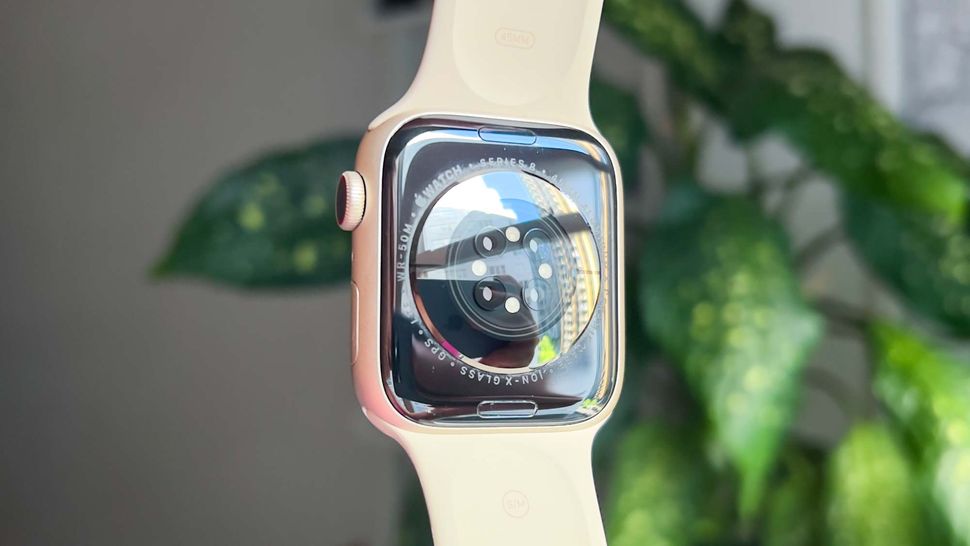 The Garmin Forerunner 265, on the other hand, has the same experience we've come to know and love from Garmin. The Forerunner 265 has Garmin's latest Elevate V4 sensor — the green light records heart rate, the red light records blood oxygen levels (referred to as Pulse Ox on the watch). This sensor is used to calculate breathing rate, HRV, and stress. It also has Garmin's Morning Report feature, which gives you a snapshot into how well you slept, how hard you've been training, and a look at the weather for the day ahead.
Yet unlike previous iterations of this watch, it now has Garmin's Training Readiness score too. The Training Readiness score gives you an idea of how hard you should train that day, whereas the Body Battery score is a general snapshot of your health. Until now, the Training Readiness score has only been available on more expensive Garmin watches, like the Fenix 7.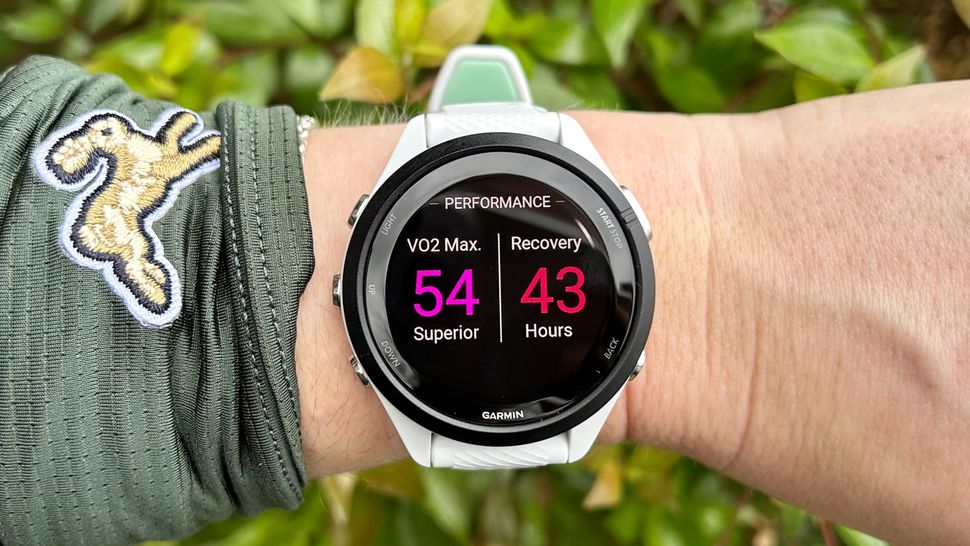 Of course, the main reason you buy a running watch is to help keep track of your training. The Forerunner 265 still excels from this standpoint — there's still the multisport mode, it still tracks just about every sport under the Sun, and you can still customize every data screen from your phone, or the watch itself. The latter is even easier now the watch has a touchscreen. The Forerunner 265 also allows you to look at metrics like cadence, stride length and ground contact time from your wrist, without the need to download apps, or use other equipment. You can also download a Garmin Coach plan to your wrist, or receive daily suggested workouts.
As with other Garmin watches, you can also track your periods and pregnancy on the Forerunner 265, however, you do need to download the Women's Health Tracking app to be able to view these insights from your wrist.
Winner: Garmin Forerunner 265 — From a health and fitness perspective, the Garmin gives you a lot more data, and a lot more options to track different sports.
Garmin Forerunner 265 vs Apple Watch Series 8: Smartwatch features
Long gone are the days where you'd wear your smartwatch during a workout, then take it off — both the Garmin Forerunner 265 and the Apple Watch Series 8 are designed to be worn 24/7.
Next to the Apple Watch Series 8, however, the Garmin Forerunner 265 falls short as a smartwatch. Sure, it's got Garmin Pay, the ability to see your phone's notifications (you can only respond to text messages if the Forerunner 265 is connected to an Android phone), check the weather, and view your calendar, but that's about it. You can download different watch faces, or different apps from the Garmin app store, but these are pretty basic.
The Apple Watch Series 8, on the other hand, is like having an iPhone on your wrist. You can read and respond to messages on the move (here's how to respond to Whatsapps from your Apple Watch). The list of apps is pretty much endless, and with cellular support, you can also make and receive phone calls on your wrist.
Winner: Apple Watch Series 8 — when it comes to smartwatches, the Apple Watch Series 8 is one of the best on the market, so if that's what you're looking for, this is the obvious choice.
Garmin Forerunner 265 vs Apple Watch Series 8: Verdict
So, which smartwatch should you buy? The answer completely depends on what you're hoping to get from the watch. If you're training for your first marathon, or you're really into CrossFit, the Garmin Forerunner 265 provides more activity profiles, more training tools and data feedback, all with a beautiful display.
However, if you're looking for a watch you can take out on a run or ride, while calling your Mom, replying to an email, and checking your WhatsApp notifications, the Apple Watch Series 8 is a better option. It's a truly excellent smartwatch, and with cellular built-in, it is like having your iPhone strapped to your wrist.
This really is a sports watch vs smartwatch debate. That said, from a sports watch perspective, the Apple Watch Ultra is the better choice, as it has extras like an Action Button and diving modes, although it's more expensive than both the Forerunner 265 and the Apple Watch Series 8.