watchOS 9 is officially available to anyone with an Apple Watch Series 4 and newer.
The update to Apple's Apple Watch software comes packed with new features for the smartwatch including new running metrics, refreshed watch faces, an AFib History tool, added sleep-tracking data and a medication management app. There is a low power mode coming as announced recently, too.
The upgrades are available to existing Apple Watch models, which means current users can benefit from many of the same features we expect to see on the newly announced Apple Watch Series 8, Apple Watch Ultra and Apple Watch SE (2022).
As always, watchOS figures to remain one of the reasons the Apple Watch is the best smartwatch year after year. So here's everything you'll want to know about the new features in watchOS 9. You can also read about the new Apple watch feature I am most excited for in WatchOS 9.
watchOS 9 cheat sheet: top new Apple Watch features
NEW: Low power mode for Apple Watch Series 4 and later
Four new Apple Watch faces
Added running metrics
Track heart rate zones while working out
Atrial fibrillation history for those diagnosed with AFib
Support for six new keyboard languages
Sleep Stages tracking added to Sleep app
Family Setup adds HomeKit support
Notifications for medication management with new Medications app
Slimline notification banners
Redesigned Calendar app
Redesigned Dock
New Quick Actions with AssistiveTouch
watchOS 9 release date
Now it's time for the full version. watchOS 9 arrived on September 12, 2022. This availability comes four days before the release of the Apple Watch Series 8 and the new Apple Watch SE (2022). The Apple Watch Ultra, which also runs watchOS 9, arrives September 23.
watchOS 9 supported devices — which Apple Watch models will be compatible?
As for watchOS 9 supported devices, Apple threw us a curveball. At the very least, we knew the Apple Watch 7 and Apple Watch SE would get watchOS 9. But the Apple Watch 3, which was still sold new by Apple up until the end of August, is not eligible for the annual refresh. Apple discontinued that model with the announcement of the Apple Watch 8.
Otherwise, Apple Watch 4, Apple Watch 5 and Apple Watch 6 users get watchOS 9. And, as always, the newest watchOS will be free to install. Apple doesn't charge for software updates.
Here's our full guide on watchOS 9 compatibility.
watchOS 9 new faces
There are four new watch faces available in watchOS 9, which is actually quite a lot at once. In addition to an updated Astronomy face, the Lunar watch face gives user the option to follow a pre-modern calendar, such as the Islamic calendar.
The other two faces include the Metropolitan watch face, which features typography with font that stretches and multiple color options, and Playful, an animated digital clock from 2D/3D illustrator Joi Fulton. We spoke to Apple and Joi Fulton about what went into designing this collection of faces. Here's an in-depth look at watchOS 9 new faces.
That's not all — more watch faces are getting complications, plus the option to pin favorite apps. Dogs and cats are supported in the Portrait face now, too.
watchOS 9 running and other workout features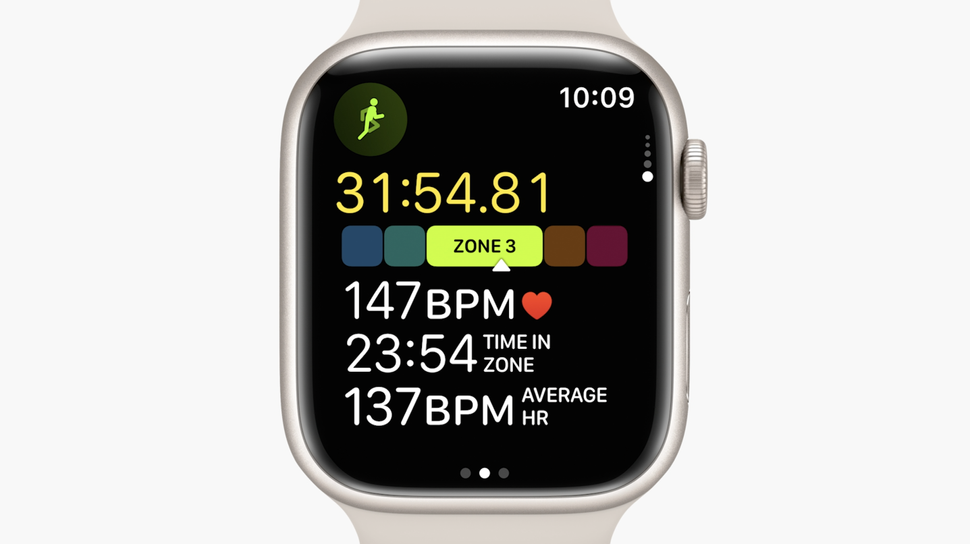 The Apple Watch is making a convincing case against the best running watches. With multiple new running metrics, there are more ways to monitor your running and progress. Vertical oscillation, stride length and ground contact time will now be seen among an upgraded live workout interface — which also includes segments, splits, elevation and the other expected metrics.
A new metric for Apple Watch workout-tracking is heart rate zones. Monitoring your heart rate zones can help you get a sense of your intensity levels, and let you know how hard you're working (and whether you're recovering properly) during exercise.
Your heart rate zones will play a role in the new Custom workout tool. A custom workout can add structure into your run, pushing alerts to your wrist based on your heart rate and distance. You'll also run with a power target, or target effort in a range you can reasonably sustain. If you run the same route often, your Apple Watch will automatically be able to compare your performance over time on that route.
Finally, triathletes will benefit from a new Multisport workout type that can automatically transition between swimming, biking and running.
watchOS 9 sleep cycles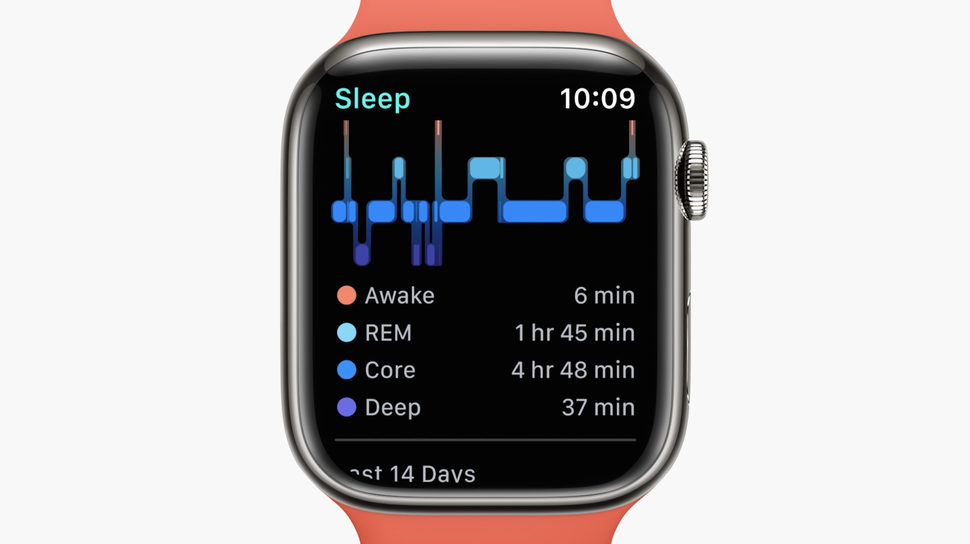 Apple Watch sleep tracking has improved incrementally since it first debuted two years ago. In watchOS 9, the Sleep app is added sleep stage or sleep cycle tracking. Using information gathered by the accelerometer and heart rate monitor, the Apple Watch should now be able to detect what stage of sleep you're in. You'll be able to see how much time you spent in each stage overnight and when you might've woken up.
To further its efforts in sleep science, Apple is also giving users the option to contribute sleep stage data in the Apple Heart and Movement Study through the Research app.
For those with the Apple Watch Series 8 or Ultra with the skin temperature reader, wrist temperatures will also be incorporated in sleep tracking.
watchOS 9 AFib History
Those with the Apple Watch 4 or newer (minus the Apple Watch SE) have been able to monitor for signs of atrial fibrillation, or irregular heartbeats. Now, those with diagnosed AFib can review a history of their electrocardiograms (ECGs) to see how often they spend in AFib. Using the Health app, those users will also be able to review whether their other habits or activities impact AFib. And, building on the medical sharing feature introduced last year, users can share their AFib History data with their doctors.
You can read more about how the iPhone and Apple Watch are becoming vital health devices with such features as this in the Health app.
watchOS 9 Medications app
With a new Medications app, Apple Watch users can track and manage medications directly from their wrist. Though a large part on the medication management experience will take place in the Health app, on Apple Watch users can receive notifications or reminders to take medication.
When you add a medication in the Health app, you'll be warned of drug interactions or other critical concerns with the medications you take. Trusted individuals can also see your medication data, should you have a caretaker or relative who keeps an eye on you.
This addition mirrors a similar enhancement to iOS 16's Health app.
watchOS 9 low power mode
Apple Watch low power mode was announced alongside the Apple Watch Series 8, but it's available to all the devices compatible with watchOS 9. Low power mode disables certain battery-draining features to extend the Apple Watch's battery life.
To turn on low power mode, swipe up on the control center and tap the battery percentage bubble. Toggle on low power mode.
Next: Apple also just released tvOS 16.