Not that much is new for the Apple Watch Series 8, and that's OK. I mean, it might seem less exciting compared to the Apple Watch Ultra, but don't get me wrong — after using it for several months, I've found that useful upgrades to health tracking, safety and connectivity make the best smartwatch even better.
The biggest Apple Watch Series 8 upgrades compared to the Apple Watch Series 7 are all on the inside. The watch has the long-rumored skin temperature sensor and long-awaited low power mode, which can extend the latest Apple Watch's battery life to 36 hours. The Apple Watch 8 also has a new crash detection feature, leveraging improved motion sensors for instant help when you might need it most.
Maintaining the $399 starting price while offering an affordable alternative in the Apple Watch SE (2022) rounds out Apple's smartwatch lineup quite nicely, too. But is the latest flagship Apple Watch right for you? Let's go over what you need to know in this Apple Watch Series 8 review.
Apple Watch Series 8 price and availability
The Apple Watch Series 8 is available as of September 16, 2022 with a starting price of $399 (AU$629) for the 41-millimeter, GPS-only model. The price is $499 (AU$789) for the GPS + cellular version. The 45-millimeter size, meanwhile, will start at $429 (AU$679), and go up to $529 (AU$839) for cellular support.
Swipe to scroll horizontally
Apple Watch Series 8 Configurations

| Header Cell - Column 0 | 41mm | 45mm |
| --- | --- | --- |
| Aluminum GPS | $399 | $499 |
| Aluminum GPS + Cellular | $499 | $529 |
There are two additional Apple Watch models to choose from this year: the $799 (AU$1,299) Apple Watch Ultra and $249 (AU$399) Apple Watch SE (2022). You might recall the original Apple Watch SE started at $279, so that model received a $30 discount — a move that makes sense with the Apple Watch Series 3 being discontinued... finally.
Apple Watch Series 8 specs
Swipe to scroll horizontally
| Header Cell - Column 0 | Apple Watch Series 8 |
| --- | --- |
| Starting price | $399 / £419 / AU$629 |
| Sizes | 41mm, 45mm |
| Colors | Midnight, Starlight, Silver, Product Red |
| Processor | Apple S8 |
| Connectivity | Cellular (optional,) Wi-Fi, Bluetooth, U1, NFC, GPS |
| Durability | IPX6 |
| Waterproof? | Up to 50 meters |
| Sensors | Skin temperature, heart rate, ECG, SpO2 |
| Battery life | 18 hours (36 with low power mode) |
| Compatibility | iOS |
Apple Watch Series 8 review: Design
It's almost impossible to tell the Apple Watch 8 vs. Apple Watch 7 apart, with the new smartwatch sporting the curvier chassis and thinner display bezels that debuted last year. This screen, which is 20% larger than the Apple Watch Series 6's, is optimized for features like Always-On Display, the new watchOS 9 faces and a QWERTY keyboard for sending messages.
Yes, these are things I've had for a year with the Apple Watch Series 7. But I'll assume people upgrading from older Apple Watch devices will see the redesign as a major improvement. If you're thinking about moving on from an Apple Watch Series 5 or Apple Watch Series 4, prepare for more usable screen space.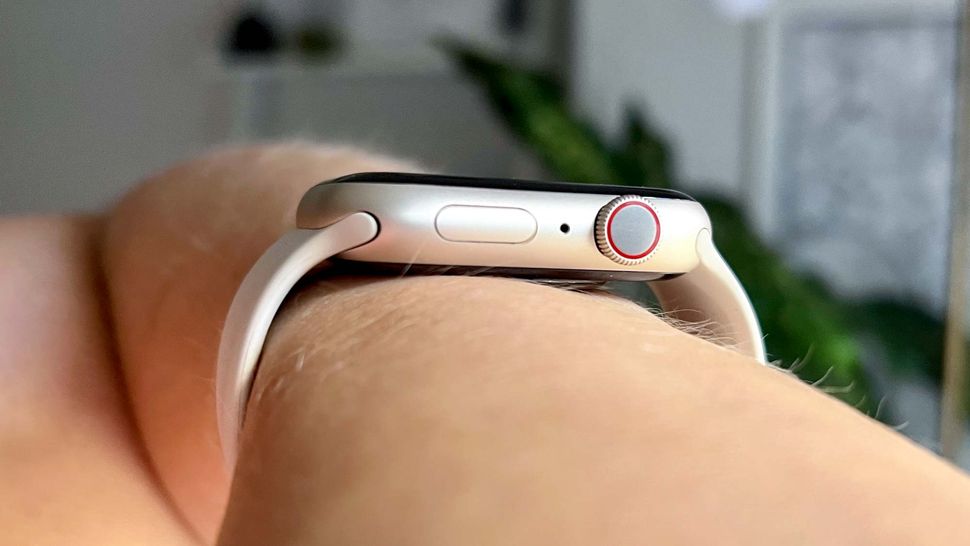 On the side of the Apple Watch Series 8 you'll find the familiar digital crown and side button, which are used in hand with the touchscreen to navigate the device. While it would be neat if it got an action button on the side like the Apple Watch Ultra, the Apple Watch Series 8's design is still plenty intuitive.
The Apple Watch Series 8 colors include Midnight, Silver, Starlight and Product Red. Blue and Green watches are no longer available, though I don't feel one way or the other about their departure. Besides, customization comes by finding the best Apple Watch bands for your style.
Apple Watch Series 8 review: Skin temperature sensor
Let's take a closer look at the skin temperature sensor Apple introduces in this update. The skin temperature sensor informs two areas of Apple's health suite: sleep tracking and cycle tracking. For sleep, deviations in baseline overnight temperature might help you keep tabs on what external factors impact your regular rest. Think: traveling or partying late.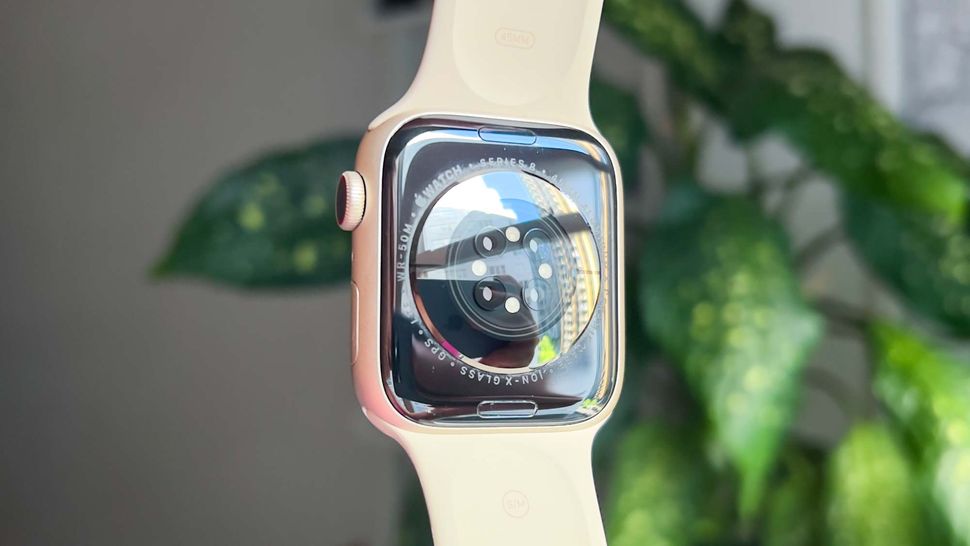 If I were trying to conceive, using my wrist temperature and other period tracking information, the Apple Watch Series 8 is able to predict my ovulation windows. Changes to wrist temperature have been proven accurate indicators of probable ovulation.
Alternatively, if you have some kind of condition that impacts your cycle, overnight wrist temperature data might provide a sense of validation. I have polycystic ovarian syndrome, or PCOS (which was actually highlighted in the Apple Women's Health Study), so maintaining a "normal" ovulation cycle is something that requires certain lifestyle habits on my part. If my wrist temperature data is off in a given month, it could mean I need to take better care of symptom management. Important to note: This feature requires at least a month to calibrate, so I'll need to check back with more details on my experience.
As for privacy, all cycle tracking data is secured with end-to-end encryption, and data can be deleted at any time. You also have control over who you share your health data with. For example, you might want to share your cycle information with a doctor assisting you with fertility.
Down the line, Apple could use skin temperature more like the Fitbit Sense 2, using it as one of the metrics to understand stress. Others have speculated it could be used for fever detection, too. We'll just have to wait and see.
Apple Watch Series 8 review: Crash detection
Crash detection isn't a new Apple Watch Series 8 feature I hope anyone ever has to test, but regrettably car accidents happen. Apple Watch has had fall detection and emergency SOS features for some time, but crash detection is a new kind of safety tool made possible by upgraded motion sensors in Series 8.
The Apple Watch Series 8 features two new motion sensors inside, plus an improved gyroscope and accelerometer. These together can sample motion 4x faster than before, so the watch will be able to detect a crash precisely as it happens. And, in the unfortunate case of a crash, the Apple Watch will automatically call emergency services and notify your emergency contacts. Though it's a somber thought, quicker help could be a matter of life or death.
I'll also note crash detection is one of the ways the Apple Watch 8 vs. Apple Watch SE (2022) compare, demonstrating that it's possible to promote safety without paying more. I just wish this was also the case for an Apple Watch Ultra feature, but more on that in a minute.
Apple Watch Series 8: Battery life with low power mode
The Apple Watch Series 8 has a long-time, wishlist feature of mine: low power mode. Yes, earlier Apple Watch devices have Power Reserve, letting you see the time when the watch is practically dead. But borrowing a handy setting from the iPhone, the Apple Watch's new low power mode will disable certain power-draining features while leaving the device still mostly usable.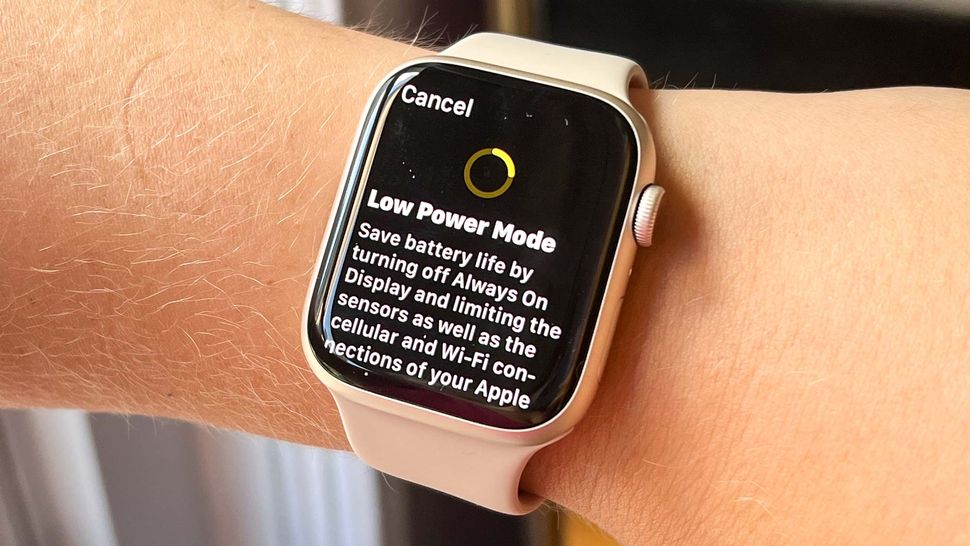 It's easy to toggle on Apple Watch low power mode from the control center and be prompted on which features become compromised. You'll temporarily lose Always-On Display, continuous health sensor readings and cellular connectivity. Depending on the situation, you can assign low power mode to turn off automatically after 1 day, 2 days or 3 days.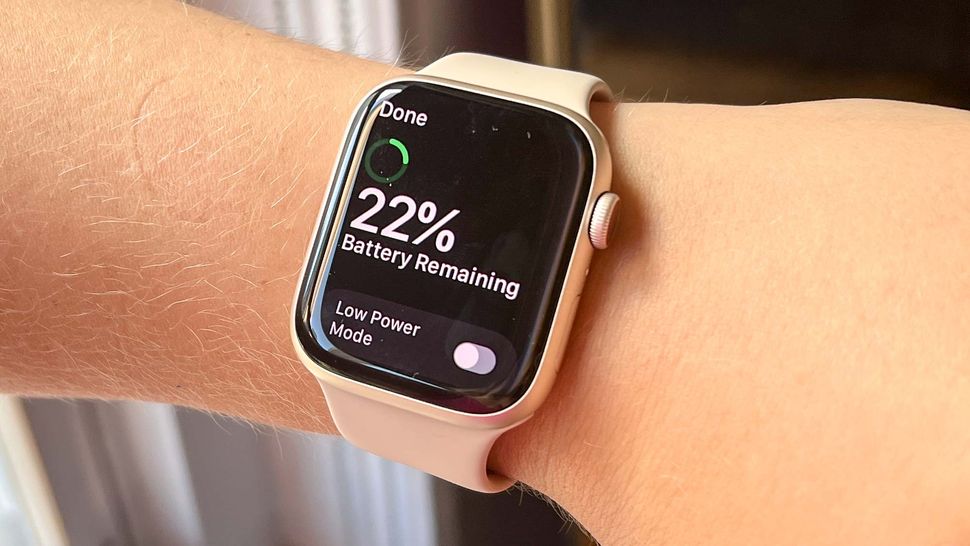 With normal use, the Apple Watch Series 8 battery life is rated for 18 hours. With low power mode, the watch can last up to 36 hours. I'm in the habit of charging my Apple Watch every morning, but I found using low power mode for even just a few hours during the day extended my unit well past 24 hours.
Charging looks the same, with a fast charger juicing the Series 8 up from 0-100% percent in about an hour, and 8 minutes of charging before bed offering 8 hours of sleep tracking. I'd like to note the Apple Watch magnetic charger can now also be used to charge the new AirPods Pro 2, offering some cable consolidation for users who have both products.
Apple Watch Series 8 review: watchOS 9
All the watchOS 9 supported devices get low power mode, so if you haven't tried it yet on your current timepiece, see our guide on how to update your Apple Watch. But even if they're not "exclusive," there are several watchOS 9 features that stood out while using the Apple Watch Series 8.
The Apple Watch's fitness tracking interface received a major overhaul in watchOS 9. You can now create custom workouts, switch automatically between multisport events and monitor your heart rate zones throughout a workout. I'm personally a fan of heart rate-based training to promote effective recovery, so I liked seeing my zones for cardio and HIIT workouts. Everything felt as responsive and as accurate as any of the best fitness trackers.
I also love the new interface that shows you your Apple Watch rings within the workout app — before, I would regularly leave the workout app to go check my progress. Of course, when I work out with Apple Fitness Plus I can also see my rings on my iPhone or iPad screen during each class. The $9.99/month exercise platform recently made it possible to workout without an Apple Watch, but having one definitely makes for the optimized experience.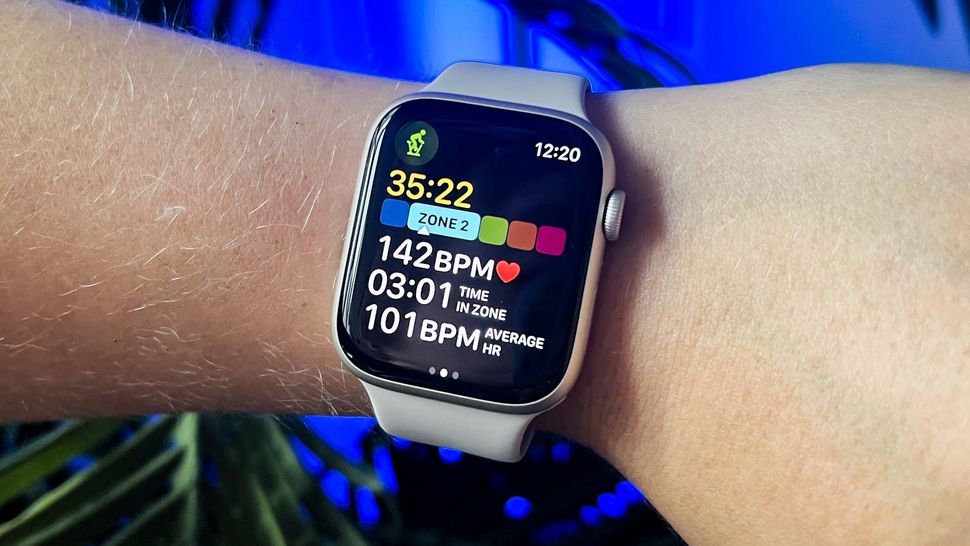 Another watchOS 9 feature I use daily is the new Medications app. Once I set up my medications in the Health app on my iPhone, my Apple Watch Series 8 started alerting me the same time each day to log my intake. It even adapted when I changed time zones, and alerted me to possible interactions I should know about.
I'm always searching for the best Apple Watch apps, but there are a few I've been loving recently that I thought you might want to try if/when you get a new Apple Watch. SwingVision is a great program for upping my tennis game, while Headspace has helped me meditate in small doses each day. WaterMinder is my favorite app for staying hydrated, too.
Apple Watch Series 8 vs. Apple Watch Ultra: How they compare
While the Apple Watch Series 8 has shaped up to be an iterative update, the $799 Apple Watch Ultra is unlike any smartwatch we've seen from Apple before — it figures to be the largest and longest-lasting Apple Watch ever, and also the most rugged. There are several differences between the Apple Watch Series 8 vs. Apple Watch Ultra, including size, design and features.
And mostly, it makes sense why the Apple Watch Ultra has certain features that the Apple Watch Series 8 does not; I'm not planning to go deep sea diving with the Apple Watch Series 8 anytime soon. But the one Apple Watch Ultra feature I think Apple should've tried to add to the Series 8 is the siren.
The siren on the Apple Watch Ultra is 86 decibels loud, as made possible by a new speaker system in the larger watch. Even if it's not quite as loud, I wish the standard Apple Watch had a siren app that could be triggered in case of emergency. Personal safety is a major concern in the city in which I live — not just in the great outdoors.
Fortunately, the Apple Watch Series 8 does get the redesigned compass app found on the Apple Watch Ultra. I used the new waypoints tool to save points of interests (a.k.a. photo ops) on a recent hike, while the new trackback feature succeeded in taking me back to my car.
Yes, the Samsung Galaxy Watch 5 Pro and many of the best Garmin watches have these kinds of GPS features, but it's now easier to call the Apple Watch Series 8 one of the best sports watches for basic outdoor activities.
That said, if you're truly adventure-driven, you might find the Apple Watch Ultra has more to offer. We'll have a full Apple Watch Ultra review soon and will give you our verdict on it then.
Apple Watch Series 8 review: Verdict
The skin temperature sensor, crash detection feature and low power mode make the Apple Watch Series 8 better enough than the Series 7; however, I will say the design and watchOS 9 — neither "exclusive" assets — are what make the experience as great as it is.
I think the Series 8 is the sweet spot for upgrades for owners of the Apple Watch Series 4 or Series 5, or just anyone who wants a full-featured Watch experience. It will also be a great choice for those who have health conditions the Apple Watch Series 8 can help monitor, like aFib.
Do I wish a bit more was different? I guess, but for what most people with an iPhone could need out of a smartwatch, the Apple Watch Series 8 has it all. Despite the growing competition, the Apple Watch still sets the standard for wearable technology.
And for more Apple Watch information, check out our Google Pixel Watch vs. Apple Watch Series 8 comparison.