The Garmin Epix smartwatch is epic in just about every way: its design, its display, its battery life are all superlative — as well as its price. While not the first of the company's devices with an AMOLED display, it's their highest-end model to sport this feature, so that also means you're getting absurdly long battery life, the ability to track almost every activity, on-board music storage, mobile payments, and much more.
To test the Garmin Epix, we took it on a number of runs and went skiing with it for a day to see how well it could track us under a variety of conditions. Does it deserve a spot on our list of the best GPS watches? You bet. Is it wildly expensive? Without a doubt. Read the rest of the Garmin Epix review to see if its features justify the cost.
Garmin Epix 2 review: Price and availability
This is not a cheap smartwatch; the least expensive Garmin Epix, with a slate steel body, costs $899. A model with a sapphire crystal lens, titanium case, and 32GB of storage (available in white or black) will set you back $999. That's in the same price range as the Garmin Fenix 7 series.
By comparison, the Apple Watch 7 starts at $399, though some of its stainless steel case models cost $799.
Garmin Epix 2 review: Design and display
The Epix 2 has a real eye-catching design. The model I tested has a stainless steel body on top of a fiber-reinforced polymer, with a screw on each of the lugs. For the price, I wish it came with something more substantial than a silicone strap, but the material was the best for when I went running with the watch. That said, like some of the other best Garmin watches, you can replace the band with a leather, fabric, or metal strap.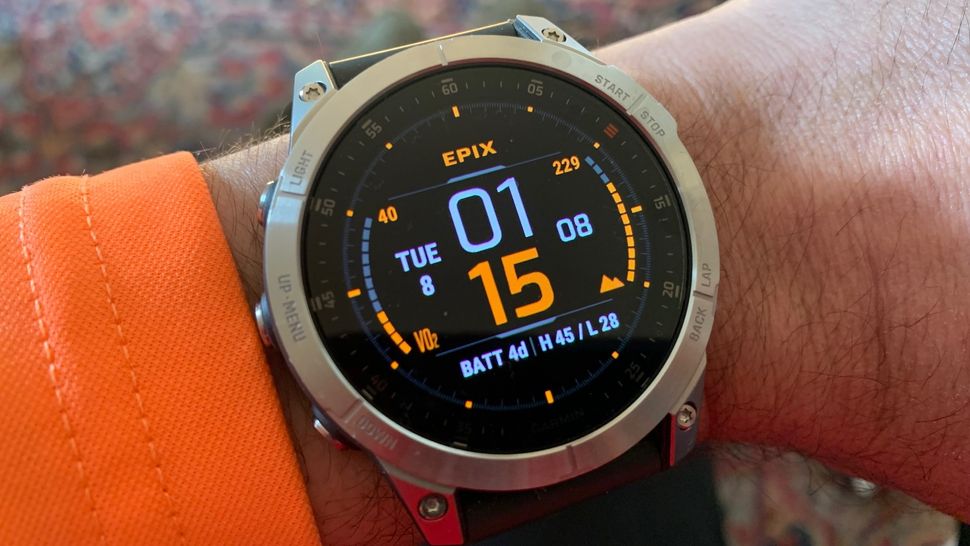 Like most other Garmin watches, the Epix 2 has five buttons — two on the right, three on the left — that are used to navigate its rather complex menus. If you're out on a run, or are wearing gloves, being able to use buttons rather than a touchscreen is vital. However, in adding an AMOLED display to the Epix, Garmin also added a touchscreen, so you can now choose how you want to interact with the watch. I appreciated this belt-and-suspenders approach.
This is not a small watch; the Epix only comes in a 47-mm case size which makes it larger than most smartwatches, including the Apple Watch 7 (41 and 45 mm) and the Samsung Galaxy Watch 4 (40, 42, 44, and 46mm). Garmin's fenix 7 series is also available in multiple sizes (42, 47, and 51mm).
Weighing 2.7 ounces — 1.9 ounces for the case alone — I definitely felt its weight more than some of Garmin's lighter, and more running-centric watches such as the Forerunner 245, which is a feathery 1.4 ounces by comparison.
Garmin Epix 2 review: Display
The biggest change here is the Epix 2's large 1.3-inch AMOLED touchscreen. In the past, Garmin has eschewed these sorts of displays, as they're more power-hungry and not as easy to use when you're out running and have sweaty hands, or if you're wearing gloves. However, there's no arguing that AMOLED displays just look a lot better than the transflective screens.
Another benefit to older transflective displays is that they're extremely easy to read in the sunlight; similar to a cat's eye, this type of screen uses the sun itself to increase its brightness, so I was worried that Garmin's transition to AMOLED would make the Epix harder to see on bright days. That was the case here, but it wasn't as bad as I feared. I was still able to view the screen no matter the situation.
Garmin Epix 2 review: Fitness and Health features
The Garmin Epix' health and fitness features are identical to that of the Fenix 7, in that it can track just about everything.
In addition to a heart rate monitor, the Epix 2 has a blood oxygen sensor that can keep tabs on your levels throughout the day, as well as perform on-the-spot checks. Like the Apple Watch, the Epix will alert you if your heart rate is abnormally high or low, will monitor your stress levels, and give you a "body battery" rating — a snapshot of your overall energy levels, which can help determine how hard you should go out on your run that day.
The Epix can also track your sleep — though I find wearing something this large to bed to be uncomfortable — and in the Garmin app, women can keep track of their menstrual cycles. The watch can also give you reminders to relax and take you through breathing exercises. It's a more holistic way of looking at your overall health, an approach that Fitbit is taking with the Fitbit Sense.
Garmin Epix 2 review: Performance
In my month of using the Epix, it accurately tracked my position, heart rate, and more through a variety of sports and activities. It was fast to acquire a GPS signal — less than 30 seconds in most cases — and kept pace with me, whether I was jogging through my neighborhood, schussing down the slopes, or just walking around town.
Like the Fenix 7, the Epix by default turns off its touchscreen when you start an activity, such as running or biking. You can opt to turn it back on, but I appreciated this little feature — more than once, I've paused or stopped tracking one of my runs because I accidentally tapped a smartwatch screen.
As with Garmin's other smartwatches, navigating through the Epix' various menus is an exercise in itself — I've been reviewing Garmin devices for years, and I still have trouble remembering when to long-press
Garmin Epix 2 review: Smartwatch features
While the Epix has designs on being considered a smartwatch, it still falls short of the Apple Watch and Samsung Galaxy Watch when it comes to smartwatch-like features. For instance, while you can download watchfaces and apps, the selection is far smaller than that you'll get with WatchOS or Google WearOS.
And, to add any apps or watchfaces, you have to use the Garmin Connect IQ app, which is separate from the Garmin app you use to look at your health and fitness.
I did like that the Connect IQ app lets you create your own watchfaces — you can even create watch faces using photos on your phone.
Garmin Epix 2: Specifications
Case size: 47 x 47 x 14.5 mm
Display: 1.3 inches, 416 x 416
Weight: 76 g
Storage: 16GB
Battery life: Up to 16 days (6 days always-on)
Water resistance: 10 ATM
Location tracking: GPS, GLONASS, Galileo
Connectivity: Bluetooth, ANT+, Wi-Fi
Sensors: Heart rate, Pulse Ox, altimeter, barometer, compass, gyroscope, thermometer
Mobile payments: Garmin Pay
You can connect Spotify, Deezer, and Amazon Music apps to the Epix; provided you have a premium music account from one of those services, you can download music directly to the watch to go on a phone-free run.
Both the Apple Watch and Galaxy Watch also let you respond to messages and make phone calls from your wrist; the Epix only lets you respond to text messages if it's connected to an Android phone. You can't make phone calls, but you can reject phone calls on the Epix.
The Epix does have Garmin Pay, so you can tap it at terminals where it's accepted. The watch also has Find my Phone and Find My Watch features.
Garmin Epix 2 review: Battery life
One of the things I've always liked about Garmin watches is their excellent battery life, and the Epix is no different.
Garmin claims that the Epix will last up to 6 days with the display always on; if you turn on GPS, it will last up to 30 hours, and if you turn everything on and listen to music, you'll get 9 hours out of the watch. There are ways to stretch the endurance up to 14 days when using GPS, though its accuracy will be lower.
In practice, I found the claims to be a bit high, but still quite impressive. I took the watch on several runs of about half an hour each, using GPS and the heart rate monitor, but not music, and found that for every 30 minutes, the battery would drop by about three percent. That would equate to a runtime of about 16 hours.
I also took the Epix out for a day of skiing, using it to track my movements on the slopes. After about 4-5 hours of skiing, the battery had drained by 20 percent.
Garmin Epix 2 review: Verdict
The Garmin Epix 2 is deserving of its name. This is a great, fitness-first smartwatch with truly epic battery life and a gorgeous display. While it doesn't have as many smartwatch-like capabilities as the Apple Watch 7 or the Samsung Galaxy Watch 4, it's far more capable when it comes to tracking your activities, and has much, much, much better battery life — we're talking weeks vs. hours. However, with a starting price of $900, the Epix is nearly twice as expensive as the base models for those watches, too. And, it's a lot larger than both of those devices.
If you have decided to go the Garmin route, your next choice will be between the Garmin Epix and the Fenix 7, which primarily comes down to battery life, as both watches share nearly identical features and capabilities. In Expedition mode, the Fenix can last up to Up to 40 days (74 days with solar), whereas the Epix will wind down after just 14 days. That's largely due to the fact that the Epix has 416 x 416 AMOLED display, while the Fenix has a 260 x 260 transflective screen.
So, if you value battery life above all else, go with the Fenix 7; if you want something that looks better on your wrist, the Garmin Epix makes for the more stunning wearable.
You can also check out our detailed face-off between the Garmin Fenix 7 vs. Epix 2 here.