The Apple Watch Ultra is Apple's first real stab at an adventure watch. It's got a durable design, a huge 49-millimeter display, an Action Button, and a host of outdoor sports features to make the watch feel at home on the wrist of a runner, hiker, or ironman. With 60 hours of battery life, it also has the stamina to keep up — something that's been missing from the best Apple Watches for the past few years.
Yet at $799/£849/AU$1299, it's also the most expensive Apple Watch on the market, and at the pricer end of things when compared to some of the best running watches around. At its core, it's still an Apple Watch Series 8 — it runs watchOS 9, has all sorts of health tracking and can be used to communicate. But if you want know how the Apple Watch 8 vs. Apple Watch Ultra compare, this Apple Watch Ultra review goes over the key differences.
It's worth noting, Apple have now launched the Apple Watch Ultra 2, with a brighter display, support for the double-tap gestures and a faster S9 processor. Check out our Apple Watch Ultra 2 review here.
Apple Watch Ultra review: Price and release date
The Apple Watch Ultra costs $799/ £849/ AU$1,299. It's a singular model, outfitted with cellular support. In other words, cellular connectivity isn't optional the way it is for the Apple Watch 8, which starts at $399 (AU$649) for the GPS-only version.
The Apple Watch Ultra was released on September 23, and is available from Apple and on third-party retailers such as Amazon. You probably won't find any Apple Watch deals on this new smartwatch, but if you know how to trade in your Apple Watch, you might be able to get credit on an older device and put it toward the Apple Watch Ultra.
Apple Watch Ultra review: Design and display
Turns out good things don't just come in small packages. The first thing you'll notice about the Apple Watch Ultra is its size — it's huge on the wrist, and measures 49mm. It's considerably larger than the 41mm and the 45mm displays of the Apple Watch Series 8, and whether that's a good or bad thing depends on your personal preferences. I found the Ultra hefty on my wrists — the lugs were only just narrower than my wrist itself, but it didn't feel too heavy, and I soon got used to it. (Then again, I also like wearing chunky watches, like the Garmin Fenix 7.) If you have particularly skinny wrists, however, I'd try before you buy.
The display has a brightness of 2,000 nits, which is twice as bright as the screen on the Apple Watch Series 8. It looks beautiful and is easy to read, even in direct sunlight. Plus, in workout modes, the bigger screen allows for seven data fields, rather than six.
Apple has also made the Ultra more rugged, and more able to cope with the knocks and drops that come with outdoor sports. The bezel is made from titanium, with a lip around the screen to add more protection. The display is made from sapphire glass, and the watch has an increased water resistance of 100m.
The digital crown is larger and has deeper groves, and melds with the side button in a protruding ledge on the right side of the device. This supposedly makes the buttons easier to use while wearing gloves. On the left side of the Apple Watch Ultra is an added action button, which can be programmed as a quick-launch for an assigned purpose.
Above the new button is a visible speaker grille, which serves two purposes: 1) it improves sound quality on phone calls, even in windy conditions and 2) it blasts an emergency siren of 86 decibels, letting your alert be heard up to 180 meters (about 600 feet) away.
During testing, the emergency siren mode is quieter than I thought — most hair dryers, for example, are 80-90 decibels. That said, it's a siren of two different patterns that alternate and repeat. While it's not ear-drum-breaking loud, it's definitely not a sound you could mistake for a car alarm (as soon as I turned it on my dog ran over, confused). It can also ring for several hours, depending on your battery life.
It's an excellent feature, and as a female who often runs alone, one that should be rolled out to all Apple Watches in my opinion. Although if you're expecting it to be as loud as a rape alarm, it's not.
During testing, I loved the Action Button just as much as I thought I would. I programmed the Action Button to take me straight to the workout function on the Apple Watch. If I wanted to, the button could take me right to an outdoor run, but as I often use my Apple Watch to track hikes with my dog, swims, and bike rides, I opted to go to the full list of workout modes.
I also used the button mid-run to pause the activity — I found squeezing the Action Button and the side button while running far easier than swiping the screen, or trying to tap both the bezel and the side button at the same time.
Apple Watch Ultra review: Bands
The Ultra is available with three different bands to suit your chosen activity — the Trail Loop band is the thinnest Apple Watch band to date, designed for endurance athletes and runners. The Alpine Loop band features two integrated layers and a G-hook fastening, designed for explorers, and the Ocean Loop is, you guessed it, designed for water sports and diving. You can buy additional bands, but they'll set you back $99/£99 each.
When it comes to choosing which band is suited to you, it largely depends on personal preference, and the type of activity you plan on doing most. One thing to note, however, is that size makes a big difference here — the Alpine band comes in small, medium, and large sizes, and the Trail Loop comes in S/M, M/L. If the band is too small and tight, or you have too much strap to try and tuck in, this is likely to affect your comfort, so grab a measuring tape before you invest.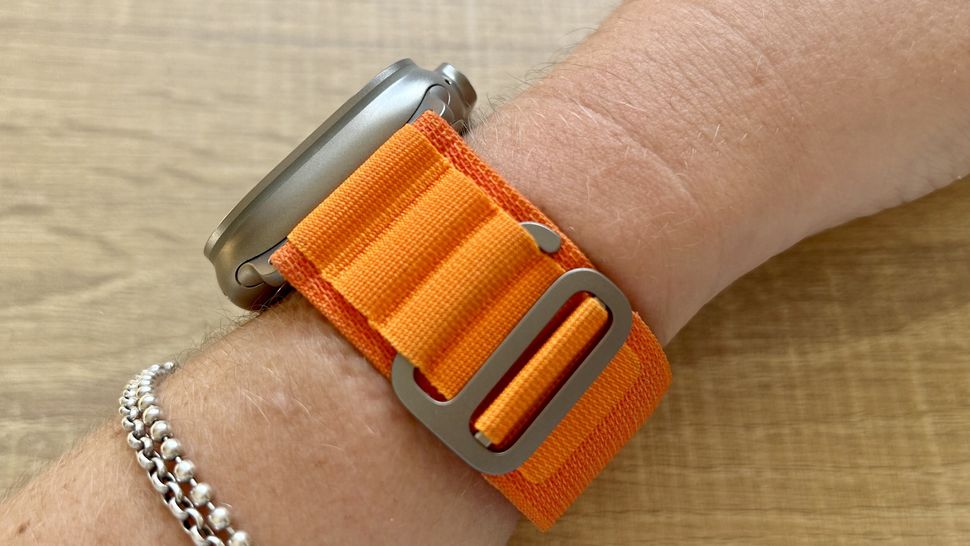 The Alpine Loop definitely seems to be the fan favorite — available in orange, green alpine, and starlight. During my first few days of testing, I really struggled to get to grips with the strap — the G-hook makes it a little fiddly to get on and off, especially if you're removing it every day to shower.
This brings me to my next gripe — like all material bands, the Alpine and Trail band retains water for a while after showering, swimming, or just washing the dishes. While this won't be a big deal for some, I can't stand the soggy fabric around my wrist. The Trail band was more comfortable, and far easier to adjust on the go than the Alpine band.
With the Ocean Loop, there is the option to take the strap off like a traditional watch strap, but this isn't your everyday silicone watch strap. It's made up of lots of little tubes, with an adjustable strap holder to prevent the band from flapping around on your wrist. Read more about the different Apple Watch Ultra bands here.
Apple Watch Ultra review: Features
Like the Apple Watch Series 8, the Apple Watch Ultra has a skin temperature sensor and crash detection, but there are a host of other features designed to make the watch more suited for adventure.
Let's start with the revamped compass app, which makes the Apple Watch Ultra a more capable navigation accessory. It lets you save waypoints, or specific markers when you're somewhere you want flag. There's also a track back feature that helps you retrace your steps, say, if you're lost.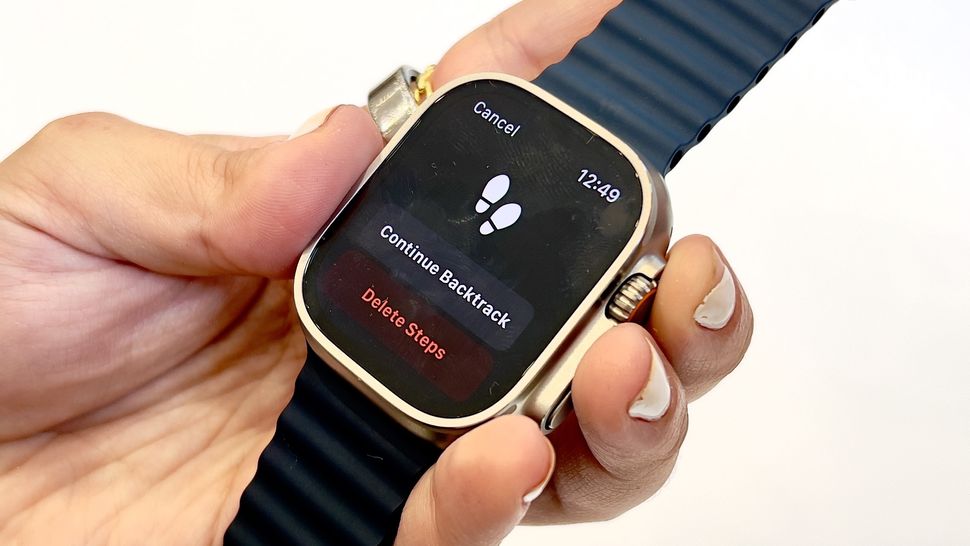 The Ultra also has clever features like Precision Start, which allows you to bypass the 3…2…1 countdown sequence when starting an activity, and wait until you know the watch has found GPS signal. During testing, I was impressed with this feature — it's nothing new in the world of the best Garmin watches, but it makes the Ultra a more reliable watch to have on your wrist on race day.
Along with all the watchOS 9 features coming to watchOS 9 supported devices, the Apple Watch Ultra has an exclusive Wayfinder watch face that packs all the outdoor sports-adjacent complications into a single face. The entire face can be fully customized, and when you rotate the crown, the face turns red, for better visibility in the dark.
One fitness feature I feel is missing from the Apple Watch Ultra, however, is the ability to upload offline maps onto the watch. At the moment, the only way to do this is by using a third-party app. Let's hope that Apple will add this at a later date.
Apple Watch Ultra review: Diving features
On November 28, the Apple Watch Ultra became a dive computer with the help of the Oceanic+ app. Apple has positioned the Ultra as a watch for recreational scuba divers — it can go up to 40 meters, and has a depth gauge and water temperature sensors. If you're planning to dive a few times a year on holiday, the app allows you to turn the Ultra into a dive computer for $9.99 per month .
The app monitors your depth, time in, temperature, and heart rate (if you're not wearing a wetsuit). It'll also give you important data like decompression time, your dive time, current elevation, maximum elevation allowed, and max depth. We sent a pro-diver out for 15 dives with the Apple Watch Ultra and he was impressed — "Apple has done an amazing job on the visual experience," he said. "The Ultra has such a noticeably bright screen that it's as clear in sunlight as it is during night dives." Read more about the Apple Watch Ultra as a diving watch here.
Apple Watch Ultra review: GPS
Apple has added dual-frequency GPS to the watch, integrating L1 and L5 algorithms. Apple says this allows the Ultra to "deliver the most accurate GPS of any Apple Watch to date," according to the company. During my testing, I compared the GPS on the Apple Watch Ultra to my Garmin Fenix 7 and found them to be pretty spot-on. Here's the data from a 12x400m track session, which I set up on both of the watches:
I also tested the GPS by using Google Maps to track an exact mile from my house, and found the Apple Watch Ultra read the same distance when I was running. No watch is ever going to be 100% accurate on race day, but when you're training, you want to be able to trust the data on your watch.
Apple Watch Ultra review: Health and sleep tracking
From a health perspective, like the Apple Watch Series 8, the skin temperature sensor informs two areas of Apple's health suite: sleep tracking and cycle tracking. Using two built-in sensors, the Apple Watch Series 8 will read the temperature of the skin every five seconds overnight.
For sleep, deviations in baseline overnight temperature might help you keep tabs on what external factors impact your regular rest. Think: traveling or staying out late drinking.
From a menstrual tracking point of view, when setting up the watch, I input my last period, and am able to see the days of the month in which I am most fertile — useful should I be trying to conceive. Cycle Tracking users can receive notifications if their logged cycle history shows irregular or prolonged periods, as well as persistent spotting, as these can be signs of health conditions such as fibroids or polycystic ovary syndrome (PCOS).
I used the cycle tracking alongside my regular period tracking app and found the two were pretty similar, although Apple shifted my fertile window forwards by a couple of days — perhaps because of temperature data.
Speaking at the Far Our event, Sumbul Desai, vice president of health at Apple, said, "we believe privacy is a fundamental human right and that your health data is yours and yours alone. Your cycle tracking data is encrypted on your device, and only accessible with your passcode, Touch ID or Face ID. When using iOS and WatchOS with the default two-factor authentication and a passcode, healthcare data synced to iCloud is encrypted end to end, meaning that Apple does not have the means to decrypt the data, and therefore cannot read it." (If you are concerned, here's what a cybersecurity expert said about protecting your data on period tracking apps, and how to track your period without using an app.)
In the future, Apple could use skin temperature more like the Fitbit Sense 2, to help wearers understand stress. Others have speculated it could be used for fever detection. Read more about Apple's skin temperature sensor and how to use it here.
One health feature I feel was missing from the watch was recovery data. After a hard track session, my Garmin will tell me how long I need to rest in order to give my muscles time to recover. Apple's sports watch doesn't do this, and there's still the same focus on closing your rings.
Apple Watch Ultra review: Battery life
With everything on, the Ultra has a battery life of 12 hours. In Apple's new low-power mode, the Ultra still has the same GPS and heart rate capabilities, and a battery life of 15/16 hours. There's also a third setting that gives you 60 hours of battery life, with the option to reduce the frequency of GPS and heart rate readings
While this is great for an Apple Watch, it's still shorter than a lot of the other running watches on the market. The Fenix 7, for example, can last up to 89 hours (or 122 hours with solar) in GPS mode.
During testing, I went for a 10-mile run with the watch at 100% charged, and ran for a total of 85 minutes, without low power mode on. I finished the run on 91%, making Apple's predictions about right. After a week of testing, I found with everything turned on, I had to charge the watch every 55 hours or so.
Of course, this is impressive for an Apple Watch, but not so much when compared to watches like the Garmin Fenix 7, which lasts about 11 days between charges with normal use, or the new Fitbit Sense 2, which lasts six days. If battery life really matters to you, there are far better watches on the market.
I'm still not sure I'd trust the battery life of the Apple Watch Ultra for my next marathon — I wonder whether 12 hours would be enough to get to the start, keep the watch connected to GPS for 20 minutes or so on the start line, then tracking my run for four hours, and still leave me with enough juice to have a working watch for the post-run celebrations in the pub.
Apple Watch Ultra review: Verdict
Thanks to its Action Button, the Precision Start feature, and the better battery life, the Apple Watch Ultra is, without a doubt, the best Apple Watch for anyone doing serious training. It's the most exciting Apple Watch in years, but it is still missing some of the features the likes of Garmin and Polar have mastered. There's no recovery data, for example, and at the time of writing, no option to upload offline maps onto the watch.
If you're buying an Apple Watch to check your texts, and for the odd workout in the gym, however, I'd argue you're better off saving your money and investing in the Apple Watch Series 8; aside from Precision Start, the dive app, and the Way Finder face, all of the new and improved WatchOS 9 workout features are the same. If you're looking for a Garmin watch with a screen as bright as the Apple Watch Ultra, but the battery life of a Garmin, I'd say the Garmin Epix 2 is your best bet.
Overall, this is an excellent watch if you're running, swimming, or biking before work, then settling down for a day of emails, but I'm not quite sure it lives up to its Ultra name just yet. If I was running an ultramarathon, or going on an ultra adventure, I'd want a longer battery life and mapping capabilities. That said, Apple is excellent at rolling out updates, and all of the watches current shortfalls can easily be fixed with a few tweaks down the line. From a smartwatch and a design perspective, however, Apple has excelled itself — this is a cool watch to have on your wrist 24/7 for life's daily adventures.