Back in the good old days, a Garmin Forerunner with a 2 at the start of its name was the mid-level running watch you'd normally buy when you got into your first marathon. Fast forward to 2023, and the latest model — the Garmin Forerunner 265 — has one of the most beautiful, bright screens I've ever seen on a running watch. Like the Garmin Forerunner 955, the Garmin Fenix 7, and the Garmin Epix 2, it also has a touchscreen.
Specifications
Display Size: 1.1 inches (265S) and 1.3 inches (265)
Resolution: 360 x 360 (265S) and 416 x 416 (265)
Weight: 39g (265S) and 47g (265)
Water resistance: 5 ATM
GPS battery life: 24 hours (265S) and 20 hours (265)
Connectivity: Wi-Fi, Bluetooth, ANT+
I've had the new Garmin Forerunner 265 on my wrist for the past week to find out how well it performs. My first run with the watch was a half marathon race, and I was impressed by the accuracy of the GPS on the Thames path, surrounded by other runners. I've since used the watch on a couple of easy sessions and loved how bright the screen is next to my Fenix 7. But like all bright lights in a cost-of-living crisis, all that beautiful glow has bumped up the price tag of this mid-level running watch. Is it worth it? How does it compare to the other best Garmin watches on the market? Read my Garmin Forerunner 265 review below to find out more.
Garmin Forerunner 265 review: Price and availability
The Garmin Forerunner 265 is available to buy as of March 2, 2023. The Forerunner 265 costs $449/£429. Unlike previous iterations of this watch, it no longer comes in a music/non-music variation, however, you can still download and listen to music from Spotify, Deezer, and Amazon Music on the watch.
Like other iterations of this watch, the Forerunner 265 comes in two different display sizes (more on this below). It's about $100 more than the Forerunner 255 was when it hit the market in June 2022 — the 255 costs $349/£299 for the non-music version and $399/£349 for the music version.
The Forerunner 265 comes in three different colorways — white, black, and teal. The Forerunner 265S also comes in three colorways — white, black, and pink. As with most modern Garmin watches, the straps are interchangeable.
Garmin Forerunner 265 review: Design
When it's not turned on, the Forerunner 265 looks pretty much the same as the Forerunner 255. It's still the same, round display, with five different buttons to navigate around the watch — three on the left, and two on the right. That said, there's one small change to these buttons — the top start/stop button on the right-hand side now says 'RUN', and is slightly larger. This a small change, but a handy reminder of which button to press when you want to pause your watch mid-run.
Once you turn the screen on, however, the changes are far more obvious. The Forerunner 265 has a bright, beautiful AMOLED display, similar to that used on the Garmin Epix 2. It's the same AMOLED screen you'll also see on the brand-new Garmin Forerunner 965. The resolution of the Forerunner 265 is 416 x 416 pixels, and 360 x 360 on the 265S. When we compare this to the Forerunner 255, the difference is huge — the 255 has a resolution of 260 x 260, and the 255S has a resolution of 218 x 218.
Like the Forerunner 255, the watch comes in two different sizes — the Forerunner 265 has a 1.3-inch display, and the Forerunner 265S has a 1.1-inch display.
Like other Garmin watches, the entire data screen is customizable, and like Garmin's newer watches, you're now able to tweak everything from the Garmin Connect app, as well as on the watch.
Talking of the screens, the Forerunner 265 feels a little different — Garmin has changed the font on its watch, as well as the screen you see as you wait for the GPS to connect. It's one of the first things I noticed when I started using the watch, and I've yet to decide if I like it.
Garmin Forerunner 265 review: Battery life
Despite the brighter display, the battery life of the Forerunner 265 has pretty much stayed the same. The 265S has a 15-day battery life in smartwatch mode, and a 24-hour battery life in GPS mode. The 265 has 13 days in smartwatch mode, and 20 hours in GPS mode. Normally, it's the larger of the two watches that has the longer battery life, but it seems with the bigger and brighter screen, the larger 265 will need charging ever so slightly sooner.
Here's the all-important battery life stats:
Swipe to scroll horizontally
Battery life of Garmin Forerunner 265

| Header Cell - Column 0 | Garmin Forerunner 265 | Garmin Forerunner 265S |
| --- | --- | --- |
| Smartwatch mode | Up to 13 days | Up to 15 days |
| GPS mode | Up to 20 hours | Up to 24 hours |
| GPS mode with music | Up to 7 hours | Up to 7.5 hours |
The Forerunner 255, had a battery life of 14 days in smartwatch mode, and 30 hours in GPS mode.
I've been testing the Forerunner 265 for a week, and have yet to recharge it — half marathon and all. One thing to note when it comes to charging is that Garmin has also tweaked the cable — the Forerunner 265 still charges with the same four-pronged charger as the 255, but it's a USB-C cable, not a USB.
Garmin Forerunner 265 review: Health features
The Forerunner 265 has all of the same health features of the 255, which recieved a huge upgrade, and inherited a lot of the features usually reserved for Garmin's more expensive watches. It's a fantastic training tool, and like most of the best fitness trackers on the market, helps you gain a deeper understanding of your overall health, as well as your training load.
The Forerunner 265 has Garmin's latest Elevate V4 sensor — the green light records heart rate, the red light records blood oxygen levels (referred to as Pulse Ox on the watch). This sensor is used to calculate breathing rate, HRV, and stress. It also has Garmin's Morning Report feature, which gives you a snapshot into how well you slept, how hard you've been training, and a look at the weather for the day ahead. Yet unlike previous iterations of this watch, it now has Garmin's Training Readiness score too. The Training Readiness score gives you an idea of how hard you should train that day, whereas the Body Battery score is a general snapshot of your health. Until now, the Training Readiness score has only been available on more expensive Garmin watches, like the Fenix 7.
As with other Garmin watches, you can also track your periods and pregnancy on the Forerunner 265. You do need to download the Women's Health Tracking app to be able to view these insights from your wrist though, which is still somewhat of a bugbear of mine.
Garmin Forerunner 265 review: Running features
Of course, the main reason you buy a running watch is to help keep track of your training. The Forerunner 265 still excels from this standpoint — there's still the multisport mode, it still tracks just about every sport under the Sun, and you can still customize every data screen from your phone, or the watch itself. The latter is even easier now the watch has a touchscreen.
As mentioned above, Garmin has also added the Training Readiness score, which is a huge improvement. The score shows you at a glance how ready you are for a difficult day of training based on sleep, recovery time, HRV status, acute load, and stress. Each category carries a different weight, so your Training Readiness might go up during the day, as your needed recovery time goes down. I found a few days after my half marathon, I still wasn't as recovered as I felt — I hadn't been sleeping as well, as I've been battling a cold, and I was able to pull back and take things easier as a result. Of course, you can ignore these tools, but if you're serious about your training, they can help you keep an eye on your overall health, not just your sessions.
The Forerunner 265 also allows you to look at metrics like cadence, stride length and ground contact time from your wrist, without the need to download apps, or use other equipment. You can also download a Garmin Coach plan to your wrist, or receive daily suggested workouts.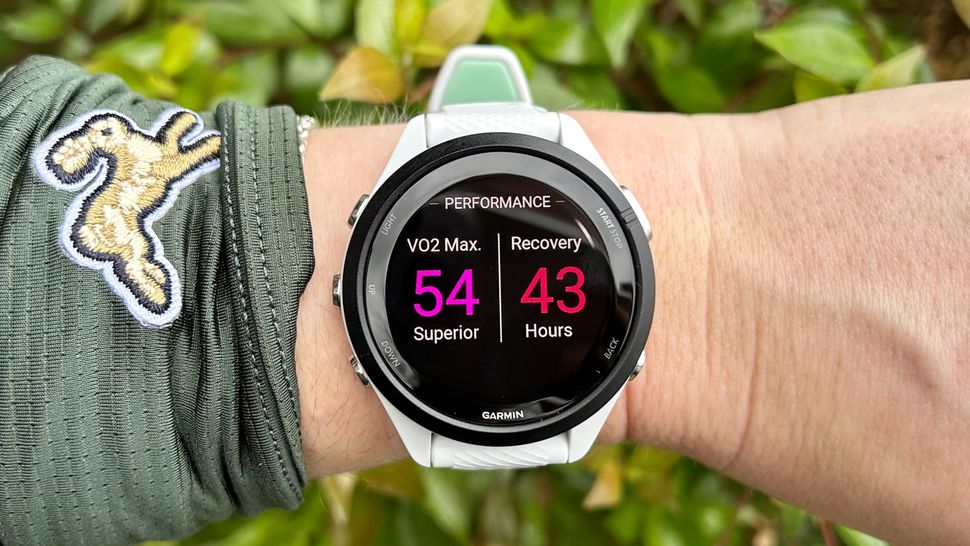 As a female who runs alone, I also appreciate safety features like incident detection, assistance and Live Track.
Garmin Forerunner 265 review: Smartwatch features
Here's where Garmin falls slightly short when compared to some of the best smartwatches like the Apple Watch Series 8 — despite being designed to be worn 24/7, they lack some of the smartwatch features compared to other watches. However, I'd argue that you don't buy the Forerunner 265 to check your WhatsApp's from your wrist, you buy it to improve your training. The touchscreen on this watch does improve it from a smartwatch perspective — it feels more premium, and it allows you to scroll around the watch with ease.
The 265 also allows you to see smartphone notifications from your phone on the watch, although you can't respond to messages right now. There's also Garmin Pay contactless payments, which allow you to keep your phone in your pocket when commuting.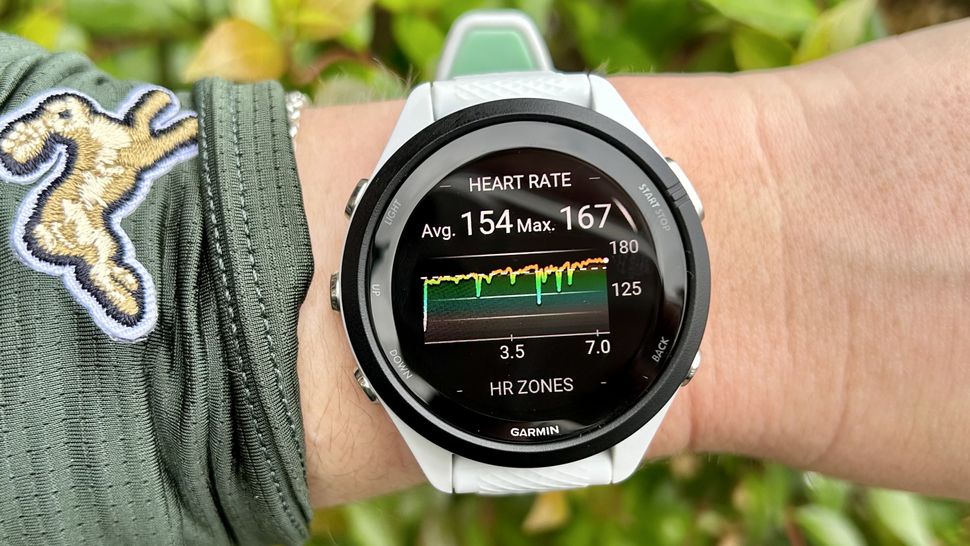 As mentioned above, there's no specific music version of this watch now, but you can download songs from Spotify, Deezer and Amazon Music, allowing you to leave your phone at home on a run, or in your locker at the gym.
Garmin Forerunner 265 review: Verdict
The Forerunner 265 feels like a more premium running watch and it's all thanks to its beautiful screen. I've loved having this watch on my wrist — it's slim, it's lightweight, and when next to my Garmin Fenix 7, it looks so much brighter, whether I'm in the gym, or out in direct sunlight. I'd never normally recommend upgrading if you already have the previous iteration of the watch, but the screen alone makes this feel like a huge improvement on the 255.
Of course, the one downside is the price — at a time when everything is getting more expensive, $449/£429 feels like a lot. I would argue that this no longer feels like a mid-level watch — it has pretty much all of the features of the more expensive running watches, and unless you're desperate for mapping capabilities, it's the Garmin I'd recommend to most runners. That said, if you are looking for a cheaper option and you're not bothered about a touchscreen, now is a good time to check out the Garmin Forerunner 255 or Garmin Forerunner 55.