If you have joint or back pain and your current mattress isn't offering the support you need, yet you don't have the budget for a new bed, this early Black Friday mattress deal is perfect for you. Right now at Tempur-Pedic you can save 40% on the Tempur-Adapt mattress topper, with a queen size reduced to $251.40 (was $419).
Tempur-Pedic is one of the best mattress brands in the world, so it's toppers are always going to be of a very high quality. In our Tempur-Pedic Tempur-Adapt Topper review we awarded it high marks for pressure relief. That's thanks to the use of NASA-developed Tempur Material, which moulds itself to your curves to reduce any pain or discomfort when lying down.
The Tempur-Adapt is our best mattress topper recommendation for most people as it provides the luxurious cushioning of the brand's mattresses at a fraction of the price. If you sleep hot, you can also add cooling technology for an extra $60.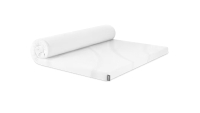 Tempur-Pedic Tempur-Adapt Topper
Was: $319
From: $191.40 at Tempur-Pedic
Saving: Up to $187.60

Summary: The 3" Tempur-Adapt Topper is designed to provide maximum pressure relief, making it the ideal topper for side sleepers and those who suffer with aches and pains. Compatible with mattresses up to 13" deep, the topper is a great, cost-effective way to add extra comfort to a bed in need of a reboot. The Tempur-Adapt comes with non-slip corner straps to keep it in place and a removable, machine-washable cover for easy cleaning.
In our review, we found that the trademarked, unique Tempur Material provided an ultra-plush, sink-in feeling, which our side-sleeping testers praised but may be a bit too soft for heavyweight sleepers and those who sleep on their stomach. Also, while the Tempur Material and breathable knit cover have been developed to keep you cool and dry, one tester who overheats at night found it did build up heat slightly. While the temperature regulation was not the most impressive feature, you can add cooling technology for a $60 fee. Overall, if you're a side sleeper weighing under 250lbs and suffer from joint or back pain, this will provide the excellent, ultra-soothing pressure of a Tempur-Pedic mattress without breaking the bank.
Benefits: Free shipping | 10-year limited warranty

Price history: There are regular Tempur-Pedic mattress deals to lower the price of the brand's beds and toppers, and this current saving reduces the cost of a queen Tempur-Adapt topper to $251.40 (was $419), which is the price we normally see when the topper is on sale (usually, you can use the code TOPPERS40 to save 40% on all toppers). It's therefore a good time to buy if you can't wait to see if any further price drops happen in the Black Friday deals.