Helix Dusk Luxe mattress review in brief
The Helix Dusk Luxe appeals to back and stomach sleepers who have a difficult time finding a mattress that's supportive without being too firm – and it succeeds. It's one of the most comfortable mattresses we've ever tested, providing a cloud-like sleep experience.
We slept on a queen Helix Dusk Luxe for three weeks to see how it fares against some of the best mattresses on the market. Our in-depth review is below but if you are short on time, here's our review in brief...
Helix Dusk Luxe specs
Type: Hybrid
Materials: Memory foam, other foam, coils
Firmness (out of 10): Medium (6)
Depth: 13.5 inches
Trial period: 100 nights
Warranty: 15 years
Price: From $1,373 to $2,873
The Helix Dusk Luxe is a 13.5-inch hybrid mattress consisting of six layers – a mix of individually wrapped springs and multiple types of foam. Although your body lies on top of the mattress, it's still bouncy and cushioned. It'll keep your spine aligned and hips supported throughout the night. Combine it with the free pillows that came with the mattress and you'll sleep without interruption throughout the night, just as our reviewer did.
Comfort is where this mattress shines, but it does well in most other key areas too. We were impressed by the edge support along the sides. You won't slip off while sleeping or have difficulty getting out of bed. That said, the foot of the bed and the corners are less supportive.
The Helix Dusk Luxe does an average job when it comes to temperature regulation. If you sleep hot, you'll want to splurge on the GlacioTex Cooling Cover. In terms of motion isolation, our tester liked that she could barely feel someone getting in and out of the bed, but did feel movement when the other person changed sleep positions.
You'll be paying a premium, though – even during regular mattress sales. A queen Helix Dusk Luxe usually sells for $1,899 after a 20% discount, but major holidays like the Cyber Monday mattress deals usually bump that to at least 25% off. You'll get 100 nights to try it out plus a longer-than-average 15-year warranty to back your purchase. (As we already noted, it also comes with free pillows.)
Keep on reading to see how the mattress held up over the course of three weeks and during various tests. By the end, you'll realize why we consider the Helix Dusk Luxe one of the best mattresses for stomach sleepers – and we find it a suitable option for back sleepers, as well.
Helix Dusk Luxe mattress review: price
Helix's mid-range line, but a premium bed in the wider market
Usually discounted by at least 20% off
Comes with two free pillows
Among the wider mattress market, the Helix Dusk Luxe is a premium model. Within Helix's range of mattresses, it's a mid-point between the brand's standard Core Collection and its top-of-the-line Elite Collection. Helix's pricing structure is straightforward, as the models in each of its respective categories are all priced the same, and all of them include the option to upgrade to a specialty cooling cover.
A queen Helix Dusk Luxe retails for $2,373, but thanks to frequent Helix mattress sales you'll never have to pay the full cost. The Dusk Luxe is normally 20% off, knocking the typical price of a queen to $1,899.
Here's the official pricing for all sizes of the Helix Dusk Luxe mattress, along with what you can expect to actually pay:
Twin MSRP: $1373.80 (normally sells for $1,099)
Twin XL MSRP: $1,623.80 (normally sells for $1,299)
Full MSRP: $1,998.80 (normally sells for $1,599)
Queen MSRP: $2,373.80 (normally sells for $1,899)
King MSRP: $2,873.80 (normally sells for $2,299)
California King MSRP: $2,873.80 (normally sells for $2,299)
If you want to save even more on a Helix bed during mattress sales, major holidays are usually your best bet. For instance, we recently saw 25% off during Labor Day mattress sales – and that same discount was also present during 4th of July mattress sales over the summer. We're anticipating even bigger savings during Black Friday mattress sales when brands typically roll out their best deals of the year.
To sweeten the deal, Helix includes two of its best pillows with purchase. Shipping is free, as are returns within the 100-night trial period. A 15-year warranty applies, as well. Notably, there's no option to upgrade to white glove delivery, which comes standard with other premium models like the Saatva Classic mattress and the Tempur-Pedic Tempur-Adapt mattress.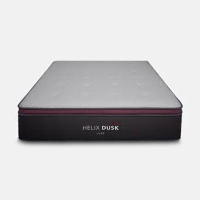 View the Helix Dusk Luxe from $1,099 at Helix
This hybrid is made just for front and back sleepers, with multiple foam layers and zoned coils that produce a medium feel for balanced comfort and support. It's often on sale at a 20% discount, bringing the price of a queen to $1,899. It includes a 100-night trial, a 15-year warranty, and two free pillows.
Helix Dusk Luxe mattress review: design
A 13.5-inch hybrid mattress with six layers
Upgrade to a GlacioTex Cooling Cover for an extra fee
Features zoned coils and three types of comfort foam
The six-layer Helix Dusk Luxe is anchored by a base layer of DuraDense foam that aids in durability and stability. That's followed by a layer of 1,000 individually wrapped coils, which are reinforced around the perimeter and mid-section for stronger support along the edges and lumbar, respectively.
The next three layers feature various types of foam. Directly above the coils is a memory foam layer designed to adapt to your body weight. Following that is a layer of Helix Dynamic Foam, which is a latex-foam hybrid that's designed to provide medium-level support for back and front sleepers. The topmost foam layer also has a medium feel and is meant to cradle the contours of your body.
The Helix Dusk Luxe comes standard with a soft, breathable Tencel cover. Hot sleepers can pay extra for a GlacioTex Cooling Cover, which is designed to pull more heat away from your body while maintaining a cool-to-touch sensation.
All of Helix's hybrid mattresses are manufactured at its Arizona factory using CertiPUR-US-certified foams that are free from harmful chemicals. They're also GREENGUARD Gold Certified, ensuring they're low in the volatile organic compounds (VOCs) that contribute to off-gassing. Instead of fiberglass, Helix uses a Rayon barrier woven with fire-retardant yarn.
Helix Dusk Luxe mattress review: support and comfort
A medium mattress with a 6 out of 10 firmness rating
Super supportive for back and stomach sleepers
Not enough pressure relief for side sleepers
For our main tester – a back and stomach sleeper who's 5ft5in tall and weighs 170lbs – the Helix Dusk Luxe Mattress is one of the most comfortable mattresses she's ever tried. Side sleepers should steer clear of this mattress as it doesn't offer enough give in the hip area to be comfortable. A secondary tester, who's 5ft7in and 135lbs, agrees with our lead reviewer that the Dusk Luxe is much more suited for front/back sleeping, as the brand advertises.
In terms of firmness, we'd rate it at a 6 out of 10 on a firmness scale, which aligns with the higher end of Helix's self-assessment (5-6). Your body won't sink in too much, but just enough that you'll feel the responsive foam contouring slightly around your body with cushioned support along your knees, shoulders, and hips.
To further test the Helix Dusk Luxe's pressure relief, we placed a 20lb. weight in the center of the mattress. It sunk about half an inch. Again, this will better suit front and back sleepers who want some contouring while maintaining a medium level of support. Side sleepers will fare better with the Helix Midnight mattress, which offers more robust pressure relief.
Helix Dusk Luxe mattress review: performance
Minimal motion transfer
Average temperature regulation
Edge support is great along the sides
We tested a queen-size Helix Dusk Luxe mattress for three weeks. Our lead reviewer evaluated its motion isolation, edge support, and heat retention by sleeping on the mattress and doing a series of tests that involved dumbbell weights and feedback from other people.
Motion isolation
People with fidgety partners don't want to be awoken in the middle of the night, which is why motion isolation is included as a part of our mattress methodology.
We observed the motion isolation of the Helix Dusk Luxe by placing an empty wine glass in the middle of the mattress and dropping a 20lb. weight from 4, 10, and 25 inches away. The wine glass swayed when we dropped the dumbbell from 10 and 25 inches away. From four inches away, the wine glass toppled over sometimes, but other times it wobbled before righting itself.
Our lead reviewer was also able to test this aspect by sharing the bed with someone else. When the other person was getting in and out of the bed, they barely felt them moving. However, the motion transfer was about average when the person moved from their back to their stomach, or vice versa.
The motion transfer for the Helix Dusk Luxe is good and should satisfy many customers, but if you're sharing a bed with an extremely restless partner, the best memory foam mattresses will do a better job of absorbing movements than a hybrid such as this one.
Score: 4 out of 5
Temperature regulation
The Helix Dusk Luxe retained more heat than we expected; however, it's not the worst our tester has experienced. For reference, our lead tester does not identify as a hot sleeper.
While the hybrid design did well against 80-degree nights during the three-week testing period, there were moments when our tester felt like the breathability of the mattress was average. Although her comforter was light, some nights, our tester could only sleep with a sheet, even with the A/C set at 76F and the fan on.
The quilted Tencel cover is soft but not cool to the touch. There is the option to upgrade to a GlacioTex Cooling Cover, which claims to have a soothing sensation while effectively drawing heat away from your body. If you tend to overheat at night, consider paying extra for the GlacioTex upgrade, or invest in a specialty cooling mattress instead.
Score: 3.5 out of 5
Edge support
When we set a 20-lb. dumbbell along the edges of this mattress, it sunk about half an inch, which matches the sinkage in the middle of the bed. (Ideally, the sinkage of edges should be less than or equal to that in the center of the mattress.)
Despite reinforced coils along the perimeter, it was clear in our testing that the sides of the mattress are more reinforced and supportive than the foot of the bed or the corners. Our tester felt completely supported getting in and out of the bed and never thought she'd roll off when sleeping near the side. When sitting on a corner, she tended to slip off and sink much lower when sitting at the foot of the bed.
Score: 4 out of 5
Helix Dusk Luxe mattress review: Delivery and setup
Mattress comes vacuum-sealed, rolled, and boxed
Free FedEx shipping, but no White Glove delivery option
Slight off-gassing smell at first
Helix ships its Helix Dusk Luxe mattress for free via FedEx. White Glove service is not available so you'll want to ask for help if you're unable to maneuver the setup process alone. (A queen Dusk Luxe weighs 115lbs.)
The mattress arrives rolled up and vacuum sealed. At least in terms of a queen, it can be easily moved from the porch to the bedroom by one person. But again – if you have mobility issues, have a friend or family member assist you.
Removing the mattress from the box was easier than most since it only required cutting the tape, resulting in the cardboard box springing open. We appreciated the lack of glue or staples along the edges, which can make removing a mattress more difficult.
Both the mattress and the free pillows expanded fully in about 15 minutes. Helix suggests waiting about two hours for the mattress to expand. Our tester slept on it that night.
There was a slight off-gassing smell from the mattress and the pillows when removed from their plastic, but it went away almost immediately. However, your experience will vary based on how large your room is, as well as how long you wait to unbox your mattress.
Helix Dusk Luxe mattress review: customer reviews
Rated 4.5 out of 5 stars from nearly 1,200 reviews (September 2023)
Lots of praise for overall comfort and pain relief
Opinions are split on temperature regulation
The Helix Dusk Luxe is only available through the Helix website. The average user review rating is 4.5 out of 5 stars from over 1,185 reviews as of September 2023. Reviews can be filtered by star rating and through a keyword search. It appears that all the reviews on the Helix Dusk Luxe page are specifically for this mattress.
Customers rave over the comfort of this mattress, pointing out that for something that's so supportive, it's also very soft. Many back sleepers commented that after sleeping on a Helix Dusk Luxe, their back pain disappeared.
When we searched through one-, two-, and three-star ratings, we were surprised that some self-identified side sleepers had ordered the mattress and found it uncomfortable. The mattress is clearly described as being designed for back and stomach sleepers so it's a bit peculiar that a side sleeper would order it.
There were a few negative comments about the mattress being too soft or too firm, though this is expected of many mattresses that fall within the medium- to medium-firm range such as the Helix Dusk Luxe. Out of all of the reviews, over a dozen noted that the mattress began to sag over time. These reviews seem like outliers and if it should happen to a buyer, the warranty would likely cover the obvious defect.
Opinions are split on the temperature-regulating properties of the Dusk Luxe. Some sleepers say it's comfortable while others complain that it traps heat, even with the addition of the upgraded cooling cover.
Should you buy the Helix Dusk Luxe mattress?
The Helix Dusk Luxe is a luxury mattress that's well worth the price if you like to sleep on your front or back. You'll experience a bouncy, cloud-like feel that cushions the body without letting it sink. Its medium feel provides just enough support and pressure relief, and it does an exceptional job of keeping everything aligned.
That said, the Dusk Luxe is not a mattress for side sleepers – naturally, that's not the target audience here. It may not be the ideal mattress for hot sleepers, either, though keep in mind our reviewer tested it out during one of the hottest times in Texas in recorded history. With the GlacioTex Cooling Cover upgrade, it might have fared better in this area.
The sides of the mattress are supportive but the foot of the bed may not be as reinforced – a heads up if you're inclined to sit there when getting dressed or putting on your shoes in the morning. Meanwhile, you're unlikely to feel a partner get in and out of bed but you may feel their movements when they change positions at night. If you share a bed with a restless sleep partner, the DreamCloud mattress may be a better choice as it boasts some of the best motion isolation we've seen from a hybrid.
Overall, the Helix Dusk Luxe is an exceptional mattress for stomach sleepers and back sleepers who want to feel equal parts relief and support. A 100-night trial allows you plenty of time to try it out before making a final decision.
Helix Dusk Luxe mattress review: Alternatives to consider
Saatva Memory Foam Hybrid
If you'd like a firmer option, go for Saatvas Memory Foam Hybrid option. As we explain in our Saatva Memory Foam Hybrid review it's great for all kinds of sleepers and does well in terms of breathability and edge support. It's also more affordable than the Helix Dusk Luxe, with a queen retailing for $1,795. (However, we see Saatva mattress sales often.)
In we explain in our GhostBed Luxe mattress review hot sleepers will find a respite in the GhostBed Luxe, one of the 'coolest' mattresses on the market. It's not a great choice for back sleepers, but well suited to side sleepers and those with fidgety partners. The MSRP is thankfully offset by an evergreen 50% discount that drops the price of a queen to $1,598.
Tuft & Needle Mint Hybrid
As Tuft & Needle's most expensive mattress, the Mint Hybrid mattress serves up great cooling technology and is a top choice for side sleepers thanks to its excellent pressure relief. It's not usually on sale like the Helix Dusk Luxe – a queen retails for $1,995 – but time your purchase right and you may be able to save some cash. Our Tuft & Needle Mint Hybrid mattress review contains our latest test data.