Note: This brand is having some issues at the moment, and there are reports of customers not receiving their orders. Proceed with caution if considering buying from Brook + Wilde – check the company's TrustPilot page for the latest customer comments.
Brook + Wilde Lux mattress review in brief
A luxury mattress for a reasonable price
Delivers consistent back support
Now only available in medium firmness (previously 3 options)
The Brook + Wilde Lux mattress is a 26cm deep, five layer memory foam and pocket coil model designed to relieve pressure across your body during sleep. It's the most affordable model from the luxury sleep specialist. When we reviewed it, you could choose from three different firmness levels, but as of autumn 2022 you can now only opt for a medium firmness (you can still pick your firmness with the other beds in the range).
One of the big attractions with the Brook + Wilde Lux is that even though it's a luxury model, it's reasonably priced (£949 for a double size), and you can often pick one up for much less than that. So if you're searching for the best mattress for deeper, more comfortable sleep and all without paying the earth, the Brook + Wilde Lux is worth your time.
For this review we slept on a double size medium firmness Lux mattress for around five weeks and found it extremely comfortable. Even though it's the entry-level option in Brook + Wilde's four-strong range of mattresses in a box, there's nothing 'budget' about the design or performance of The Lux.
Brook + Wilde Lux mattress specs
Best for: Side and back sleepers
Type: Mattress in a box
Trial: 200 nights
Guarantee: 10 years
Firmness: Medium (5/10)
Materials: Memory foam, pocket springs
Depth: 26cm
Sizes: Single, double, king, super king
The Lux medium is rated 5 on the firmness scale (with 1 being as soft as a marshmallow and 10 being as hard as a plank of wood) and, because it hits that sweet spot between comfort and support, we think it would suit back, side and combi sleepers the most.
The Brook + Wilde Lux mattress comes with a 200-night risk-free trial period, plus free delivery to your home and a 10-year warranty. There's also free setup of the mattress in your bedroom of choice, and you can also choose to have your old mattress removed at the same time. This saves you having to learn how to dispose of a mattress.
During our review process, we found the Lux medium to be a particularly comfortable mattress for side sleepers and for combination sleepers who change position regularly throughout the night. This is in no small part due to the Wave Technology layer, which uses different levels of support throughout The Lux to provide the right levels of pressure relief where it's needed. We feel it's a good choice for couples too. How come? Because it has just the right combination of support and 'sink' to keep motion transfer to a minimum.
The Brook + Wilde Lux is finished to a high standard, with a lot of attention to detail. For example, the built-in handles make it easy for one person to move about, and all the packaging is recyclable. In fact, the brand works under a zero waste to landfill policy, meaning none of its materials or products ever reach landfill.
There are a few potential drawbacks to be aware of. We're sad that the option to pick your firmness preference has been removed, and the cover isn't removable for washing (both of these are remedied in the Elite, which is the model up in terms of price). There's also no small double / queen size option, and delivery times are longer than most bed-in-a-box brands – we're talking weeks rather than days. Those are minor points though, and overall we loved sleeping on the Brook + Wilde Lux and would recommend it to most sleepers seeking comfort and support from a luxury mattress for less.
Brook + Wilde Lux Mattress review: materials
Five-layer hybrid mattress
Made with a cooling cover
Over 1,000 springs provide bounce and push-back
The Lux mattress is made up of five layers, starting with a soft and breathable two-tone cover. The cooling effects of the cover are backed up by a layer of cooling memory foam, designed to mould to your body and to help eliminate motion transfer. Overheating can be a real issue with modern mattresses in a box, but, from our testing experience (see the Performance section), Brook + Wilde has worked hard to avoid this issue.
Next up is a layer housing the brand's own Wave Technology, which adds differing levels of support along its surface to aid spinal alignment. Underneath this you'll find 1,000 135mm pocket springs, providing a little bounce and adding push back to make it easy to change sleep position through the night.
The Brook + Wilde Lux mattress is finished with a base made from specialised support foam, designed to bolster structure and solidity. All foams used in Brook + Wilde mattresses are also CertiPUR-certified, meaning they are free of toxins and other nasties. You can read more about CertiPUR foams in our best organic mattress guide.
Brook + Wilde Lux Mattress review: prices and deals
Regularly discounted by up to 50%
Competitively priced for a luxury hybrid
A double size often costs around £500 on sale
The Lux mattress is Brook + Wilde's entry-level offering, but it still has all the hallmarks of a luxury mattress. RRPs were bumped up by around £50 on all sizes in November 2022, but at £949 RRP for a double size, the Lux remains much cheaper than many of its rivals such as the DreamCloud (RRP £1,249 for a double) and the Eve Premium (RRP £979 for a double), though, as we explain in our Eve Premium Hybrid mattress review, that is a very well made hybrid with near-perfect comfort and support, just like The Lux.
Here's the official pricing for the Brook + Wilde Lux mattress:
Single: RRP £749
Double: RRP £949
King: RRP £1049
Super King: RRP £1,149
As mentioned earlier in our review, Brook + Wilde runs regular mattress sales to lower the cost of its entire range, and we regularly see discounts of up to 45% or more off when you spend over £500. There are also regular offers of free luxury bedding bundles (usually pillows and duvets), and these can often be worth several hundred pounds, depending on the mattress you buy.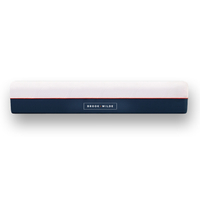 See The Lux from £749 at Brook + Wilde
The Brook + Wilde Lux is a fantastic choice for anyone who isn't sure how firm they want or need their mattress to be. You'll have 200 nights to trial it to make sure it's right for you. There's free premium delivery and a 10-year guarantee.
Brook + Wilde Lux Mattress review: firmness and comfort
Zoned Wave Technology for better spinal alignment
A perfect balance of cushioning, bounce and support
The medium firmness Lux mattress is described by Brook + Wilde as the 'happy medium' because it should suit most sleepers. Our main testers found The Lux to be extremely comfortable in a variety of sleeping positions. In particular, during the review period we felt the medium firmness was ideally suited to side, back and combination sleepers. It provided gentle cushioning to support and contour the body, combined with bounce from the springs to prevent us from feeling engulfed by the mattress.
Our lead reviewer and members of our testing panel were all of a light to average weight – if you're a heavier weight sleeper, you might prefer a firmer option, while those who like a softer 'hug' from their mattress, might want something softer. If you like the look of this brand, you could upgrade to the Elite, which is still available in three firmness options.
The Brook + Wilde Lux does a good job of keeping sleepers cool at night as well, with both a cooling top cover and breathable memory foam underneath it. Of course, foam is never going to be the coolest of materials, but the Lux is surprisingly good at dissipating heat. And if you sleep cold, all Brook + Wilde mattresses can be safely used with an electric blanket. Overall, The Lux mattress provided us with a consistently comfortable night's sleep.
Brook + Wilde Lux Mattress review: performance
Minimal motion transfer (good for couples)
Good edge support, giving a wider sleep surface
Longer delivery times, but free setup in your room of choice
We tested Brook + Wilde's The Lux in a double size for around five weeks before writing our review. We tested it in all major areas of performance, rating it on pressure relief, motion isolation, edge support, cooling, and ease of setup. Durability is hard to comment on for such a short review time, but we were impressed with the quality of the materials used in The Lux.
Setup
Score: 5 out of 5
Brook + Wilde offers a free White Glove Delivery service. That means our Lux review sample was taken into our bedroom, unboxed and placed on our testing bed frame. Once on the bed, the mattress is easy to move around by one person, although you don't actually need to rotate it at all. The Lux weighs 27kg for a single size, up to 49kg for a super king, and there are handles on each side of the mattress to make it easier to manoeuvre.
The delivery drivers will dispose of the box for you too, and we also like how all of the packaging is recyclable – and that said packaging is kept to a minimum. You can also arrange to have your old mattress picked up and taken for recycling at the same time.
Brook + Wilde recommends leaving The Lux for around four hours before sleeping on it, though it can take up to 72 hours for the mattress to fully inflate. By comparison, during our Emma Mattress review period we found that the Emma Original took around 12 hours to fully inflate, while the Nectar (read our Nectar Mattress review) took up to 48 hours.
You can use any bed base for the Lux, but because it's 26cm tall, make sure your base can cope with a deeper mattress.
Off-gassing
Score: 3.5 out of 5
Unfortunately this was The Lux's weakest point. Although the initial smell in the room dissipated fairly quickly, that tell-tale new mattress lingered when we lay on the mattress for several days. It wasn't a strong smell and it certainly didn't stop us from enjoying our sleep, but it was definitely there and is something that buyers should be aware of. The Nectar Mattress had a stronger off-gassing stench, while the Simba Hybrid had less of a smell than The Lux – read our Simba Hybrid mattress review for more on that.
As we explain in our feature on what is mattress off-gassing, these smells come from new foams being vacuum packed and do not come from any chemicals. The Brook + Wilde Lux is made from CertiPUR approved foams created without mercury, lead and other heavy metals, or carcinogenic chemicals and phthalates.
Pressure relief
Score: 5 out of 5
When we tested the Lux, it was available in three different firmness ratings – soft, medium and firm. It's now only available in medium, although you can still pick your firmness on the pricier Brook + Wilde mattresses.
We tested the medium, which Brook + Wilde rates as a 5 out of 10 on the firmness scale. It's certainly softer to sit on than many other medium firmness rated mattresses we have tested; a fact borne out by our 20kg weight sinkage test. When placed in the middle of the bed, the 20kg weight caused the mattress to sink by around 8 inches. However, there was less sinkage of around 6 inches at the edge of the bed, showing that the edge support is strong here (we'll explain this in more detail shortly).
The softer feel of this foam translates well to sleep comfort. The Lux mattress actually feels firmer when you're lying down (as opposed to sitting) on the bed, but you can feel the foam supporting and 'hugging' pressure points – particularly around the shoulders and hips when you lie on your side.
Based on our testing experience, back sleepers should find that the Brook + Wilde Lux is an excellent choice for neutral spinal alignment too, and we spotted many reviews from customers with back and neck pain reporting an improvement in their sleep. We'd recommend going for something firmer if you're a stomach sleeper though, as we think the foam in the medium is a little soft to support the head properly in this position.
The DreamCloud is a good alternative if you want slightly softer foam coupled with resilient springs, and you can learn more about the model in our DreamCloud Luxury Hybrid mattress review.
Motion transfer
Score: 4.5 out of 5
We think the Brook + Wilde Lux is a superb choice for couples as the motion isolation is so good, you'll barely notice you are sharing a bed. The deep layer of memory foam, supported by Brook + Wilde's Wave Technology and pocket springs, means that any movement is easily absorbed, with no disruption to the other sleeper in the bed. Our review panel put the motion isolation skills of the Lux to the test with sleepers of various body weights and heights, and by moving around, getting up and sitting down on either side of the mattress. You can learn more about this in our mattress methodology.
As well as through physical testing, we also tested the motion transfer of the Brook + Wilde Lux with a series of drop tests. To begin, we placed an empty wine glass on the bed and dropped a 6kg weight onto the mattress at various distance intervals from the glass.
The wine glass only started to wobble when we dropped the weight 10 inches from the glass, and it didn't fall over completely until the weight was dropped a mere 5 inches from the glass. Even at 5 inches we had to raise the weight fairly high to get the glass to fall over. So if you or your partner are restless sleepers, the Lux could be the restful sleeping space you've been looking for.
Edge support
Score: 4.5 out of 5
We tested the edge support of the Lux mattress using our 20kg weight, alongside members of our testing panel. We noticed that the weight actually sank a little less at the edges (6 inches compared to 8 inches in the centre), meaning that the Lux has excellent reinforced edge support. We certainly didn't feel there was any danger of the weight sliding off the bed, as the sinkage from the foam kept it firmly in place.
Sitting on the edge of the bed is extremely comfortable – providing you enjoy quite a deep sink into the foam. And, if you're sharing a bed with a partner, the edge support means that you can comfortably sleep across the entire width and length of the mattress, without feeling as if you're losing any support.
Temperature regulation
Score: 4 out of 5
We tested the Brook + Wilde mattress with a winter duvet (tog rating 10.5) and a thick fake fur throw. One side of the bed also had an electric blanket turned on for our cold sleeper, who reported feeling snug and comfortable all night without overheating. Our lead reviewer sleeps fairly hot but reported that they maintained a comfortable temperature throughout the night when sleeping on The Lux.
This is largely down to the way the mattress is designed to promote airflow through all five layers. A cooling top cover is combined with breathable and cooling memory foam, and pocket springs that are spaced to encourage airflow between them. However, we would point out that The Lux isn't infused with any cooling substances such as gel beads or copper, so if you sleep particularly hot, it may not be cooling enough for your requirements. In that instance, we'd recommend one of the best cooling mattresses instead if you want the ultimate in temperature regulation.
Durability
Score: 4.5 out of 5
This would have been a top score were it not for the fact that the Lux's cover isn't removeable or washable. Instead you can only gently sponge clean it (spot clean). Therefore it's vital that you invest in the best mattress protector you can afford to keep The Lux safe from spills, stains and bacteria. The better you care for it from day one, the longer it will last you (learn how long does a mattress last).
When the mattress had a hand pressed on it and removed the foam sprang back into place almost instantaneously. Even the 20kg weight only left a slight depression for a matter of seconds. This is a positive sign for longevity, but we only tested the mattress for around five weeks so it's hard to comment on long-term durability. However, after analysing user reviews (see below), and going on the high quality of the materials used, combined with the springiness of the foam, we feel the Brook + Wilde Lux will last for the long-term. It also comes with a 10 year guarantee for peace of mind.
Brook + Wilde Lux Mattress: User reviews
There are no reviews on the Brook + Wilde website, and that's the only place you can purchase these beds. As a brand, Brook + Wilde scores on average 4.8 out of 5 stars over 1,800 reviews on Trustpilot. While these reviews refer to all products available from Brook + Wilde, it paints a very positive picture, with plenty of praise for the luxury feel of the products, as well as for the free White Glove Delivery service.
As with any mattress, not all user reviews of the Brook + Wilde Lux were positive. There were some complaints about delivery times, and others complained that it took too long for a refund to be issued after they'd returned their mattress. A few customers also felt that the Lux started to sag after a few weeks of use (this could, of course, be down to a faulty mattress). As we've noted in our off-gassing section, the stronger smell from this mattress was also an issue for some customers.
Should you buy the Brook + Wilde Lux Mattress?
If you want a mattress with various firmness options so that you can better tweak it to your unique sleep needs, then the Brook + Wilde Lux is an excellent choice. We think it'll work for all sleeping styles, although from testing we would say it's particularly well suited to back, side and combination sleepers. Overall, we feel that the Lux has a softer feel compared to other hybrids we've tested and that's down to such a plush layer of memory foam. That said, it's still extremely supportive and the 'hug' of the foam does a wonderful job of easing aches and pains.
The Brook + Wilde Lux mattress is finished to a high standard, and we feel it delivers a comfortable night's sleep where you'll feel cosy and supported without overheating. For a slice of hotel luxury in your own bedroom, the Lux is a great choice.
If you like the sound of that but you're based in the States, then read our Saatva Classic mattress review instead for a luxury innerspring hybrid that comes in three firmness levels and that boasts excellent back support.
Read more: