Adding a good memory foam mattress topper to your bed is a quick and budget-friendly way to add that body-contouring, soothing foam feel to an innerspring mattress. An all-foam topper is also useful for softening up a too-firm bed, masking a bumpy sleep surface, or otherwise breathing new life into a tired old mattress without shelling out to upgrade the whole thing.
As with the best mattresses, there are a plethora of foam mattress toppers out there, so we've put together this buying guide to help you find the best one for your preferences and budget. We've either tested our selections ourselves, or researched them thoroughly – including combing through other customers' reviews – and would confidently recommend any of them.
Mattress toppers come in a variety of materials, and if you're not fixed on foam, then head to our general roundup of the best mattress toppers, which also includes latex and synthetic stuffing options. Of course, if your current bed is sagging and painful to sleep on, no topper will save it and we would recommend purchasing a new mattress instead. If you like all-foam beds, take a look at our guide to this year's top-rated memory foam mattresses. For now, here are our recommendations for the best memory foam mattress toppers at a range of budgets...
Best memory foam mattress topper overall
The Casper Comfy Mattress Topper is the best memory foam mattress topper overall. This three-inch thick topper is made up of two different mattress foams; at the top is a plush panel of memory foam, and below that is a layer of base foam. Both layers are wrapped in a smart grey knit cover.
We were extremely impressed with this topper when we tested it out. The sleep surface cradles your body and offers excellent pressure relief, but it's still responsive enough that you can still move around easily. This plush cushioning is perfect for side sleepers, who need softness around their hips and shoulders in this position. Both layers of foam are perforated to help disperse heat, and our tester found the temperature regulation very effective here.
Any downsides to be aware of? While our main tester found this topper comfortable in all sleep positions, their preference is for a softer bed, and in general we'd recommend something slightly firmer for those who like to sleep on their stomach or back, or heavier individuals. It's also slightly annoying that while the cover is removable, Casper doesn't recommend machine washing it – officially, it's spot clean only. The lack of straps mean you're relying on gravity to anchor it to your bed, too (we'd recommend adding a mattress protector or fitted sheet to help keep it in place).
If you're not sure about investing, be aware this topper comes with a 30-night sleep trial you can use to make sure it's right for you. It's not the longest trial on our list, but some toppers don't come with a trial at all. Price-wise, this sits in the upper mid-range market and offers excellent build quality and value for what you're paying. If you have cash to splash and want something more luxurious, definitely check out the Tempur-Pedic option (#2), or for something a bit cheaper, with a cover that is machine washable, consider the Sleep Innovations option at #3. Or hold out for a Casper deal or sale to take the price down.
Best premium memory foam mattress topper
The Tempur-Pedic topper is the kind of premium option you'd expect from the brand known for making some of the best luxury mattresses around. It's not cheap, but it is the most affordable way to inject some Tempur magic into your room. The plush memory foam (called 'Tempur Material') molds to the sleeper's shape, offering outstanding pressure relief and soothing cushioning. The softer feel is perfect for side sleepers and those looking to make their bed a little more plush, but stomach and some back sleepers might find it unsupportive.
Tempur Material is meant to regulate temperature, but our main tester woke up slightly warm some mornings (we had the same issue in our Tempur-Adapt mattress review). If you are a chronically hot sleeper, check out the Saatva (#4) instead, or if you're set on Tempur, consider adding the specialist cooling cover upgrade. Either way, you'll be able to remove the cover and pop it into the washing machine for easy cleaning.
Customer feedback for the Tempur-Pedic Tempur-Adapt mattress topper is overwhelmingly positive, with nearly three-quarters of its 5,400+ verified user reviews earning a perfect 5 stars. Fans of the Tempur-Adapt topper credit it for easing (or eliminating) their aches and pains, and those who upgraded to the cooling version found it effective in keeping them comfortably dry. Those who didn't get on well with this topper said it's too soft, and some claim it slides around on their bed. (Ours did not slide at all, thanks to its corner elastic straps.)
One disappointing thing given the higher price, is that this topper doesn't come with a trial period, and it's also the only model on this list (as far as we can see) that doesn't allow returns unless there's a fault. As a result, it's a bit of a risk if you're not already familiar with how Tempur Material feels. Our top tip is to keep an eye out for a deal – there are semi-regular Tempur-Pedic mattress sales that knock 40% off MSRP on this topper, which makes it a lot more affordable.
Best memory foam mattress topper under $150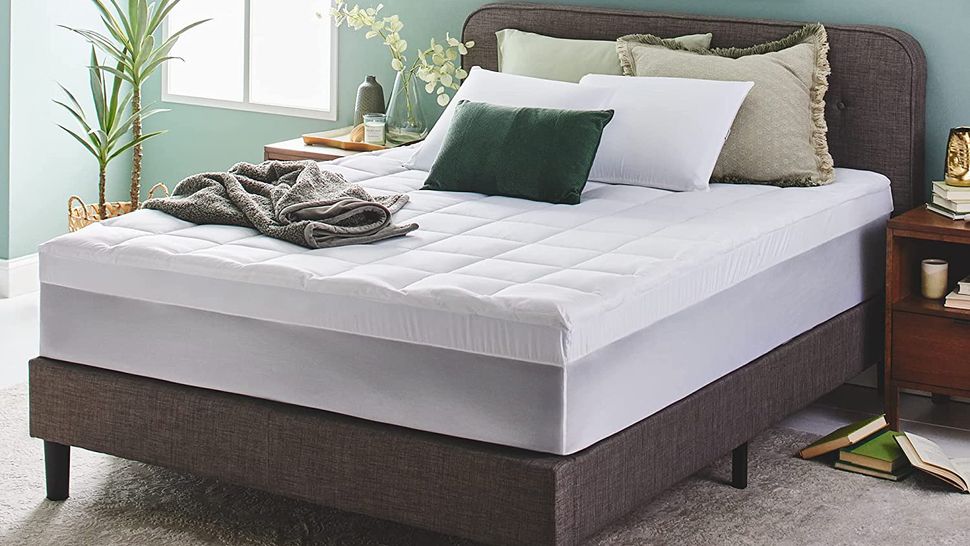 The fanciest memory foam toppers can cost as much as a cheap mattress, but if you're looking for a cost-effective way to instantly upgrade your bed, consider the Sleep Innovations Gel Memory Foam Mattress Topper. Its dual-layer design features a 2-inch soft quilted pillow top (which is machine washable!) and two inches of cooling gel memory foam for a plush feel that's comfortable to sleep on.
The foam and stuffing combine to provide dreamy cushioning and pressure relief that'll be particularly welcome if you struggle with achy joints, or have a too-hard mattress that needs softening up. However, some sleepers might fine that softness combined with the tall profile (4 inches, matching the thickest options on this list) makes for a sleep surface that feels too unstable. In particular, stomach and back sleepers might want something firmer or thinner to keep their hips properly supported (the Viscosoft #5 would be a good alternative).
You can't buy direct from Viscosoft so you'll have to purchase via Amazon or Walmart, which could complicate things when it comes to aftercare. There's no trial (which isn't particularly surprising at this price) but there is a 10-year warranty.
User reviews are overwhelmingly positive – this topper has a 4.4/5 average over 29k review on Amazon, and 4.4/5 over ~500 reviews on Walmart (June 2023). Those who like it say it's got the right amount of softness and some even claim it's helped reduce their pain. Less enthusiastic customers comments say it's too soft, and it will lose its shape quickly.
Generally, you can expect better quality and longevity from pricier options, so if you can stretch to a mid-range option like the Casper (#1), it might pay off in the longer term. If this model is too expensive, head to #6 for our top pick at under $100 for a queen size, or best cheap mattress topper under $50 guide for some ultra-budget options. However, if you're looking for a good quality memory foam topper that won't break the bank and offers excellent value for money, this Sleep Innovations topper is hard to beat.
Best memory foam topper for hot sleepers
The best memory foam mattress topper for hot sleepers is the Saatva Graphite topper. Memory foam can have a habit of trapping body heat, which means it's not always the best choice for those who naturally run warm. However, this graphite-infused topper is designed with temperature regulation in mind, and delivers on those promises. During our review period, our tester slept quite comfortably on this topper regardless of what the weather was doing, and found it offered an experience on par with some of the best cooling mattresses they'd tested. The organic cotton cover is naturally breathable, although we do wish it was machine-washable rather than spot-clean only.
The sleep feel is medium (around a 6/10 in terms of firmness) and while we found it comfortable in all sleep positions, we felt most at ease resting on our backs – especially our primary tester, who was dealing with a lower back injury at the time.
This is the priciest topper on our list, and for that higher price you can expect excellent build quality and materials (Saatva also makes our top-rated mattress – the Saatva Classic). If you like the brand but want something more affordable, check out our Saatva Memory Foam topper review – this one is less than half the price, although also much thinner at 1.5". Or keep your fingers crossed for a Saatva mattress sale to take the price down.
Unlike the similarly priced Tempur-Pedic (#2), it comes with a generous sleep trial you can use to make sure it's the right choice for you. It's not all great news, though, because the warranty is bafflingly short. Nevertheless, if having a cool place to sleep is a priority (and you're willing to spend a little extra to get there), the Saatva Graphite could well be worth the investment.
Best firm memory foam mattress topper
If you have a too-soft mattress, the best memory foam mattress topper for you comes from Viscosoft. This medium-firm topper contains two different layers of foam, and offers some subtle cradling on the joints rather than a full memory foam 'hug' sensation. This stable cushioning may be just what you're looking for if you're a back sleeper (or even a front sleeper) who needs support along the lumbar to keep everything properly aligned. During our testing period we were impressed with how this topper distributed our reviewer's body weight evenly.
As the name suggests, the Viscosoft Active Cooling Mattress Topper is also designed to relieve hot sleepers. Our testers were pretty impressed with this topper's temperature regulation properties. While we had no issues with overheating, for maximum cooling consider shelling out for the Saatva at #4.
Other customer reviews are equally enthusiastic about this topper's supportive sleep feel, although some found it look a little while to adjust to it. Some customers claim that it's resolved their lower back or hip pain. Reactions are mixed when it comes to this topper's cooling properties, however.
At full MSRP this Viscosoft topper is pricey, but there seems to be a permanent discount that makes it more affordable than the MSRP would suggest. A 5-year warranty applies. And if you're keen on coordinating your topper to match the aesthetic of your room, this is the only topper that's also available in a black colorway.
Best memory foam mattress topper under $100
If you're on a tight budget, and just want to add to softness to a too-firm mattress, take a look at this Lucid Gel Memory Foam option. At 4 inches tall, this topper is thick enough to mask all manner of lumps and bumps beneath, and very squishy. It's best suited to side sleepers seeking extra cushioning and pressure relief along their shoulders and knees. Back and front sleepers are likely to find this topper uncomfortable and unsupportive. We'd also advise steering clear if you have any sort of lower back pain (pick something that's more supportive – the Viscosoft #5 would be ideal, although that is a fair bit pricier).
The Lucid topper is perforated and infused with cooling gel to stop it from too much trapping body heat (an issue with cheap memory foam). Our testers found it did a decent job at temperature regulation, although if you struggle with overheating at night, this might not work for you. Aside from those cooling additions, the design is about as basic as it comes – it's just a big old chunk of foam, with no cover and no straps to keep it in place (there is the option to add a cover, but this version was unavailable last time we checked).
The Lucid Gel Memory Foam Mattress Topper has a 4.4 average over ~30k reviews on Amazon (June 2023), although note that includes reviews of the version with the optional extra cover. Fans of this topper say it's like sleeping on a cloud, with many sleepers claiming it has helped reduce some of their aches and pains. However, some customers say it's too soft and they felt like they sank too much into it.

There are also question marks around its durability. Lucid includes a 3-year warranty but some Amazon reviews suggest it might not last that long with regular use. It's also pretty close in price to the Sleep Innovations (#3), which overall we'd say is a much better investment if you can stretch to the slightly higher price tag. Alternatively, for ultra-basic options, head to our best cheap mattress toppers under $50 guide.
How to choose the best memory foam mattress topper
When it comes to choosing the best memory foam mattress topper you'll want to pay mind to the following...
Firmness level
Depending on what you're looking to address with a mattress topper, you'll want to pick either a plush or firm one. The taller the bed topper, the softer it'll be.
A soft, plush topper is great for those who want to sink into bed at night and be cradled in support from all sides. Especially ideal for side sleepers, these types of mattress toppers aid in more pressure relief compared to firmer toppers.
However, for those who need more support during the night – particularly back and stomach sleepers – a firm topper will provide a more sturdy surface to promote spinal alignment.
Temperature regulation
If you're a hot sleeper, you'll want to choose a memory foam mattress topper that's ventilated to increase airflow. You can also opt for a foam topper that's infused with cooling elements to draw away heat – for instance, graphite, gel, or copper. Some memory foam mattress toppers include covers made from breathable materials to aid in cooling.
Cost
Purchasing a mattress topper is always going to be a more economical alternative to buying a new mattress outright. However, prices vary among bed toppers. For a short-term solution that'll tide you over until you're ready to buy a new mattress in a year or two, a budget-priced topper should suit just fine.
On the other hand, if you're hoping for a longer-term fix – for instance, you're a student who doesn't want to spend four years on an uncomfortable dorm cot – spending a little extra will go a long way in enjoying continuous nights of restful, quality sleep. (If you're wondering whether it's worth a proper upgrade, our ranking of the best mattresses for college students has plenty of budget-friendly picks.)
What's the difference between foam and memory foam mattress toppers?
At first glance, you may think that all foam toppers are memory foam but that's not the case — even though they may look similar.
Unlike traditional foam, memory foam has more density and viscosity. It creates a 'hug-like' feel that cradles the body at every point for ideal pressure relief and comfort that traditional foam doesn't do in the same way. Additionally, memory foam springs back into shape a lot quicker than regular foam.
Memory foam is typically more expensive than its standard foam counterparts because of these properties, but there are affordable options available at many online retailers to browse and shop. You'll find them discounted during year-long mattress sales.
Read more: