Eve Premium Hybrid mattress: Review in brief
A well-made and durable hybrid mattress
Good temperature regulation for hot sleepers
Motion isolation could be better for this price
The Eve Premium Hybrid is the most expensive model in Eve Sleep's six-strong range of memory foam and hybrid mattresses, and sits high up in our best mattress guide as a top pick for hot sleepers. It's hailed as a luxury coil and foam mattress to suit all sleeping positions, which is a bold statement. We've been sleeping on a double size medium-firm Eve Premium Hybrid for over three weeks to put these claims to the test – and we haven't been disappointed.
The first thing we noticed about this mattress in a box is how well made it is. Compared to other foam and hybrid models we've tested for Tom's Guide, the Eve Premium Hybrid stands out in terms of build quality. It's packed with luxury mattress materials, including heat-dispersing foam and 1,4000 full size pocket springs for better support. The plush quilted top also looks more opulent than competitor models, with the exception being the DreamCloud and its deeply quilted cover (read our DreamCloud Luxury Hybrid mattress review for more on that model).
The downside to all those luxury materials? The Eve Premium Hybrid is a very heavy mattress. It took two of us to carry a boxed double size up a flight of stairs, and it didn't get much better once the mattress was fully inflated – moving this beast around on your own breaks a sweat, so you'll need back-up for anything larger than a double.
At a glance: Eve Premium Hybrid
Best for: All sleep positions; hot sleepers; luxury mattress fans
Type: Mattress in a box
Trial: 365 nights
Guarantee: 10 years
Firmness: Medium (6/10)
Materials: Memory foam, Floatfoam, springs
Depth: 28cm
Sizes: double, king, super king
The Eve Premium Hybrid has an RRP starting from £978, which is a reasonable price for a mattress of this quality. For comparison, Simba's popular hybrid costs £999 for a double size (read our Simba Hybrid mattress review), while the DreamCloud has an RRP of £1,249 for a double. All three brands offer regular mattress sales to lower the price though. Nectar Sleep, another competitor brand, also makes hybrid mattresses, with RRPs ranging from £879 to £979 for a double; so both cheaper than the Eve Premium Hybrid.
Eve Sleep has increased its trial period to 365 nights, meaning it now competes with the likes of Nectar Sleep and DreamCloud, two brands owned by Resident Home. Eve also offers a 10-year guarantee on the Premium Hybrid, but that's pretty average for a bed-in-a-box, while the other two brands offer lifetime guarantees. There's free delivery too.
As mentioned earlier in our review, the Eve Premium Hybrid is made with foam and coils to better balance support with comfort, pressure relief and temperature regulation. It's made of five layers of foam and over 1,400 full-sized pocket coils, with an anti-slip base keeping everything in place. The hybrid is designed to provide a medium-firm feel, and we'd agree with this rating but would edge it closer to firm.
Our lead mattress reviewer for the Eve is a combi sleeper who switches between side sleeping and back sleeping, and usually she finds firmer mattresses to be too uncomfortable for side sleeping. However, the Eve Premium Hybrid surprised her with how comfortable it was in both positions, while the stomach sleepers on our testing panel also rated it for support and comfort. Could this really be a Goldilocks mattress? Yes, but with caveats…
Lighter weight side sleepers, unless they truly enjoy sleeping on top of a firmer mattress, won't enjoy the Eve Premium Hybrid. That was true of the 55kg side sleeper on our testing panel who woke up stiff and sore around the hips after a few night's on the mattress. We had another lighter weight person – 57kg or thereabouts – test the Eve and she said the same thing for side sleeping, but found it more enjoyable for back sleeping.
As with other hybrids we've tested, the Eve Premium Hybrid isn't the greatest at motion isolation. It isn't rock-you-awake noticeable, but when we paired couples up on the mattress and asked one person to move around on the bed while the other laid still, and vice versa, we all experienced some motion transfer. In our experience, memory foam mattresses are better at isolating motion, so if that feature is high on your list of must-haves, read our Emma Mattress review for the low-down on a much more affordable all-foam option that greatly cuts motion transfer.
We have hot sleepers on our review panel too, and none of them complained of overheating on the Eve Premium Mattress (learn what is a hybrid mattress and why they sleeper cooler). Our lead reviewer suffers from overheating during sleep, but she noticed how much less she was having to push off the duvet to find a bit of cooling relief. In short, this hybrid is excellent for temperature regulation. As an alternative, take a look at our Brook + Wilde Lux mattress review for another temperature regulating hybrid.
Overall, the Eve Premium Hybrid mattress is a comfortable, breathable and supportive hybrid that really does hit the spot for most body types in all sleeping positions. Lighter weight snoozers may want to think twice, but for everyone else craving a medium-firm bed that's on the slightly firmer side, and with the temperature-regulating clout to prevent overheating, the pressure-relieving Eve is one to try out at home. Just keep in mind what we said about motion transfer if you co-sleep with another.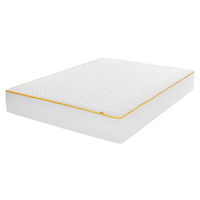 See the Eve Premium Hybrid from £978 at Eve Sleep
The Premium Hybrid is the most luxurious mattress in the Eve Sleep range, standing at 28cm tall and crafted using a mix of premium foams and coils. It doesn't dish out the contouring feel of an all-foam mattress, but it does reduce pressure points for a more comfortable sleep in any position. We encountered some motion transfer but nothing outrageous, while one of the biggest benefits was good temperature regulation. The trial is 365 nights too.
Eve Premium Hybrid mattress: Materials
Over 1,4000 coils for better support
Five layers of premium foam
Washable, antibacterial cover
From the start of our review process, we were impressed with the finish of the Eve Premium Hybrid. This mattress looks and feels premium, beginning with a quilted top cover that has silver strands woven into the fabric to make it antibacterial and antimicrobial. The cover is fully unzippable for removing and washing, but remember this is a very heavy mattress, so approach this with caution and ask for a friend or family member to help you.
Underneath the quilted cover is a layer of Eve Sleep's own floatfoam with active cooling, followed by a layer of contouring memory foam to hug your body and reduce pressure. Both layers are infused with graphite to draw away excess heat and help prevent overheating. It's a similar approach to what we see on the very best cooling mattresses. There's a support layer of firmer foam to keep your spine aligned, with foam casing dolloped on to protect the 1,400 pocket springs below and to ensure good edge support so that you don't tumble off in the night.
What about those springs? Each is a 12cm full-sized pocket spring that ensures the Eve Premium Hybrid mattress responds to your movements, and they also help boost breathability of the entire mattress. The boring yet essential bits are at the bottom: more foam casing to hold the hybrid together, plus an anti-slip coating on the base to stop it from sliding about on your bed frame.
Eve Premium Hybrid mattress: Price and deals
Expensive when not on sale
A double size costs £978
You can often get discounts of 35%
The Eve Premium Hybrid has a higher ticket price than some other popular hybrid mattresses, such as the Nectar Hybrid (RRP from £659 when not in the Nectar mattress sale) and the Simba Hybrid (RRP from £749 when not in the Simba mattress sale), yet marginally cheaper than other luxury hybrids such as the DreamCloud (RRP from £999 when not in the DreamCloud mattress sale).
The official sizes and prices for the Eve Premium Hybrid are as follows:
RRP double size - £978
RRP king size - £1,128
RRP super king size - £1,247
When included in the Eve mattress sales and deals, however, the Premium Hybrid becomes more competitive. We have spotted discounts of around 35% or more on this mattress in the past, reducing the cost of a double size to £733 instead. Still, this isn't as competitive as DreamCloud – the brand often slashes up to 50% off the cost of the Luxury Hybrid, lowering the price of a double to just £624.50 (was £1,249).
The Nectar Hybrid and the newer, cooler Nectar Premier are regularly discounted by up to 43% in comparison, with double sizes knocked down to around £501 and £558 respectively. So even when it is on sale, the Eve Premium Hybrid is more expensive. We have slept on all of those competitor models and will say that the Eve is superior in quality and comfort to the Nectar models, but the DreamCloud is a staunch rival.
You'll have 365 nights to trial the Eve Premium Hybrid mattress at home, and if you change your mind during that time you can contact the brand for a refund and to return the mattress. As for the guarantee, it's 10 years, which is average.
Eve Premium Hybrid mattress: Firmness and comfort
On the firmer side of medium-firm
Very comfortable for back and stomach sleeping
Lighter weight side sleepers may struggle with the firmness
Eve Sleep describes the Premium Hybrid mattress as a medium-firm feel, though we would say it's a tiny bit firmer, rating it a 6.5-7 out of 10 on the firmness scale. That isn't to say it's in any way uncomfortable for average to heavier body sizes – our lead reviewer and nearly all of our testing panel enjoyed sleeping on it – but lighter weight bodies who feel more comfortable on softer mattresses should look elsewhere, such as at the Emma Original (priced from £249.50 at Emma Sleep).
Anyone seeking the softer contouring of all-foam mattresses won't find it here. Instead, the Eve Premium Hybrid keeps you on top of the mattress, rather than allowing a lot of sinkage. From our testing experience we'd describe it as having a minimal amount of give, and it's most comfortable for back and stomach sleeping. Our side sleepers of an average to heavier body weight enjoyed it too, reporting just enough cushioning around the shoulders, hips and knees to feel cradled and aligned. For more inspiration, see our guide to the best mattress for side sleepers.
Mattress firmness is very debatable and subjective though – what feels soft to you may feel too firm to another – which is why we invite sleepers of different body weights and sleeping positions to form part of our testing panel for each new mattress review.
So here's our official verdict on firmness and comfort: if you like the deep cradling, body-hug feel of a memory foam mattress, look elsewhere. Ditto if you are a lighter weight sleeper who loves soft beds – the Eve Premium Hybrid is not for you. However for most others, this is a comfy hybrid that does a stellar job of giving a little while supporting a lot.
Eve Premium Hybrid mattress: Performance
For our Eve Premium Hybrid mattress review, we slept on a double size for over three weeks. During this period we tested every key area of performance, rating the Eve on performance, pressure relief, motion isolation, temperature regulation, edge support and durability.
In addition to sleeping on the Premium Hybrid, we analysed available user reviews to see what customers think of the mattress too. More importantly, we look at these customer reviews to see if any particular themes keep popping up, whether good or bad. Here's what happened during our Eve Premium Hybrid mattress testing...
Set-up
Score: 4 out of 5
When we called the Eve Premium Hybrid in for review we were expecting it to be fairly heavy, based on our experience of reviewing similar models such as the DreamCloud and the Nectar Premium. However even we were taken aback by the weight of a double size, and struggled to move it around.
This was especially apparent when we removed the cover to see inside the Eve Premium Hybrid and then had to pop the cover back on. We could only manage it as a duo, so we'd highly recommend you get someone to help you unbox your Eve and to unpack it and unroll it on your bed frame.
Eve Sleep says that the Premium Hybrid normally inflates within around four to six hours, taking up to 72 hours to reach its full size. That rang largely true for our testing model, and this is an average timescale for most hybrid boxed beds.
Off-gassing
Score: 4 out of 5
This is definitely the smelliest part of mattress testing, and all-foam mattresses are the worst offenders, especially those left to sit in their boxes for weeks on end (pro tip: unbox your new mattress as soon as it arrives to help it regain its best shape and to keep the stench to a minimum).
We unboxed the Eve Premium Hybrid with all windows closed to begin with to get a good whiff of the off-gassing smell. It wasn't overpowering with the Eve and began dissipating quickly. We went into different rooms to see if the smell carried (it didn't), then entered our testing bedroom to see if the smell was building. It did build a little, but not as bad as on other testing models.
As soon as we opened a window, the smell start evaporating and by the next morning it had disappeared. For safety, all foam materials used in the Eve Premium Hybrid are CertiPUR certified to guarantee they are free from toxins, while the and the washable top cover is Oekotex certified. Again, that means it has been tested to industry standards to ensure the materials are free from harmful chemicals.
Pressure relief
Score: 4.5 out of 5
The Eve Premium Hybrid is a medium-firm mattress that leans more towards firm, and it delivers good pressure relief in a range of sleep positions. Our testing panel agreed that it has superior pressure relief for back and stomach sleepers, with body weight evenly distributed without the feeling of sinking in too much.
Our lead reviewer who loves side sleeping on medium mattresses, also found the pressure relief to be good in this position, though she would have preferred a little move give around the shoulders. The lighter weight side sleeper disagreed though and found it too firm to be comfortable.
Spinal alignment was good in all positions among our average to heavier weight side, back and stomach sleepers. You can make this even better by choosing the best pillow for your sleeping position, doubling down on good spinal alignment to ensure you don't wake up stiff or sore.
The Eve Premium Hybrid is 28cm tall, so heavier than average people should stay well supported here, especially thanks to the firmer feel, five layers of foam and use of over 1,400 full sized pocket coils.
In addition to testing the pressure relief by lying and sleeping on the mattress, we also placed a 25kg weight in the middle of the mattress. It sank in 3 inches, which is nominal for a hybrid and backed up our physical tests that the Eve Premium Hybrid relieves pressure without allowing too much sinkage.
Motion transfer
Score: 4 out of 5
We tested the Eve Premium Hybrid with couples to get a good idea of motion transfer during different sleep scenarios with people of different heights and weights. We also performed a drop test, which we'll come to shortly. When our lead reviewer slept on the Eve with her husband, a restless sleeper, she experienced some motion transfer whenever he turned over from one side to the other. It wasn't a high level of motion transfer, but it was more noticeable than on memory foam mattresses we have reviewed. Other members of our testing panel reported the same.
When performing the drop test, we placed a wine glass half-filled with orange juice (it shows up easier if spilled on a mattress cover) at one side of the bed and dropped a 6kg weight from around 4in away. We do this to simulate the effect of a bed partner turning over abruptly. To recreate the effect of another person getting into bed, we dropped the weight from around 8in high and near to the glass.
The wine glass wobbled but didn't tip over when the weight was dropped around 4in away. The glass wobbled a lot more during the 8in drop test but didn't tip over. Again, this ties in with our experience that you will feel some motion transfer from your partner if you are already awake or dozing off, but you shouldn't feel them moving once you are asleep.
Temperature regulation
Score: 4.5 out of 5
The one thing all of our reviewers agreed upon is that the Eve Premium Hybrid regulates temperature well. For full disclosure of the testing environment, we slept under a 10-tog duvet with an organic cotton fitted sheet beneath us and a bamboo mattress protector. The mattress remained cool to the touch during the night, with no obvious build-up of heat anywhere on the surface when two people were sleeping on it.
The Eve achieves this by infusing graphite (a cooling material) into the two top layers of foam. These pull away excess body heat as soon as it starts building up. The pocket springs add to the breathability too, as air moves more freely in and around coils.
The Eve Premium Hybrid isn't a full-blooded cooling mattress, but it is designed to help you maintain a comfortable sleep temperature. From our review experience, it easily does this, and we feel it will be an excellent temperature regulator whether it's cold or hot outside.
Edge support
Score: 4.5 out of 5
Edge support is an important mattress feature because it means you can sleep right up to the edge of the bed and not feel as though you're slipping off. We tested edge support on the Eve Premium Hybrid by sleeping up to the edge, as well as sitting on it while getting dressed each morning. We also performed another weight test, this time placing a 25kg weight on the edge of the mattress.
The weight only sank in three inches when placed on the side, which was a fraction more than when we placed the same weight in the centre of the bed. We also felt well supported when sleeping and sitting on the edge of the Eve Premium Hybrid mattress, with no obvious sinkage or slipping among our lighter and average weight testers. The heavier than average reviewers on our panel reported a bit more sinkage, but overall we were all impressed.
Durability
Score: 4 out of 5
We tested the Eve Premium Hybrid thoroughly for over three weeks, so our judgement here is based on what we have experienced with the mattress so far. It still remains cool to the touch, just like it did on the first night after unboxing. We haven't noticed any wear and tear either, and there's no sagging or other indentations.
The Eve Premium Hybrid is also well made with a high build quality and finish, and the use of premium materials bodes well for long-term use. The guarantee is for 10 years, and we feel, at this early stage of our review, that the mattress will certainly see you through many years of comfortable sleeping. For more guidance on mattress durability, read our feature on how long does a mattress last.
After looking through user reviews (more on these below) and scanning them for comments about durability, we can see that there are very few remarks about early wear and tear, suggesting that the Eve Premium Hybrid will hold up for the long-term.
Eve Premium Hybrid mattress: User reviews
We look at user reviews as part of our overall review process because it enables us to get a good idea of what existing customers think of the mattress in question. However it's important to keep in mind that all individuals experience a mattress differently, with body weight, sleep position, bed buddies (human, pets or both) and health conditions all affecting their opinion. With all of that in mind, we analysed available Eve Premium Hybrid user reviews to see what they say.
Compared to other mattresses we've reviewed, the Eve doesn't have a large pool or user feedback to analyse. At the time of publishing this review, there were 379 user reviews on the Eve Sleep website. Reviews are collected by Trustpilot, and have generated an average rating of 4.5 out of 5 stars. 77% of these award the Eve Premium Hybrid 5 out of 5 stars, with 1% rating it 1 out of 5.
Positive reviews focus on the comfort, and how the initial firmness softens up to create a very comfortable mattress. Example comments include, 'Excellent medium to firm mattress. The best night's sleep ever. I wake up totally refreshed.' And, 'I normally toss and turn all night but hardly move now.'
Less favourable reviews comment on how heavy the Eve Premium Hybrid is, making rotating it a difficulty, while other users found it either too firm or not firm enough. Other more critical reviews called out issues with customer service and delivery.
The issue we have with these user reviews is that they can't be filtered by useful facts such as sleep position or body weight, so it's hard to get a full picture of the experiences had by customers.
Should you buy the Eve Premium Hybrid mattress?
The Eve Premium Hybrid mattress is an excellent choice for back and stomach sleepers, and for average to heavier bodies who like sleeping in any position. It's also a great option for hot sleepers, due to the reliable temperature regulation of the graphite-infused foam. The pressure relief is good, easing pressure points in back, stomach and side sleeping, though we wouldn't recommend it to very lightweight sleepers unless they enjoyed a firmer mattress.
The Eve does have some motion transfer, though nothing to raise any concerns, and the edge support is strong. This means you can use all of the available sleeping surface to spread out when there's two of you sharing a bed.
Overall, the Eve Premium Hybrid is a well-made and supportive hybrid that we'd recommend to all sleepers who enjoy sleeping more on top of the mattress rather than in it, and who need a good degree of temperature regulation to stay cool.
Read more: