It's that time of year when mattresses crash to their lowest prices, and today there are two huge sales taking place that could save you money and a whole lot of back pain. Firstly, DreamCloud is offering 50% off its Luxury Hybrid, one of this year's best mattresses and a top recommendation for people who need relief from back pain. Secondly, you can save up to $400 on the Purple Original mattress, designed with Purple Grid Tech that flexes with your every move to provide constant support.
DreamCloud and Purple each feature in our best mattress for back pain guide, so we know from in-house testing that both mattresses work well at reducing pressure points and supporting your lower back.
The DreamCloud is down to just $665 (was $1,332) for a queen size, while the Purple Orginal is reduced to $999 (was $1,399) for a queen. These are excellent savings and among some of the best Black Friday mattress sales we've seen launch early so far.
But while we rate Purple and the DreamCloud among the best mattresses in a box for a range of sleepers, they are very different in terms of feel and build. So let's take a closer look here to help you choose the right bed for your back pain and budget…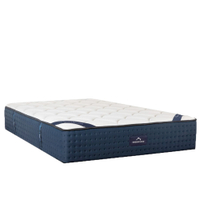 DreamCloud Luxury Hybrid Mattress by DreamCloud
Was: from $839
Now: from $419 at DreamCloud
Saving: Up to $1,088
Summary: After thorough testing, we rank the DreamCloud Luxury Hybrid as the best hybrid mattress for people who want excellent levels of pressure relief and back support. This is a high-performing mattress made from a range of luxurious materials that punch far above its affordable price tag. In fact, we often compare it to Saatva's flagship hybrid, the Classic – read our Saatva Classic Mattress review for more on that one – and recommend the DreamCloud as a serious Saatva alternative that costs almost $1,000 cheaper. Within its seven layers you'll find a mix of pressure-relieving gel memory foam and innerspring coils that boost support and help distribute body weight evenly across the mattress. As a hybrid, the DreamCloud is breathable too (air flows better around those coils) to reduce overheating. Our mattress testers rate it highly for coolness, and for how quickly it reduces hip and back pain, but they do note that edge support could be improved. This is also a tall mattress at 14", so if you want a shorter profile bed, look at the 9.25" Purple Mattress below.
Benefits: 365 night trial | Lifetime warranty | Free shipping
Price history: There are regular DreamCloud mattress deals and sales to save you anywhere from 33% to 40%. So this 50% off flash saving is a big increase on what we normally see. A queen size DreamCloud Luxury Hybrid is currently priced at $665 (was $1,332), with up to $1,088 off the split king. This flash sale ends today, so move fast if you want a DreamCloud at one of this year's cheapest prices.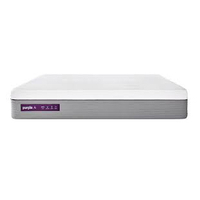 Purple Mattress Original by Purple
Was: from $799
Now: $599 at Purple
Saving: Up to $400
Summary: In our official Purple Mattress review we awarded the Original a solid 4 out of 5 stars, rating it highly for pressure relief, cushioning and a cooler feel. So far, so similar to the DreamCloud, right? But here's where the Purple parts ways: instead of using coils and memory foam to handle comfort and support, it uses Purple Grid Technology, a bouncy, elastic gel grid that makes you feel as though you're sleeping on thin air. The Purple Grid makes the mattress feel much plusher than it looks at a mere 9.25" tall, plus it's breathable, making it a good cooling mattress for people with hip and back pain. The bouncier feel of this mattress has a downside though, in that we wouldn't recommend it if you sleep with a very restless partner as some of their motion will transfer across to you. We also wouldn't recommend it if you weigh under 130lbs as it will feel too firm to be comfy – take a look at our guide to the best mattresses for side sleepers instead, as these are softer and more contouring. That aside, the Purple Mattress is a fantastic bed that will suit a sleepers who don't like the body-hug feel of memory foam, yet need a plusher mattress to relieve pressure points and ease pain during sleep.
Benefits: 100 night trial | 10-year warranty | Free shipping
Price history: There are Purple mattress deals running most months, and in the past these have served up savings of around $200-$300 depending on the mattress. So the new Purple sale is far better than anything we have seen in a while, especially with up to $400 off the Purple Original Mattress. So now is the best time to buy this bed if you've been eyeing it up for a while. Purple does take part in Black Friday sales, but we don't think the Original will drop much lower than $999 for a queen size so if you need a new mattress urgently, like Purple and want to avoid any potential holiday shipping delays, buy now.