Birch Natural mattress review in brief
The Birch Natural mattress is a hybrid mattress consisting of non-toxic, eco-friendly materials. From the top town, it consists of an organic cotton cover and organic fire retardant wool, followed by a comfort layer of organic birch wool, a pressure relief layer of natural Talalay latex, a support layer of individually wrapped coils, and a final base layer of fire retardant wool. Our lead tester slept on one for 3 weeks, and collaborated with a testing panel to see how it compares to the rest of today's best mattresses, as well as the best organic mattresses specifically. Our sleep editor also had a chance to inspect one on a tour of Birch's parent brand's factory and showroom, and compare it directly to other natural mattress options.
Birch Natural mattress specs
Type: Latex innerspring hybrid
Materials: Natural latex, wool, cotton, coils
Firmness: Medium-firm (6-7/10)
Depth: 11 inches
Trial period: 100 nights
Warranty: 25 years
MSRP: $1,811 - $2,186
Price bracket: Premium
The mattress is medium-firm to firm, ranging from 6 to 7 on a scale of 10 for firmness. Although the Birch Natural mattress won't conform to your body or sink as much as a memory foam mattress will, it still offers a mild amount of cradling to provide comfort. One of the most notable aspects of this organic mattress is that it has a lot of bounce, which makes it ideal for combination sleepers who switch positions throughout the night. At the same time, however, this may make the mattress less than ideal for co-sleepers—especially if one or both co-sleepers are fidgety or wake up easily—as motion isolation may be lacking compared to other mattresses.
Given its firmness level, this mattress is also a good option for back and stomach sleepers of most weights. Side sleepers (particularly of lighter weights) may want something a bit more plush, but it isn't necessarily uncomfortable for sleepers of most weights who prefer this position.
Another key benefit of this mattress is that it's highly breathable, so it's a worthy option for sleepers who run hot at night. All organic mattresses are fairly pricey, and the Birch sits roughly in the middle of the market, and we think offers excellent value for the quality here.
Overall, we found that this organic hybrid mattress lives up to its reputation. Keep reading to discover why—as we'll cover everything from support and comfort, performance, and customer reviews—plus see if it's the right choice for you. Here's our full Birch Natural mattress review.
Birch Natural mattress review: Price
The brand's 'entry level' and most popular mattress
Often on sale at 20% off, taking it down into upper mid-range
Free ground shipping to all 50 states and comes with two free pillows
The Birch Natural mattress is the cheaper of the brand's two adult mattress options, and also its most popular. Organic mattresses always command slightly higher price tags – you won't find any budget mattress options in this category. At full price, the Birch Natural mattress is a premium model, but there are almost-constant mattress sales that take the price down into the upper mid-range bracket. You can expect a discount of 20% off.
Here are the official prices for the Birch Natural, including the typical promotional prices:
Twin size: MSRP $1,248.80 (usually sold at $999)
Twin XL size: MSRP $1,311.30 (usually sold at $1,049)
Full size: MSRP $1,561.30 (usually sold at $1,249)
Queen size: MSRP $1,811.30 (usually sold at $1,499)
King size: MSRP $2,186.30 (usually sold at $1,749)
Cal king size: MSRP $2,186.30 (usually sold at $1,749)
The purchase of a Birch Natural mattress comes with complimentary ground shipping to all 50 states, as well as two free Eco-Rest pillows. Altogether, this can equate to sizable savings and enhances the value of the purchase. However, at 100 nights, the trial period isn't too generous.
Overall, we think this mattress is good value for the quality on offer here. It sits roughly in the middle of the organic mattress market – you can find cheaper options (an Awara Natural Hybrid is usually $,1099 for a queen size, for example), but also plenty of pricier mattresses (a queen size Avocado Green will set you back $1,999). You might see bigger discounts over major shopping events such as the Black Friday mattress deals.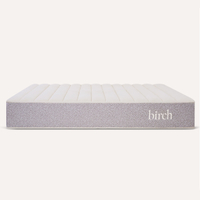 See the Natural mattress at Birch
The Birch Natural mattress is an organic hybrid mattress. It's medium firm to firm and is ideal for combination back and stomach sleepers, as well as sleepers who run hot at night. Regular sales knock around 20% off MSRP and take the price into upper-mid territory. There's a 25-year warranty and a 100-night trial period.
Birch Natural mattress review: design
11" thick, latex innerspring hybrid mattress
Consists of all-natural, organic materials with several certifications
Breathable wool offers moisture-wicking properties
Most of today's best hybrid mattresses feature memory foam and springs, but the main point of difference with the Birch mattress is that instead of memory foam it uses natural Talalay latex. This will mold to the sleeper's body, and is known to be one of the most durable mattress materials.
As its name would indicate, the Birch Natural mattress is composed of organic materials, and there are reputable certifications to back that up. The cover consists of Global Organic Textile Standard (GOTS) Certified cotton for breathability and softness. The next layer is organic wool, which offers natural fire protection.
Next up is the comfort layer consisting of organic birch wool, which helps to retain shape as well as regulate temperature. Following that is eco-INSTITUT certified natural Talalay latex (with this credential reflecting its consistency and low-emissions standards) in the pressure relief layer. This offers cushioning to alleviate pressure points in the shoulders, back, and hips. The support layer consists of up to 1,000 individually wrapped coils that are meant to offer stability by cradling the body and limiting motion transfer. Last up is the base layer of fire retardant wool, which too provides stability as well as durability.
You can opt to add a plush topper, for a fee – it'll cost you an extra $559 for the queen size.
Birch Natural mattress review: Support and comfort
A medium-firm to mattress (6.5/10 or possibly slightly firmer)
Best for back and stomach sleeping, but side sleeping isn't ruled out
Has some give but doesn't sink
The brand notes that the Birch Natural ranges from 6 to 7 out of 10 for firmness. Our tester found that a 6.5 firmness rating sounds about right, though some customers find that it's a bit firmer—even up to an 8 out of 10.
The Birch Natural is taut and bouncy, and you can feel the springs providing elevated support while resting on it. There's a bit of give and the surface molds enough to your body shape to be comfortable, but overall the sleep surface offers a lifting feeling rather than the sink-in sensation you'd traditionally find with memory foam. The lack of cushioning means this mattress is very easy to change position on, and you'll never feel 'stuck' in it.
Our lead reviewer—who weighs under 130 pounds and is a combination sleeper with a natural tendency for side sleeping—tried out all sleeping positions to gauge the level of comfort and support in each. The Birch Natural was most comfortable while back sleeping and stomach sleeping; no pain or pressure buildup was felt in either position, and we had no complaints about spinal alignment. During the testing period, we found it was most ideal for switching between one position to the next, thanks to the extra bounce it provides.
Most of the best mattresses for side sleepers are on the softer side, providing extra give around the shoulders and hips in this position. Our tester was surprised to discover that side sleeping wasn't uncomfortable given the firmness level of the mattress, especially when compared to other mattresses they'd tested at firmness levels of 7 and above. Lighter weight side sleepers and those seeking plenty of pressure relief should opt for a softer mattress, though.
Our tester enlisted a tall, average weight sleeper to test the Birch Natural in different positions. This tester enjoyed comfort and support in all positions—including side sleeping, even more so than our petite primary tester.
To measure pressure relief, our tester placed a 55-pound kettlebell at the center of the mattress. (This test mimics the sinkage from a sleeper's weight.) The amount of sinkage clocked in at approximately 2.5 inches, which also informed the tester's assessment of 6.5 out of 10 for firmness.
Birch Natural mattress review: Performance
Motion isolation could be better
Great cooling properties
Outstanding edge support
Our reviewer tested the Birch Natural mattress in a queen size for 3 weeks, testing it in three major areas of performance. In this section, you'll find details on how it fared for motion isolation, edge support, and cooling properties.
Motion isolation
Assessing motion transfer in a mattress is a highly important performance indicator, particularly for co-sleepers. If one or both co-sleepers shuffle around throughout the night and/or sleep lightly, sleep quality can be disrupted.
To objectively assess how well the Birch Natural performs in terms of motion isolation, we placed a wine glass in the middle of the mattress. We dropped a 10-pound kettlebell at three separate distances from the wine glass to see how much it moved or if it would tip over.
The wine glass tipped over during several experiments when we dropped the kettlebell 4 inches away. It looked in danger of tipping from 10 inches away, yet recovered its standing position each time. It also wobbled slightly at 25 inches away. Although not the best result we've seen during our time reviewing mattresses, it's much better motion isolation than we expected to see from the Birch Natural, given the firmer, bouncier sleep surface.
During our warehouse testing, our sleep editor tested motion isolation out in practice by asking another mattress journalist to get in and out of the bed and change position. Although there was some slight movement across the sleep surface, we both judged it to absorb motion surprisingly well. We think this mattress will be suitable for all but the most sensitive co-sleepers.
Score: 3.5 out of 5
Temperature regulation
Hybrid mattresses are most often more ideal than all foam ones for temperature regulation. (Memory foam adjusts snugly to the body and doesn't permit a great amount of air flow. They also lack a coil layer, which enhances breathability.)
The Birch Natural mattress is known to be one of the best cooling mattresses in the organic category, and our tester was pleased to confirm that it lives up to its reputation. Our tester runs hot at night every so often, but never found it to be too warming or woke up sweating.
The cooling benefits of the Birch Natural can be chalked up to several materials—including the organic cotton cover (which is soft and breathable), hygroscopic organic wool (a moisture-wicking natural material), natural Talalay latex (which offers extra ventilation), and coils (to amplify airflow).
For context, our tester reviewed the Birch Natural during the start of spring in Southern California, with nightly temperatures averaging in the low 50s Fahrenheit. Our tester used bamboo sheets, a comforter, and a bamboo duvet.
Score: 5 out of 5
Edge support
Edge support is an important element in a mattress. Adequate edge support enables you to get in and out of bed with ease, helps you sit comfortably around the perimeter, and increases the overall usability of the sleeping surface. Robust edge support can also help prevent premature sagging along the sides. The Birch Natural mattress has thicker coils lengthwise along the mattress, designed specifically to bolster the edges.
Our reviewer had no issues getting in or out of bed and felt just as comfortable sleeping along the bed's perimeters as along the center. However, during our warehouse tests, our sleep editor judged the edge support to be fine but not amazing.
We also placed a 55-pound kettlebell along the sides of the mattress to objectively quantify sinkage and assess edge support. The amount of sinkage was measured to be somewhere between 2.25 and 2.5 inches, which is pretty much the same as the sinkage at the bed's center, indicating decent edge support. Overall, we don't think weak edges are a particular issue with this mattress.
Score: 4 out of 5
Birch Natural mattress vs Birch Luxe: Is it worth the upgrade?
Luxe adds an extra wool layer and the coils are zoned
Luxe is firmer than the original, and doesn't isolate motion as effectively
Not worth the upgrade for most people
In the Birch lineup there are two mattresses – the regular Birch Natural (which we're reviewing here) and a Luxe version, which is designed to be an upgrade. We haven't done a full review on the latter, but we did get to compare and contrast the two during our visit to the 3Z Brands showroom and factory. Head to our Birch Luxe mattress hands-on review for a full low-down on that model. If you're wondering whether to upgrade, here's a rundown of how the Birch Natural and Luxe compare.
Like the Birch Natural, the Luxe is a hybrid including coils, latex and wool. It's marginally taller at 11.5" (rather than 11"), and has a quilted cover, an extra layer of wool (with cashmere added in), and the coils are zoned so they're firmer under your lumbar. Both have a similar 'natural' look.
Unusually, the Luxe model is noticeably firmer than the original – an observation that was supported by our weight tests (our weight sank into the Luxe 1.9", compared to 2.3" on the original model). Birch rates both as a 6-7 out of 10 on the firmness scale, but we think the original is on the upper end of that, and the Luxe is at least an 8.
The sleep feel is fairly similar, with both mattresses offering a bouncy, uniform, very responsive surface. The Luxe feels a touch more cushioned, probably thanks to that extra layer of wool. We couldn't feel the zoning of the springs during our hand-on time with the Luxe, but it might become more apparent when sleeping on it.
Just like on the regular version, the edge support on the Luxe is fine but not amazing. Interestingly, the Luxe doesn't isolate movements as well as the regular Birch Natural, so you're more likely to be disturbed by a wriggling partner if you choose to upgrade.
Overall, we're not convinced the Luxe will be worth the upgrade for most people, especially considering the considerable price hike (the Luxe is around $800 more than the original, based on queen size). The look and feel is very similar, and in some areas the original actually outperformed the Luxe version.
Birch Natural mattress review: Delivery & setup
Mattress delivered vacuum-packed and rolled in a box
Free ground shipping
No major complaints about off-gassing
Each purchase of the Birch Natural mattress comes with free, no-contact delivery to all 50 states. The option to choose a delivery time isn't available, and neither is white glove delivery. However, upon placing your order, you can begin to track your shipment with a link provided via email.
The brand notes that it takes 3 to 10 business days to ship. Our reviewer was surprised on two fronts: first, to see that the mattress arrived at their unit doorstep instead of in the building lobby, and second, that it arrived in less than 72 hours from receiving the order confirmation email.
The mattress arrived vacuum-packed and rolled up in a box. Upon unwrapping the first shrink wrap layer, the mattress made a steady yet mild hissing sound for approximately 2 and a half minutes. Our reviewer didn't notice any major smells from off-gassing, despite leaving the bedside window closed. (Since it's organic, rest assured that the Birch Natural won't off-gas harmful chemicals.)
While folded, it was easy enough for our petite tester to move the mattress onto the bed frame solo. From there, it was wrapped in a thick layer of plastic, followed by a third and final plastic encasing.
The shipment came with a printed paper with a QR code leading to the setup page. The brand shares that the Birch Natural requires 1 to 2 hours to unwind and fully expand, though it appeared as though it was near-fully expanded in the middle of cutting through the plastic layers.
There's a 100-night sleep trial period, which is about the shortest you'll find from any major bed brand, and pretty stingy for the price (competitors Awara and Avocado Green give you a full 365 nights). The warranty is 25 years.
Birch Natural mattress review: Customer reviews
Average of 4.7 out of 5 stars from ~1,800 reviews on the brand website
Common praise for comfort and pain relief from back and side sleepers
Some complaints about firmness and motion isolation falling short
At the time of writing (April 2023), the Birch Natural has an average 4.7 stars out of 5 from nearly 1,800 reviews on the official product page. Although the mattress is also available for purchase at CB2.com, it doesn't have any published reviews at present.
While reviewers commented on many different points, a few key trends stood out. Satisfied customers—namely those who prefer back and stomach sleeping—wrote that they felt pressure relief and fewer aches and pains, sometimes significantly so. Some noted that while the first night or two doesn't offer instantly obvious comfort, it turned out to be just right for their needs. Praise on temperature regulation and robust edge support were also commonly cited. Many reviewers commented that they found the Birch Natural to be a worthy investment and a good value for the cost, especially given its high-quality, natural, and non-toxic materials and when compared to other organic competitors.
Less satisfied customers were disappointed because it was either too firm or even too soft for their needs. (Note, however, that firmness can be quite subjective, especially based on your weight and preferred sleeping position—as well as swayed by the previous mattress you had slept on.) Some found the mattress to be mediocre and were neither impressed nor dismayed. Other customers called out lackluster motion isolation while co-sleeping, plus a lack of adequate relief from aches and pains.
Should you buy the Birch Natural mattress?
Based on our reviewer's testing experience, the Birch Natural is worth buying for combination back and stomach sleepers of most sizes and sleepers who run hot. Those who are seeking an organic and/or hybrid mattress made of high-quality, safe materials should also keep this mattress at the top of their list. While it's not the most luxurious in look or sleep feel, it does seem well made and high quality.
In addition, it offers a good value for the price, given that it's often on sale at 20% off and comes with complimentary shipping and two pillows. This can amount into hundreds of dollars of savings compared to competitors who don't offer these bonus perks.
Although it shouldn't be an issue for most people, this mattress doesn't offer the most effective motion isolation we've seen, so might not be the best choice for co-sleepers if one or both partners wake easily and/or move often throughout the night. Some side sleepers (notably those under 130 pounds) may also find that the mattress may exacerbate—rather than alleviate—pressure along the shoulders and hips.
Birch Natural mattress review: Alternatives to consider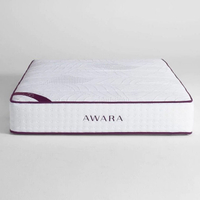 Awara Natural Hybrid mattress
To save some money without skimping on quality organic materials, the Awara Natural Hybrid could be up your alley. With a 6.5 out of 10 firmness, side sleepers may find greater comfort and pressure relief, and it can also suit all sleeping styles. It's also decent at regulating temperature. However, motion isolation is weak, so co-sleepers should take note. Read more in our Awara Natural Hybrid mattress review, or head to our Birch vs Awara natural mattress face-off to see exactly how the two compare.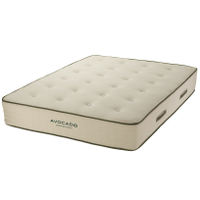 Avocado Green Mattress
The Avocado Green mattress is one of the most notable competitors of the Birch Natural. It's slightly more expensive (in addition to having a $99 shipping fee), but it still offers a pretty good value for what you pay for an organic mattress. It's a 7 out of 10 for firmness, so back sleepers and heavier sleepers are likely to appreciate this mattress most. Read more in our Avocado Green mattress review.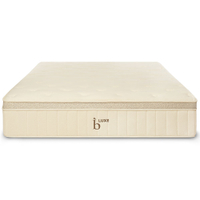 Birch Luxe Natural mattress
If you're set on the Birch brand and have some cash to spare, you may want to consider buying the Birch Luxe Natural mattress. It's also medium-firm and can be suitable for all sleeping positions. The upgraded model is enhanced with organic cashmere and targeted lumbar support to assist with spinal alignment and a reduction in back pressure.