A new wave of Apple Watch deals is here. The debut of Apple's newest smartwatches is causing an uptick in Apple Watch deals, which is great news for shoppers. 
For example, Amazon has the Apple Watch 3 (GPS/38m) on sale for $169. That's $30 off and the cheapest Apple Watch deal we've seen all year. Meanwhile, B&H Photo has the new Apple Watch SE (GPS/40mm) on sale for $269. That's $10 off and one of the best cheap Apple Watch deals of 2020. 
Those aren't the only Apple Watch deals you can get right now. We're searching high and low for cheap Apple Watch deals and bringing them straight to you. So whether you're searching for deals on the Apple Watch Series 3 or the new Apple Watch Series 6, here are the best sales right now. 
Best Apple Watch deals right now 
Apple Watch deals and Black Friday
Black Friday deals are right around the corner. Black Friday is guaranteed to ring in new Apple Watch deals on all models, especially older ones like the Apple Watch 3. In fact, we're already seeing deals on the new Apple Watch SE and Apple Watch 6. Make sure to bookmark this page and our Black Friday guide for the best Apple Watch deals of the holiday season. 
The Apple Watch Series 6 brings a host of new upgrades to fans of Apple's smartwatch. The new flagship sports a brighter always-on display, new S6 CPU, faster charging, and support for a new blood oxygen (SpO2) app. 
The new blood oxygen sensors are among the watch's new standout features. The watch will let users know their blood oxygen concentrations with 15-second on-demand readings (as well as periodic background checks). This is a feature only found on the flagship Series 6, since Apple added new sensors for this capability.
In our Apple Watch Series 6 review, we also found the watch's new sleep tracking app to be helpful, although no as insightful as Fitbit's software. In terms of pricing, the 40mm model starts at $399 (GPS) and the 44mm model starts at $499 (GPS). We expect to see Apple Watch deals on this model in the coming weeks.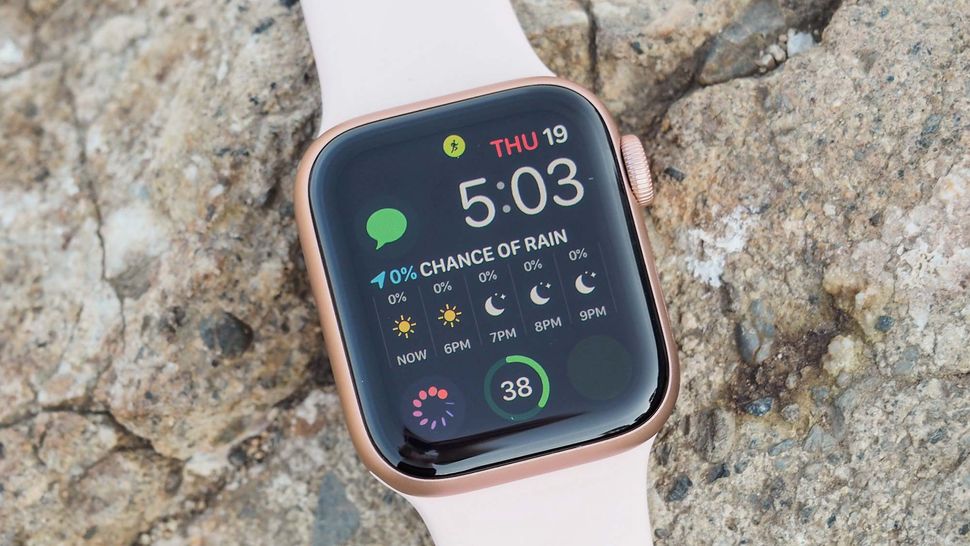 The Apple Watch Series 5 is no longer Apple's current-gen smartwatch. In fact, it's getting harder to find it in stock. Prior to the new Apple Watch 6, it was easy to spot discounts that took up to $100 off the Apple Watch 5. However, they're harder to find now that the watch isn't Apple'e flagship. That said, this holiday season look for Apple Watch deals that take up to $100 off this model. 
Read our full Apple Watch Series 5 review.
The Apple Watch Series 5 Nike is essentially an Apple Watch 5 with a few unique features. For starters, it has five exclusive faces that you can only get on the Nike Watch. 
The Nike faces feature a non-removable Nike complications that make it easy to access the Nike Plus Run Club app. If you're an avid runner who's invested in the Nike app, it's a nice perk to owning the Apple Nike Watch. 
The watch also comes with a Nike band, which is designed for better breathability and to wick away sweat while you're working out. 
The Apple Watch Nike starts at $399 (GPS/40mm) and $429 (GPS/44mm). Deals tend to be modest; you'll frequently see from $15 to $40 off either model. 
Apple has dropped the price of the Apple Watch 3 down to $199. As a result, it's become the cheapest Apple Watch you can find. 
Despite its entry-level status, the Apple Watch Series 3 is still an excellent smartwatch. It offers many of the same features found in the newer models like solid fitness tracking, a water proof design, and Apple Music streaming capabilities. The major trade-offs are that you get a slightly dated design and you don't get access to the ECG app, which measures the electrical activity of your heart.
In terms of deals, the Apple Watch 3 (38mm/GPS) hit an all-time price low of $129 on Black Friday. It was an amazing Apple Watch deal that we likely won't see again till the holidays. On major holidays, you might find the Apple Watch 3 on sale for $169 or $189, but act fast because Apple Watch 3 deals don't tend to last long and they're also very rare. 
Read our full Apple Watch Series 3 review. 
Apple Watch deals at the Apple Store 
The Apple Store wouldn't normally be our go-to spot for Apple Watch deals, however, Apple has an excellent trade-in program where you could get up to $140 for your old Apple Watch. Trade-in your Series 3 Apple Watch for up to a $100 Apple Store credit or an Apple Watch 4 for up to a $150 credit.