Whether you're training for your first 5K, or your fastest marathon, the best running watches will help you keep track of your progress, while also giving you insights into how well you're recovering.
Many of the best running watches on the market can be worn 24/7. As well as GPS tracking, most of the watches on this list will monitor your heart rate, track your sleep, and tell you how long you need to rest before your next workout. They'll also have multiple sports modes, so you can track any workout from HIIT to hikes, and that includes water-based activities.
Our fitness team has been reviewing running watches for years, so know what to look for when it comes to GPS accuracy, heart rate monitoring, and how easy it is to pause the watch with sweaty fingers. We also know from vigorous testing whether we'd part with our cash or not.
The best running watches below have been put through the sweat test, over several miles. We've tested them for ease, design, battery life, and extra features so that you know you can make an informed choice. We also update our guides regularly with any new models, so read on for our current round-up below.
Is Black Friday a good time to buy a running watch?
In a word, yes! Last year we saw discounts on some of the newest watches on the market, not just last year's stock. This year we can expect deals on watches like the Garmin Fenix 7 and Apple Watch Ultra 2.
This year, Black Friday falls on November 24, with sales running throughout the weekend to Cyber Monday on November 27. Don't want to wait till then? We've hand-picked the best Garmin Black Friday deals, the best Apple Watch Black Friday deals, and some of the best running watch Black Friday deals here.
Written by
Jane McGuire is Tom's Guide's Fitness Editor and she's spent years writing about all things health and fitness. She crossed the finish line of her last marathon in 3:38, with the Garmin Forerunner 965 on her wrist.
The quick list
Best Apple
Best Apple
The Apple Watch Ultra 2 is the best Apple Watch to buy if you're doing any serious running. It has a third button — the Action Button, which makes pausing the watch easier.
Best for adventurers
Best for adventurers
The Garmin Fenix 7 is built for adventures — whether that's 26.2 miles, or further. Some watches in the range have solar charging for an impressive battery life, and all have advanced training features.
Best smartwatch
Best Garmin smartwatch
The Venu 2 Plus is a stylish smartwatch on par with the Apple Watch and Fitbit Versa 3 — and it's rugged enough for bike rides, strength workouts, and half marathon training.
Best running watch overall
Our pick for the best sports watch and one of the best Garmin watches is also our top running watch: The Garmin Forerunner 265. This lightweight device gives you everything you'd want in a running watch, from accurate tracking to music controls to the ability to create custom workouts, for the price of an Apple Watch. The device also offers access to Garmin's wide range of training metrics, which help you not only plan workouts but also recovery time.
During testing, we found the Garmin Forerunner 265's beautiful AMOLED display to be bright and easy to read, even in direct sunlight. It also has a touchscreen, which makes it easy to navigate around the watch. The battery is long enough to last through a few workouts, even with music playing.
The Forerunner 265 has inherited some of the more advanced health features usually reserved for Garmin's more expensive running watches. The watch has Garmin's latest Elevate V4 sensor — the green light records heart rate, the red light records blood oxygen levels (referred to as Pulse Ox on the watch). This sensor is used to calculate breathing rate, HRV, and stress. It also now has the ability to track multisport training sessions in the triathlon mode, and Garmin's Training Readiness Score.
It's a fantastic improvement on an already fantastic watch, and a great buy for all levels of runner.
Read our Garmin Forerunner 265 review
Best running watch for beginners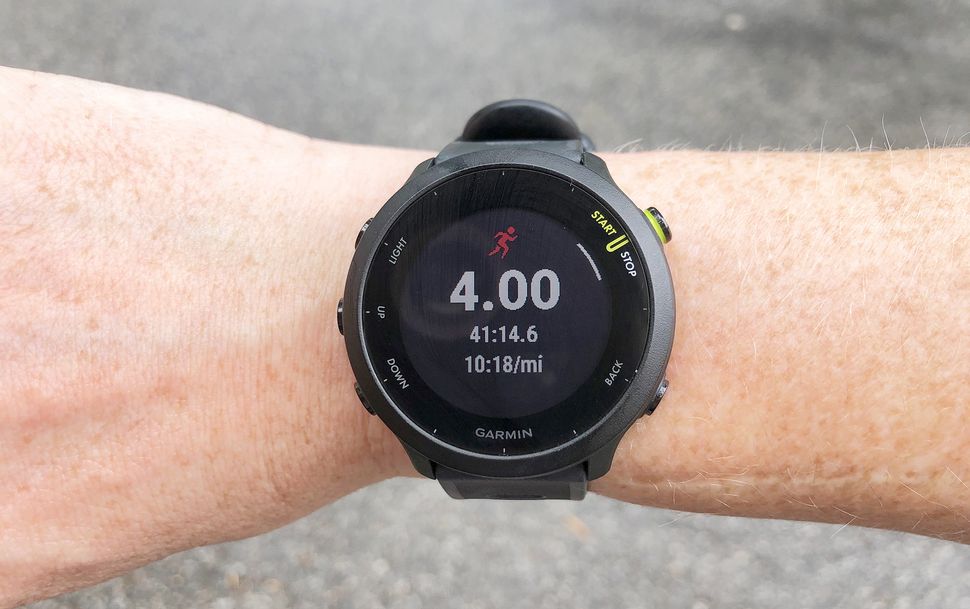 If you're starting to get into running, chances are you want a device that's a step up from a basic fitness tracker but also won't overwhelm you with too many features. Among Garmin watches, the Forerunner 55 is a clear choice.
At its core, the Garmin Forerunner 55 is an entry-level fitness watch, replacing the popular Forerunner 45 earlier this year. While it looks very similar to its predecessor, Garmin made some important changes, adding some of the more advanced training tools usually reserved for their more expensive watches. The Forerunner 55 has Garmin's new PacePro technology, which gives you gentle speed and cadence alerts on the run. There are also suggested recovery times and workouts, based on your training history, fitness levels, and recovery. This is a differentiator from similarly priced watches such as the Samsung Galaxy Watch Active or the Fitbit Charge 5 which track workouts but don't offer custom coaching plans.
It's worth noting that the Garmin Forerunner 55 doesn't support music storage, mobile payments, or third-party apps. It also has a relatively small display, at just over 1 inch. If these are must-have features for your Garmin watch, you may want to consider a higher-end device. If you are looking for a cheaper watch, the Forerunner 45 is often in the sale right now, following the release of the Forerunner 55, so it's a good time to buy.
Read our full Garmin Forerunner 55 review.
Best running watch for triathletes
The Garmin Forerunner 965 replaced the Forerunner 955 in March 2023 as Garmin's top-tier running watch. The newer watch has a bright, beautiful 1.4-inch AMOLED touchscreen, and a new titanium bezel to give it a premium feel both on and off the run.
Underneath, however, the Forerunner 965 is pretty much the same as the Forerunner 955. This isn't a bad thing - the 955 is a fantastic watch, but if you already own a Forerunner 955, or a Fenix 7, it's probably not worth upgrading just yet. The watch has all of Garmin's advanced training metrics, including the Training Readiness Score, Morning Report, and Garmin's new Chronic Training Load feature, which focuses on a 28-day sum of your training.
Compared to other watches on this list, despite the brighter screen, the Forerunner 965 still has the same impressive battery life we've come to expect from Garmin. The watch lasts 23 days in smartwatch mode, 31 hours in GPS mode without music, and 8.5 hours in GPS mode with music. There are a few caveats, however, one being the option for the always-on display on the Forerunner 965. When this is turned on, Garmin reckons the battery life in smartwatch mode drops from 23 days to 7 days.
During testing, we were impressed by the amazing screen on this watch, but didn't find it all that different from the Forerunner 955, which was only released nine months ago. Read our Forerunner 955 vs Forerunner 965 face-off here to find out more.
Read our full Forerunner 965 review here
Best Coros running watch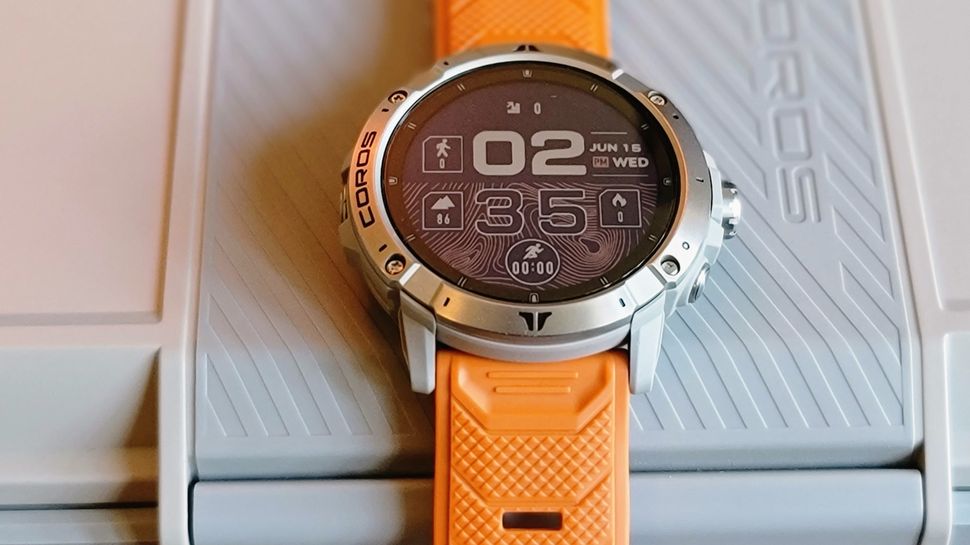 This is a monster running watch made by Coros, designed to rival the likes of the Garmin Fenix 7. Whereas the Fenix 7 comes in three different diameter options (42mm, 47mm, and 51mm) and multiple "editions" to suit different budgets, fitness needs, and wrist sizes, there's only one model of the Vertix 2, which has a case diameter of 50.3mm — up from 47mm with the original Vertix. There are no solar editions of the Coros Vertix 2.
The high-spec watch does everything you'd want it to do and more, plus, it's designed for multi-day adventures. During testing, we appreciated the huge battery life of this running watch, which has the capacity to last 240 hours in UltraMax GPS mode. It's also super durable, with a reinforced bezel and screen to protect the watch from any knocks or scrapes along the trail.
While you could buy this for a heavy marathon training plan (we tested this watch in the run-up to a trail marathon), if you're not someone who is planning on skiing, swimming, and going off-road, there are cheaper watches on the market for you.
Read our full Coros Vertix 2 review here.
Best Fitbit running watch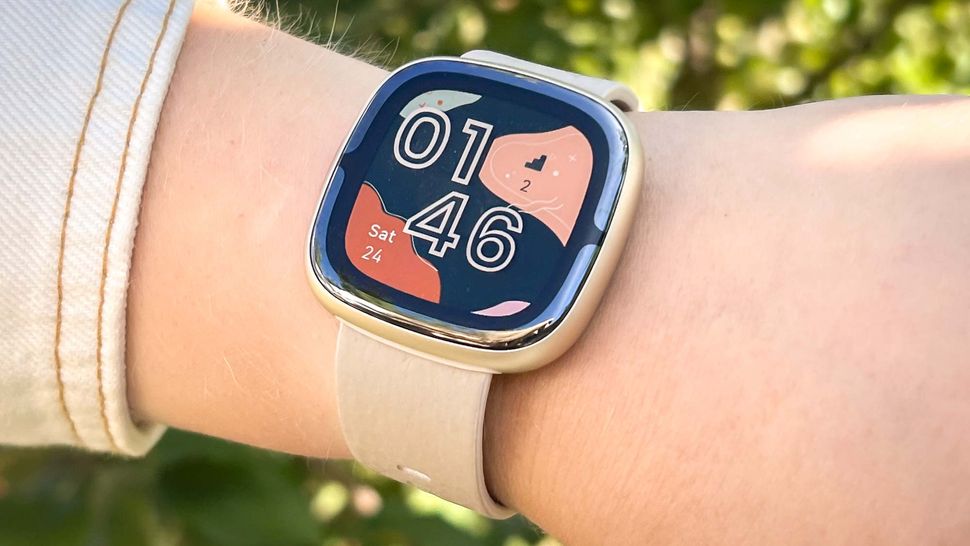 Not all smartwatches make for good running watches. Touchscreens can be tough to use with sweaty fingers or gloved hands. Batteries typically don't last for more than a couple days, either. Without an always-on display, you have to shake your wrist or press a button just to glance at the screen.
The best smartwatch for runners is the Fitbit Sense 2. While it won't allow you to make untethered phone calls like the Apple Watch Series 8 or the Samsung Galaxy Watch 4, the Fitbit Sense offers better health and fitness features.
The Fitbit Sense 2 is the company's premium smartwatch that comes with more advanced health and wellness features that the Versa line. Not only does it have an FDA-approved ECG sensor and blood oxygen reading, but the Sense has the ability to measure electrodermal activity and skin temperature, too. Compared to the original Fitbit Sense, the Sense 2 features an upgraded design, interface and EDA sensor, making for Fitbit's most holistic smartwatch yet.
Read our full Fitbit Sense 2 review.
Best Polar running watch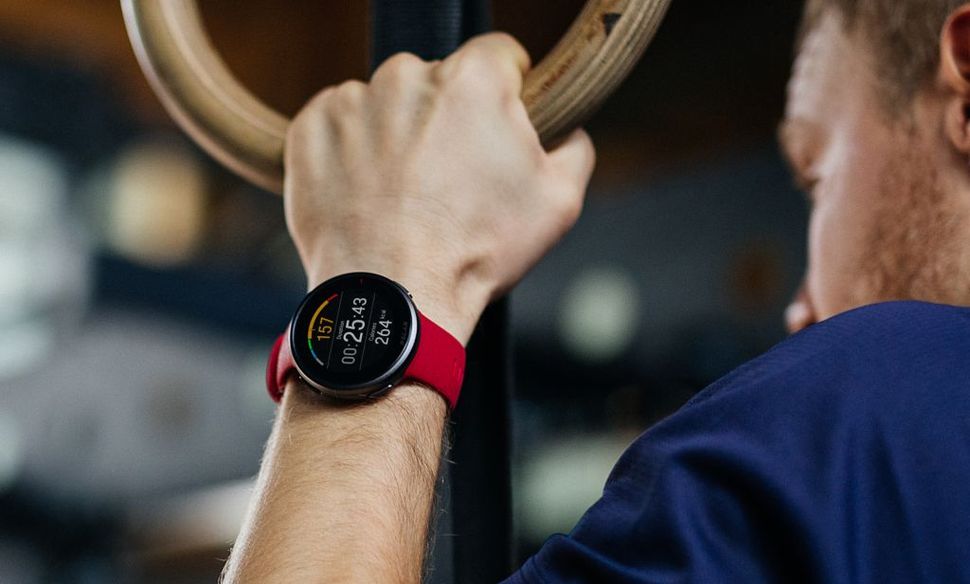 Overtraining is a common cause of running injuries. Through a number of unique features, the Polar Vantage V2 is designed to help serious runners recover. This makes up for some of its limited smartwatch functionality and otherwise standard activity tracking features.
After a run, you can use the Polar Vantage V2 to conduct a Leg Recovery test, which helps you determine how long to wait before your next hard run. Other watches provide recovery recommendations, but metrics specific to legs are unique to the Polar Vantage V2. In addition, the Nightly Recharge feature puts sleep quality in the context of workout recovery.
During testing, one feature we found impressive was the training plans. Plugging workout data into Polar Flow lets you create training plans and share them with personal trainers or coaches, which is another way to help prevent injuries.
It's worth noting, if you're after a bargain, the Polar Vantage V2 is likely to be on sale right now, following the release of the Polar Vantage V3.
Read our full Polar Vantage V2 review.
Best Apple running watch
The Apple Watch Ultra 2 is the best Apple Watch to buy if you're doing any serious running training. Like the original Ultra, the second version also has a third button — the Action Button, which makes pausing the watch, or lapping the watch on the move, that little bit easier with sweaty fingers, or when wearing gloves.
The Apple Watch Ultra 2 doesn't reinvent the wheel, Apple has added features that have been available on most of the best running watches for years, but the Ultra 2 does feel like an upgrade from the Apple Watch Series 9 from a running perspective. Its 49mm screen is huge, but it's built for adventure — plus, the screen is brighter than before, up to 3,000 nits from 2,000 nits. In direct sunlight the improvement is subtle, but during testing, we could see it more clearly than the Apple Watch Series 9.
While there's not a lot of physical difference between the Apple Watch Ultra and the Apple Watch Ultra 2, under the screen, there's a big one. The Apple Watch Ultra 2 packs the S9 processor, which promises the first true power upgrade since the Apple Watch Series 6. Apple claims it's 25% more efficient, built on 5.6 billion transistors with 30% faster GPU animations and 4-core neural engines that enable machine learning twice as fast.
The Apple Watch Ultra 2 has the best battery life of any Apple Watch. Even with a brighter display, the watch gets 36 hours of battery life with normal use. With low power mode, the Apple Watch Ultra 2 gets up to 72 hours of battery, increased from 60 hours offered through the original.
In workout modes, the bigger screen allows for seven data fields, rather than six. That said, if you're looking for longer battery life, recovery metrics, or the ability to upload maps onto the watch, you're better off shopping for one of the Garmins on this list.
Read our full Apple Watch Ultra 2 review
Best running watch for adventurers
The Garmin Fenix 7 is a rugged watch for outdoor adventurers. The device supports everyday fitness activities such as running and swimming, and it comes with Garmin's typical health-tracking features, but it's really designed for anyone who gets an adrenaline rush from scuba diving, backcountry skiing, or a multi-day hike deep in the wilderness.
Make no mistake: With a weight that starts at 2 ounces for the standard Fenix 7S, and tops out at 3.1 ounces for the 51mm Fenix 7X Saphire Solar addition, this watch is a beast. But the trade-off is storage, battery life, and water resistance up to 100 meters (330 feet). It's also easy to swap out bands — no small thing if you've just spent days in the woods without a shower.
The Fenix 7 has one major improvement on the Fenix 6 — a touch screen. The screen is super responsive, even when being used in the rain, and makes moving around and customizing the watch a lot easier. There's also a new Stamina metric, and the watches come loaded with more maps, and sports tracking modes than ever before. It's a brilliant watch, and you'll be hard-pressed to find a fitness tracker with a better battery life.
Read our full Garmin Fenix 7 review here.
Can't decide between the Garmin Fenix 6 vs the Garmin Fenix 7, the Garmin Fenix 7 vs the Garmin Epix 2, the Garmin Fenix 7 vs Apple Watch Ultra, or the Garmin Fenix 7 vs Garmin Forerunner 955? Check out our round-ups.
Best Garmin smartwatch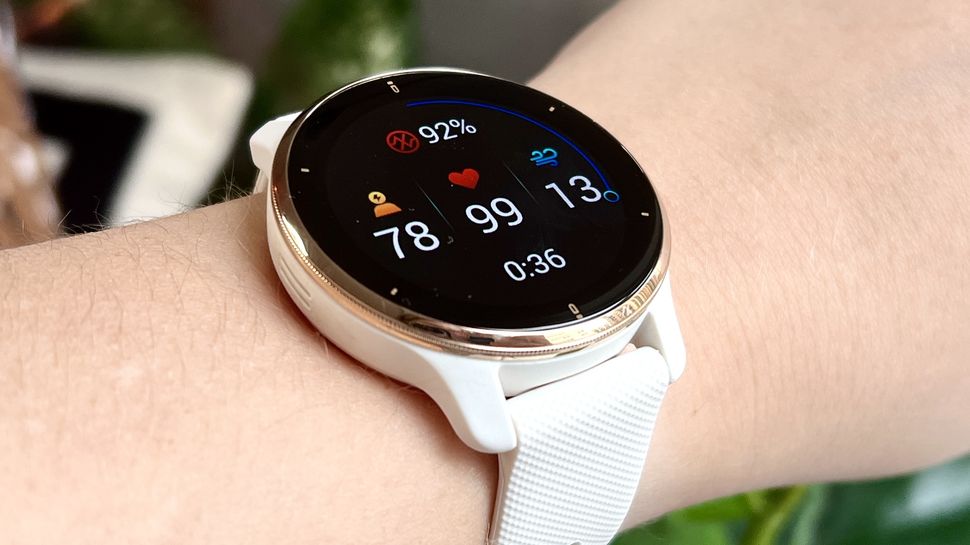 Garmin watches aren't just for serious athletes. The Venu 2 Plus is a stylish smartwatch on a par with the Apple Watch and Fitbit Versa 3 — and it's rugged enough for bike rides, strength workouts, and playtime with the kids. It's also a step up from the Garmin vivoactive 4 with an AMOLED display and a stainless steel bezel.
For runners, it has everything you'd expect from a Garmin watch — the ability to track all of your runs and workouts, as well as receive live feedback on the move. The big difference here is that thanks to tools like voice and call assistant, you can ask Siri to add eggs to your shopping list mid-run, or finally call your mum, should you wish.
Like some of the other smarter running watches on this list, the Venu 2 Plus also has mobile payments, notifications, a touchscreen, and storage for up to 650 songs on board. The watch also boasts a much better battery life than most smartwatches, even with its AMOLED display.
Read our full Garmin Venu 2 Plus review here.
Best premium running watch
Garmin's Epix adventure watch has been around for a while, but in June 2023, Garmin released a and improved version with the Epix Pro series: available in three different sizes, to suit every wrist size. Unlike the Garmin Epix Gen 2, the Epix Pro is available in three different sizes — 42mm/1.6 inches, 47mm/1.8 inches, and 51mm/2 inches. The Epix 2 only came in one, 47mm size. So there is now a smaller option, for adventurers with petite wrists, and a larger option for those who prefer a chunkier watch.
During testing, we were blown away by the stunning AMOLED screen and the decent battery life. Yet this watch is more impressive than just a nice watch face, it has Garmin's newest heart rate monitor, which is said to be more accurate when tracking activity profiles that aren't running-based.
All of the watches in the Epix Pro range also have a built-in flashlight, a feature we saw with the launch of the Garmin Fenix 7X last January. The flashlight can be used in situations where you might use your phone's flashlight, but can also be used in certain sports modes, as the flashlight can blink or pulse on a bike ride. There is also a running-specific cadence visibility flashlight, where the watch will flash white as your wrist goes forward, and red as your arm moves back, in order to help keep you safe and seen.
Overall, this is an impressive watch, and if you can afford it, you'll get just about all the running features you could ever need.
Read our Garmin Epix Pro review here.
How to choose the best running watch for you
When buying a running watch, here's a few things to consider:
Appearance: If you want a running watch that can also be an everyday watch, overall design and appearance are key considerations. Will it clash with a dress or blazer, or will it get caught on the sleeve of a sweater or shirt?
Phone notifications: Do you want to be able to receive WhatsApp messages and emails mid-run, or is this your worst nightmare? Plenty of modern watches have smartwatch features, but if you're not bothered about them, you can save money.
Battery life: If you're planning on running a marathon, or heading out on an all-day adventure, you'll want a watch that can keep up with you in GPS mode. This shouldn't be a problem with most Garmin running watches, but is something to consider with a Fitbit or Apple watch.
Fit: If you're a particularly petite runner, you'll want a watch that fits neatly around your wrist, or a watch that has different size straps for a good fit.
How we test the best running watches
Even today's low-end running watches typically come with GPS sensors, heart rate monitors, and step counters. In addition to evaluating watches on these features, we look at more advanced functionality such as VO2 Max data, sleep tracking, music storage, and the presentation of training data such as recovery time and recommended workouts.
Our reviewers are experienced runners who test devices on several runs in open spaces, around tall buildings, and in the woods. We pay attention to accuracy, ease of use, and comfort during our runs, and we evaluate each watch and its companion app together after our runs. We wear watches for several days to compare battery performance to manufacturers' claims.
If a running watch also has smartwatch capabilities, we look at the software, application ecosystem, and use of special features such as mobile payments or notification responses.