Quick links
1. The quick list
2. Best overall
3. Best value
4. Best cheap Garmin
5. Best Fitbit
6. Best Garmin smartwatch
7. Best for golfers
8. Best for adventurers
9. Best for triathletes
10. Best Apple watch
11. How to choose
12. How we test
Whatever your fitness goals are, investing in one of the best GPS sports watches is worthwhile if you're getting serious about your training. They can help you track your activities, steps, sleep, calories consumed, and more, but also some will have helpful safety features.
While many of the best fitness trackers and best smartwatches incorporate location-tracking on the device itself to accurately log outdoor workouts, dedicated sports, also known as GPS watches, have features that can provide you much more data about what you're doing, and last much longer on a charge.
While the majority of the best GPS sports watches are aimed at runners, there are specialized models for triathletes, golfers, endurance athletes, and those who go hiking and skiing.
To help you choose which device is best for you, we've selected the top GPS watches in various categories. We've put them to the test over several workouts, judging them based on performance, ease of use, and design. Below we've rounded up the best pick for every sport and budget, to save you from hours of homework.
Written by
Jane McGuire is Tom's Guide's Fitness Editor and she's spent years writing about all things health and fitness. She crossed the finish line of her last marathon in 3:38, with the Garmin Forerunner 965 on her wrist.
The quick list
Best for adventurers
Best for adventurers
The Garmin Fenix 7 is built for adventures — whether that's 26.2 miles, or further. Some watches in the range have solar charging for an impressive battery life, and all have advanced training features.
Best for triathletes
Best for triathletes
The Garmin Forerunner 965 is the best Forerunner we've ever tested. It's got a bright AMOLED screen, a 23-day battery life, and some of Garmin's most advanced training features.
Best Apple Watch
Best Apple Watch
The Apple Watch Ultra 2 is the best Apple Watch to buy if you're doing any serious sport. It has a third button — the Action Button, which makes pausing the watch easier.
The best GPS sports watches you can buy today
Best GPS watch overall
Garmin hit a home run with the Forerunner 265 with its bright, beautiful AMOLED display and touchscreen, that makes it easy to navigate around the watch when you're not running. It's an upgrade to the popular Garmin Forerunner 255 which was previously our best sports watch, and if you're looking for a bargain, now is a good time to buy the cheaper Garmin, which is on sale at a number of retailers.
During testing, we loved the fact that the Forerunner 265 now gives you the option to purchase two different sizes — 42mm or 46mm. Both have an AMOLED display —the resolution of the Forerunner 265 is 416 x 416 pixels, and 360 x 360 on the 265S. During testing, we found it easy to view the screen in all lights, making it a perfect outdoor running companion.
While the Forerunner 265 costs as much as a new Apple Watch, its in-depth tracking features and better battery life — up to 24 hours when using GPS — make it the choice for serious runners.
Read our full Garmin Forerunner 265 review.
Is Black Friday a good time to buy a Garmin watch?
In a word, yes. Last year we saw huge discounts across some of Garmin's most popular products, including the Fenix 7 and the best Forerunners on the market. Check out the best Garmin Black Friday deals here.
Best value GPS watch
With a large display, on-board GPS, built-in compass and enough durability certifications to survive Jurassic Park, the Amazfit T-Rex 2 is one of the best sports watches you can get without breaking the bank. At $216, it's about a third of the price of the Garmin Fenix 7 and other popular GPS smartwatches, making it an affordable alternative.
The T-Rex 2 offers an impressive battery life, a variety of sports modes, and sleep tracking – all wrapped in its impenetrable shell. With all the sensors you could want, the T-Rex 2 is a beast to be reckoned with, plus who doesn't want a device named after a dinosaur?
Compared to the original T-Rex, the second iteration of the Amazfit watch comes with a slightly larger screen, a longer battery life, and dual-band five satellite positioning, making it the better choice if you're heading out on an adventure.
Read our full Amazfit T-Rex 2 review
Best cheap Garmin GPS watch
The Garmin Forerunner 55 is the best sports watch for those on a budget. It's an affordable, yet accurate, GPS watch that tracks distance, speed and pace, and it has some of the more technical features of Garmin's more premium watches, for a fraction of the price.
According to Garmin, a fully charged Forerunner 55 can last up to two weeks in Smartwatch mode and 20 hours in GPS mode, which is a significant increase from its predecessor's battery life expectations. The Forerunner 55 looks cool enough to be used as your everyday timepiece and like other Garmin watches on this list, it'll also give you sleep-tracking data if you wear the watch at night, so you can keep an eye on how well you're recovering.
You'll want to look elsewhere if you demand a lot of features from your GPS watch, but this is the best choice for someone who just wants an easy-to-use device from a trusted brand.
If you're looking for something more affordable, the Forerunner 55 replaced the Forerunner 45, which is also a brilliant fitness tracker with a number of handy features.
Read our full Garmin Forerunner 55 review.
Best Fitbit GPS watch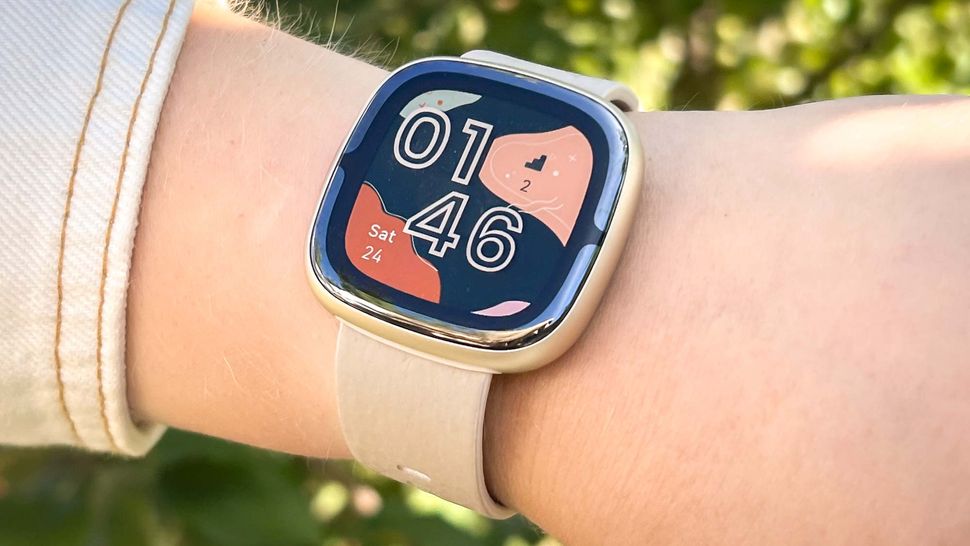 The Fitbit Sense 2 is the company's premium smartwatch that comes with more advanced health and wellness features that the Versa line. Not only does it have an FDA-approved ECG sensor and blood oxygen reading, but the Sense has the ability to measure electrodermal activity and skin temperature, too. Compared to the original Fitbit Sense, the Sense 2 features an upgraded design, interface and EDA sensor, making for Fitbit's most holistic smartwatch yet.
An update to the stress-detecting EDA (electrodermal activity) sensor plays a large role in the device's success: now called cEDA ('c' for continuous,) the sensor monitors stress levels or heightened responses throughout the day, prompting the user to take action on mood monitoring with Body Response notifications. During testing, we were impressed by the Sense 2's long battery life and attractive design, as well as the huge number of health tracking options.
Like all of the best Fitbits, the Sense 2 has built-in GPS, which allows you to track your runs and rides from the watch itself. The watch connects to the Fitbit app, which allows you to view all of your activities in one place.
Read our full Fitbit Sense 2 review.
Best GPS Garmin smartwatch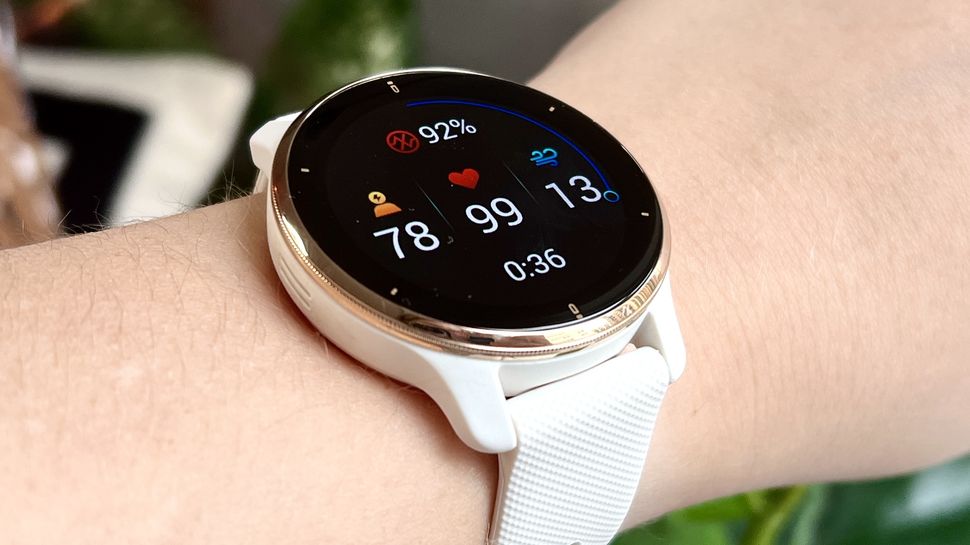 Garmin watches aren't just for serious athletes. The Venu 2 Plus is a stylish smartwatch on par with the Apple Watch and Fitbit Versa 3 — and it's rugged enough for bike rides, strength workouts, and playtime with the kids. It's also a step up from the Garmin vivoactive 4 with an AMOLED display and a stainless steel bezel.
It's got all you'd expect from Garmin when it comes to tracking your workouts, as well as smartwatch features such as mobile payments, notifications, a touchscreen, and storage for up to 650 songs.
This Garmin is also great for anyone who likes to leave their phone in their pocket when out on an adventure thanks to the on-wrist calls and voice assistants. While it maintains Garmin's reputation for thorough fitness tracking and accurate GPS, the Venu 2 Plus is now a stronger sell for those who want their smartwatch to act as an extension of their smartphone.
Read our full Garmin Venu 2 Plus review.
Best GPS watch for golfers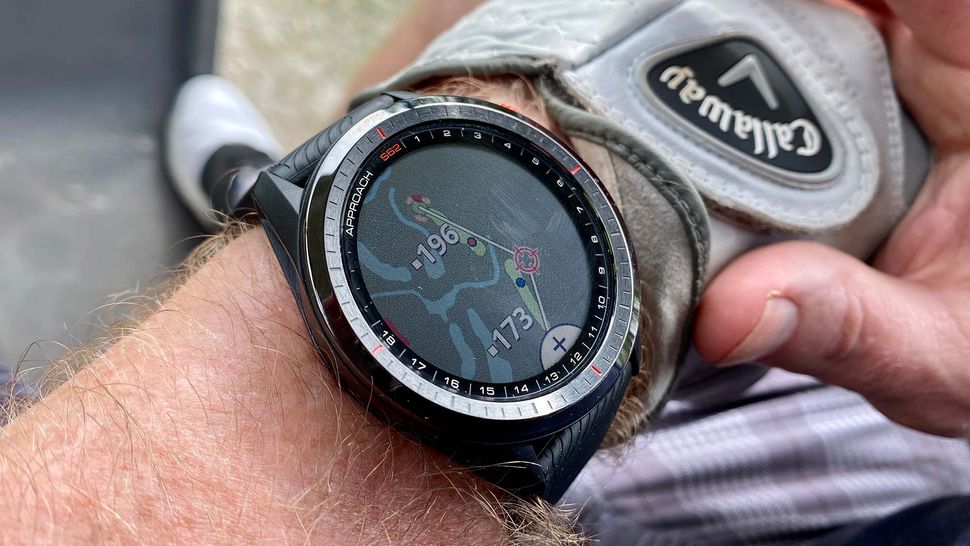 The Garmin Approach S62 offers a sharper appearance, larger screen and lengthier battery life than its Garmin Approach S60 predecessor. Plus it supports a Virtual Caddie feature, which offers club suggestions and other shot tips based on your past rounds. Though it's not guaranteed to improve your golf game, the insight provided by Virtual Caddie doesn't feel gimmicky and might benefit you if you tend to experiment with your club choices.
The Garmin Approach S62 lasts about 14 days without a charge, although you'll get just 20 hours in continuous GPS mode. We made it through week with 3 rounds before needing to recharge the S62, so it's safe to say you can leave Garmin's proprietary charger at home for a weekend golf trip.
Read our full Garmin Approach S62 review.
Best GPS watch for adventurers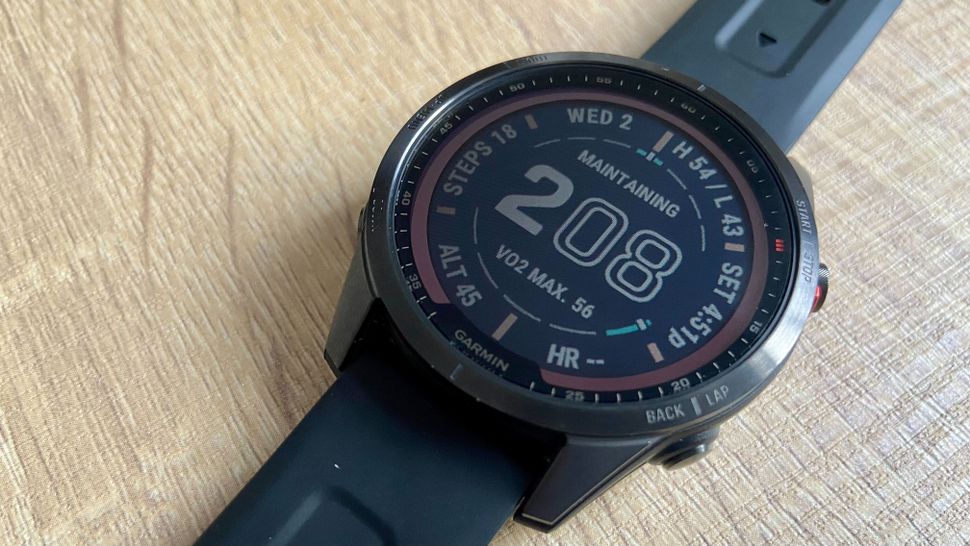 The ultimate in outdoor sports watches, the Garmin Fenix 7 is designed to track you anywhere you go and survive everything you do. The device supports everyday fitness activities such as running and swimming, and it comes with Garmin's typical health-tracking features, but it's really designed for anyone who gets an adrenaline rush from scuba diving, backcountry skiing, or a multi-day hike deep in the wilderness.
Make no mistake: With a weight that starts at 2 ounces for the standard Fenix 7S, and tops out at 3.1 ounces for the 51mm Fenix 7X Saphire Solar addition, this watch is a beast. But the trade-off is storage, battery life, and water resistance up to 100 meters (330 feet). It's also easy to swap out bands — no small thing if you've just spent days in the woods without a shower.
During testing, we found the Fenix 7 has one major improvement on the Fenix 6 — a touch screen. The screen is super responsive, even when being used in the rain, and makes moving around and customizing the watch a lot easier. There's also a new Stamina metric, and the watches come loaded with more maps, and sports tracking modes than ever before. It's a brilliant watch, and you'll be hard-pressed to find a fitness tracker with a better battery life.
In June 2023, Garmin released the Garmin Fenix 7 Pro — an updated version of the Fenix 7, with a new heart rate sensor and built-in flashlight. Read our Fenix 7 Pro review here, as well as our Garmin Fenix 7 vs Garmin Fenix 7 Pro face-off.
Read our full Garmin Fenix 7 review here. You can also check out our face-off between the Garmin Fenix 7 vs. Epix 2.
Best GPS watch for triathletes
The Garmin Forerunner 965 is the upgraded version of the Forerunner 955. It's a top-tier running watch, designed for runners who want all of the most advanced training tools on their wrists. If you're trying to decide between the newer model and the older version, read our Forerunner 955 vs Forerunner 965 face-off here.
The newer watch has a bright, beautiful 1.4-inch AMOLED touchscreen, and a new titanium bezel to give it a premium feel both on and off the run.
Underneath, however, the Forerunner 965 is pretty much the same as the Forerunner 955. This isn't a bad thing - the 955 is a fantastic watch, but if you already own a Forerunner 955, or a Fenix 7, it's probably not worth upgrading just yet. The watch has all of Garmin's advanced training metrics, including the Training Readiness Score, Morning Report, and Garmin's new Chronic Training Load feature, which focuses on a 28-day sum of your training. On the run, the watch was easy to read and navigate around. Off the run, the bright AMOLED touchscreen made the watch feel more like a smartwatch.
Despite the brighter screen, the Forerunner 965 still has the same impressive battery life we've come to expect from Garmin. The watch lasts 23 days in smartwatch mode, 31 hours in GPS mode without music, and 8.5 hours in GPS mode with music.
Read our full Garmin Forerunner 965 review here
Best GPS Apple watch
The Apple Watch Ultra 2 is the best Apple Watch to buy if you're doing any serious training. Like the original Ultra, the second version also has a third button — the Action Button, which makes pausing the watch, or lapping the watch on the move, that little bit easier with sweaty fingers, or when wearing gloves.
The Ultra 2 does feel like an upgrade from the Apple Watch Series 9 from a sports perspective. Its 49mm screen is huge, but it's built for adventure — plus, the screen is brighter than before, up to 3,000 nits from 2,000 nits. In direct sunlight the improvement is subtle, but during testing, we could see it more clearly than the Apple Watch Series 9.
While there's not a lot of physical difference between the Apple Watch Ultra and the Apple Watch Ultra 2, under the screen, there's a big one. The Apple Watch Ultra 2 packs the S9 processor, which promises the first true power upgrade since the Apple Watch Series 6. Apple claims it's 25% more efficient, built on 5.6 billion transistors with 30% faster GPU animations and 4-core neural engines that enable machine learning twice as fast.
The Apple Watch Ultra 2 has the best battery life of any Apple Watch. Even with a brighter display, the watch gets 36 hours of battery life with normal use. With low power mode, the Apple Watch Ultra 2 gets up to 72 hours of battery, increased from 60 hours offered through the original.
In workout modes, the bigger screen allows for seven data fields, rather than six. That said, if you're looking for longer battery life, recovery metrics, or the ability to upload maps onto the watch, you're better off shopping for one of the Garmins on this list.
Read our full Apple Watch Ultra 2 review
How to choose the best GPS watch for you
Because sports watches span a wide range of outdoor activities, you want to pick a sports watch based on what it is you plan to do. Runners will want a sports watch that's light and easy to read while your arms are pumping back and forth.
If you're into other activities, such as cycling or triathlons, you'll want a sports watch that can track swimming, and be paired with the ANT or Bluetooth sensors on your bike. It goes without saying that it should be waterproof.
Those who do more extreme sports, like endurance runs and alpine skiing will want to look for a sports watch that's not only durable, but has extremely long battery life. Some of the best sports watches for outdoors, like Garmin's fenix series, let you adjust the frequency at which their GPS pings a satellite, which can extend their battery life to days, and not just hours.
How we test the best GPS watches
Similar to fitness trackers, the line that separates great sports watches from the best smartwatches is blurring with the arrival of devices that incorporate smartphone notifications with GPS, step, distance and calories counts, plus heart rate measurements.
For each sports watch, we evaluate its hardware design and comfort. The device needs to be comfortable enough to wear during even the most rigorous and lengthy runs. We test for GPS speed and accuracy by grabbing location signals in different areas — in between tall buildings and skyscrapers, as well as in open spaces. We use each watch for an extended period of time to test the manufacturer's battery-life claims. Lastly, we evaluate the device's companion app and the experience of using the watch and app together.
If the GPS watch also happens to be a smartwatch, we evaluate the included software, app ecosystem and special features like mobile wallet capabilities.