Quick links
1. The quick list
2. Best overall
3. Best value
4. Best fitness smartwatch
5. Best for runners
6. Best for iPhone users
7. Best fitness tracker ring
8. How to pick a fitness tracker
9. How we test
10. Features comparison
Looking to get in shape, count your steps, or just get some extra motivation to be more active? The best fitness trackers we've tested can help you hit your health and fitness goals, get more sleep and track your overall well-being, all from your wrist. They can even monitor your progress and provide detailed insights and guidance on how you're doing or changes you could make.
As exercise-oriented wearables, fitness trackers can measure your heart rate, read your blood oxygen levels, accompany you swimming and tell you if you're well-rested. Some models even offer on-the-spot ECG readings and can monitor how much time you spend in deep or REM sleep.
Some fitness trackers, like the Fitbit Charge 6, Fitbit Sense 2, and Garmin Forerunner 265 can even be used to pay for groceries, play music, answer texts, and much more. But with so many devices, choosing one of the best fitness trackers or fitness watches for your needs can be tricky.
We put top models to the test running, biking, swimming — even sleeping — to see which excel, and which couldn't make it past the starting block. Here's our round-up.
For Black Friday, many of the best fitness trackers, as well as other exercise gear, are on sale, so be sure to check out Garmin Black Friday deals, massage gun Black Friday deals, and Black Friday Lululemon deals for the latest discounts.
Written by
Jane McGuire is Tom's Guide's Fitness Editor and she's spent years writing about all things health and fitness. She crossed the finish line of her last marathon in 3:38, with the Garmin Forerunner 965 on her wrist.
The quick list
Here's the best fitness trackers you can buy right now based on our testing and reviews. Scroll on for our full in-depth reviews.
Best fitness tracker overall
The Fitbit Charge 6 is Fitbit's latest fitness tracker, replacing the Fitbit Charge 5 in the brand's line-up of trackers. It has a number of exciting updates compared to the Charge 5 — the haptic side button is back, making it easier to navigate around the tracker. You can also now use the Charge 6 as a heart rate tracker when using NordicTrack, Peloton, and Tonal gym equipment.
It's also the first Fitbit fitness tracker to get Google Maps, YouTube Music, and Google Wallet, but new Charge 6 users will need a Google Account now.
Of course, you buy a fitness tracker to, well, track your fitness, and the Charge 6 does a good job of this. It has built-in GPS to more accurately track your runs, hikes, and bike rides outside. It also has more sports modes than the Charge 5 did, allowing you to mix up your training.
During testing, we were impressed with the tracker, and how comfortable it was around the wrist, and how easy it was to read in the bright sunlight. The Fitbit Charge 6 is definitely one of the best fitness trackers on the market for most people. The upgrades made on the Fitbit Charge 5, namely the re-addition of a side button and the Google apps, have made what was already a great fitness tracker, even better in our eyes.
Read our Fitbit Charge 6 review here
Best fitness tracker for people on a budget
The Fitbit Inspire 3 is the best cheap fitness tracker because it nails the basics: heart rate-monitoring, accurate workout-tracking and logging sleep stages. The fact that it doesn't have built-in GPS is slightly disappointing — you can connect it to your phone's GPS — but the Inspire 3 makes up for it with other features, such as Fitbit's inspiring (get it?) community of people trying to get and stay in shape. You can participate in challenges to out-pace friends, colleagues or even strangers.
For $100, you'll get Fitbit's Active Zone Minutes metric, 10 days of battery life, touch controls, and, in the biggest update from the Fitbit Inspire 2, a bright, beautiful AMOLED screen. The Fitbit unit itself is only available in black, but is sold with three different band colors — black, lilac, and morning glow. The wristband comes in two sizes: small, and large.
During testing, we loved how lightweight and comfortable this little tracker was to wear for 24/7 health tracking. We also appreciated how much more premium the tracker felt with a color screen. It won't be for everyone, but if you're looking for an affordable fitness tracker, you can't go wrong with the Inspire 3.
The Fitbit Inspire 3 won Best Fitness Tracker in the 2023 Tom's Guide Fitness Awards because you get an awful lot for under $100, and we were impressed at how easy it was to use.
Read our full Fitbit Inspire 3 review here.
Best Amazfit fitness tracker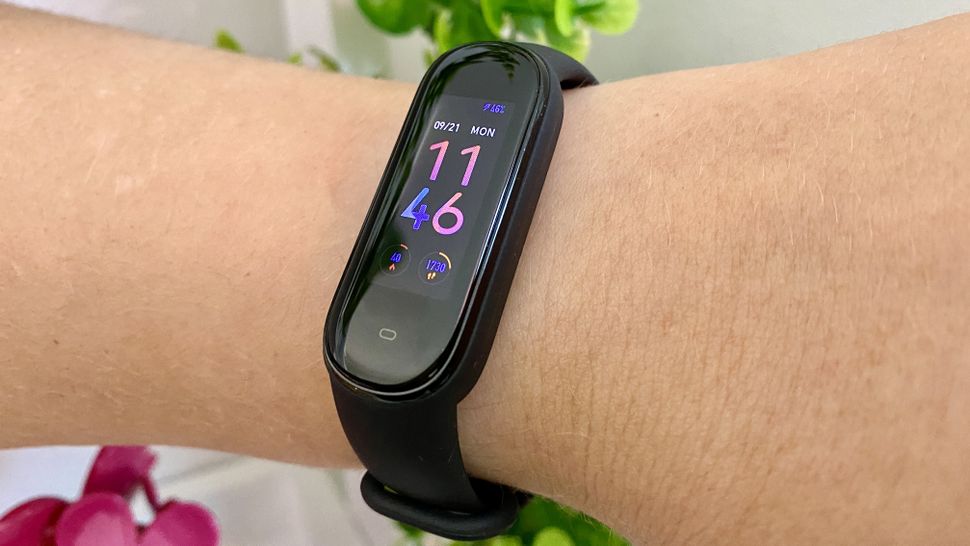 The Amazfit Band 5 is a $50 fitness tracker that promises many of the marquee features found in this year's premium smartwatches, but at a fraction of the price. It has blood oxygen (SpO2) reading, stress monitoring, high heart rate alerts, Amazon Alexa built-in, sleep tracking and several other tools found in high-end offerings.
In our testing, the fitness and sleep tracking on the Amazfit Band 5 were good, not great, but respectable for the low cost while still offering more than other trackers of its price. Better yet, the 15-day battery life meant we didn't need to worry about charging it all the time.
Read our full Amazfit Band 5 review.
Best fitness tracking smartwatch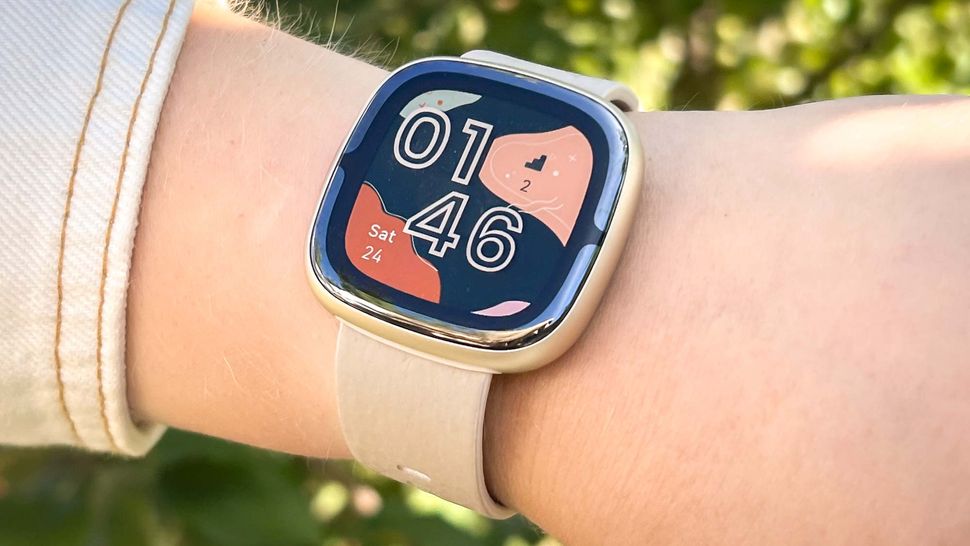 The Fitbit Sense 2 is the company's top-shelf smartwatch that comes with more advanced health and wellness features that the Versa line. During our testing, we found that the Fitbit Sense 2 helped us gain a better overall view of our overall health.
Compared to the original Fitbit Sense, the Sense 2 features an upgraded design, interface and EDA sensor, making for Fitbit's most holistic smartwatch yet. An update to the stress-detecting EDA (electrodermal activity) sensor plays a large role in the device's success: now called cEDA ('c' for continuous,) the sensor monitors stress levels or heightened responses throughout the day, prompting the user to take action on mood monitoring with Body Response notifications.
As one of the best fitness trackers, the Sense 2 works with both iOS and Android, and comes with on-board GPS, a native app store, Alexa and more. No longer is Fitbit just a brand with products for tracking our steps: Fitbit devices like the Fitbit Sense 2 make for excellent smartwatches, too.
Read our full Fitbit Sense 2 review.
Best fitness tracker for runners
Garmin makes the best sports watches you can buy, and the Forerunner 265 is one of our favorites. The newly launched mid-range Garmin running watch has a bright, beautiful AMOLED screen, which is easy to see, even in direct sunlight.
During testing, we were impressed with the lightness of this watch and how easy it was to use on the run. We appreciated that the Forerunner 265 has the addition of triathlon and multisport modes, allowing you to track all of your training in one session. The 265 also comes in two different sizes — 42mm and 46mm, we tested the smaller watch and found it extremely neat and lightweight on the wrist. Like a lot of the other best Garmins, you can also download Garmin's training plans onto the watch, helping you run and race smarter.
The Forerunner 265 also has a lot of Garmin's more premium features on board, including the Morning Report, and the Training Readiness Score, both of which help you get a better understanding of your overall health. If you're on a budget, now is a good time to check out the Garmin Forerunner 255, which is pretty similar aside from the screen, and still a great buy. Unsure which to buy? Check out our Garmin Forerunner 255 vs Forerunner 265 face-off here.
Read our Garmin Forerunner 265 review.
Best Garmin smartwatch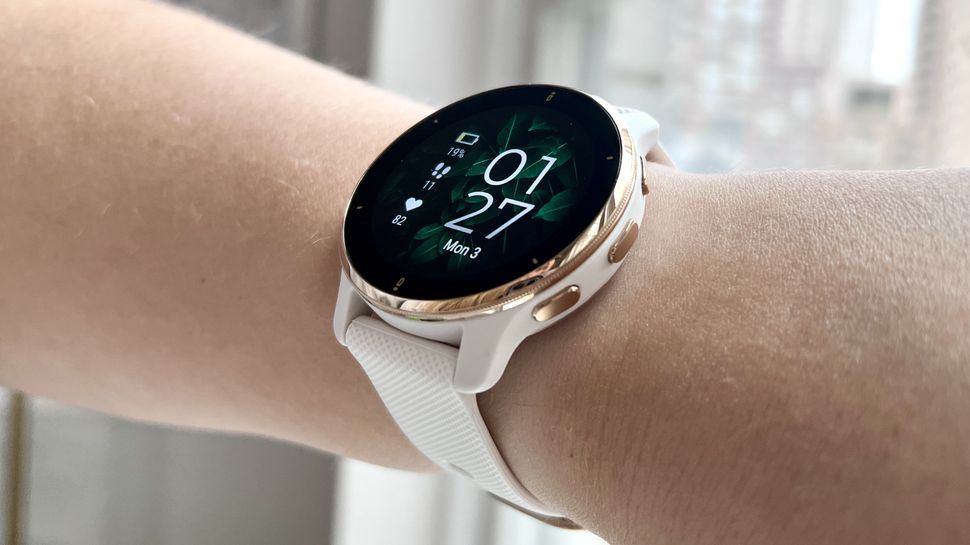 The Garmin Venu 2 was already a stellar fitness-tracking smartwatch, but it got a massive improvement this year with the Garmin Venu 2 Plus. With the latest version of the Venu line, Garmin added voice assistants and on-voice calls to keep up with some of it's biggest competitors. The result? The smartwatch just got even smarter.
While still having 25 different workout modes and all of the run-tracking features you've come to expect from Garmin, during testing, we found the Venu 2 Plus also gives you the ability to store up to 650 songs on the watch, make and answer calls from your wrist, and summon Siri or Google Assistant.
At $449, this isn't the cheapest smartwatch on the market, but if you want a connected watch that still has all the workout tracking power of a Garmin, you can't go wrong.
Read our full Garmin Venu 2 Plus review.
Best fitness tracker with body composition analysis
Whether you've got a Samsung phone or not, the Samsung Galaxy Watch 6 is an impressive fitness tracker. The Watch 6 has a huge focus on one important health metric many of us overlook - sleep. The watch has a more comprehensive Sleep Score Factor analysis that accumulates sleep time, sleep cycle, awake time, plus physical and mental recovery data to help users understand their quality of sleep. Users will also be assigned an animal that best represents their sleep behaviors, complete with a correlated watch face dedicated to the cause.
Like older versions of the watch, you still get the body composition analysis feature, plus SPo2, ECG, and heart rate monitoring. But there is a new Personalized Heart Rate Zone feature for workouts, and we'll see Samsung roll out the Irregular Heart Rhythm notification feature that detects signs of aFib.
Like the Apple Watch Series 8 the Galaxy Watch 6 has a skin temperature sensor to inform things like menstrual cycles and sleep data. We're still testing this brand-new tracker, but have been impressed so far.
Read our Samsung Galaxy Watch 6 hands-on review
The best fitness tracker subscription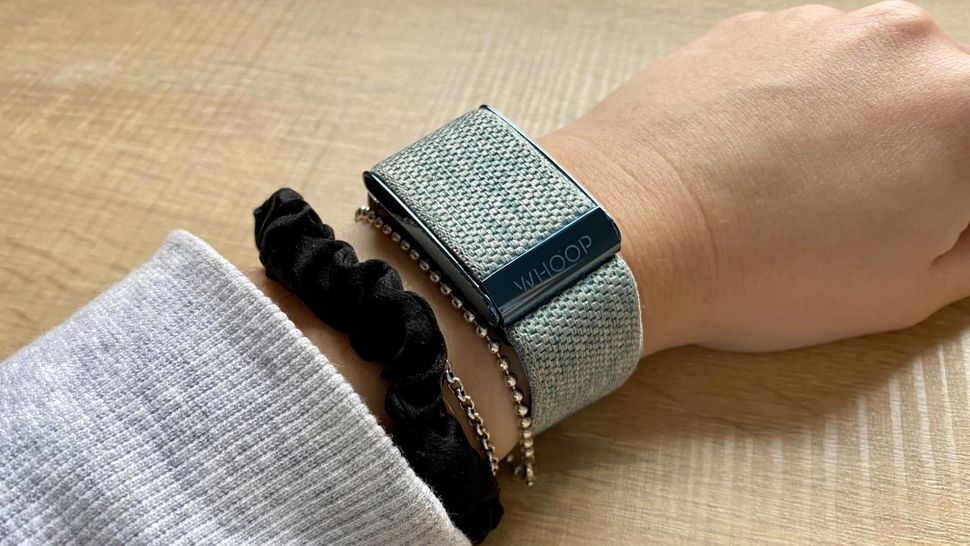 This one is a little different — the Whoop 4.0 isn't a fitness tracker you can go out and buy, it's one you subscribe to. There's no screen, or in-built GPS, instead, the Whoop band focuses on recovery and heart rate, to help you get a better overall picture on how hard you've been training.
The Whoop 4.0 is undoubtedly a brilliant health tracker for anyone looking for enhanced health insights. There's a clear reason why a lot of the worlds' top athletes have been spotted with one on their wrist or around their bicep — for a coach, this data would be invaluable. I haven't even touched on insights such as skin temperature, which can be used as a metric to see when your core body temperature is rising — this could be a sign you're getting ill, as well as giving more detailed sleep data. This tracker is industry-leading in the tracking and data it provides.
That said, if you're looking for a fitness tracker you can wear in the gym or on your run to get live feedback, this one isn't for you. It definitely takes a bit of getting used to, but the Whoop 4.0 definitely has it's own unique place in the market.
Read our full Whoop 4.0 review.
Best fitness tracker for iPhone users
With the exception of a subtle pink finish, there's nothing noteworthy looks-wise with the Apple Watch Series 9. Instead, its S9 processor introduces the watch's most significant performance boost in years, powering a brighter display and faster Siri interactions. An improved ultra-wideband chip enables new ecosystem functions, too. What's more, the new double tap gesture makes it possible to carry out a slew of Apple Watch Series 9 controls one-handed.
Like the Apple Watch Series 8, the Series 9 has a skin temperature sensor, which allows users to get more accurate sleep data and menstrual cycle tracking. While not much has changed from a fitness-tracking perspective, during testing, we found the Apple Watch 9 faster. When switching between apps and navigating menus, the Series 9 certainly felt more responsive next to the Series 8. Using the new Smart Stack UI in watchOS 10 felt effortless as well.
The display is also brighter on the Apple Watch 9, at 2,000 nits. That's double the brightness rating of the Apple Watch Series 8, making it easier to see your stats on the move. Thanks to all the performance upgrades, this is the best Apple Watch you can buy right now.
Read our full Apple Watch Series 9 review
Best fitness tracker ring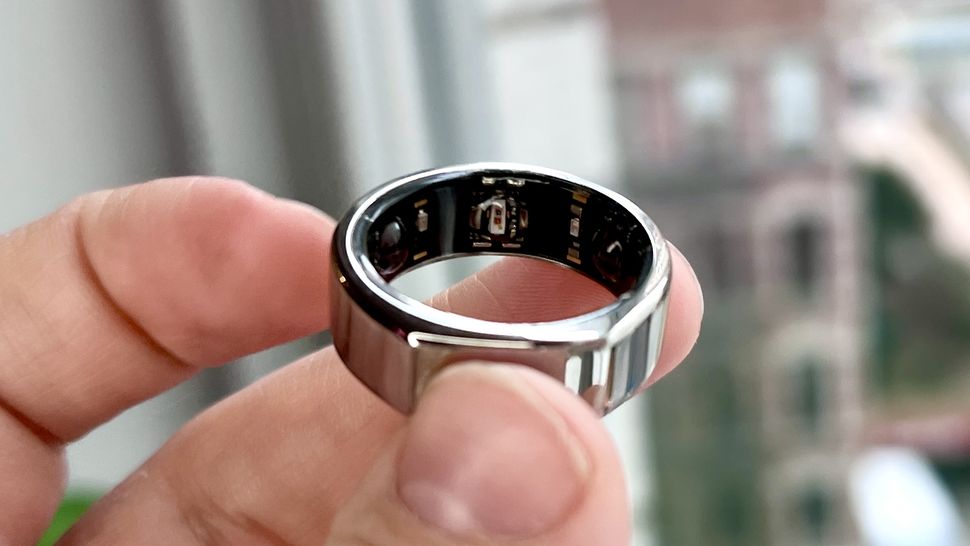 The Oura ring isn't your typical fitness tracker. For one, it's literally a ring, so you wear it on your index finger rather than your wrist. It also doesn't have any buttons or physical controls. That said, while you might not be able to see your pace on the run, the Oura ring tracks just about everything else when it comes to your health. The ring monitors your sleep, heart rate, respiratory rate, and body temperature. It also features a 3D accelerometer for detecting movement.
It's available in four different metal finishes, but you'll need to use a sizing kit to find the proper fit. While the sizing process is a little tedious, it's essential to fitting something you're supposed to wear 24/7. Once on your finger, you'll also need to pay a $5.99 monthly subscription to use the ring.
During testing, we found that the ring came into its own as a sleep tracker. The Oura ring makes it easy to see, at a glance, how well you've slept and where you need to improve. Here's more on the Oura Ring vs Apple Watch 8 as a sleep tracker. It can also be synced with Natural Cycles to make it easier to track your menstrual cycle.
Read our full Oura Ring Generation 3 review
How to choose the best fitness tracker
When buying a fitness tracker, you should first evaluate your needs. What do you want to track? If you're only using it at the gym to count your steps and your heart rate, a simpler, less expensive fitness tracker will suit you fine.
If, however, you plan to do more outdoor activities, such as running or biking, you may want a fitness tracker with built-in GPS, so you can more accurately see where you're going, and where you went. Dedicated runners and athletes will want to check out our best GPS watches page, too.
If you plan to use the fitness tracker for swimming, you'll want to make sure it's not only waterproof, but that it can also track your laps in the pool.
Many of the best smartwatches have fitness-tracking capabilities, too, and have additional features such as responding to text messages and paying for purchases. But there are trade-offs. However, smartwatches as a whole tend to be more expensive and have shorter battery life than dedicated fitness trackers.
How we test the best fitness trackers
For each new fitness tracker, we evaluate its hardware design and comfort; you need to be able to wear the device all day, and we've found that some larger trackers don't fit well on smaller wrists. If the device has a touchscreen, we look to see how readable it is, especially in bright sunlight. We also examine how easy it is to navigate the fitness trackers' menus; you don't want to have to dig through multiple screens to change your music if you're out running.
We also evaluate features such as step counting and sleep monitoring, distance calculations and when applicable, GPS and heart rate accuracy. And, we see how well a manufacturer's battery life claims hold up in real-world testing.
Finally, we test how well a device pairs with its companion app, and evaluate the experience of using the two together. We also look to see what features the device's app supports, such as coaching and diet tracking, and if it can sync data with third-party apps, such as MyFitnessPal.
Features comparison
Swipe to scroll horizontally
Best fitness trackers - comparison table

| Header Cell - Column 0 | Fitbit Charge 5 | Fitbit Inspire 3 | Amazfit Band 5 | Fitbit Sense 2 | Garmin Forerunner 265 | Garmin Venu 2 Plus | Samsung Galaxy Watch 6 | Whoop 4.0 | Apple Watch 8 | Oura ring |
| --- | --- | --- | --- | --- | --- | --- | --- | --- | --- | --- |
| Screen size (inches) | 0.86 X 0.58 inches | 1.5 x 0.7 x 0.5 inches | 1.9 x 0.7 x 0.5 inches | 40.5 mm | 1.1" (265S), 1.3" (265) | 1.3" | 44mm/40mm | 1.5 inches x 1 inch x 0.5 inches | 41mm, 45mm | 8 available |
| Resolution (pixels) | 326 PPI | n/a | 126 x 294 pixels | 336 x 336 pixels | 416 x 416 (265), 360 x 360 (265S) | 416 x 416 | 480 x 480 (44mm)/ 432 x 432 (40mm) | N/a | 484 x 396 pixels (45mm) | N/a |
| Weight | 0.98oz | 3.84 oz | 0.8 oz | 6.74 oz | 1.4 oz (265S), 1.65 oz (265) | 1.8 oz | 1.1 oz (44mm) / 1 oz (40mm) | 0.64 oz | 1.48 oz (41mm) | 0.1-0.2 oz |
| Battery life | 7 days | 10 days | 15 days | 6 days | 15 days (265S), 24 hours (265) | 9 days | Up to 40 hours | 4-5 days | 18 hours (36 hours with low power mode) | 7 days |
| Built-in GPS | Yes | No | No | Yes | Yes | Yes | Yes | No | Yes | No |
| Touchscreen | Yes | Yes | Yes | Yes | Yes | Yes | Yes | No | Yes | No |
| Payment | Yes - Fitbit Pay | No | No | Yes | Yes | Yes | Yes | No | Yes | No |
| Heart rate monitor | Yes | Yes | Yes | Yes | Yes | Yes | Yes | Yes | Yes | Yes |
More from Tom's Guide