Choosing the best Fitbit for you all depends upon your needs and budget. Fitbit's devices are some of the best fitness trackers you can buy, but range from the $100 Fitbit Inspire 3 to the $299 Fitbit Sense 2 so it's important to know what you're looking for.
Regardless of the model, Fitbit's devices track activities, steps, and sleep. They're also water-resistant and offer comprehensive female health tracking, and connect you to your smartphone. Moreover, you get access to Fitbit's app, offering up a community of users to connect with. So, whether you're trying to lose weight or hit a new running PB, Fitbit has a device to monitor your health and fitness.
If you're unsure what to look for, the best smartwatches range in features and price tags to help you decide what you need. Some handy features include GPS, on-screen workouts, and heart-monitoring capabilities, but it's worth having a think about how you will use your Fitbit.
We've tested the best Fitbits on the market while running, swimming, and sleeping to cut down on the necessary homework.
The quick list
Best Fitbit overall
The Fitbit Charge 6 is Fitbit's latest fitness tracker, replacing the Fitbit Charge 5 in the brand's line-up of trackers. It has a number of exciting updates compared to the Charge 5 — the haptic side button is back, making it easier to navigate around the tracker. You can also now use the Charge 6 as a heart rate tracker when using NordicTrack, Peloton, and Tonal gym equipment.
It's also the first Fitbit fitness tracker to get Google Maps, YouTube Music, and Google Wallet, but new Charge 6 users will need a Google Account now.
Of course, you buy a fitness tracker to, well, track your fitness, and the Charge 6 does a good job of this. It has built-in GPS to more accurately track your runs, hikes, and bike rides outside. It also has more sports modes than the Charge 5 did, allowing you to mix up your training.
During testing, we were impressed with the tracker, and how comfortable it was around the wrist, and how easy it was to read in the bright sunlight. The Fitbit Charge 6 is definitely one of the best fitness trackers on the market for most people. The upgrades made on the Fitbit Charge 5, namely the re-addition of a side button and the Google apps, have made what was already a great fitness tracker, even better in our eyes.
Read our Fitbit Charge 6 review here
Best budget Fitbit
If you're new to fitness tracking, the $99 Fitbit Inspire 3 is the ultimate entry-level activity band and the best Fitbit for you. For a third of the cost of the company's smartwatches, the Inspire 3 gets basic health metrics, automatic workout tracking and accurate sleep insights. It also comes with a free year of Fitbit Premium.
Fitbit rates the Inspire 3 battery life for 10 days, which makes it the longest-lasting Fitbit. There's no GPS or music storage, so you'll need your phone nearby for working out. But it does have Active Zone Minutes, which is a feature on Fitbit's pricier options that monitors the time you spend in the fat burn, cardio or peak heart-rate zones while exercising.
During testing, we were impressed by the price, the comfortable, lightweight design, and the fact it comes with six months of Fitbit Premium. Compared to the Fitbit Inspire 2, the newer device feels more premium, thanks to the bright AMOLED display, which is easy to see, even in bright daylight. The downside with this watch is the lack of in-built GPS, which isn't ideal for tracking activities outdoors, but if you don't mind taking your phone with you, don't let this put you off.
The Fitbit Inspire 3 won Best fitness tracker in the 2023 Tom's Guide Fitness Awards because it has a range of useful features, and doesn't cost the earth.
Read our full Fitbit Inspire 3 review here.
Best Fitbit smartwatch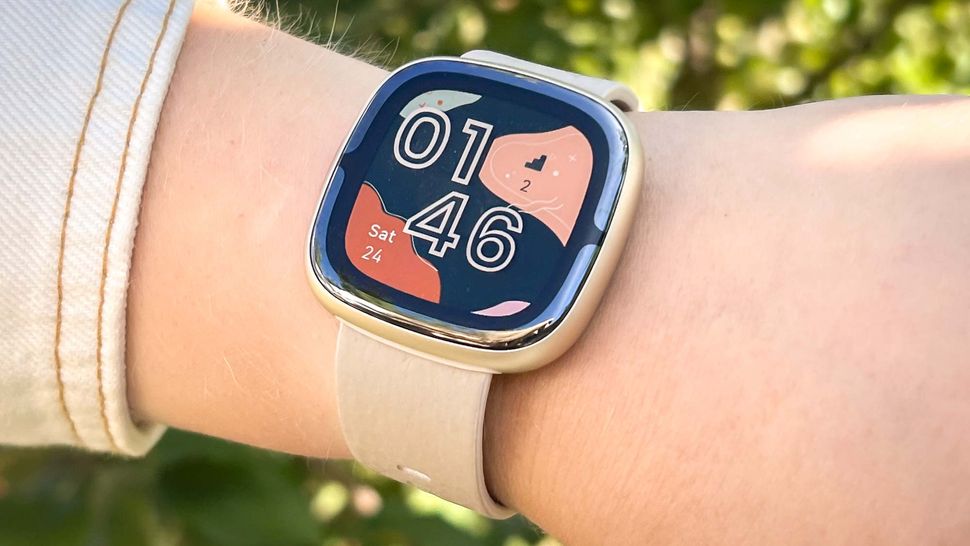 The Fitbit Sense 2 is the company's premium smartwatch that comes with more advanced health and wellness features that the Versa line. Not only does it have an FDA-approved ECG sensor and blood oxygen reading, but the Sense has the ability to measure electrodermal activity and skin temperature, too. Compared to the original Fitbit Sense, the Sense 2 features an upgraded design, interface and EDA sensor, making for Fitbit's most holistic smartwatch yet.
An update to the stress-detecting EDA (electrodermal activity) sensor plays a large role in the device's success: now called cEDA ('c' for continuous,) the sensor monitors stress levels or heightened responses throughout the day, prompting the user to take action on mood monitoring with Body Response notifications. During testing, we were impressed by the Sense 2's long battery life and attractive design, as well as the huge number of health tracking options.
As one of the best Fitbits, best smartwatches the Sense 2 works with both iOS and Android, and comes with onboard GPS, a native app store, Alexa, and more. No longer is Fitbit just a brand with products for tracking our steps: Fitbit devices like the Fitbit Sense 2 show what it means to take a holistic look at our health.
Read our full Fitbit Sense 2 review.
Best mid-range smartwatch
The best Fitbit midrange smartwatch is the Fitbit Versa 4, which was released in September 2022. Compared to the Fitbit Versa 3, the Fitbit Versa 4 has an updated interface and design that streamlines navigation and resurrects a physical side button. It also has the same great 6-day battery life and the Amazon Alexa voice assistant. But the Versa 4 isn't as strong as an activity tracker, with inaccurate heart rate readings that negatively influence earned Active Zone Minutes. It's also not as "smart" as the Versa 3, having lost support for third-party apps and Google Assistant.
During testing, we loved the look of the watch and found it fit comfortably against the skin. The watch is a decent fitness tracker, with support for 40 workout types, automatic workout-tracking, plus it does step-counting very well. That said, we found the heart rate readings weren't quite as accurate as other fitness trackers on the market.
It's also not as impressive as it could be as a smartwatch, but don't let this put you off entirely. If you're looking for an affordable fitness tracker that'll count your steps, monitor your sleep, and mirror your smartphone notifications, all while having Alexa on board, this is a watch worth looking at.
Read our full Fitbit Versa 4 review here
Best looking Fitbit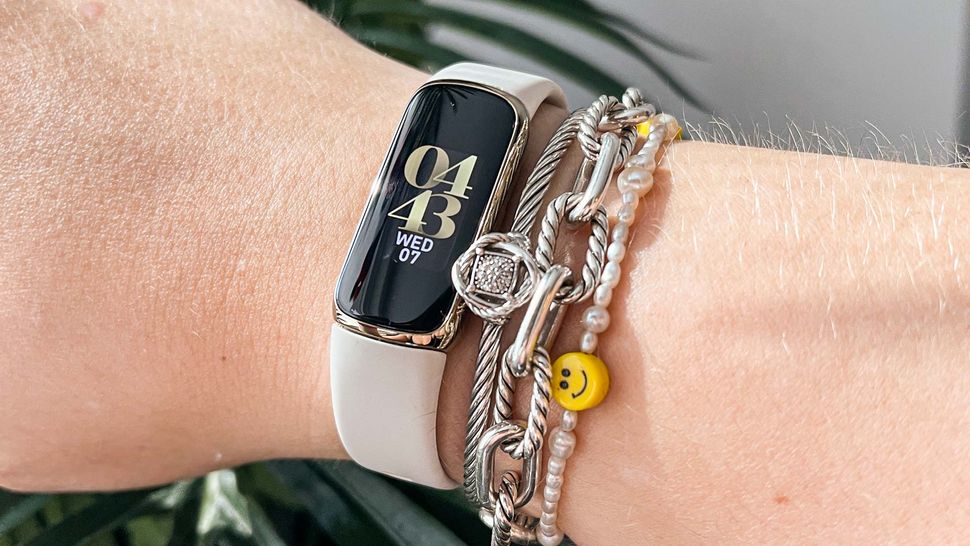 The $150 Fitbit Luxe looks to make fitness tracking a fashion statement. While we've seen smartwatches offer lifestyle models as alternatives to their sporty counterparts, the Fitbit Luxe is the first activity band we've seen in a long while that'll pass as wrist candy.
Unlike some of the best Fitbit models, the Fitbit Luxe introduces elevated, jewelry-inspired elements with a color touchscreen and stainless steel casing with metallic finishes. It looks even better paired with a "special edition" link bracelet from Fitbit's partner designer brand. We wish it offered GPS and contactless payments for the price, but it's still the most attractive fitness tracker we've seen in a while.
Read our full Fitbit Luxe review.
Best Fitbit for kids
The Fitbit Ace 3 is one of the few fitness trackers designed for kids. Like Garmin's Vivofit Jr. models, the Fitbit Ace 3 offers parental controls for their children (8 and up) and helps set health goals in a way that's appropriate for little ones. Unlike the fitness bands Fitbit makes for grown-ups, kids won't be able to see metrics such as calorie burn or body fat percentage on the device or in the Fitbit app. Rather, the Fitbit Ace 2 offers achievements and trophies that can be unlocked by activity.
Fitbit Ace is designed to encourage kids to get up and move instead of sit in front of a TV. Colorful band options add a fun flair, while the game-based goals are certain to grab your kid's attention.
How to choose the best Fitbit
If you spend more time than you wish to disclose on your butt watching TV, and want to start down the path to a healthier lifestyle, a basic tracker that costs less than $100 will most likely suit your needs. The $99 Fitbit Inspire 3 will track your daily steps, calories and distance, showing your stats on a small OLED touchscreen.
For those who work out more frequently, the Fitbit Charge 5 might better suit your needs. This band has all of the same features as the Inspire HR, but comes with a larger OLED touchscreen display, which makes it easier to see notifications and health data at a glance. It also has NFC built in, so you can use it for mobile payments via Fitbit Pay.
Those looking for more of a smartwatch-style fitness tracker should check out the Fitbit Versa 4 or Fitbit Sense 2. These devices have square, color touchscreens that can be used with Fitbit's small but growing app store.
How we test the best Fitbits
By wearing them, of course! When Fitbit comes out with a new fitness tracker or smartwatch, we fully charge it up, then strap it on our wrist for about a week or so to test out all its features.
First and foremost: How does it feel? Some fitness trackers are pretty bulky, which means they won't fit comfortably on smaller wrists. Next, we look at its fitness features, such as its heart rate monitor and, where applicable, its GPS. How accurate are both sensors?
We also look at the other features of the Fitbit, including sleep tracking, female health tracking, mobile payments, and smartphone notifications.
Finally, there's comparing Fitbit's battery life claims to our actual use. Some sensors chew up juice faster than others, so if you've got the screen on constantly, or are always using the heart rate monitor, your mileage may vary.
What is Fitbit Premium?
If you want to get more from your Fitbit, you can sign up for the brand's Premium service, which gives you access to hundreds of video and audio workouts, personalized insights, and tailored health and fitness programs.
If you're really into tracking your sleep, Premium gives users more data to delve into, including an analysis of sleep duration and a deeper look into sleeping heart rate, and restlessness. Fitbit Premium also gives users a daily wellness report, which includes guidance on health and recovery, based on Fitbit stats. In 2022, Fitbit has added Sleep Animals to the Sleep Score feature, six animal archetypes have been chosen based on their sleeping type, including Giraffe, Bear, Dolphin, Hedgehog, Parrot, and Tortoise.
Fitbit often offers members a free trial to their Premium service when they buy a tracker, but after that it'll cost $9.99 a month, or $79.99 a year. We look at whether Fitbit Premium is worth it to help you determine whether you should pay that extra subscription fee.