The best Apple Watch apps will help you make the most of your high-tech smartwatch.
In fact, the Apple Watch's App Store is a big reason why the Apple Watch Series 8 and Apple Watch SE (2022) are among the best smartwatches you can buy.
Whether you're browsing from your iPhone or wrist, the App Store is stocked with useful, entertaining, health-promoting and productivity-boosting programs you can use on any of the best Apple Watch models.
But with thousands of apps to choose from, we narrowed down the best Apple Watch apps by taking into account user reviews, our personal experiences and features. Some apps just make more sense to have on your wrist than others. Many of the best Apple Watch apps are entirely free, too.
For more information on all the things you can do with your wearable, check out our complete Apple Watch guide. Note that apps work best when you're running the latest watchOS 9 software. See how to update your Apple Watch if you need tips.
See all of the best Apple Watch apps below.
Health and fitness apps
With its activity rings and deep Apple Health integrations, the Apple Watch is the ultimate fitness tool. Whether you're looking to get more active or get more insight on your body, there's an app for you. Here are all the best Apple Watch apps for fitness and physical health.
Water Reminder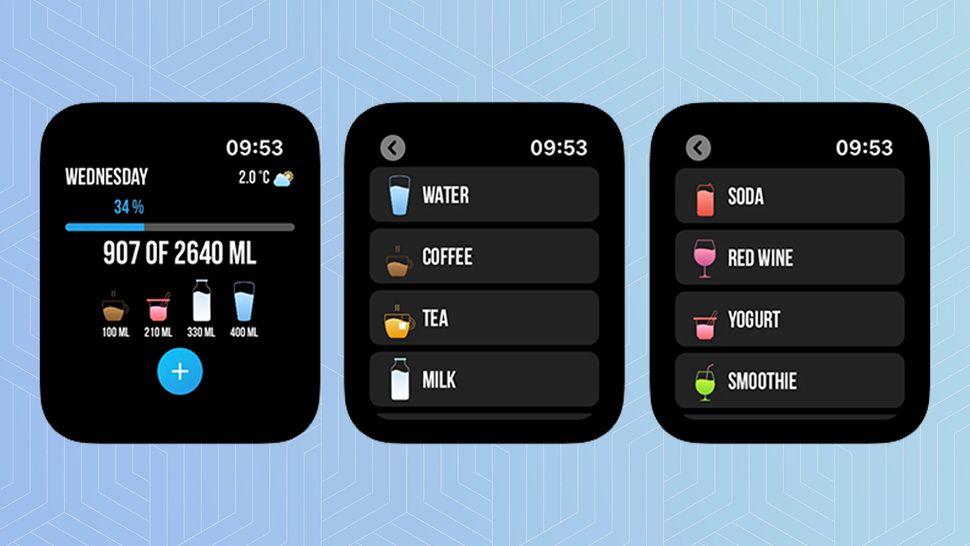 Water Reminder is the one Apple Watch app everyone should be using, and that's why it's the best Apple Watch app overall. Even with the best water bottle, staying hydrated is hard when you're facing a busy schedule, so this app will notify you if you've gone a little too long without water.
How does it know? As you drink water or other beverages throughout the day, you log the amount of liquid you're consuming on your wrist. First, you need to download Water Reminder on either your iPhone or Apple Watch. You'll then be prompted to configure your settings. The app gives you the option to sync with Apple Health for your age, weight and height information, or you can input that data manually. You'll also be asked to enter your activity level, climate and personal goals.
Download Water Reminder for Apple Watch (free)
MapMyRun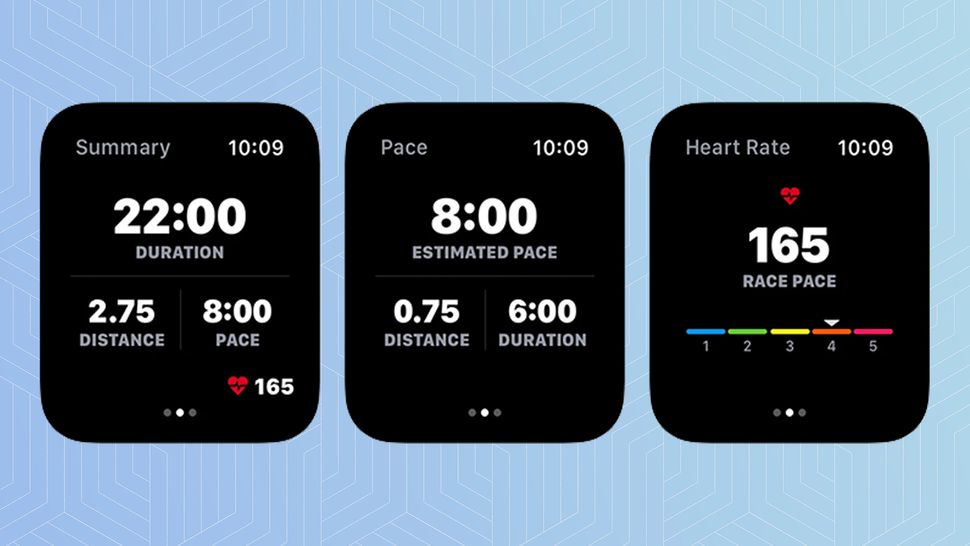 Under Armour's workout-tracking app is one of the best workout apps on the iPhone, and it's one of the best Apple Watch apps, too. If you've ever used MapMyRun to log your miles, continuing to train with the watch app is a no-brainer.
MapMyRun uses the watch's built-in GPS and heart rate monitor to track a variety of workouts, including outdoor and treadmill runs, walks and bike rides. The app displays your distance, duration, pace and heart rate throughout each workout. MapMyRun can be connected to Under Armour's MyFitnessPal app for a well-rounded look at your health and activity. That's useful if you're watching your weight or trying to meet a training goal.
MapMyRun can be paired to Under Armour's lineup of Bluetooth-equipped shoes for more advanced details like whether you land on the ball of your foot or your heel as you pound the pavement. We recommend this app if you want your Apple Watch to be one of the best running watches.
Download MapMyRun for Apple Watch (free)
Nike Run Club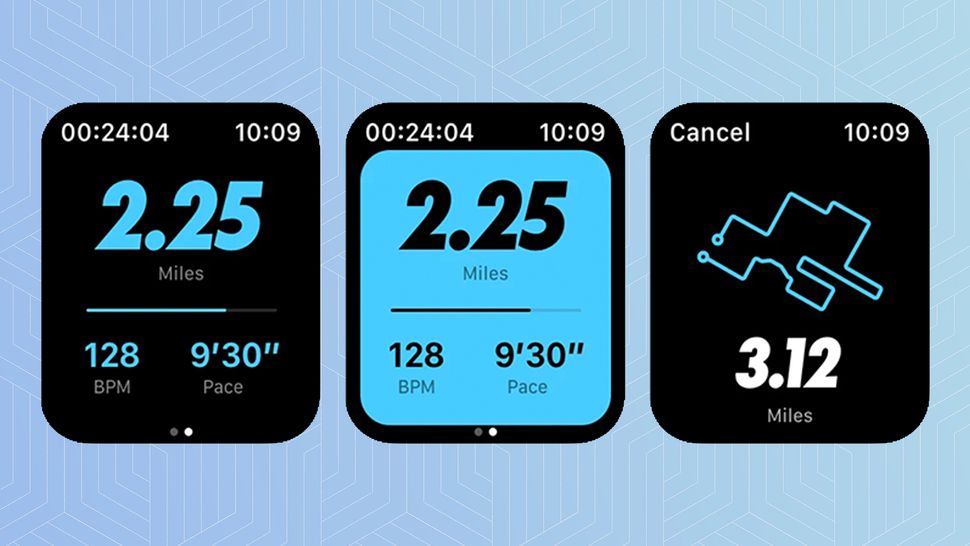 Nike's relationship with Apple runs deep: The two companies partner on a Nike+ edition of the Apple Watch, which includes a specially designed Nike sport watch band and a watch face that puts the company's Nike Run Club watch app front and center. But you don't have to buy the Nike model to start using the Nike Run Club app, one of the best Apple Watch apps for running.
The free app, which is also one of the best running apps, logs stats like distance, pace, splits, heart rate and more. It also offers free audio-guided runs, customized coaching plans to help you meet your goals, and a social element that lets friends cheer you on.
Download Nike Run Club for Apple Watch (free)
Strava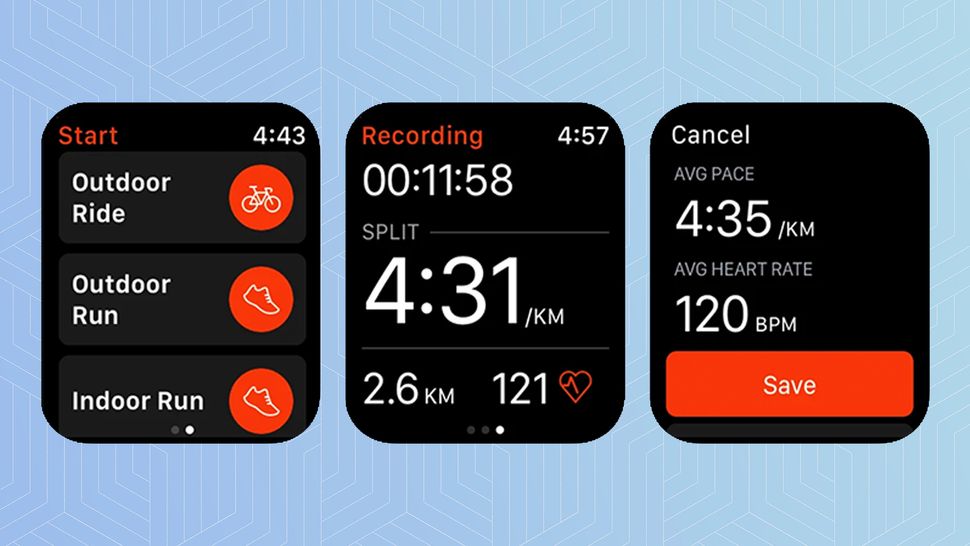 Runners and cyclists who use Strava will love the Apple Watch version of the app. You don't need to carry your phone with you to log miles thanks to the Apple Watch's built-in GPS. With a cellular version of the Apple Watch, you can stream music and take calls while out on the trail.
The Strava watch app itself is fairly basic: It records runs, bike rides and swims, and displays data like heart rate, mileage and pace. The Strava iPhone app is more fully featured, but you have the option to use the Apple Watch's native Workout app to track a run or a ride and then export that data to Strava using a separate iOS app, HealthFit ($2.99).
Download Strava for Apple Watch (free)
ViewRanger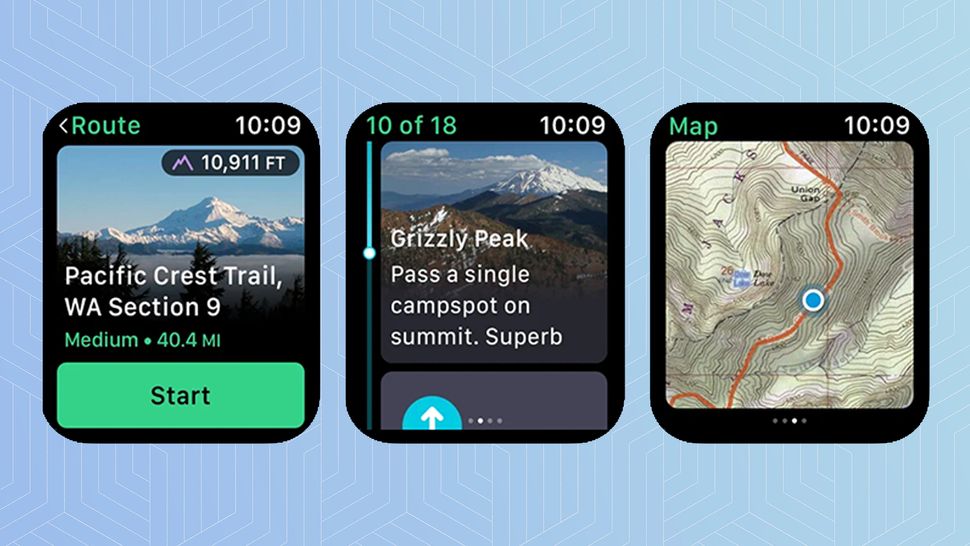 ViewRanger is among the best Apple Watch apps for outdoor sport enthusiasts. If you've opted for an Apple Watch instead of one of the best Garmin watches or best GPS watches, you can use ViewRanger to improve how well your wearable knows your surroundings.
You can use ViewRanger to send outdoor routes (and related offline maps) from your iPhone to Apple Watch. On your wrist, you can follow turn-by-turn directions, see photographs of landmarks and read route facts, all while seeing your GPS location. Your hiking, biking and trail running activity will also sync with Apple Health to fill your Activity rings.
Download ViewRanger for Apple Watch (free)
GoPoop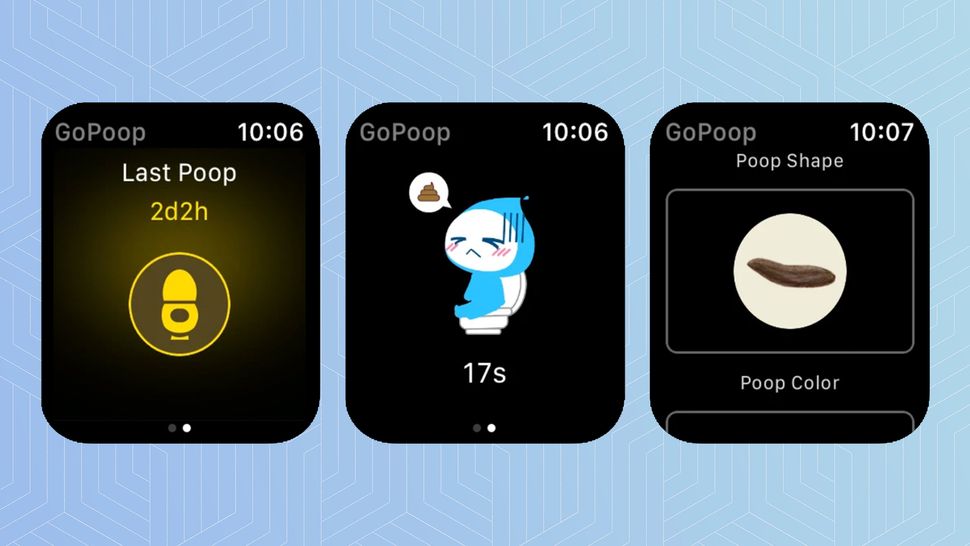 Physical health isn't limited to physical movement. There's another kind of... movement… that's a good indicator of what's going on with your body. Though it might sound gross, logging your bowel movements can help you see whether you're on the right track with your activity, diet and more.
Using the data gathered by your observations, GoPoop will keep track of the last time you went, as well as offer actionable advice based on your recordings. The app adheres to the Bristol Stool Scale, a widely-followed research tool used to evaluate the effectiveness of treatments for gut and bowel conditions, too.
Download GoPoop for Apple Watch (free)
Pedometer++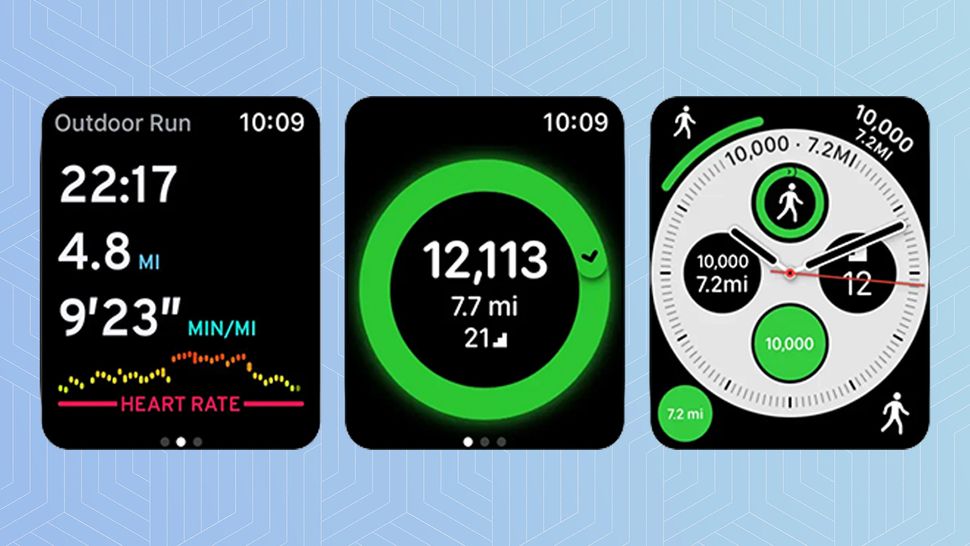 One of the best ways to make the most of your Apple Watch is to customize your watch face with complications. These complications offer quick glances at the information that matters most to you. For some people, that information might be daily step count progress.
If you haven't seen a step-count complication when changing your Apple Watch face before, it's because there isn't one — not natively, at least. But if you have a third-party step-counter like Pedometer++, you'll be able to see your steps every time you check your watch. Pedometer++ has options for daily progress, progress and steps, steps and distance, floors climbed and more. While you'll be able to see your selected data at a glance, you can click on the complication to see all the movement data tracked by the pedometer app.
Download Pedometer++ for Apple Watch (free)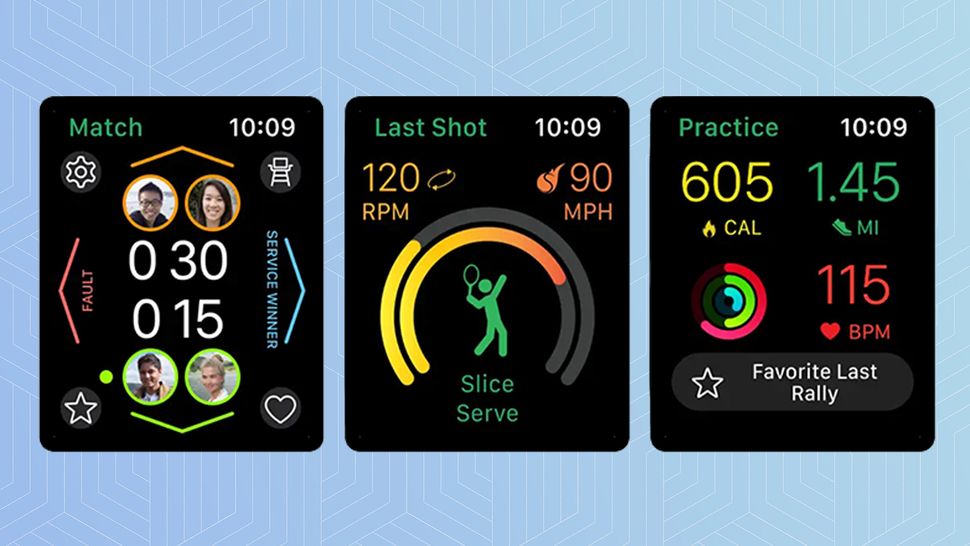 If you're looking to take your tennis game to the next level, you might want to know about SwingVision. As one of the best Apple Watch apps for sports (it was even featured in an Apple Watch ad,) SwingVision leverages AI as well as the technology in Apple devices to create comprehensive reports of how you play.
We tried out SwingVision for Apple Watch, the SwingVision app on my wrist tracked my heart rate, calories, distance moved and number of shots. And after each individual shot, we could see specific details about my swing. Based on the movement of my wrist, SwingVision identified what kind of shot we made, how fast we hit the ball and the rotational speed of the ball. For an added fee, coaches can introduce an iPad Pro to the game, with SwingVision acting as a line judge and deeper data source for practice metrics.
Download SwingVision for Apple Watch (free)
Mental wellness apps
Beyond physical health, the Apple Watch can help you manage mental health. While Apple's native Mindfulness app is useful for breathwork and reflection, these are the best Apple Watch apps for taking your mental health journey one step further.
Headspace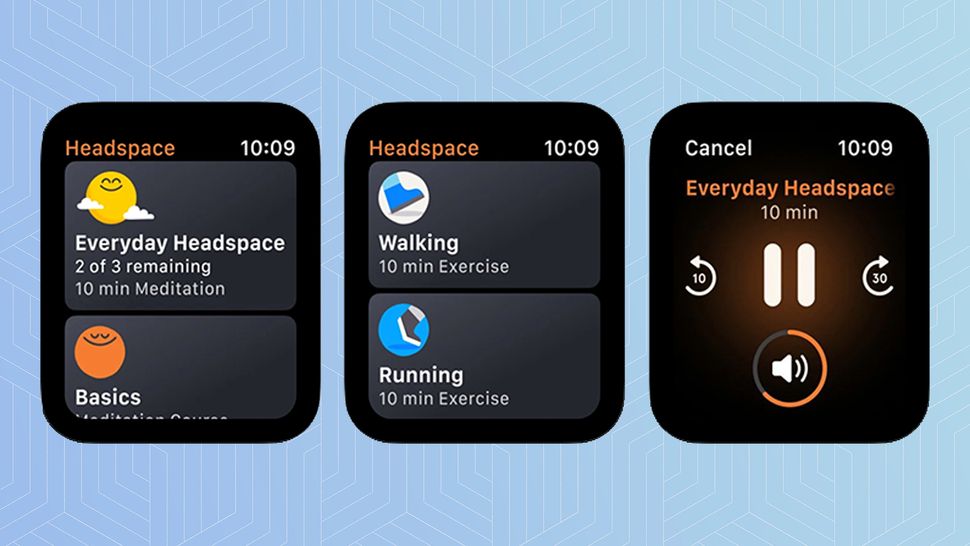 The popular meditation app Headspace puts guided breathing and meditation sessions on the wrist. If you're trying to cut down on your phone use, this is one of the best Apple Watch apps for detoxing.
You can choose from quick 1-minute meditation mini-sessions or full 10-minute sessions to get your day started or take a break from the grind of daily life. Headspace offers a curated selection of free sessions; a premium subscription ($12 per month, or $70 per year) unlocks hundreds of sessions, including SOS sessions for easing anxiety in stressful moments.
Download Headspace for Apple Watch (free)
Calm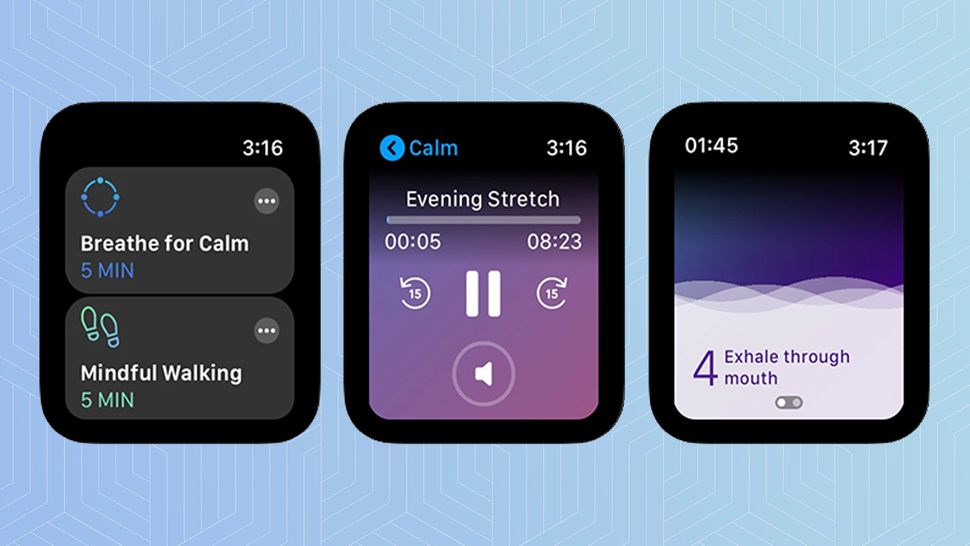 Similar to Headspace, Calm is a versatile guided meditation app designed to be able to offer something for beginners and meditation veterans alike, with sessions ranging from 3 to 25 minutes. Those sessions cover a variety of topics, including calming down anxiety and de-stressing, building focus, self-esteem, and helping you get into the right mindset for a comfortable sleep.
As usual with the best Apple Watch apps, there's limited features for free tier users. Calm's premium subscriptions start at $14.99 a month and unlock Daily Calm meditations, sleep aids, masterclasses and exclusive music tracks and meditations. Health-care provider Kaiser Permanente offers free access to Calm to its 12.4 million members as well.
Download Calm for Apple Watch (free)
Music and podcast apps
You don't need your iPhone to stream music and podcasts from your wrist. While you can't actually listen to audio content aloud from your Apple Watch's built-in speakers, you can use your smartwatch to search and control content to play through any of the best wireless headphones. Here are the best Apple Watch apps for music and podcasts.
Apple Music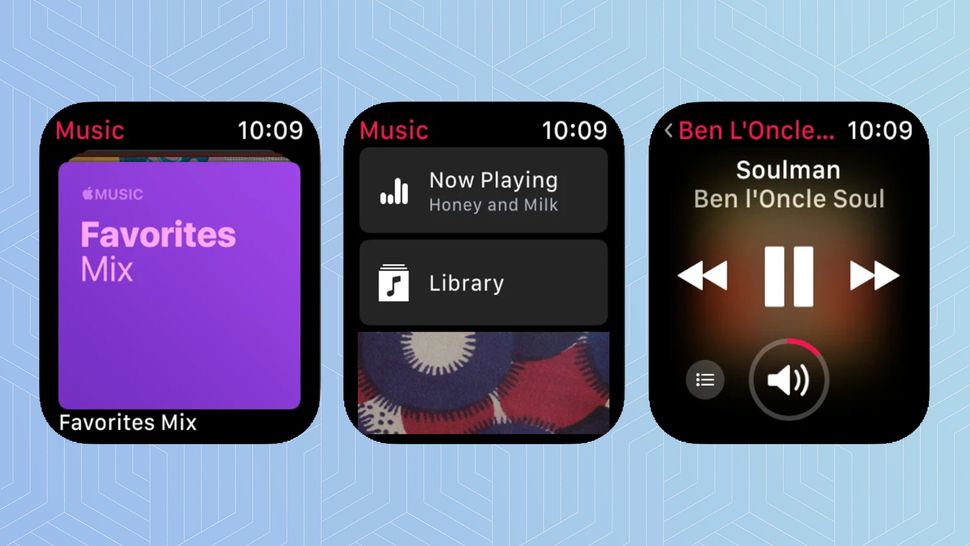 It's not a big surprise that Apple offers the best Apple Watch app for music. Apple Music is one of the few streaming music services that doesn't offer a free tier, but if you pony up for a monthly subscription, you can listen to all of your favorite tunes on the Apple Watch. With an LTE watch and a separate data plan, you can stream songs even without your phone nearby.
You can also download Apple Music playlists to the watch for offline listening without an LTE plan, which is useful if you prefer to work out unencumbered by your iPhone. Just pair some Bluetooth earbuds to the watch and hit the ground running.
Download Apple Music for Apple Watch ($9.99 per month)
Spotify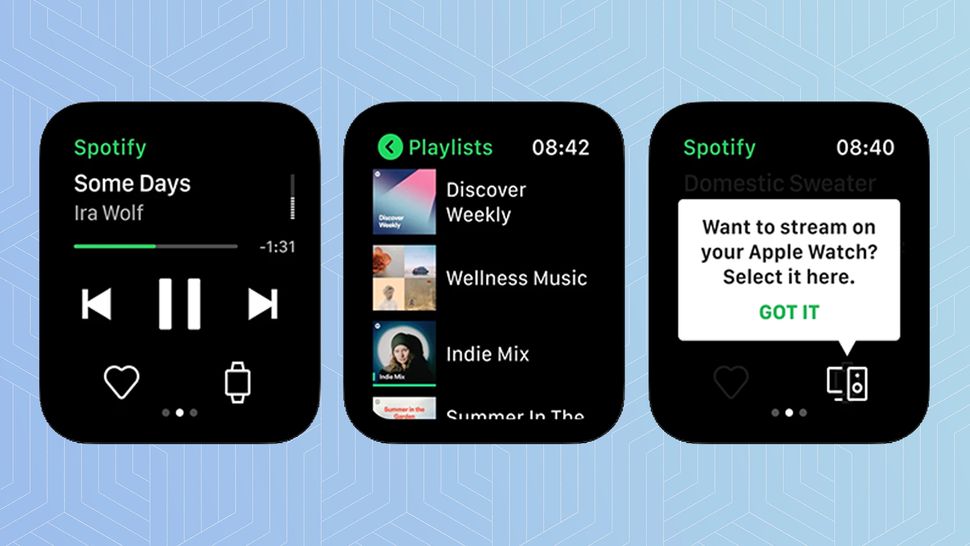 Spotify, one of the best iPhone apps for music, has an Apple Watch app where you can download music for offline playback if you're a Spotify premium subscriber. And even if you use Spotify's free version, you can control Spotify playlists from your watch and listen through your Bluetooth headphones. If you're home, you can control Spotify playing through the best smart speakers on your WiFi network, too.
Be sure to check out our guides on how to download Spotify playlists to your Apple Watch and how to get a Spotify student discount, so you can get this music streaming service for less.
Download Spotify for Apple Watch (free)
Audible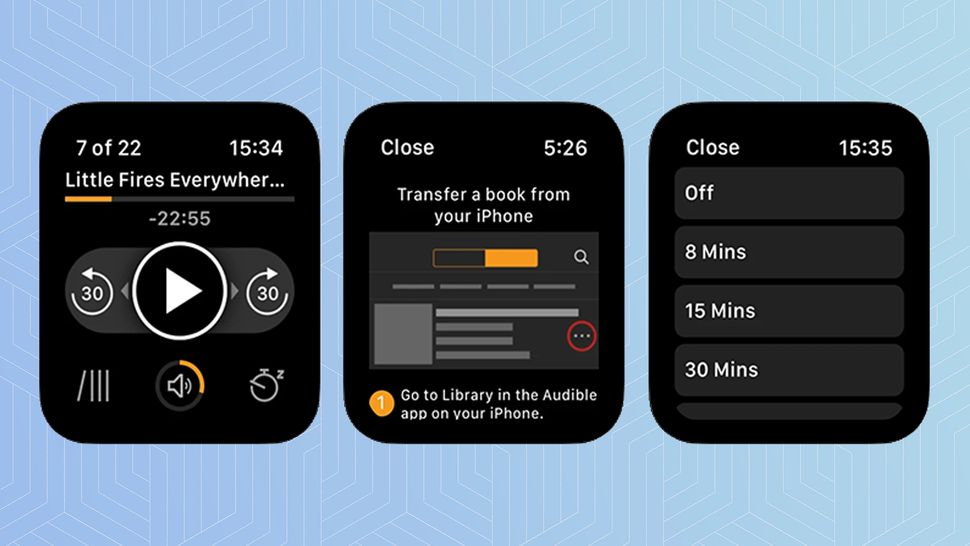 Apple Watch's software, currently in version watchOS 8, supports streaming spoken audio over LTE. That means Audible audiobooks can be streamed on the watch — you can also transfer audiobooks from your phone to your Apple Watch for offline listening. That's why Audible is one of the best audiobook apps around.
The watch app will sync with the iPhone app to pick up right where you left off, so you won't lose your spot. Audible requires listeners to pay for credits, so you can't download unlimited audiobooks for free. But the option to either stream or store audiobooks on the watch is a welcome addition.
Download Audible for Apple Watch ($7.95 per month)
Sleep tracking apps
Many of the best sleep apps have Apple Watch versions, so you get insight and advice on how well (or not) you're resting overnight. Native Apple Watch sleep tracking is good, but if you want a deeper look at your sleep habits, here are the best Apple Watch apps for sleep tracking. (Just make sure you have on the best Apple Watch bands that's comfortable enough to wear to bed.)
AutoSleep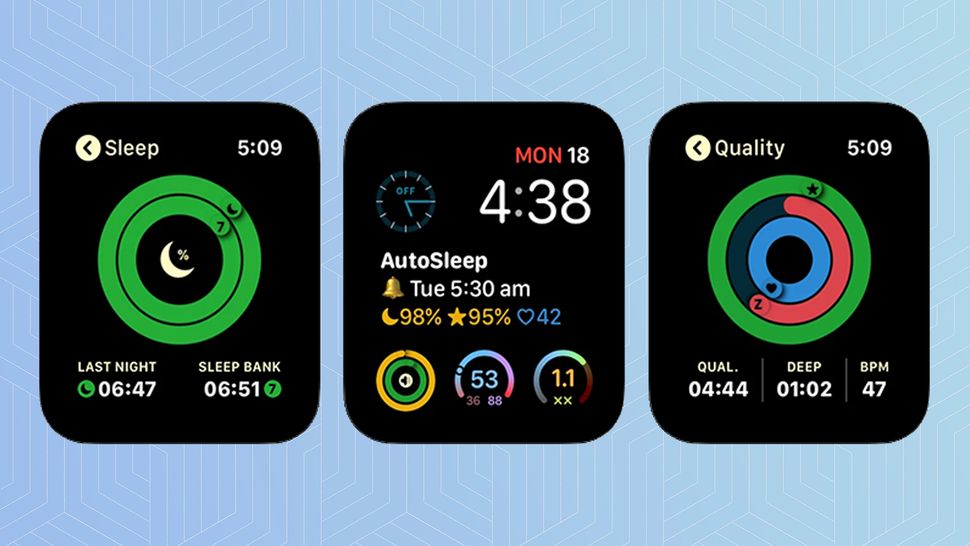 If you want to track your sleep, AutoSleep is one of the best Apple Watch apps to try. It automatically detects when you fall asleep and when you wake, then delivers a full analysis in the morning based on time spent in bed, movement and heart rate.
AutoSleep also works when you don't wear your Apple Watch to bed, but the analysis is less detailed because it's based on your time spent not wearing the watch, instead of incorporating movement and heart rate data.
Download AutoSleep for Apple Watch ($2.99)
Sleep Cycle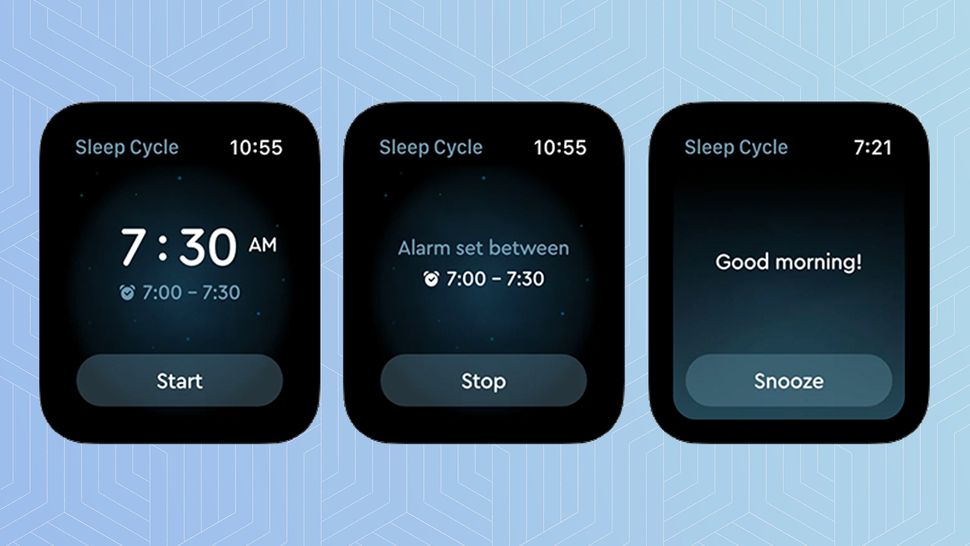 Sleep Cycle is one of the best Apple Watch apps for sleep tracking because, like Fitbit's sleep tracking software, it pays attention to your nightly sleep cycles to determine when it should wake you up. Before you go to bed, the Sleep Cycle app asks you to set a 30-minute window in which it can wake you up. Then, when it senses a natural point for you to crawl back to consciousness, it leverages the Apple Watch's advanced haptics to stir you from your sleep.
An optional premium Sleep Cycle membership costs $29.99 per year, but unlocks information a sleep tracking enthusiast should find valuable. It compares your Sleep scores against other Sleep Cycle users around the world and lets you take notes of factors that increase or decrease your sleep quality. It even lets you know if your local weather influences how well or poorly you rested when you've used the app for an extended period of time.
Download Sleep Cycle for Apple Watch (free)
Productivity apps
You can use your Apple Watch to get organized, make your day easier and more. Here are the best Apple Watch apps for productivity.
Just Press Record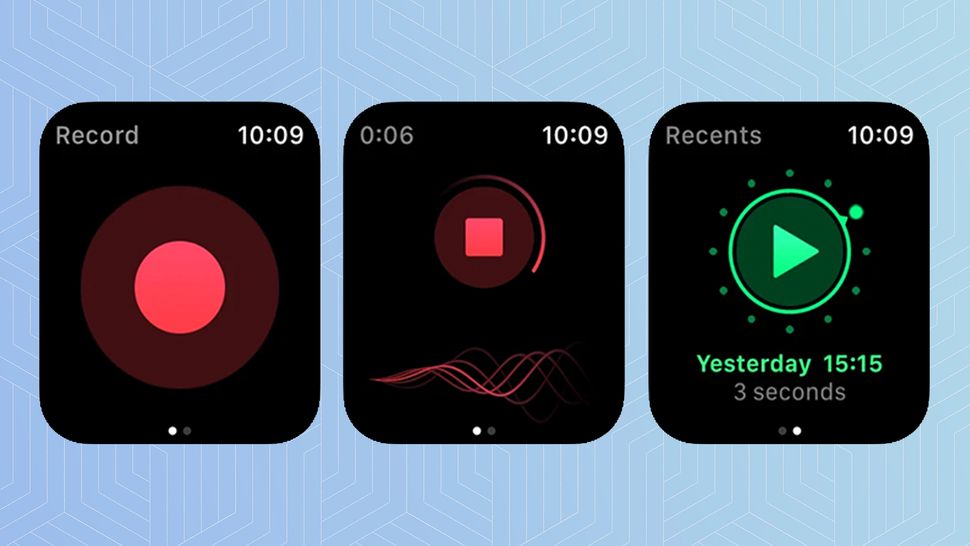 Until the Apple Watch gets a native Notes app, Just Press Record is one of the best Apple Watch apps for keeping track of ideas, lists and messages from your wrist. The program offers one-tap recording in an easy-to-use interface, so you can start dictating whatever it is you want to remember for later use.
Better yet, Just Press Record offers transcription and iCloud syncing to all your Apple devices. You can edit your audio and transcriptions right inside the app and start a new recording completely hands-free with Siri, too.
Download Just Press Record for Apple Watch ($4.99)
Todoist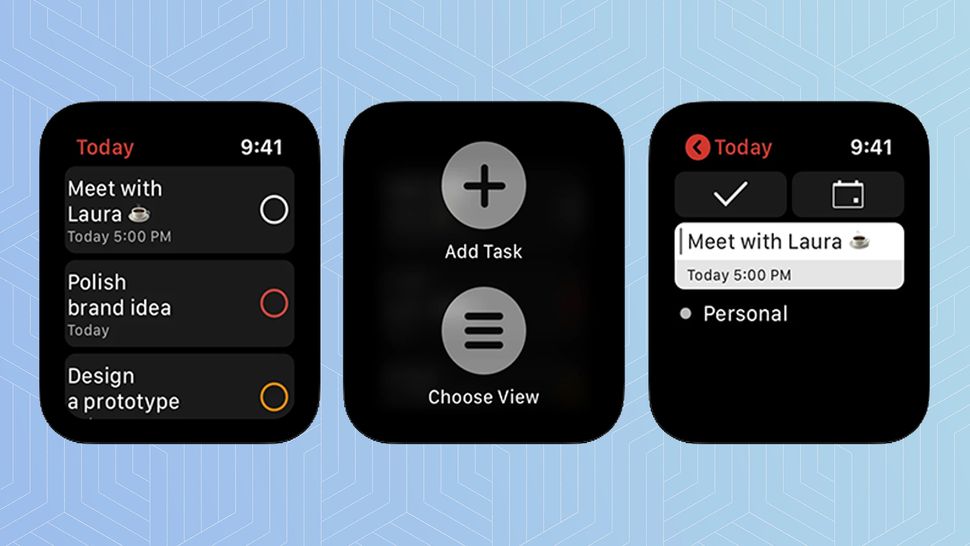 Todoist's popular to-do list app is one of the best Apple Watch apps because the service makes it easy to keep track of your daily tasks on your Mac, iPhone, iPad or on your wrist. You can add tasks on the watch using voice dictation, get reminders about deadlines and check completed actions off your list. Your to-do lists are synced across all of your Apple devices, so you don't need to whip out your phone or crack open your MacBook to stay on top of your calendar.
The feeling of crossing an item off your to-do list (or marking as done with a tap on your wrist) is so satisfying that this app is a must-have.
Download Todoist for Apple Watch (Free)
Travel apps
See more of the world with the Apple Watch as your guide. Whether it's turn-by-turn directions or a virtual translator, there are the best Apple Watch apps for travel.
Google Maps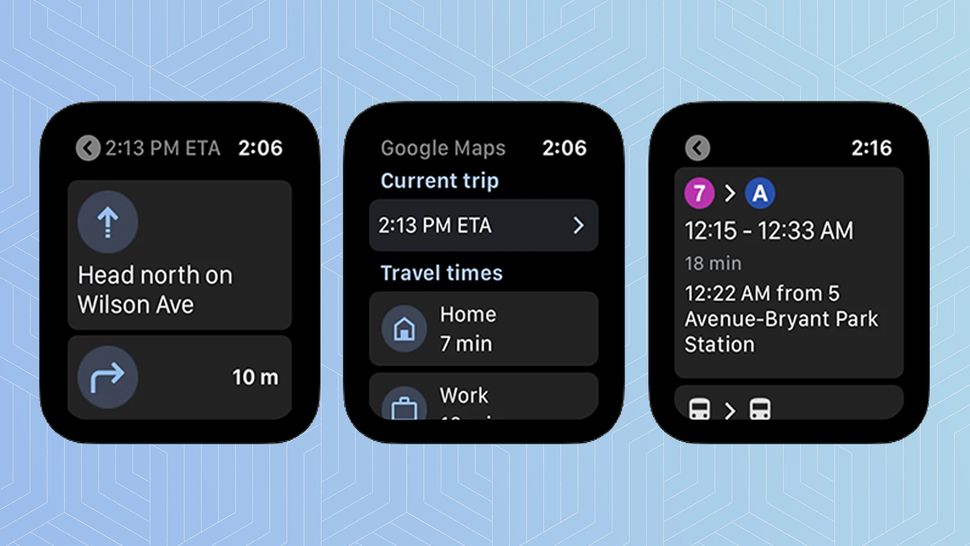 You might know how to use Google Maps, but did you know you can use it on your Apple Watch? As one of the most comprehensive navigation services, Google Maps can help you get where you need to go, nearly anywhere in the world.
To better suit the smaller, more immediately accessible display, you don't actually see a map on the app. Instead you get a choice of navigating to your favorite destinations via car, bike, public transport or walking. Once you've picked a place from the list or typed in a new one onto your phone, and selected your mode of transport, you'll then get a list of step-by-step instructions complete with haptic alerts to make sure you don't miss a turn.
Download Google Maps for Apple Watch (free)
iTranslate Converse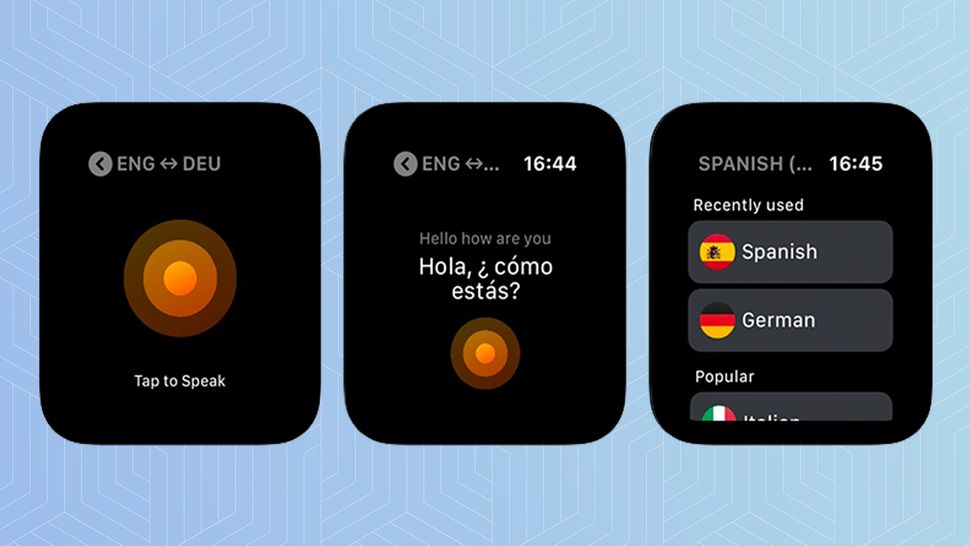 Turn your Apple Watch into an international translator. With support for 38 different languages, iTranslate Converse is one of the best travel apps that can help you brush up on your own language skills or communicate with someone who speaks a different language than you. You can either manually select the language you want to translate, or let iTranslate Converse automatically detect the languages for you.
We've found that even in noisy environments, iTranslate Converse can provide near-instantaneous translations. And afterwards, you're able to view and export transcripts of your conversation, which is especially helpful for directions or recommendations while traveling. Be sure to check out the best smart luggage to round out your next adventure, too.
Download iTranslate Converse for Apple Watch (free)
Games apps
What if you could get your game on from your wrist? There aren't many games for Apple Watch, but we've found a few are actually fun and easy enough to play on a small display. Here are the best Apple Watch apps for playing games.
Snappy Word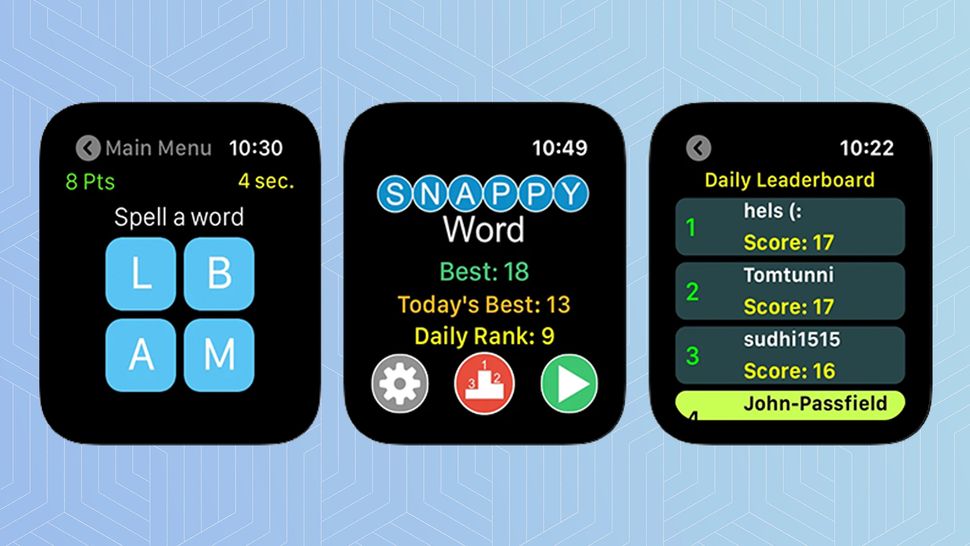 With more than 400 levels to play, Snappy Word is one of the best Apple Watch apps for passing time and exercising your mind. This word game is sneakily addictive, testing how many words you can make from a collection of random letters.
If you score high enough, you can earn a spot on leaderboards, and even challenge your friends to a few rounds.
Download Snappy Word for Apple Watch (free)
Tiny Armies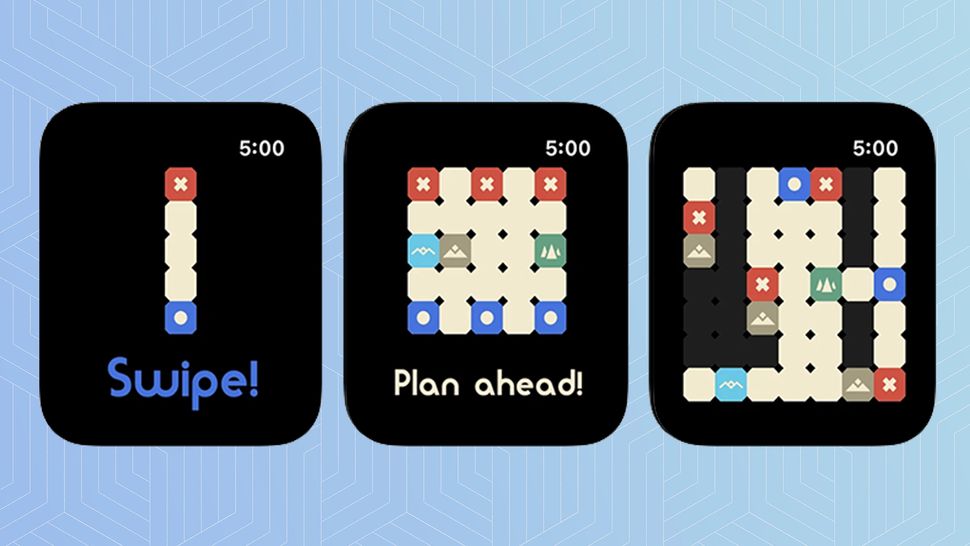 Conquer your enemies in Tiny Armies, a fast-paced strategy game that works just as well on Apple Watch as it does on iPhone or iPad. Your goal is to outsmart an AI opponent as you take turns moving your pieces around the board. Your army travels as a unit and will face a series of obstacles, so you need to map your moves carefully.
Download Tiny Armies for Apple Watch ($0.99)
How we test the best Apple Watch apps
We curated this list of the best Apple Watch apps based on hours of experimenting with dozens of different programs available in the wearable App Store. Not only did we pore over user reviews — we used the apps ourselves to confirm they live up to claims and work well from our wrist. Many of the apps are ones we use on a daily basis.
If you need more advice on making the most of your smartwatch, check out our guide on how to use the Apple Watch and how to set up the Apple Watch to your liking. You'll want to know the Apple Watch settings to enable and disable.