The best HomeKit devices can be controlled with Apple's voice assistant, Siri. With your voice or any Siri-enabled gadget, you can carry out hands-free commands and allow your smart home devices to communicate with each other.
Siri is a familiar name for iPhone and iPad users, but the virtual assistant also works with a number of compatible smart home devices through Apple's HomeKit platform. Like the best Alexa compatible devices or the best Google Assistant compatible devices, the best HomeKit devices allow you to expand your smart home's powers.
Whether you communicate with Siri via an Apple HomePod smart speaker or your iOS device, the assistant is ready to make your smart home more cohesive. HomeKit might not be as popular as Alexa or Google Home, but the number of companies that support Siri continues to grow. It's safe to say the best HomeKit devices are worth buying.
Looking for more top smart home products? Make sure you check out all of our picks for smart speakers, lights, locks, and more on our best smart home devices page.
See all of the best HomeKit devices below.
The quick list
Here are the best HomeKit gadgets you can buy right now based on our in-house testing and reviews. Scroll on for our full in-depth breakdowns of their individual performance and everyday experience.
Best for most
The best device for most people
Apple's entry-level smart speaker is small but mighty. It packs large radiators, an acoustic waveform guide, and computational audio to analyze and enhance every sound it puts out. Plus it doubles as a speedy smart home hub that responds to voice commands almost instantly.
Best streaming device
The best TV streaming device
You won't be waiting around to load into your favorite streaming apps or movies thanks to the powerful A15 Bionic processor built into this new Apple TV. In our review, we praised its speedy, clutter-free layout. This little box fits easily into your smart home setup as a way to view HomeKit video camera feeds or AirPlay from your Apple devices on the big screen.
Best sound
The best sound performance
This second-generation HomePod fills your room with louder and clearer audio than most of the best smart speakers. It can even monitor your home with built-in temperature and humidity sensors and use this information to create automations. Even better this HomePod supports Matter to control virtually every smart device you buy going forward.
Best smart plug
Wemo WiFi Smart Plug review
The best smart plug
Turn your "dumb" appliances smart by plugging them into the Wemo WiFi smart plug. This sleek device takes up minimal outlet space and features robust scheduling options. Its HomeKit widgets and shortcut integrations feel as if they were made directly by Apple and look sharp on your iPhone's screen.
Best smart lock
The best smart lock
Schlage's smart lock is built tough enough to withstand several strikes and can be managed directly from HomeKit. You can use your iPhone or Apple Watch to unlock your door with a tap through Apple's HomeKey feature. This works even if your device's battery happens to die before you get home.
Best smart thermostat
6. Ecobee SmartThermostat
The best smart thermostat
The Ecobee has Alexa built-in, but you can also connect it directly to Siri, so you can use its microphone and speaker directly with Apple's assistant. It's large enough so that you can see the temperature from across the room and comes with remote sensors with excellent range and battery life.
The best HomeKit devices you can buy today
Best overall
Apple's budget smart speaker is small—basically, the size of a large apple—but delivers excellent audio, thanks to massive radiators, an acoustic waveform guide, and computational audio that analyzes everything the HomePod mini plays.
Another reason that the HomePod mini is one of the best HomeKit devices is that it acts as a HomeKit hub, and even supports Thread, a next-generation networking technology. The HomePod mini can also be paired in stereo and linked with the Apple TV 4K, so you can use them as an audio output when watching movies and TV.
Read our full Apple HomePod mini review.
Best streaming device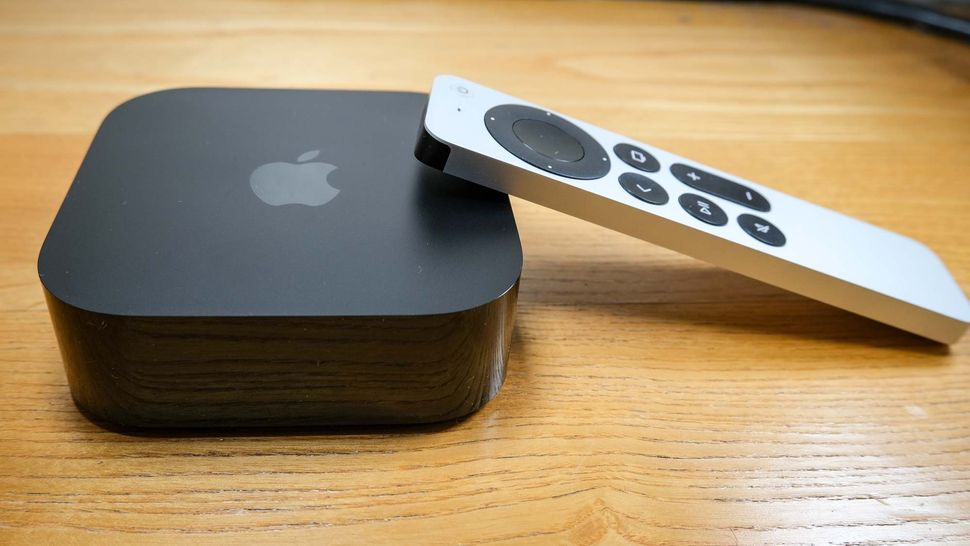 We absolutely love the Apple TV 4K (2022) at $129, which is $50 lower than before. This price drop makes one of the best HomeKit devices (especially for Apple users) even more accessible. But that's just the beginning. Apple's super-charged the Apple TV 4K with the new A15 Bionic system-on-chip, delivering some of the fastest load times we've seen on any streaming device.
On top of that, HDR10+ finally arrives (if your TV supports it), and the remote finally charges over USB-C and not Lightning. Smart home enthusiasts will be excited for the inclusion of the Thread support for Matter, and some may be annoyed you need to spend $20 more for an Ethernet port. The Roku Ultra, for example, includes one by default at $99. That said, one of the best reasons to get the Apple TV 4K is tvOS, which is still the cleanest interface out there and integrates as smoothly as possible with HomeKit.
Read our full Apple TV 4K (2022) review.
Best sound performance
Apple's second-generation HomePod has a few improvements over the original, and makes it better suited for smart homes. That's because the HomePod (2nd gen) has built-in support for Matter — so it should be easier to connect and control smart home devices — and has temperature and humidity sensors, too. The HomePod 2 can also listen for the sound of a fire alarm in your home and send you an alert.
The HomePod 2 sounds just as great as the original, and it works really well within Apple's ecosystem; you can use it as the audio output for an Apple TV 4K, and seamlessly transfer music playing on your iPhone to the speaker. However, $299 is pretty pricey, so you'll want to think hard about how deep you want to get in with Apple.
Read our full Apple HomePod (2nd generation) review.
Best smart plug
The $25 Wemo WiFi Smart Plug is one of the best Homekit devices and our top choice among the best smart plugs. It's more compact than competing options out there, even its predecessor the Wemo Mini. And while it doesn't have energy monitoring like some other smart plugs, the Wemo WiFi Smart Plug does work with all the major smart assistants.
This smart plug has a physical switch, so if you don't want to use your voice or an app to turn your appliance on or off, you can click the switch on the Wemo. It also has a clever Away mode. which can make it seem like you're home even when you're not by turning a lamp on intermittently.
Read our full Wemo WiFi Smart Plug review.
Best smart lock
How many times have you tried getting into your house when your arms are full of groceries? Those who own an Apple Watch will definitely appreciate the Schlage Encode Plus in those moments; it's a lot easier to tap your wrist against your door rather than trying to dig your keys out of your pocket. Thanks to NFC and support for Apple's digital keys, your iPhone can quickly unlock the door as well.
We wish this lock stored as many codes as some of the other smart locks we tested, and you still need to use the Schlage app to access many of the features. But this is one of the few third-party smart home products we've used that's with HomeKit and Apple users in mind.
Read our full Schlage Encode Plus review.
Best smart thermostat
As one of the best smart thermostats overall, the Ecobee SmartThermostat controls temperature of your home while providing a background soundtrack with its support for Spotify. It's still far below cheap smart speakers in terms of audio quality, but it's an economical way to get voice control into a room. Plus when it's paired to your HomeKit system, you can control its settings from wherever you are using your smartphone. The Ecobee has Alexa built in, but you can also connect it directly to Siri, so you can use its microphone and speaker directly with Apple's assistant.
More importantly, the latest Ecobee model has redesigned remote sensors that have much better range and battery life. We're not enamored with the Ecobee's looks, though; its plasticky design hasn't changed much since the original, and unlike the Nest, is beginning to look dated.
Read our full Ecobee (5th gen) review.
Best smart light switch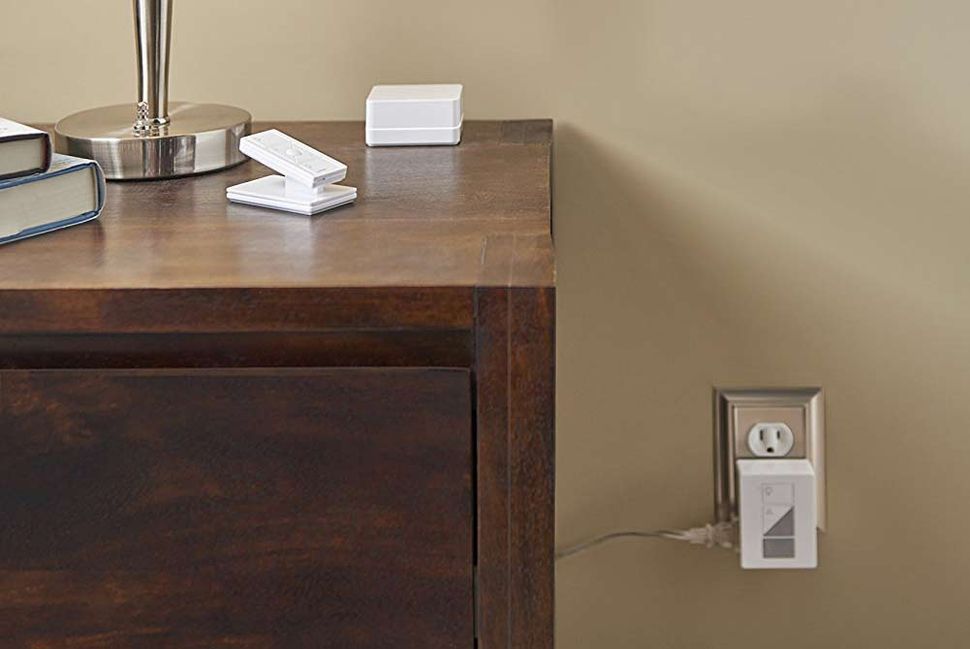 The Lutron Caseta Dimmer Switch Starter Kit is one of the best HomeKit devices because it works with any desk or table lamp (and up to 800 different bulbs), making the "dumb" device smart. Unlike a standard smart plug, Lutron's gadget lets you dim the bulb, rather than simply turn it on or off. The Starter Kit includes a handy remote, but you can skip that if you want to control it with Siri via your iPhone or iPad.
Unfortunately, the Lutron Caseta smart wireless kit isn't cheap. For just under $200, you get two plugs, two remotes and the necessary Wi-Fi bridge. Extras plugs cost about $54 each. That said, we believe it's worth the investment because the kit requires very limited input once you set it up with your HomeKit routines.
Read our full Lutron Caseta Dimmer Switch Starter Kit review.
Best smart home control panel
Brilliant's Smart Home Controller, one of the best smart light switches overall, offers HomeKit compatibility. We like the Smart Home Controller because it acts as a universal remote of sorts for all your connected smart home devices. Brilliant allows you to control everything from the Sonos One and Nest Thermostat to the Ring Video Doorbell and Philips Hue lights. And with Apple HomeKit, you can ask Siri with your voice to control any device connected to your Brilliant panel.
The Brilliant Smart Home Controller panel also has built-in motion sensors, and a small camera so you can use it as a video intercom. It's the most comprehensive smart switch system we've ever reviewed, and is an excellent choice for those who need to get a reign on their large collection of smart home devices.
Read our full Brilliant Smart Home Controller review.
Best smart light bulb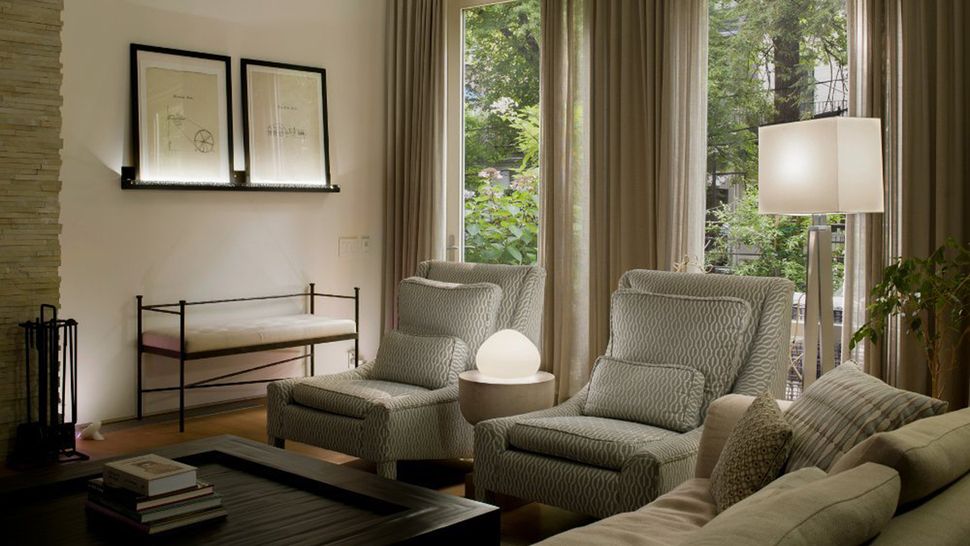 The Philips Hue White Starter Kit, which is the best smart lighting foundation for most people, includes two bulbs and a hub to connect them to your system of smart home gadgets. For an additional $30, you can add two more bulbs. As long as you have a single Philips Hue hub, you can outfit your entire home with up to 50 of the company's reliable and versatile smart light bulbs. Philips Hue makes bulbs that work without the hub, too, but a hub offers more features and flexibility.
While the bulbs in this starter kit don't change colors, you can adjust their brightness (up to 800 lumens.) Philips Hue bulbs also work well with smart home routines and lightning scenes, meaning you can make your lights bright first thing in the morning, but dimmer at night as you wind down for the day.
Read our full Philips Hue White starter kit review.
Best smart garage door opener
Apple HomeKit users can open and close their car garage doors using nothing but their voice with the help of Siri. As one of the best HomeKit devices, the Chamberlain myQ smart garage opener lets you control your garage without fumbling around for the standard remote. The myQ model comes with a sensor for your garage door as well as a hub that connects to your Wi-Fi network. Most garage doors created after 1993 should be compatible.
When you send a command using your smartphone or voice, it is relayed to the Chamberlain hub, which then communicates with the sensor that activates your garage door's movement. The myQ also happens to be at the top of our list of best smart garage door openers, making it the top recommendation for most people.
Read our full Chamberlain myQ review.
Best color-changing smart lights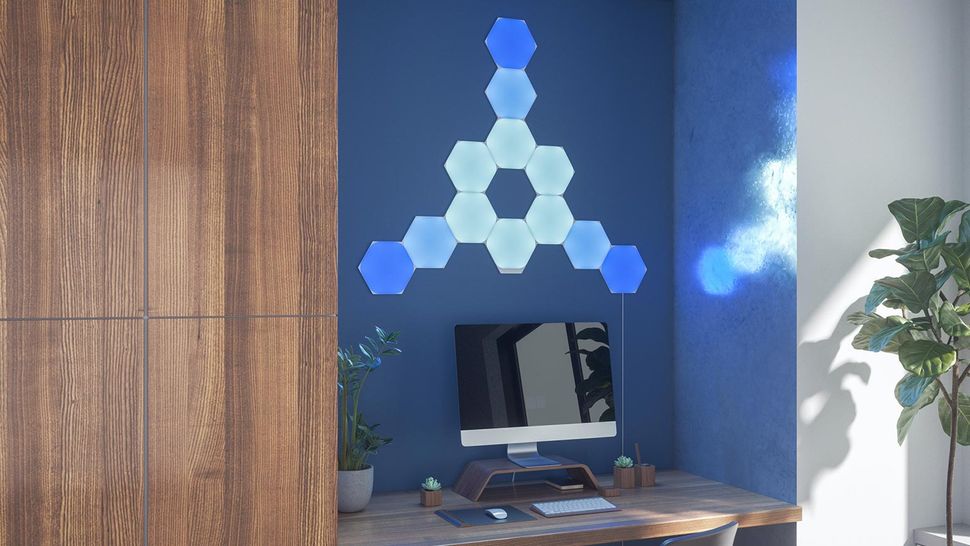 The $199 Nanoleaf Shapes light panels are modular hexagon tiles that connect together like custom puzzle pieces, pair to Google Assistant and provide a healthy dose of chaos to a boring bedroom or work-from-home setup.
With all their brightness settings, color patterns and pulsing music modes, these mountable panels aren't like any of the best smart lights around. They're better. Or more fun, at least. Though they're pretty pricey, especially for something ornamental, Nanoleaf Shapes will upgrade any smart home space instantly.
Read our full Nanoleaf Shapes review.
How to pick the best HomeKit devices for you
Deciding which of the best HomeKit devices above are ideal for your smart home can be daunting, so it's important to consider which conveniences you're looking for before buying. These are the factors you can use to differentiate your options.
Design: Is this product conducive with my current home setup? In the case of a smart plug, for instance, is it slim enough so that it doesn't block your other outlet? You want to make your home less complicated, not create complications.
Functionality: What features does the smart home device have? If it's a smart plug or a smart light, does it have a Home/Away feature for when you travel? Pay attention to your daily routines to see what role your smart home devices can play.
Price: Often, the cheapest smart home device is not the best. You may be tempted by a $10 gadget, but make sure it meets your needs before buying it. In fact, a number of HomeKit devices are pricier because of the quality the platform tries to uphold.
How we test the best HomeKit devices
When reviewing the best HomeKit devices, or any smart home device for that matter, we look at a few things before assigning it a rating. We also compare each of the gadgets within their individual category to see how the device's features stack up relative to its price range.
How simple is the device to install? We look at the ease-of-setup, making sure that the devices don't cause any unnecessary headaches before they even work. With that, we gauge performance. Does it actually work as advertised? Is its app easy to use, with a sensible layout?
Price and value are also factored into our testing. How expensive is it when compared to similar devices? While this isn't the most critical criteria, it is considered in its final rating.
Want a change from Apple? Then here are the best Alexa compatible devices, best Google Home compatible devices and best smart displays that we recommend.