The best wireless chargers will provide your mobile devices with power without the pain of finding where the end of your cable's gone. Using the magic of magnetic induction, you can not only keep your stuff charged, but reduce how much you use the charging port, keeping a common point of failure on any device intact for longer.
Some chargers are meant for only one type of device, or even just one brand of device in some cases. Others are designed for multiple devices, either by offering a large overall charging surface or by giving you several different wireless points to attach your phone, smartwatch and earbuds. And of course even the simplest charger still comes in a variety of shapes and sizes which gives you plenty of choice.
Based on our research, these are the best wireless chargers you can buy right now, whether you're looking for a cheap and simple Qi wireless charger or a device that can charge your phone and other gadgets at the same time. And with Apple's MagSafe now on the scene, there are more options popping up all of the time.
Take a look at our best wireless chargers below. If you need power while on the move though, here are our best portable chargers and power banks picks. And if you'd prefer a phone that lasts as long as possible without a trip to any kind of charger, these are the phones with the best phone battery life.
What are the best wireless chargers?
The best wireless charger overall is the Belkin Boost Charge Pro 3-in-1 Wireless Charging Pad with MagSafe. It provides spots for your iPhone, Apple Watch and AirPods to charge at maximum speed, and the slim, silicone-clad design looks and feels great too.
The best wireless charger for Apple gear users is Apple's own MagSafe charger. It automatically attaches to the right point on the iPhone 12 or iPhone 13, and provides up to 15W of charging power if you have the right plug.
If you want to charge more than one device at once, the best wireless charger for you is the the Logitech Powered 3-in-1 dock. It's on the pricey side at $129, but this accessory delivers juice to an iPhone, AirPods or AirPods Pro and Apple Watch all at the same time. There's also the Nomad Base Station Pro, which costs even more but looks much better and lets you charge from any point on the pad.
See all of the best wireless chargers below.
The best wireless chargers you can buy today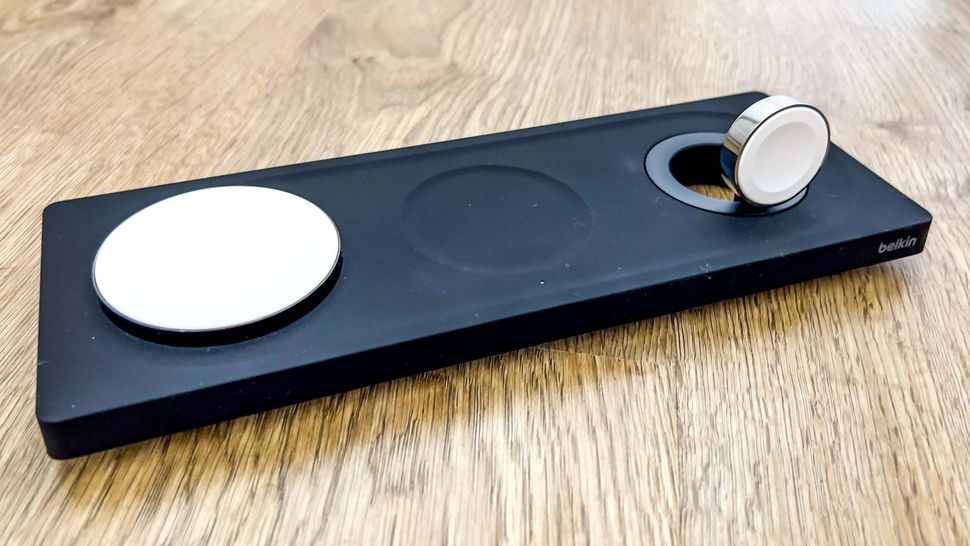 This three-in-one charging pad from Belkin is our current favorite wireless charger. It offers 15W MagSafe charging for the iPhone 12 and iPhone 13, as well as fast charging for the Apple Watch 7 and regular wireless charging in an AirPods-sized recess, meaning all your Apple mobile devices can charge simultaneously from a single charging brick. That brick comes included too, so you won't need to go hunting for one with the correct wattage yourself.
The only thing holding this charger back from perfection is its price, which is quite high. Also, the use of MagSafe and the Apple Watch charging cradle means this isn't a great pick for Android users, although as you'll see from other entries on this list, you've still got some good choices.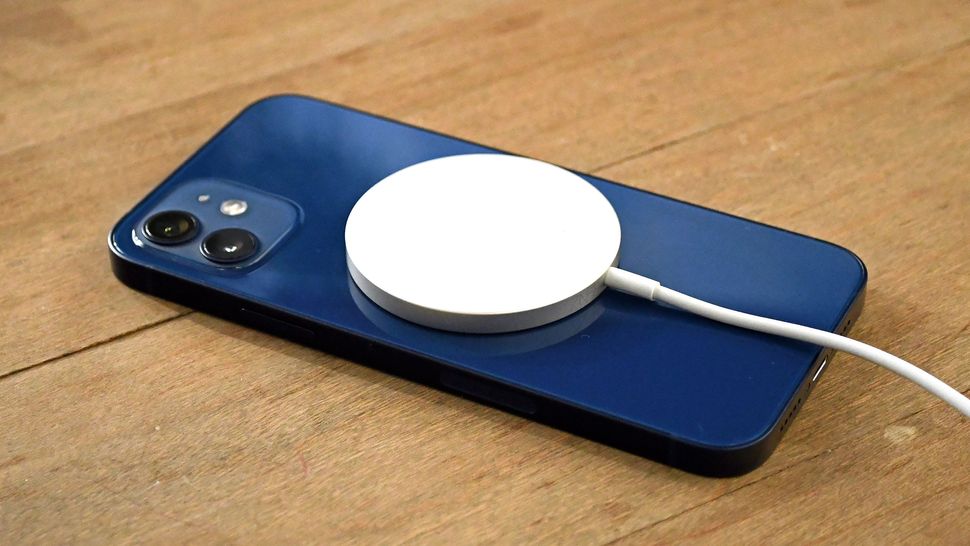 If you own an iPhone 12 or iPhone 13, Apple's MagSafe charger makes wireless charging ridiculously easy. The magnets built into the charger and the back of your phone mean the two easily snap together and start the charging process.
You can charge at up to 15W if you have a 20W charging plug at the other end. However if you own an iPhone 12 mini or iPhone 13 mini, then that's limited to 12W. That's still faster than basic Qi wireless charging though, and it remains just as convenient no matter which model you own.
Although they don't have magnets in, your AirPods or AirPods Pro charging cases will also work with the MagSafe charger. If you're a diehard Apple fan, this is probably the wireless charger for you.
The Logitech Powered 3-in-1 Dock is the best wireless charging stand for those who are juggling an iPhone, AirPods or AirPods Pro and an Apple Watch. This device supports all three at once, so you can just drop these devices on the dock and just start charging.
The Powered 3-in-1 Dock supports 7.5W fast charging for iPhones and 10W wireless charging for Android phones. The overall design is bulkier than other wireless chargers, but it doesn't take up that much room on a nightstand and eliminates the need for three separate chargers.
In our testing, we found it easy to line up devices for charging, and there's a glowing light on the side of the dock so you can make sure your phone is receiving juice. The Powered 3-in-1 dock works with iPhone cases as well, provided that they are 3mm thick or thinner. The stand design also makes it easy to use your phone while it's charging, whether you're making a FaceTime call or recording a voice memo.
If you're looking for a wireless charger that's cheap but delivers the power you need, check out the Nanami Fast Wireless Charger. It comes with a simple stand design that lets you use it with just about any iPhone or Android device. And you can charge your phone in portrait or landscape mode.
The Nanami is quick charging compatible at 10W for Samsung phones and it supports 7.5W charging for iPhones. Just keep in mind that you'll have to pay extra for a QuickCharge 2.0 or above adapter if you want the fastest speeds.
A safety assurance feature means it won't overcharge your phone or overheat. Better yet, the Nanami is sleep-friendly, as the LED indicator will shut off automatically after 10 seconds. Arguably the best feature about the Nanami Fast Wireless Charger is its price. At under $20, this is one of the best wireless charger values out there.
If you're looking for a device that can charge multiple devices at once, consider the Choetech Dual Wireless Charger. It comes with a big pad and five built-in coils, so you can charge two phones simultaneously. Even better, the Choetech can charge both your phone and the AirPods or AirPods Pro case at the same time, which means there's less stuff you have to plug into the wall.
The Choetech supports up to 10W output when charging two devices, and it comes with a 18W QC 3.0 adapter. And the company backs up this product with a 18-month warranty.
That said, the charger is a bit bulkier than others, so it might be harder to bring along on trips. We do like the leather-like surface up top, which helps prevent phone slippage, and there are holes on the bottom to dissipate heat. Overall, the Choetech is the best wireless charger if you want good bang for your buck.
The Belkin Wireless Charging Dock is one of the best wireless chargers because it's one of the most versatile. It can charge your iPhone at up to 7.5 watts and juice your Apple Watch and AirPods at 5W.
Belkin says that its wireless charger charges through most lightweight cases up to 3mm in thickness. The accessory is back by a two-year warranty. Some owners on Amazon have complained about the small LED lights that can be somewhat distracting in the dark, but overall this is a strong option.
As long as you can get over the basic design of the Anker PowerWave Charger, you'll find that it's one of the best wireless chargers when it comes to value. It offers an internal cooling fan that ensures your device won't overheat. This wireless charger also has a case-friendly design, so you can keep your phone charged without too much fuss.
The PowerWave charges at up to 10 watts for Android phones and up to 7.5W for iPhones; it uses a safety system to ensure that it's delivering the right amount of power to the right device.
The Anker PowerWave Charger has an anti-slip surface. A small LED indicator light tells you when the device is charging (solid blue), and it can also tell you if an incompatible adapter or cable is connected (flashing green). Add an 18-month warranty, and you have a great option.
If it's savings you're after, the Yootech Wireless Charger is the best wireless charger to pick. The wireless charger is exceptionally affordable and offers a dual-orientation design, so you can charge your phone both in portrait and landscape mode. And it's sleep-friendly, so it won't wake you up when you use it at night.
The Yootech charges Samsung phones and other Galaxy phones up to 10W and iPhones up to 7.5W. We do like that there's a fairly wide charging area, so you don't have to hunt for a sweet spot. However, the 3-foot power cord is short, and you have to supply your own power brick.
Yootech backs up this charger with a lifetime money back/replacement warranty and 12-hour response service.
The Pixel Stand from Google is a little expensive, but compared to the other best wireless chargers it does a lot more. Compatible with the Google Pixel 6, Pixel 6 Pro and all older wirelessly chargeable Pixels, this wireless charger not only provides the maximum amount of wireless power to your Pixel, but also lets it act like a smart home display when in place.
With your Pixel in the Stand, you can check on your Google Nest or other types of smart devices. Of course it can just be a simple 15W charging stand for any other devices too. Plus, Google boats of its super-quiet fan built into the stand, which allows you to make use of the charger without disturbing anything else you might be doing.
If you're looking for a best wireless charger that can do it all, consider the Mophie 3-in-1 Wireless Charging Pad. In addition to letting you charge your iPhone or Android device (up to 7.5W), it can be used to charge your Apple Watch and AirPods. Add that to a case-ready design and a non-slip surface, and this accessory is a winner.
Other highlights of this wireless charger include a premium suede finish and support for the Apple Watch's nightstand mode, so you can use the wearable as your alarm clock.
The Mophie 3-in-1 Wireless Charging Pad does have some drawbacks. It doesn't let you charge the AirPods Pro case, and some owners have complained that it can be difficult to line up your iPhone correctly. The overall design needs a fair amount of room, too. But this wireless charger is worth considering if you want to charge up to three devices at once.
The best wireless charger if you care about style, the Native Union Dock Wireless Charger Stand blends good looks and utility. The accessory comes in six colors and designs, including Marquetry Rose, Rose, Marquetry Slate, Slate and the very funky Terrazzo Rose and Terrazzo Slate.
The stand includes a little pedestal to elevate your phone so you can more easily activate facial recognition and make video calls, and you'll get up to 10W of power in both portrait and landscape mode. The package doesn't include a wall adapter, but you do get a fairly long, 6.5-foot braided charging cable.
The Native Union Dock Wireless Charger Stand chargers through most cases (up to 3mm thick), and the design offers a thermal protection sensor to prevent overheating.
None of the other best wireless chargers on this list are designed to be portable. The OtterSpot is though.
The basic package includes a standard wireless charging pad, plus a portable battery pack that also acts as a wireless charger. These stack together to stay powered on, but the battery portion is easy to slip into a bag when you want some wireless power on the go.
The system is quite expensive, particularly if you want to add more batteries to increase the size of the stack. But this is one of the best wireless chargers to get if you're often on the move or have many devices you want to keep charged at once.
If you don't mind the mediocre 7.5W maximum charging speed or the fact you need to provide your own power brick, you'll find the WoodPuck will fit nicely into most settings around your home. That's thanks to its wood finish, choice of colors, and concealed micro-USB port meaning it doesn't look like a wireless charger. Just don't mistake it for a drinks coaster.
One of the unique features the WoodPuck also touts is an audio notification system. It beeps to tell you when it's beginning to charge a device, and does so continuously if you've not placed it correctly over the charging coils. It prevents the need for an alert light, keeping the design free of blemishes.
With a solid metal and glass body, the Nomad Base One will stay wherever you put it, even if you try to pull a MagSafe-equipped iPhone off of it. Coming in either black or white, and with a matching braided USB-C cable, this is a great-looking addition to your desk or nightstand.
Boy, do you pay for the privilege though. This is one of the most expensive chargers on this list, and only charges a single device at a time. Also, that price doesn't include a charging brick, which is annoying since you need a 30W or more charger to get the full 15W speed.
If you want a spot for your Apple Watch to charge as well as your phone, then you can upgrade to the Base One Max (opens in new tab). The same pros and cons apply as before though.
Moshi's Porto Q charger will fit into any setting with its gray woven fabric finish. And that's just as well, since this charging pad doubles as a 5,000 mAh battery pack, letting you use wireless charging on the road in style.
The only issue is that when you're using it in battery mode, you only get 7.5W of charging, rather than the maximum 15W on offer when plugged in. Speaking of plugs, the charger ships with a USB cable but no plug, so you'll need to provide your own.
Made from a mix of recycled silicone and plastic from water bottles, this is charger to go for if you like your tech to have a gentler impact on the environment. Although you do pay for the privilege.
Fortunately you get more than just eco-friendly clout when you buy this charger. With its included 20W wall charger, you can provide up to 15W of wireless power to your devices. With the magnets built into the pad, you can power up your iPhone 12 or iPhone 13 as fast and as securely as Apple's own MagSafe charger. The silicone surface will also help avoid accidentally knocking your devices off the pad, but it does get dirty easily. Watch out if that's likely to bother you.
Intelli's StepUp charger solves the main issue with multi-device chargers - the space they take up - by letting you pop out its AirPods and Apple Watch arms on demand. This means you get space back on your desk when you don't need it, but can have one plug power up three devices at once when required.
I like the look of the StepUp, particularly when it glows to indicate it's charging. I also like that it provides a full 15W charge to my iPhone. However the model I tried had some loosely-fitted parts, which managed to scratch my iPhone case when I placed the charger on the stand for the first time. That's not great when you consider the stand costs $120, but the overall idea for this charger is still really good.
This smart-looking charger offers the unique ability to position the iPhone anywhere on its MagSafe arm, letting you use it while watching video in landscape, for example. Meanwhile, the base provides a nice cradle for an AirPods charging case, and a USB-A port around the back lets you charge something else too, although it's not going to look as neat as a dedicated 3-device charger.
About the only complaint I can make, other than needing an extra cable to use the stand to its full potential, is the white LED circle on the phone charging arm. It's sort of useful when it's dark as it shows you exactly where to put your iPhone, but if you're not charging your phone, it's distractingly bright.
Your eyes don't deceive you, this really is a wireless charger made of marble. You can also get it in six other colors of travertine, sandstone, or lava stone if you want a different look for this simple but handsome charging pad. It's incredible that you get something that will easily sit in a living room or kitchen without looking out of place for this price.
There are two small issues with this charger. First, the integrated USB-A cable, although braided for durability, looks cheap compared to the rest of the pad, and is only 90cm (3 feet) long, making the places where you can put it limited by where your outlets are. Plus, the charger is only capable of 10W output, which while available with any compatible device, is a bit slow.
How to choose the best wireless charger for you
The most important thing to look for when shopping for the best wireless charger for your needs is whether it's compatible with your phone. If a wireless charger is Qi certified, it should support your iPhone, Samsung phone or other Android phone. But note that the wattage support will vary from charger to charger. Most chargers support 10W charging for Android phones and 7.5W charging for iPhones.
You'll also want to pay attention to whether a charger and charging cable are included in the box. If there is one included, look for a charger that supports Qualcomm's Quick Charge 2.0 or 3.0 technology.
If you want to be able to charge multiple devices at once, there are some 3-in-1 chargers available that can juice. your phone, AirPods and Apple Watch all at once, but you're going to pay more for these accessories.