The best smart plugs can make a bigger difference in your home than you would think. Designed to add smart capabilities to your 'dumb' appliances, these devices sit between a plug and a power socket and control when the power is allowed to flow through. You can then set and monitor each smart plug via your phone or tablet while at home or even on the go.
Smart plugs can help you in a number of different ways. With one of these installed, you can finally turn off devices plugged into awkward wall outlets that are behind furniture or hard to reach. Plus, you can control exactly when you want your lights or any other electrical appliance to turn on or off. As some smart plugs let you monitor your energy consumption, you can even adjust your habits to save on bills. Also, if you forget to turn one off, all you have to do is check your phone.
If you're in the market for a smart plug or even several to round off your smart home, but need help picking out the best option, we can help. We've done the research and have tested a wide range of models to find the top performers. These are the best smart plugs.
The best smart plugs you can buy today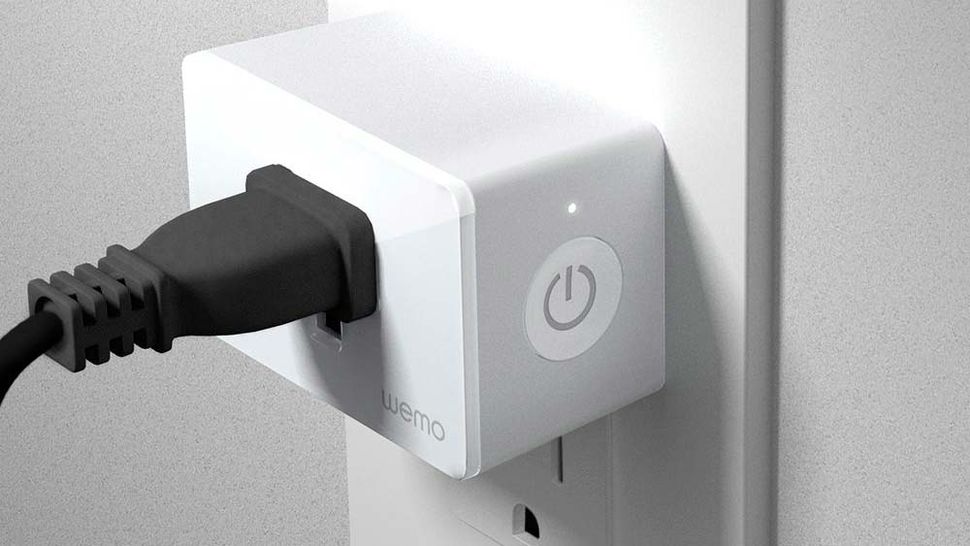 The Wemo WiFi Smart Plug is our top choice among the best smart plugs. It's more compact than most offerings out there, so you won't block your outlet, too. And while it doesn't have energy monitoring like some other smart plugs, the Wemo WiFi Smart Plug does work with all the major smart assistants. Yes, even Siri.
This smart plug has a physical switch, so if you don't want to use your voice or an app to turn your appliance on or off, you can click the switch on the Wemo. It also has a clever Away mode which can make it seem like you're home even when you're not by turning a lamp on intermittently.
Read our full Wemo WiFi Smart Plug review.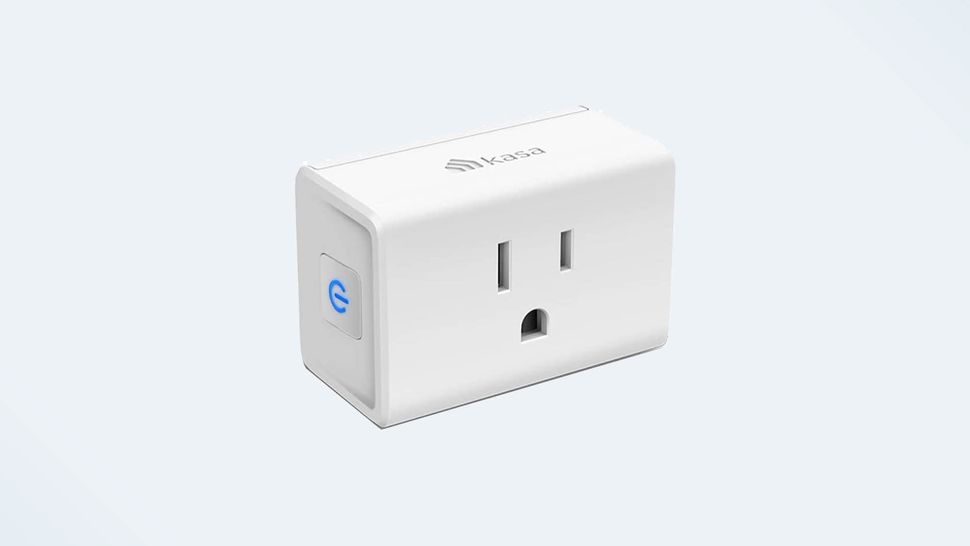 Priced at just $8 per plug, the Kasa Smart Wi-Fi Mini Plug is one of the best smart plugs in terms of value. We've tested other smart plugs and smart home devices from TP-Link and found them to be safe, easy-to-use and reliable. Plus the Kasa app has a wide collection of automation features, including scheduling and the ability to control those other TP-Link-brand smart home products.
The Kasa Smart Wi-Fi Mini Plug is an upgrade from the brand's Plug Lite HS103, which was only rated for 12 amps. This version is rated for 15 amps. For the price, the Kasa Smart WiFi Lite is perfect for adding to all your home's lamps or other low-power gadgets. Its design is thin enough that you can fit two per outlet, too.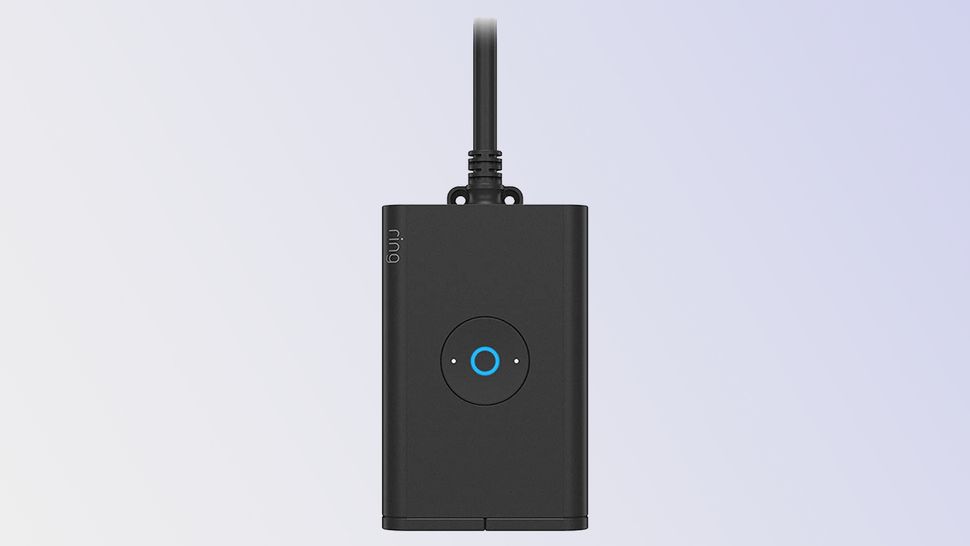 The Ring Outdoor smart plug is a massive brick. At the bottom are two plugs, each protected by a rubber flap. At the top is a 6.5-inch cord that's long enough to plug the Ring into an outdoor outlet, but still be able to close your outlet's door. I especially like that the prongs are at a right angle to the cord; it makes it much easier to close the door.
The Ring also comes with three screws and wall anchors. On the front of the Ring is a large circular button that's blue in the center; you can press on either side of the button to control each outlet independently. The button makes a little clicky sound.
Unlike most other smart plugs, the Ring needs to connect to a hub, which can either be a Ring Bridge ($49) or an Amazon Echo smart speaker. Within the Ring app, you can configure the two outlets to work together or separately, and create schedules for when it turns on and off. Overall, the Ring Outdoor Smart Plug is a good device for those invested in the Ring ecosystem.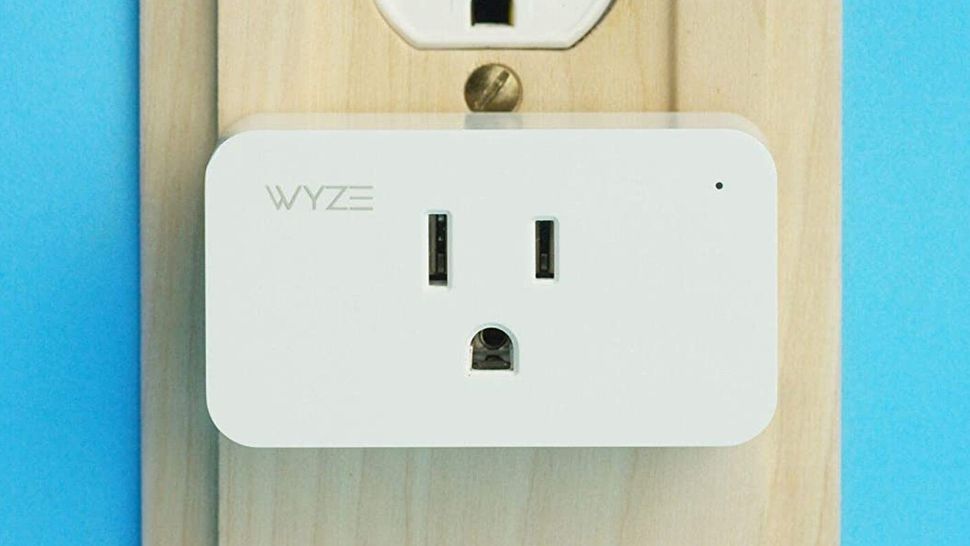 Like all of the Wyze products, the Wyze Plug is affordable connected home gadget that's great for your small light fixtures or coffee maker. A two-pack can cost as little as $15, which is cheaper than many of the best smart plugs are for a single unit. Better yet, if you have the Wyze Bulb, Wyze Cam or Wyze Smart Lock, you can integrate the Wyze Plug with your existing system.
One of the benefits of the Wyze Plug is Vacation mode, which is similar to the Wemo's Away mode. When the Wyze Plug is on this setting, it will turn your stuff on and off your electronics at random, making it seem like you're home.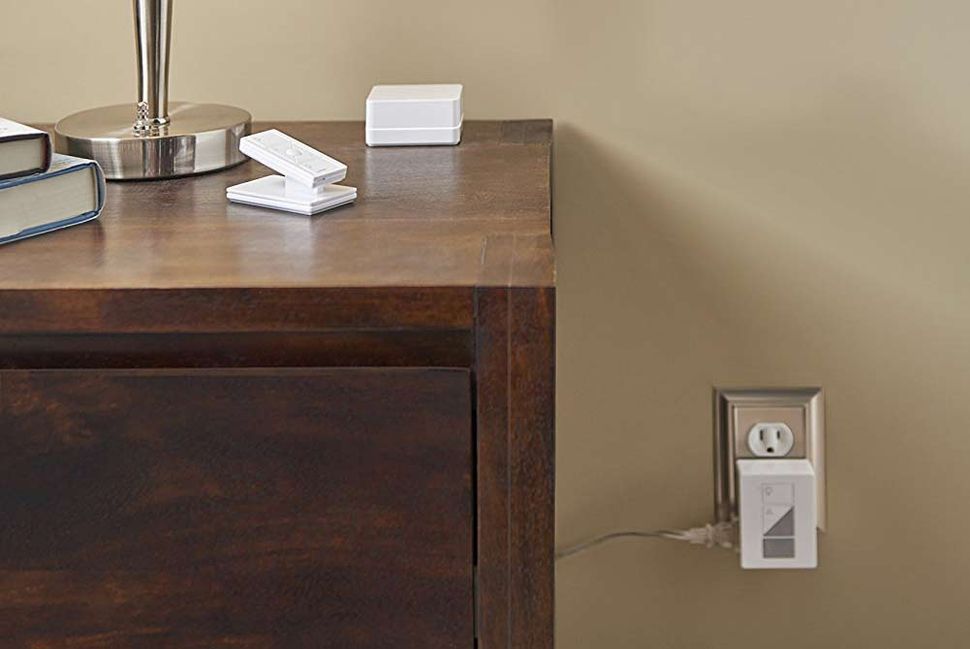 The Lutron Caseta Dimmer Switch Starter Kit is one of the best smart plugs because it works with any desk or table lamp (and up to 800 different bulbs), making the "dumb" device smart. Unlike a standard smart plug, Lutron's gadget lets you dim the bulb, rather than simply turn it on or off. The Starter Kit includes a handy remote, but you can skip that if you want to control it with your voice assistant.
Unfortunately, the Lutron Caseta smart wireless kit isn't cheap. For just under $200, you get two plugs, two remotes and the necessary Wi-Fi bridge. Extras plugs cost about $54 each. That said, we believe it's worth the investment because the kit requires very limited input once you set it up with your smart home routines.
Read our full Lutron Caseta Dimmer Switch Starter Kit review.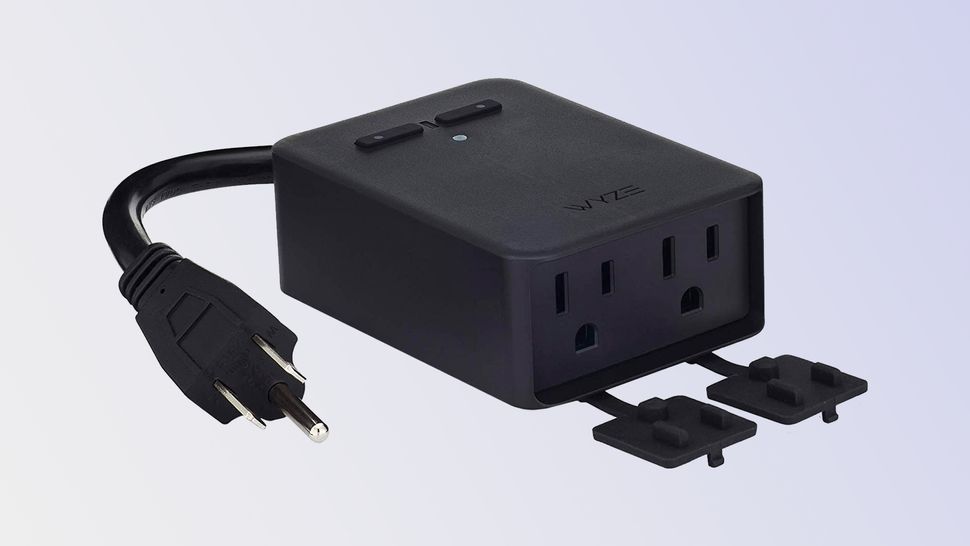 Wyze has built a reputation on making good low-cost smart home devices, and the Wyze Plug outdoor is yet another such product. Like most outdoor smart plugs, the Wyze Plug Outdoor is a black box, with a cord on one end and two outlets on the other. The cord is a little short at around 6 inches, and the plug is in-line with the cord, so it was a bit harder to cram it into my outdoor outlet and close the cover.
The Wyze Plug has two sockets; at the top of the front of the Plug are two buttons to control each socket, with small LEDs that show which is active. Just below the buttons is a small light sensor; this can be used to tell the outlet when to turn on or off, based on the ambient lighting conditions.
However, you can also create a schedule based on a set time of day, as well as sunrise and sunset — though there's no offset, such as 15 minutes before or after sunrise. You can also use other Wyze products as triggers - for example, having the plug turn on a light if a Wyze Cam detects motion. These too, can be time-based, but you can't specify if something should work only after it gets dark out.
You can also set a vacation mode, where the Plug will turn on and off so it looks like you're home, but I'm not sure how useful that is for an outdoor light. As of this writing, the Wyze Plug Outdoor works with Alexa and Google Home but not Apple's HomeKit.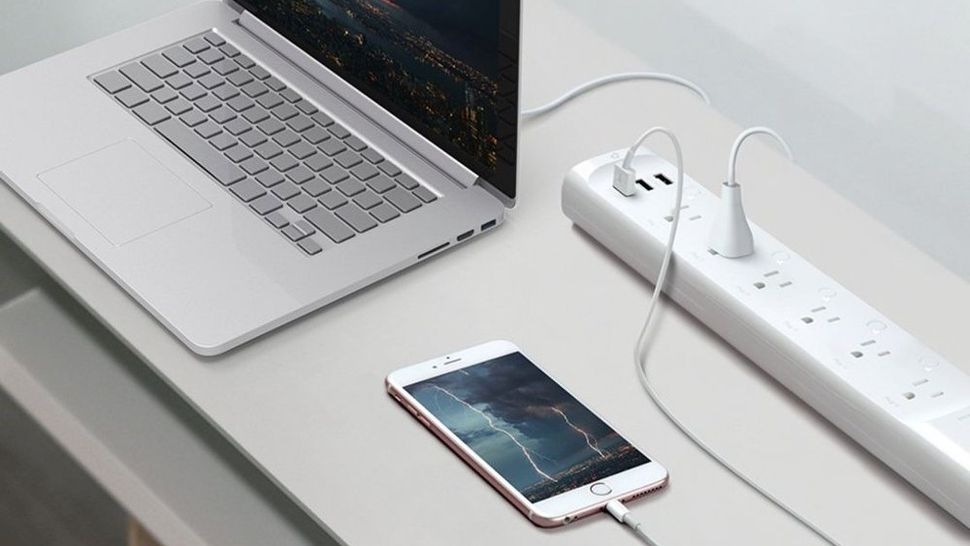 You've probably caught on to our trust in TP-Link's offerings. To reiterate, many smart plugs are not as secure or easy to use as advertised, so there's something to be said for TP-Link's consistency and versatility. For example the Kasa Smart Wi-Fi Power Strip is six smart plugs built into one (with three USB ports to boot). You can control each connected device individually using the Kasa app, Alexa or Google Assistant, or buttons on the device itself.
Better yet, the Kasa Smart Wi-Fi Power Strip has a surge protector built in, which most individual smart plugs (and most of the best smart plugs) lack. That said, at $79 for the unit, it's a bit pricey compared to other options. However, it's worth it for spaces where you have several appliances set up, like in a home office or entertainment center.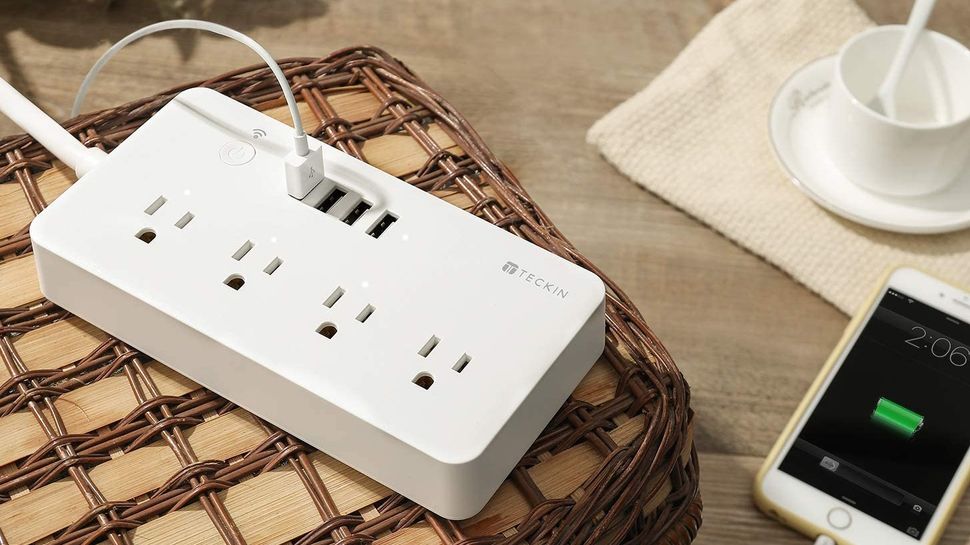 If you'd like a smart power strip for less, our favorite choice is the Teckin Smart Power Strip. With four outlets and four USB ports, it can accommodate as many devices as some surge protectors can. But at only $29.99, it's less than half the price of its upscale competitors.
The Teckin Smart Power Strip also offers more features than most of the other best smart plugs. Using the Teckin Smart Plug app, you can remotely monitor and control your appliances, and can control and schedule each outlet individually. You can set each outlet to turn on or off based on various environmental factors such as time, temperature, humidity, sunrise and sunset or the actions of other smart-home devices.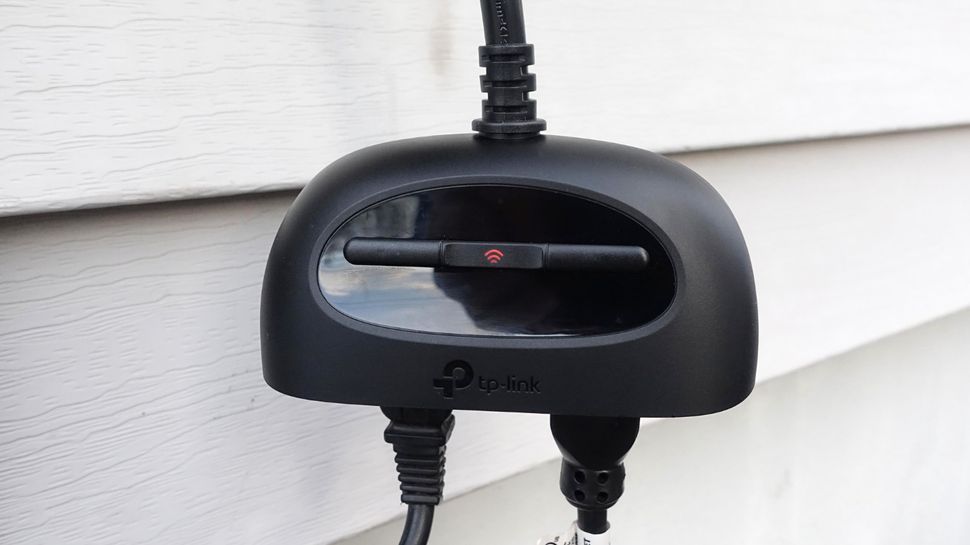 TP-Link's Kasa Smart Outdoor Plug KP400 comes with two outlets, which means you can control two devices separately. It's a large outdoor plug, measuring 4.9 x 2.4 x 2.3 inches, but its housing does contain a Wi-Fi radio which can connect to a router 300 feet away. It's IP64-rated, so it can endure everyday rain, but you should still leave this plug facing downwards with the outlets covered when not in use.
We love the app that comes with this device and it's really what sets it apart from other outdoor smart plugs. Setup couldn't be easier, being compatible with Alexa, Google Assistant, SmartThings and IFTTT, and you can schedule exactly when you want your lights on and off. An offset is also available, if you don't want the default to be sunrise or sunset. You can also create scenes and automations which will work with other Kasa devices.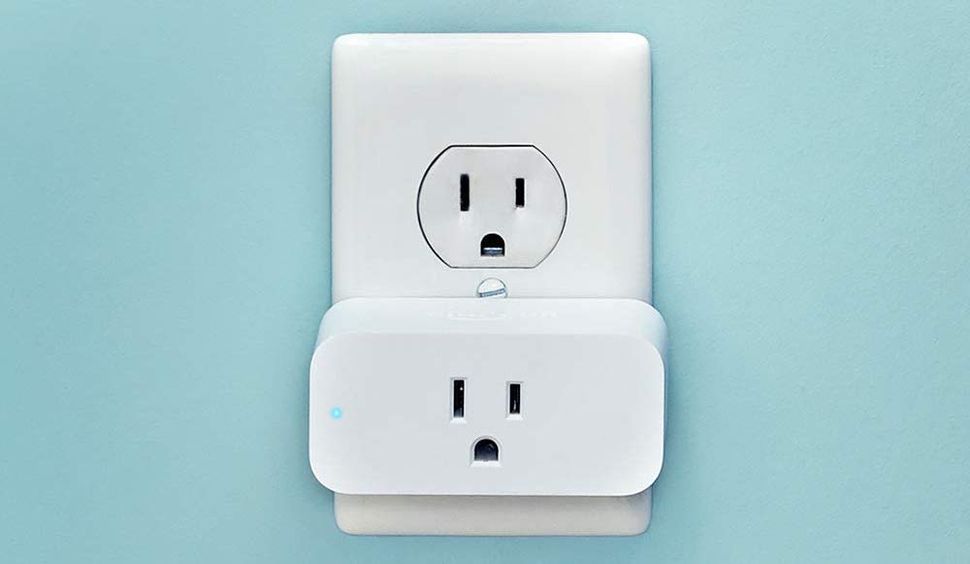 The Amazon Smart Plug is simple, compact, and a great value purchase for a low price. It comes packed with all the features of Alexa, including compatibility with routines, schedules, timers, and other advanced automations. With either the Alexa app or any of the best Alexa speakers, you can control the Amazon Smart Plug from wherever you are in your home.
We like that the Amazon Smart Plug has a physical on/off button and an LED to indicate its status. That way when someone is around who doesn't have access to your Alexa app, or isn't as familiar with smart home devices, the connected appliance can still be controlled. We'd love this smart plug even more if it were compatible with voice assistants besides Alexa, though. Perhaps Google Assistant and Siri could be added down the line, but we'll have to see.
How to choose the best smart plugs for you
Before you decide which smart plug is best for you, here's some things you need to consider:
1. Will it block my other outlet? Some smart plugs are chunkier than they look in the pictures, so make sure you check and measure out the dimensions. Some are so sizable, that they can block alternative outlets. If you want a smaller design, check out TP-Link's HS105, the iHome ISP6X, and the Belkin WeMo Mini. These designs are small enough that they won't block secondary outlets.
2. Will it work with more than Alexa? Smart connectivity and voice control are brilliant features to have — nothing's more convenient than asking Alexa to switch off your lights, and watching technology do the rest. But, if you don't have Alexa, make sure the smart light you're looking at can connect to the alternatives, such as Google Home. Some brands, such as iHome, can also work with Apple Homekit.
3. Is the app any good? The less premium smart plugs come with less intuitive apps, which can make it difficult to schedule and control your smart plug. We've even come across apps which aren't fully translated into English. You might want to download your intended smart plug's app before you purchase to see what you're dealing with.
Using one of the best smart plugs with a mesh router
Unlike with the best Wi-Fi routers, the best mesh Wi-Fi systems often combine their 2.4 GHz and 5 GHz bands into one network. This isn't a problem with other devices but many smart plugs and other smart home devices only work on the 2.4 GHz band. If you've encountered this problem, there is a fix that might work.
Most mesh routers allow you to create a guest network using the 2.4 GHz band. This way, you can connect any smart plugs or other smart home devices to your mesh network that don't support the 5 GHz band. For instance, I recently had to do this when testing out the Roku Indoor Camera SE to get it to work on my own home network.
How we test the best smart plugs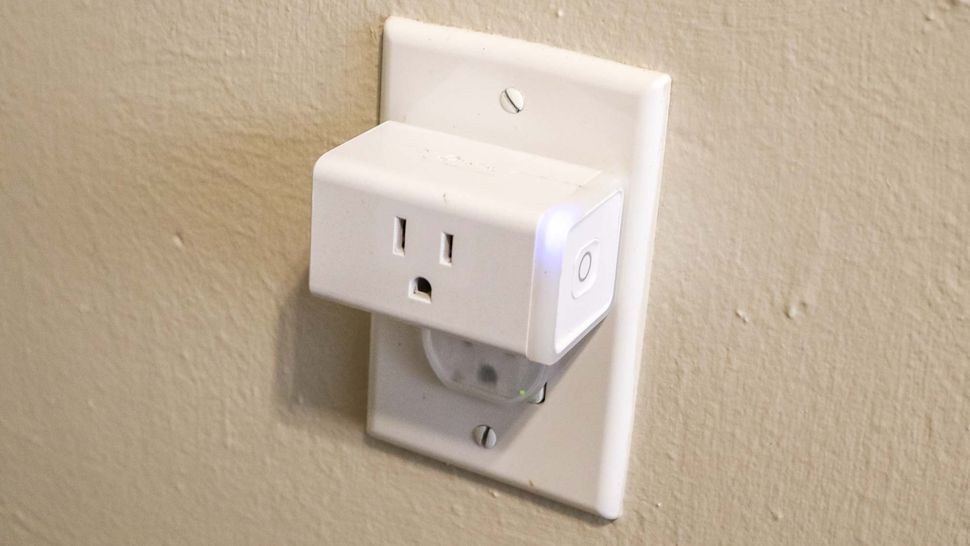 Reviewing a smart plug isn't as simple as plugging it in. Well, it almost is. In addition to making sure the plug actually turns on the thing that's plugged into it, we also evaluate the plugs on several factors:
Design: Can you fit more than one plug into an outlet? Does it have a physical on/off switch or indicator lights?
Setup: How easy is it to connect the plug to your Wi-Fi network, and to its app
Scheduling: How robust is the scheduling feature in the app?
Features: Are there any other features that distinguish the plug from others?
Smart Home Connectivity: How many other smart home systems does the plug work with? Alexa and Google Assistant should be givens.
We consider indoor as well as outdoor smart plugs to find the best for every circumstance. If you're just interested in the latter, check out our list of the best outdoor smart plugs. For more info on our testing process, check out the how we test page for Tom's Guide.
Features to look for in the best smart plugs
Energy Monitor
Some smart plugs will record and display the energy use of an appliance on your phone. In doing this, you can see how much certain appliances are costing you on a daily basis, including in its standby mode, and you can find ways to cut back and save money. Here are 12 essential tips for saving on your energy bill.
Dimmer
A dimmer setting is also available on some smart plugs, such as the Lutron Caseta Dimmer Plug as mentioned above. This is a great feature if the smart plug is intended for lighting as it gives you much more control than just switching on and off.
Timer/Scheduling
Most smart plugs come with a timer. Using this, you can schedule when you want the appliance to switch on and off — great for switching on the lights when you're on vacation.
Create zones
Some smart plugs can create zones by connecting to groups of smart plugs. Using this, you could control several power points in a room at once — for instance, you might want to switch off all of the downstairs lights once you've gone to bed.
Connect to other smart devices
Some smart plugs can also connect and communicate with other smart devices through IFTTT, which has its uses. For example, you can set it up so that if your smart doorbell picks up a potential burglar or someone is trying your smart lock, the smart plug will switch on the lights so it looks like you're home.
Smart plugs can actually do much more than you'd first think, check out these 10 things you never knew you could do with a smart plug.