The best smart plugs and best smart power strips let you control various small appliances without you needing to be in arm's distance, or even be home. For example, connect a lighting fixture to a smart plug, and you can then use your smartphone or virtual assistant to turn the lamp on and off. 
You can also create a schedule, or smart home routine, that will automatically turn the lamp on or off. 
Because the best smart plugs are easy to use and very affordable, starting at less than $30 per switch, anyone with a smartphone can get in on the convenience (and, dare we say, fun) of using one of the best smart home devices. 
Better yet, smart plugs are among the best Google Home compatible devices, best Alexa devices and best Homekit devices around, meaning you can incorporate one into your smart home system.
See all of the best smart plugs below.
What are the best smart plugs?
Not all smart plugs are as good as the claim, so we spent hours testing options to find the best smart plugs worth buying.
After testing dozens of available smart plugs, we think the best overall is the $25 Wemo WiFi Smart Plug. It's more compact than the previous category champ, ironically called the Wemo Mini, while maintaining all the handy scheduling features. It's is one of the few smart plugs that works with Alexa, Google Assistant and HomeKit. 
The best budget smart plug is the Kasa Smart Wi-Fi Plug Lite by TP-Link. An individual plug is just $13, and the company's other smart home products have generally been very reliable. If you have other TP-Link devices installed, adding the Kasa Wi-Fi Plug Lite to the mix is a no-brainer.
Smart plugs aren't just for inside your home. As one of the best smart plugs for outdoor use, the Kasa Smart Outdoor Plug KP400 will raise the IQ of your front porch or backyard deck. It has two outlets, so you can control two devices independently. And like Kasa's indoor plugs, the Outdoor plug benefits from TP-Link's Kasa app.
The best smart plugs you can buy today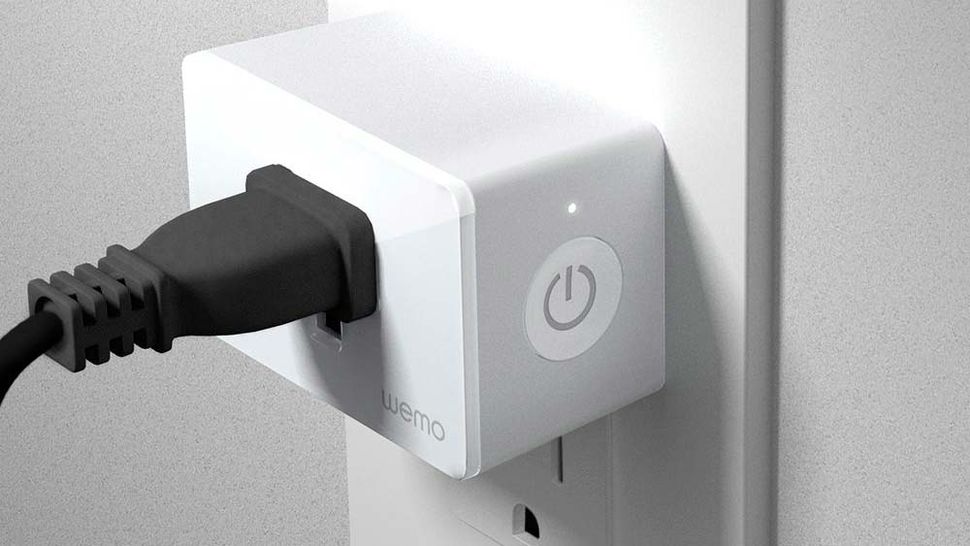 The Wemo WiFi Smart Plug is our top choice among the best smart plugs. It's more compact than most offerings out there, so you won't block your outlet, too. And while it doesn't have energy monitoring like some other smart plugs, the Wemo WiFi Smart Plug does work with all the major smart assistants. Yes, even Siri. 
This smart plug has a physical switch, so if you don't want to use your voice or an app to turn your appliance on or off, you can click the switch on the Wemo. It also has a clever Away mode. which can make it seem like you're home even when you're not by turning a lamp on intermittently. 
Read our full Wemo WiFi Smart Plug review.
Priced at just $13 per plug, the Kasa Smart Wi-Fi Lite is one of the best smart plugs in terms of value. We've tested other smart plugs and smart home devices from TP-Link and found them to be safe, easy-to-use and reliable. Plus the Kasa app has a wide collection of automation features, including scheduling and the ability to control those other TP-Link-brand smart home products. 
The one catch is that the Kasa Smart Wi-Fi Lite is only rated for 12 amps, so if you want to use it with a device that draws more power, you should check out the WeMo Mini or the Kasa HS105 smart plug. But for the price, the Kasa Smart WiFi Lite is perfect for adding to all your home's lamps or other low-power gadgets. Its design is thin enough that you can fit two per outlet, too.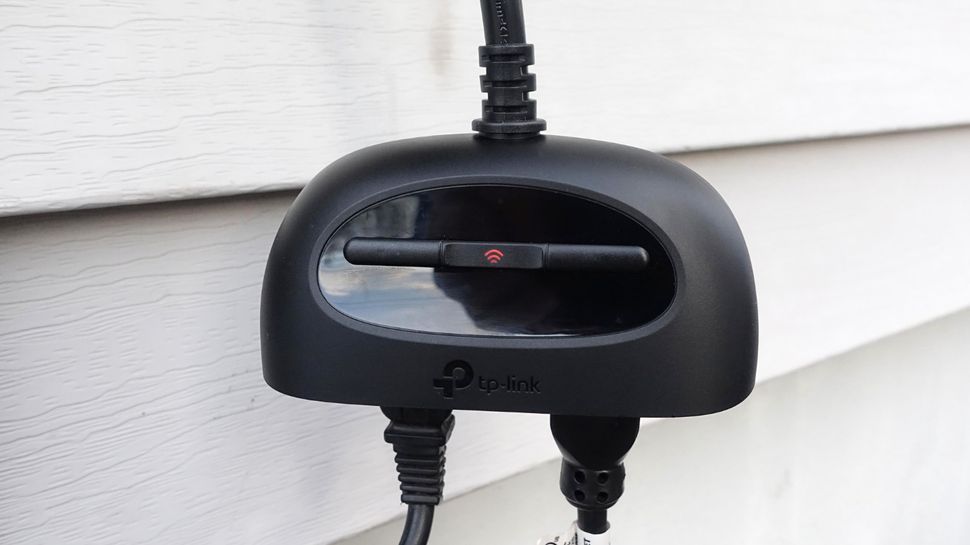 TP-Link's Kasa Smart Outdoor Plug KP400 has two outlets, so you can control two devices independently. The plug is a substantial 4.9 x 2.4 x 2.3 inches, but housed inside its thick plastic housing is a Wi-Fi radio that should connect to your router from up to 300 feet away. The KP400 is IP64-rated, so it can withstand dust and most rainfall, but you should ensure that the outlets are facing downward and covered when not in use.
Aside from the hardware, it's TP-Link's Kasa app that sets this device apart from other smart outlets. The app makes the setup process exceedingly simple; it works with Alexa, Google Assistant, and IFTTT (no HomeKit, sorry), and it has pretty good scheduling options for letting you turn your lights on and off at certain times. The one feature it needs, though, is the ability to turn on at sunset, rather than at a set time—but you can set this using an Alexa routine.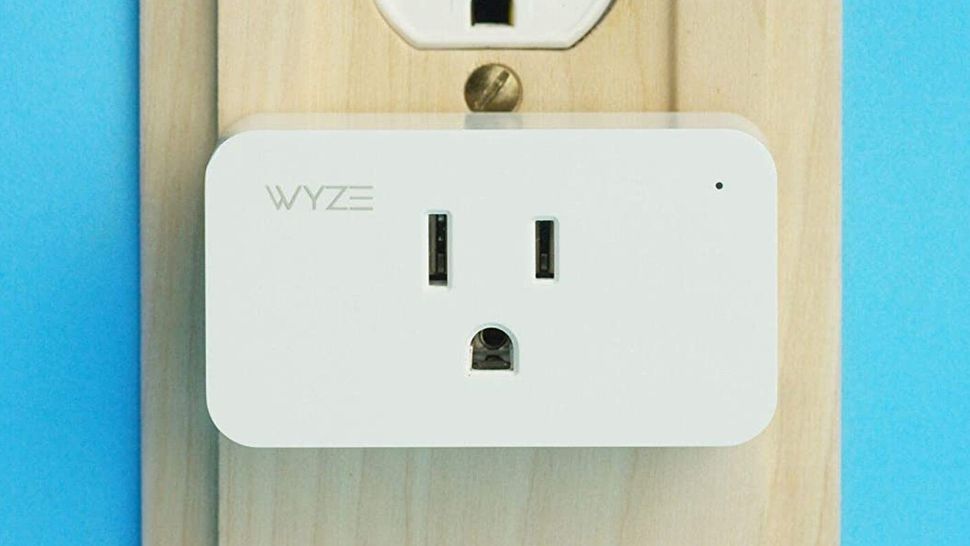 Like all of the Wyze products, the Wyze Plug is affordable connected home gadget that's great for your small light fixtures or coffee maker. A two-pack can cost as little as $15, which is cheaper than many of the best smart plugs are for a single unit. Better yet, if you have the Wyze Bulb, Wyze Cam or Wyze Smart Lock, you can integrate the Wyze Plug with your existing system.
One of the benefits of the Wyze Plug is Vacation mode, which is similar to the Wemo's Away mode. When the Wyze Plug is on this setting, it will turn your stuff on and off your electronics at random, making it seem like you're home.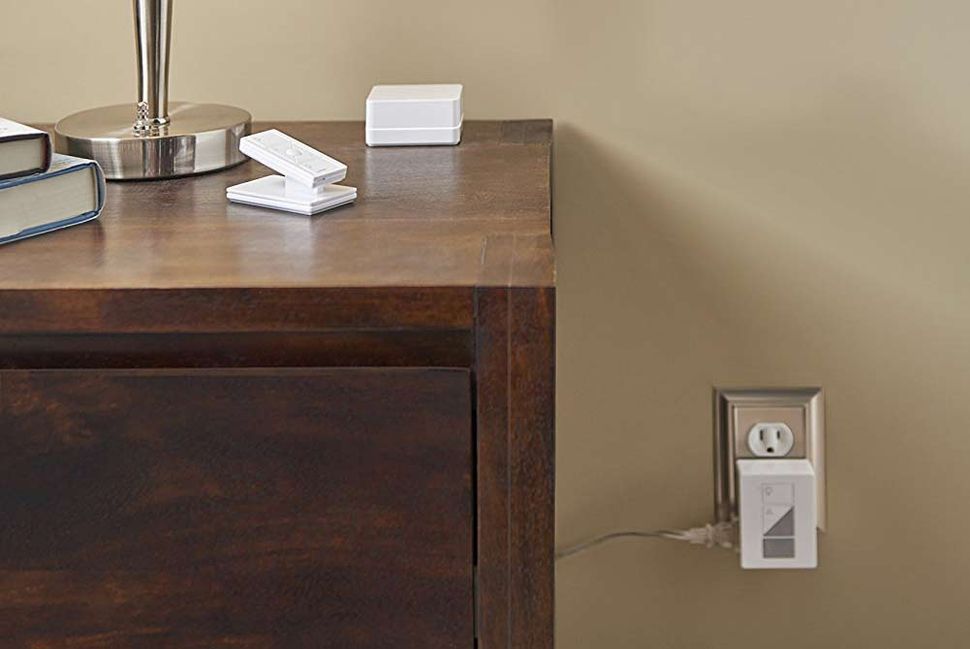 The Lutron Caseta Dimmer Switch Starter Kit is one of the best smart plugs because it works with any desk or table lamp (and up to 800 different bulbs), making the "dumb" device smart. Unlike a standard smart plug, Lutron's gadget lets you dim the bulb, rather than simply turn it on or off. The Starter Kit includes a handy remote, but you can skip that if you want to control it with your voice assistant. 
Unfortunately, the Lutron Caseta smart wireless kit isn't cheap. For just under $200, you get two plugs, two remotes and the necessary Wi-Fi bridge. Extras plugs cost about $54 each. That said, we believe it's worth the investment because the kit requires very limited input once you set it up with your smart home routines.
Read our full Lutron Caseta Dimmer Switch Starter Kit review.
Not only does the dual plug TP-Link Kasa Smart Wi-Fi Plug (HS107) have one of the better designs among plugs we've tested, but its app is the most feature-packed, too. The rectangular device has three-prong sockets at both ends, so you can control two devices independently from a single outlet. This plug is narrow enough that it won't block the second wall outlet, in case you want to plug in something else, but the fit will be tight.
You manually control each plug via two LED-lit buttons on either end of the front of the switch, while a light in the middle lets you know if the plug is connected to your Wi-Fi network. The HS107 will work with devices of up to 15 amps, so you can plug in things such as coffee makers and portable heaters.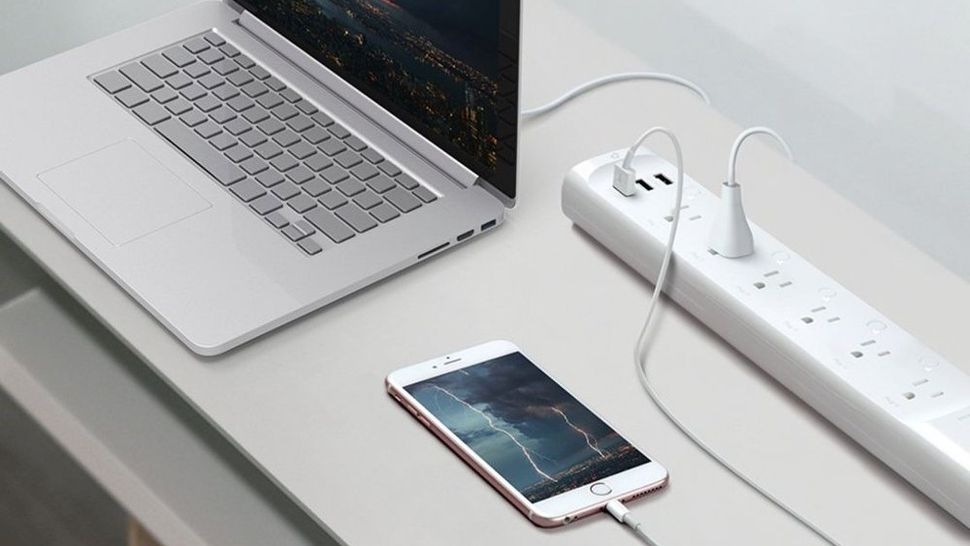 You've probably caught on to our trust in TP-Link's offerings. To reiterate, many smart plugs are not as secure or easy to use as advertised, so there's something to be said for TP-Link's consistency and versatility. For example the Kasa Smart Wi-Fi Power Strip is six smart plugs built into one (with three USB ports to boot). You can control each connected device individually using the Kasa app, Alexa or Google Assistant, or buttons on the device itself. 
Better yet, the Kasa Smart Wi-Fi Power Strip has a surge protector built in, which most individual smart plugs (and most of the best smart plugs) lack. That said, at $79 for the unit, it's a bit pricey compared to other options. However, it's worth it for spaces where you have several appliances set up, like in a home office or entertainment center.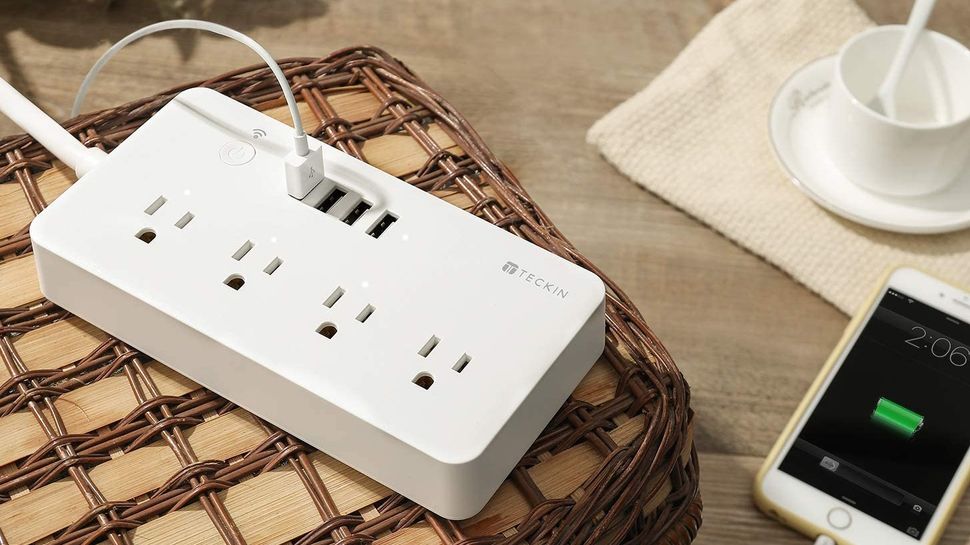 If you'd like a smart power strip for less, our favorite choice is the Teckin Smart Power Strip. With four outlets and four USB ports, it can accommodate as many devices as some surge protectors can. But at only $29.99, it's less than half the price of its upscale competitors.
The Teckin Smart Power Strip also offers more features than most of the other best smart plugs. Using the Teckin Smart Plug app, you can remotely monitor and control your appliances, and can control and schedule each outlet individually. You can set each outlet to turn on or off based on various environmental factors such as time, temperature, humidity, sunrise and sunset or the actions of other smart-home devices.
Gosund isn't a well-known name, but it sells some of the top-rated smart plugs on Amazon. We called them in for testing, and they're every bit as easy to use as reviews said. The companion app is a breeze to navigate, and makes setting up each plug as simple as we've seen in this category.
One caveat about the standard Gosund smart plug is that you can't fit two of them on a split outlet. The brand does offer a Mini size, though.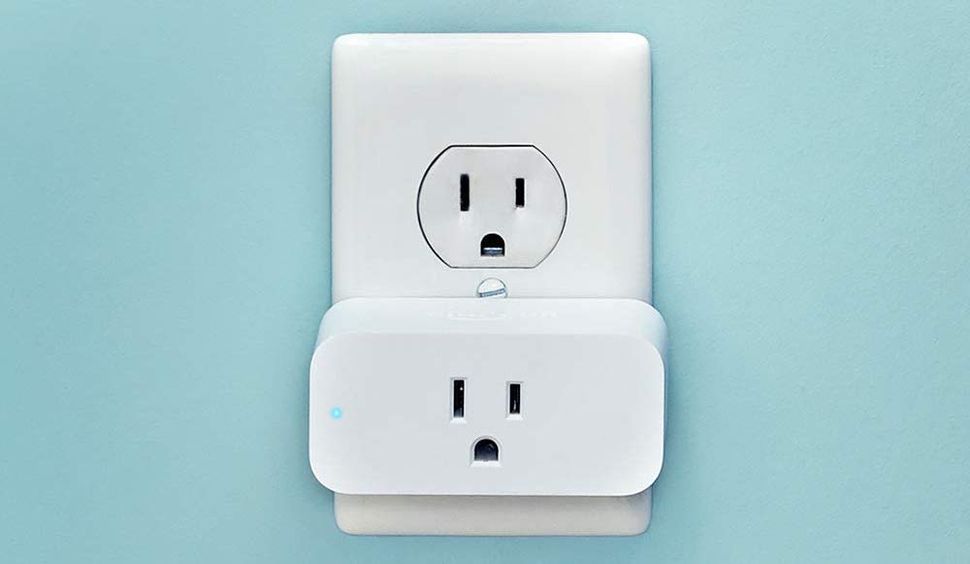 The Amazon Smart Plug is simple, compact, and a great value purchase for a low price. It comes packed with all the features of Alexa, including compatibility with routines, schedules, timers, and other advanced automations. With either the Alexa app or any of the best Alexa speakers, you can control the Amazon Smart Plug from wherever you are in your home.
We like that the Amazon Smart Plug has a physical on/off button and an LED to indicate its status. That way when someone is around who doesn't have access to your Alexa app, or isn't as familiar with smart home devices, the connected appliance can still be controlled. We'd love this smart plug even more if it were compatible with voice assistants besides Alexa, though. Perhaps Google Assistant and Siri could be added down the line, but we'll have to see.
How to choose the best smart plugs for you
How do you decide which is best smart plug for you? Here are some things to consider.
1. Will it block my other outlet? Some smart plugs are so big that if you plug them into a wall outlet, it will block the second outlet. That's a design fail. TP-Link's HS105, the iHome ISP6X, and the Belkin WeMo Mini are all plugs that are small enough to keep the other outlet free.
2. Will it work with more than Alexa? It's great to be able to say "Alexa, turn off my lights" and have the smart plug shut off your table lamp. But the better plugs will also work with Google Home, and some—such as iHome's—also work with Apple HomeKit.
3. Is the app any good? Many of the cheaper plugs have cheaper apps, which make it difficult to schedule when the plug should turn off and on. We've even found some that haven't been fully translated into English. While you'll need to download the plug's app before you purchase the plug, this step could save you a lot of frustration.
How we test the best smart home plugs
Reviewing a smart plug isn't as simple as plugging it in. Well, it almost is. In addition to making sure the plug actually turns on the thing that's plugged into it, we also evaluate the plugs on several factors:
Design: Can you fit more than one plug into an outlet? Does it have a physical on/off switch or indicator lights?
Setup: How easy is it to connect the plug to your Wi-Fi network, and to its app
Scheduling: How robust is the scheduling feature in the app?
Features: Are there any other features that distinguish the plug from others?
Smart Home Connectivity: How many other smart home systems does the plug work with? Alexa and Google Assistant should be givens.