The search for the best key finder begins and ends with Tile, which has a whole family of devices aimed at helping you track down everything from lost keys to wallets. Even better, based on our testing, many of Tile's trackers deliver on that promise.
Tile's reign as the maker of the best key finders is even more impressive considering who it's beating out. Apple and Samsung both have key finders, and Google is on the verge of launching its Find My Device network to tap into Android phones to help users find lost items. (Tile is joining fellow key finder makers Chipolo and Pebblebee in supporting Find My Device.)
Even with the added competition, we think Tile remains tops, thanks in part to a wide variety of options among its trackers. And that lineup works with just about any phone — something you can't say for the Apple AirTag or Samsung Galaxy SmartTag. Those two trackers either limit their best features to specific devices or only work with select phones.
We've tested a lot of different key trackers, and we've discovered that some are more deserving of a place at the end of your keychain than others. Here's how the best key finders rank after we've put each one through their paces.
The best key finders you can buy today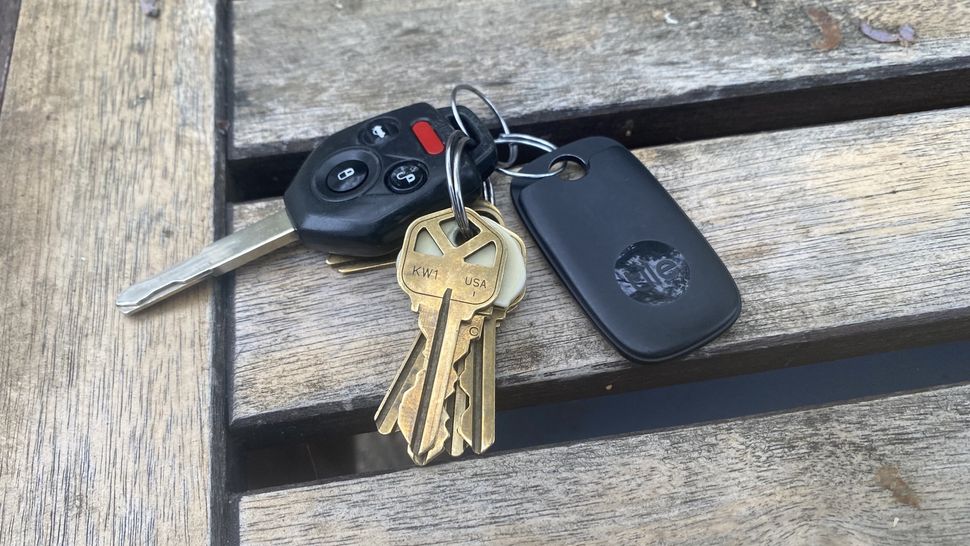 The latest version of the Tile Pro, the top key finder available from Tile, offers a new look from past editions. Instead of the square design you may have grown used to, the Tile Pro (2022) now looks more like a traditional key fob with a rectangular shape and rounded edges at one end. It's not as stylish as past Tile trackers, but it's still a very capable tracker.
And that's why the Tile Pro remains our pick for the best key finder you can buy. It's got the best range of any key finder we've tested with a good, loud alarm. A two-way find feature helps you locate your phone if you've misplaced it just by pressing the Tile logo twice on the key finder. And the Tile Pro's battery remains easy to replace after about a year of service.
Tile continues to improve the software that accompanies its trackers. This year, Tile added an anti-theft mode which makes it hard for thieves to scan for Tile's trackers. That increases the odds you'll be able to recover a stolen item. (Anti-theft mode is available for all the Tile devices included in our best key finder rankings.)
If you've got the previous version of the Tile Pro from 2020, there's no need to upgrade, as the feature set remains as strong as ever. But if you have an older Tile or are looking for the best key finder around, your search should end with this latest edition of the Tile Pro.
Read our full Tile Pro (2022) review.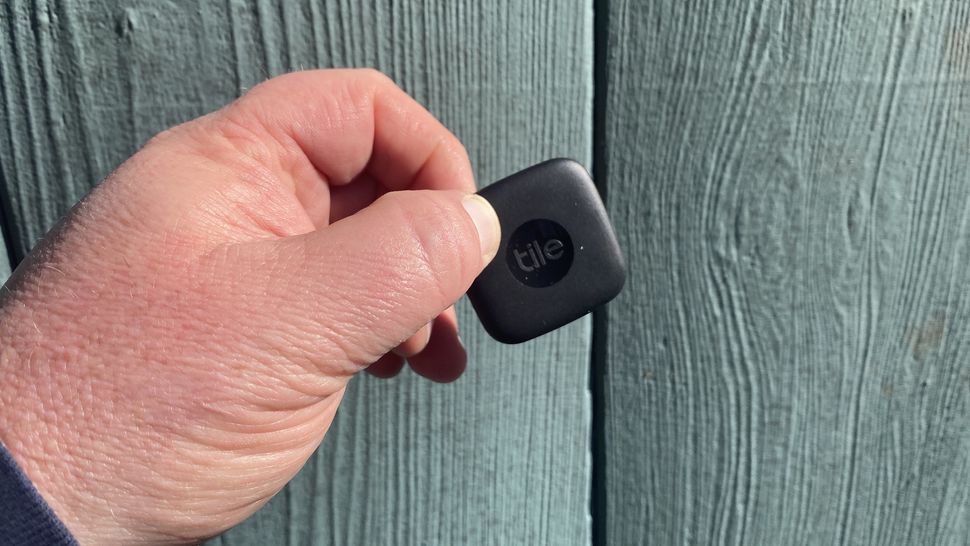 Tile made some great improvements to the latest addition of the Tile Mate, which now performs more reliably than its predecessor. We consistently reached 200 feet when range testing this Bluetooth-based tracker, which is pretty impressive. The Tile Pro is a more fully featured device, but the Tile Mate costs $10 less, making it a great value for bargain hunters.
Some users will not appreciate that the Tile Mate no longer has a replaceable battery. Instead, you get a battery that's built to last for three years before you need to replace your tracker. At least the Mate's new design makes it better able to withstand dunks in water — like the rest of the Tile lineup, the Mate offers IP67 water resistance.
All Tile trackers work with both Android devices and iPhones, and the Tile Mate costs less than competing products from Samsung and Apple. That's why you should consider this key finder if you want a low-cost device that still delivers solid range and an audible alarm.
Read our full Tile Mate (2022) review.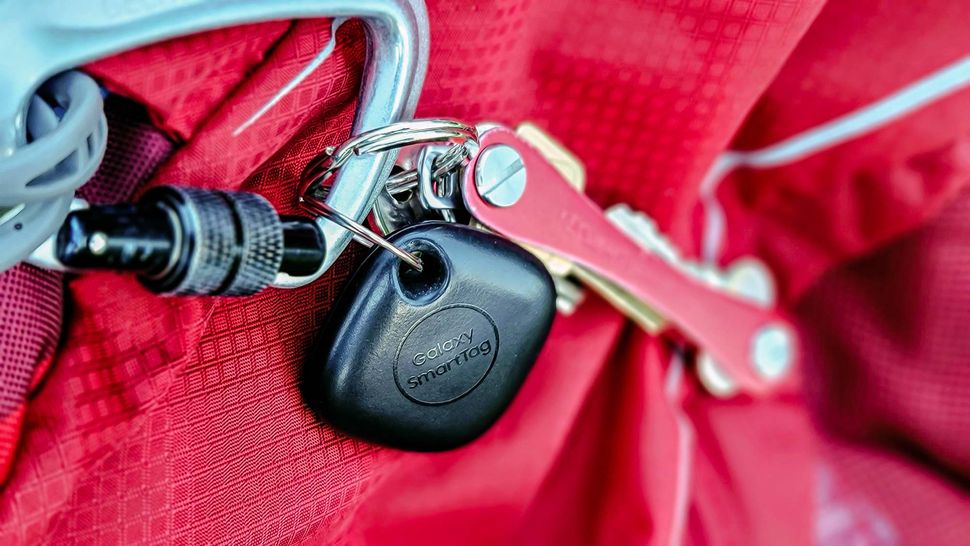 Owners of Samsung phones looking for the best key finder should consider the Samsung Galaxy SmartTag alongside the Tile Pro. Like the Tile Pro, the SmartTag fared well in our range testing, as we were able to stay connected to our keys from up to 225 feet away. We can also point to some real-world successes with the SmartTag, as our tester was able to find keys that were left behind using last-seen data from the companion SmartThings app.
There's a unique component to the SmartTag that other key finders don't boast. Because the key finder connects to Samsung's SmartThings app, you can use it to automate some smart home features with a press of the tracker's button. Be aware that this version of the SmartTag doesn't support Ultra Wideband connectivity for more accurate tracking like Apple AirTag does; for that feature, you'll need to pay up for the SmartTag Plus, which costs an extra $10.
SmartTag compatibility is limited to Samsung Galaxy phones running Android 8.0 or later, so if you've got another handset, you want to consider some of the other best key finder options. But Samsung's smart tracker is a perfect companion to devices like the latest Galaxy S models.
We've heard some rumblings that a SmartTag 2 model could be in the works for release later this year, possibly as soon as the July 26 Galaxy Unpacked event. Stay tuned for a possible update.
Read our full Samsung Galaxy SmartTag review.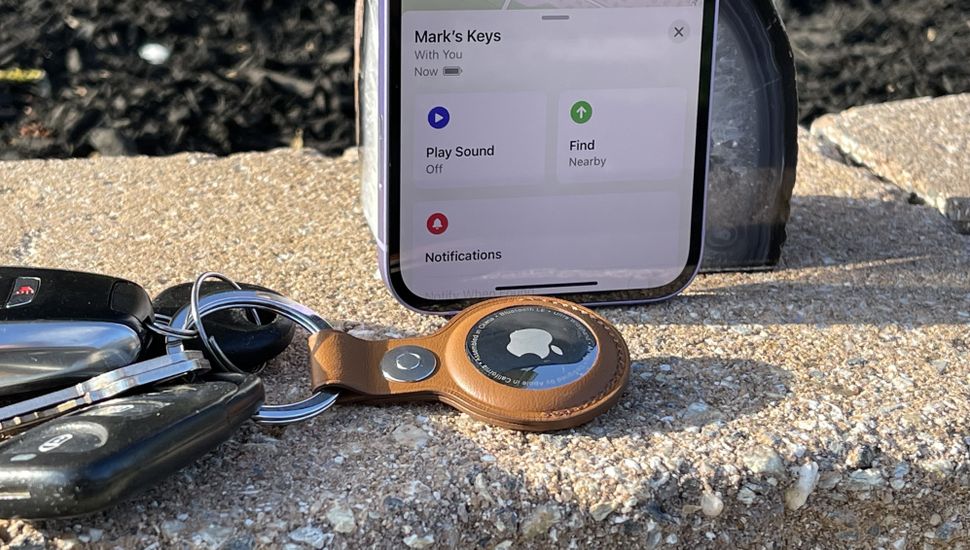 If you've got an iPhone, especially one of the more recent models, you'll want to try Apple's AirTag. This key tracker pairs with your iPhone over Bluetooth to help you track down lost items in the iPhone's built-in Find My app. If you've got an iPhone 11 or later, you can tap into the Precision Finding feature, which uses the U1 Ultra Wideband chip in newer Apple phones to provide more detailed directions on finding lost items.
Precision Finding is impressive, but perhaps the best thing about Apple's AirTag is how easy it is to set up. Our AirTag paired easily with iPhone, and the Find My interface is a pleasure to use. (For more, check out our guide on what different AirTag chimes mean.) A new feature in iOS 17 will let you share AirTags with up to five other people in the Find My app. iOS 17 arrives this fall, though a public beta is available now.
AirTag still lacks a two-way find features to locate a misplaced phone. More worrying, privacy features on AirTag have needed fine-tuning, as alerts that an unauthorized AirTag is trying to track you have been slow in coming. Apple released updates to address the problem, and it's joining Google in backing a new specification that aims to better alert you to unwanted tracking by Bluetooth-based devices. Until that standard becomes formalized, we have a guide on how to tell if you're being unwittingly tracked by an AirTag and what to do about it.
Read our full Apple AirTag review.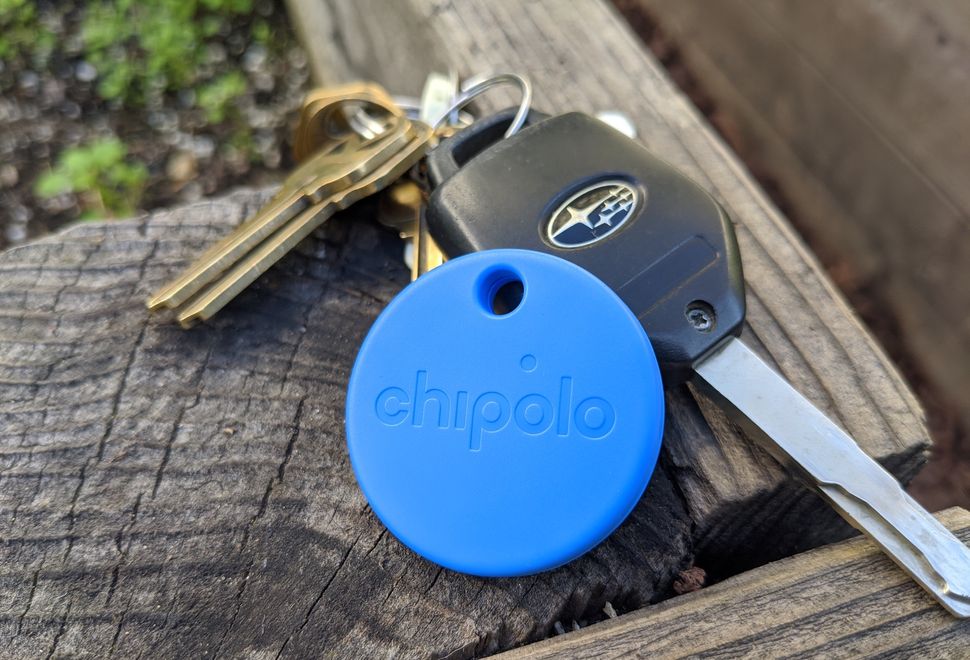 The Chipolo One key finder continues Chipolo's proud tradition of producing trackers with very loud alarms, making it easy to find the item you've misplaced. But the Chipolo One introduces an even better feature to the mix — out-of-range alerts that buzz your phone when you've left an important item like your keys behind.
All you have to do to get out-of-range alerts is toggle the feature on in Chipolo's app. (That's a contrast to Tile, which only includes such alerts as part of its Tile Premium subscription service.) When you've gone a certain distance from your Chipolo One, you'll get a notification on your phone and a loud beep or buzz. In our testing, Chipolo's out-of-range alerts appeared reliably and usually quick enough for us to turn around and retrieve our keys before we've gotten too far.
The range of the Chipolo One is a little disappointing, as we had a hard time keeping our phone connected to the key finder beyond 50 feet. That means the Chipolo One is best suited for finding in a small area like your home as opposed to more spread out locations. Still, at $25, the Chipolo One costs less than the Tile Pro and has better features than the similarly priced Tile Mate. We think its the best key finder alternative if you don't want to pay up for the Tile Pro.
Another version of the Chipolo One — the Chipolo One Ocean Edition — offers the same functionality, but is made from recycled plastic pulled from the ocean. It costs $5 more than the original Chipolo One, with $1 of every purchase donated to Oceanic Global, an organization that promotes ocean conservation efforts. The Ocean Edition seems to have disappeared from sites like Amazon, though Chipolo still sells it directly.
Read our full Chipolo One review.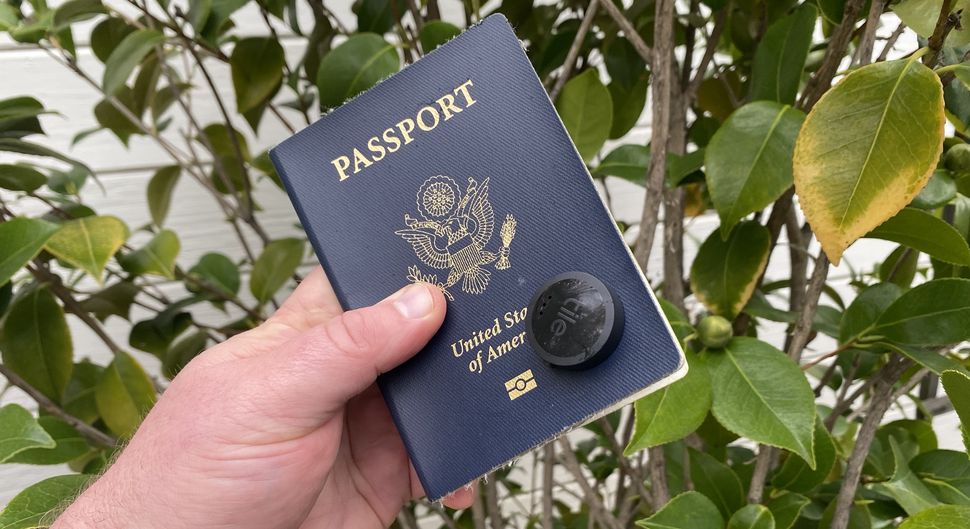 The idea behind the original Tile Sticker was solid — build a small, circular tracker that could stick onto surfaces of devices and objects other than keychains — but the execution was flawed. Tile clearly took that criticism to heart with the new Tile Sticker, as this version performs much more reliably. It's a better choice now for tracking things like laptops, passports and other valuables with smooth surfaces.
You still may find it jarring to have what looks like a little knob sticking onto those surfaces, but at least you'll have a tracker with an audible alarm and a wide reach — we got up to 170 feet away from the Tile Sticker in our tests. The Sticker also works with both Android devices and iPhones, and it includes Tile's two-way find feature for locating misplaced phones.
Not convinced by the Tile Sticker? Tile now sells adhesive Lost and Found labels that you can paste onto objects; if those objects are lost, anyone who finds them can scan the QR code on the adhesive label to look up your contact information for returning the lost item.
Tile Sticker is also at the heart of a new Tile tracker, Tile for Cats. The tracker combines a Tile Sticker and a silicone accessory that you can attach to a pet's collar for tracking their whereabouts. We expect to test Tile for Cats on our own rambling kitty very soon.
Read our full Tile Sticker (2022) review.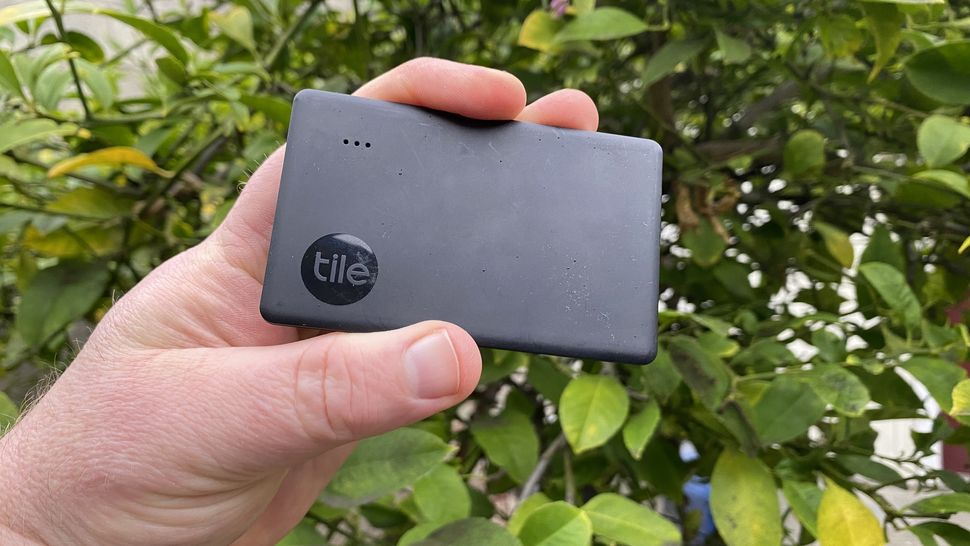 Because its thin design — it's about the same shape as a credit card — the Tile Slim is uniquely suited to slip inside a wallet or purse so that you can track that item's whereabouts from your phone. But unfortunately the latest version of the Tile Slim is a step back from the predecessor that impressed so much.
The problem is inconsistent range — we had a hard time staying connected to the Tile Slim (2022) anytime we got farther than 80 feet away. Considering the Slim is supposed to match the range of the Tile Mate and Tile Sticker, we can't help but be disappointed by that performance.
Given the issues we had with the Tile Slim, it may be worth considering Chipolo's wallet tracker. The Chipolo Card Spot costs the same as the Tile Slim but taps into Apple's Find My network to increase the chances of you tracking down a lost wallet or purse. We're currently testing the Chipolo Card Spot so stay tuned for our full review.
Read our full Tile Slim (2022) review.
How to choose the best key finder for you
Here's the criteria to keep in mind when you're shopping for a key finder.
• Connectivity and range: The majority of the devices in our best key finder rankings connect to your phone over Bluetooth. That generally means ranges of 200 feet or so, though in our experience, many trackers top out at 100 feet. (That's just as well, as beyond a certain distance, it's hard to hear the alarm anyhow.) The Tile Pro is the exception, with a range topping 200 feet in our testing. Both Apple and Samsung offer key finders that use Ultra Wideband tracking, which promises more precise tracking data.
• Alarm Sound: Check the decibel rating for the key finder. You'll want a good loud signal of at least 80 to 85 decibels so that you can hear your key finder over any ambient noise. In our testing, we've been impressed by the loudness of the Tile Pro as well as the Chipolo One.
• Other Features: Consider key finders that have two-way finding features, where you can press a button on the key finder to track down your phone. Some key finders also offer geofence features, where your phone will get an alert if your keys are ever out of range — the Chipolo One's out-of-range alerts are particularly impressive if you prize this capability.
• Battery Life: Look up how long the battery will last on your key finder. If it's a replaceable battery, count on about six months, though the Tile Pro (2022) promises a year's worth of battery life and Chipolo claims its new key tracker will go two years before you need to swap out a battery. Non-replaceable batteries should also last a year and offer a clearly defined replacement program for when your device is running low on juice. The latest Tiles claim to last three years if they have a non-replaceable battery.
• Tracking Multiple Items: Many of companion apps for the devices we've reviewed here support multiple trackers, so that you can keep tabs on more than just one item. (You can track a purse, too, or a wallet, in addition to your keys.) Some products, like Tile, even let you share your tracker with another user, so that both of you can pinpoint the location of your keys. (Tile Premium gives you the ability to share your Tile tracker with unlimited users.)
• Price: The average key finder costs between $20 and $30. A few, like the Tile Pro, cost $35, but offer longer range than standard key finders.
You'll pay up for key finders with Ultra Wideband connectivity. Samsung's SmartTag Plus costs $40. The AirTag costs a little bit less, at $30.
You'll also want to consider compatibility. The Bluetooth-based Samsung Galaxy SmartTag will just work with Samsung's phones while the SmartTag Plus works with a more limited selection of devices. (The Galaxy S21 Plus, Galaxy S21 Ultra, and Galaxy Note 20 Ultra have the necessary Ultra Wideband connectivity as do the more recent Galaxy S22 and Galaxy S23 models.) Similarly, to get the most out of Apple's AirTag, you're going to need an iPhone 11 or later (excluding both the 2020 and 2022 iPhone SE, as those phones lack an U1 Ultra Wideband chip.)
How we test key finders
We put every key finder we review through a series of tests. To test the volume of the alarm, we bury the key finder in a clothes hamper filled with laundry and see how far we can walk away before the alarm becomes inaudible. We also check to how long the alarm sounds before shutting off.
To test range, we go to a public park and leave the key finder behind. We check every 10 feet until we lose the signal or can no longer hear the alarm. We also take note of how quickly the key finder re-establishes a connection with our phone once it's back in range. If a key finder promises a digital leash feature, we walk away, taking note of how long before we receive an out-of-range notification on our phone.
With some key finders now offering ranges beyond 100 feet, we also go to a local football field and check ranges on those trackers.
We consider the size and shape of each key finder. We also look at the ease of inserting a new battery into those devices with replaceable batteries; if the battery can't we replaced, we consider whether the key finder maker has a replacement program in place.
We also look at the design of the companion app for each key finder, and consider additional features such as two-way finding capabilities.