Nothing quite wows your guests like one of the best digital photo frames. The latest models can offer a picture quality so sharp, that the detail will make you feel as if you're actually there. And with colors so vibrant and vivid, you may have to double-take what you see. Digital photo frames are offering more features and add-ons than ever before as well. Some can play video footage accompanied by sound, while others offer useful utilities such as calendars, alarms and even the weather forecast.
But, while all of this sounds impressive, there's still a significant difference in performance when you compare model to model. So it can be tricky to decide which to choose, especially when all of these extra features can add to the price tag. That's why we tested a range of digital photo frames to help out. We considered everything from the quality of the picture produced, to the ease of operation, including accessibility when uploading and removing images from the library.
We set up and used each digital photo frame at home, exactly as you would, and determined every strength and weakness behind the design. As a result, we've found the best options to suit every budget and situation. These are the best digital photo frames.
The best digital photo frames you can buy today
Why you can trust Tom's Guide Our expert reviewers spend hours testing and comparing products and services so you can choose the best for you. Find out more about how we test.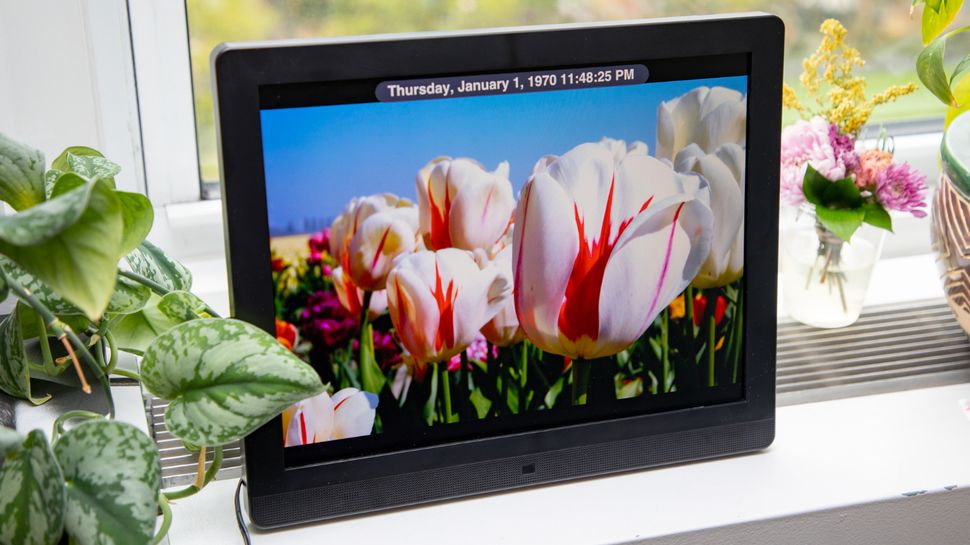 The best thing about the Pix-Star 15-inch Wi-Fi Cloud Digital Photo Frame is its stunning photo quality. With the 4:3 aspect ratio on a 1024 x 768-pixel screen, images look crisp, bright and clear. You can make adjustments to the LED backlit screen for brightness, hue and contrast depending on ambient lighting.
The Pix-Star has many smart extras. You can stream broadcasts from a number of international radio stations to play music over a slideshow, and there are many transitions available to customize image presentation. You can also set reminders, use the built-in calculator and play simple puzzles, Sudoku and other games.
This gadget lets you link up to 25 frames from a single account, where you can send and receive images and audio messages directly to and from connected frames. You can also view pictures from web albums, including Google Photos and Facebook. The frame has 4GB of onboard memory and supports USB thumb drives and SDHC/SDXC camera cards.
Overall, the Pix-Star is the best digital photo frame you can buy.
Read our full Pix-Star Wi-Fi Cloud Digital Photo Frame 15-inch review.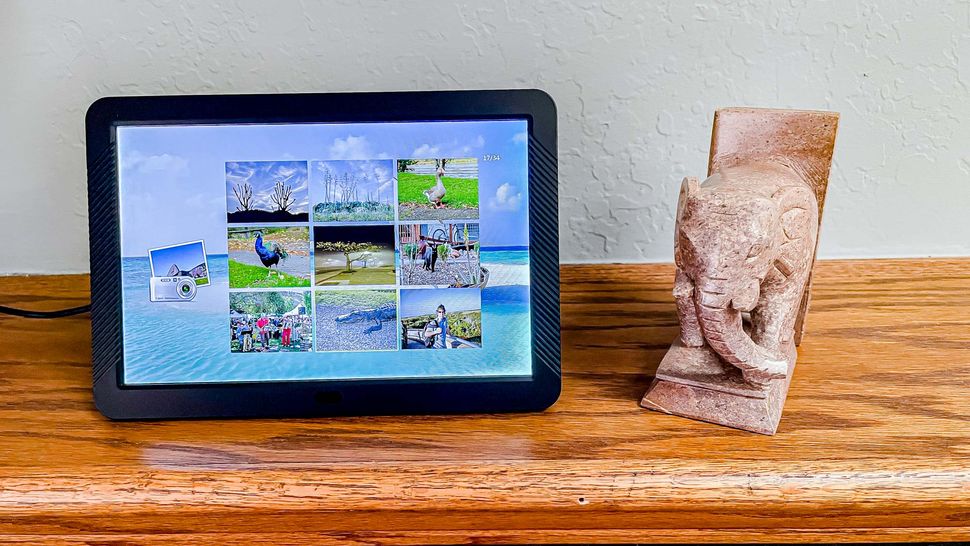 The Atatat Digital Photo Frame impressed us with its visual quality, offering a vibrant display without artificially punching up the colors. While it's a small screen, the widescreen format gives the impression of shots being bigger than they actually are. It's quite a versatile design too, with calendar utilities and the ability to play images, movies and music over a slideshow.
This model comes with a separate remote control, rather than a touch screen — so you don't need to worry about marring the screen with fingerprints. It's also very easy to set up and intuitive to use, as there's no software or app connectivity necessary; simply plug in a memory card or USB drive, and it does the rest. It would appeal to a non-technical audience for this reason.
Bear in mind that there's no internal memory though, so you're limited by what your SD card or USB thumb drive can hold. Having said that, at less than $70, this is a great entry-level digital photo frame which will cover the basics and do it well.
Read our full Atatat Digital Photo Frame review.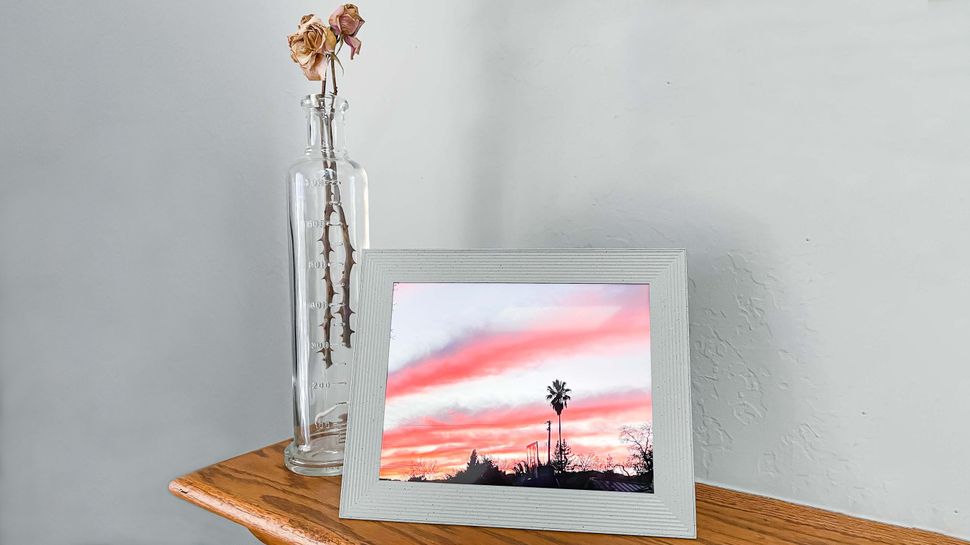 If image quality means more to you than anything, the Aura Mason Luxe Frame is the one to beat. With a resolution of 2048 x 1536 on its 2k screen sealed within a 9.7-inch frame, its quality can only be described as outstanding. That's why it's earned the Tom's Guide 2022 Award for Best digital photo frame. Colors couldn't be more vibrant or realistic and coupled with its two touch bar controls, the operation of this frame is as intuitive as it gets. True, there's no touchscreen, but that only saves the screen from oily fingerprints obstructing the view in our opinion.
The only downside to this frame is the lack of a motion sensor and internal memory, both of which our winning frame, the Pix-Star features. While it can adjust the screen based on ambient light, a dark room doesn't necessarily mean it's unoccupied. No internal storage also means you have to rely on cloud input. But, other than that there's little to argue against this digital photo frame. It looks great on display and supports both video and sound as well as still images.
Read our full Aura Mason Luxe Frame review.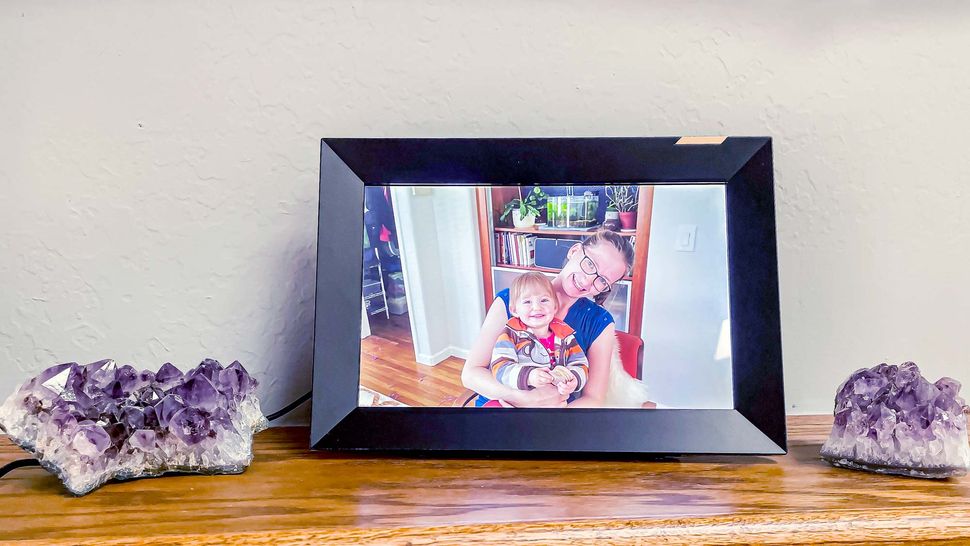 The Nixplay Smart Photo Frame 10.1 Inch Touch is the latest addition to company's range of digital frames. It offers a compact midsize design which will fit in to most rooms and the display is bright enough to add character to your images and really make the landscapes 'pop'. It won't waste electricity, thanks to the voice and motion activated sensors, and it couldn't be more easy to use with the touch screen navigation. Because of this, it would suit those who are new or experienced with this kind of product.
Friends and family can easily upload photos to this frame from their own Nixplay account or email them in directly. There's great social media image access as well, including Facebook, Google Photos, Instagram, Dropbox, Flickr, and Verison. There's very little to complain about this frame, other than the lack of onboard SD cards or memory sticks. There's no remote to lose, it's intuitive to operate and design is simple, yet sophisticated.
Read our full Nixplay Smart Photo Frame 10.1 Inch Touch Review.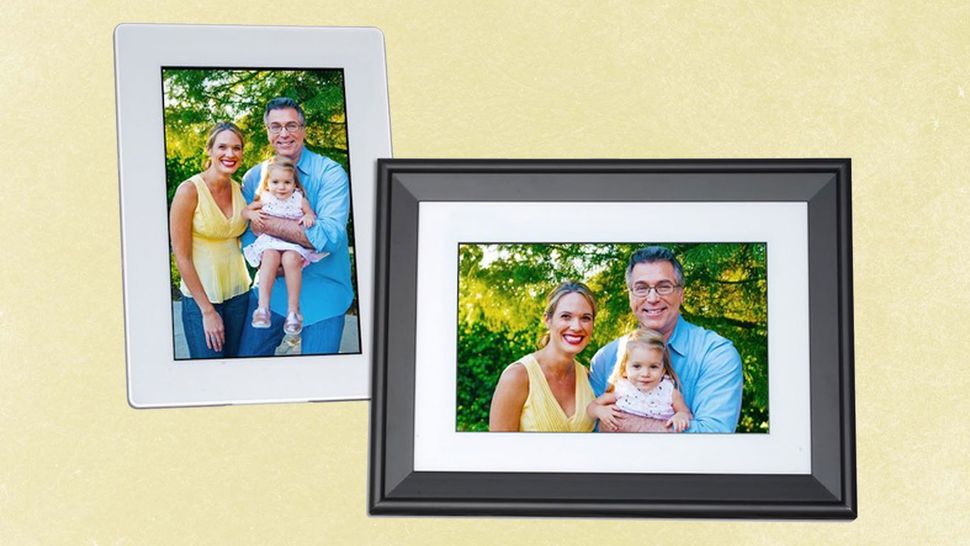 PhotoSpring 10 has the unique advantage of two different visual frame modes: a traditional matted look with a black, gallery style outer frame or a streamlined modern look. After removing the top black frame, it's easy to see how superior the plain white frame looks and how nicely it sets off your images, but it's your choice and switching modes is easy. This frame is for tabletops only for now — no wall mounting unless you purchase a power cable with a 90-degree magnetic connector, which the company says will be available as an accessory.
PhotoSpring's flexibility extends to its mode of input. You can send up to 30MB of photos directly to the frame via email, proprietary app, text, photos app share button, or from a browser. All media uploaded to the frame is automatically stored on the device. High-resolution videos of up to five minutes in length (or 1GB file size) play automatically in an integrated slideshow, though the frame does not recognize Apple's Live Photos as videos, only stills.
Various onscreen controls are accessible via a subtle green dot at the upper right corner. It's hard to discern at first — you may have to consult the instructions unless you find it by chance while poking around the screen — but once you discover and tap it, the current image zooms out to reveal on-screen controls that let you delete, hide, favorite, alter rotation, add to an existing album, adjust formatting, or mail images to or from the frame. A settings menu facilitates the management of cloud accounts like Google Photos for sync or backup or Flickr for sync.
The interface also lets you invite friends to upload images to your frame, change brightness and volume levels, schedule the frame on and off, and set up parameters for viewing slideshows and onscreen EXIF info for each image. We tested the Premium version of the frame, which features four hours of battery life, as opposed to the standard version, which you must keep plugged in.
PhotoSpring is easy to use with most tasks accomplished with a quick tap and simple on/off switches — ideal for its non-technical target audience. Image quality is high resolution for the frame's size, and because you can schedule on-off intervals, a motion sensor is not sorely missed.
Read our full PhotoSpring 10 Digital Photo Frame review.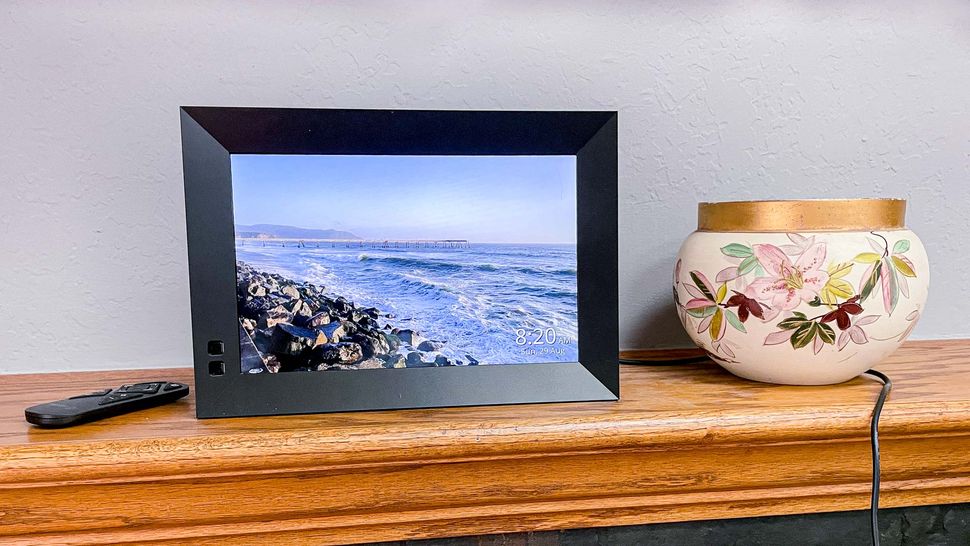 Nixplay's 10.1 inch Smart Digital Picture Frame, with its 1280 x 800 pixel display, and wide 16:10 aspect ratio, makes your photos and videos pop with dazzling color and detail. Watch photos and videos a part of a playlist and set up slideshows with multiple timed transitions for endless entertainment in either portrait or landscape orientation.
While as a free-standing frame, it's compact enough to sit nicely on a desk or living room mantle, it's also specifically wall mountable by removing a small cover from the back and re-attaching the cord. On the tabletop, Nixplay's remote can magnetically adhere to the back of the frame so it stays securely within reach.
The frame's mobile app lets you lets you connect to and control your frame from anywhere, which is especially useful for elderly or non-technical family members. Because it works via Wi-Fi, there's no physical input, such as SD cards or USB sticks, but the frame does have 8GB of onboard memory for direct storage of photos and video.
Read our full Nixplay 10.1 inch Smart Digital Picture Frame review.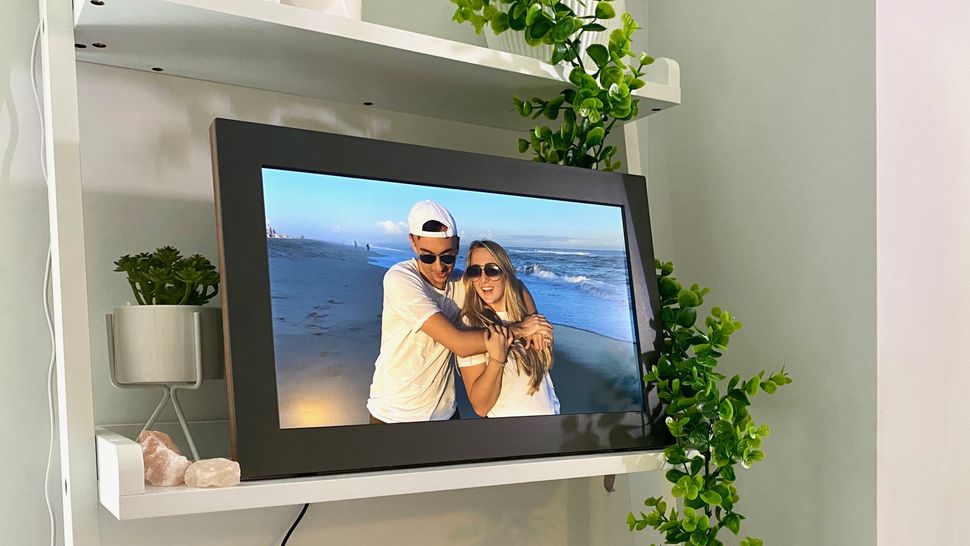 The Netgear Meural WiFi Photo Frame is a more compact, photo-focused version of the museum-worthy Netgear Meural Canvas II. While the Canvas II excels at bringing art from the louvre to your living room, the charcoal grey WiFi Photo Frame drops the mat framing for a homier look.
Of course, to maintain a gorgeous 1920 x 1080-pixel display the WiFi Photo Frame is rather large compared to many of the best digital photo frames. As a result, it might not fit well on some side tables or desks. But if you have the space for this 15.6-inch full HD display, you won't be disappointed.
The Meural WiFi Photo Frame's anti-glare coating holds an impressively clear picture from any angle, while responsive gesture controls let you navigate your photo albums and settings. Or you can control the frame with the Meural app, which offers both Meural's expansive library of art and a suite for creating collaborative photo albums for your frame.
Read our full Meural WiFi Photo Frame review.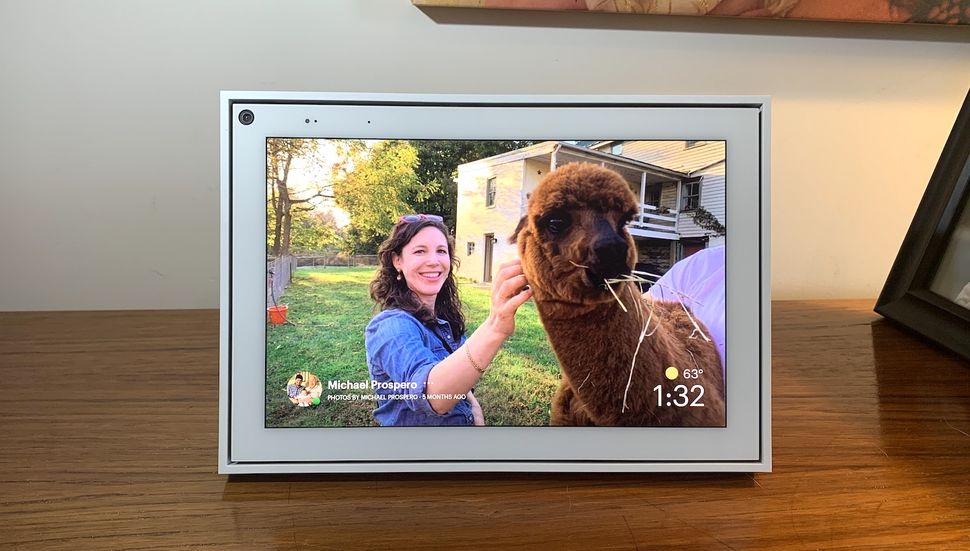 The Facebook Portal displays your photos from Facebook and Instagram on a 10-inch touchscreen that's easy to use. But you can also use this device to make video calls using Facebook or WhatsApp. The Portal's smart camera is smart enough to follow you around (by panning and zooming) as you move. Plus, you can apply fun filters to add some personality to your chats.
The Portal also has Alexa built in, so you can can ask the assistant anything you would ask one of Amazon's smart speakers or use the Portal to check who's at the front door. When you're not viewing photos, making calls or chatting with Alexa, the Portal can stream music from several services, including Pandora and Spotify.
To help protect your privacy, the Portal comes with a switch to shut off the camera, and you can delete any recordings the Portal has heard. Or you can just have the portal not save any of your recordings. Overall, the Portal is a pretty good deal given everything this device can do.
Read our full Facebook Portal review.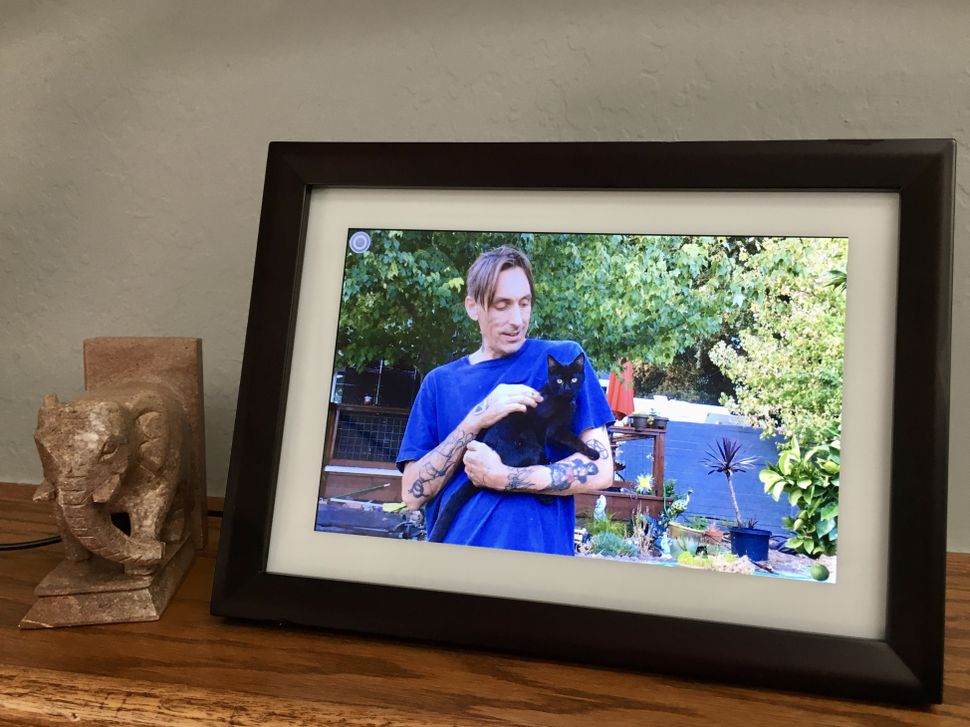 The Dragon Touch frame's 10.1-inch, 16:10 touch screen lets you view everything from static images and slideshows with special effects transitions to 30-second video clips complete with a headphone jack for audio. There's also multiple ways to input images into the frame, including an SD card, USB thumb drive, and Wi-Fi uploading.
The OurPhoto app is the easiest way to upload photos to the frame. You can also add remote users to the frame to let friends and family upload images via the app.
Image quality is top notch with bright detail and vivid colors. The Dragon Touch has some cool goodies, including video with sound, an alarm, calendar, and local weather. While there is no motion sensor to power down the frame when there's no one in the room to view it, you can set a schedule.
The frame casing does not seem especially durable, as the paint started to chip on our model. And many frames shipped to addresses in the U.S. arrive with European or Asian power connections that do not fit into wall sockets. I received one of those for review, but was able to use it with an adapter that I had on hand.
Read our full Dragon Touch Classic 10 Digital Picture Frame review.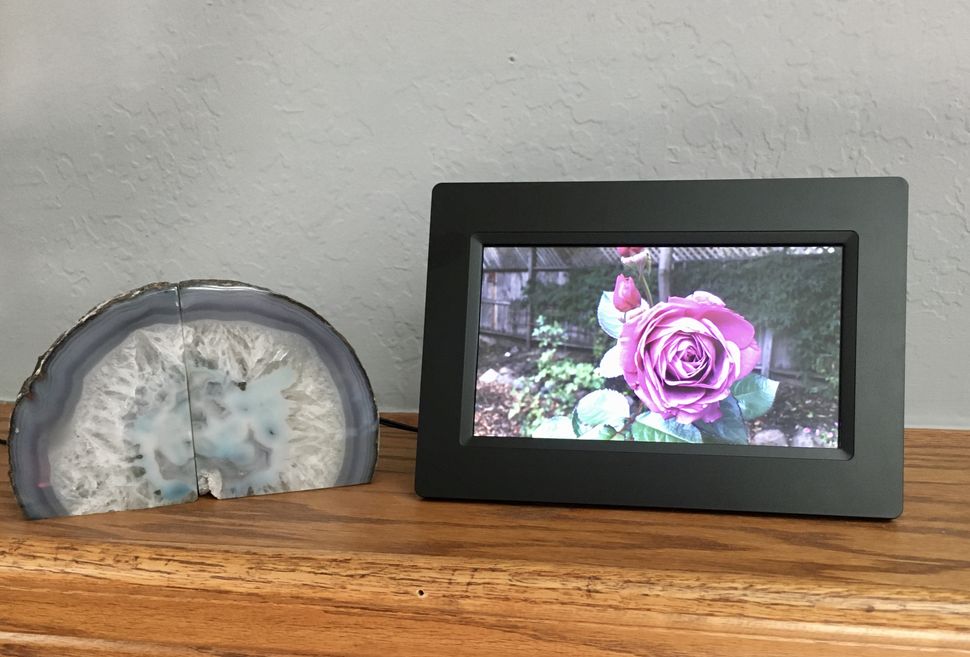 The Feelcare is a compact, handy picture frame that displays your images beautifully. Its black matte plastic exterior is low key and subtle so it looks nice in any room. With a 1024 x 600, 16:9 picture, image quality is crisp and clear, and you can use the touch screen to adjust brightness.
The frame operates via a proprietary app for iOS or Android, or you can manually load images via a micro SD card directly into the frame, which has 8GB of internal storage. The frame saves the photos and videos to the built-in memory and you can use the touch screen to delete, hide, and adjust photos. Note that videos play for only 15 seconds.
You can send photos from the Frameo app or from the photo sharing utility in your smartphone gallery and add up to 500 friends who can also send photos to your frame. The lack of a motion sensor is a drawback, but there is a timer. Despite a dearth of extras, Feelcare's basic operation is flexible enough for its target audience of non-technical family members.
Read our full Feelcare 7-Inch Smart WiFi Digital Picture Frame review.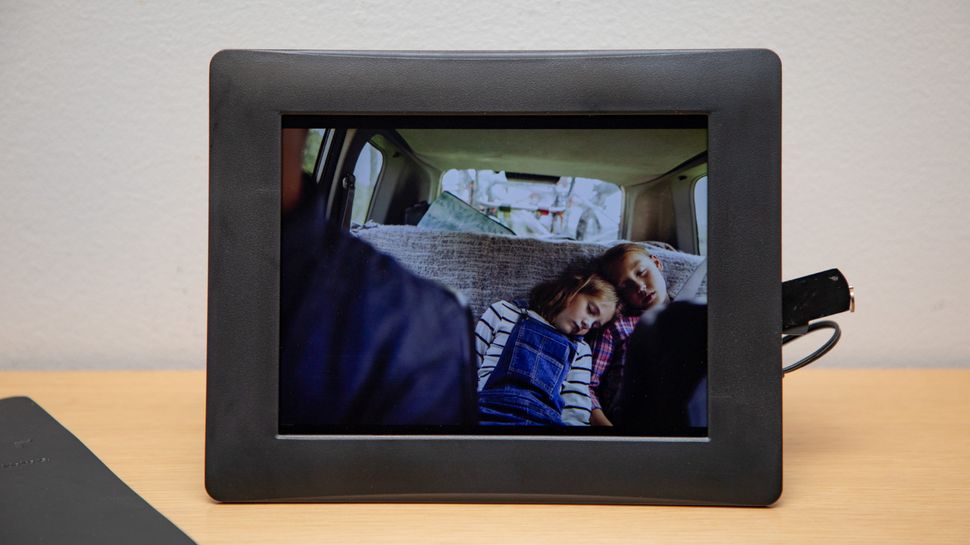 There's not much to the Aluratek 8 inch Digital Photo Frame except extreme simplicity, which is why it's still one of the best digital photo frames for some users who just want to display some photos and not mess with networks.
The unit has no touch screen, no built-in memory and no remote control. The 800 x 600 TFT LCD screen resolution offers some basic adjustments for positioning images on screen, how long each image lingers and the screen brightness. You can plug in SD camera cards (up to 32GB) or a USB stick.
The navigational controls are on the back of the unit and each command registers with a toy-like click, but you must put your hands on the frame to change controls. Strangely, you can't change any of the controls unless all SD cards and USB drives are removed from the unit.
The unit features a generic plastic frame that comes with a screw-in plastic stand, but there is no hole for wall hanging. Normal-size USB drives stick out of the frame's side. You can choose from 11 transition styles and display photos from 3 seconds to 1 hour.
Read our full Aluratek 8-inch LCD Digital Photo Frame review.
How to choose the best digital photo frame for you
First of all, you need to consider what you want from your digital photo frame. Regardless of how much you're looking to spend, the images should look realistic and appear of a high quality on your display. You should be aiming for a high resolution (we recommend 1024 x 768 as a minimum), vibrant colors and a sharp focus. Be cautious of frames which display dull colors, low contrast and soft images.
You should also take account of how technical you are and where your photos are stored. Non-connected frames tend to be the easiest to use because you don't have to set up accounts or networks to transfer the images. Instead, you can insert camera cards or USB thumb drives directly into the frame and load up to 32GB of footage.
However, if you do opt for a connected frame, these offer much more flexibility in sourcing and sorting your images, whether from social media sites or directly from your phone. If your images are scattered on social media rather than concentrated on thumb drives, you will be better off with a connected digital photo frame.
How we test digital photo frames
We test the best digital photo frames on a variety of criteria. First, we assess at image quality and aspect ratio. The digital recreations of photos must look sharp and realistic, while maintaining a natural-looking crop.
Ease of use is another element we consider while reviewing the best digital photo frames. If a frame is simple to set up and navigate, it often has more value. However, an expansive offering of connected features is important, too. We think most of the photo frames on this list strike a solid balance.
Additional specs we look at are storage and sensors. Some digital photo frames feature onboard memory, while others rely on Wi-Fi streaming, USB thumb drives or camera SD cards. If you must use a camera card or a USB stick, be sure that the frame's body adequately keeps them out of sight.
Meanwhile, a motion sensor is practically a must. Digital photo frames do not need to waste energy by playing all day long if no one is in the room to view them.
Many frames offer calendar, clock, reminders, games, calculators, weather app widgets and speaker ports. These features aren't expectations, but make nice extras.