Schlage Encode Plus: Specs
Lock Type: Deadbolt
Smart Home Compatibility: Alexa, Google Assistant, HomeKit
Connectivity: Wi-Fi
Number Pad: Yes
Alarm: Yes
Codes: 100
App: Android/iOS
Power requirements: Four AA batteries
Size (interior): 5.5 x 3 x 2.4 inches
Size (exterior): 5 x 3 x 0.9 inches
Have you ever come home from the supermarket, your arms filled with groceries, and tried to unlock your door without dropping anything? Even the best smart locks require you to pull your phone out of your pocket. The Schlage Encode Plus looks to add more convenience to the process, by letting you unlock it via a tap from your Apple Watch or iPhone. As we discovered during this Schlage Encode Plus review, it's fantastically easy, but if you don't own an Apple Watch or iPhone, then this might not be the best smart lock for you.
Schlage Encode Plus review: Price and availability
The Schlage Encode Plus went on sale on March 31, 2022; it costs $299, which is $50 more than the Schlage Encode, which will continue to be sold alongside the Encode Plus. It's available in two styles (traditional Camelot and contemporary Century) and three finishes: Matte Black, Satin Nickel and Aged Bronze.
Other smart locks sold by Schlage include the Schlage Encode, which has all of the same features except for HomeKit compatibility; the Schlage Sense, which connects via Bluetooth and works with HomeKit; and the Schlage Connect, which is available with either Z-Wave or Zigbee — however, with the Sense and the Connect, you'll need a bridge or smart home hub to link the lock to your home Wi-Fi network.
If you have an Apple TV or a HomePod mini, you can link the lock to those devices, which will allow the lock's batteries to last a bit longer than they would if you connected it directly to Wi-Fi.
Schlage Encode Plus review: Design and features
Outwardly, the Schlage Encode Plus looks nearly identical to its predecessor, the Schlage Encode. The exterior portion has an illuminated touch-sensitive number pad with a physical key slot underneath. The part of the Encode Plus that sits inside your home has a dark top cover that slides off so that you can replace the four AA batteries needed to power the lock.
The big new feature of the Encode Plus is that if you have an iPhone or Apple Watch, you can simply tap it against the Encode Plus to unlock your door. This is thanks to Apple's Home Key feature, which adds a "key" to the Apple Wallet app on your iPhone and Apple Watch (it also gets added to the Wallet of anyone you share your Home with). That's a lot more convenient than tapping in a code or digging your phone out of your pocket.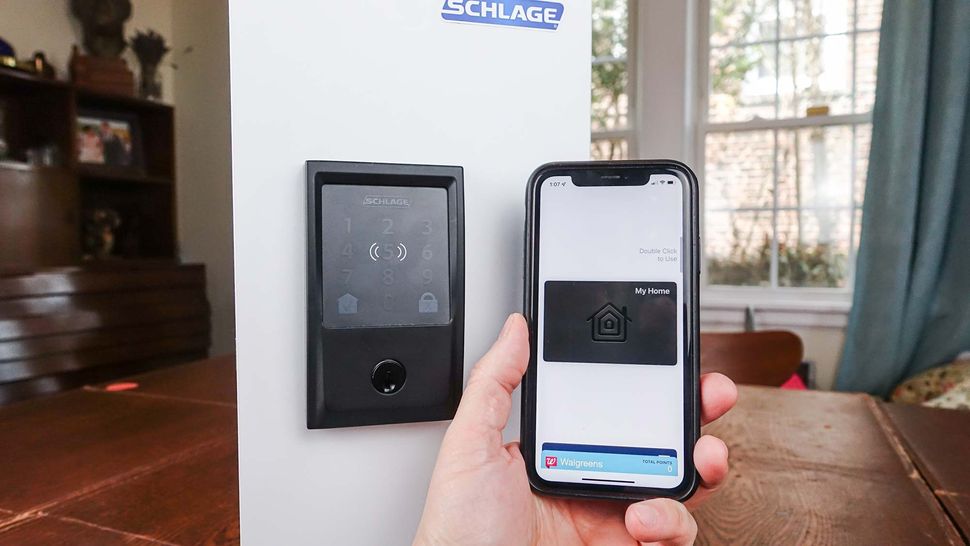 Unlike some other smart locks, the Encode Plus doesn't have a way for you to supply emergency power in case its batteries die; the Yale Assure SL, for instance, has two metal contacts for a 9-volt battery so you can get back into your home.
It also has a number pad, but the numbers don't move around as a preventative measure, nor is there an option (as there is on the Kwikset Obsidian) to require users to press two random numbers before entering their code.
The Schlage Encode Plus can store up to 100 codes; while that's a good many, it's far short of the 250 codes offered with the Yale Assure SL and the unlimited number of codes you get with the August Smart Lock.
However, the Encode Plus does have one feature not found on many other smart locks: a built-in alarm. In the event someone tries to jimmy the Encode Plus, it will emit a siren that should at least deter someone from attempting to break in.
In addition to HomeKit, the Encode Plus also works with Alexa, Google Assistant, Amazon Key, and Yonomi, so you can integrate the lock with other smart home devices, and use those assistants to lock your doors.
Like most other smart locks, the Encode Plus will automatically lock itself after a set period of time, though you can only configure this in the Schlage app; from within HomeKit, you can set the lock to automatically lock or unlock based on your location.
Schlage Encode Plus review: Performance
Unlocking the door with my iPhone was as simple as tapping it to the lock. The same goes for the Apple Watch; I simply tapped the watchface to the Encode Plus, and it would lock and unlock within a second. When using your iPhone, you can simply tap a corner of the phone to the smart lock for it to open; you need to tap basically the entire face of the Apple Watch to the lock, which can be a little awkward.
Using Express Mode, you can unlock your door without having to unlock your iPhone or Apple Watch first, which is an extra layer of convenience, especially if you don't have a free hand.
I also found its keypad to be very responsive, but the backlighting around the numbers was a bit jagged — like when you print out something using cheap ink. Still, the lock's action was smooth and relatively quiet as the bolt moved in and out. As I was testing it on a door blank and not an actual door, the motor's noise was definitely more noticeable - a slight whirring noise that lasted about a second.
Schlage Encode Plus review: Setup
Installing the Schlage Encode Plus is little different from most other locks. It should only take from 10 to 15 minutes, and require nothing more than a Philips head screwdriver. Setting it up with your phone is a little more involved.
If you're a HomeKit user, you can very quickly and easily set up the lock merely by pressing the pairing button on the lock and holding your phone next to it. However, by doing so, you'll be missing out on a lot of features you can only get through the Schlage Home app. For instance, while the Apple Home app lets you create guest codes, only the Schlage Home app lets you set a schedule for when those codes will work — for example, if you only want your dog sitter to be able to enter the house during the day.
And unfortunately, if you set it up via HomeKit first, you can't access the features in the Schlage app afterwards; nor can you manage any codes created via the HomeKit app.
Other features found only in the Schlage Home app include connecting the lock to your Wi-Fi, enabling the built-in alarm, and seeing a history of who opened the lock. Virtual keys can also be created, where the guest installs the Schlage Home app and receives a code to allow access.
Schlage Encode Plus review: Bottom line
How many times have you tried getting into your house when your arms are full of groceries? Those who own an Apple Watch will definitely appreciate the Schlage Encode Plus in those moments; it's a lot easier to tap your wrist against your door rather than trying to dig your keys out of your pocket.
It's a feature that sets the Encode Plus apart from other smart locks, and is one of the main reasons the Encode Plus is on our list of the best smart locks, because in other areas, the Encode Plus comes up short. It doesn't support as many codes as our favorite, the August Wi-Fi Smart Lock, nor does it have a keypad security feature like the Kwikset Obsidian, which has you press extra digits before entering your code, so other people can't guess at your code.
That said, there's something to be said for being able to unlock your door with your smartwatch.