With the best Apple TV apps installed, your Apple TV becomes a much better device.
Yes, you could just stream movies and shows on it, but there's a whole ecosystem of great Apple TV apps — including those that make watching TV easier to manage. Many have iPhone and iPad versions you may already know of, including one of our favorite weather apps, which has an Apple TV counterpart to its iPhone app.
Like other streaming boxes, Apple TV lets you watch your favorite shows and movies. But Apple's device stands out, thanks to its voice-powered Siri remote — especially the new version that debuted with this year's Apple TV — and the wide range of Apple TV apps. Some of these apps also have counterparts in our best iPhone apps list, because Apple's all about cross-platform unity.
If you subscribe to Apple Arcade, you can play premium games on the Apple TV for just $4.99 per month and pick up where you left off on your iPhone, iPad or Mac. Our latest addition is one of these games, which is popular on the major game consoles. Apple Fitness Plus subscribers can stream workout classes. And speaking of streaming, Apple TV also gives you access to all the best streaming services, from Disney Plus and Netflix to Sling TV.
To make it easier to for you to find the best Apple TV apps, we've broken it all down into several categories, including streaming services, music and video, games, health and fitness and more.
And if you have an Apple TV Plus account (or are still on your free trial) check out our list of the best Apple TV Plus shows and the best Apple TV movies.
From apps that let you binge on movies and TV shows to ones dedicated to solving puzzles, practicing yoga and shopping, these are the best Apple TV apps available (which would look great on one of the best TVs).
Best Apple TV streaming service apps
Max
Right when HBO Max was our favorite streaming service, it got taken to the Max. Yes, meet Max. All of our HBO favorites are still there, and it will gained a ton of stuff from the Discovery Plus streaming service. And it looks just like HBO Max.
The one downside of the Max app will be how you'll need to spend more for 4K — something Netflix subscribers know all too well. The good news is that Max's beaten its stability problems, as it's been ages since a show managed to tank its servers. Right now, Max is the best streaming service.
YouTube TV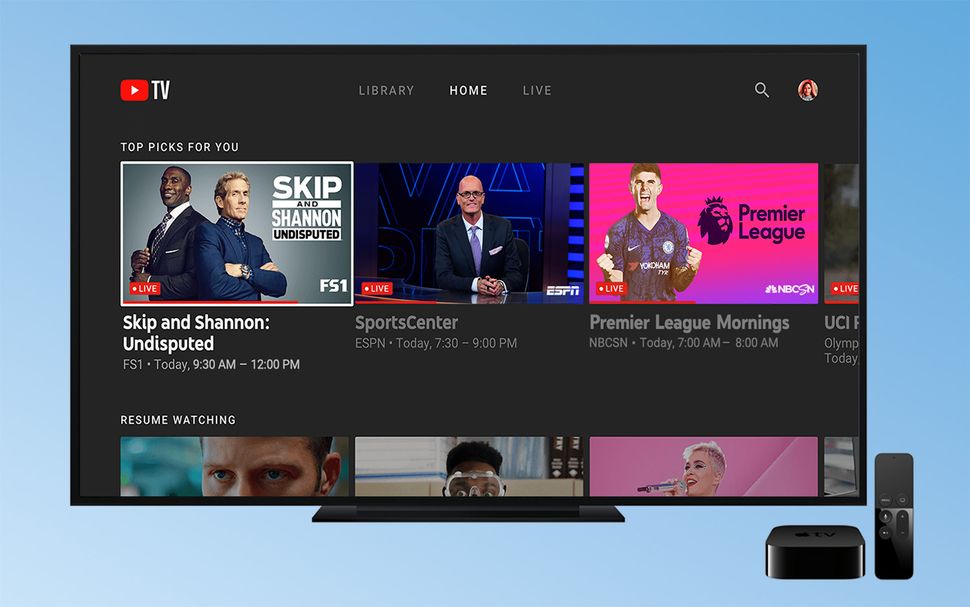 One of the best cable TV alternatives, YouTube TV isn't the cheapest with network TV (that's Sling), and it isn't bundled with other apps (hi Hulu + Live TV), but YouTube TV is a winner because it's simply great for watching TV. Benefiting from the head start that the original YouTube app provided, YouTube TV's app is smoother and more responsive than the rest. Oh, and YouTube TV was also the first to offer unlimited DVR space, and the only premium live TV service still offering a $64.99 per month price.
Letterboxd
Letterboxd, if you're not familiar, is the social media network for movie lovers. Primarily, it's used to help people discover and recommend films, as you can use it to track and share your reviews of your favorite movies. It's also a great tool for tracking your watch list, so you can help your own decision paralysis on movie night.
And in the film profile pages, Letterboxd also gives you details about where you can stream the film you're interested in. Pro-level Letterboxd subscribers can even search by specific streaming services, such as Hulu and Netflix.
Tubi
We're all tired of paying for every streaming service under the sun. Which is why we love to recommend the best free streaming services. Tubi is one of these services, delivering you free TV shows and movies. The only catch (if you can call it that), is that you have to watch ads.
Tubi's lineup is always changing, but at the time of publishing, it's got everything from Ace Ventura: Pet Detective and the first Terminator film. You can also stream episodes of The Nanny, the Shonen Jump anime Naruto and the classic comedy series Whose Line Is It Anyway? Recent releases on Tubi include Doctor Sleep and Annabelle Comes Home.
Plex
We've been big Plex fans at Tom's Guide for years, but a new update to the DIY streaming app reminds us that the gospel of Plex needs to be spread far and wide. While Plex is all about creating your own streaming service, its latest features help you stream with the wider world.
First, you've got Discover, which rounds up all the popular and interesting shows on all of your streaming services — helping fix decision paralysis. And then there's Watchlist, which helps you keep track of the shows and movies you want to watch, and where they're available online.
Pluto TV
Free (ad-supported) TV is back in vogue (did it ever leave?), and Pluto TV is one of the biggest destinations for those who are tired of paying to stream. To start, you'll get hundreds of linear channels dedicated to everything from the news to live TV and even specific shows. Degrassi fans, for example, can see Drake back when he was Jimmy.
On top of that, Pluto has on-demand movies and TV shows, and in June 2023 it had Titanic and all of the Indiana Jones movies. Pluto also offers game shows, home and lifestyle content and select sports programming.
Just Watch
One app to rule them all? Kinda. JustWatch is the app I turn to when I need to find out where a show or movie is playing. It's basically the index of all the shows and movies. It's also proven invaluable for just keeping track of all the shows and movies I'm watching. And on top of that? You can jump straight from JustWatch to the apps where all those shows and movies are, because they're all linked together.
Apple's TV app, another of our favorites, does a lot right. But JustWatch does them better. Not only its its watch list functionality more manageable, but it actually works with Netflix, which the Apple TV app doesn't.
Sling TV
We recommend Sling TV because it's both our top pick for the best cable TV alternatives and one of the best streaming services. Why does it rank so highly? Well, it's packed with a serious set of channel lineups with a starting price of $40 per month, a rate that its competitors can't touch.
So, whether you want to watch big sports games, or just want to watch most of the popular channels, including Fox, Comedy Central, TNT, USA and countless others, Sling TV is a very fine option. Its Apple TV app has been updated recently, so you also get the latest version.
A24 Screening Room
You may know A24 as a reliable (or often reliably weird, in the case of films such as Lamb and Men) independent entertainment company. But you also may know it as a place whose films don't always get wider distribution. This is where its virtual screening room app comes into play. Available only on web, Roku and Apple TV, the A24 Screening Room offers film lovers a way to watch its movies at home. Often times, these films are available at thankfully less-than-expensive pricing. Other films (such as Funny Pages) are screened on the A24 Screening Room before theaters get them.
Twitch
Twitch isn't for everyone (some people don't "get" the idea of watching people play video games), but Twitch is best on the biggest screen in your house. That's why I have the Twitch tvOS app pretty high on my home screen, as I love to see both the streamers I like and the games they're playing as large as possible. As a streamer myself, I can tell you all of the elements feel very crunched in, and giving them more space makes sense.
Oh, and don't go thinking every single streaming device has a Twitch app. Sure, some consoles do, but Roku doesn't actually have Twitch — something I learned when I ditched Apple TV for Roku.
Disney Plus
Disney Plus is one of the best Apple TV apps for anyone who cares about the many Disney franchises, including Star Wars and Marvel. You also get access to original shows, The Simpsons and more. It starts at $7.99 per month and gives you access to the entire Disney catalog. And you can bundle Disney Plus with Hulu and ESPN Plus for just $12.99 per month. The Disney Plus app for Apple TV is a must have.
Netflix
We wish the Netflix app integrated better with Apple's TV app — the Netflix shows you're streaming are MIA from the Now Playing section of the Apple TV interface. But this service still provides access to a wide variety of compelling original shows and movies, from Stranger Things and House of Cards to Luke Cage.
Amazon Prime Video
It took longer than other streaming services to arrive on Apple TV, but Amazon Prime Video has emerged as one of the best Apple TV apps for entertainment. Amazon''s Prime Video gives you access to thousands of shows and television shows, including lots of free content if you're a Prime subscriber. You can also use the service to watch Amazon's original series through the service.
Apple TV
Pre-loaded on Apple TVs, but still amazing, Apple's TV app helps you to stream in a wide number of ways. Most notably, it's still the place to buy and rent shows and movies, now that iTunes is retired. There's also Apple TV Channels, the ala carte TV service subscription method. Finally, and most famously, Apple TV Plus is one of the newer entrants into the Apple TV market, but it's worth streaming for its $4.99 per month. (And if you've buy an Apple device, you get three months of the service for free.) With a subscription, you get access to Apple's original programming, including Ted Lasso and The Morning Show, among others. Best of all, its visual quality and reliability are outstanding.
Apple TV Channels, we should note, is actually our preferred method for subscribing to services such as AMC Plus. Why is that? Well, the AMC Plus Apple TV app has a poor interface that isn't as responsive or precise when it comes to episode navigation.
Apple's own sports-streaming offerings are also offered in the TV app, so that's where you'll find MLS Season Pass and MLB Friday Night Baseball.
Hulu
If you're a Hulu subscriber, download this app to your Apple TV. The stream quality is stellar, and you can watch everything from classics like Seinfeld (all nine seasons) to exclusives like The Mindy Project. Plus, Hulu integrates with Apple's TV app, so from the home screen, you can quickly access shows you've been watching. Oh, and check out our best Hulu movies and best shows on Hulu guides when you're trying to decide what to watch.
Best Apple TV music and video apps
Pandora
Pandora has long been one of the most popular streaming-music apps and its easily one of the best Apple TV apps for music. The service lets you create stations and curates songs based on your tastes. As you might expect, the app includes large album artwork and easily accessible controls. You can use Pandora for free, but you can also sign up for a paid version that will eliminate ads.
YouTube
Like the fourth-generation Apple TV, the Apple TV 4K is compatible with a key app that wasn't available in earlier models: YouTube. After downloading the free YouTube app, you can stream videos, movies and more. The stream quality is quite good, and the breadth of content is impressive.
Spotify
Yes, Apple Music is right there. Yes, Apple TV owners are more likely to be on Apple Music than anyone else. That said, Spotify is still the king of the streaming music world, and it has an Apple TV app too (unsurprisingly, as it offers an app for practically every platform). Well-laid out, the Spotify app starts you off with what you've recently listened to, and has tabs for your library and searching. The only things it's missing are on-screen lyrics and the animations you sometimes see on mobile.
Apple Music
Apple Music is the tech giant's $10-a-month streaming music service. When you sign up, you can access Apple Music's millions of songs, as well as curated playlists to listen to the music you love. Apple Music also features a For You section, so you can discover new music that are similar to the tracks you enjoy.
Discovery Go
If you're a Discovery Channel lover, the Discovery Go app is a must-have for the Apple TV. The app lets you watch full episodes and live TV from Discovery Channel. And it's available to you for free with your cable TV subscription. The app includes Shark Week programming, Naked and Afraid, and other popular Discovery shows.
Showtime Anytime
Showtime Anytime is a must-have if you're a Showtime subscriber through your cable or satellite provider. This app gives you access to all the latest hits, including Homeland and Ray Donovan, as well as older favorites like Dexter.
Comedy Central
The free Comedy Central app has a surprisingly robust amount of content, making it one of the best Apple TV apps. It features a slew of stand-up specials and gives you access to some of the network's best series, like South Park and The Daily Show. There is also some short-form content you'll want to check out.
Best Apple TV game apps
Patterned (Apple Arcade)
When is a puzzle not like a traditional puzzle? Pattern puts all the pieces together for you, but it then puts the onus on you to color it all in, with puzzle pieces that color in sections of its gorgeous images. One of the most relaxing games we've played in ages, Patterned has a wide variety of art in it, from watercolors to wallpaper designs, and animations unlock as you finish the puzzles.
Play Patterned on Apple Arcade
Grindstone (Apple Arcade)
The one of the best things about mobile games is how you can play them anywhere. Grindstone, a massively addictive matching game where you play a raging warrior who slices through similar-colored beasts, thankfully translates well to the big screen. Sure, you'll need a controller, and using a joystick isn't as perfect as swiping on your screen, but Grindstone's gorgeous art looks great on the big screen. Also, it syncs with your progress on your other Apple devices.
Play Grindstone on Apple Arcade
Donut Country ($1.99)
The award-winning Donut Country is a casual puzzle game that is part of a recent string of titles where you control a mischievous animal. Here, you play as BK, a raccoon who somehow has the ability to control a traveling hole, which he uses to ... well, about that. BK is nihilistically vacuuming the homes and possessions of everyone around him, because it's fun. And while it's fun to play this game — the hole only grows as it consumes things — you get the message of Donut Country pretty quickly. Actions have consequences, as exemplified by how BK and his friends are now deep in a hole of his own creation.
Dead Cells+
Forget taxes, in Dead Cells, you're expecting death, death and more death. This retro platformer puts you in the tattered clothing of a failed experiment who needs to fight their way out from underground. And you'll do so by a trial of errors, dying, and coming back wiser and with a better set of skills. Already popular on actual video game consoles (including the Nintendo Switch), Dead Cells is a low-res, high-concept game that will have you getting better and better while running faster and faster.
Download Dead Cells+ via Apple Arcade
GRIS+
We'll explain more about Apple Arcade below, but Gris+ is an artfully-gorgeous game that's worth the price of admission. A puzzling platformer, Gris is about a young girl (named Gris) who is lost in what looks like a watercolor version of Alice in Wonderland. While her world is initially vibrant, something drags all of the color out of her world, save for the blue in her hair. You'll then walk Gris around the rubble of the land she's fallen into, including a tower she climbs and constellations she collects.
Download Gris via Apple Arcade
Apple Arcade ($4.99/month)
Apple launched its Apple Arcade game-streaming service in 2020, letting you access more than 100 games for $5 a month. Titles range from simple and fun offering to more sophisticated titles that rival what you'd find on a console. Apple Arcade offers gaming fun for anyone in the family, and is one you don't want to miss, especially if you enjoy casual but fun games.
Wonder Boy: The Dragon's Trap ($7.99)
Wonder Boy: The Dragon's Trap won an award in 2019 as the best Apple TV game for good reason. It features an outstanding storyline, great-looking graphics, and an impressive soundtrack. Even two years later, this game makes all your time searching for a cure to your half-human, half-lizard problems all the more enjoyable. Wonder Boy costs $7,99 but overall it's one of the best Apple TV games.
Drawful 2 ($9.99)
Drawful 2 is a game like Pictionary that combines the touch screen on your iPhone or iPad with your Apple TV to create a really compelling video game. The app requires you to draw different clues on your device and for teammates to try to figure out what you're drawing. It's a fun family game you can play with anyone.
Just Dance Now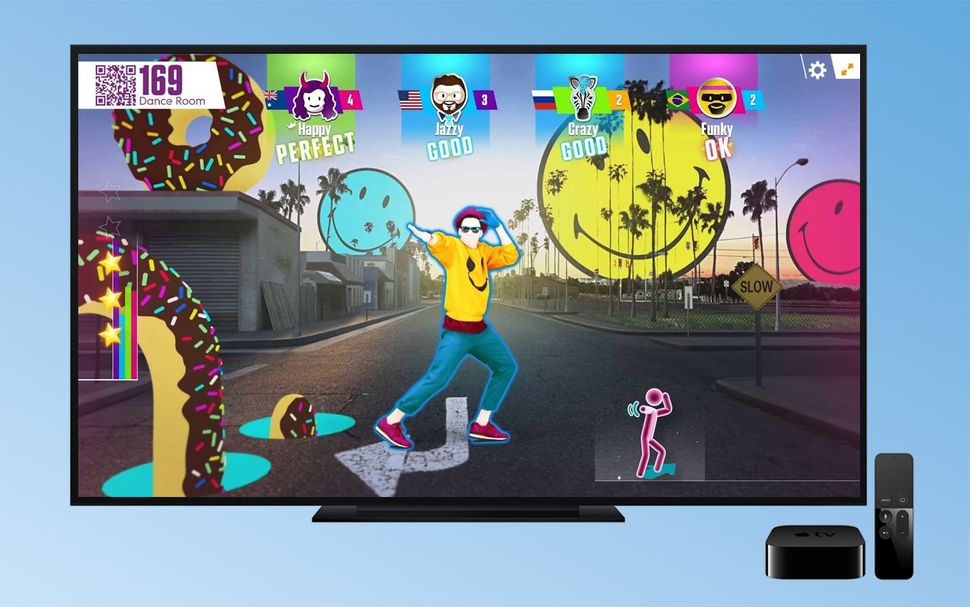 If you're looking for a free party game that can get people off the couch and moving, consider picking up Just Dance Now. The app shows you how to dance to more than 500 songs from some of the industry's biggest names, including Beyonce, Ariana Grande, and others.
Crossy Road
Crossy Road is one of the more addictive free games you can download to your Apple TV. It's a top-down title with basic graphics that asks you to simply hop your way across a road. (Think Frogger.) It's simple, easy to play and incredibly fun.
Dandara Trials of Fear Edition ($5.99)
Apple's pick for the Apple TV game of the year in 2020 is the perfect platform game for your TV screen. You jump everywhere — floors, windows, even ceilings — as you discover the mysteries of a world on the brink of collapse. Combat and movement is particularly well suited for a gamepad controller.
Download Dandara Trials of Fear Edition
Alto's Adventure ($0.99)
Alto's Adventure deservedly won raves as one of the most compelling and visually stunning games on Apple devices. It's no surprise, then, that this app has earned a spot on our best Apple TV apps list. The game places you in a village and immediately thrusts you into a fascinating adventure.
Sonic the Hedgehog Classic ($2.99)
There's something so charming about turning on your Apple TV and launching Sonic the Hedgehog Classic, just like you would on the Sega Genesis of old. The game delivers the full Sonic experience you remember in all his wacky and fast-paced glory.
Machinarium ($4.99)
If you're on the lookout for a more sophisticated game to play through your Apple tV, try Machinarium. Your goal is to help Josef the robot save his girlfriend in this quirky title. The graphics are beautiful, and the gameplay is stellar.
Sky Force Reloaded
One of the most interesting and fun games on Apple TV, Sky Force Reloaded offers arcade-style, shoot-'em-up action in 4K HDR. The game has 15 stages and a variety of aircraft to help you take on enemies and bring down big bosses.
Framed 2 ($4.99)
Framed 2 has some of the most interesting visuals of any game on Apple TV. In this noir puzzle game, you're tasked with modifying comic book frames to change the story. It's also pretty easy to control the action via the Siri remote's touchpad.
Riptide GP: Renegade ($2.99)
If you're looking for a game that can take advantage of the Apple TV 4K's power and that looks like a traditional console title, Riptide GP: Renegade is a good bet. The game is a hydrojet racing title that feels fast-paced and fun. And with the ability to perform nifty stunts, you'll keep coming back for more.
Best Apple TV health and fitness apps
Zova (free with in-app purchases)
Workout app Zova packs nearly every single kind of exercise, but that's not the biggest reason it's earned a slot on this list. Zova's Apple TV app is called the #1 Apple Watch Workout App, because just like Apple Fitness Plus, Zola packs the ability to present your live heart rate captured from your Apple Watch on your TV. This way, you never have to glance down at your wrist to see how you're doing.
Apple Fitness Plus
Apple Fitness Plus may be designed with the Apple Watch in mind — Apple's subscription fitness service pairs seamlessly with the fitness tracking activity of its smartwatch. But there's something in the $9.99/month service for Apple TV owners, too. You can stream your workouts through the Apple TV, turning your living room into a your own personal gym.
Learn more about Apple Fitness Plus
At Home Workouts by Daily Burn
When it's cold and you don't want to go to the gym, consider trying out At Home Workouts by Daily Burn. One of the best Apple TV apps, this free app comes with more than 1,000 audio and video workouts, as well as a new group workout each day. Better yet, you can pick different workouts, based on what part of the body you're looking to target.
Calm
There are few things more important to your health than your mental health. And with Calm, you can go a long way in helping yourself to meditate and improve your emotional well-being. Calm can also be used to soothe you after a long day and help you get to sleep. So, whether you want to meditate, sleep, or just feel better mentally, the free Calm app is for you.
Yoga Studio ($3.99)
Yoga Studio is an app aimed at getting you back into the Zen way of living. It delivers instruction on how to get into different positions, and works well for both novices and experts. This is one of the best Apple TV apps for fitness because it's like having your own personal yoga instructor in your living room.
White Noise ($0.99)
Sometimes, a little meditation goes a long way. And that's where the 99-cent White Noise app comes in. The app lets you pick from a slew of sounds designed to help you focus. It's a nice app to have after a long day at the office.
Alo Moves
Alo Moves is the app formerly known as Cody. But it still comes with all of the great yoga you'd expect from the earlier version. The app features a variety of classes for you to watch, as well as practice videos, so you can work on specific poses and other techniques to improve your skills. Best of all, the app is free.
Best Apple TV sports apps
Best Apple TV sports apps
ESPN Plus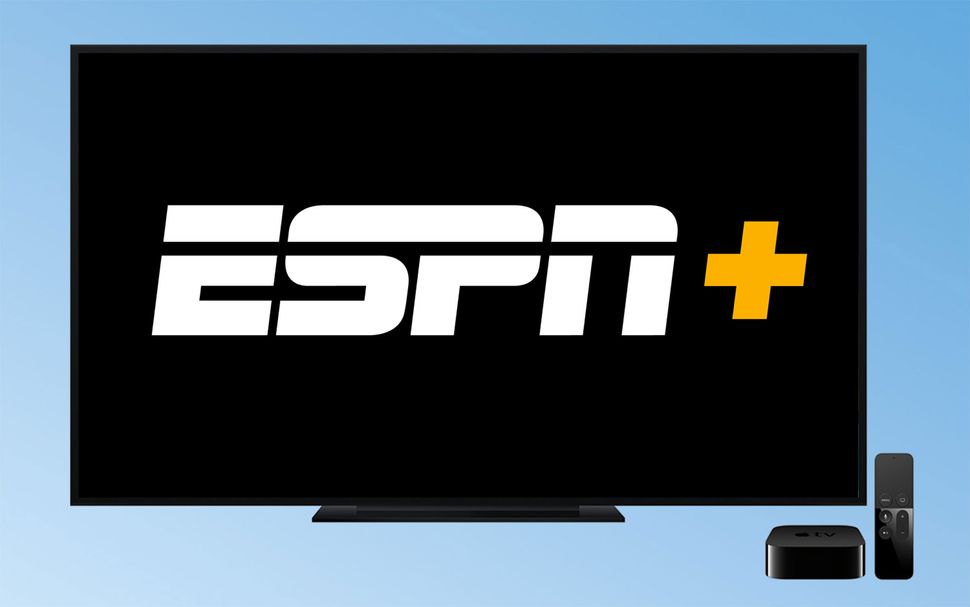 If you're a UFC fan or you simply want more access to sports on your TV or on the go, you'll want to subscribe to the $6.99-a-month ESPN Plus. The best Apple TV app for sports fan, this streaming service allows you to watch every UFC pay-per-view fight and gives you access to everything from basketball and baseball to cricket and rugby. Overall, ESPN Plus is a great choice.
MLB At Bat
Major League Baseball has invested heavily in Apple TV, with the organization's MLB At Bat app. The program allows you to stream select live games and highlights, and includes live pitch tracking so you can see how a team is pitching to a batter. Add that to its live scoreboard and team tracking, and MLB At Bat is a winner.
DAZN
If you're a boxing fan, you might know that trying to access the latest and greatest fights isn't so easy. But that's where DAZN comes in. The streaming app allows you to access all the latest boxing matches, as well as a variety of mixed martial arts fights. The service costs $99 per year or $19.99 per month.
Best Apple TV science and learning apps
PBS Video
One of the best Apple TV apps, PBS Video offers access to the full range of PBS programming, helping you watch whatever you want when you want from the service. It includes thousands of full-length PBS series episodes, documentaries, and even programming from affiliate networks.
NASA
The NASA app is one of the most interesting and thought-provoking Apple TV apps, allowing you to see videos of spacewalks, the latest space images captured by NASA, unbelievable videos, and so much more. Best of all, the app even features live NASA TV streaming, so you don't miss a minute of the action. It's available for free.
The Explorers
If you're someone who truly appreciates the world's beauty, look no further than The Explorers. Not only did Apple call it the best Apple TV app of the year, but The Explorers offers beautiful and vibrant visuals that aim at helping you see the beauty of animals, landscapes, and everything else the world has to offer.
Udemy
Udemy is an outstanding app if you want to educate yourself on all those things that maybe you just didn't have time to pick up. The app is essentially an online learning marketplace that features more than 80,000 courses across an impressive slate of categories, including coding, marketing and even self-defense. It'll even teach you how to play various instruments.
TED
If you're in the mood to learn, download the free TED app. The best Apple TV app for anyone who wants to earn, it has a continually updated repository for all the TED and TEDx talks you'll want to watch. The app's search function is stellar, too.
Best Apple TV apps
Endless Learning Academy
Parents who are looking to occupy their children but don't want to leave the kids with useless entertainment might want to check out Endless Learning Academy. The app is ideal for children from preschool to first grade ages and provides a variety of learning activities and lessons. And with a compelling design, this app should keep your kids engaged.
Download Endless Learning Academy
iBooks StoryTime
Apple's iBooks StoryTime is a welcome app for spending evenings with the kids. Simply turn on the free app and pick a story. The app then tells the story and delivers visual elements to make the tale more engaging.
Best Apple TV shopping and smart home apps
Kayak
Kayak is one of the best Apple TV apps because it can help you book your next vacation without ever leaving your couch. The app lets you search for different locations, hotels, cars and other vacation must-haves ahead of your trip. It searches hundreds of travel sites to get you the best deal, and it works exceedingly well.
Nest
If you're a Nest Cam user, download the free Nest app. You'll be able to see a live stream of your security camera whenever you wish. If you're a Nest Aware subscriber, you can view your saved content, too.
Best Apple TV art and scenery apps
Cityscapes 4K by Magic Window
If you're hoping to relax and watch some gorgeous footage from around the world, Cityscapes 4K by Magic Window is for you. It features time-lapse city views from around the world shown in 4K HDR. You can travel to New York, London, Paris and Tokyo.
Best Apple TV travel and weather apps
Carrot Weather ($3.99)
The best weather app for your phone also has an Apple TV app counterpart! Yes, Carrot Weather, the opinionated weather app with well-designed visuals, accurate info from Dark Sky and all sorts of hidden tricks is on the Apple TV as well. The main hourly view shows you a 24-hour forecast, with likelihoods of precipitation and all the other odds and sods. It even has unlockable bonuses, as you navigate its map to find secret locations such as Mount Doom and Nakatomi Plaza.
WeatherMap+ ($2.99)
A slew of weather apps is available in the Apple TV App Store, but WeatherMap+ is the best. It lets you pan around the world to see different weather events in addition to the standard weather content that you'd expect.