The best movies on Hulu bring the cinematic experience right into your living room. Hulu's library is stocked with great films. With these options, you won't miss going to the theater. What's better than watching amazing films from the comfort of your couch?
Hulu is one of the best streaming services thanks to an impressive vault of award-winning originals, complete runs of popular TV shows and classic and recent film hits. There's truly something for everyone.
You can check out the service with a free Hulu trial (opens in new tab), and if you decide to sign up, you can save with our Hulu promo codes.
There's so many movies on Hulu that it's almost impossible to scroll through them all. That's why we've compiled a list of the best movies on Hulu to help you find something great to watch. And if you need more movies, and have the Disney bundle, check out our guide to the best Disney Plus movies. For more of an episodic binge, check out our list of the best shows on Hulu.
The best movies on Hulu right now
Why you can trust Tom's Guide Our expert reviewers spend hours testing and comparing products and services so you can choose the best for you. Find out more about how we test.
Zombieland
The zombie drama's set-up isn't particularly unique — a virus ravages the world and turns many humans into flesh-eating undead monsters — but the appealing character and sharp wit make it stand out among the hordes.
A geeky college student known as Columbus (Jesse Eisenberg) joins forces with three other survivors: Tallahassee (Woody Harrelson), Emma Stone (Wichita) and Little Rock (Abigail Breslin). As they journey to a rumored safe haven in Los Angeles, Columbus devises a list of rules to help them survive the zombies.
Genre: Horror/comedy
Rotten Tomatoes score: 89%
Stars: Jesse Eisenberg, Emma Stone, Abigail Breslin, Woody Harrelson
Watch now (opens in new tab)
Rosaline
The tragic tale of Romeo and Juliet gets a fresh, romantic comedy spin by shifting the perspective to Juliet's cousin, Rosaline (Kaitlyn Dever). When Romeo (Kyle Allen) drops his interest in her to woo Juliet (Isabela Merced), Rosaline is determined to break them up. She wants her ex-boyfriend back and is willing to do whatever it takes to foil this famous romance.
The period setting is offset by anachronistic language and flourishes, much like the excellent shows Dickinson and The Great, and looks like a blast. Plus, Dever, one of Hollywood's best up-and-coming actresses, looks utterly charming.
Genre: Romantic comedy
Rotten Tomatoes score: 75%
Stars: Kaitlyn Dever, Isabela Merced, Kyle Allen, Minnie Driver
Director: Karen Maine
Watch now (opens in new tab)
Hellraiser
What fresh hell is this? It's a reboot of the horror franchise, based on the 1986 novella The Hellbound Heart by Clive Barker. The author adapted his own book into the 1987 now-classic movie, which generated a bunch of insipid follow-ups. Now, Hellraiser is reborn but just as disturbing, gory and kinky as ever.
Riley (Odessa A'zion) is a struggling, desperate recovering addict in her 20s who steals a puzzle box with her bad-influence boyfriend Trevor (Drew Starkey). While in a drug-induced haze, Riley unlocks the box and opens a portal to another dimension that's home to the sadistic Cenobites, who derive pleasure from human pain.
Genre: Horror/thriller
Rotten Tomatoes score: 71%
Stars: Odessa A'zion, Jamie Clayton, Brandon Flynn, Goran Višnjić, Drew Starkey
Director: David Bruckner
Watch now (opens in new tab)
Prey
Reviews have hailed the Predator prequel as the best movie in the franchise since the original. It seems they move forward by looking back, as it follows a young Comanche warrior in 1717. Naru (Amber Midthunder) yearns to hunt like her brother Taabe (Dakota Beavers) and the other men in her tribe, but faces skeptical teasing about her gender.
Her strength and skills are tested when Naru detects a new creature lurking on their land. She sets out to track down the prey, then discovers it is a dangerous, almost unstoppable alien lifeform. Naru must call upon her inner reserves to not only survive but hunt down this deadly threat to her people.
Genre: Sci-fi action
Rotten Tomatoes score: 92%
Stars: Amber Midthunder, Dakota Beavers, Michelle Thrush, Stormee Kipp
Director: Dan Trachtenberg
Watch now (opens in new tab)
Fire Island
Jane Austen's Pride and Prejudice gets a delightful modern, queer update written by and starring comedian Joel Kim Booster. Noah is a gay, snarkier version of Elizabeth Bennet, who heads to Fire Island with best friend Howie (Bowen Yang) for a week of sun and rosé-swilling parties. Their romantic prospects are looking good when Howie finds an instant connection with a kind pediatrician named Charlie (James Scully). Unfortunately, Charlie's aloof friend Will (Conrad Ricamora) threatens to be a buzzkill. Not only is he overly protective of Charlie, he even insults Noah!
Genre: Romantic comedy
Rotten Tomatoes score: 93%
Stars: Joel Kim Booster, Bowen Yang, Conrad Ricamora, Margaret Cho,
Director: Andrew Ahn
Watch now (opens in new tab)
Good Luck to You, Leo Grande
Emma Thompson is getting her groove on for the very first time in this charming sex comedy. Retired teacher Nancy is newly widowed after a 31-year marriage, during which she faked every orgasm. Now, she would like to experience the climax she's never achieved. For that purpose, Nancy hires a handsome young sex worker, Leo Grande (Daryl McCormack), whom she greets with a sexual "to do" list of different positions.
Genre: Sex comedy/drama
Rotten Tomatoes score: 95%
Stars: Emma Thompson, Daryl McCormack
Director: Sophie Hyde
Watch now (opens in new tab)
The Worst Person in the World
The Norwegian indie gem may find a wider audience now that it's on Hulu. The film has a simple but still emotionally resonant story that follows Julie (Renate Reinsve), who is worried about what kind of person she's becoming as she matures (hence the title). She's in a relationship with popular cartoonist Aksel (Anders Danielsen Lie), but it's one of those complicated situations where she's 29 and he's 43 and their needs don't exactly match up. - Henry T. Casey
Genre: Romantic black comedy
Rotten Tomatoes score: 96%
Stars: Renate Reinsve, Anders Danielsen Lie, Herbert Nordrum
Director: Joachim Trier
Watch now (opens in new tab)
Nightmare Alley
The twisted mind of Guillermo del Toro yields this neo-noir thriller. The charismatic, down-on-his-luck Stanton finds work at a traveling carnival, where he learns the tricks of the mentalist trade. Armed with the knowledge, he takes his lover Molly to New York City to grift wealthy society patrons. But not content with such small-time scores, Stanton schemes a way to con a grieving tycoon with the help of an enigmatic psychiatrist.
Genre: Neo-noir psychological hriller
Rotten Tomatoes score: 80%
Stars: Bradley Cooper, Cate Blanchett, Rooney Mara, Toni Collette, Willem Dafoe, Richard Jenkins
Director: Guillermo del Toro
Watch now (opens in new tab)
Spencer
Kristen Stewart stars as the beautiful but brittle Diana in Pablo Larrain's surreal portrait of the late princess. Set in 1991, the story follows Diana as she arrives at Sandringham for Christmas. As usual, there's eating, drinking, shooting and hunting. But this year, her crumbling marriage, the constant thread of paparazzi, and the firing of her personal dresser erodes Diana's mental health.
Genre: Biographical drama
Rotten Tomatoes score: 83%
Stars: Kristen Stewart, Timothy Spall, Jack Farthing, Sean Harris, Sally Hawkins
Director: Pablo Larraín
Watch now (opens in new tab)
Pig
Nicolas Cage is earning some of the best reviews of his career as a truffle forager in this dark drama. After living alone in the Oregon wilderness, Rob returns to Portland to find the person who stole his beloved pig. What follows is a wild ride that involves drug addicts, an underground fighting ring and a posh haute cuisine restaurant. Through it all, Rob remains resolute in his mission to get his pig back safe and sound.
Genre: Drama
Rotten Tomatoes score: 96%
Stars: Nicolas Cage, Alex Wolff, Adam Arkin
Director: Michael Sarnoski
Watch now (opens in new tab)
Summer of Soul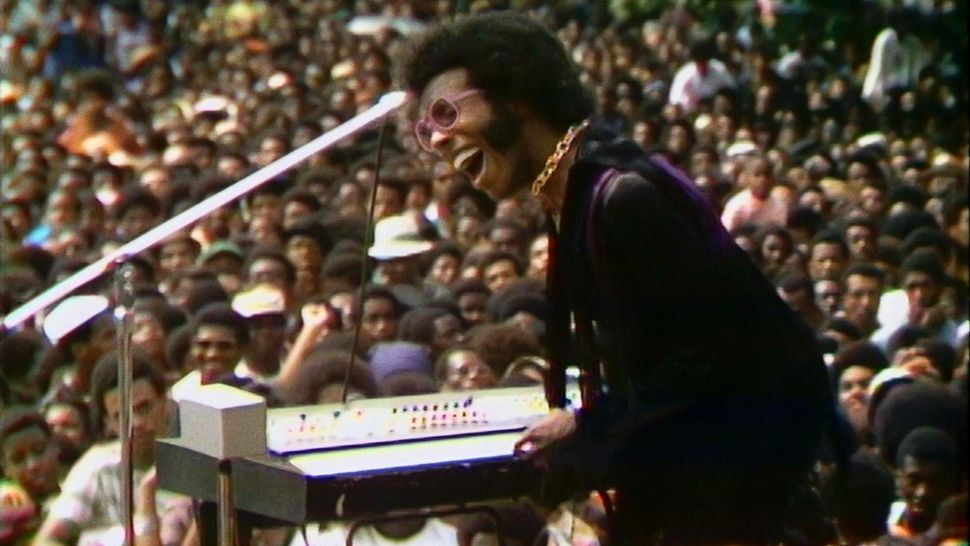 It's the revolution that was not televised. Summer of Soul, the documentary from Questlove in his directorial debut, takes place in 1969 during the Harlem Cultural Festival — which was overshadowed by that year's other music event, Woodstock. The doc weaves together 40 hours of never-before-seen live footage of performers including Stevie Wonder, Gladys Knight, B.B. King, Ray Barretto, Nina Simone and Sly & The Family Stone. It was an electric, thrilling moment, one born of grief (Martin Luther King Jr. was shot the year before) and celebration of the diversity, artistry and beauty of Black culture. This festival is long overdue to get even a smidgen recognition that the other one received, but at least now we can enjoy a Summer of Soul.
Genre: Music documentary
Rotten Tomatoes score: 99%
Stars: Stevie Wonder, Mahalia Jackson, Nina Simone, Gladys Knight & the Pips,
Director: Ahmir "Questlove" Thompson
Watch now (opens in new tab)
Another Round
Cheers to this extremely likable dramedy from Danish auteur Thomas Vinterberg, which stars Mads Mikkelsen as a teacher who engages in an experiment with continuous day drinking. You see, his friend/colleague theorizes that having a blood alcohol level of 0.05 makes him more creative and relaxed. So, Martin and a few other pals decide to try it out under a set of rules. And at first, it really does seem to work — they feel like they are better teachers, husbands, fathers. But when does social drinking turn into alcoholism? And can a constant buzz really fix your life?
Genre: Black comedy-drama
Rotten Tomatoes score: 92%
Stars: Mads Mikkelsen, Thomas Bo Larsen, Magnus Millang, Lars Ranthe
Director: Thomas Vinterberg
Watch now (opens in new tab)
Nomadland
Chloe Zhao's gorgeous portrait of itinerant American life is a top Oscar contender for a reason. Frances McDormand's fearless performance centers the film, but the ensemble cast members — actual nomads who were featured in journalist Jessica Bruder's book — will steal your hearts. The movie follows Fern, an out-of-work widow who packs up her life and starts living out of her van. She travels through the West, finding gig jobs at Amazon fulfillment centers and campgrounds to earn money. Along the way, she meets and befriends other nomads, all doing what they can live on their own terms.
Genre: Drama
Rotten Tomatoes score: 93%
Stars: Frances McDormand, David Strathairn, Linda May, Swankie
Director: Chloé Zhao
Watch now (opens in new tab)
Babyteeth
This heartfelt coming-of-age tale falls into the "sick teenager falls in love" genre, but is bursting with so much quirky charm and unpredictable wit that it feels fresher than its predecessors. Milla (Eliza Scanlen) is dealing with a serious illness when she falls for smalltime drug dealer Moses (Toby Wallace). That's her parents' worst nightmare, but he makes her happy. Her new zest for love and life inspires everyone around her. Sometimes, it takes a bad boy to bring out the best in someone.
Genre: Comedy-drama
Rotten Tomatoes score: 93%
Stars: Eliza Scanlen, Toby Wallace, Emily Barclay, Ben Mendelsohn
Director: Shannon Murphy
Watch now (opens in new tab)
Palm Springs
If Groundhog's Day had put both Bill Murray and Andie Macdowell through reliving the same day over and over again, you'd get Palm Springs. The romantic comedy stars Andy Samberg and Cristin Milioti as a pair of wedding guests who find themselves waking up on the same morning — seemingly an infinite number of times. Unable to escape the venue or each other, they start to engage in increasingly outlandish behavior. Having seen Groundhog's Day, we have a feeling about where this is all going, but Samberg and Milioti look like they have such great chemistry, we don't care if it the story is somewhat predictable.
Genre: Science fiction romantic comedy
Rotten Tomatoes score: 95%
Stars: Andy Samberg, Cristin Milioti, J. K. Simmons
Director: Max Barbakow
Watch now (opens in new tab)
Parasite
The surprise Best Picture Oscar winner — to everyone's delight — comes from genius Korean director Bong Joon-Ho (now an Oscar winner himself). The film defies categorization; it's a mix of thriller, horror, comedy and melodrama. It is a taut, intricately-plotted tale full of twists and turns, and on top of that, is an affecting allegory about the rich and the poor and how we're all connected as human beings in the end. Parasite's excellent cast didn't get the Oscar love they should've but they did get both a standing ovation and the Best Ensemble prize at the Screen Actors Guild Awards. The appreciation for this movie runs wide and deep, and if you haven't seen it yet, now's your chance to join the fan club, as even the Academy agrees: it's one of the best movies on Hulu.
Genre: Black comedy thriller
Rotten Tomatoes score: 99%
Stars: Song Kang-ho, Choi Woo-shik, Park So-dam, Jang Hye-jin, Cho Yeo-jeong
Director: Bong Joon-ho
Watch now (opens in new tab)
Portrait of a Lady on Fire
This captivating, moving, passionate love story has as many layers as the paintings made by young artist Marianne (Noémie Merlant) of her subject, Héloïse (Adèle Haenel). At the end of the 18th century, Marianne is commissioned by Héloïse's mother to paint a portrait of her daughter, to send to her prospective husband in Milan. Héloïse refuses to be painted, because she doesn't want to get married. Marianne slowly earns Héloïse's trust and the two form a deep bond that turns romantic. But as Marianne gets close to finishing the portrait, what does the future hold for the couple?
Genre: Historical romantic drama
Rotten Tomatoes score: 97%
Stars: Noémie Merlant, Adèle Haenel
Director: Céline Sciamma
Watch now (opens in new tab)
Next: Not finding enough to watch? Here's how to cancel Hulu.