The best movies on Hulu bring the cinematic experience right into your living room. Hulu's library is stocked with great films, including titles that received 2022 Oscar winner Summer of Soul. With these options, you won't miss going to the theater. What's better than watching amazing films from the comfort of your couch?
Hulu is one of the best streaming services thanks to an impressive vault of award-winning originals, complete runs of popular TV shows and classic and recent film hits. There's truly something for everyone.
There's so many movies on Hulu that it's almost impossible to scroll through them all. That's why we've compiled a list of the best movies on Hulu to help you find something great to watch. We've also highlighted new movies arriving on Hulu this month, as well as the titles that are leaving the service. And we can even tell you what's new on Hulu in May, too.
And if you're looking for more of an episodic binge, check out our list of the best shows on Hulu.
Hulu plans start at just $6.99 per month and you get access to a ton of great shows and movies, library content from FX and next-day airings of current TV shows. Hulu also offers movie originals including Palm Springs and Vacation Friends. Right now, you can check out the service with a 1-month free trial.
Best movies on Hulu right now
The King's Man
Streaming now
The third installment in the Kingsman franchise is actually a prequel starring Ralph Fiennes as aristocratic spy Orlando Oxford. As a collection of history's worst tyrants and criminal masterminds gather to plot a war to wipe out millions of people, Oxford and his team — including son Conrad (Harris Dickinson) — must race against time to stop them.
No Exit
Streaming now
Ths thriller follows college student Darby (Havana Rose Liu) as she heads home to deal with a family emergency. When a blizzard strikes, she's stranded at a highway rest stop with a group of strangers. And surprise, surprise — things start to go terribly wrong. When Darby discovers an abducted girl in a van in the parking lot, she and the others are put into a life-or-death struggle to discover who among them is the kidnapper.
Nightmare Alley
Streaming now
The twisted mind of Guillermo del Toro yields this neo-noir thriller, which boasts a star-studded cast including Bradley Cooper, Cate Blanchett, Rooney Mara and Toni Collette.
The charismatic, down-on-his-luck Stanton (Cooper) finds work at a traveling carnival, where he learns the tricks of the mentalist trade. Armed with the knowledge, he takes his lover Molly (Mara) to New York City to grift wealthy society patrons. But not content with such small-time scores, Stanton schemes a way to con a grieving tycoon with the help of an enigmatic psychiatrist (Blanchett).
Spencer
Streaming now
Kristen Stewart stars as the beautiful but brittle Diana in Pablo Larrain's surreal portrait of the late princess. Set in 1991, the story follows Diana as she arrives at Sandringham for Christmas. As usual, there's eating, drinking, shooting and hunting. But this year, her crumbling marriage, the constant thread of paparazzi, and the firing of her personal dresser erodes Diana's mental health.
Hustlers
Streaming now
The Jennifer Lopez-aissance danced into high gear with her electric performance in this crime dramedy. She plays Ramona, a stripper who tutors Destiny (Constance Wu) in the police dancing business. In a bid to make money to survive, they target Wall Street guys because, as Ramona says, "You see what they did to this country? They stole from everybody." Well, now the ladies are stealing it right back. They come up with a devious scam: drug the rich men who watch them pole-dance, overcharge their credit cards, then take a cut of the money. But when things go terribly awry and they run into trouble with the law, Destiny must make a difficult decision about her future.
Pig
Streaming now
Nicolas Cage is earning some of the best reviews of his career as a truffle forager in this dark drama. After living alone in the Oregon wilderness, Rob returns to Portland to find the person who stole his beloved pig. What follows is a wild ride that involves drug addicts, an underground fighting ring and a posh haute cuisine restaurant. Through it all, Rob remains resolute in his mission to get his pig back safe and sound.
Sonic the Hedgehog
Streaming now
While Ben Schwartz's voice work of the iconic hedgehog is impressive, the movie truly thrives because of a return to form from Jim Carrey, who is just extremely extra in every moment. As Dr. Robotnik, Carrey is constantly entertaining, even turning praise of a coworker's coffee brewing method into a memorable moment. Sonic succeeds as a film because it doesn't take itself too seriously, but its story has enough heart and care that you might find yourself feeling a thing or two about the cool and rad hedgehog. — Henry T. Casey
The Lodge
Streaming now
Family vacations have never been this bad. The Lodge (one of the best movies on Hulu right now) sees a family that's still in mourning go upstate around the holidays, and while dad's got plans to propose to his girlfriend Grace, his kids are still blaming her and him for their mother's death. Things get supernatural quickly, as the kids have dug into Grace's troubled past, as she was raised in a cult where everyone (but her) died. The 2019 film delves into gaslighting and cabin fever, so while it might be a little on the nose for some, others will enjoy its spooky insanity. For fans of Hereditary and Midsommar, The Lodge does well-shot suspense well, with minimal jump scares and focuses on personal trauma.
Vacation Friends
Streaming now
The surprise hit Vacation Friends features a lot of crazy, drug-addled partying but at the end, it's all about loyalty. Marcus (Lil Rel Howery) is an straight-laced type-A construction manager who's planned the perfect proposal to girlfriend Emily (Yvonne Orji) during a trip to Mexico. However, their room is flooded, no thanks to the overflowing hot tub of Ron (John Cena) and Kyla (Meredith Hagner). After the apologetic couple offer to host Marcus and Emily in their suite, the foursome embark on a week of drinking, drugs and wild escapades. What happens in Mexico stays there, right? Nope! Months later, during their wedding weekend, Marcus and Emily receive the unpleasant shock of seeing their new "besties" crash the festivities.
Summer of Soul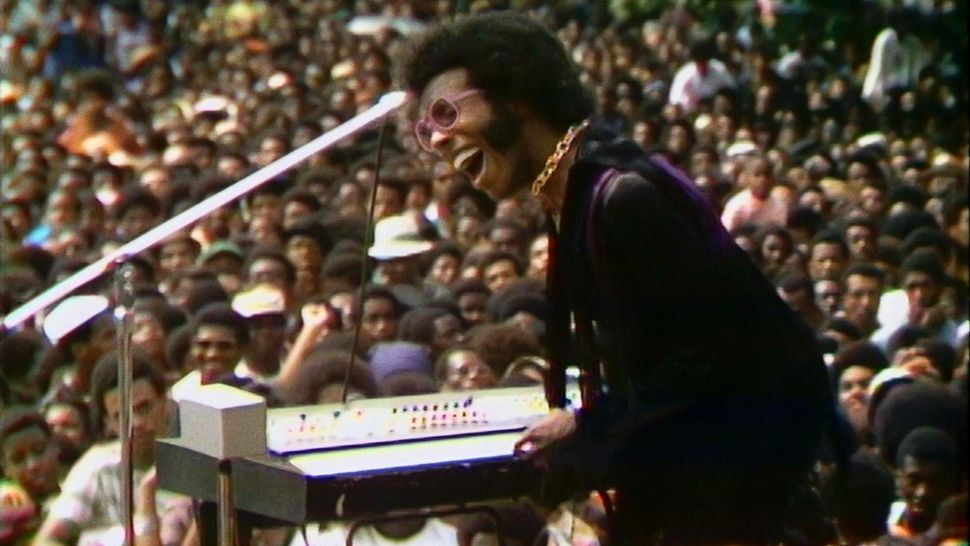 Streaming now
It's the revolution that was not televised. Summer of Soul, the documentary from Questlove in his directorial debut, takes place in 1969 during the Harlem Cultural Festival — which was overshadowed by that year's other music event, Woodstock. The doc weaves together 40 hours of never-before-seen live footage of performers including Stevie Wonder, Gladys Knight, B.B. King, Ray Barretto, Nina Simone and Sly & The Family Stone. It was an electric, thrilling moment, one born of grief (Martin Luther King Jr. was shot the year before) and celebration of the diversity, artistry and beauty of Black culture. This festival is long overdue to get even a smidgen recognition that the other one received, but at least now we can enjoy a Summer of Soul.
Colossal
Streaming now
Audiences of besieged cities always ask "how do we stop that monster attacking us!?" and never "how can we help that monster attacking us!?" But Colossal is not your average kaiju action movie. Gloria (Anne Hathaway) is a quasi-functional alcoholic in New England, who slowly realizes that her weird evenings are connected to a giant monster terrorizing Seoul. And once her friends figure out the issue, they all try and work together to put an end to this bizarre chaos. — Henry T. Casey
WeWork: Or the Making and Breaking of a $47 Billion Unicorn
Streaming now
If you've never worked for a self-absorbed wanna-be guru that claims he's going to change the world, count your blessings … and hit play on the WeWork documentary. This film has remarkable access to Adam Neumann, the incredibly peculiar man at the center of the business that thought it was more than just an office rental program. From WeWork's over-the-top company trips to Neumann's stammering attempts to put together a commercial, the WeWork documentary is an amazing snapshot of this current era of startups that grow too fast. — Henry T. Casey
Another Round
Streaming now
Cheers to this extremely likable dramedy from Danish auteur Thomas Vinterberg, which stars Mads Mikkelsen as a teacher who engages in an experiment with continuous day drinking. You see, his friend/colleague theorizes that having a blood alcohol level of 0.05 makes him more creative and relaxed. So, Martin and a few other pals decide to try it out under a set of rules. And at first, it really does seem to work — they feel like they are better teachers, husbands, fathers. But when does social drinking turn into alcoholism? And can a constant buzz really fix your life?
Nomadland
Streaming now
Chloe Zhao's gorgeous portrait of itinerant American life is a top Oscar contender for a reason. Frances McDormand's fearless performance centers the film, but the ensemble cast members — actual nomads who were featured in journalist Jessica Bruder's book — will steal your hearts. The movie follows Fern, an out-of-work widow who packs up her life and starts living out of her van. She travels through the West, finding gig jobs at Amazon fulfillment centers and campgrounds to earn money. Along the way, she meets and befriends other nomads, all doing what they can live on their own terms.
The United States vs. Billie Holiday
Streaming now
Andra Day breaks out with a magnetic performance as the legendary jazz singer that earned her an Oscar nomination for Best Actress. The story follows Billie as most knew her: a tremendous performer. But it also shows her as a drug addict targeted by federal narcotics agents. As Billie struggles with fame and her heroin problem, she also unknowingly falls for an undercover agent (Trevante Rhodes). The outcome may be tragic but Billie's brilliance and artistry shine through even the darkest moments.
Babyteeth
Streaming now
This heartfelt coming-of-age tale falls into the "sick teenager falls in love" genre, but is bursting with so much quirky charm and unpredictable wit that it feels fresher than its predecessors. Milla (Eliza Scanlen) is dealing with a serious illness when she falls for smalltime drug dealer Moses (Toby Wallace). That's her parents' worst nightmare, but he makes her happy. Her new zest for love and life inspires everyone around her. Sometimes, it takes a bad boy to bring out the best in someone.
The Fight
Streaming now
This earnest, energetic documentary follows a scrappy team of ACLU lawyers working against the policies of President Donald Trump and his administration. They take on four cases: the separation of families at the U.S.-Mexico border; abortion rights for illegal immigrants; discrimination against transgender persons in the military; and a proposed citizenship question in the U.S. Census. The doc isn't just cut-and-dry courtroom scenes, but rather a portrait of the very real humans involved in the cases.
Palm Springs
Streaming now
If Groundhog's Day had put both Bill Murray and Andie Macdowell through reliving the same day over and over again, you'd get Palm Springs. The romantic comedy stars Andy Samberg and Cristin Milioti as a pair of wedding guests who find themselves waking up on the same morning — seemingly an infinite number of times. Unable to escape the venue or each other, they start to engage in increasingly outlandish behavior. Having seen Groundhog's Day, we have a feeling about where this is all going, but Samberg and Milioti look like they have such great chemistry, we don't care if it the story is somewhat predictable. If you're looking for what's good on Hulu, this film manages to hit a bunch of highs without becoming as predictable as the repetitive days these two are stuck in. As an exclusive for the service, Palm Springs isn't just one of the best movies on Hulu, it's a major reason to give Hulu a chance.
Parasite
Streaming now
The surprise Best Picture Oscar winner — to everyone's delight — comes from genius Korean director Bong Joon-Ho (now an Oscar winner himself). The film defies categorization; it's a mix of thriller, horror, comedy and melodrama. It is a taut, intricately-plotted tale full of twists and turns, and on top of that, is an affecting allegory about the rich and the poor and how we're all connected as human beings in the end. Parasite's excellent cast didn't get the Oscar love they should've but they did get both a standing ovation and the Best Ensemble prize at the Screen Actors Guild Awards. The appreciation for this movie runs wide and deep, and if you haven't seen it yet, now's your chance to join the fan club, as even the Academy agrees: it's one of the best movies on Hulu.
Portrait of a Lady on Fire
Streaming now
This captivating, moving, passionate love story has as many layers as the paintings made by young artist Marianne (Noémie Merlant) of her subject, Héloïse (Adèle Haenel). At the end of the 18th century, Marianne is commissioned by Héloïse's mother to paint a portrait of her daughter, to send to her prospective husband in Milan. Héloïse refuses to be painted, because she doesn't want to get married. Marianne slowly earns Héloïse's trust and the two form a deep bond that turns romantic. But as Marianne gets close to finishing the portrait, what does the future hold for the couple?
The Art of Self-Defense
Streaming now
Jesse Eisenberg plays to type in The Art of Self-Defense, bringing the taut social anxiety we saw in his portrayal of Mark Zuckerberg in The Social Network to a local dojo. After he's beaten up by strangers on his walk home, Casey (Eisenberg) is seduced into the worst version of Fight Club ever: an underground fraternity of violence run by Sensei (Alessandro Nivola), who promises him the confidence and alpha mentality he lacks. Of course, Casey can't even get that right, and when he brings this new persona to his day job, he's soon out on his butt. Casey then goes to work for Sensei, and learns how creepy and weird this almost-cult gets.
Booksmart
Streaming now
Olivia Wilde's coming-of-age comedy is as funny as it is whip-smart. And it's got a ton of heart. Beanie Feldstein and Kaitlyn Dever star as two high school seniors on the cusp of graduating. The best friends decide to let loose for one night and attend a big party with their classmates, but things go comically awry and many hijinks ensue.