Determining the best PS5 games has now become quite a tricky task. While the PS5 generation started slow and was initially flooded with cross-generation titles also playable on PS4, Sony's flagship console is now hitting its stride with a slew of must-play games that you can't enjoy anywhere else.
Here at Tom's Guide, we've reviewed dozens of PS5 games, from colorful platforming sidescrollers to brutally difficult RPGs with hundreds of hours of content, and we've narrowed down the list of available software into the below collection of truly top-tier titles. These are the PS5 games that we consider utterly essential. So, if you're looking for something new to play, you can't go far wrong with any of these picks.
Of course, what can be considered one of the "best" PS5 games is highly subjective, so we can't promise that every single title on this list will appeal to every type of player. But at the very least there should be a few games here that speak to your personal taste. And so, without further introduction, these are our picks for the best PS5 games that you can play right now.
The best PS5 games you can buy today
1. God of War Ragnarök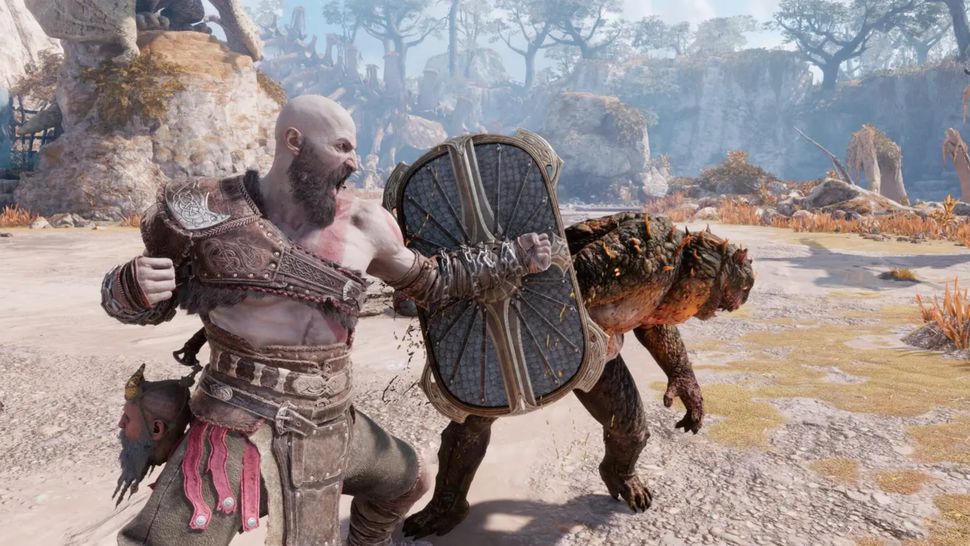 God of War Ragnarök had the unenviable job of following up not just one of the best PS4 games, but one of the most beloved PlayStation games ever. And yet somehow the development team at Sony Santa Monica did the unthinkable and actually surpassed the critically-acclaimed God of War (2018) with a sequel that's bigger than its predecessor in practically every way. And while it is available to play on PS4, it's a real technical marvel on Sony's latest hardware.
In this highly-polished action-adventure game you once again play as Kratos, the perennially-angry Greek demigod, as he seeks to protect his son Atreus from the wraith of the Norse pantheon out for revenge. The situation is further complicated by the prophesied end of the world that looms large over the game's epic fantasy storyline. Remarkably impressive both on a technical and gameplay level, God of War Ragnarök combines cinematic storytelling with satisfyingly brutal combat and deeply rewarding exploration. It's a game worthy of the gods.
Read our full God of War Ragnarök review.
2. Elden Ring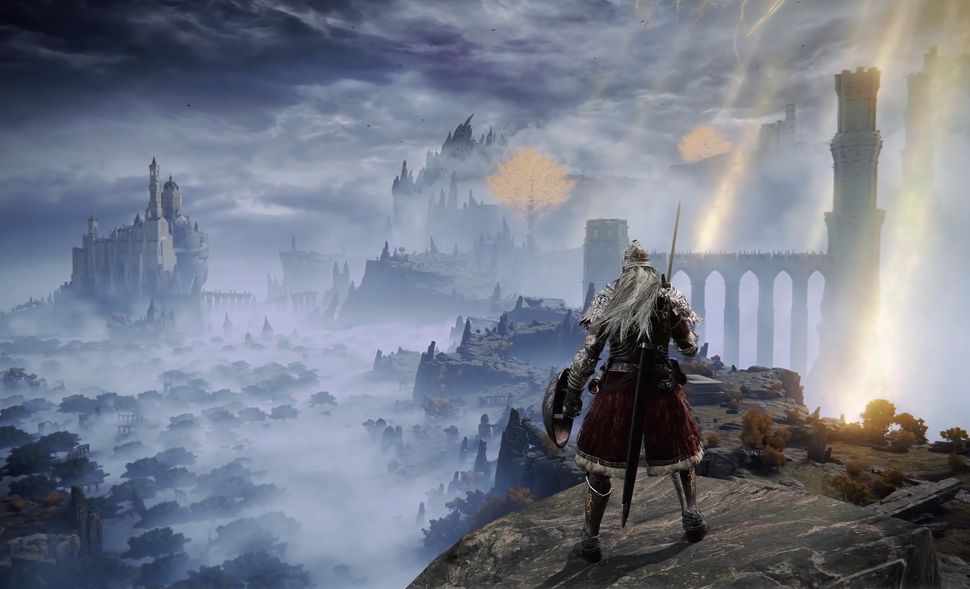 Elden Ring feels like the culmination of the so-called Soulsbourne genre. Developed by Japanese studio FromSoftware, this behemoth takes the formula established in Dark Souls and expands it into a massive open-world setting. Of course, as with almost all From games, Elden Ring's biggest draw is its challenging difficulty level that demands near perfection from players. But Elden Ring is about more than just brutally tough boss battles.
The game's narrative is obscure but rich in detail for those willing to unravel its mysteries, and with Game of Thrones author George R. R. Martin involved in dreaming up the game's world, it's not surprising there is a nearly bottomless sea of lore to dive into. The real beauty of Elden Ring comes from the high level of freedom it gives players to venture off the beaten path, but also to craft and upgrade a character that suits their preferred playstyle. Yes, you'll die a lot, but you'll always return after each crushing defeat because the joy of overcoming Elden Ring's toughest obstacles is a feeling that few PS5 games can replicate.
Read our full Elden Ring review.
3. Spider-Man 2
Spider-Man 2 is a spectacular superhero sequel. It retains pretty much everything that was great about its 2018 predecessor while also building upon the experience in key areas. The biggest new addition is the ability to play as both Peter Park and Miles Morales, but other significant improvements include new traversal options, a host of fresh combat abilities, a larger open-world and more substantial side content.
The highly cinematic main campaign missions are the real show stealer, and see you face off against iconic Spidey villains such as Kraven the Hunter and Venom. Plus, the combat is as enjoyable as ever and swinging around the expanded New York City never gets old. There's no doubt about it Spider-Man 2 is one of the best superhero video games ever made, and an essential play for every single PS5 owner.
Read our full Spider-Man 2 review.
4. Deathloop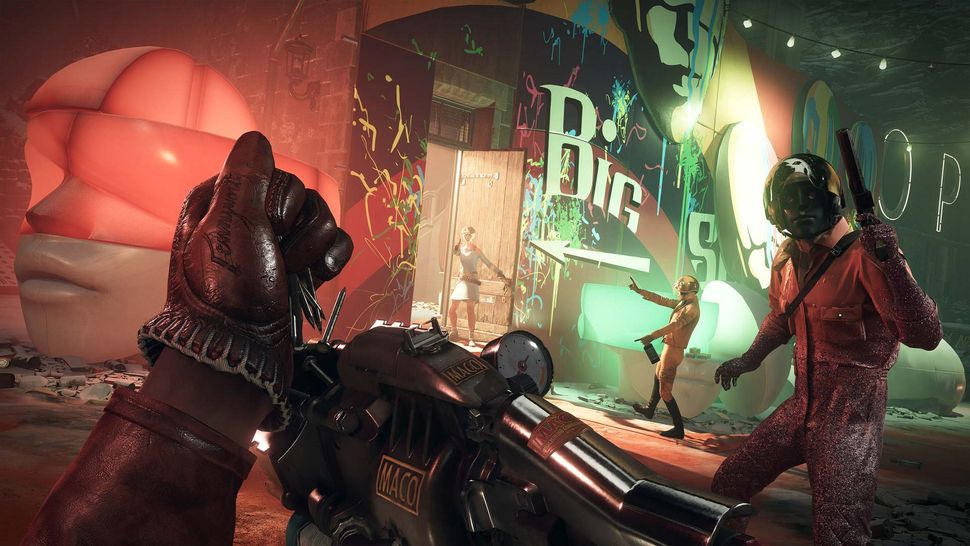 Deathloop often favors style over substance, but there's a reason we gave it our GOTY award in 2021: It's an absolute hoot to play. This first-person shooter is set on a mysterious island stuck in a time loop and challenges you to unravel a "murder puzzle" in order to break the cycle. You do this by eliminating seven high-profile targets in a single day. But plotting the ideal assassination plan requires carefully piecing together clues and striking whenever an opportunity presents itself.
The game oozes style thanks to its 60s Cold War aesthetic and its seriously likable two main characters will keep you engaged through multiple loops. The duo regularly trade off witty banter, and there's a generally enjoyable comedic streak running through all of Deathloop. The upgrade system is a little too generous, but thanks to its roguelike elements death has genuine consequences forcing you to play smart at all times. And with objectives that can be tackled in a variety of ways, Deathloop is a shooter than will make you think before pulling the trigger.
Read our full Deathloop review.
5. Astro's Playroom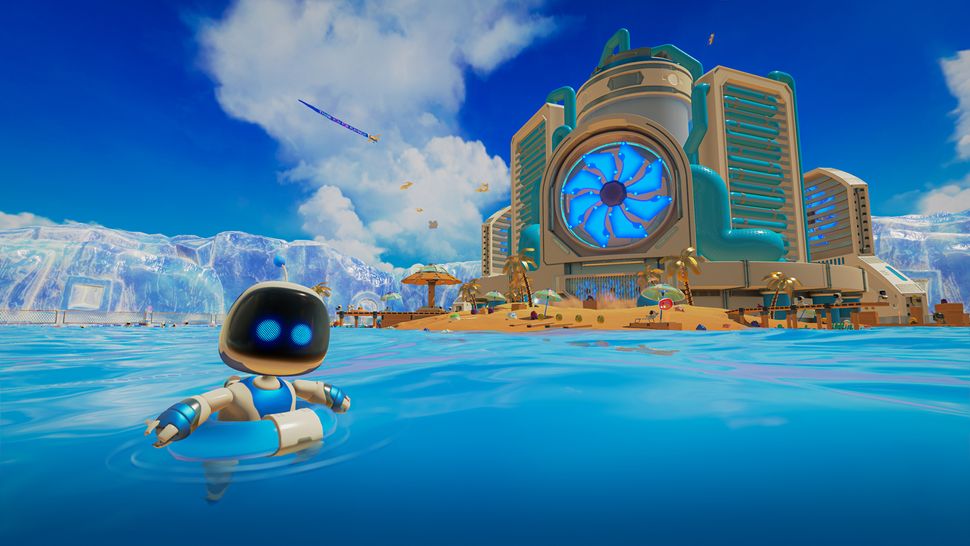 Astro's Playroom is a delightfully charming 3D platformer that serves as both a showcase of the PS5's next-gen capabilities as well as a loving tribute to the history of the PlayStation brand — and it's totally free! If you didn't know, Astro's Playroom comes pre-installed on every single PS5 console. And while you might be tempted to skip this freebie, you absolutely should play this nifty little game first because it's so much more than a throwaway pack-in.
Each of the game's four levels is a whirlwind of pleasant platforming and enjoyable puzzle-solving. And the vibrant graphics bring the loveable character of Astro Bot and the playful world they inhabit to life. Plus, the innovative features of the DualSense controller are used to great effect to simulate everything from the feeling of walking across a sandy beach to resistance when pulling back a bowstring. It's a short experience overall, but hunting for collectibles and PlayStation-themed Easter Eggs encourages repeat playthroughs.
6. Returnal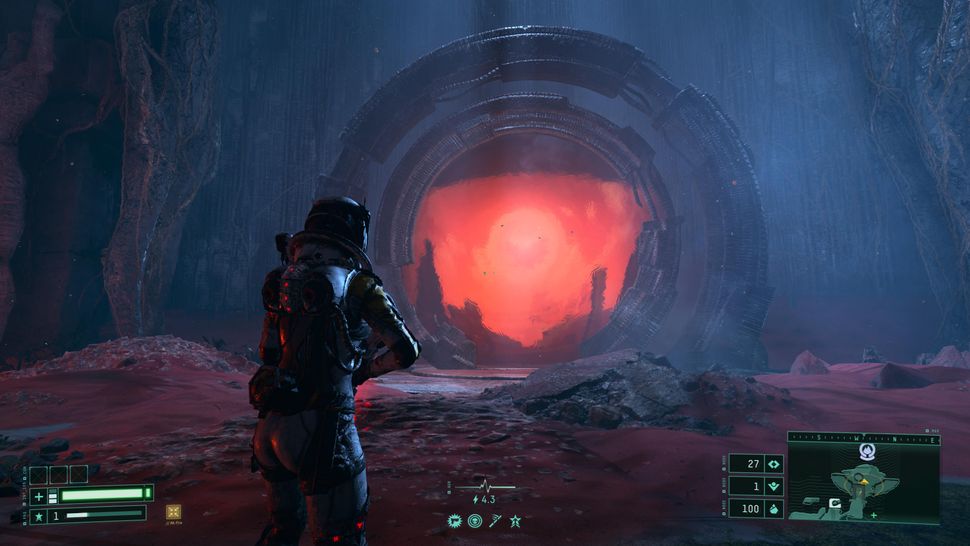 Returnal is the most unique game to come from PlayStation Studios in recent years, not to mention one of the most punishing experiences on PS5. This third-person action game sees you step into the space boots of Selene: An amnestic astronaut who crash lands on an alien world and finds herself stuck in a time loop. The only way to break the cycle is to explore the hostile planet but be warned the creatures and fauna of this world are seriously hostile.
Combining bullet-hell gameplay with a roguelike structure, Returnal is a challenging experience where every death has consequences. Fail out in the wilderness and you'll be returned back to your crashed ship with all your weapons and upgrades stripped away and with no choice but to start all over again. Fortunately, procedurally generated environments prevent things from becoming too repetitive.
You'll need nerves of steel to overcome Returnal's toughest enemy encounters but each hard-fought victory will spur on as you unravel the game's mirage of mysteries and secrets.
Read our full Returnal review.
7. Horizon Forbidden West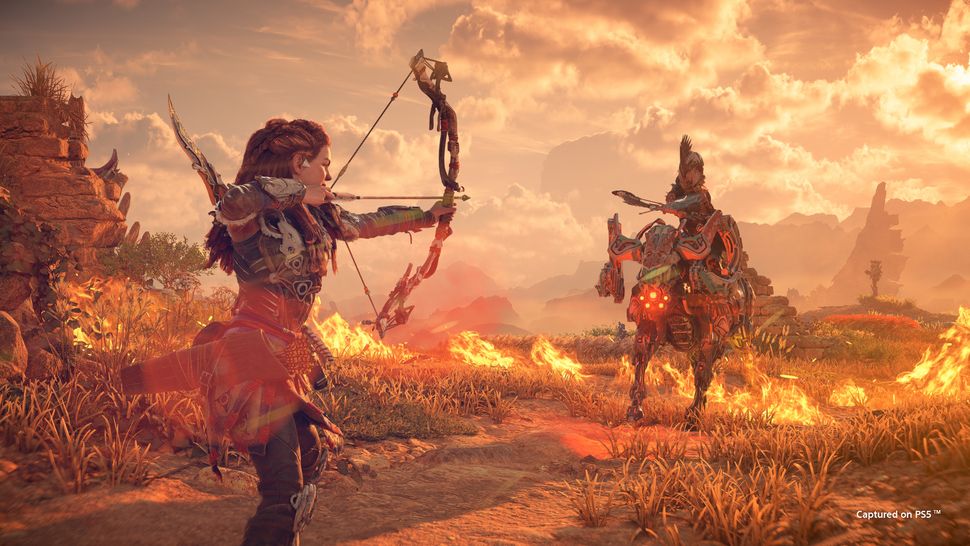 Horizon Forbidden West doesn't significantly depart from the formula set by its predecessor, Horizon Zero Dawn, but that's not a bad thing as its PS4 forefather was already a highly compelling open-world action/adventure. And the few tweaks that Forbidden West does make are entirely for the better, building upon what worked and refining various gameplay systems.
This sequel sees franchise protagonist Aloy venture to new lands in her quest to discover truths about the old world and also to prevent the rapid degrading of the planet's biosphere. Once you arrive in the Forbidden West, you'll discover new herds of animalistic robots to battle in surprisingly tactical combat that puts the focus on picking your shots rather than just unloading arrows into your enemies. There are also dozens of side activities and distractions to discover. Not to mention, the game looks absolutely stunning on PS5. You'll likely lose countless hours just drinking in the breathtaking scenery and vistas.
Read our full Horizon Forbidden West review.
8. Ratchet & Clank Rift Apart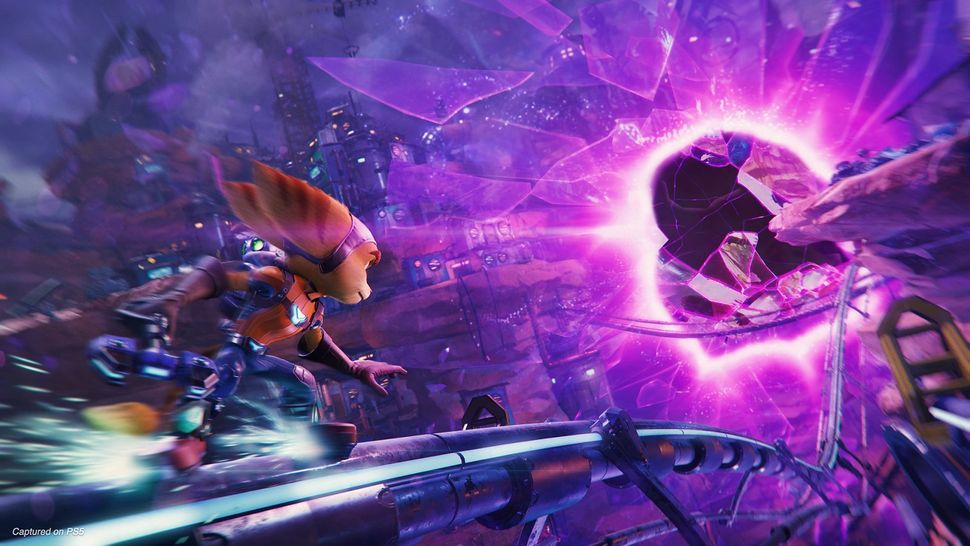 Back in 2021, we labeled Ratchet & Clank Rift Apart the game the PS5 was born to play. And even two years later it continues to stand as an excellent showcase of the PS5's capabilities. That's primarily because of its rapid load times and strong use of the DualSense controller's haptic feedback. But also because it basically looks like a playable Pixar movie with colorful cartoonish graphics and wonderfully expressive character animations.
Rift Apart plays very similar to every other mainline Ratchet & Clank game but that actually works in the game's favor as the franchise's established formula is so strong. This latest adventure for the spunky Lombax and his robot companion once again sees the pair travel to distant planets, encounter new friends (and enemies) and collect a shiny new arsenal of creative weaponry. What Ratchet & Clank Rift Apart lacks in new ideas, it makes up for with a great abundance of fun.
Read our full Ratchet & Clank Rift Apart review.
9. Star Wars Jedi: Survivor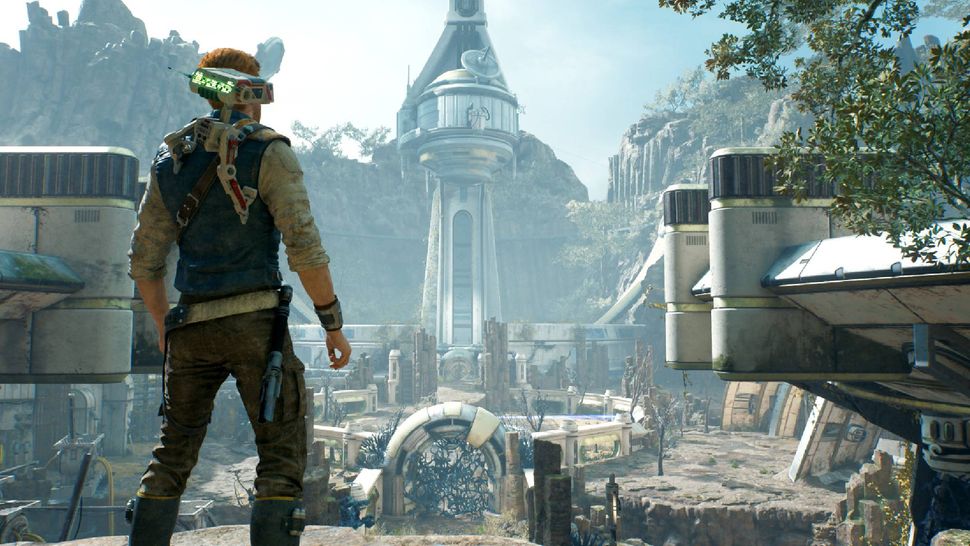 Star Wars Jedi: Survivor is a textbook example of a sequel that improves and expands upon practically every element of its predecessor. Star Wars Jedi: Fallen Order established solid foundations and the development team at Respawn Entertainment has deftly refined that formula and in turn crafted arguably the best Star Wars game of the last two decades.
Combining third-person action combat and Metroidvania-level design with a small sprinkling of elements from the Dark Souls series, Star Wars: Jedi Survivor is a cinematic adventure that encourages considered play and thorough exploration. It's also got an engaging main story filled with likable characters and complex, even occasionally sympathetic, villains. Its technical performance on PS5 is a little disappointing, but if these issues can be remedied via post-launch patches, Star Wars Jedi: Survivor will be practically perfect.
Read our full Star Wars Jedi: Survivor.
10. Gran Turismo 7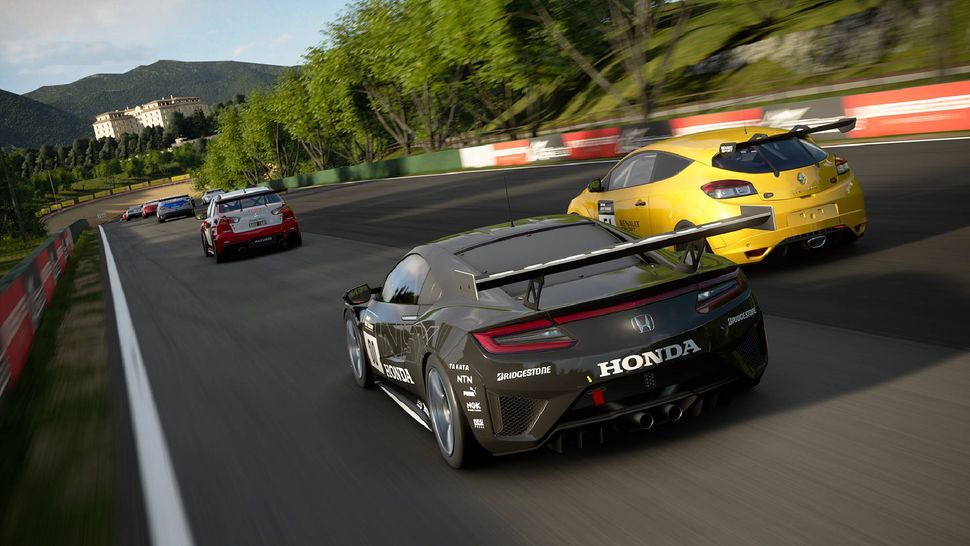 Gran Turismo 7 thoroughly earns its given moniker as "the real driving simulator." This latest entry in the long-running racing franchise is the most complete to date, and a must-play for petrolheads. Across a variety of modes, you'll race on iconic real-world tracks in some of the most impressive cars in existence. And if you want to ensure your drive experience is exactly to your liking, you can even fine-tune many of the available vehicles tweaking everything from tire grip to suspension levels.
You don't have to be a car enthusiast to enjoy Gran Turismo 7 either. The career mode is highly approachable for newcomers, and the controls are extremely accessible. Even better, this already excellent racing simulator has been made even more immersive thanks to a free update that adds comprehensive PSVR 2 compatibility to the entire game. The Gran Turismo series has always been one of PlayStation's most consistent, and this seventh mainline entry is another racer that comfortably tops the podium.
Read our full Gran Turismo 7 review.
11. The Last of Us Part 1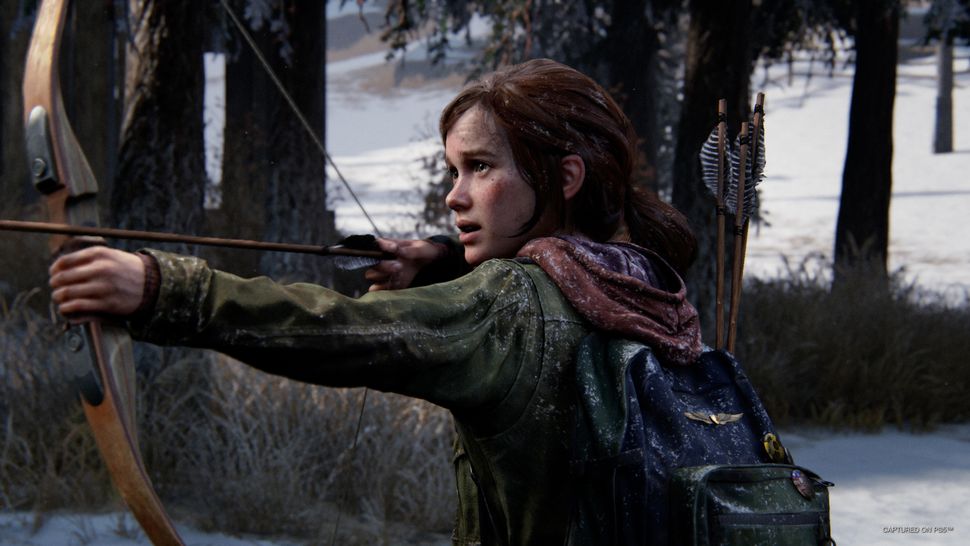 The Last of Us Part 1 is a from-the-ground-up remake of one of the most acclaimed PlayStation games of all time. While some may debate the necessity of remaking The Last of Us when a perfectly playable PS4 remaster already exists, once you've seen this new version in action that conversation becomes almost entirely moot. This is now the definitive way to experience Joel and Ellie's journey across post-apocalyptic America.
This is a shot-for-shot remake of the PS3 original so there are practically no changes to speak of beyond the stunning visual overhaul. However, the action and narrative of The Last of Us have held up remarkably well to this day, and remain utterly stellar. Plus, with the recent success of The Last of Us HBO show this remake is ideal for first-time players. And the package also includes the game's DLC chapter Left Behind, which expands Ellie's backstory and includes some of the game's most intense combat encounters.
Read our full Last of Us Part 1 review.
12. Demon's Souls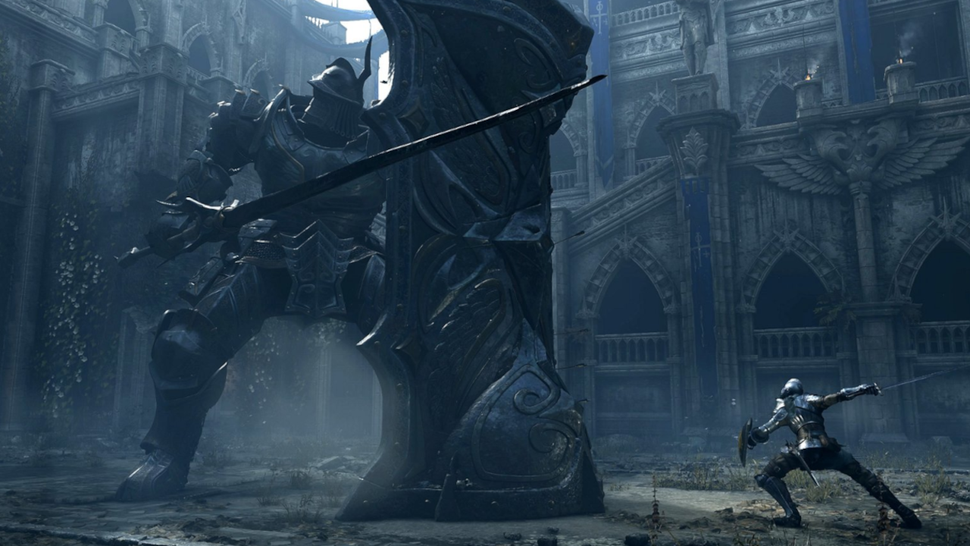 Another remake of a PS3 classic, Demon's Souls is the precursor to Dark Souls and is a must-play for anybody who enjoys FromSoftware's iconic brand of tough-as-nails action RPGs. Rebuild by Bluepoint games, the original spirit of Demon's Souls has been retained. But the whole experience has been upgraded with a breathtaking level of graphic polish and a rock-solid framerate.
If you're familiar with other FromSoftware games such as Elden Ring, you'll know the score here. Demon's Souls drops you into the dark fantasy world of Boletaria where just about everything has the capability to kill you in just a couple of hits. And while it might seem overwhelmingly difficult at first, take the time to learn the game's various systems and you'll be rewarded with one of the most satisfying gaming experiences on PS5.
However, players stepping into Demon's Souls who have already enjoyed later Souls games should be wary, some of the original's more dated elements are still present, and these often alienating aspects make Demon's Souls arguably the most esoteric game in the franchise.
Read our full Demon's Souls review.
13. Hogwarts Legacy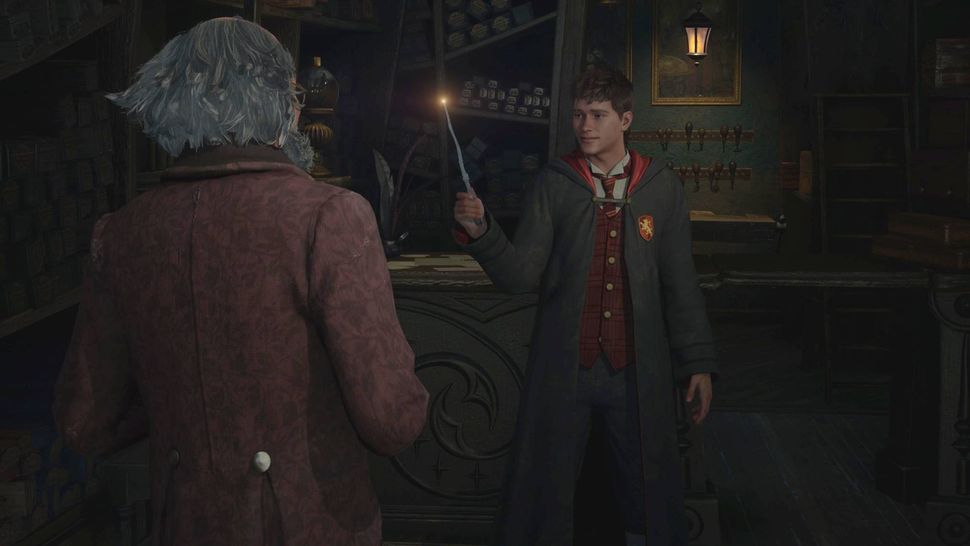 Hogwarts Legacy is the first (non-mobile) game set in the Wizarding World of Harry Potter for more than a decade, and it turned out to be well worth the wait. Set more than a century before the boy who lived walked the corridors of the iconic magical school, Hogwarts Legacy lets you create your own witch or wizard, get sorted onto a Hogwarts house, and then embark on a grand adventure that involves dragons, goblins and dark wizards.
While the game's main narrative will appeal to fans of the Harry Potter novels, and the spellcasting combat is surprisingly engaging, Hogwarts itself is the real star of the show. The famous castle has been digitally recreated in remarkable detail and its halls and classrooms are stuffed with secrets to uncover. And if that wasn't enough, there's also a larger world to explore that includes the quaint village of Hogsmeade and several small Hamlets inhabited by all sorts of magical folk.
Read our full Hogwarts Legacy review.
14. Dead Space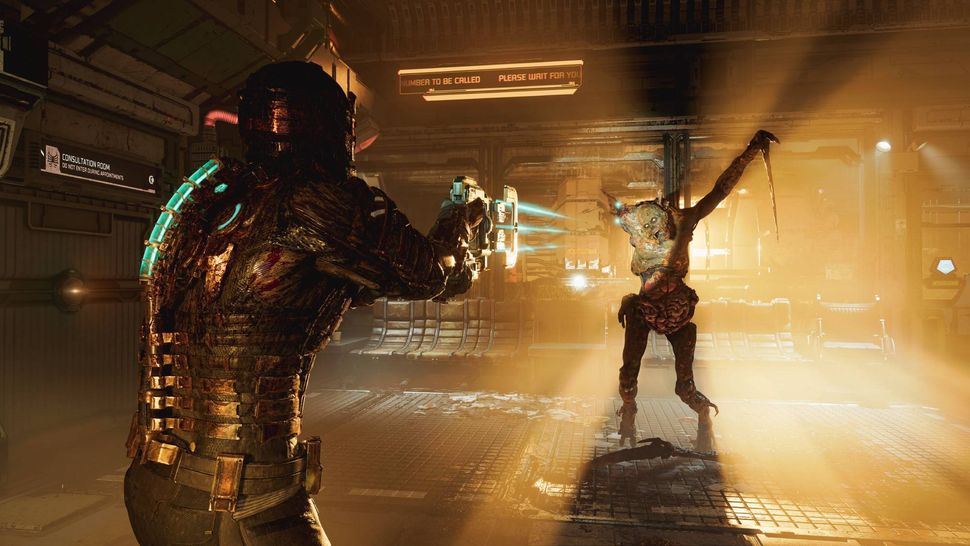 Dead Space is one of the most beloved survival horror games ever made, and it's now been reborn on the PS5. This remake of the 2008 original, makes the horrific sights and sounds of the USG Ishimura more disturbing than ever before thanks to overhauled visuals that help to make this one of the most fear-inducing experiences on any console.
While the dramatically improved graphics will be the first thing returning players notice, the Dead Space remake is more than skin-deep. Developer Motive Studios has added a smattering of new content that fleshes out the game's story, and smart tweaks have been made to some of the more dated aspects; goodbye frustrating turret section!
If you're a newcomer, Dead Space casts you as Isaac Clarke, a deep space miner, stuck on a massive mining ship that has been overrun with nightmarish creatures known as Necromorphs. Using repurposed mining tools, you've got to blast your way to safety while also trying to keep your sanity in check. It's an essential experience for horror fans.
Read our full Dead Space remake review.
15. Stray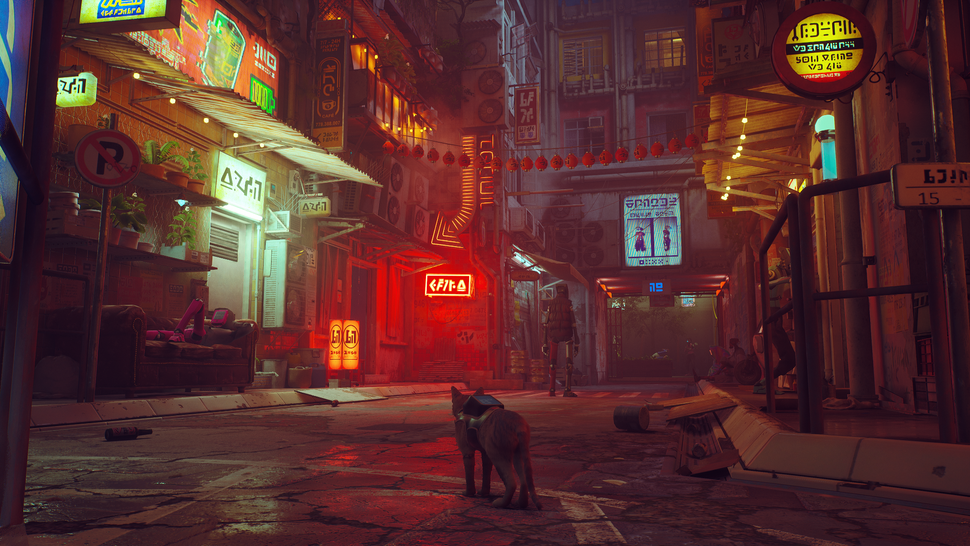 Stray has a pretty simple USP: You get to play as a cat. Naturally, this unique-selling point has earned the game plenty of interest as players have delighted in the idea of taking control of an adorable kitty on a quest to find its way home. But don't dismiss Stray as just a cat simulator. This adventure game has plenty more to offer than just pawing at scratching posts.
Its remarkably detailed cyberpunk world is a real joy to explore. And there are tons of secrets to discover and worthwhile collectibles to unearth within its rainy streets and grubby alleyways. Not to mention the entire game is absolutely stunning on PS5 currently serving as one of the best showcases of the console's graphical powers to date.
The unique perspective granted by playing as a furry feline is another highlight and the story builds to a strangely emotional finale. The core gameplay mechanics may be pretty simplistic, but overall, Stray is a unique experience well worth your time even if you're more of a dog person.
Read our full Stray review.
16. Spider-Man: Miles Morales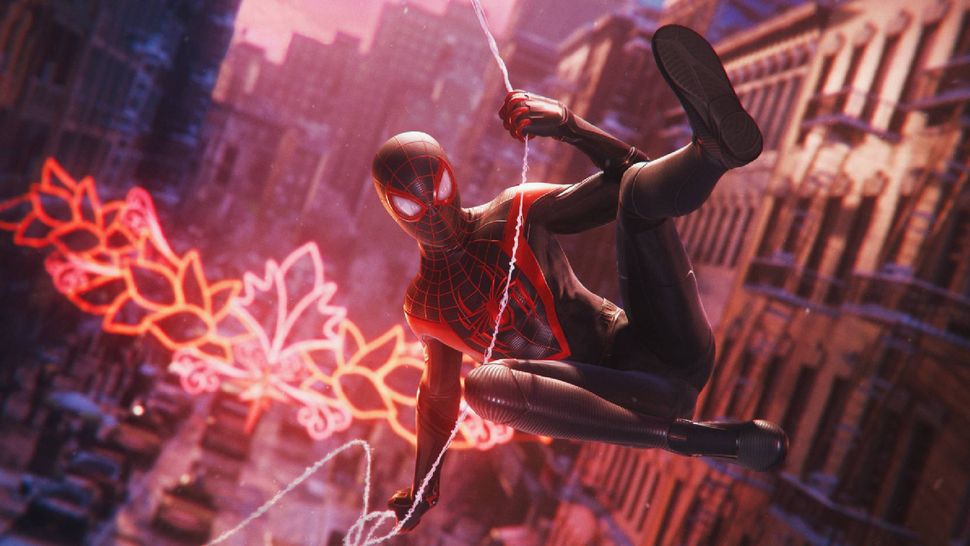 An Interstitial sequel to 2018's Spider-Man on PS4 designed to tide players over until the full-fledged Spider-Man 2 drops later this year, Spider-Man: Miles Morales is another web-slinging success from Sony-owned developer Insomniac.
In this open-world superhero game, you play the eponymous hero a year after he's acquired spider-like abilities after being bitten by a genetically modified insect. And the young wall-crawler we'll need to remember all his training from his mentor, as Peter Parker has now left New York City for a few weeks leaving Miles as the city's sole protector. Fortunately, Miles has a suite of new Venom Powers to help him overcome the new threats emerging across the sleepless city.
With the same cinematic combat and zippy traversal as its predecessor, Spider-Man: Miles Morales may be mostly more of the same, but that's not a bad thing when the base formula is this thrilling.
Read our full Spider-Man: Miles Morales review.
17. Resident Evil 4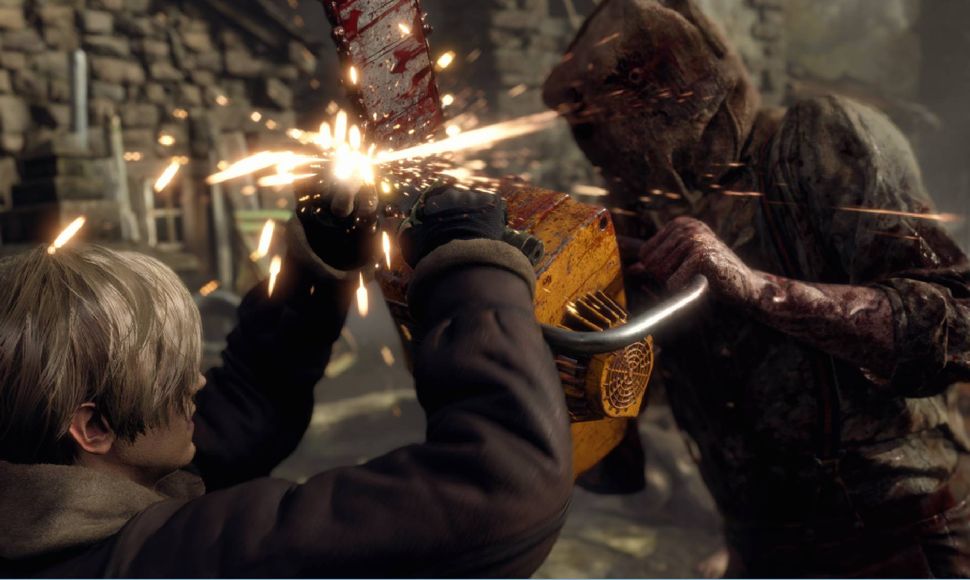 Resident Evil 4 is still one of the most influential and celebrated games of all time, so it probably didn't need remaking but we're extremely glad Capcom took up the challenge anyway. This new version of the iconic horror-action game is now the definitive way to experience the most-beloved entry in the long-running franchise.
Playing as returning protagonist Leon S. Kennedy, Resident Evil 4 sees you travel to an isolated Spanish village on a mission to rescue the President's daughter, who has been abducted by a mysterious cult. Packing significantly improved shooting mechanics, plenty of spooky moments and a seriously impressive visual overhaul, The Resident Evil 4 remake is an essential experience for horror fans — and even those who are easily frightened should give it a go.
Players who hold the original in great esteem shouldn't dismiss this remake as sacrilege either. It remains remarkably faithful to its source material, making smart tweaks when necessary but keeping the core experience very much intact. The Resident Evil series has enjoyed a resurgence in recent years, and Resident Evil 4 is perhaps the pinnacle of its revival.
Read our full Resident Evil 4 review.
17. Final Fantasy XVI