The best PS5 games represent a diverse assortment of experiences. From kid-friendly platformers, to cinematic action/adventure games, and from technical racing games to brutally difficult RPGs, Sony's big white box has something for everyone. Over the past few years, Tom's Guide has reviewed dozens of PS5 games from both first- and third-party studios, and we've narrowed down the best ones for you. Now is a particularly good time to invest in the console, since PS5 restocks have stabilized considerably since launch.
Granted, what constitutes the "best" PS5 games is highly dependent on your individual taste. You probably won't love every single title on this list — but we would be surprised if you came away without a single match. Read on to discover the best PS5 games you can buy, and let us know which ones you liked in the comments.
The best PS5 games you can buy today
Why you can trust Tom's Guide Our expert reviewers spend hours testing and comparing products and services so you can choose the best for you. Find out more about how we test.
1. Assassin's Creed Valhalla
Assassin's Creed Valhalla is the biggest and most ambitious entry in the series to date. The main game alone offers more than 100 hours of content. Between free DLC and paid expansions, you could easily tack another 50 or more hours onto that number. If you want a meaty game to keep you busy for months on end, Assassin's Creed Valhalla is an easy recommendation.
However, Assassin's Creed Valhalla isn't just long — it's also a worthwhile historical adventure. You play as Eivor, a Viking adventurer who must find a new home for his clan in medieval England. The "Assassins vs. Templars" meta-story takes a backseat this time, focusing instead on the conflicts and commonalities between the settled Saxons and the invading Danes. With plenty of combat, stealth and exploration, Assassin's Creed Valhalla should satisfy series fans and newcomers alike.
Read our full Assassin's Creed Valhalla review.
2. Astro's Playroom
If you own a PS5, you own Astro's Playroom. That's because this innovative little game comes preinstalled on every console. Generally speaking, Astro's Playroom is a tech demo that introduces you to the PS5's various features, from rapid load times and 3D audio, to subtle haptics on the DualSense controller.
However, while Astro's Playroom could have easily been a forgettable little diversion, developer Japan Studios instead made the game a love letter to PlayStation history. As you guide the lovable little automaton Astro Bot through four different levels, you'll find trinkets from fan-favorite franchises, from God of War to Final Fantasy. Even if you know nothing about Sony's console family, you'll still probably love the game's tight platforming, inspired level design and gorgeous graphics. It's also an excellent way to get acclimated to your PS5, and its controller.
Read our full Astro's Playroom review.
3. Deathloop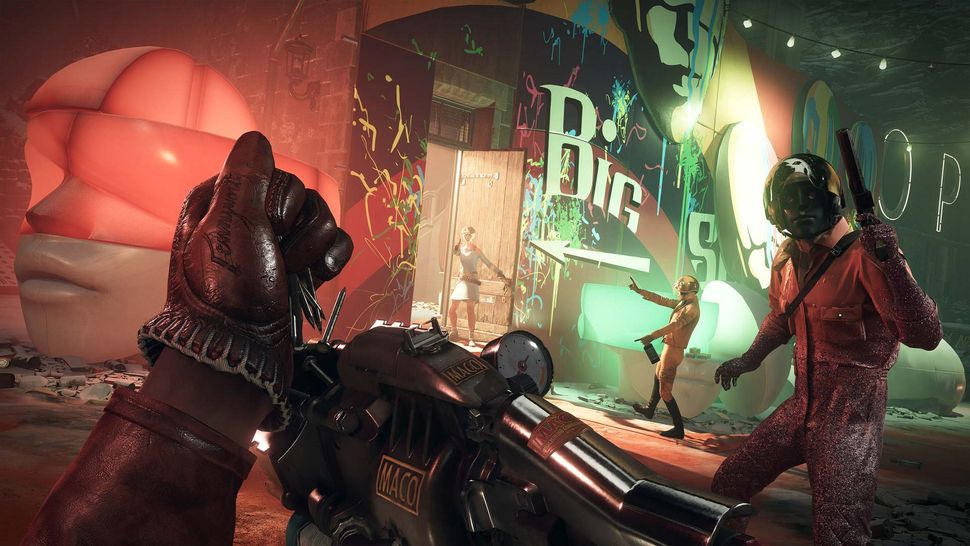 Deathloop's developer describes the game as a "murder puzzle," and that's a pretty apt description. This first-person shooter isn't about blasting your way through as many enemies as possible. Instead, it's a clever time loop adventure, in which gathering information and piecing together clues about your environment is just as important as going toe-to-toe with powerful bosses.
What makes Deathloop work is its impeccable sense of style. With a '60s Cold War aesthetic, a razor-sharp script and two immensely likable main characters, Deathloop will make you laugh as often as it will make you think. The game has the potential to get repetitive after a few runs, and it won't be to everyone's taste. But if you want a fresh gaming experience in a sea of same-y ideas, Deathloop is one time loop you'll want to get stuck in.
Read our full Deathloop review.
4. Demon's Souls
As it turns out, one of the best PS3 games is also one of the best PS5 games. Demon's Souls is the spiritual precursor to FromSoftware's massively popular Dark Souls series, and a lot of the same DNA is present here. You'll create an adventurer and set off into the dark fantasy world of Boletaria, where a mysterious curse has sapped the residents of their sanity — and, in many cases, their mortality. It's a strange story, full of obscure themes and wide open for interpretation.
The big draw of Demon's Souls is the difficult combat. Bosses can destroy you in a few hits, and regular enemies can often overwhelm you almost as easily. To survive, you'll need to learn each area's ins and outs, find equipment that suits your playstyle and build your character intelligently. Demon's Souls is not for the faint of heart, but it's a rewarding experience if you're willing to see it through.
Read our full Demon's Souls review.
5. Elden Ring
An open-world successor to the Dark Souls series, Elden Ring is a rich, lengthy experience that comes together beautifully. In this action/RPG, you'll create a character and set off into a vast open world to explore at your own pace, while slowly advancing an overarching plot. Like the Dark Souls game, the plot in Elden Ring is obscure, but there's a lot of lore to discover, and plenty of ways to customize your character's attributes and gear.
The combat is the real draw here, though. The "one-false-move-and-you're-done" approach that made FromSoftware's earlier games famous is still in use here. On the other hand, so is the methodical, graceful combat, which encourages you to develop your own combat style and learn each enemy's ins and outs as you fight them. With towering bosses to conquer and plenty of secrets to discover, Elden Ring lives up to its great promise.
Read our full Elden Ring review.
6. Final Fantasy VII Remake: Intergrade
Final Fantasy VII Remake: Intergrade is a great game, and sort of exclusive to the PS5. While you can get the core Final Fantasy VII Remake experience on PS4, the PS5 version features improved graphics, better loading times and, most importantly, a whole new episode called "Intermission." This two-chapter DLC pack features Yuffie Kisaragi: a fan-favorite party member from the original FFVII, in a totally original story.
Intermission is a fantastic addition to FFVIIR, as it introduces a whole new protagonist with a very different gameplay style from Cloud. Furthermore, the story is full of deep cuts from Final Fantasy lore, which longtime fans will surely appreciate. Beyond that, Intergrade is definitely the way to play FFVIIR, as the technical improvements alone arguably make it worth the price of admission. If you've never played FFVIIR before, this is the way to do it — and if you have, it's time to experience Yuffie's story.
Read our full Final Fantasy VII Remake Intergrade review.
7. God of War Ragnarök
God of War Ragnarök did the impossible: It managed to improve on God of War (2018). In this fantasy action/adventure game, you'll take control of Kratos: a Greek demigod who's recently tamed his murderous anger and forged a bond with his son, Atreus. But after the events of the previous game, the pantheon of Norse gods is out for Kratos' blood, and Ragnarök — the prophesied end of the world — is about to begin.
God of War Ragnarök works beautifully on every level. The combat is satisfying; the exploration is rewarding; the puzzles are smart; the story is riveting; the graphics are beautiful; the voice acting is heartfelt. You can take your time and explore the Nine Realms to the fullest, or you can barrel your way through the game's barrage of bosses, including the mighty Thor. Games this good don't come around too often.
Read our full God of War Ragnarök review.
8. Gran Turismo 7
Gran Turismo has been PlayStation's flagship racing series for decades, so it should come as no surprise that Gran Turismo 7 is excellent. In this technical racing sim, you'll collect a wide variety of cars, tune them to perfection and then race them around more than 30 real and fictional tracks. Each track has full day and night cycles, as well as weather effects, making the experience more realistic and immersive than ever.
However, you don't have to be a racecar aficionado to get the most out of Gran Turismo 7, thanks to beginner-friendly controls and plenty of instructive missions. You can hone your skills in a variety of single-player modes, or compete against other players online to move up through the ranks. Gran Turismo 7 took a long time to produce, but it was worth the wait.
Read our full Gran Turismo 7 review.
9. Horizon Forbidden West
Horizon Forbidden West takes everything that worked about its predecessor, Horizon Zero Dawn, and builds on it. In this open-world action/adventure game, you'll take control of an archer named Aloy in the far-future American West. Technically speaking, the game is post-post-apocalyptic, as the Earth has already recovered from a world-ending catastrophe, and new civilizations have sprung up to replace the old ones.
The major gameplay conceit is that Aloy is an archer, which means that combat is more about stealth and precision than brute strength. Throughout the game, Aloy confronts huge animalistic robots, as well as cunning human foes, and frontal-assault open combat is not usually a viable option. Instead, you'll have to learn each enemy's strengths and weaknesses, and plan clever strategies accordingly. The game also boasts inspired character design and breathtaking scenery.
Read our full Horizon Forbidden West review.
10. The Last of Us Part I
The Last of Us Part I is a game that didn't really need to exist, considering there was a perfectly good PS4 remaster. But it's here, and it's the best possible version of what it wants to be. A shot-for-shot remake of the beloved PS3 game, The Last of Us Part I takes full advantage of the PS5's powerful hardware to render Joel and Ellie's heartrending journey with better graphics, faster frame rates and more fluid gameplay than ever before. It's a cinematic gaming experience with an adult audience in mind.
In case you haven't played it before, the game tells the story of Joel and Ellie, two survivors in the post-apocalypse, who must contend with both zombified Infected, as well as ruthless human scavengers. They learn about life, love, growing up and whether it's possible to stay true to your principles in a harsh world.
Read our full The Last of Us Part I review.
11. Marvel's Spider-Man: Miles Morales
One of the PS5's launch titles is still one of the most fun games on the system. Marvel's Spider-Man: Miles Morales is a standalone expansion pack for Marvel's Spider-Man on the PS4. Picking up where that game left off, you'll take control of teenager Miles Morales, as he learns how to web-sling, wall-crawl and fight crime while Peter Parker is out of town.
The traversal mechanics alone make Spider-Man: Miles Morales worth a look. Swinging around an open-world New York City feels incredible, particularly with the DualSense's subtle haptic feedback. But there's plenty for comic book fans to enjoy, too, especially the challenging boss fights with the Rhino, the Prowler and one other fan-favorite Marvel villain — but that would be getting into spoiler territory. It's an amazing adaptation of a spectacular character.
Read our full Spider-Man: Miles Morales review.
12. NBA 2K23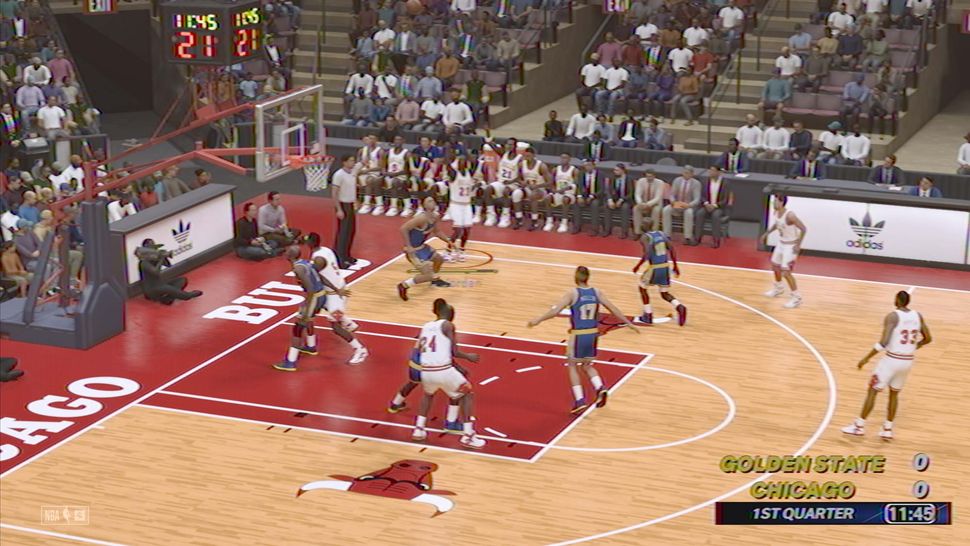 Yearly sports games come and go, and their quality varies from year to year. Luckily, NBA 2K23 is one of the better basketball games we've seen in a while. That's because the game isn't content to just update the team rosters and call it a day. Instead, NBA 2K23 digs deep into NBA history and lets you replay classic moments from the '80s all the way up through the present day. If you've ever wanted to relive the classic Michael Jordan era with a modern game engine, this is the way to do it.
Apart from that, NBA 2K23 offers a variety of single- and multiplayer modes, including MyCareer, where you can customize your own player, and MyTeam, where you can collect digital cards and create your ideal team to complete online.
Read our full NBA 2K23 review.
13. Ratchet & Clank: Rift Apart
Ratchet & Clank: Rift Apart is not only a great game; it's also a fantastic showcase of the PS5's capabilities. This game features rapid load times and subtle DualSense haptic feedback — but those aren't the primary reasons why you'll want to play it. Instead, Rift Apart will almost certainly win you over with its colorful aesthetics, tight gameplay and heartfelt story. It picks up where Ratchet & Clank: Into the Nexus left off back in 2013, but also acts as a perfect jumping-on point for newcomers to the series.
With 15-20 hours of gameplay, Ratchet & Clank: Rift Apart feels substantial without overstaying its welcome. It's also a true PS5 exclusive; it's not on PS4, and it's not a remake of an earlier PlayStation game. Granted, Rift Apart feels extremely similar to earlier Ratchet & Clank games. But since it's a strong formula, that works in the title's favor.
Read our full Ratchet & Clank: Rift Apart review.
14. Returnal
Returnal is one of the most niche games on this list. However, if you're a fan of roguelikes, it may also be one of the best. Returnal is a punishing action/adventure game that casts you as Selene: an astronaut who crash-lands on an alien world, and finds herself stuck in a time loop. As you explore the planet, you'll encounter all sorts of hostile flora and fauna, as well as records from previous versions of Selene, who failed to escape.
What sets Returnal apart from other action titles is that it's a roguelike. Whenever you die (which will be often), you'll return to your spaceship and lose just about everything you collected on your previous run. While this makes Returnal very tough, it also makes the game satisfying, since each new run is procedurally generated, and you never know if you'll find the perfect combination of gear and upgrades this time around.
Read our full Returnal review.
15. Stray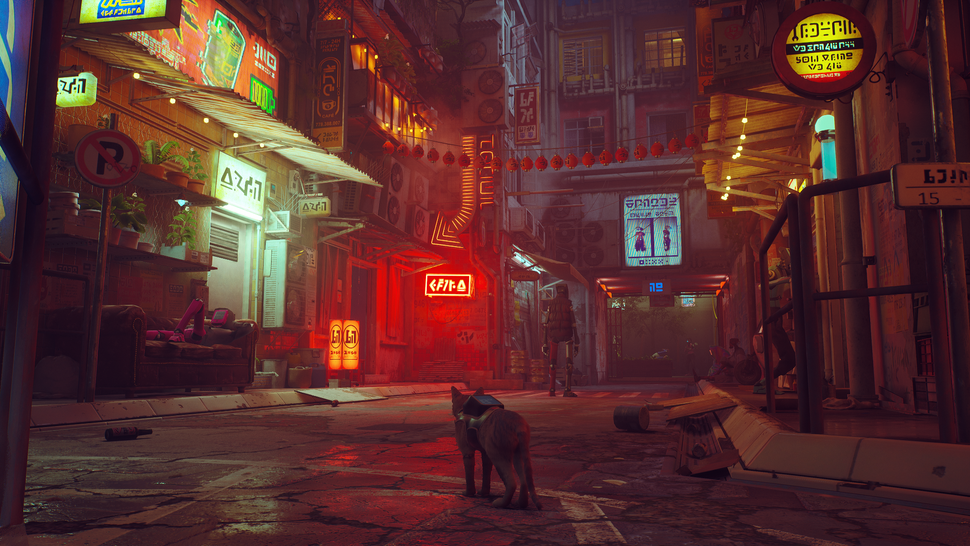 Stray is one of the odder games on this list. It's not a big-budget game; there's no combat; it doesn't come from a major game studio. However, if you're in the mood for something atmospheric and minimalist, Stray should scratch that itch — with a sharp set of claws. You play as a free-roaming cat in a cyberpunk society, who can befriend a race of humanoid robots. The game is mostly about exploration, along with some light puzzle and platforming elements.
What makes Stray worthwhile is its excellent sense of mood. The world of Stray feels big, mysterious and inscrutable, just as our world must seem to a cat. It's a short, self-contained adventure that doesn't overstay its welcome, and makes the most of a few simple gameplay mechanics. Cat lovers should check this one out.
Read our full Stray review.