15 Most Cringe-Worthy Moments in Marvel Movies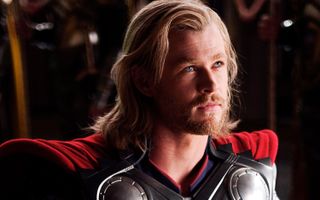 We're still shaking our heads
Despite all the fun we've had watching Marvel movies such as Infinite War, Winter Soldier and Black Panther, there have been plenty of moments that make us cringe. For every gripping Killmonger speech, for example, there has always been a meaningless Mandarin monologue. Tony Stark and Peter Quill's crimes against humanity don't begin and end with Ultron and fits of selfish rage, either, as both have embarrassed audiences along the way. So, while we wait for Ant-Man and The Wasp, take a trip down the messiest memory lane with us.
Credit: Zade Rosenthal/Marvel Studios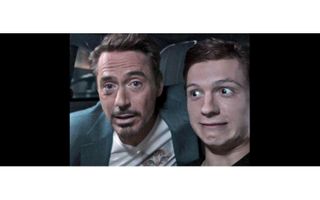 Tony Stark flirts with Aunt May (Spider-Man: Homecoming)
From the second we heard that Marisa Tomei was cast with the intent to make Aunt May sexy, we had a hunch that this would happen. So, when Tony Stark rolls into Queens, N.Y., and starts chatting with May like they're at a singles bar, we couldn't stop rolling our eyes. Such predictable behavior, especially with Pepper Potts still in the picture, is Classic Tony in a way that's far from classy. Also, way to make Peter Parker — your new protege — feel awkward, dude. — Henry T. Casey
Credit: Marvel Studios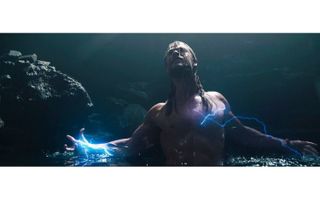 Thor's weird moment in the water cave (Age of Ultron)
Marvel movies feel their most empty when you can see the seams within the script -- when scenes don't serve the immediate film but instead relate to the overall MCU series. Such is the case of Thor and Dr. Erik Selvig's visit to a watery cave, where the Asgardian is looking for … well, it's unclear.
Immersed in the pool, Thor has a vision of Heimdall saying that Thor is going to destroy Asgard. Oh, and the Infinity Gems flash for about a second. This revelation gave Mjolnir's master zero information to help fight Ultron (and Thor is in fact the deux ex machina of the film) and is simply a nod toward his future in Ragnarok. Audiences were right to tilt their heads to the side and quietly wonder "Why?"as this all happened. And those eagle-eyed enough to see the gems likely grumbled about how their effort was spent to see another piece of connective tissue, that added to the overall mess that was the Age of Ultron. — Henry T. Casey
Credit: Marvel Studios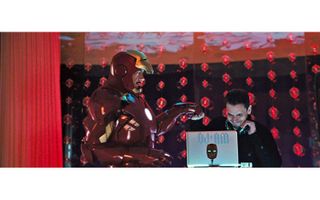 Drunk Iron Man, The DJing. (Iron Man 2)
This cringe is the most bittersweet, as DJ AM (nee Adam Goldstein) filmed his cameo in Iron Man 2 a mere two months before he passed away from an accidental drug overdose. But our eye-rolling isn't because of the DJ's death, but instead because of a drunk Tony Stark. During the middle of his fight with War Machine, Stark turns to the DJ and says, "Yo Goldstein! Give me a fat beat to beat my buddy's ass to." Iron Man's cornier than your dad's ever been, and, no, it's not funny. — Henry T. Casey
Credit: Marvel Studios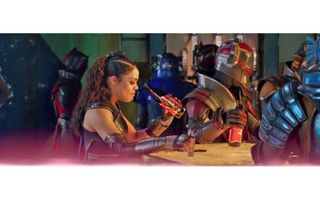 Valkyrie's alcohol dependency (Thor: Ragnarok)
Thor's been consuming libations on nearly every planet he's landed on, but we see a different side of the bottle with Valkyrie (Tessa Thompson). A survivor, her sisters killed in one of Hela's massacres, Valkyrie spends the film openly filling the sad void inside herself with booze. While Thor's influence (eventually) pushes her to heroic feats, the film feels incredibly uncomfortable as we learn that Valkyrie sought to drink herself to the grave. The film brings this backstory up so often, and in such a casual way, that it almost loses its gravity. — Henry T. Casey
Credit: Marvel Studios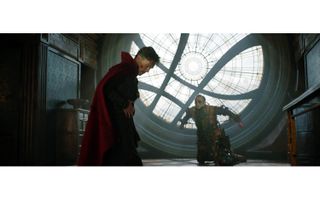 Kaecilius losing to the Cloak of Levitation (Doctor Strange)
From Narcissistic Neurosurgeon to Crystal Wizard Supreme, Doctor Strange gives both Tony Stark and Loki a run for their money in the title of "Most Selfish Origin Story" for the Marvel Universe. Fortunately, that wave of selfish thunder gets stopped by the introduction of The Cloak of Levitation, a sentient and powerful piece of fabric.
In fact, the cloak is so powerful that it holds Doctor Strange's hand (metaphorically speaking) and leads him to the Crimson Bands of Cyttorak during the big confrontation with Kaecilius, a former disciple of The Ancient One and completely bent on bringing the Dark Dimension to Earth. The Crimson Bands of Cyttorak are then promptly used on Kaecilius, putting him in this awkward back-bent position and at the mercy of Doctor Strange and the cloak. The scene garners a few laughs in the process, but leaves us with a very awkward, almost back breaking, result.— Catherine Strachan
Credit: Marvel Studios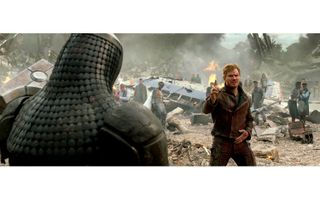 The end of the world dance-off (Guardians of the Galaxy)
Peter "Star-Lord" Quill gets by with his doofy charm, but should that really be enough to defeat a major threat? Well, that's the case in Guardians of the Galaxy when Quill mixes hip-thrusting and a not-great rendition of The Five Stairsteps song "Ooh Child (Things are Gonna Get Easier)" to distract Ronan the Accuser. For good measure, Star-Lord even throws in a running-in-place dance move, and that's enough to distract the Kree villain, while Drax prepares to fire a massive shot. — Henry T. Casey
Credit: Marvel Studios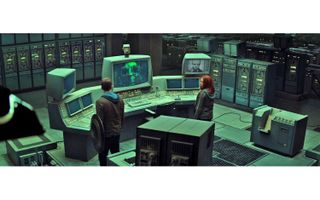 Arnim Zola, the supercomputer Nazi (Captain America: Winter Soldier)
Before we worried about Russia hacking us, Captain America had to stop the grave threat of Nazi AI. That's because Armin Zola, the scientist who brainwashed Bucky Barnes into becoming Hydra's Winter Soldier, found out he was going to die from an unnamed incurable illness and "transferred his mind" onto a computer, so he could live forever as a computer program. That way, he'd be the ultimate mole, and the most despicable malware ever, spying on Shield, and revealing secret agents to the living Hydra agents. Sure, this is a great way to explain away a bunch of Hydra's tricks, but the whole concept of humanity getting transferred into a machine truly tests our ability to believe the impossible. — Henry T. Casey
Credit: Marvel Studios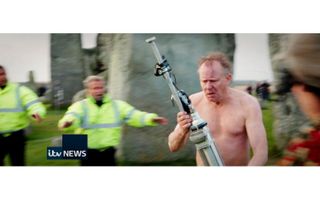 Naked Professor Selvig (Thor: The Dark World)
On the list of Marvel moments I wish I could erase from my memory, the pasty, pixelated posterior of Stellan Skarsgård ranks at the top. Yes, if you, too, repressed this piece of MCU lore, it took a while for Erik Selvig's mind to recover after Loki invaded his mind in the original Avengers. And the second (and worst) Thor movie illustrated this moment with in-movie news footage of the wise astrophysicist running around Stonehenge in the nude. — Henry T. Casey
Credit: Marvel Studios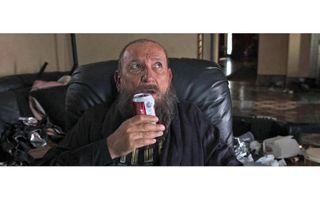 The reveal of Mandarin (Iron Man 3)
Going into Iron Man 3, many expected something awesome and cool of The Mandarin, a classic Iron Man villain. The role was being played by Sir Ben Kingsley, an actor of the highest regard. The movie starts with The Mandarin presented as the leader of the Ten Rings -- a terrorist organization -- but the film eventually pulls back the curtain on Kingsley to reveal a drunk thespian by the bland name of Trevor Slattery, used as cover by the villainous Aldrich Killian (Guy Pearce). — Henry T. Casey
Credit: Marvel Studios
Quill's icky modern art joke (Guardians of the Galaxy)
It's no secret that Peter Quill isn't a clean scoundrel in Guardians of the Galaxy. When Gamora notes that The Milano is "disgusting," Quill pipes up and says, "If I had a blacklight, this would look like a Jackson Pollock painting." We get it, Peter has bodily functions and he likes to get around.
Anyone who takes a modern art history course (or better yet, looks up Jackson Pollock on the internet) would know that the drip technique that Quill is referencing was a meticulous process done in a very clean studio, with a very clean canvas and very clean brushes. In fact, Quill's reference probably has more in common with a forensic-science photo analysis than with modern art. — Catherine Strachan
Credit: Marvel Studios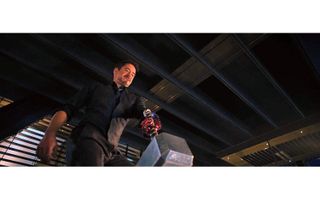 Tony Stark referring to prima nocta (Avengers: Age of Ultron)
One of the best scenes in the MCU, in which the Avengers take turns trying to lift Thor's hammer, is ruined for a split, awkward line. Tony Stark, after asking Thor if successfully wielding the hammer will give him rule of Asgard, says, "I will be reinstituting prima nocta." That's a medieval law giving feudal lords the right to brides on their wedding night. The fun comes back as Captain America and Bruce Banner give it a try (and Stark, again, with his armor), but that one line is shocking and gross. Age of Ultron was host to other bad lines ("Thor! You're bothering me!"), but this one was the worst. — Andrew E. Freedman
Credit: Marvel Studios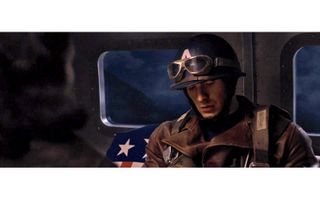 When Steve Rogers thought the term "fondue" was a euphemism. (Captain America: The First Avenger)
Ten years of Marvel movies can make you forget just how naive Steve Rogers was in Captain America: The First Avenger. It's kind of cute, but also kind of cringey. In one scene Steve is trying to flirt with Agent Carter, and when the subject of Howard Stark comes up Peggy mentions that she had fondue with him. Apparently Steve has never been to a fondue party, because his mind immediately correlates the phrase with a relationship of a very intimate nature.
When a romantic conflict emerges between Rogers, Agent Carter and Private Lorraine, it's Howard Stark who comes to the rescue and clarifies to Steve that "Fondue is just cheese and bread, my friend." Out of all of the "Steve is a naive young man" jokes made in the movie, this one is right up there on the cringe meter. — Catherine Strachan
Credit: Marvel Studios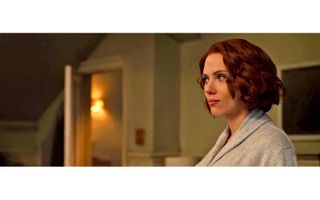 Black Widow defines herself with her infertility (Avengers: Age of Ultron)
Scarlett Johansson's Natasha Romanov — the Black Widow — has always gotten short shrift, as her co-stars got meatier roles and fully-explained backstories. So, when Natasha gets very dark, very quickly — telling Bruce Banner that she's a monster because she can't have kids — it doesn't feel at all earned. And while that phrasing would make us feel uneasy no matter how it drops into the film, it rings all the more hollow because of how lazily the writers have treated her. Maybe if we'd gotten a Black Widow movie, one that gave Johansson the time to flesh out the character more fully, this would have felt less terrible — Henry T. Casey
Credit: Marvel Studios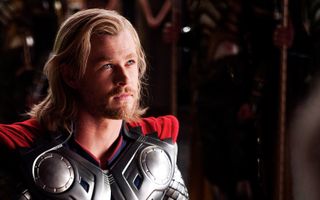 Dyeing Chris Hemsworth's eyebrows blonde (Thor)
Director Kenneth Branagh and the creative team behind the first Thor movie made one decision so bad you can see it on the poster: they made Chris Hemsworth dye his eyebrows blonde. Sure, it went with the hair, but it looked so weird, making Thor look like a doll, not a god. In fact, in an interview with Uproxx, studio head Kevin Feige reflected on 10 years of the Marvel Cinematic Universe and singled that out as a mistake the studio made in a decade of filmmaking. — Andrew E. Freedman
Credit: Zade Rosenthal/Marvel Studios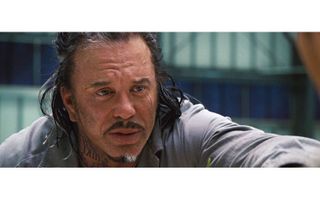 "I want my bird." — Whiplash (Iron Man 2)
Look, it makes sense for people to have pets that they love. But Ivan Vanko's obsession with his bird gets to the point that it gets in the way of his nefarious planning with Justin Hammer. The quote, "I want my bird," in a stiff, vague, Eastern European accent became a bit of a meme in Marvel fandom after the release of Iron Man 2. Whiplash didn't end up just being a mediocre, forgettable villain. He became a quotable one, but not in a nostalgic way. — Andrew E. Freedman
Credit: Marvel Studios