From the moment it was announced, Disney Plus was always going to be popular, and it always had a chance of being one of the best streaming services. That said, anyone who canceled recently couldn't be blamed, as a price hike to keep ad-free Disney Plus will have you questioning the price of access to Disney, Star Wars, Pixar and (most of the) MCU.
Fortunately, Disney Plus has been doing things to make itself more must-have. It's always going to be the place to see the next Marvel movie if you skipped it in theaters, and that $11 monthly price (going up to $14 per month) for ad-free Disney Plus is cheaper than a movie ticket. So, those who want to watch Guardians of the Galaxy Vol. 3 at home? Disney Plus just got it.
More great originals, though, will make Disney Plus a service you stop unsubscribing to after a season finale. Yes, it's the exclusive home of all things Pixar, Marvel (Loki season 2 is incoming) and Star Wars (we're curious how good Ahsoka can be), but some may not always need those archives.
The Disney Plus app is strong with features such as remote Group Watch viewing and support for Apple's SharePlay. It's also incredibly easy to use, for instance listing out the Marvel movies in order by MCU phase for maximum convenience. Plus, it earns points for giving you everything in the highest resolution available, without charging you, unlike Netflix.
A must for families who will keep rewatching all of the best Disney Plus movies, keep reading our Disney Plus review to see if it's right for you.
Disney Plus review: Pricing and availability
Disney Plus costs $10.99 for its current ad-free iteration, which was re-christened Disney Plus Premium. The ad-supported "Disney Plus Basic" is your key to keep the $7.99 per month pricing. And Disney Plus with ads launched with fewer caveats than Netflix with ads. It includes 4K streaming, the full catalogue and multiple simultaneous streams.
Unfortunately, Disney Plus' ad-free tier will go up to $13.99 per month, starting October 12, 2023.
Want to try Disney Plus? Disney Plus free trials are rare. Have beef with Disney over its pricing? Take it up with Disney Plus customer service. That said, even Disney Plus' base price looks even better when you see that the service includes 4K HDR image quality at that price. This is in stark contrast with Netflix, which reserves Ultra HD image resolution for its $19.99 premium plan.
Disney Plus launched in the U.S., Canada and the Netherlands on Nov. 12, 2019, and our friends in the United Kingdom, Germany, France, Italy and Spain gained it on March 24, 2020. Disney Plus is available on all of the best streaming devices, and that will likely never change.
Canada will be getting an ad-supported tier, while new Standard (1080p) and Premium (4K) tiers debut in the U.K.
Disney Plus review: Design
The Disney Plus home page looks and feels a lot like my favorite interface: Apple TV's tvOS home screen, but it isn't exactly as great. Let's start with the delightful: For the main content sections of the app, logos animate when your cursor selects them. That means fireworks fly at the Magic Kingdom behind the Disney logo, stars speed behind Star Wars, the Marvel logo turns into the little page-turning graphic at the start of a MCU movie and clouds of Toy Story's wallpaper float behind the Pixar logo.
Disney Plus' home screen is built on the system that most streaming apps run on, with rows of curated content. Those start with Originals (which include The World According to Jeff Goldblum, Noelle and Forky Asks a Question), Recommended for You (why this includes the live-action Dumbo remake is beyond me), Hit Movies (some people want to rewatch Avatar, and I won't ask why), Trending (Simpsons, at the time of my reviewing, to see how badly the formatting cuts work) and Out of the Vault (classics that Disney wasn't streaming on other platforms or selling either).
That all sits below a giant slideshow reel promoting the big content of the moment — such as The Mandalorian, Encore! and Captain Marvel — and I wish this were more under your control or built around what you've watched or set as your preferences. How do I know it's not? There has been zero reason for the cards for the live-action Lady and the Tramp remake or High School Musical: The Musical: The Series to show up there, but there they are anyway. At $7.99 per month for the ad-free version of the service, though, this is a quibble.
To sort through Disney Plus differently, navigate to the menu on the left, which is where you'll find the option to search, open your Watchlist — tap the plus (+) in a show or movie page to add it — and sections marked Movies, Series (Disney for TV shows), Originals and Settings. It's all fairly self-explanatory, and I like how the Movies and Series sections have subsections, so you can drill down to animated TV shows or Ultra HD movies, for example.
At launch, I found that Disney hadn't nailed the basics when it came to continuing a program you paused or didn't finish. While a Continue Watching row appeared on the home screen early on, it disappeared hours later. Thankfully, Disney got it fixed in the two weeks following launch.
After its launch, I noticed a "resume" button appear on movie pages, such as on Avengers: Endgame. Later, the home screen finally felt complete, as the Continue Watching row came arrived on the home screen.
Later on, Disney Plus added the other feature I wanted: a Restart button next to the Resume button, in case you'd rather start over. For those of us who can't remember where we left off (late night binge-watching can lead to sleepy eyes) it is a helpful addition.
Disney Plus review: Supported devices and simultaneous streams
Disney shot for the moon, aiming for Netflix's level of ubiquity for Disney Plus. The only big issue at the moment, as noted above is no Roku support for Disney Plus Basic, the ad-supported tier.
Overall, though, Disney Plus is available on Roku, Fire TV, Apple TV, Chromecast, PlayStation consoles, Xbox consoles, iPhones, iPads, Android, Fire tablets, Windows 10 and 11 and Smart TVs running Android TV, Samsung Tizen and LG WebOS, as well as those from Hisense and Panasonic.
You can stream Disney Plus content on up to four devices at the same time, which I tested by opening Star Wars Episodes I, II, III and IV (I'm not a masochist, just a lazy counter) at the same time. When I tried to open Empire Strikes Back on another device, I got the error screen saying that I'd reached the service's more-than-adequate limit. Netflix starts with 1 device at a time at its $6.99 for its Basic with Ads and $9.99 Basic packages, bumps you to 2 devices for the $15.49 Standard plan and then gives you 4 devices at the $19.99 Premium tier.
Disney Plus review: Content library
Rome wasn't built in a day, but it's kind of amazing how many movies and shows Disney Plus launched with on Day 1. By our count, the service started with a 652 movies, TV shows, shorts and other pieces of content. Now (as of March 8, 2023), it has 1,888 movies and 832 shows, according to JustWatch.
The only big problem is that Disney does a poor job of adding new movies. Our guide to the new movies on Disney Plus, for example, shows much fewer arrivals than the guides for new movies on Hulu and new movies on Amazon Prime Video.
Since it launched, Disney Plus saw a slow series of event-level arrivals, and not Netflix's steady flurry of content. While The Mandalorian and Hamilton have been hits, WandaVision and Falcon and The Winter Soldier poured in after that, the best shows seem kind of few and far between — but we loved Andor.
That library is so big that Disney made a 3-hour-plus YouTube video to tease the lineup, and that was before the company doubled the number of Marvel movies appearing at launch. And at $6.99, it was a solid value. Now, it's up to $7.99, and going to $10.99 without ads.
To help you make the most of your money, check out our lists for the best Disney Plus movies and the best Disney Plus shows.
Disney Plus review: Original programming
Disney Plus has been a house of the spinoffs for too long, but things are getting better. As we said early on in our The Mandalorian review, there was potential for Disney Plus shows to be great. But then The Book of Boba Fett arrived, one of the first big duds. Secret Invasion didn't exactly impress, either.
There were flashes of brilliance in 2022, though, as She-Hulk and Andor were the two best Disney Plus shows. Right now, though, as we look out to Ahsoka — a series seemingly made just for fans of Star Wars' Clone Wars and Rebels animated series' — we're curious where the next big tentpole show is.
The more we can get like the daring and different Werewolf by Night, the more Disney Plus has a chance at being a great streaming service. Michael Giacchino's special event was a perfect dose of campy monster madness, and the more risks like that the better.
Disney Plus review: Star Wars movies and shows
The Force is certainly strong with Disney Plus. One of the first big surprises I found when cracking open the Disney Plus service was a new 4K with Dolby Vision HDR remaster of the original Star Wars films.
In the time since, Disney's show after show, while its movie-arms are a little slow-moving at the moment. The Mandalorian is beloved, The Book of Boba Fett isn't and then you have the animated stuff such as The Bad Batch.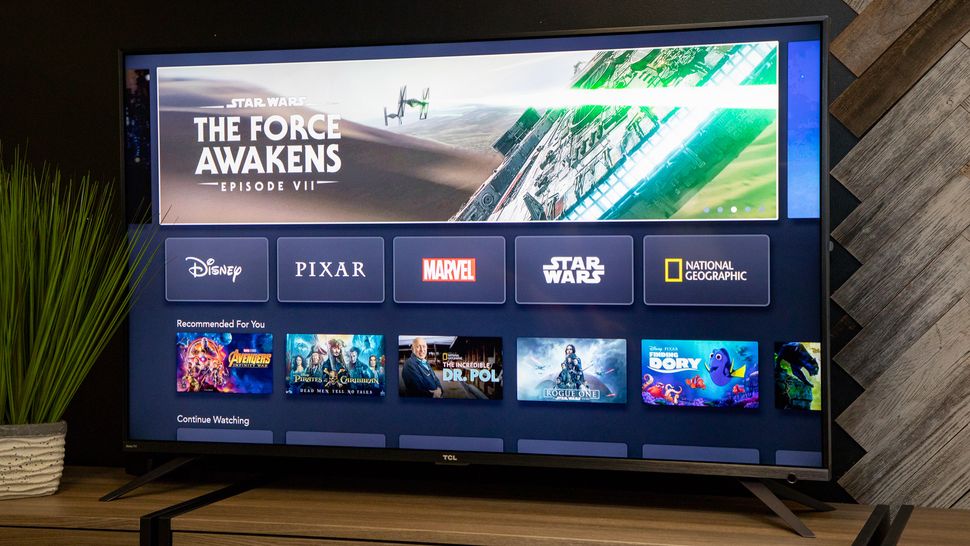 But going back to the films, As I watched Luke Skywalker ride a tauntaun around Hoth at the start of Empire Strikes back, I noticed that the snowflakes sticking to his gear seemed especially detailed. I saw similar fine resolution in the hairs and pores on Han's and Leia's heads and faces, as they awkwardly failed to properly flirt in the Rebel base.
In addition to the original trilogy (Chapters 4, 5 and 6), Disney Plus includes the prequels, the sequel trilogy, Solo and Rogue One: A Star Wars Story. And that might be enough Star Wars content for casual fans like me, but scrolling down that page, you will find The Clone Wars Saga show, Star Wars Rebels, Star Wars Resistance and multiple Lego Star Wars shows, including Droid Tales and All-Stars.
There's even a 2-hour documentary (from 2004), Empire of Dreams: The Story of The Star Wars Trilogy. That's probably old hat to some, but it was a welcome discovery for me. Circle Star Wars: Tales of the Jedi release date: October 26 for more Ashoka and Dooku (and even Yaddle).
Disney Plus review: Marvel Cinematic Universe
You can watch nearly all of the Marvel movies in order on Disney Plus. The only issues right now are that only one of the Tom Holland Spider-Man movies (Homecoming) is here, and The Incredible Hulk with Edward Norton is missing.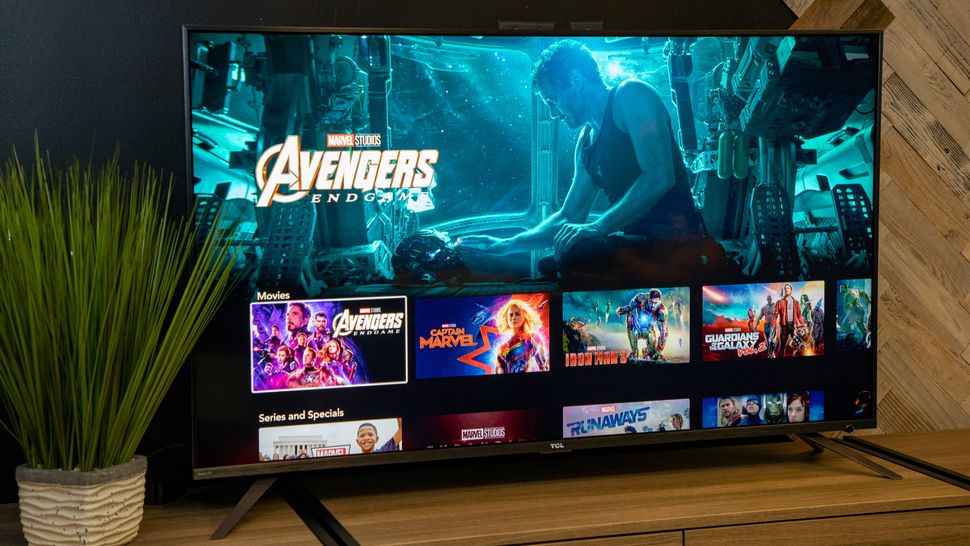 That means Disney Plus, packs the Captain America trilogy. So that means you get all the Cap you could ask for, including the giant airport clash of Civil War, the inarguable excellence of The Winter Soldier and the uplifting origin story of The First Avenger.
Of course, because corporations fight like children, we're still waiting on the other two of Holland's Spider-Man movies. Those are stuck with Sony, which has spread them across the internet.
Disney Plus review: Parental controls
Originally, Disney Plus had laughable parental controls. But then when it added Logan and the Deadpool movies, it was pushed to add serious parental controls.
Now, we've got a whole walkthrough for Disney Plus parental controls, which you'll need to keep junior away from Mr. Pool's raunchy jokes and Wolverine's violent ends.
Disney Plus review: Bottom line
Is Disney Plus worth it? If you've been curious about the service, the answer is probably yes. Disney Plus is already ironing out initial bugs, and the service feels pretty complete given the hallmark franchises all under one umbrella.
At $6.99, Disney Plus began as a practically priced service. But, with its incoming $13.99 price hike, we're less sure. But for now, Disney Plus has met the hype.