It's never a bad time to watch the Mission: Impossible movies online. The seventh film, Mission: Impossible Dead Reckoning Part One, is due in theaters on July 12th, but don't think this is the beginning of the end for Tom Cruise's Ethan Hunt.
Dead Reckoning is seemingly going to tie-up some loose threads, though, as agent Hunt encounters a familiar face in Eugene Kittridge (Henry Czerny). Kittridge appears to be on the wrong side (i.e. not Hunt's) of morality this time, and we're curious what he's been up to since Ethan kept evading him earlier in this series.
The good news is that anyone with a Paramount Plus subscription, at least for the moment, will be able to watch Hunt's adventures — at least right now. Those who want to own them outright have other options, including buying the six currently-released movies on 4K Blu-rays from Amazon.
How to watch the Mission: Impossible movies in order
How to watch Mission: Impossible online
Impossible Mission Force (IMF) team member Ethan Hunt (Cruise) is the sole survivor of a mission in Prague where the CIA NOC list, which has the names and identities of every agent, is stolen. IMF director Eugene Kittridge (Czerny) believes Hunt is a mole responsible for the failed mission, pushing Hunt to (memorably) blow up the restaurant they're in with chewing gum, and escape to prove his innocence.
Mission: Impossible was the reboot that jump-started the series, and is most memorable for the vault heist scene where Cruise is suspended in the air on cables. Its plot may be a bit convoluted, but its action is solid.
Director: Brian De Palma
Stars: Tom Cruise, Jon Voight, Emmanuelle Béart, Henry Czerny, Ving Rhames, Kristin Scott Thomas, Vanessa Redgrave, Jean Reno
Watch on Paramount Plus
Buy or rent digitally on Amazon
How to watch Mission: Impossible 2 online
Ethan Hunt is back in action in Mission: Impossible 2, starting with a shot where he was hanging from the side of the Grand Canyon. Because, you know, Tom Cruise is always going to Tom Cruise. This chapter of the M:I series is all about a plot to threaten the world with a biological weapon known as the Chimera virus, and how IMF agent Sean Ambrose (Scott) has gone rogue and has its cure.
Not exactly anybody's favorite chapter of the Mission: Impossible series, as it spends a lot of time on a potential romance between Hunt and Nyah Nordoff-Hall (Newton), Ambrose's ex who becomes wrapped up in the Chimera chaos. Still, M:I 2 offers thrilling action ... and that odd take on the Mission: Impossible theme song from Limp Bizkit.
Director: John Woo
Stars: Tom Cruise, Dougray Scott, Thandiwe Newton, Richard Roxburgh, John Polson, Brendan Gleeson, Rade Sherbedgia, Ving Rhames
Watch on Paramount Plus
Buy or rent digitally on Amazon
How to watch Mission: Impossible III online
The current 'era' of Mission: Impossible movies truly kicked off in its third edition, as that's when we finally met Benji (Pegg), who helped complete the team of Hunt (Cruise) and Luther (Rhames). It begins with a standard action trope: Ethan's pulled himself out of the IMF work, and lives a normal life with Julia (Monaghan), a nurse.
Unfortunately, Hunt's forced back into action when one of his trainees (Russell) is held captive. This begins Ethan's dance with the big question of "can I live outside of the action?" All while he has to stop the maniacal arms dealer (Hoffman).
Director: J.J. Abrams
Stars: Tom Cruise, Ving Rhames, Philip Seymour Hoffman, Michelle Monaghan, Maggie Q, Jonathan Rhys Meyers, Billy Crudup, Keri Russell, Simon Pegg, Laurence Fishburne
Watch on Paramount Plus
Buy or rent digitally on Amazon
How to watch Mission: Impossible - Ghost Protocol online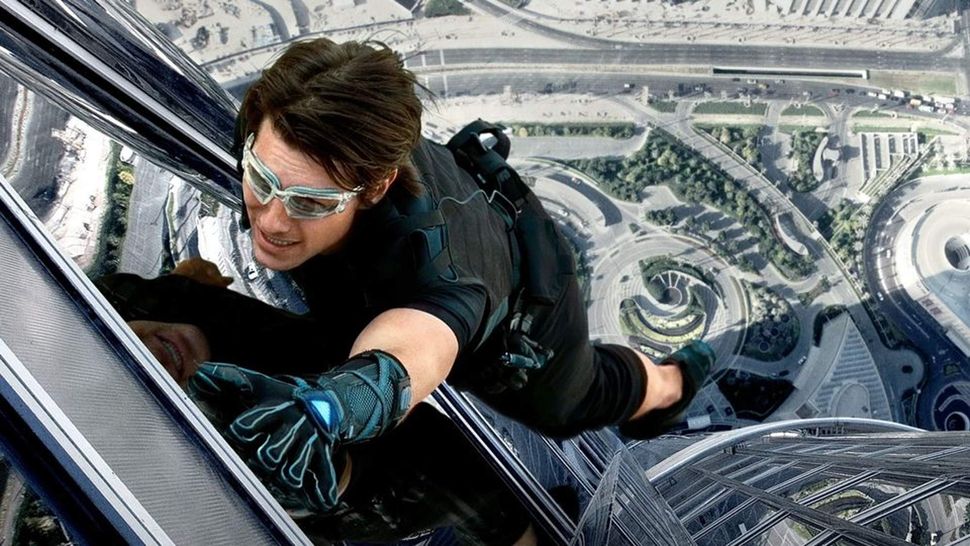 If you thought Tom Cruise had been doing wild stunts in the previous Mission: Impossible movies, you were probably shocked by 'Ghost Protocol.' The fourth chapter sees Hunt scale the side of the massive Burj Khalifa tower in Dubai, among other major moments.
One of the more critically-respected Mission: Impossible movies, Ghost Protocol impressed with its fantastic set-piece action scenes. It also recognized the need to scale back the drama surrounding Hunt's personal life.
Director: Brad Bird
Stars: Tom Cruise, Jeremy Renner, Simon Pegg, Paula Patton, Léa Seydoux, Josh Holloway
Watch on Paramount Plus
Buy or rent digitally on Amazon
How to watch Mission: Impossible – Rogue Nation online
The third and current era of Mission: Impossible movies, those from writer/director Christopher McQuarrie kicked off with Rogue Nation. Here, Hunt is a man without a home team, as an attack from Ghost Protocol leads the government to shut the IGM down and jam it into the CIA. This chapter also introduces the treacherous Syndicate organization, teased at the end of the previous film.
Rogue Nation may have earned slightly less at the box office than Ghost Protocol did, but critics loved it even more. The action got better, and it's said that McQuarrie understood how to draw the best elements of past Mission: Impossible chapters into his own.
Director: Christopher McQuarrie
Stars: Tom Cruise, Jeremy Renner, Simon Pegg, Ving Rhames, Rebecca Ferguson, Sean Harris, Alec Baldwin
Watch on Paramount Plus
Buy or rent digitally on Amazon
How to watch Mission: Impossible — Fallout online
Possibly best remembered for a kinetic fight scene in a bathroom between Hunt and Special Activities Division agent August Walker (Henry Cavill), 'Fallout' is yours truly's favorite chapter since the first. Here, Ethan is up against the former Syndicate agents calling themselves the 'Apostles' who have stolen plutonium cores for use in nuclear bombs.
Fallout is one of Cruise's statement films, where he basically told the world he'll be the action hero that's arguably dying out in this age of too-much-CGI and superhero movies.
Director: Christopher McQuarrie
Stars: Tom Cruise, Henry Cavill, Ving Rhames, Simon Pegg, Rebecca Ferguson, Sean Harris, Angela Bassett, Michelle Monaghan, Alec Baldwin
Watch on Paramount Plus
Buy or rent digitally on Amazon
More from Tom's Guide