Creating a new website is much easier when using the best website builders. Whether you're planning to launch a new online business, or strengthening your business's existing web presence, there are plenty of options available to you.
In this market, the best builders are beginner-friendly, allowing even the less technically-minded to create sites without detailed coding knowledge. These services also allow you get your new site up and online quickly—often within only a few hours—and offer suites of striking templates to help create memorable, appealing webpages.
Coming in a variety of formats and covering a range of capabilities, certain website builders can offer more to those with operational knowledge, while also offering unique features to give sites the edge over the competition. Some are focused on ecommerce or blogs, while others work well across multiple use areas. The key thing to remember is that when choosing from the top website builders, factors including purpose, ease of use, scalability, and support should be at the front of your mind.
Taking an alternative approach—such as signing up with one of the best web hosting services, or selecting one of the best WordPress hosting platforms—can be overly complex without the requisite technical knowledge, and neither of these options is recommended for beginners.
In this guide, we've outlined the best website builders, discussing their main features, prices, and other important factors across multiple use cases.
The top 3 best website builders right now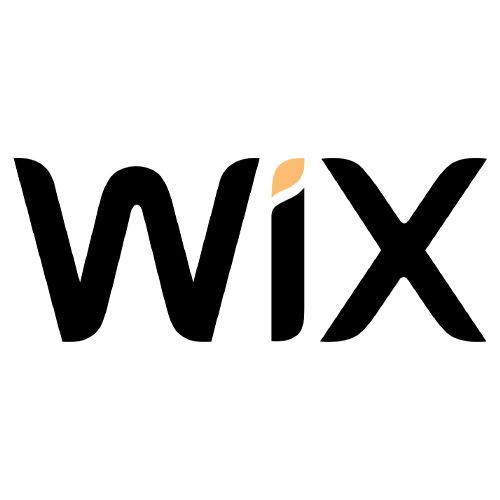 1. Wix: the best all-round choice
As our choice for the best website builder catering for all needs, Wix has hundreds of templates, a flexible editor, and a user-friendly drag-and-drop interface, packaged within fairly-priced plans. The full website builder is included with the free package, each plan has a 14-day money-back guarantee, and upgrades provide an ad-free experience plus a raft of extra features.

View Deal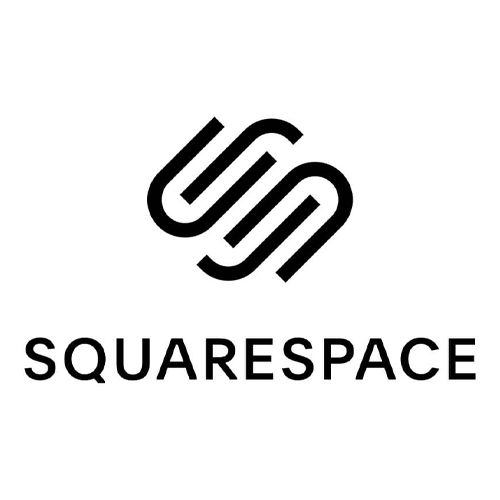 2. Squarespace: the one for creative businesses
Any business can use Squarespace, but we found it to be particularly suitable for creatives. With over 500 professionally-designed templates available, alongside plenty of options for customisation, the builder also provides designs for ecommerce sites, portfolios, blogs, and company websites.
View Deal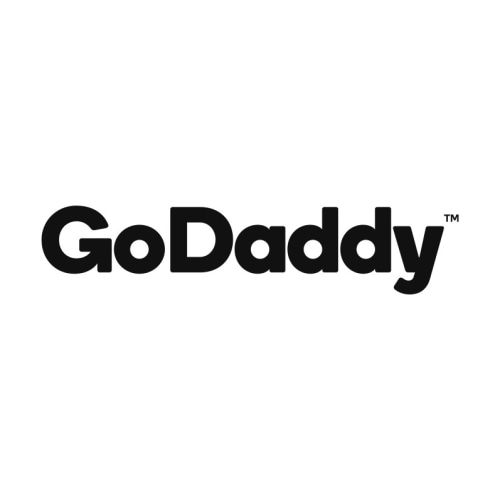 3. GoDaddy: user-friendly builder with excellent support
GoDaddy's website builder, packaged with its web hosting services, is simple and easy to use. Compatibility and improved security come as part of the package, while other features include excellent support and powerful analytics, and its drag-and-drop interface allows for personalization.
View Deal
What are the best website builders?
Wix is the best all-round website builder, offering the largest collection of pre-designed templates, a built-in image editor, drag-and-drop customization, the ability to connect with external apps, and functional artificial intelligence technology. Its quite reasonable prices, and its free domain registration and advertising credit for premium customers, complete the package and give it the top spot.
Squarespace and GoDaddy follow closely behind. Squarespace's highly intuitive builder features excellently designed, responsive templates, and while it costs more than Wix, its features and output are worth the price. GoDaddy's website builder offers a user-friendly, in-house optimized creator, equipped with strong support, analytics and own-brand apps.
Ecommerce titans Shopify and Weebly also figure highly, while various other web hosting services providing website building, including 1&1 IONOS and HostGator, feature alongside online business productivity suite Zoho's own builder. Learn more about each platform's features, and what we thought of them, in our comprehensive guide below.
The best website builders you can buy today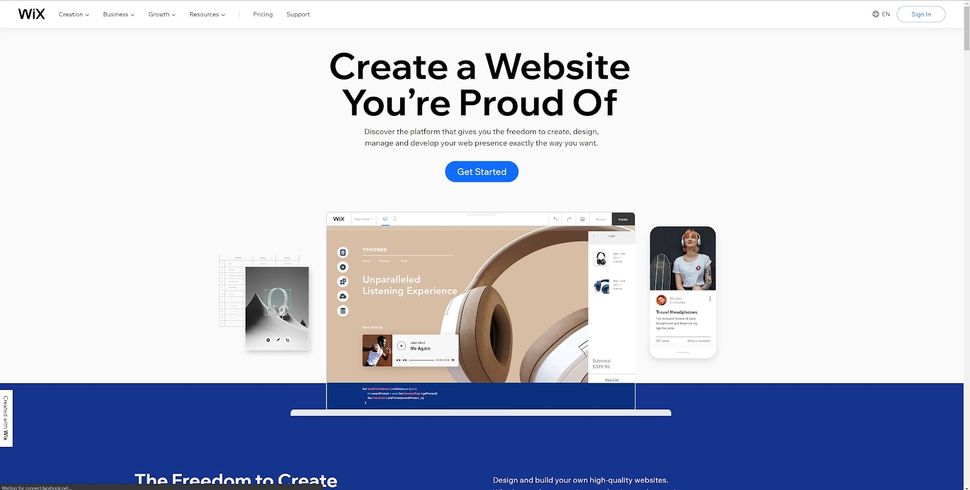 Wix is rightly touted as one of the best website builders in the world. With over 500 attractive templates, an extremely powerful editor, and various other features, it brings plenty to the table. In particular, its Wix Editor stands out as arguably the most advanced available.
The drag-and-drop interface enables you to place website elements in pixel-perfect positions. Personalizing colors, fonts, and other content is extremely straightforward, and your design will really only be limited by your imagination. You can also use the Wix ADI (Artificial Design Intelligence) should you want a more straightforward website building experience.
After answering a few quick questions, Wix will select a custom template, which you can populate with content and publish online in just hours. Should you want to make changes outside of the template model, Wix offers Velo Dev Mode too, which allows you to add features that would have previously required a developer to program, including custom forms, dynamic pages, and databases.
Furthermore, Wix also provides ecommerce tools for those looking to create an online store. You'll find virtually everything you need to get started, including powerful inventory management tools, multi-channel selling, and subscription and digital product support.
Unfortunately, Wix is a little expensive. While its pricing plans start with the cheapest Connect Domain plan at $5 a month, this is limited to just 1GB of bandwidth and 500MB of storage. The Combo plan ($14) comes with a free domain for the first year, 3GB of storage, and 2GB of bandwidth.
Upgrade to an Unlimited ($18 a month), Pro ($23 a month), or VIP ($39 a month) subscription for more server resources and additional tools and resources. Finally, to access even more business and online store features, there are three Business and Ecommerce plans (ranging from $23 to $49 a month).
You can read our detailed Wix review to learn more about what we thought of the website builder.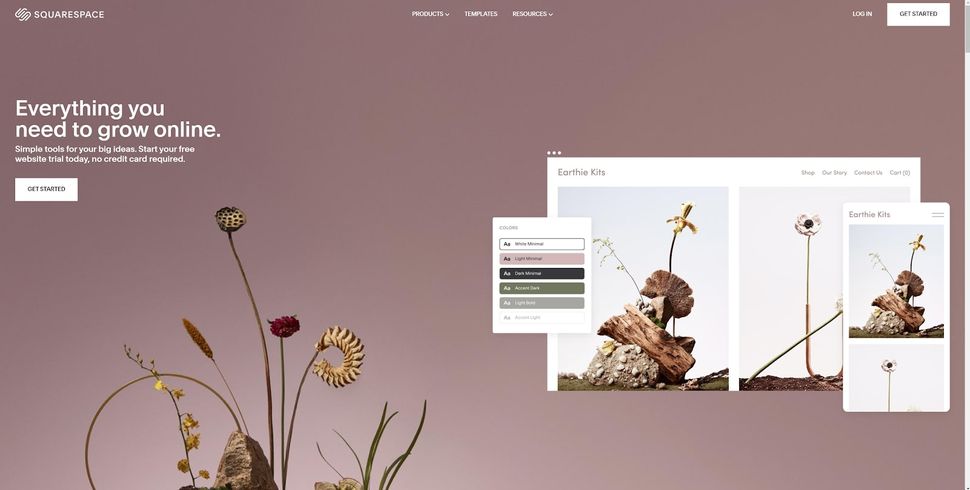 Squarespace is known for its extremely attractive, professionally designed templates, and although its library is quite small compared to Wix, the designs tend to be visually appealing, as well as specifically targeted.
Another standout is its excellent blogging features, such as adding multiple authors, scheduling posts, and creating content from mobile devices, while many templates are targeted at users looking to create a blog. Among other impressive features include Squarespace's ecommerce integrations, search engine optimization tools, and advanced analytics portal.
However, Squarespace's editor could certainly be better. It can be quite confusing to use and to navigate, especially for beginners, and even we have trouble from time to time, despite having used it numerous times before. On the cost side, there also isn't any free forever plan available.
Despite this, each of the four paid plans comes with a 14-day free trial, as well as a free domain for the first year, unmetered bandwidth and storage, built-in SSL (secure sockets layer) security, and more. Prices range from $12 a month for an annual Personal subscription to $40 a month with the Advanced Commerce plan.
Read our full Squarespace review for more information.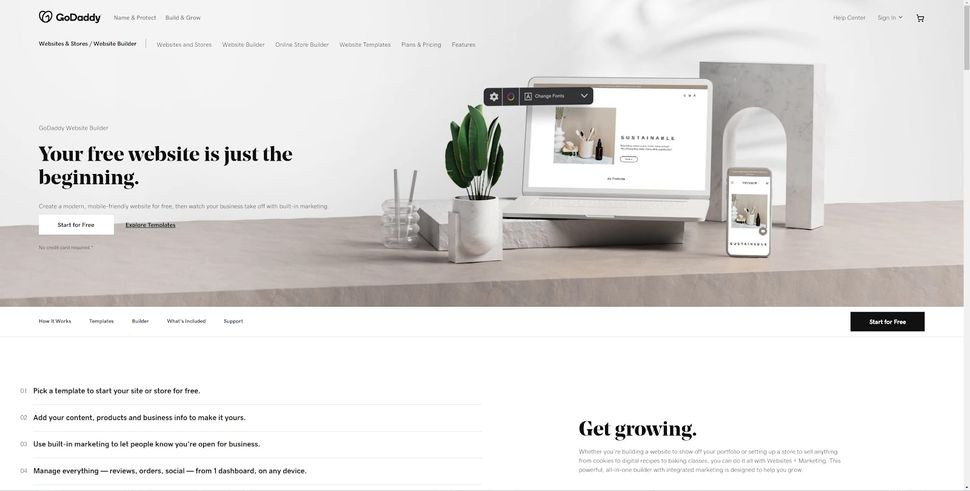 GoDaddy has a built-in website creator that ships alongside its hosting services. The builder is simple and easy to use, with no third-party app market or add-ons to choose from. While that may be a disappointment for some, others will appreciate the lack of clutter.
The website builder boasts excellent support and powerful analytics, two must-have essentials for any growing website. While it's a little barebones compared to competitors, this streamlined approach means novices can focus on the important things.
The GoDaddy builder's decent drag-and-drop interface lets you configure your site to your liking, as well as pre-built templates to choose from if you want to get started quickly. There are extensive tutorials available for new users, as well as a live chat support system for technical problems.
While GoDaddy doesn't offer an app market, this means all features are built in-house, ensuring complete compatibility and greater security. It's also worth noting that the base plan doesn't include marketing or analytics—those are paid add-ons that require a separate plan.
Read our full GoDaddy website builder review to see what we made of the builder.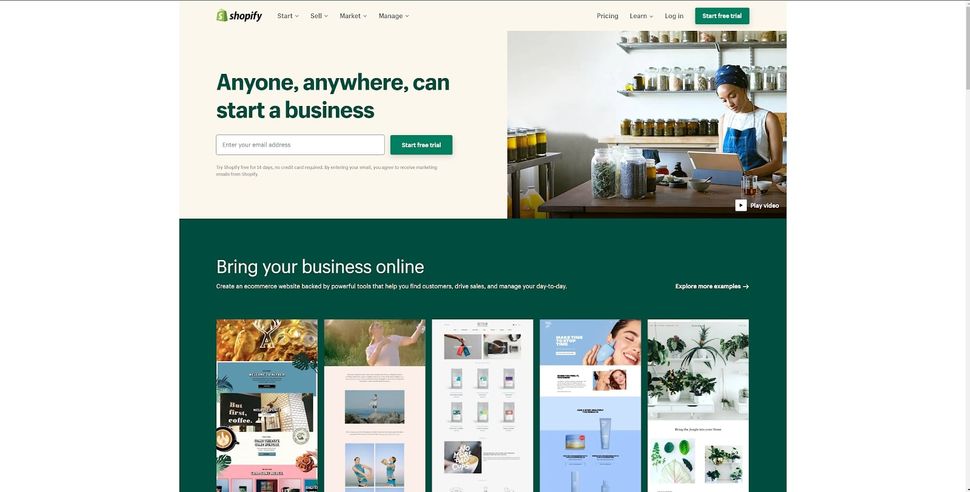 Empowering over a million merchants in 175 countries, Shopify is the ultimate ecommerce platform. While you can expect some ecommerce features from builders such as Wix and Weebly, these pale in comparison to Shopify's.
Its builder helps you create an online store in a matter of minutes. You get to take advantage of an extensive collection of third-party apps, which add new features and functionality. This helps the builder stay clutter-free, while allowing you to opt for the specific features your online store requires.
Excellent additional elements that come with the platform include a built-in shopping cart and checkout manager, and marketing and security tools. With cybersecurity one of the biggest concerns for online shopping, Shopify is Level 1 PCI DSS (Payment Card Industry Data Security Standard) compliant, meaning it is extremely safe for you and your customers.
If you're looking to build a traditional website or blog however, you are out of luck. In turn, while excellent for small businesses, larger ecommerce stores may want to look to more dedicated solutions like WooCommerce or BigCommerce. A 2.4% to 2.6% transaction fee is applicable on each purchase made too, which might be a turn-off for some.
You can read our full Shopify review to learn more about the platform.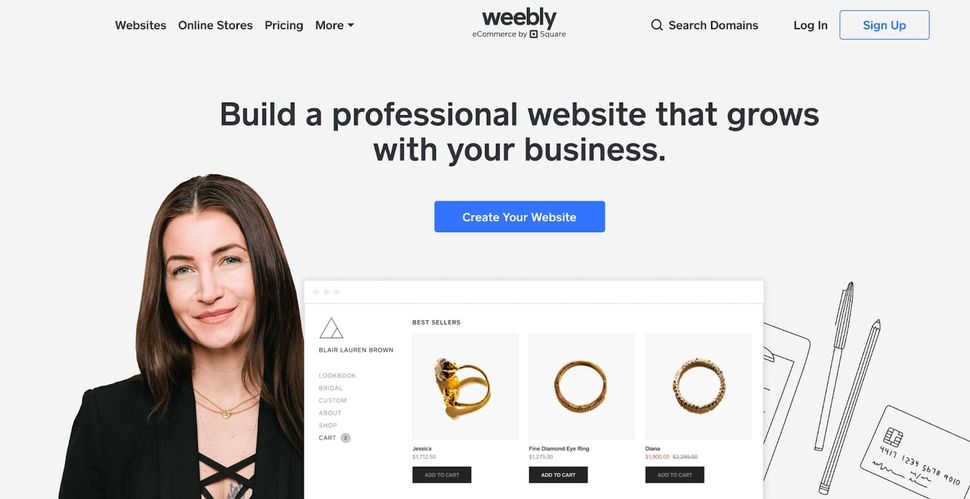 Alongside Wix, Weebly is probably the most widely recognized name in the website building space. It provides a range of site creation tools, and has become known for its extremely attractive templates and excellent ecommerce elements, the latter thanks to its acqusition by Square.
Ecommerce is probably Weebly's largest selling point, with much of its website dedicated to creating an online store. A large percentage of available designs include some sort of store, which means that getting started can be as easy as adding content and hitting publish.
Unfortunately, though, Weebly's editor is a little limited. It uses a drag-and-drop interface, but you can only move elements into pre-coded positions. But if you're not too fussy about pixel-perfect editing, this will help keep things simple.
The free forever plan enables you to create a website and online store, but you won't be able to connect your own domain. The cheapest Personal plan (from $6 a month) adds custom domain support and more advanced ecommerce tools, while both the Professional ($12 a month) and the Performance ($26 a month) plans offer even more powerful tools. Read our full Weebly website builder review.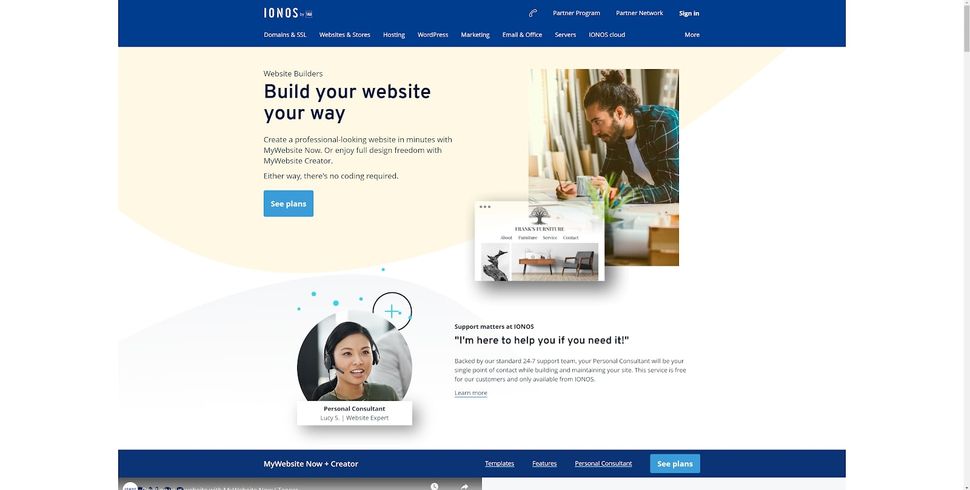 1&1 IONOS is one of the largest web hosting providers in Europe, currently hosting 20 million websites, and its website builder features an array of templates and great functionalities for businesses of all sizes.
Its huge collection of themes are categorized neatly by industry and genre, so whether you are a real-estate developer or a travel agency, you're bound to find something for your needs. The built-in targeted content system even allows you to display specific messages to specific visitor demographics.
Using this builder requires absolutely no coding knowledge—the drag-and-drop site editor allows you to make any changes you need. For $7 a month and $13 a month, you get to choose between two yearly plans: MyWebsite Now and MyWebsite Creator. While the former comes with a free domain name and email address, the latter offers more advanced customizability for pro users.
The drawback is the lack of a free plan, although a paid trial is available for new users for one month. Another thing worth considering is that some themes may not be responsive to screen size. Read our full 1&1 IONOS MyWebsite website builder review to find out more.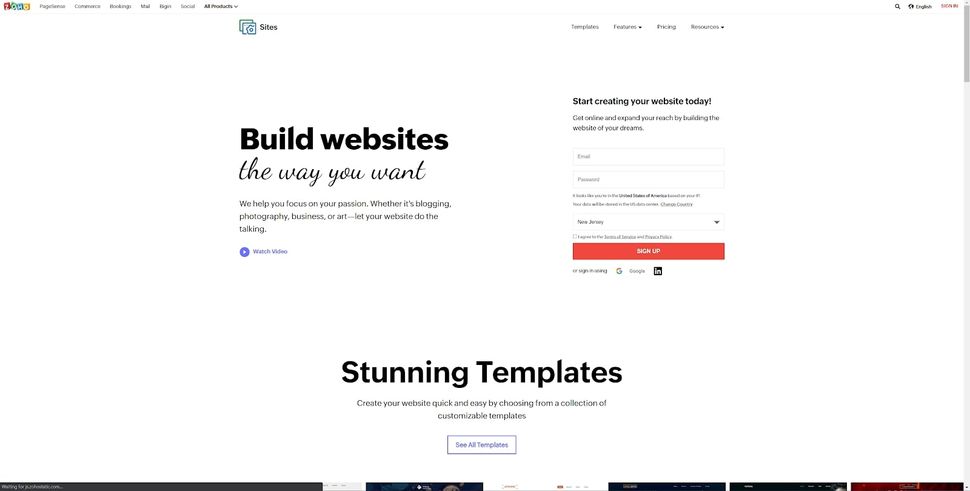 Zoho is famous for its all-in-one productivity suite, much like Microsoft 365, and its website builder—Zoho Sites—is efficient and powerful, with over 190 templates and a code editor for those with the knowledge to get stuck in behind the scenes.
The interface is surprisingly user-friendly, and therefore easy for newbies to access. There's also a good deal of in-house add-ons for marketing and customer management, which businesses will appreciate.
While there's no forever free plan, the subscription tiers are reasonably priced, with a lot of scope for scaling via paid add-ons that can be purchased as your site expands. You can also take advantage of the entire productivity suite, including project management and database creation software.
Unfortunately, there are a few downsides, especially when it comes to compatibility, as there isn't a lot of support for third-party applications. Thankfully, Zoho's suite of office applications is able to plug many of these holes with equally good alternative options. Read our Zoho Sites review for more information.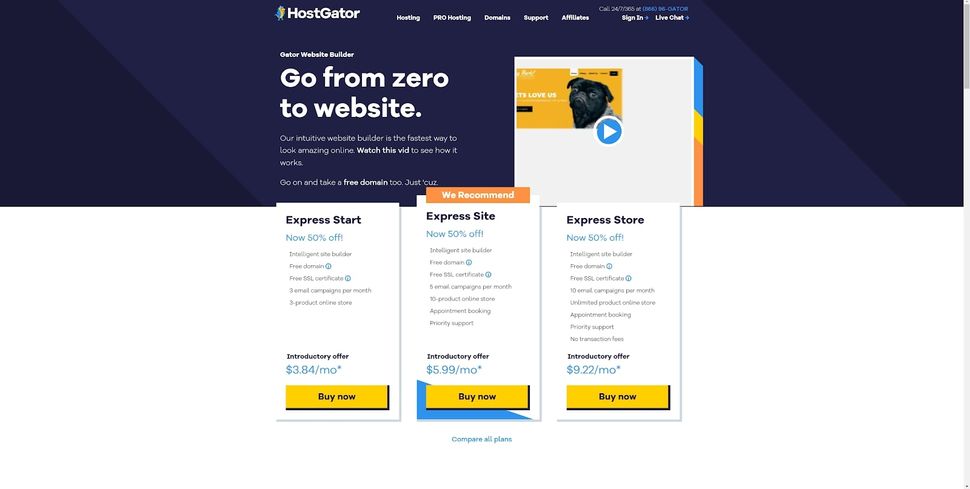 HostGator is a popular web hosting service, and its Gator Website Builder uses a drag-and-drop interface to help generate simple websites. You can easily combine columns, text boxes, images, videos and other simple elements to create mobile-friendly websites.
There are more than 200 templates to choose from, with each one completely customizable and allowing for endless personalization. There's a built-in library of stock photographs included too, as well as a series of video tutorials if you need a step-by-step guide.
Premium customer support via phone and chat comes with the hosting plan, while free analytics are also available, which will be particularly useful for smaller businesses. Advanced users, conversely, may find the lack of specialized tools irritating. There are no dedicated email marketing tools, while blogging tools are relatively basic.
Ultimately, Gator Website Builder is a good choice for small businesses, but not for bigger companies. To learn more about HostGator's products and services in the hosting space, read our HostGator review.
---
What is a website builder?

A website builder is any platform offering end-to-end website creation. Most come with a selection of templates you can base your site on, a visual editor, and extra tools for advanced functions.
Most are extremely beginner-friendly, generally providing a drag-and-drop website builder interface. This means using them requires no prior coding or technical experience, and makes them a great option for those wanting to create a simple site with minimal fuss.
Some offer significantly more design flexibility than others, and can even provide coding access for advanced users and editing.
What's the difference between a website builder and web hosting?

Traditionally, web developers had to create code for a new website from scratch. This would then be uploaded to a web host's servers, from where it would be delivered to visitors. The same basic principles still apply, and many high-end websites are still built from the ground up.
Fortunately, the vast majority of website builders offer all-in-one website creation solutions that simplify things significantly. They come with various site creation tools, an editor of sorts, and web hosting included.
WordPress vs website builders: which is better?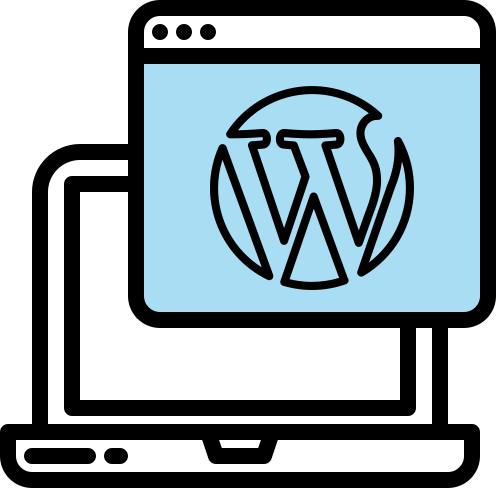 WordPress and website builders help design, create, and publish a new site. Builders generally offer all-in-one site creation solutions, with technical management, web hosting, security and often a domain included in the price. All you need to worry about is designing and maintaining your site.
Most require no coding knowledge, and are designed to be used by those with limited technical knowledge. They generally offer the fastest option, making them ideal for those wanting a simple online presence quickly and cheaply.
WordPress can't be used without a third-party web hosting provider, as it's an open-source content management system (CMS) designed to help create and manage your own site. It provides more technical freedom than most builders, as it effectively gives you control over every aspect.
In general, however, you should use a website builder if you're thinking about putting together your own site. To learn more about the differences between web hosting, website builders, and WordPress, read our feature pitting Web hosting vs WordPress vs website builders.
How to choose the best website builder for you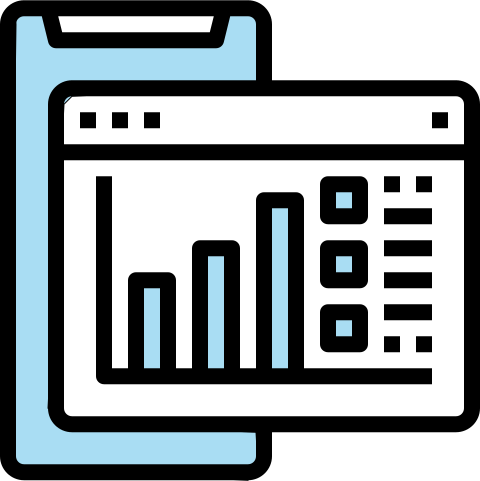 Choosing one of the best website builders can be hard, especially with so many factors to consider. The most important thing to bear in mind is the learning curve. Most people opt for website builders because CMSs are too complex or time-intensive for them to use.
With a builder, you can efficiently launch your site, blog, or ecommerce store in moments. The best website builders aren't too difficult to use, and help users create stunning sites in minutes. It won't do to compromise quality for ease of use, which is why the ideal builder will feature a strong collection of templates and a powerful drag-and-drop editor.
After-sales support is key, as non-technical business owners might find it particularly difficult to diagnose issues. You should look for good live chat and phone support, which will help ensure you'll be able to bounce back quickly if there's an issue.
Ultimately, you have to consider the specific nature of your business and industry, then decide which of the providers are the best website builders for the type of site you're looking to create.
Which online website builder is best?
Wix is our pick of the best website builders available. It's extremely popular, has a huge template library with over 500 designs, and offers excellent design flexibility.
On top of this, new users have the choice of the Wix Editor or the Wix ADI building interfaces. Creating a website with the ADI builder is extremely straightforward, enabling users to get online in a couple of hours. The Wix Editor is a little more complex, but offers some of the best drag-and-drop customizability in the industry.
What is the best cheap website builder?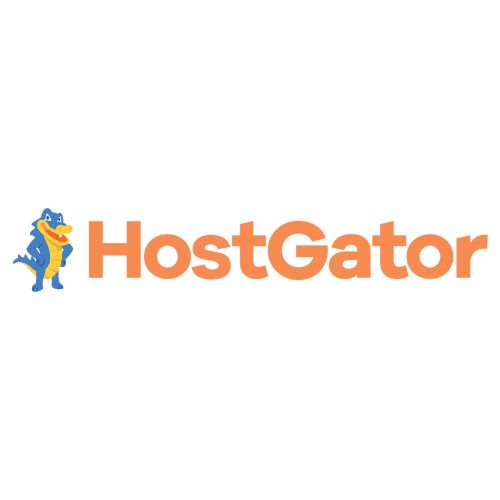 The best cheap website builder is HostGator's Gator Builder. Backed by one of the world's most popular web hosting services, it offers some of the best design flexibility we've seen, and starts at a very affordable $3.84 a month.
In addition, the Gator Builder includes basic ecommerce tools, a great stock photo library, and a suite of helpful tutorials designed for beginners creating their first site. Unmetered bandwidth and unlimited storage are available with all plans, although the lack of specialized features limits its usefulness for larger businesses.
Our best cheap website builder deals are regularly updated with the best value deals available across the sector too—make sure you take a look.
What to think about when selecting a website builder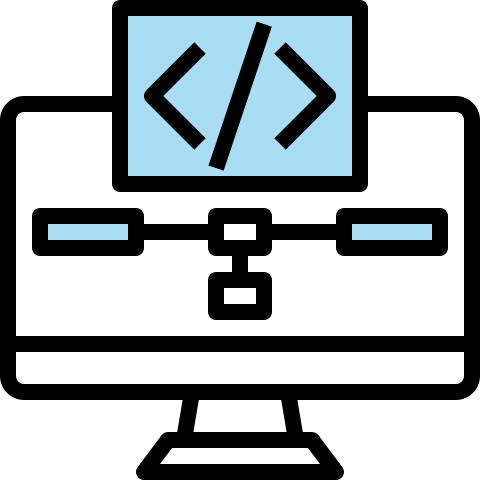 Of the countless website builders available, many focus on ecommerce; others prioritize marketing; and some make ease-of-use and simplicity their selling points. Selecting the right option can be hard, though, especially if you're a novice.
Before you even consider your options, we recommend sitting down and developing a clear plan of what your site is going to look like, what it needs to do, and how much you're willing to spend. Once you've done this, it's time to begin shortlisting platforms.
Most builders offer some sort of free trial or free-forever plan, which makes it quite easy to test them out. Pay careful attention to the tools included: if you want to build an online store, make sure the builders you're looking at offer strong ecommerce support.
Similarly, those who want to create a portfolio site should pay attention to the templates offered, ensuring there's something that meets their needs. You should also test the editor to be sure it's not too complicated or overly simplistic. Consider mobile versus desktop editing, prices and subscription terms, and customer service to make sure you're getting a good deal.
Once again, don't hesitate to take advantage of free trials and free-forever plans to ensure you're choosing the best website builder for your needs. You can also read our comparison articles, which compare different builders to one another in terms of features, pricing, and much more:
Should I use a free website builder?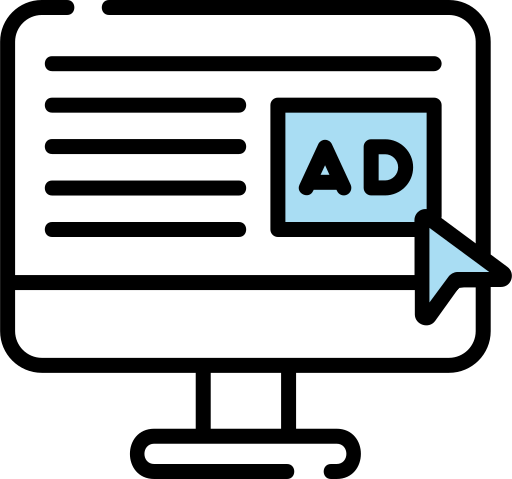 For many, a free website builder will be more than good enough. But for others, a premium subscription will be required to unlock the tools and server resources needed. Wix's free-forever plan, for example, provides access to the entire website builder, enabling you to create a simple site without spending a cent.
However, it has its limitations. You will have to put up with Wix's advertising on your website, you won't be able to connect a custom domain name, and you'll have severely restricted storage and bandwidth.
A premium subscription from one of the best website builders will unlock elements such as ecommerce or online marketing tools, making it easier to develop a strong digital presence.
The bottom line: a free website builder will often be good enough for small personal projects, but business users should seriously consider paying for a premium subscription. If you want to learn more about which option might be best for what you need, read our comparison of free website builders vs paid.