Update: Check out our Apple Event live blog for the latest from Cupertino on the iPhone 15, iPhone 15 Pro Max, Apple Watch Series 9 and more.
The 2023 Apple September event is just hours away today, September 12, where Apple is expected to launch the iPhone 15 and iPhone 15 Pro.
We also anticipate the Apple Watch Series 9, the Apple Watch Ultra 2 and possibly a new iPad mini 7. But all eyes will be on the iPhone 15 Pro Max — complete with a powerful new periscope zoom. Bloomberg's Mark Gurman hints that Apple is set to announce these new products at its upcoming event.
Here's everything we know about the upcoming Apple September event and the top rumors about the devices that could take the stage.
Apple event latest news: Updated Sept 12
What is the Apple September event date?
The Apple September event is happening today, September 12 at Apple Park in Cupertino, California. It gets started at 11 am PT / 1 pm ET / 6 pm BST, and we'll be there live to bring you all the big announcements. The title of the Apple September event is Wonderlust.
As with previous Apple events, you should be able to live stream the event on YouTube, Apple.com and on Apple TV. For more, see our guide on how to watch the Apple event.
Apple September event: iPhone 15
The Apple September event's headliner is the iPhone. This year, we're anticipating the launch of iPhone 15 and iPhone 15 Pro handsets. Current rumors suggest that the iPhone 15 will inherit several features from the iPhone 14 Pro, including a 48MP camera and Dynamic Island (though the Pros will get slimmer display bezels too).
Meanwhile, the iPhone 15 Pro is expected to upgrade to the A17 Bionic chip (apparently much more powerful than the previous-gen Apple chips) , and may or may not upgrade the device to 8GB of RAM, resulting in an unfortunate price hike (which keeps getting backed up by more and more sources) but hopefully faster performance overall.
The iPhone 15 Pro and iPhone 15 Pro Max (supposedly not the iPhone 15 Ultra as previously rumored) will also apparently feature a titanium design and Action Button (seemingly backed up in iOS 17's code), too. This new button will replace the mute switch and offer users a choice of functions instead of just whether your notifications chime or not.
All iPhone 15 models are believed to be making the switch to USB-C, ditching the longstanding Lightning port and potentially upping the charging speed to 35W — though we have reason to believe Apple could spoil this transition by limiting cables that it hasn't personally certified and keeping power and data transfer speeds on the slow side. A recent specs leak could also detail everything we should expect from the phones.
On a more positive note, 15W wireless charging could be made available to any Qi2 compatible charger, rather than just Apple MagSafe-certified models.
The devices will also all ship with iOS 17, the newest version of the iPhone's software. You can read more about that in our dedicated iOS 17 guide, which includes details about the iOS 17 public beta.
We'd expect the iPhone 15 models to all go on sale with a week or two of their debut, in a variety of colors (possibly including orange for the basic models and dark blue and Titan Gray for the Pros). But there could be a delay for the Pro Max's retail launch unfortunately.
It's also rumored that there may not be any silicone accessories offered by Apple for its new phones. Supposedly Apple's aiming to use more eco-friendly materials for its cases and other peripherals going forward.
Apple September event: Apple Watch Series 9
The other product we're fairly confident we'll see at the Apple September event is the Apple Watch Series 9. Information about the next-generation Apple Watch has been limited, so we're not sure what improvements we'll see over the Apple Watch Series 8 just yet.
Since there doesn't seem to be an Apple Watch Ultra 2 planned for this year, it's possible the Apple Watch 9 could get some hand-me-down features from the Apple Watch Ultra. Apple is also reportedly working on blood sugar and blood pressure sensors for the Apple Watch, but there's no clear timetable of when such features will be ready for customers.
Apple September event: AirPods with USB-C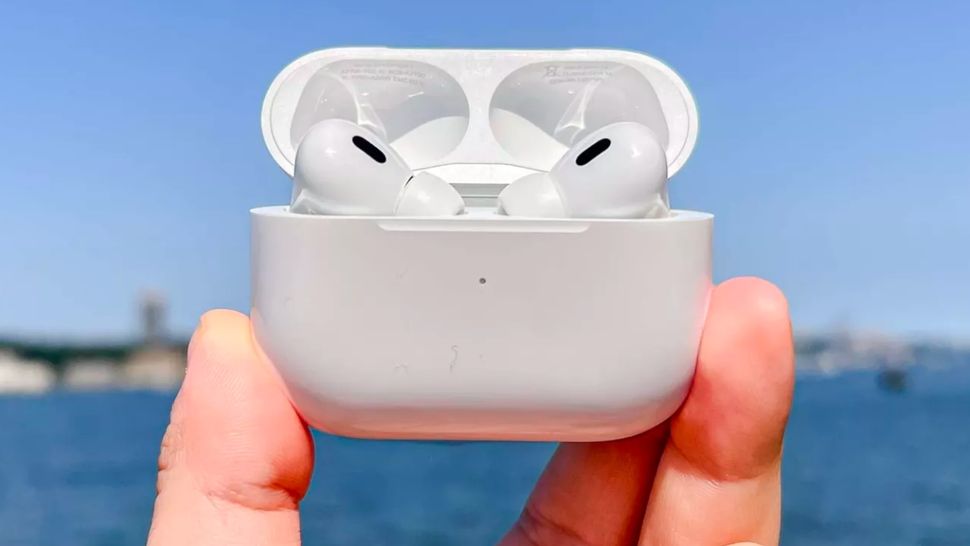 We're not expecting a new full generation of either the standard AirPods or AirPods Pro. But Apple may be swapping out the Lightning connectors on their charging cases for USB-C.
This makes sense given what Apple's rumored to be doing with the iPhone 15 and iPhone 14's ports. But anyone who already owns a pair of third-gen AirPods or second-gen AirPods Pro needn't upgrade if the rumors are correct, since this would be the only alteration to how the earbuds function.
What else will be announced at the Apple September event?
Chances are, the iPhone 15 and Apple Watch Series 9 won't be the only new products announced at the next Apple September event. There are other product categories that are, arguably, due for refreshes.
Apple doesn't typically announce new Macs alongside the iPhone, but rumors have ramped up around the new MacBook Pro 14-inch 2023, MacBook Pro 16-inch 2023, and a 15-inch MacBook Air featuring the M2 chip. If these devices aren't announced at WWDC or rolled out over the summer, we could see them in September.
New iPads are reportedly in the works as well. The iPad mini 7 seems like a good guess for September, considering the iPad mini 6 was announced alongside the iPhone 13 two years ago. In the past, Apple has held separate iPad launch events in the fall.
There are rumblings about a HomePod with a display and AirPods Max 2 as well. There's usually one new AirPod product launched each year, after all.
Finally, if the Apple VR/VR headset's appearance at WWDC 2023 is simply a preview of the product, we could get additional launch details about the headset in September.