It's no easy task to narrow down the best headphones when the audio space is home to thousands of options. Where exactly do you start? Ideally, you want something that is going to give you your money's worth in terms of sound, portability, and utilization. Modern features and compatibility with all major audio devices – smartphones, tablets, laptops and smart HDTVs – are sweet bonuses as well. You're in luck.
The good news is this roundup includes our top headphones picks in multiple categories, so you're sure to find something here that appeals to you. Our selections range from high-end Bluetooth headphones with immersive noise cancellation to sleek wireless earbuds that are perfect for commuting and exercising.
You'll find some heavyweight hitters here from Bose, Sony, Sennheiser, and even Apple, brands who have all released praiseworthy products, which are leaders in their respective categories. There are also some newcomers like Jabra and JLab that that have come out of nowhere and left lasting impressions with their recent launches.
We've reviewed hundreds of models and also put many of them head to head to narrow down our list of the best headphones.
What are the best headphones right now?
Sitting in the No. 1 spot on our best headphones list is the Bose 700, thanks to its unrivaled ANC performance and intuitive tech features. Sound is crystal clear when listening to music and taking calls. We also love the svelte, contemporary design with comforting ear pads and touch controls.
The Jabra Elite 75t Active is in second place and stands out as our favorite best wireless earbuds. Jabra implemented many changes to make these buds special, from doubling battery life to scaling down the design by 22% from the original Elite 65t Active. But what really sells them are the sportier aesthetics (e.g. durable casing, waterproof) and energetic sound that kickstarts your workouts.
Apple's AirPods Pro is our top choice for best AirPods model and iOS companion. It has impressive noise cancelation and seamless iOS integration, along with some of the best call quality in its class. The bundled ear tips are a nice, much-needed touch that enhances comfort and fit.
There are a variety of exciting new headphones on the way for 2020, including the Microsoft Surface Headphones 2, which promises up to 13 levels of ANC adjustment and enhanced sound and call quality. There is also the Sony WH-1000xM4, a model that has been rumored for many months and expected to feature minor upgrades in ANC, audio, and battery life.
Here are the best headphones you can buy right now in every major category.
The best headphones you can buy today
1. Bose Noise Cancelling 700
Best active noise-cancelling headphones
Size and Weight: 8 x 6.5 x 2 inches, 8.8 ounces | Battery Life (Rated): 20 hours (NC on) | Bluetooth Range: 30 feet (10 meters) | Digital Assistant Support: Yes
Adjustable ANC levels
Slick, attractive design
Excellent noise cancelling on calls and music
Expensive
Same battery life as the QC35 II
The Bose 700 Noise Cancelling Headphones are currently the best headphones and have a sexy new design and cool features that come with its high price tag. They're equipped with a whopping eight microphones, six of which are employed to deliver Bose's champion noise cancelation when listening to music or talking on the phone. It offers up to 11 levels of adjustable ANC that work equally well to neutralize noise across different frequencies. Bose even made improvements to sound quality, as the 700s produce clean, balanced audio for crisp highs and solid bass; lows are felt more when at max ANC level.
Despite sharing the same battery life as its predecessor, the QC35 II, it still holds up strong at 20 hours with ANC on. Smart assistant integration, touch controls, and AR support also make these some of the most intuitive noise-cancellers for commuters and music lovers alike.
See our full Bose Noise Cancelling Headphones 700 review.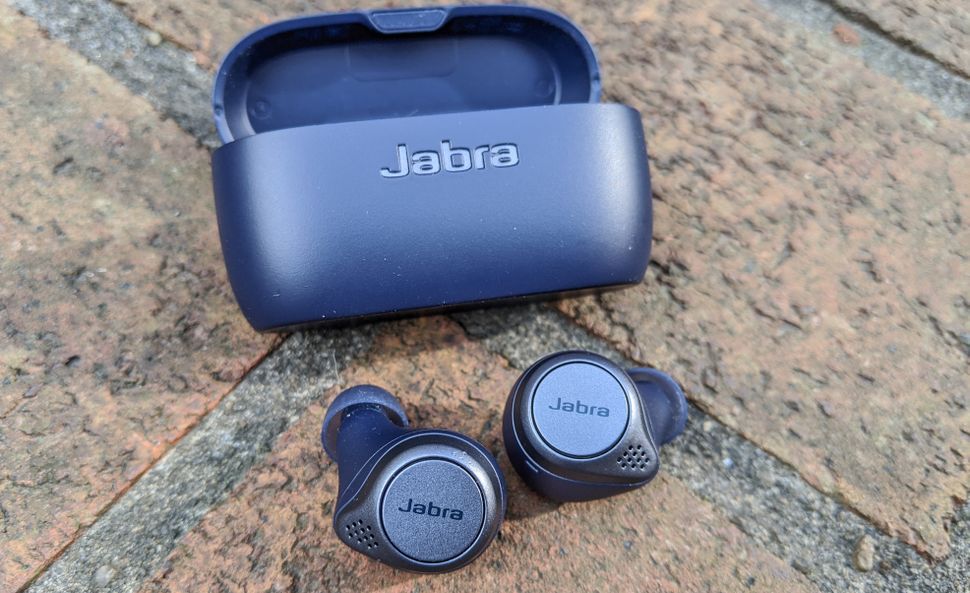 2. Jabra Elite Active 75t
Size and Weight: 0.8 x 0.7 x 0.6 inches, 0.19 ounces | Battery Life (Rated): 7.5 hours; 28 hours (with charging case) | Bluetooth Range: 30 feet (10 meters) | Digital Assistant Support: Yes
Loud, full sound
Sleek, waterproof design
In-app audio customization
Strong battery life with fast charging
Effective passive noise cancelation
Newer features unavailable at launch
Can get extremely loud at max volume
Jabra found a way to improve our favorite wireless earbuds, packing a hell of a lot of performance into a tinier waterproof design. The Elite Active 75t boasts better battery life and sound than the AirPods Pro, plus its charging case holds more portable power and feels sturdier. Fitness fanatics will love the reliable comfort and fit they provide; sweat absorption is one of many unsung features on here.
Any areas where the Elite 75t fell short like call quality and digital assistant support have been improved as well. Best of all, the buds produce consistently clean detail and warm, lively instrumentals and vocals that can also be tweaked through special features (e.g. built-in EQ, music presets) in the companion app for personalized sound. And though unavailable at the moment, Jabra's upcoming modes will enhance the buds' overall performance when launched in the coming months.
See our full Jabra Elite Active 75t review.
3. Apple AirPods Pro
Size and Weight: 2.4 x 1.7 x 0.9 inches, 8.8 ounces | Battery Life (Rated): 4.5 hours (NC on), 24 hours (with charging case) | Bluetooth Range: 30 feet (10 meters) | Digital Assistant Support: Yes
Modern, functional design
Great active noise cancelling
Expanded, easy to use controls
Comfortable semi-custom fit
Great sound
No companion app
Battery life could be longer
It sounds a bit trite to say Apple has made the AirPods even better, but in the case of the AirPods Pro, it's an understatement. These third-gen buds are a much bigger deal than any of us could have predicted. Through some clever engineering, Apple managed to squeeze three microphones and six sensors into the tiny, redesigned casing, and still had room for its lauded H1 chip. The inclusion of ear tips makes a world of difference, providing a comfy and customized fit, which can also be optimized for better audio output through the all-new Ear Tip Fit Test.
Hands-free Siri just keeps getting better and better, the audio is pretty great, and cool features like Announce Messages and Audio Sharing showcase the AirPods Pro's multifunctional talents. The end result is some of the best active noise cancelling we've heard in a pair of truly wireless earbuds.
See our full Apple AirPods Pro review.
4. Sennheiser HD 4.40 BT Headphones
Best wireless headphones under $100
Size and Weight: 7.1 x 3.9 x 10.2 inches, 7.8 ounces | Battery Life (Rated): 25 hours | Bluetooth Range: 30 feet (10 meters) | Digital Assistant Support: Yes
Thunderous bass response
Impressive craftsmanship for $100 headphones
Solid battery life
Reliable Bluetooth performance
Fold-up design makes them easily transportable
Becomes uncomfortable after an hour of use
Aux cable has no controls
If money is tight and you want something that can fulfill your audio needs for cheap, we highly recommend these budget wireless cans. The Sennheiser HD 4.40 BT is one of the best headphone deals under $100 you'll find, delivering full, energetic sound highlighted by its monstrous low end and well-tuned midrange.
Despite being an older model, these headphones provide you a generous amount of playtime (24 hours) and Bluetooth range (30 feet). The bundled aux cable is also clutch for listening in passive mode, granted it's pretty fragile and has no buttons to manage playback or volume. Still, those are small compromises to live with for the asking price. Should you want noise cancellation thrown into the mix, there's the $100 Sennheiser HD 4.50 that offers similar performance to the HD 4.40 BT on the audio and wireless fronts.
See our Best Cheap Wireless Headphones Under $100 page.
5. Beats Powerbeats Pro
Best running and sports earbuds
Size and Weight: 4.7 x 1.6 x 5.5 inches, 0.8 ounces | Battery Life (Rated): 9 hours, 24 hours (with charging case) | Bluetooth Range: 50 feet (15.2 meters) | Digital Assistant Support: Yes
Adjustable ANC levels
Versatile sound
Smart controls
Pairs with 10 devices simultaneously
Bulky charging case
Apple isn't making a fitness version of its popular AirPods, or so we think (let's see how the rumored AirPods 3 turn out). Until then, the closest you'll get is the PowerBeats Pro, a pair of true wireless workout earbuds that packs great performance in a durable, water-resistant shell. The company's even gone as far as to include the new H1 chip, making seamless integration with all iProducts even faster.
Audio is crucial for any pair of sports headphones, and fortunately, Apple has toned down the Beats' bass-heavy sound signature. The Powerbeats Pro have a more balanced presentation that blends emphatic lows together with tighter mids and highs. Those who constantly complain about the AirPods poor battery life can breathe easy knowing these buds hold nearly double the amount on playtime a full charge: 9 hours. The charging case, while not the most portable-friendly, gets you about two extra charges on the go as well.
For those who love variety, Beats just announced four new exciting colors – Spring Yellow, Cloud Pink, Lava Red, and Glacier Blue – set for launch this month.
See our full Beats PowerBeats Pro review.


6. Sony WH-1000XM3
Unbeatable sound with remarkable ANC
Size and Weight: 10.4 x 7.3 x 2.9 inches, 9 ounces | Battery Life (Rated): 30 hours (NC on), 38 hours (NC off) | Bluetooth Range: 30 feet (10 meters) | Digital Assistant Support: Yes
Best-in-class sound
Bose-challenging noise cancellation
Responsive touch controls
Companion app with sound customization options
Strong battery
Plastic design doesn't feel premium
Mediocre call quality
Powered by Sony's all-new HD Noise Cancelling Processor, the QN1, and offering an advanced soundstage, tons of sound-customization options and a thinner design, the feature-rich WH-1000XM3 headphones are engineered to compete with and, in certain categories, outperform the best. The improvements in audio fidelity alone place these headphones above the Bose 700 and QC35 II. They deliver a powerful low-end punch suited for their target demographic of bass lovers, and grant listeners a suite of sound-optimizing options accessible through the Connect app.
Sony's ANC technology has improved with every model in the series, but it's most effective on the WH-1000xM3. Enabling the feature will easily silence loud rumblings, from crying babies to plane engines. Battery life is first-rate as well, giving you a steady 30 hours of continuous playtime with ANC on and 38 hours in passive mode, which is among the highest in the category.
See our full Sony WH-1000xM3 review.
7. Bose QuietComfort 35 II
Great noise cancelling and audio
Size and Weight: 7.1 x 6.7 x 3.2 inches, 8.2 ounces | Battery Life (Rated): 20 hours (NC on), 40 hours (NC off) | Bluetooth Range: 30 feet (10 meters) | Digital Assistant Support: Yes
Champion noise cancellation
Clean and crisp sound
Comfortable design
Use ANC mode with aux cable
Same design as the previous version
Google Assistant needs work
Once a category leader and still an elite model, the Bose QuietComfort 35 II is an industry staple that set the standard for modern active noise cancellation and performs well across the board. Bose's ANC technology is superb at drowning out distractions and uses three levels of noise-cancelling to filter out noises. It also improves the sound profile to feed your ears balanced, detailed audio.
The QC35 II keeps the sleek design of the original, which can either be a positive or a negative, depending on your style. It's also smarter and has a dedicated button to activate Google Assistant. The cozy, lightweight feel of these cans is comforting on the skull, though the build quality isn't as durable as other models. Even so, these remain some of the best noise-cancellers you can score for $50 less than the 700s.
See our full Bose QuietComfort 35 II review.
8. Sol Republic Jax
Size and Weight: 5 x 1.5 x 0.5 inches, 0.64 ounces | Battery Life (Rated): None | Bluetooth Range: None | Digital Assistant Support: Yes
Loud, clear sound
In-line remote offers plenty of functionality
Minimal leakage
Unbeatable value
Bass can come on too strong
Cheap plastic design
Sol Republic has gained a credible rep for making fashionable, great-sounding headphones and earbuds at a low price. The Jax is arguably the brand's most underrated creation, which packs full functionality and a powerful soundstage into a tiny in-ear design. You can expect hard-hitting bass, which can sound harsh at loud volume, but delivers great bounce and clarity when listening at moderate volume levels. The in-line remote is another surprise that offers a full range of functionality; you can control playback, manage volume levels, enable the digital assistant, and use the built-in mic to speak on calls.
You really can't fault the Jax for its flimsy plastic construction, especially at its bargain price, though we feel the company could have added sweat-resistant protection to ensure the buds' preservation. Nonetheless, sound quality alone makes these a much better alternative than the free EarPods that Apple includes in every iPhone box. Act now and you can find them for as low as $17 on Amazon, while supplies last.
See our Best Cheap Earbuds Under $25 page.
9. JLab JBuds Air Wireless Earphones
Best Truly Wireless Earphones Under $60
Size and Weight: 1.8 x 3 x 1.6 inches, 0.13 ounces | Battery Life (Rated): 4 hours, 14 hours (with charging case) | Bluetooth Range: 30 feet (10 meters) | Digital Assistant Support: Yes
Powerful bass
Water-resistant protection
Preset EQs
Auto Connect feature
Bulky design, Subpar battery life
If the AirPods are out of your price range, just know there are other inexpensive wireless models out there that promise the same reliable connectivity and sound. The JBuds Air are those earbuds. They have an Auto Connect feature that instantly re-pairs the buds to an audio source just as fast as Apple's buds do with iOS devices; the feature works exceptionally well on Android phones. It's also great to see buds this cheap offer IP55 certification for dust- and water-resistant protection, so they'll survive the most excessive workouts.
While there are three different EQ settings engineered to elevate sonics – Balanced, Bass Boost and Signature – you may want to refrain from enabling them since they muffle the soundstage. The good news is that the default profile is all you'll need and it pumps out strong lows just as well as any premium truly wireless earbuds.
See our review of the best cheap wireless earbuds.
10. Google Pixel Buds 2
Intelligible buds for Android users
Size and Weight: 0.8 x 0.7 x 0.7 inches, 0.18 ounces | Battery Life (Rated): 5 hours, 24 hours (with charging case) | Bluetooth Range: 300 feet (91 meters) | Digital Assistant Support: Yes
Comprehensive Google integration
Adaptive, clear sound
Instantaneous pairing with Android devices
Ultramodern design
Mediocre battery life
Still a bit buggy
Google definitely learned from its mistakes, creating a sequel to its popular wireless buds that is a vast improvement over the original. The Pixel Buds 2 blend dynamic sound, sleek aesthetics, and superior Google integration into one of the handsome, Mentos-inspired design, which is also truly wireless. Several pages were taken from Apple's playbook such as a Find My Earbuds feature, fast pairing (Android devices only), touch controls, and hands-free digital assistance to have Google Assistant manage your day-to-day tasks. There's also rumors of a future software update including "attention alerts" that allows the Pixel Buds 2 to detect and notify users of alarms, barking, and even crying.
As big of fans as we are, we also acknowledge some of the Pixel Buds 2's weaknesses, in particular, battery life. These buds share the same meager playtime as the AirPods Pro (with noise cancelling on). In addition, the discharge times are off, as the right bud often consumes more energy than the left bud. Luckily, Google's new egg-shaped wireless charging case helps make up for the low battery, plus super-quick charging gets you 2 hours on a 10-minute charge.
See our full Google Pixel Buds 2 review.
How to choose the best headphones for you
Many factors come into play when shopping for the best headphones, but your decision should always come down to intended use. That being said, you'll want to take the following categories into account before settling on any pair.
Design usually takes precedence over everything. Are you looking for in-ear, on-ear or over-ear headphones? Wired or wireless? Luxury or sporty? Since these are headphones that will be used for multiple occasions, you want something that suits your lifestyle. Whatever type you choose, make sure the headphones are well built, easy to carry, and comfy to wear for about 1 to 2 hours daily.
Sound is the second box to check off. Different models offer different sound, and since you're buying a pair to enjoy music individually, it's important to find headphones that match your sound preference, be it heavy bass or distinctively clear to where you can hear the littlest nuances in recordings. Some models offer personalized sound via companion app, which allows the user to create their own profiles and tweak EQ levels to their hearing.
Battery life comes next. Most premium wireless headphones are rated at 15 hours and higher. Wireless earbuds can last about 5 to 10 hours and offer extended playtime with their bundled charging cases – always make sure one is included.
Accessories are just as important, especially for wired models (the manufacturer must include the aux cable). Any headphones that come with a carrying case, charging cable, user guide, and extra ear cups or tips are solid purchases.
How we test the best headphones
From the design and comfort to the sound quality and overall value, we evaluate several areas when picking the best headphones. In addition, Tom's Guide employs a rigorous review process that compares products with similar fit, features, and pricing.
Each pair of headphones and earbuds is worn over the course of a week for 2 hours at a time. During this time, the staff evaluates comfort and fit, ease of use, and audio. We test sound by listening to predetermined sample tracks across different music genres, including hip-hop, rock, jazz, classical, and pop. Volume, clarity, and fullness is evaluated too. Movies, podcasts, and video games are considered, when necessary.
Regarding features, we test the effectiveness of active noise cancelling, Bluetooth range, and battery life for wireless and wired headphones. Additional features are also tested for app-enabled headphones, along with ease of setup. Build quality, controls, and fit are taken into serious consideration for wired headphones. Fitness-focused headphones go through vigorous workouts, as we analyze fit while exercising and how well they handle ambient sound in loud environments.
Once testing is complete, we rate headphones based on our five-point system (1 = worst, 5 = best). If a product is truly exemplary, it's awarded an Editors' Choice.