If you can't stomach the outrageously high price for Apple's flagship headphones, our guide to the best AirPods Max alternatives provides a range of options with great all-round performance at a more affordable price. You won't get Apple-specific features of course, such as spatial audio with head tracking, but there are plenty of models listed that matched or even exceeded the AirPods Max on comfort, sound quality, and battery life during our testing.
Read on to discover the best AirPods Max alternatives below, and save a chunk of change with our pick of near rivals on style, ANC performance, and sound.
The best AirPods Max alternatives you can buy right now
Why you can trust Tom's Guide Our expert reviewers spend hours testing and comparing products and services so you can choose the best for you. Find out more about how we test.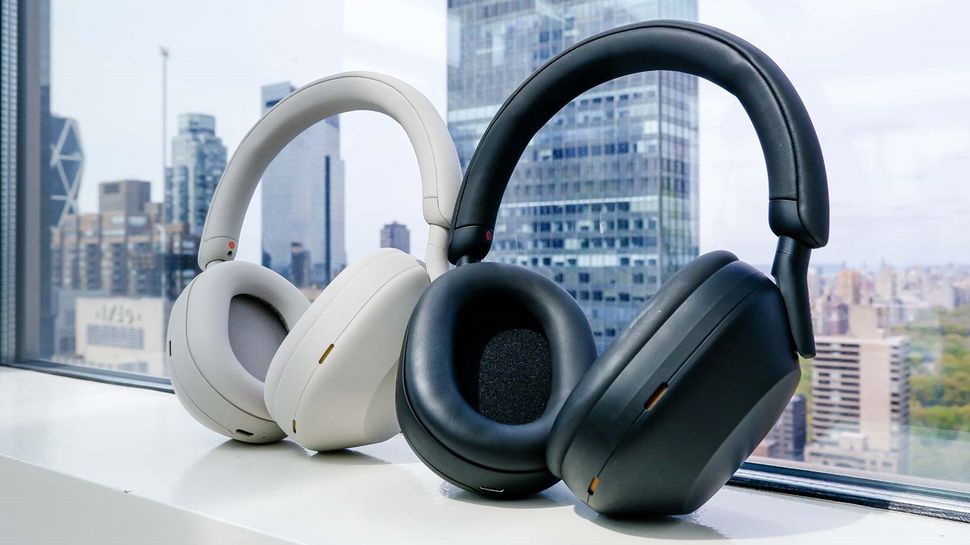 Sony has been absolutely killing it in the headphone department in recent years, and the newly released WH-1000XM5 are unquestionably one of the best pairs of headphones you can buy right now.
The WH-1000XM5 comes with everything you could want and even with their price hike, they're still cheaper than the AirPods Max and a great value alternative. They have strong audio quality and are the best active noise cancellation (ANC) headphones you can buy right now. The 30-hour battery life (with ANC) is excellent (or 40 without), which is considerably more than the AirPods Max, and everything from the touch controls to the ability to tweak the EQ via the Sony Headphones Connect app is well thought out and seamlessly integrated. Call quality has also been improved greatly and there's really nothing to criticize beyond the slightly bland styling and the $50 price increase over the XM4, which are still available and another great AirPods Max alternative that cost even less.
Read our full Sony WH-1000XM5 review.
A strong runner up in our headphone testing, the Bose 700 does a lot to stand out from the other wireless headphones. Not only does it have a sleek and attractive design, complete with memory foam cups, it combines that with excellent sound quality on calls and music.
It also has the best noise cancelling we've used, with 11 adjustable levels to choose from. On top of this you have smart and intuitive touch controls and 20-hour battery life when noise cancelling is switched on. The WH-1000XM4 lasts longer but this at least puts the 700 on par with as the AirPods Max, which can't match Bose's noise-cancelling effectiveness.
Read our full Bose 700 review.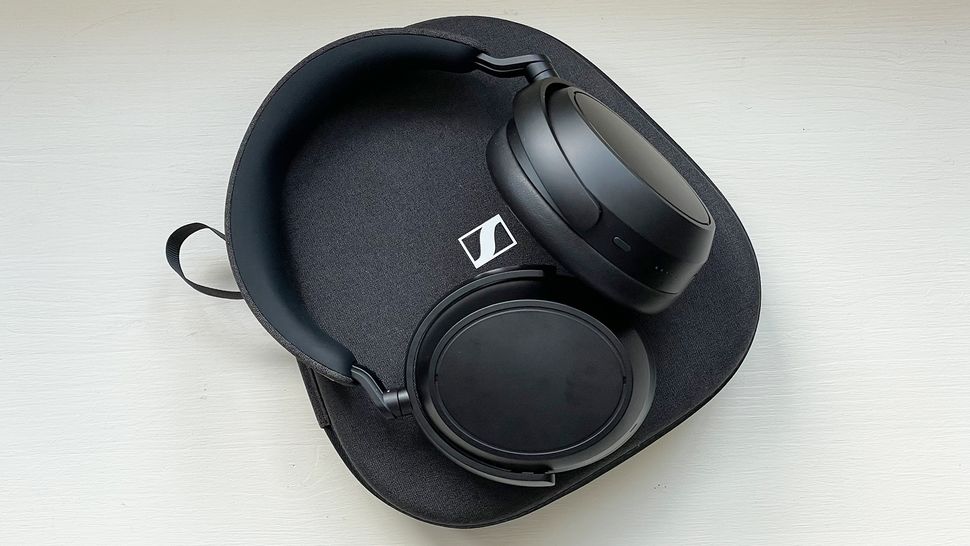 Although the revamped design of Sennheiser's fourth generation Momentum Wireless headphones don't stand out quite like their classic-looking predecessor, the 60-hour battery life is a real crowd pleaser and make these the one to beat. Add in the easy-going Sennheiser sound and effective noise cancelling, and the Momentum 4 are one the most practical wireless headphones we've seen, perfectly built for a life on the road rather than tethered to a power socket needing regular battery top ups.
Sennheiser's smooth house sound handles a wide range of music content, from pounding beats to more mellow tunes with aplomb. It has Bluetooth 5.2 and aptX Adaptive support, and there's a supplied 3.5mm cable for audiophile wired connections. ANC performance is effective, and auto Wind Noise Reduction is very impressive when stood on a windy train platform on daily work commutes.
Read our full Sennheiser Momentum 4 Wireless review.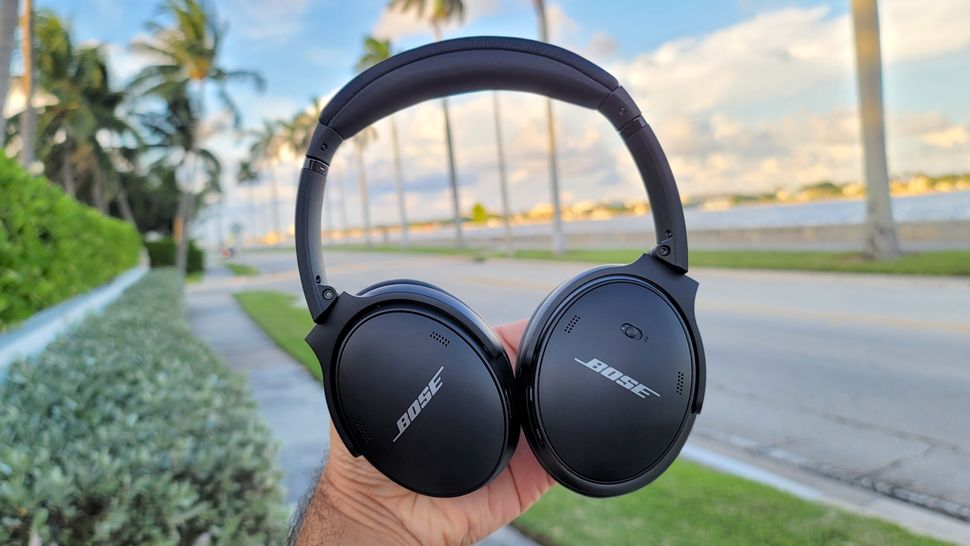 The latest QC over-ear series is the best yet, welcoming several improvements, including better active noise cancellation, sound, and battery life. ANC is as effective as it is on the 700, blocking out nearly 90 percent of ambient sound at a high rate. Bose's ambient-listening mode (Aware) does a fantastic job of piping in external sounds for increased awareness. The combination of proprietary TriPort acoustic architecture and a volume-optimized Active EQ gives these headphones a refined, well-balanced sound signature to enjoy most music genres. Having 24 hours of ANC playtime is also huge, and although you cant turn it off, means it's still on par with the AirPods Max.
Read our full Bose QuietComfort 45 review.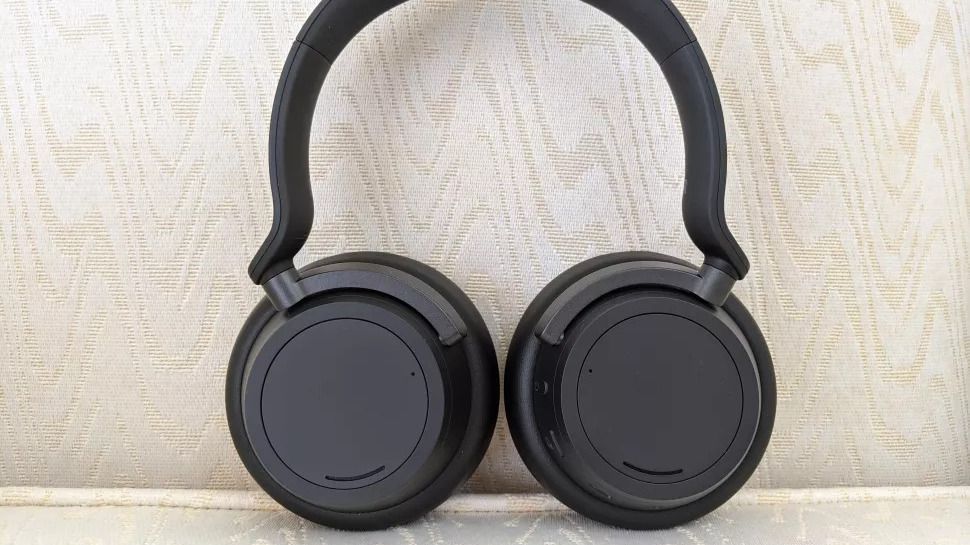 If you're looking for a more professional-looking pair of headphones to help keep you productive, Microsoft's second-gen Surface Headphones may be for you — and it cost less than half the price of the AirPods Max.
The unique thing about the Surface Headphones 2 is that it integrates with Microsoft 365, and offer real-time voice dictation in the Office programs you may be using for work. That can be incredibly useful if you prefer to talk than type, or if you're away from your desk but don't want to lose your train of thought. It also has adjustable dials on the side of each cup, letting you quickly and easily adjust the volume and noise cancelling levels.
At 20 hours (with ANC on), the battery life is the same as the AirPods Max, but if you want great sound for less, the Surface Headphones 2 is well worth checking out.
Read our full Microsoft Surface Headphones 2 review.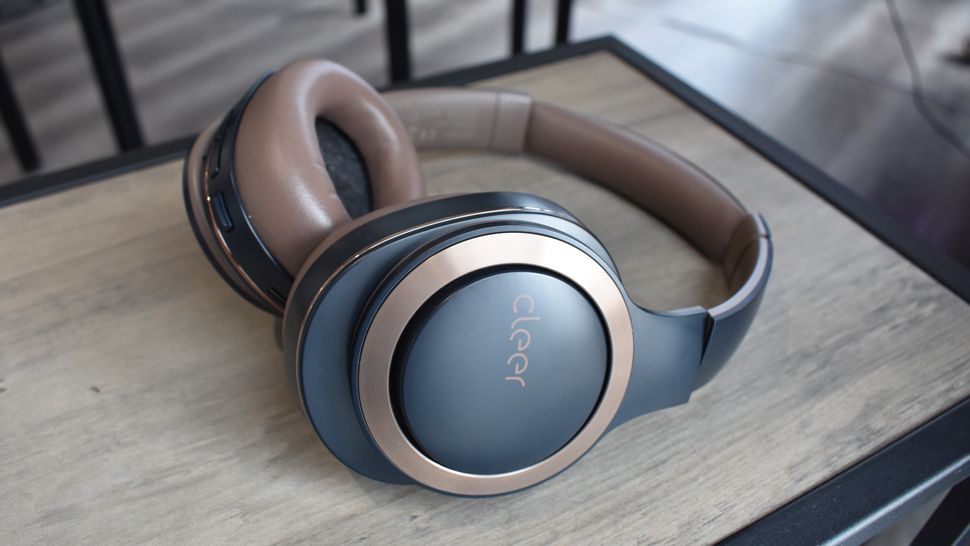 All of the headphones on this list are AirPods Max alternatives that cost less, but the Enduro ANC is the best AirPods Mac alternative that's truly cheap. At a mere $149 you could buy three for the price of Apple's headphones, and you'd still be getting a good-sounding set of over-ear cans with effective ANC and a particularly impressive ambient pass-through mode.
The best part is battery life. Although in our testing, the Enduro ANC fell short of Cleer's official 60-hour figure, we still got more than 50 hours of playback with noise-cancelling enabled. That's more than twice what the AirPods Max delivers, and for a third of the cost. Premium models like the Sony WH-1000XM4 are still better overall, but check out the Enduro ANC if you're on a tight budget.
Read our full Cleer Enduro ANC review.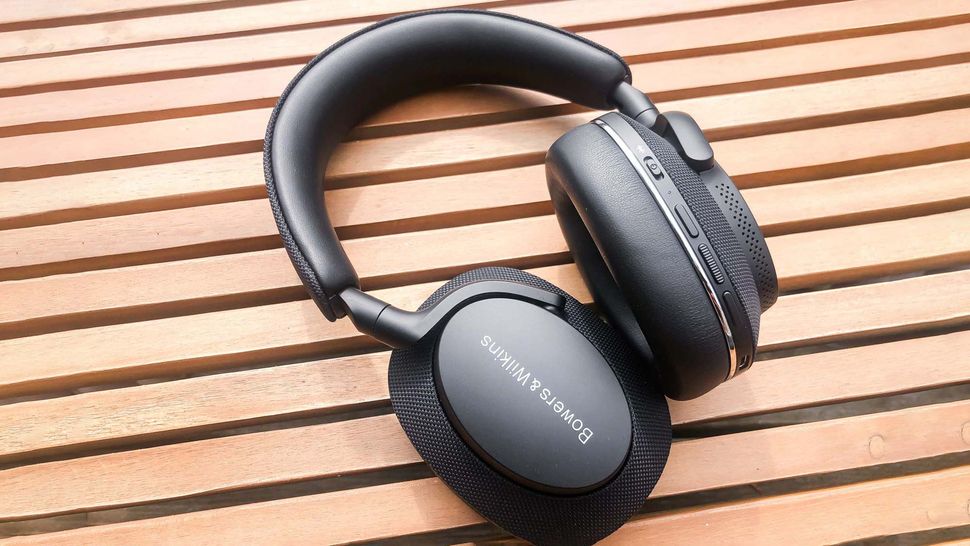 The Bowers & Wilkins Px7 S2 over-ear headphones are priced the same as the Sony. They feel good, are beautifully constructed and are either good-looking in an understated way or a bit too understated for their own good — it depends on your taste. They have active noise-cancelation and a control app — but 'extended functionality' is not their thing.
They're designed to deliver the best wireless sound this sort of money can buy, and they do. The entire frequency range hangs together well, with nothing overstated and nothing struggling for representation. Tonality is clean, consistent and entirely convincing. If you want every wireless headphone feature under the sun, you have plenty of choice. If, however, you want headphones that make the most of the digital audio information you give them, the Px7 S2 really needs to be in your thinking.
Rear our full Bowers & Wilkins Px7 S2 review.
If you want to keep things in the Apple family, but don't want to resort to using earbuds, then consider the Beats Studio3 — particularly if you're a fan of the heavy bass performance Beats headphones are known for.
The Studio3 also offers a comfortable fit, adaptive EQ, and fast charging that adds 3 hours of playback time after just 10 minutes. As for total battery life, you're looking at around 20 hours with ANC switched on, though it's worth pointing out that it don't have the best noise cancellation around. Still, the sound is good, and like the AirPods Max, this pair can be easily paired with iOS devices.
Read our full Beats Studio3 Wireless review.
The Cleer Enduro ANC isn't the only noise-cancelling AirPods Max alternative you can get for less than half of Apple's asking price. The JBL Live 660NC offers full ANC, a bass-rich sound signature and long battery life all for a fraction of the AirPods Max's cost.
There are some drawbacks here: the fit isn't particularly comfortable and Google Assistant can be unreliable. Siri works better, though, and the Live 600NC earns back some technical points with its rock-solid, long-range Bluetooth connectivity and well-featured companion app.
Read our full JBL Live 660NC review.
How to choose the best AirPods Max alternatives
Picking from the best AirPods Max alternatives isn't that different from picking from the best headphones in general: you'll want the best combination of sound quality, comfort and battery life that you can get on your specific budget.
That said, if you want an AirPods Max alternative specifically, it probably means you admire a certain something about Apple's headphones. If it's features, then look out for active noise-cancelling headphones in particular. Currently there aren't any non-Apple headphones that support spatial audio for video, though any model should work with spatial audio in Apple Music.
Design: You may also be looking for an alternative with the AirPods Max's eye for design and styling. This is one area in which the AirPods Max is fairly unique, and there aren't any good-quality headphones that explicitly copy that distinctive design, though there are many that match it on comfort. Whatever type you choose, make sure the headphones are well built, easy to carry, and comfy to wear for about 1 to 2 hours daily.
Sound quality: Different models offer different sound, and since you're buying a pair to enjoy music individually, it's important to find headphones that match your sound preference, be it heavy bass or distinctively clear to where you can hear the littlest nuances in recordings. Some models offer personalized sound via companion app, which allows the user to create their own profiles and tweak EQ levels to their hearing.
Battery life: Sennheiser's 60-hour battery life is a real crowd pleaser, but most wireless over-ear headphones typically manage around half that.
Accessories: It's disappointing spending money on a new pair of headphones only to find that you need to buy the accessories separately. For wired models, the manufacturer must include the aux cable, and any headphones that come with a carrying case, charging cable, user guide, and extra ear cups or tips are solid purchases.
Pricing considerations: Obviously, price is a big consideration when looking for the best headphones. Although there are always exceptions, big-name brands will typically command a bit extra, but generally speaking, the less you spend on a pair of headphones the greater the chance that sound and features will be compromised. Going for a budget option isn't always the best choice, as any money you save on your purchase won't do you much good if you're constantly needing to recharge your audio gear, or the sound quality is poor.
As the saying goes: timing is everything; and right now many of our favorite models will are being discounted by online retailers, meaning you can bag a bargain for even less. Bookmark our headphone deals page to keep track of the best bargains.
How we test the best AirPods Max alternatives
When testing any over-ear headphones, including the best AirPods Max alternatives, we'll listen to a variety of tracks downloaded and stored to a portable music device covering a range of different music genres. Check out our headphone playlist on Tidal (opens in new tab) and Spotify (opens in new tab) for examples of the variety of tracks we use. This lets us see (well, hear) how each pair handles distinct styles, which also demonstrates how they reproduce different frequencies, how wide their soundstages are and how detailed they sound.
We'll also spend some quality time with each pair, typically wearing them for 2-3 hours at a time, several times over a week. This gives a more reliable indication of comfort and design than with only brief listening sessions.
Manufacturer's battery life claims will also be put to the test, to see how they compare to real-life usage, and if there's a mobile app for each pair we'll try that out as well.
Find out what we listen for during our testing process and how to get the best headphone sound for you.
When it comes to features, we test the effectiveness of active noise cancelling, Bluetooth range, and battery life for wireless and wired headphones. Additional features are also tested for app-enabled headphones, along with ease of setup. Build quality, controls, and fit are taken into consideration for all headphone types. Fitness-focused headphones go through vigorous workouts, as we analyze fit while exercising and how well they handle ambient sound in loud environments.
Once testing is complete, we rate headphones based on our five-point system (1 = worst, 5 = best). If a product is truly exemplary, it's awarded an Editor's Choice.
More: While the AirPods Max are undoubtedly among the best noise-cancelling headphones we've tested, it is possible that one of the many other headphone models we've reviewed could be a more affordable solution without compromising performance. You may also want to check out the best over-ear headphones overall, or if the best sound quality is a must-have, give our best audiophile headphones a read.
Next: Could a second-generation AirPods Max be on their way? Check out everything we know about the AirPods Max 2 rumors, and discover what's likely to be announced in Apple's March Event.
Contributions from: Alex Bracetti and Simon Lucas