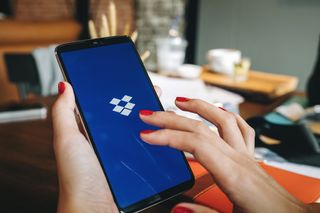 Apps to Keep Your Data Safe
Many diligent users won't skimp when it comes to backing up their desktop machine, but how many can say the same about their phones? Keeping a backup for your Android phone can feel like an unnecessary chore — until disaster strikes. What if your device is stolen, you install a bad ROM or you drop your phone in a puddle? Having a backup on hand just makes good sense.
While Google automatically backs up your contacts, Gmail and calendars, you can also do a lot to save your apps, as well as app data, documents and media files. Here are some of the best Android backup apps to help keep your app data, contacts list, photos, and media safe. (Image Credit: Jirapong Manustrong/Shutterstock)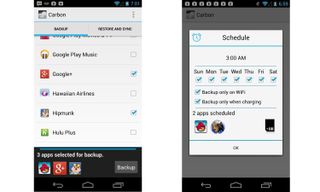 Helium App Sync and Backup (Free; $4.99 for premium version)
The excellent Helium - App Sync & Backup is ClockworkMod's entry into the mobile backup app space. Like the best backup apps, Helium allows you to back up apps, data, contacts, SMS and your call log. But unlike many backup apps, Helium can do all this without needing to root your device. Unrooted users will have to install an extra desktop app to work with the mobile app when plugged in to a PC, while users with a rooted device just run Helium out of the box. A $4.99 premium version offers cloud uploading of backups, backup scheduling and no ads.
Dropbox (Free, with premium plans)
If your primary concern centers around documents, photos, and media files rather than a backup of your contacts, SMS, and other phone details, then you may already be well served by cloud storage services like Dropbox. The cloud storage pioneer offers cloud-based, multi-device-synced storage for everything from documents to photos and other important files, with automatic backups and 2GB of online storage (expandable through promotions or premium plans). Premium subscribers get extra perks, such as more storage, file versioning features, and encryption. You won't be backing up things like app installers or app data, but Dropbox is a great solution for simple cloud backups of your documents.
Resilio Sync (Free)
Of course, if you don't trust online cloud storage providers, well you can instead build your own. Resilio Sync builds off of BitTorrent protocols to help you sync files stored between your phone and your PC, Mac, and other network-attached storage devices. You can sync entire folders or individual files, and configure the app to automatically back up photos to and from your phone and PC. Resilio Sync is free to use, with a premium upgrade — the $59.99 Sync Pro — that adds features like more advanced sync modes, selective syncing, settings changes on the fly, and more. That said, this is more about syncing documents, media, and other files, so look elsewhere if it's phone settings, contacts and apps that you're looking to back up.
Contacts+ (Free)
If you're looking to reduce the hassle of restoring your contacts when moving phones, you can try out contact managers like the excellent Contacts+. Contacts+ is an address book replacement that helps organize your contacts and integrates with your social media accounts and communications. The app automatically imports information from linked social networks such as Facebook, Google+, Twitter and LinkedIn contacts, allowing you to access them all in one place. Cover pictures can automatically be filled in from Facebook or Google+, and you can view your recent communications from each contact. Free users can sign in to Contacts+ to get 500 slots for cloud backup contacts, with premium users unlocking unlimited slots.
Google Photos (Free)
Sometimes, you're not looking to backup everything on your phone. If your main concern is backing up your photos, then one of the best options out there is the Google Photos service. Users can store an unlimited number high quality cloud-synced photos in their Google account, as well as up to 15GB of original resolution photos in your Google Drive space. In addition to the generous storage terms, Google Photos features a smart search tool for finding familiar objects, places and occasions, and smart album assistant and basic photo editing tools. Users shooting for one of the brand new Pixel smartphones also get the added bonus of unlimited cloud storage for videos and original resolution images.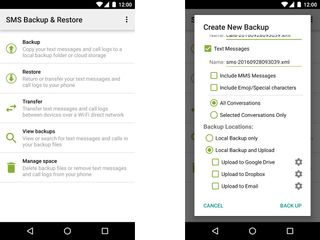 SMS Backup & Restore (Free)
If you're mainly concerned about SMS messages and call logs, check out SMS Backup & Restore, which saves your messages and call logs in XML format which can be backed up locally or in the cloud. Users can schedule automatic backups, selectively backup and restore specific conversations, and transfer SMS and call logs to another phone by email or Wi-Fi. While the app is nowhere near as comprehensive as other backup options, it's a simple and easy way to keep an extra copy of your SMS and call logs.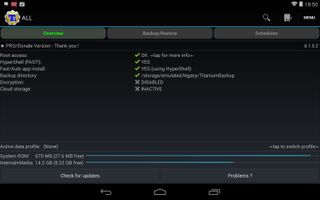 Titanium Backup (Free; $6.58 for paid version)
Own a rooted Android device or thinking of rooting it? Titanium Backup is a reliable workhorse for Android backups, with the free version allowing you to back up and restore apps and app data such as contacts, SMS logs and more to internal storage, with convenient batch actions automating many common tasks. The premium version adds a host of powerful features, such as cloud backups and cloud restoring. You can also automate your backup schedules, selectively back up items and then move your backup data to an SD Card. All this barely scratches the surface of Titanium's abilities, which also include the ability to remove bloatware, app hibernation and more.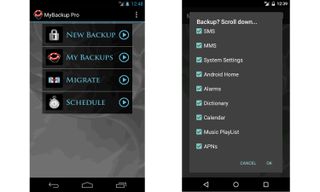 My Backup Pro ($3.99)
My Backup is a reliable app backup and management tool for Android devices. My Backup provides app backup functions, with automated scheduling, cloud backups and more. While My Backup works well on non-rooted phones, the true potential of the app is unlocked when you run it on a rooted phone, allowing it to back up not just apps, but also app data and settings such as saved games, market links and more. A free 30-day trial version lets you demo the app.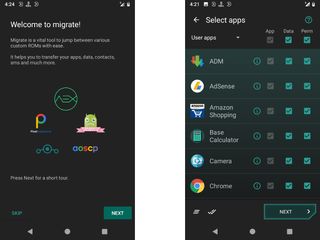 Migrate (Free)
Migrate is a backup app designed to help rooted users migrating between rooted ROMs and devices. Migrate will automatically back up your apps and phone settings and data such as contacts, call logs, and others, with a little help from TWRP. Once you've backed up your device, you can then flash your new ROM, and then flash the backup zip files and root with Magisk — Migrate will inject a helper app into your system which will help the migration process of restoring your old apps and settings on your new ROM or device. That said, Migrate is still in open beta and requires root access, which needs at least some technical know-how, and is not to be attempted lightly. Android users who aren't as familiar with tinkering around the back end of the system should look elsewhere.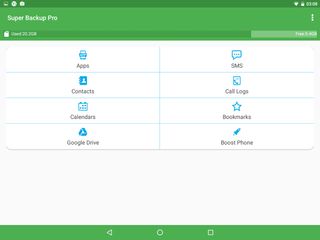 Super Backup (Free; $1.99 paid version)
Super Backup is a fast and free backup tool for your Android phone that can back up up and restore phone data. You can also back up applications and settings (with root), and automate backups with scheduling. Backups can be saved to SD Card, internal storage, PC or Gmail (though that would be clunky for anything other than phone data), as well as Google Drive. As a plus, Super Backup offers all of its functionality free, with a $1.99 purchase removing ads from the mix.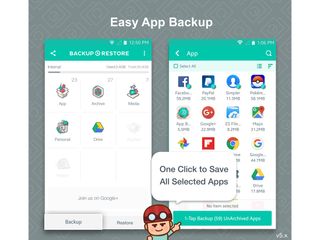 App Backup & Restore (Free)
App Backup & Restore allows users to backup apps and links for protected apps to your SD card. It can also send apps between devices through Wi-Fi and Bluetooth. Batch backups and batch restoration make it a snap to use. It even works without root. The downside? Because it doesn't work with superuser permissions, App Backup & Restore will only backup your .apk files, without your application data. Still, if all you need is a quick way to backup apps and restore them to a device after a factory reset, it does the job well.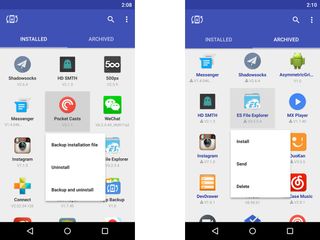 App Backup - Easy and Fast (Free)
App Backup - Easy and Fast lives up to its name by working as a quick Android app backup tool for backing up, installing, and uninstalling APKs onto your Android smartphone. That said, it's an app that doesn't work with root access, so it doesn't allow you to backup and save your application data at all. You can use this to quickly backup your apps and then reinstall them on a new phone, but it won't take things like savegame data or media along with it.
App Backup & Share Pro ($2.99)
App Backup & Share Pro is another solid app backup option for Android users, allowing for quick backups as well as the ability to manage apps and APK archives. The app also offers helpful indicators that show you whether apps are backed up, if you have older versions of the APK in your storage, which app versions are current, or whether an app is in your archive but not installed. You can store your app archives locally, or in cloud storage. That said, without root, App Backup & Share Pro doesn't actually capture application data besides the APKs, but if that isn't a big deal, it's a great tool for backing up your apps and organizing your APK archive.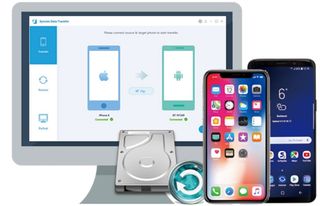 Syncios (Free)
Don't let the name fool you: Syncios works just as well on Android devices as it does on iOS ones. A combination of mobile app and optional desktop suite, Syncios allows users to backup their contacts, SMS, call logs, audio, photos and videos, either locally, to SD card, or Dropbox. Combining the mobile app with the desktop suite allows you to move your backups to PC, while also providing a raft of other tools like media file converters and a file manager. Phone-to-phone transfers and backup creation are free, though some functions of the desktop suite will require purchasing a license to unlock.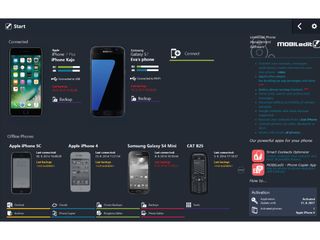 MOBILedit ($29.99)
MOBILedit is a desktop app that comes with a variety of phone management features for copying data to and from your phone, including contacts, photos, media files, and the file system of your Android or iOS phone. The app also includes backup features, with options for a low-level device backup or more selective data backups, with options for cloud-stored phone data that can be easily migrated to new phones. MOBILedit is a pretty comprehensive phone management suite, but it does come at a rather hefty price of $29.99 for the basic version that works for two phones on a single computer, with six months of updates.
For a simpler application of MOBILedit's backup tools, check out Phone Copier, which helps users transfer their phone's contacts and (SMS) messages into another phone (including across Android and iOS platforms), or into a MOBILedit internet storage account. The app works phone-to-phone, or in combination with the MOBILedit desktop suite to do its work.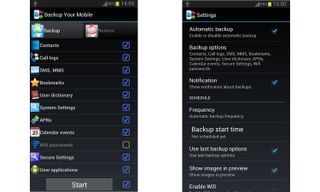 Backup Your Mobile (Free)
Backup Your Mobile is a free Android backup tool that's got something for rooted and regular users alike. The app allows users to back up a variety of phone data such as SMS, MMS and call logs, contacts, dictionary and more as well as user apps and some system settings. Rooted users can back up even more elements of their phone, such as app data, WiFi passwords and other secure system settings. Backups can be automatically scheduled and stored locally or uploaded to Google Drive, Dropbox or OneDrive.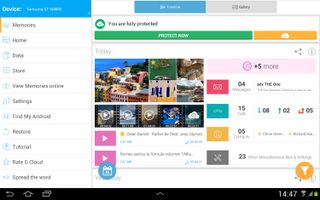 GCloud Backup (Free)
If you're not looking to keep app data but are more concerned with photos, music, videos, contacts and call logs, give GCloud Backup a try. Users create a GCloud account, which provides 1GB of backup space for free (expandable with actions or premium subscriptions), and then all you need to do is select what you want backed up from a checklist, and the app does the work, backing up data automatically to your GCloud account. Backups can be automated according to schedules and a variety of triggers, and a cloud gallery allows you to view media from your cloud account.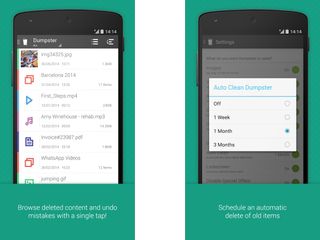 Dumpster (Free)
Sometimes, you just can't help it. You slip up and accidentally delete something important like a treasured photo or file. Dumpster is billed as the Android equivalent of a desktop Recycle Bin, allowing users to recover deleted images, video and music files as well as uninstalled apps. Deleted files are sent to Dumpster, allowing for recovery, or you can toss them out, freeing up space for new content. Dumpster allows users to preview items to be recovered, includes password/PIN protection, and can automatically empty old files in the dumpster after a certain period. There's an option to empty your old files into Dumpster's cloud service allowing for online backups.