The best audiophile headphones deliver top-tier sound and get you closer to your favorite artists no matter what your music tastes.
You may think that the best-sounding headphones would cost a fortune, but choose wisely and that needn't be the case. While the highest of high-end headphones justify their price tags though carefully honed luxury finishes, mid-market models such as the ones in this list often benefit greatly from the flagship model's developments.
All the models here major on the best sound quality we've heard. Some let the music shine and are pretty low on extra features, others have a strong feature sets and also include desirable tech such as active noise cancellation (ANC) and fast charging.
Read on for the best audiophile headphones available today.
Best audiophile headphones you can buy right now
Best audiophile headphones: Over-ears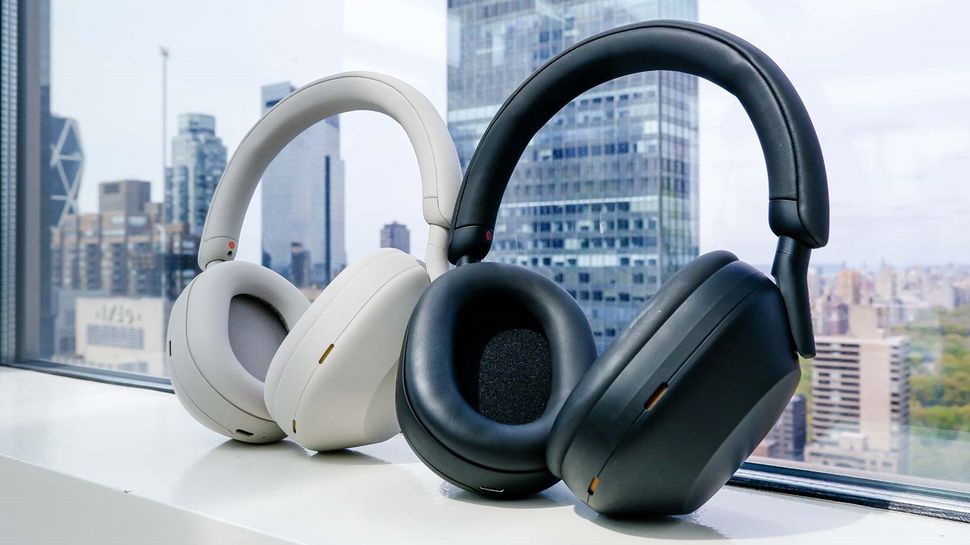 Sony's flagship over-ear headphones outperform every competitor for their exceptional sound delivery, active noise cancellation performance and special features. The dynamic soundstage just gets better with each update and delivers plenty of energy and detail to give songs a full-bodied presence without sounding unbalanced right from the off — although listeners can also use the Sony Headphones Connect app to personalize audio with several well-engineered presets or by manually adjusting the EQ to their liking.
The Sonys deliver everything you could want from an audiophile on-ear headphone. Support for LDAC ensures the XM5s deliver the best performance over Bluetooth and they can also be hard-wired for the very best sound quality with hi-res material. The new design tends towards the bland, but the fact that both the headphones and packaging are made almost entirely from recycled materials is a further mark in its favor. Lastly, their long battery life and comfortable design mean these are one pair of headphones you won't want to take off.
Read our full Sony WH-1000XM5 review.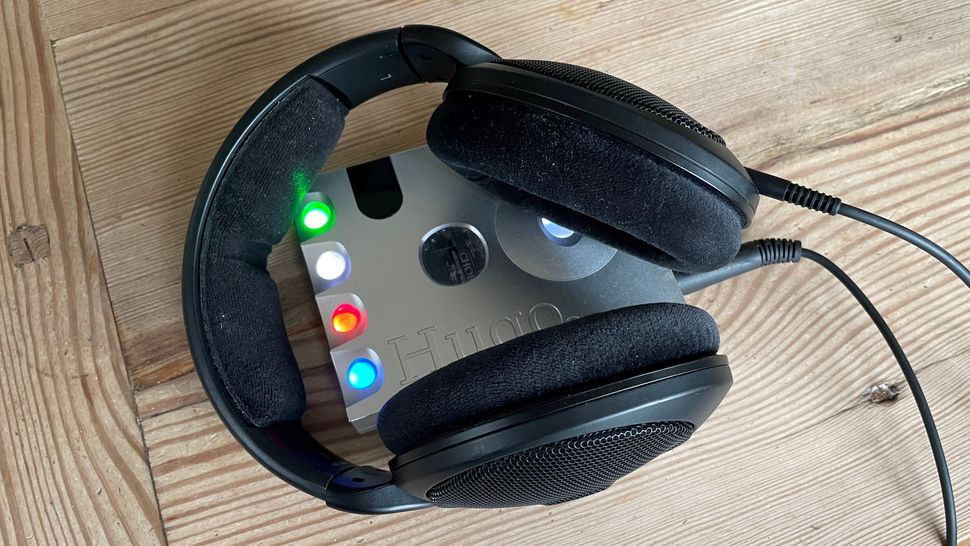 As a tool for analyzing recordings and finding the finest and/or most transient details, Sennheiser's HD 560S open-backed headphones are extremely gifted. And the fact that they manage to combine these fearsome powers of insight with a fairly easy going, and engaging overall presentation, makes them great value for budget-conscious audiophiles.
Fit and finish of each component is solidly reassuring, while the light weight means the HD 560S are no kind of burden to wear, even if your listening session goes on for several hours. For properly examining a recording without sucking all the joy out of it, the Sennheiser HD 560S headphones constitute money very well spent.
Read our full Sennheiser HD 560S review.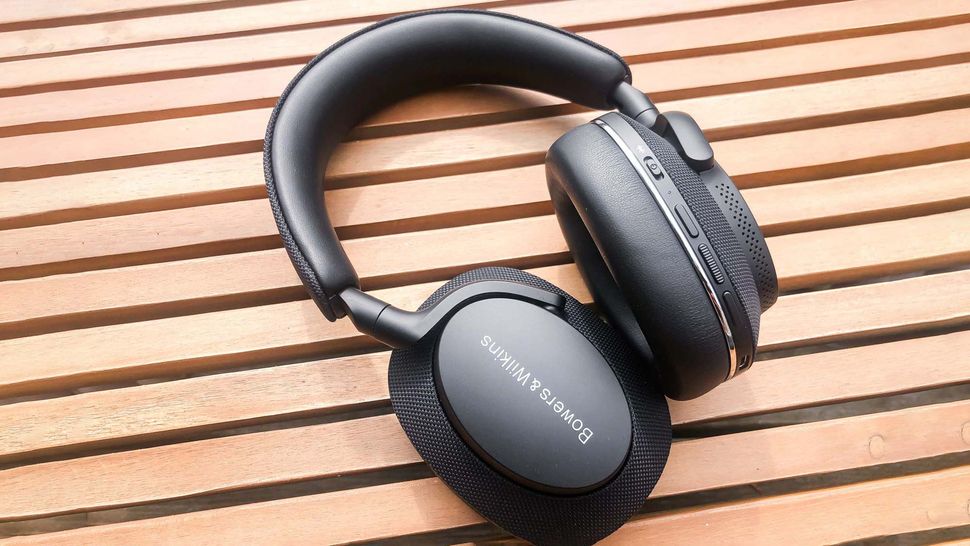 The Bowers & Wilkins Px7 S2 over-ear headphones are priced the same as the Sony. They feel good, are beautifully constructed and are either good-looking in an understated way or a bit too understated for their own good — it depends on your taste. They have active noise-cancelation and a control app — but 'extended functionality' is not their thing.
They're designed to deliver the best wireless sound this sort of money can buy, and they do. The entire frequency range hangs together well, with nothing overstated and nothing struggling for representation. Tonality is clean, consistent and entirely convincing. If you want every wireless headphone feature under the sun, you have plenty of choice. If, however, you want headphones that make the most of the digital audio information you give them, the Px7 S2 really needs to be in your thinking.
Read our full Bowers & Wilkins PX7 S2 review.
The Focal Bathys offer ingenious versatility: they're a superb, high-performance headphone that's perfectly suited to critical audiophile listening at home, while also practical and conveniently wireless to enable owners to enjoy them on the go. The price may initially seem high, but when you weigh up flagship features like Focal's dynamic drivers, integrated DAC with full hi-res audio support, and top-tier audio performance, $799 feels like something of a bargain.
The combination of Focal's M-dome speaker drivers and support for Hi-Res Audio ensures the Bathys sound spectacular. Recordings were deeply layered during our listening sessions, giving instruments plenty of room to breathe, and the onboard DAC is awesome for uncompressed 24-bit sound when connected to lossless sources such as Apple Music and Tidal. Fidelity is increased and there's a greater degree of tightness in the delivery.
Read the full Focal Bathys review.
The Px8 are Bowers & Wilkins' most advanced noise-canceling headphones to date, and are a confident addition to the luxury headphone market. Wireless audio is via Bluetooth 5.2 with SBC, AAC, aptX HD and aptX Adaptive codec support when connected to compatible playback devices, and cables are suppled for wired headphone jack connections too.
The bespoke 40mm Carbon Cone drive units present even more sound details across all parts of the frequency range than the the company high-ranking Px7 S2, and sumptuous materials to further aid comfort. Bass performance is more agile on the Px8, thanks to the new driver material, but it's the mid frequencies where these flagship headphones excel, delivering an abundance of natural detail and midrange clarity to make every voice syllable sound convincingly realistic. Despite the sound quality gains though, the higher price compared to its fellow Px7 S2 and near rivals, means they rank slight lower in terms of overall value.
Read our full Bowers & Wilkins Px8 review.
The Technics EAH-A800 follow the classic on-ear headphone design built for comfort and performance. Listening to these headphones we reckon you'll be hard-pushed to find an equivalent pair that's more expressive on the finest details in your favorite recordings. From the bottom of the frequency range to the top, the EAH-A800 are beautifully judged so no matter what kind of music you're listening to, the Technics seem to understand its requirements down to a microscopic level. The LDAC codec is supported for getting the best quality over Bluetooth connectivity, and a cable for hard-wired connections to a headphone jack is also supplied.
Things are less cut-and-dried where active noise-cancellation is concerned and they don't deal with as much external sound as the best of their rivals do. Bottom-end battery life is 30 hours (when listening to the hi-res LDAC codec with noise-cancelling switched on) and a best-case of 60 hours (listening via AAC with noise-cancelling switched off).
Read our full Technics EAH-A800 review.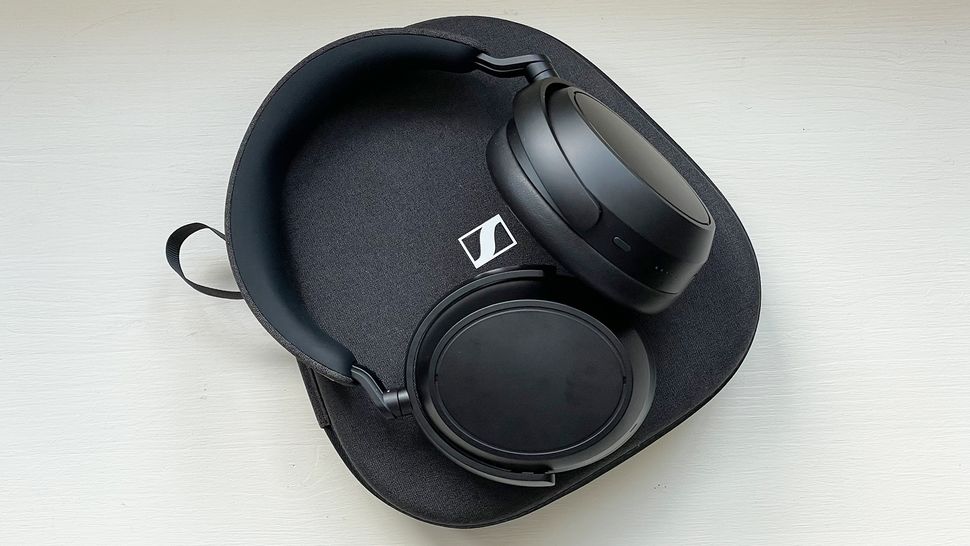 Although the revamped design of Sennheiser's fourth generation Momentum Wireless headphones don't stand out quite like their classic-looking predecessor, the 60-hour battery life is a real crowd pleaser and make these the one to beat. Add in the easy-going Sennheiser sound and effective noise cancelling, and the Momentum 4 are one the most practical wireless headphones we've seen, perfectly built for a life on the road rather than tethered to a power socket needing regular battery top ups.
Sennheiser's smooth house sound handles a wide range of music content, from pounding beats to more mellow tunes with aplomb. It has Bluetooth 5.2 and aptX Adaptive support, and there's a supplied 3.5mm cable for audiophile wired connections. ANC performance is effective, and auto Wind Noise Reduction is very impressive when stood on a windy train platform on daily work commutes.
Read our full Sennheiser Momentum 4 Wireless review.
The Focal Elegia closed-back, over headphones produce a rich, accurate audio that doesn't disappoint. Their greatness lies in the genius engineering of the M-profile dome driver, which does a solid impression of reproducing sound the same way one would hear it from a pair of speakers. Pairing the headphones with a mobile device does enhance the sonics. Unfortunately, the lack of controls and modern features, along with their massive form, are sacrifices you'll need to seriously consider before walking out the door with them. As a pair of headphones used for serious listening at home connected to a dedicated headphone amp, these are hard to beat.
Price will be a determining factor. Some retailers have the Elegia listed at around $600, but recently we've seen them discounted to below $400. If sound is what you truly value most, then there is no reason to overlook the Elegia — whether discounted or not.
Read our full Focal Elegia review.
Best audiophile headphones: Wired and wireless earbuds
With their exceptional build quality and lightweight design, the Sennheiser IE 600 are one of the most desirable earbuds we've seen. Okay, they're wired, which may seem a little outdated alongside many true wireless earbuds designs, but as any audiophile will know, 'wired' has always beaten 'wireless' where out-and-out sound quality is concerned.
The Sennheiser IE 600 charm and delight, and delve deep and hit hard where low frequencies are concerned, but sounds are well-shaped and alive with detail both broad and fine. It's a similar story in the midrange, where singers of any and every type are given the space to properly express themselves — the IE 600, it seems, have never heard a vocalist they didn't want to make the most of. The price may limit their appeal, but these make a great partner for anyone with a dedicated hi-res music player.
Read the full Sennheiser IE 600 review.
Sony's XM-series earbuds go from strength to strength with each new generation. As the latest flagship, the WF-1000XM5 wireless earbuds are smaller and lighter, yet they're equipped with some of the strongest features and performance we've ever seen from a pair of 'buds. They have some of the most dynamic and engaging sound we've heard, and their noise-canceling performance easily matches that of the Bose QuietComfort Earbuds 2 or Apple AirPods Pro 2.
Battery life hasn't been stepped up over the outgoing XM4 predecessor. But at 8 hours with ANC enabled, these top-tier Sony wireless earbuds still outperform close rivals and have some of the highest battery life of any set of more recently launched earbuds. There's LDAC support for higher-quality music, adaptive listening mode, Google and Alexa digital assistant support, and full EQ customization.
Call quality is greatly improved, thanks to a new noise reduction engine with AI that's able to make voices clear even in noisy surroundings. Wind noise was kept to a minimum too, thanks to the mesh on the feed forward microphone helping to reduce its influence during calls. Ultimately, these are Sony's best ever and the best wireless earbuds package around right now.
Read the full Sony WF-1000XM5 review.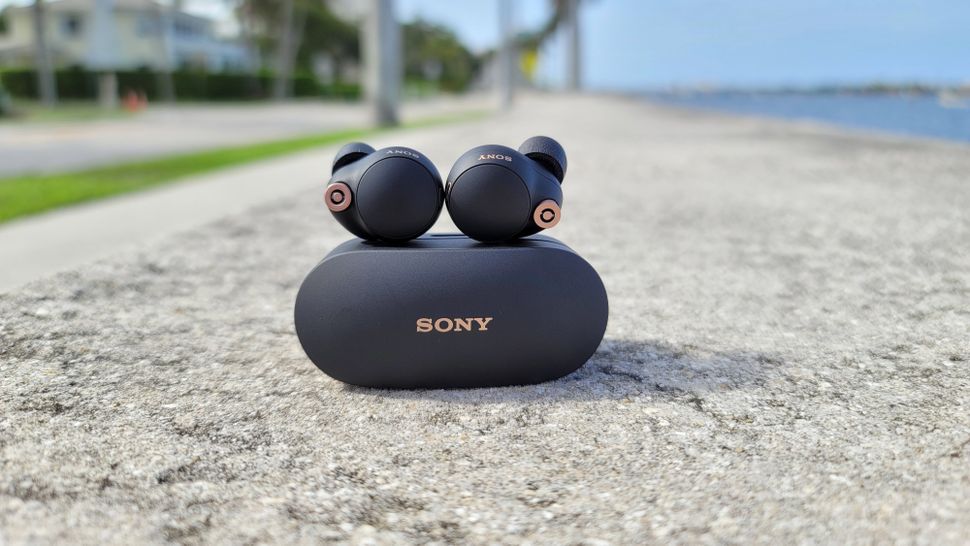 The Sony WF-1000XM4 may be superseded by the new WF-1000XM5 (above), but it continues to be available and packages elite sound, noise cancellation, and awesome features. Add in decent battery life and great sound quality across the board and you can see why it's a maintained its position in these rankings.
The stereo imaging on these buds is phenomenal, with instruments accurately placed and localized on tracks. It brings an immersive quality to recordings and makes you believe musicians are actually playing right in front of you. Vocal detail is so clear on recordings, you can almost feel the passion and emotion in the artist voice. The low end is engineered with balance in mind, which translates to a pleasant blend of lows, mids, and highs that enables listeners to pick up on sonic characteristics that would go unnoticed on other wireless earbuds and makes them an excellent audiophile choice.
Read our full Sony WF-1000XMF review.
As Campfire Audio's first true wireless design, the Orbit earbuds are a triumph and outperform several market leaders in terms of their sound performance. Each earbud uses a custom 10mm dynamic drivers with liquid crystal polymer (LCP) diaphragms, while Bluetooth 5.2 with aptX codec support elevates sound across all media platforms. The cool-looking design and generous playtime (per charge) also add to their appeal.
The bass-forward presentation is energizing on contemporary music tracks and the different presets improve sound, depending on the content. During our testing found the connectivity to be a bit flaky, and the buggy companion app could do with updating. Nonetheless, the Orbit will satisfy the most audio-driven music lover. So if sound quality is your goal and you have little care for extra features, these are sure to satisfy.
Read our full Campfire Audio Orbit review.
If sound quality is your main concern and you have no need for ANC, Shure's Aonic Free earbuds are a gloriously capable pair of earbuds. These wireless earbuds sound fantastic and deliver on their promise to decrease ambient noise to a satisfying level without the need for ANC.
Shure has a strong audio history and the earbuds sound accurate and detailed, letting listeners hear subtle nuances, along with a fine mix of lows, mids, and highs. The Free's full-range dynamic driver reproduces the deeply textured instruments and multi-layered vocals superbly. Infectious bass riffs stimulate head nods, and even small characteristics sound prominent and captivating.
Read our full Shure Aonic Free review.
Headphone types explained
What the different designs mean
Over-ear (circumaural) headphones
The largest headphone type, over-ear headphones surround or cup your ears. A classic, old-school style, over-ear headphones come in either a closed-back or open-back design. Closed-back headphones contain playback sounds within the earcup enclosure and are better at passively isolating wearers from external ambient noise. The effect of listening to music on closed-back models is often less expansive, and the stereo soundstage can feel contained within the head, but does prevent sound from leaking out and irritating anyone nearby.
Open-back headphones often have a more natural and spacious sound thanks to their vented design that allows the back of the earcups to be open to the outside world. This design does mean that there's less passive isolation from external noise and more sound is able to leak out.
On-ear (supra-aural) headphones
On-ear headphones are generally smaller and lighter than over-ear headphones. Sometimes called 'earpad' or 'earmuff' headphones, these lighter and more flexible designs also come in open and closed variations, but as a rule, on-ear will let in more ambient noise and have greater sound leakage than over-ear headphones.
In-ear headphones
Often called earbuds or even earphones, these tiny headphones fit into the ear canal. The majority of models today are wireless and despite their tiny size, often come loaded with features and tech. Earbuds are the largest growing area of the headphone sector, with just about every headphone maker recognizing the love music fans have for these compact, hands-free designs and introducing increasingly more competitive models to their ranges.
Why wireless?
Wireless technology has revolutionized the headphone market in recent years, breaking listeners free from being tangled with wires that's physically tethered to a playback device.
Bluetooth wireless technology has made this freedom possible, while aptX codecs have improved audio signal handling for better sound quality with each new iteration of the wireless short range tech. And there's the promise of a further sound quality boost to come via Snapdragon Sound-compatible devices to deliver true CD-quality (16-bit/44.1kHz) lossless audio over the latest Bluetooth wireless connectivity.
How to choose
What to consider when buying the best audiophile headphones for you
When shopping for audiophile headphones, you'll want to decide on whether you go for either a on-ear or over-ear headphone style, or earbuds.
Each of our over-ear picks have the best sound quality with wireless and support aptX or LDAC codecs to offer the best signal handling of music files over Bluetooth. These models also come supplied with cables for hard-wired connections and true audiophile listening capabilities via a dedicated headphone amp.
Unlike over-ear headphone designs, the earbuds we've picked cannot be hard wired. Nevertheless, each have the best sound we've heard over Bluetooth and demonstrate the least compromises of any wireless models we've heard to approach audiophile sound quality.
Design: It's difficult to try out headphones before you buy, so make sure you read our full reviews and look out for areas where the reviewer mentions factors like the headband shape and any spring tension it places on your head or ears, or the amount of earcup padding for long-term comfort. Don't be afraid to pass on headphones you don't like the aesthetics of, too.
With earbuds, many of the over-ear factors mentioned above should also be considered. Additionally, check reviews for mentions of different sized ear tips so you can adjust them to fit your ear canal size. Water and sweat-resistance is another factor for consideration.
Sound quality: Different models offer different sound, and since you're buying a pair to enjoy music individually, it's important to find headphones that match your sound preference, be it heavy bass or distinctively clear to where you can hear the littlest nuances in recordings. Some models offer personalized sound via companion app, which allows the user to create their own profiles and tweak EQ levels to their hearing.
Battery life: Sennheiser's 60-hour battery life is a real crowd pleaser, but most wireless over-ear headphones typically manage around half that. Wireless earbuds can last about 5 to 10 hours and offer extended playtime with their bundled charging cases — always make sure one is included.
Accessories: It's disappointing spending money on a new pair of headphones only to find that you need to buy the accessories separately. For wired models, the manufacturer must include the aux cable, and any headphones that come with a carrying case, charging cable, user guide, and extra ear cups or tips are solid purchases.
Pricing considerations: Obviously, price is a big consideration when looking for the best headphones. Although there are always exceptions, big-name brands will typically command a bit extra, but generally speaking, the less you spend on a pair of headphones the greater the chance that sound and features will be compromised. Going for a budget option isn't always the best choice, as any money you save on your purchase won't do you much good if you're constantly needing to recharge your audio gear, or the sound quality is poor.
As the saying goes: timing is everything; and right now many of our favorite models are being discounted at online retailers, meaning you can bag a bargain for even less. Bookmark our best headphone deals page to keep track of the lowest prices.
How we test the best audiophile headphones
We thoroughly test every pair of headphones based on a variety of factors, and employ a consistent testing approach so any comparisons with other pairs are trustworthy and fair.
In this case, every pair of audiophile headphones and earbuds have been used over the course of a week for 2 hours at a time. This allows the tester to both gauge the sound quality across a mix of genres and volumes, and to see how comfortable the headphones are when worn for extended periods. We'll listen to hip-hop, rock, jazz, classical, pop and more to see how each pair performs, and will do the same with movies, podcasts and games, where applicable.
Find out what we listen for during our testing process and how to get the best headphone sound for you.
We also test the effectiveness of features like noise-cancelling in real-life situations, and will make sure manufacturer claims about battery life and Bluetooth range are accurate. Build quality, the ease of setup and any control schemes — including those involving an app — will also be judged.
We rate all our headphones and earbuds on a 5-point system (1 = worst, 5 = best). Products that excel in one or more particular fields and that's rated 4 stars or above may also receive an Editor's Choice award.
Find out how we test for more information on our reviewing procedures.
Contributions from: Alex Bracetti, Simon Lucas
More from Tom's Guide